Lovely tender and flavorful cockles cooked in white wine with garlic and butter. Super easy recipe with just a few ingredients, ready in just under 10 minutes!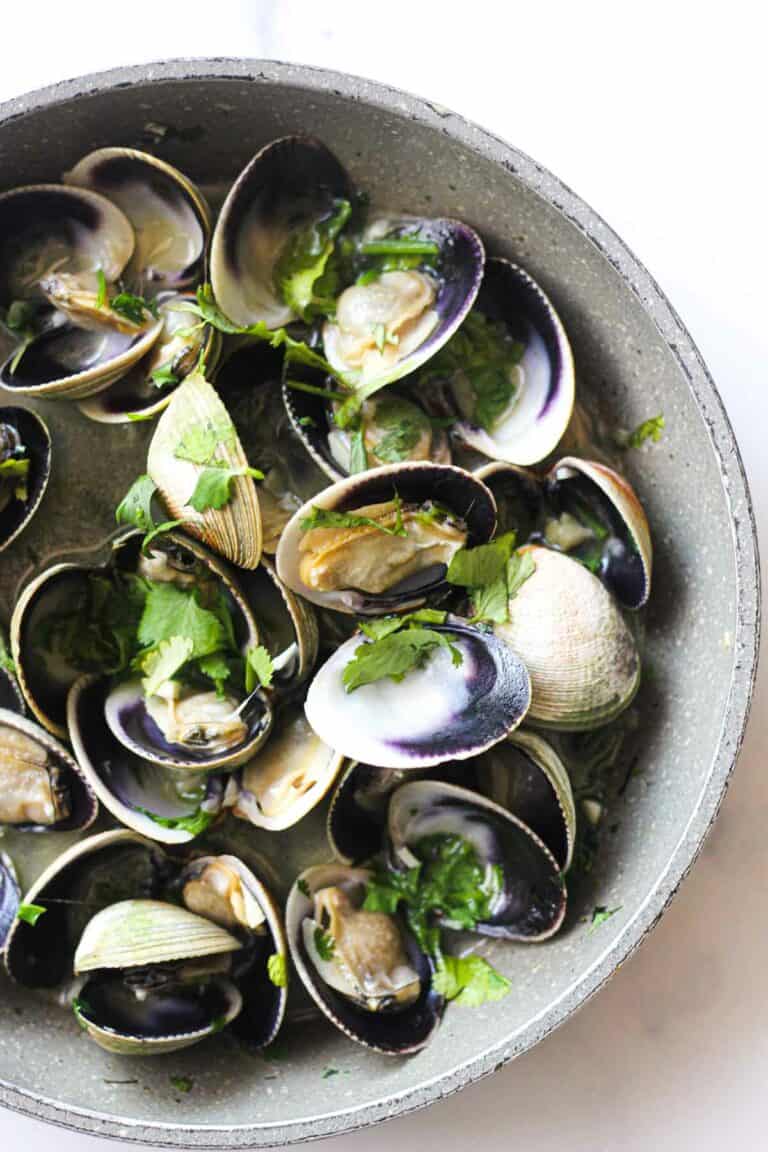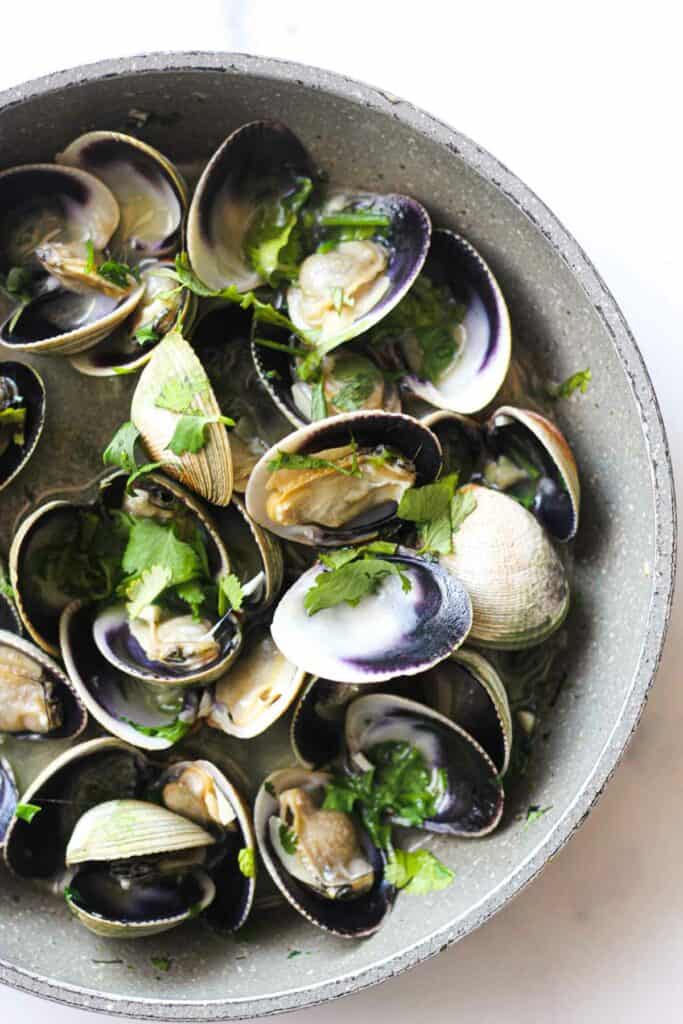 Enjoy this recipe as a party starter or like i did, for Sunday brunch with a glass of white wine. Simple ingredients create amazing flavor that you will crave later.
What is cockles
Cockle is an heart shaped edible burrowing bivalve mollusk with a strong ribbed shell. It lives buried in sand.
Cockles should be alive when you purchase them. It is very easy to check, my kids love to do this. Just tap on a shell of an open cockle and it suppose to close. That will mean its alive. If cockle is closed, wait until you cook it, they all suppose to to open when cooked.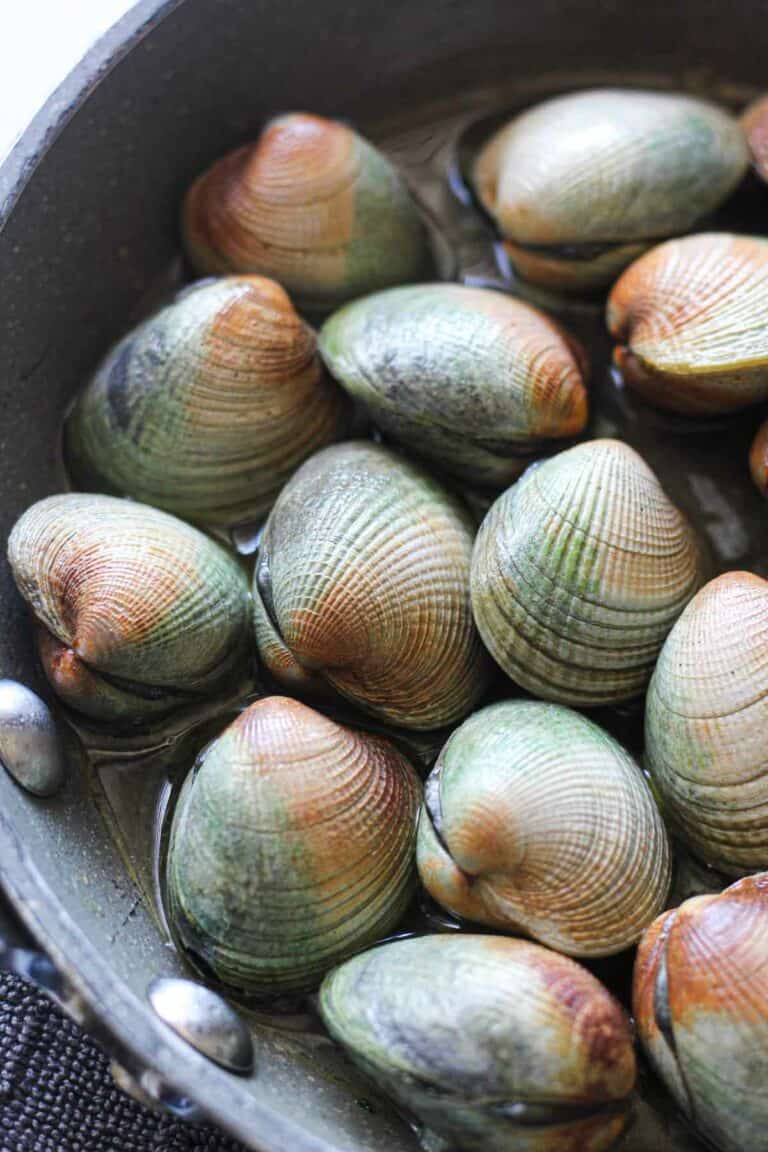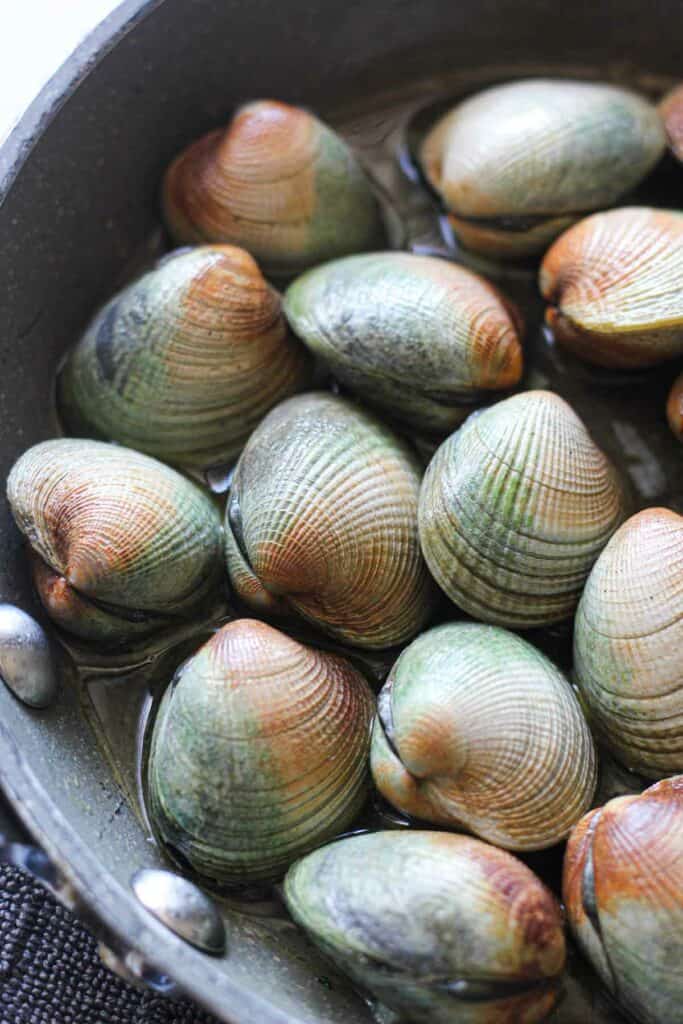 How to clean them from sand
Fill medium size bowl with cold water and add about 2 teaspoon of sea salt. Mix to dissolve the salt. Add live cockles to the water for about 40 minutes to one hour. This simple step will force mollusc to get rid of all the sand and dirt they have inside them under the shell.
You will see bubbles coming out of the shells. Its fun to watch with kids, they love the process.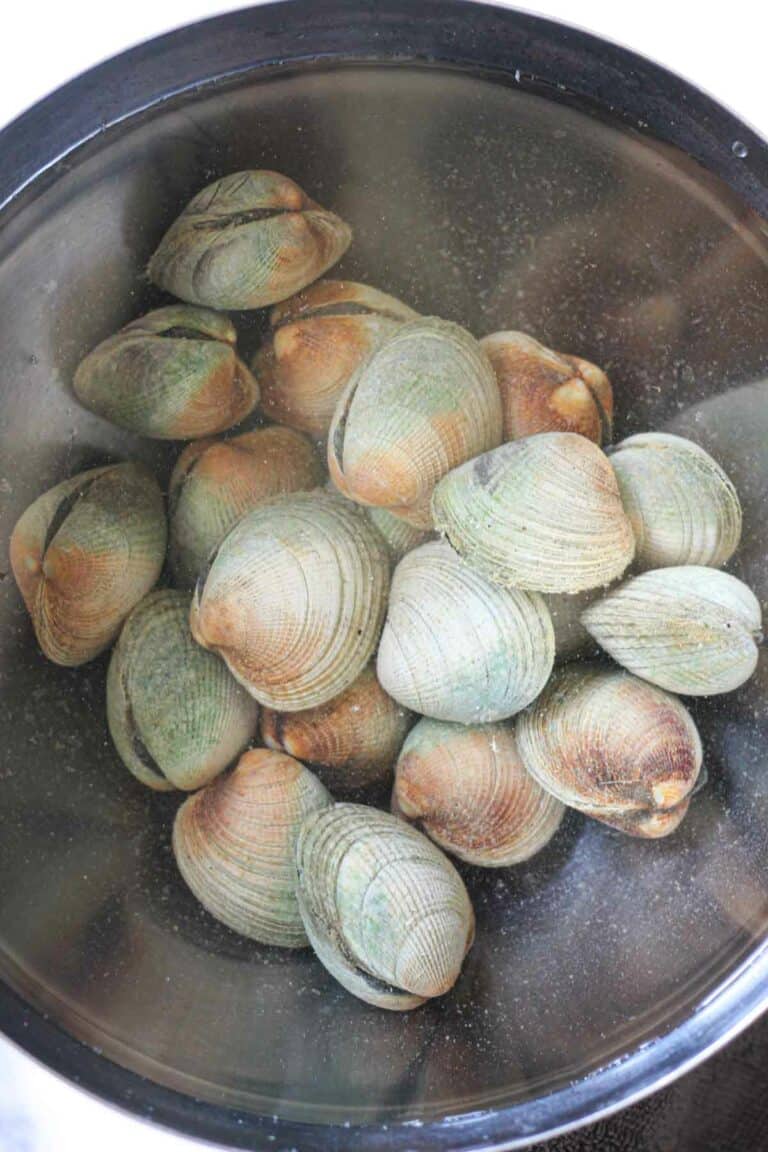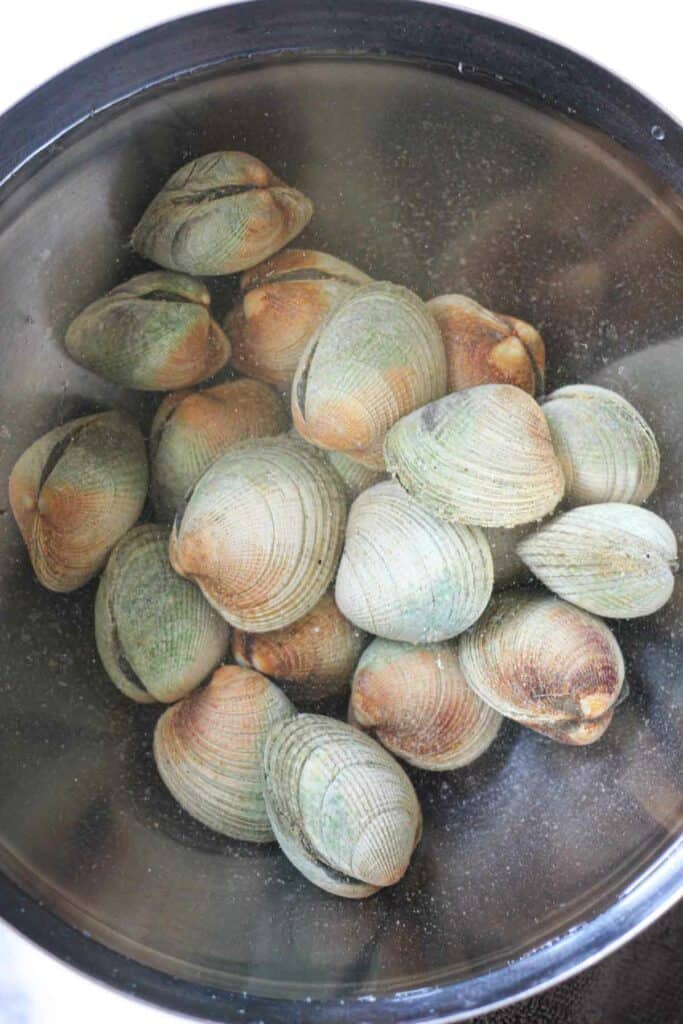 Where to buy
I have never seen cockles here in California sold in stores. You still can find them frozen or canned.
Cockles for this recipe i bought online. Wild New Zealand cockles that were shipped over ice packs and stayed alive no problem. They were so fresh!
How to cook cockles
There are many ways to make cockles. Just use them instead of mussels in recipe, in paellas, in salads. Cockles pasta or soup are delicious too.
Today we will be making sauteed cockles in garlic butter and white wine. Follow these easy steps:
So first purge them as i mentioned earlier.
Rinse them very well in a colander under running cold water.
Melt butter in a medium sized pan. Add chopped or minced garlic and saute it for a minute over medium heat. Add white wine and lemon juice.
Add cockles into the pan. Mix them with a sauce. Cook uncovered until all of them open, about 5 minutes.
Add chopped parsley or cilantro. Discard unopened cockles. Serve!
Recipe tips and substitutes
This cockles recipe is very easy and you can adjust amount of any ingredient to how you like it.
White wine adds lots of flavor and don't worry, all the alcohol evaporated during cooking. But you can leave it out if you prefer, it still will be delicious.
Garlic is essential and i don't recommend skipping it.
Butter can be substituted to good olive oil. You can also use clarified butter, it works amazing in seafood recipes.
Lemon juice. Adds an extra aroma and flavor. Fresh lemon juice is the best but can be substituted to a store bought one.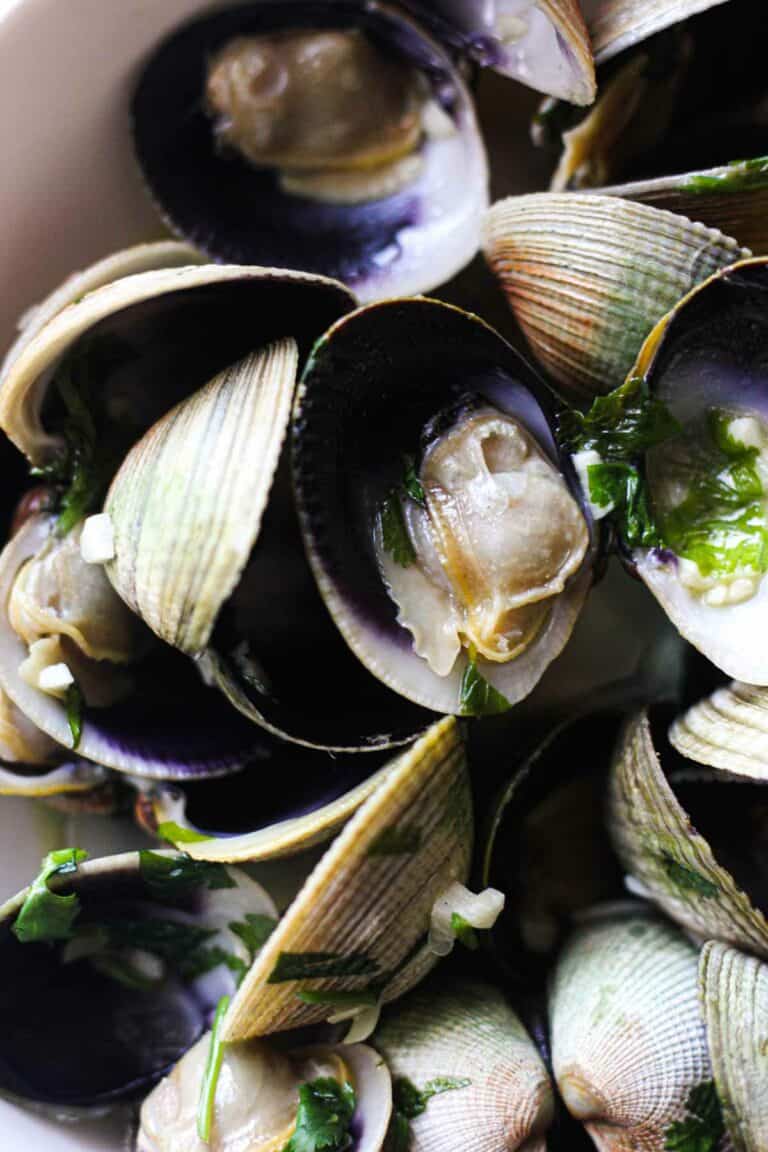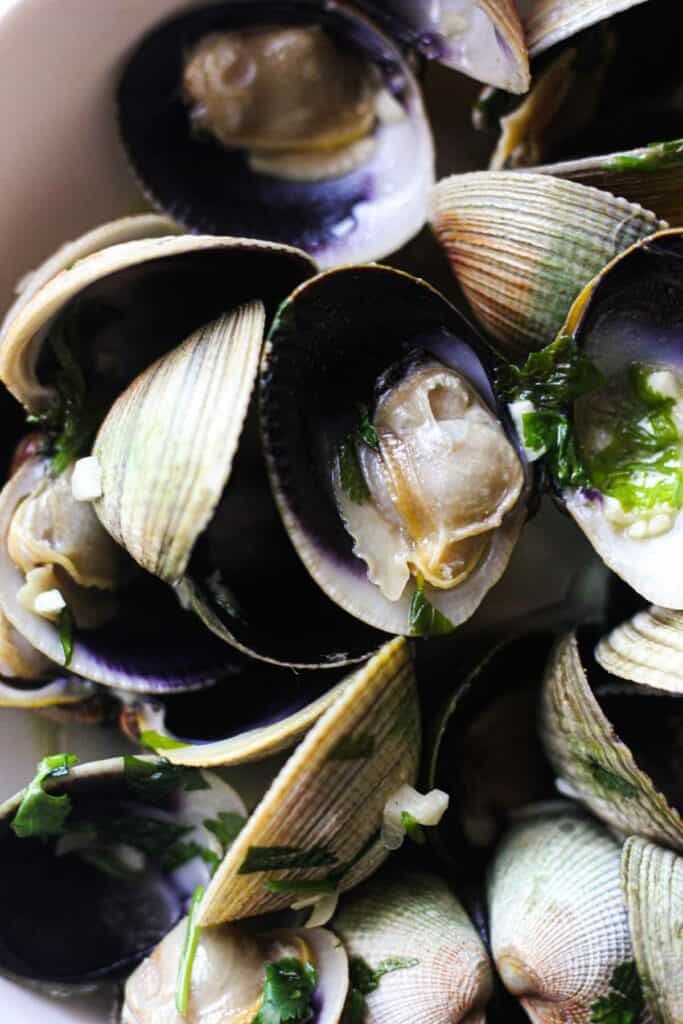 My favorite wine to use in this recipe is any Californian Savinion Blanc or Pinot Grigio. I like dry wines with my seafood. To cook it with and to drink it while i am cooking.
More seafood recipes
Recipe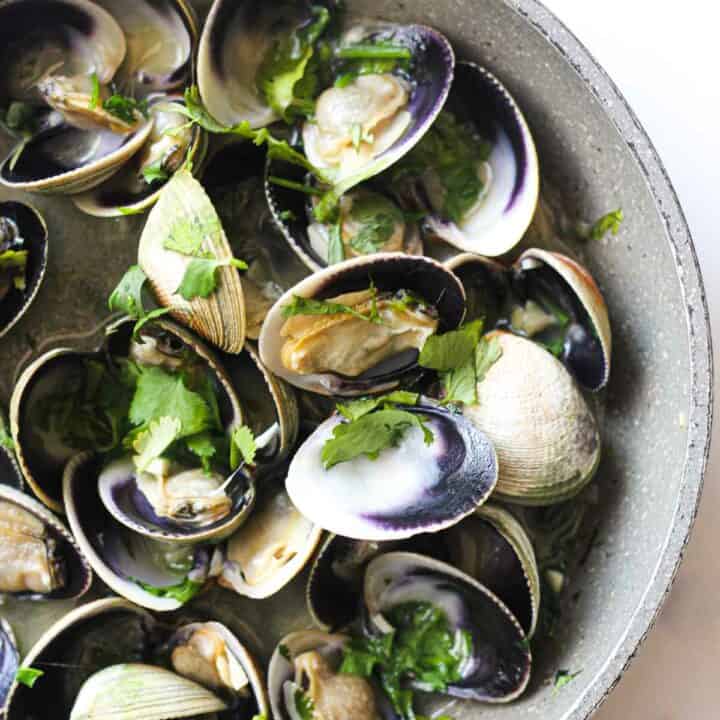 Cockles recipe with white wine and garlic butter
Total Time:
1 hour
5 minutes
Lovely tender and flavorful cockles cooked in white wine with garlic and butter. Super easy recipe with just a few ingredients, ready in just under 10 minutes!
Ingredients
1 lb cockles
1 tablespoon butter
2 garlic cloves,minced
juice of ½ lemon
3 tablespoon white wine (a splash)
chopped parsley
Instructions
Fill bowl with cold water. Add couple teaspoon of salt and mix to dissolve. Add cockles and let them sit in water for 1 hour.*
Rinse them under cold running water.
Heat butter in a medium size pan, add minced garlic and let saute for a minute. Add wine and lemon juice.
Add cockles. Saute uncovered for about 5minutes, until all shells are open. Stir and add chopped parsley half way.
Serve as an appetizer.
Notes
* We do this to clean mollusc from the mud and sand that's inside the shell.
Only use wine that you will enjoy drinking by itself. You will taste the flavor of this wine in the dish. I recommend using dry wine like Savinion Blanc or Pinot Grigio.
Discard unopened cockles. Do not eat them.
Nutrition Information:
Yield:

2
Serving Size:

1
Amount Per Serving:
Calories:

144
Total Fat:

6g
Saturated Fat:

4g
Trans Fat:

0g
Unsaturated Fat:

2g
Cholesterol:

15mg
Sodium:

121mg
Carbohydrates:

19g
Fiber:

1g
Sugar:

15g
Protein:

1g