Simple roasted salmon head recipe for you oven or air fryer. Quick and easy baked salmon recipe and ready in less then 15 minutes!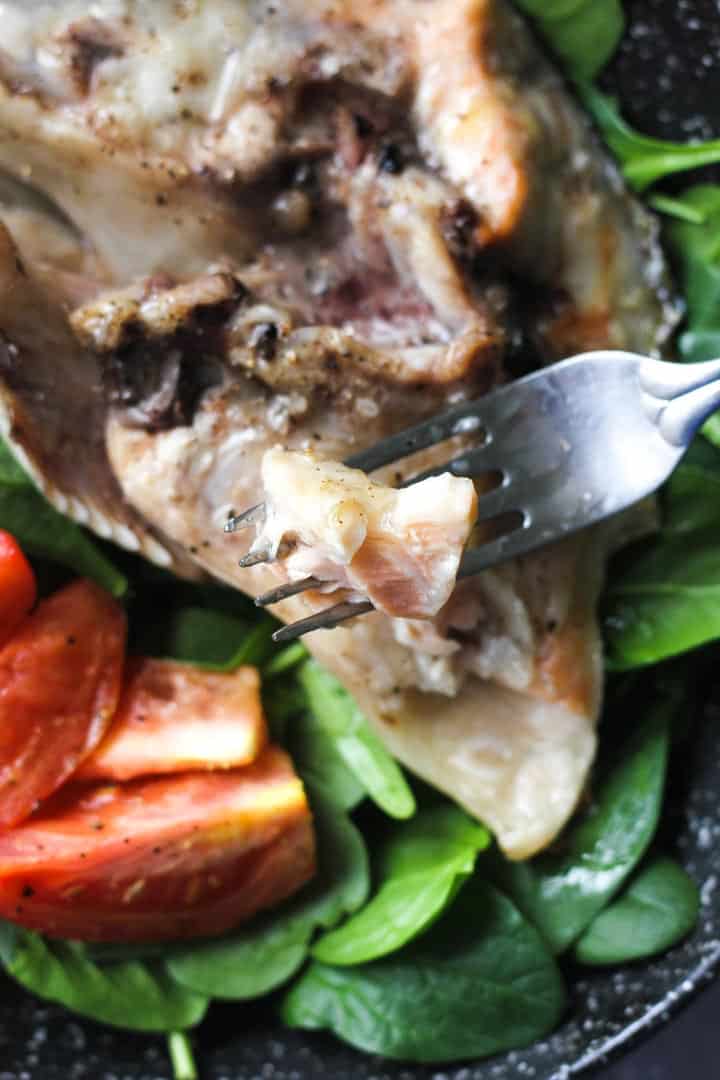 Is it safe to eat salmon head?
There is no reason to skip and throw away a fish head when cleaning the whole fish. In many countries in Asia, in Western Europe fish heads and tails are a main part of many fish based soup. In Russia they make soup called UHA that is made out of a fish head. When simmered for a while, the broth becomes so rich and flavorful that you wont imagine how do people can throw away such a delicious source of meat and a broth base.
Yes you can eat eyeballs of the fish. I dont do that but know lots of people who does (my dad for example).
Fish cheeks. or me its the best part of the whole fish head. They are juicy, super tender and almost melts in your mouth.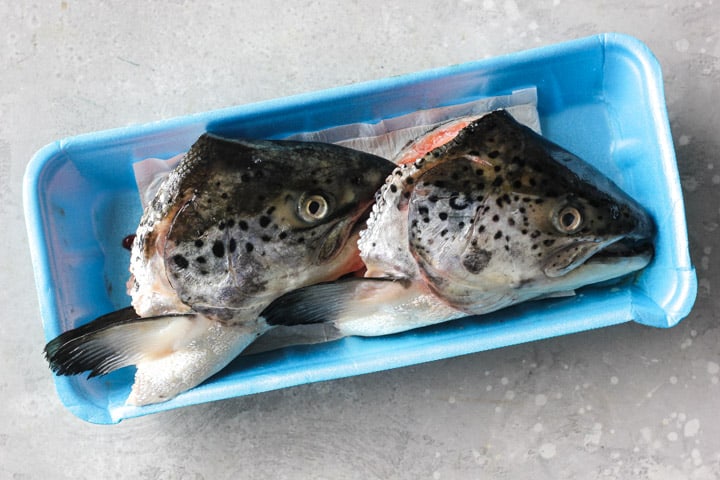 Is it healthy?
Red fish head is very nutritious. Lots of Omega-3 fatty acids. iron, zinc, calcium. Also the brain contains a large amount of vitamin A.
I like to say that salmon head is even more nutritional that the rest of the fish. It still has a lot of meat. And its sold in most grocery stores so its not hard to find.
How to cut it
I prefer to cut it lengthwise all the way through, this way you can separate one head into two portions with equal amount of meat. Take a sharp knife and with one nice push just cut it all the way through. After that, carefully remove gills and rinse it under the cold water.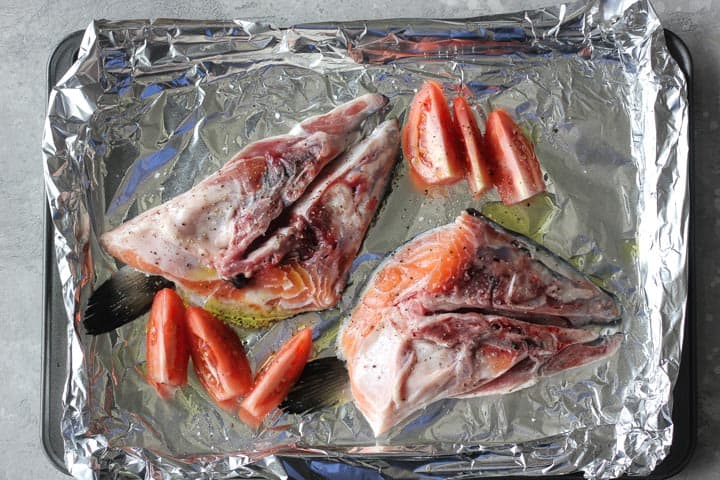 Roasted salmon head tips (oven cooking)
Use foil or parchment paper. You will thank me after the fish is cooked, your dinner is over and all you will have to do is to just throw away the used foil (or paper). No dish cleaning!
Since salmon cooks quickly, add your favorite vegetables on the sheet. It could be tomatoes, zucchini, broccoli, mushrooms and more.
Remove gills. This is important since gills are not the cleanest part of the fish and provide zero nutritional value. Also they can add a bitter taste to the meat around it.
Dont overcook it. Only cook the head for the recommended amount of time, or it can be dry. Who likes dry fish?
Air fryer cooking instructions
Its equally good to cook fish in oven and air fryer. Since air fryer works as a convectional oven, cooking time and temperature will be similar. Preheat it to 400 degrees and place salmon heads inside the basket on a special parchment paper (with holes), on sliced lemon or just straight on the basket surface. Cook on 400 degrees for about 15 minutes. Check couple times.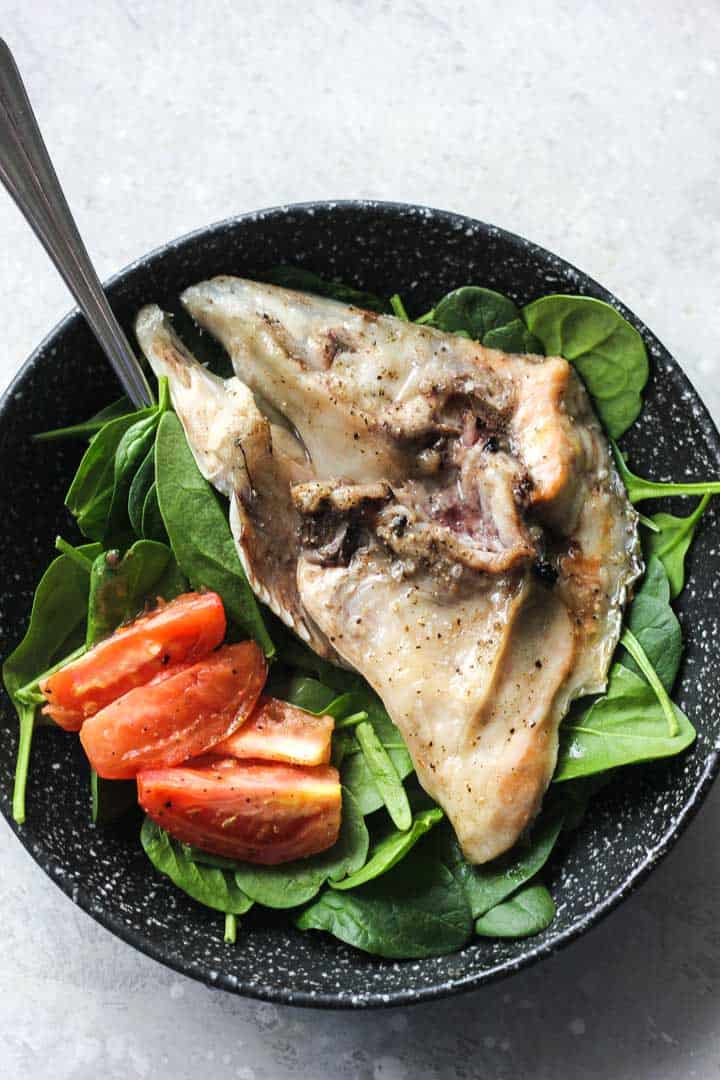 As you can see I don't like to waste anything when it comes to food. I love to create offal recipes and enjoy cooked meals with my family. there is a few more for you: slow cooker beef heart and chicken liver recipe
Recipe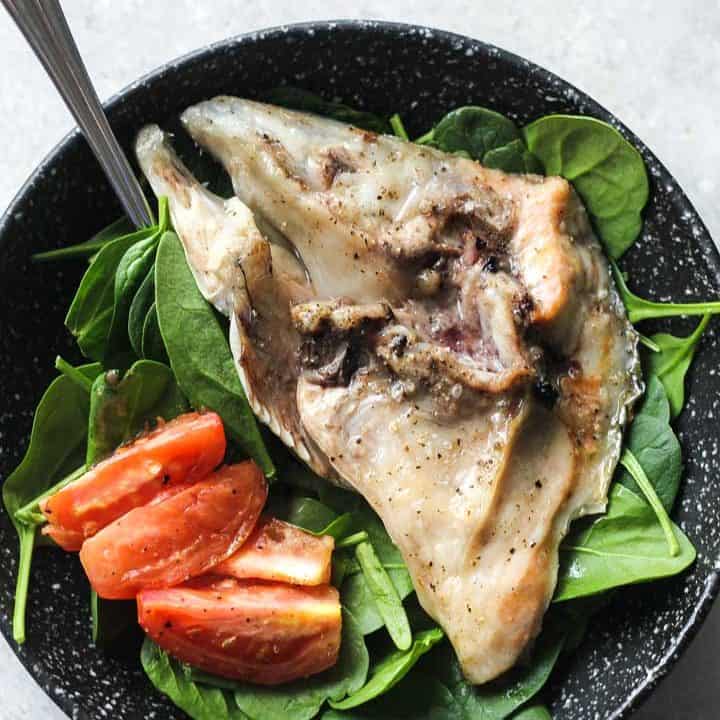 Roasted salmon head
Simple roasted salmon head recipe for you oven or air fryer. Quick and easy baked salmon recipe and ready in less then 15 minutes!
Ingredients
1 salmon head
salt and freshly ground pepper
Instructions
Cut salmon head in half like pictured in the post. Remove gills and wash it.
Preheat oven to 400 degrees. Place parchemnt paper or foil in the roastin pan. Place salmon head on top. Put salt and pepper to your taste. In fact you can add any spices. I like to keep it simple.
Place in the oven for about 15 minutes. If heads are very big you may need more time to cook them all the way.
Notes
If you like roasted vegetables, add any to the same pan before cooking. I added tomatoes and they were yummy!
Lemon juice on top of cooked salmon head will be fantastic! It will add extra flavor to the dish
Dont overcook salmon. It may become dry.
This recipe is KETO friendly and has 0 carbs.
Nutrition Information:
Yield:

2
Serving Size:

1
Amount Per Serving:
Calories:

234
Total Fat:

14g
Saturated Fat:

3g
Trans Fat:

0g
Unsaturated Fat:

10g
Cholesterol:

72mg
Sodium:

217mg
Carbohydrates:

0g
Net Carbohydrates:

0g
Fiber:

0g
Sugar:

0g
Sugar Alcohols:

0g
Protein:

25g