Moist and flaky, this pan seared grouper with lemon butter is delicious with some veggies on the side or as is. Butter sauce is rich and accompanies the fish so well.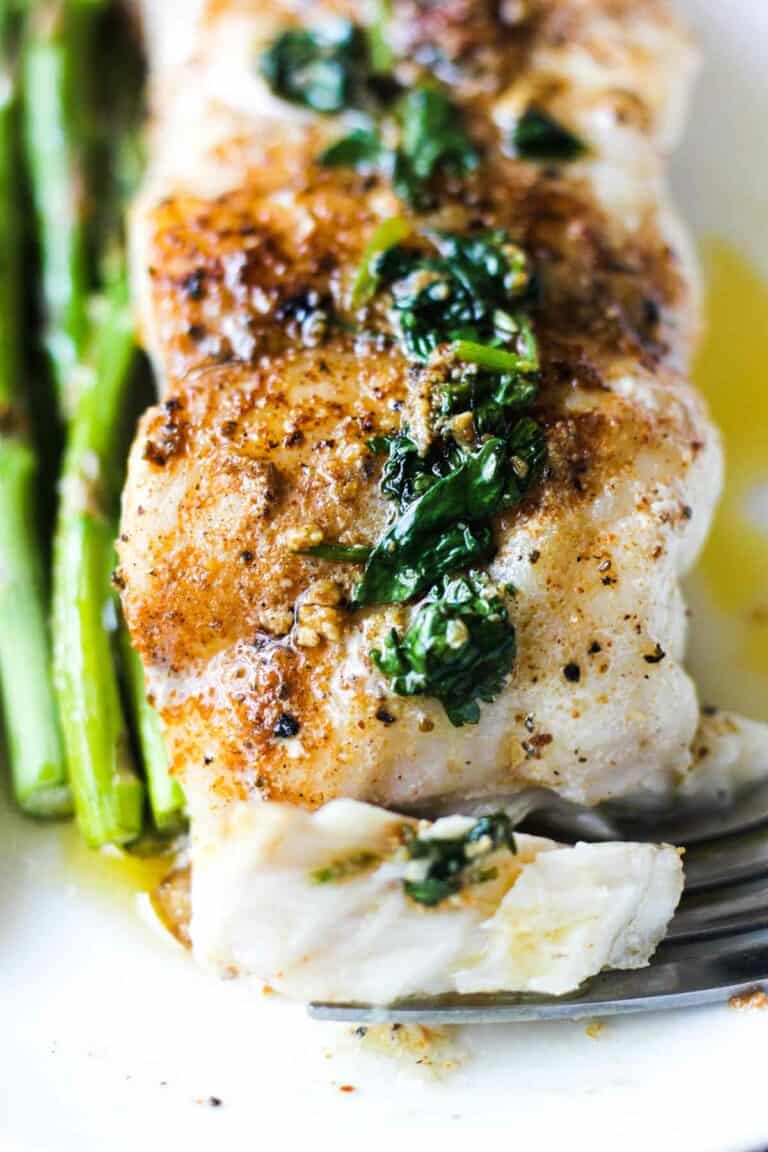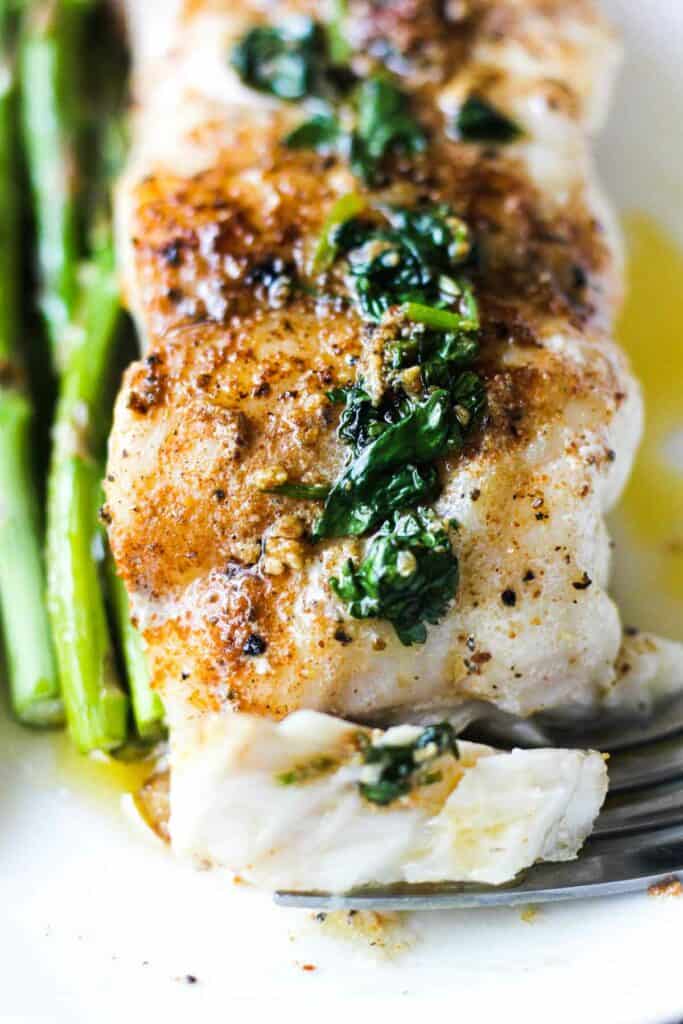 Grouper is such an amazing fish. Its available year around in United States, most of the time its a red grouper.
The most popular way you can buy it is in fillets, steaks and also the whole fish. In this recipe i used 8 oz fillet portions. The fish has high oil content and large flakes and is great for baking, grilling, broiling and even steaming.
Grouper price
Grouper is not usually a cheap fish. For a fresh wild 1 lb order i paid about 18 dollars. I wish we had a store with local fish here. I actually had to order it online so the price also included shipping.
Usually the price varies between 13 to 18 dollars per lb. Especially if you get the fish frozen or you live around the area they catch it.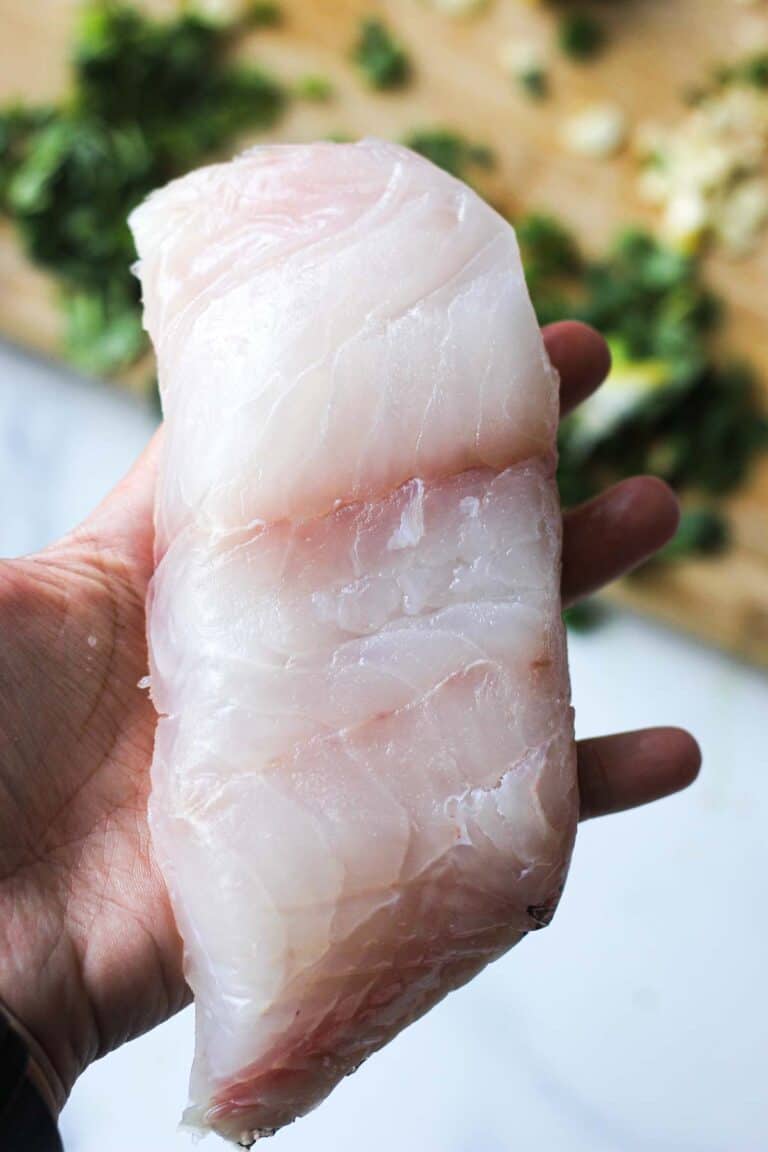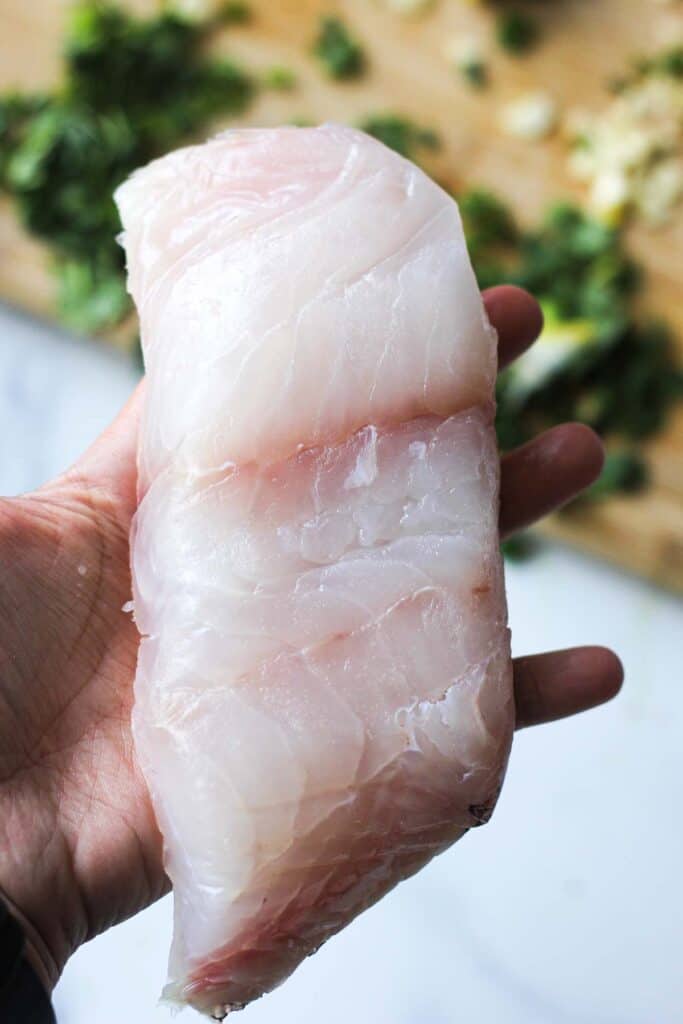 Grouper nutrition
You wont believe that this rich taste comes with so little calories. Only 92 calories per 100 grams.
Also grouper is packed with protein with over 19 grams per serving. Something you need to keep in mind is a pretty high mercury content. Limit your grouper consumption to 2 portions per month.
How to cook pan seared grouper
The recipe i am sharing today is for a pan seared grouper fillet. Lemon butter goes so well with this fish, making it taste fantastic. Here is my step by step directions:
First, season grouper fillet with salt and pepper. I also added some old bay seasoning on one side. Let the fish sit for a few minutes.
Meanwhile heat butter and garlic on the skillet. Add fish and cook for 3-4 minutes on each side.
Cook fish until done. Check it by sticking digital thermometer in the thickest part of the fillet, it should be 145 degrees Fahrenheit. Take it out and leave on the plate.
Add chopped cilantro to the butter garlic mixture, lemon juice and saute for a minute. The sauce will not be thick but it will be just right to cover grouper like on the photo.
What goes well with grouper
Clean health vegetables are absolutely amazing with this fish. Roasted asparagus, steamed broccoli, artichokes, sauteed vegetables. For a more filling dish add white rice or mashed potatoes.
I like to keep it healthy so i just sauteed some asparagus in the same time in a different pan. So good!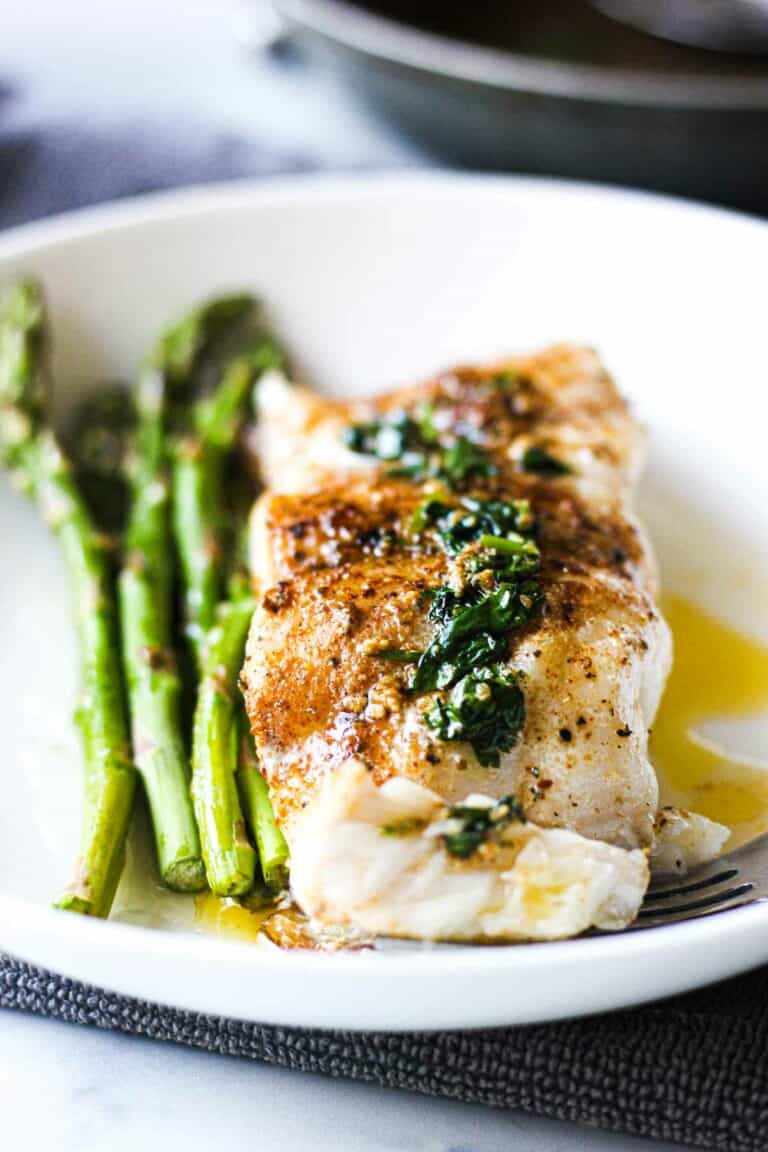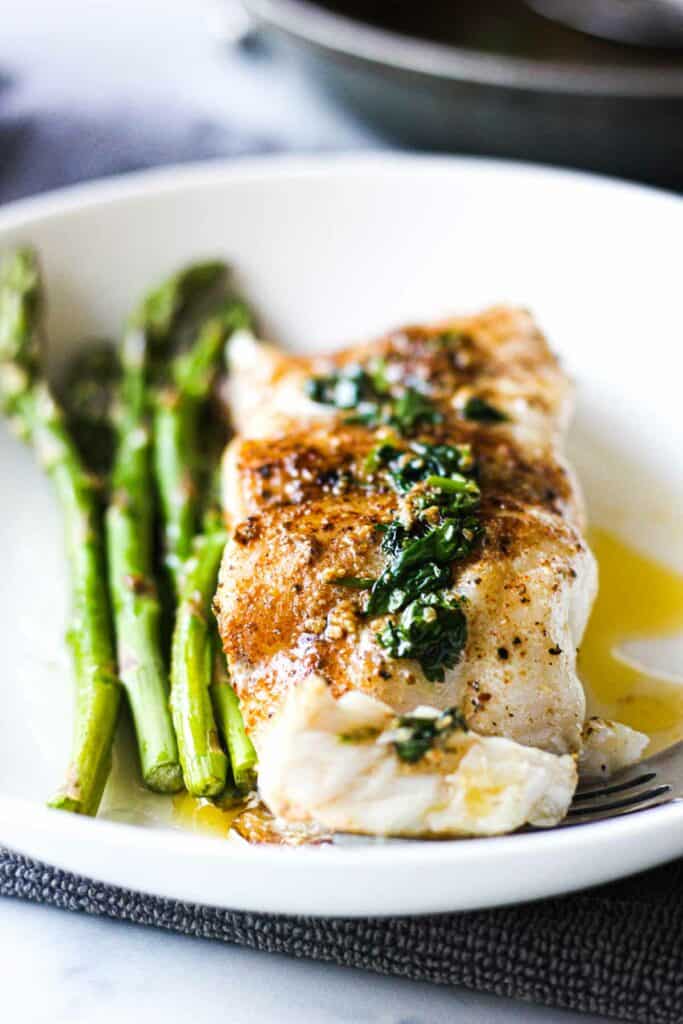 Still thinking if you should try this recipe or not? Trust, when you sear this fish with some lemon butter it tastes heavenly and ready in under 20 minutes altogether!
How to thaw fish
If your grouper portions happen to be frozen, there is few ways you can thaw it:
Just leave it on the counter, it will thaw in about 2 hours. It depend on a thickness of your fish.
Place fillet in a bag and bag in a bowl filled with water. It will speed us the process and cut thawing process by half.
And the best way if you are not in rush is to thaw grouper in the fridge overnight. Just like what you would do with a turkey so keep all the juices in.
Leftovers
If you have some leftovers (we didnt), just place fish in a airtight container. Keep it in the fridge for up to 4 days.
To reheat just pop it in to the microwave for about 30 second. If you have an air fryer, reheat it there for 1 minute at 370 degrees. It will taste freshly cooked!
More seafood recipes
Recipe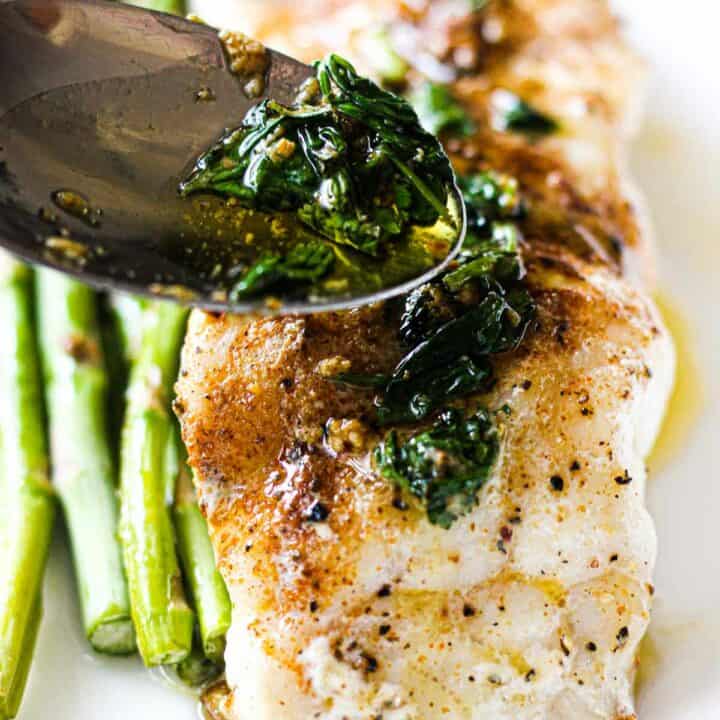 Pan seared grouper with lemon butter
Moist and flaky, this pan fried grouper with lemon butter is delicious with some veggies on the side or as is. Butter sauce is rich and accompanies the fish so well.
Ingredients
1 tablespoon butter
juice of ½ lemon
1 garlic clove, minced
¼ cup chopped parsley
Instructions
Season grouper fillet with salt and pepper on both sides. Heat butter over medium heat in the skillet and saute minced garlic in it for 1 minutes.
Add grouper and cook for about 3 minutes on each side. Take the fish out and set aside.
Add lemon juice and parsley to garlic butter. Saute for a minute or two.
Top grouper fillet with lemon buter parsley mixture and serve.
Notes
Easy way to check that your fish is done is to use thermometer. Stick it in the thickest part of the fish. When it reads 145 degrees, its done. Try not to overcook it or it will become dry.
Instead of parsley you can use cilantro. Or even chopped spinach.