Make catfish the healthy way! Try this air fryer catfish nuggets recipe, so easy and quick. Only 2 ingredients!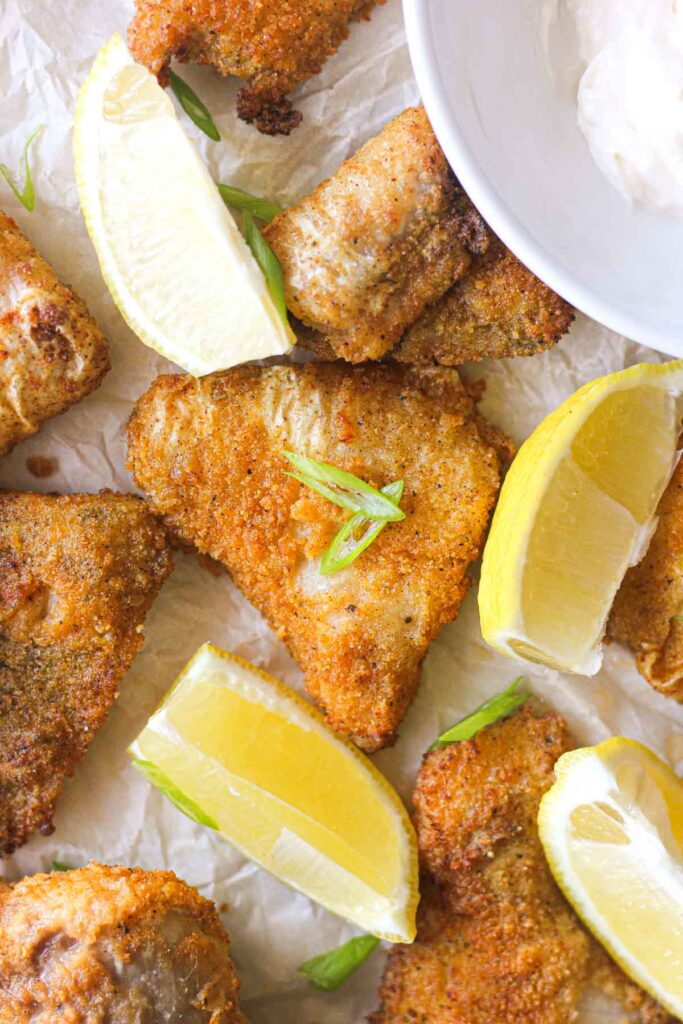 Catfish nuggets are a cheaper version of catfish fillets. They are just trimmings of the whole fish and not big enough to called a fillet. They are also cheaper then fillets. Works for me!
Are catfish nuggets good for you
Like most white fish catfish is low in calories. Nuggets are not as low in fat as the whole fish because they are mostly made out of catfish belly trimmings. But its a healthy fat so don't worry.
Also catfish is packed with protein and nutrients like B12, selenium and Omega-3.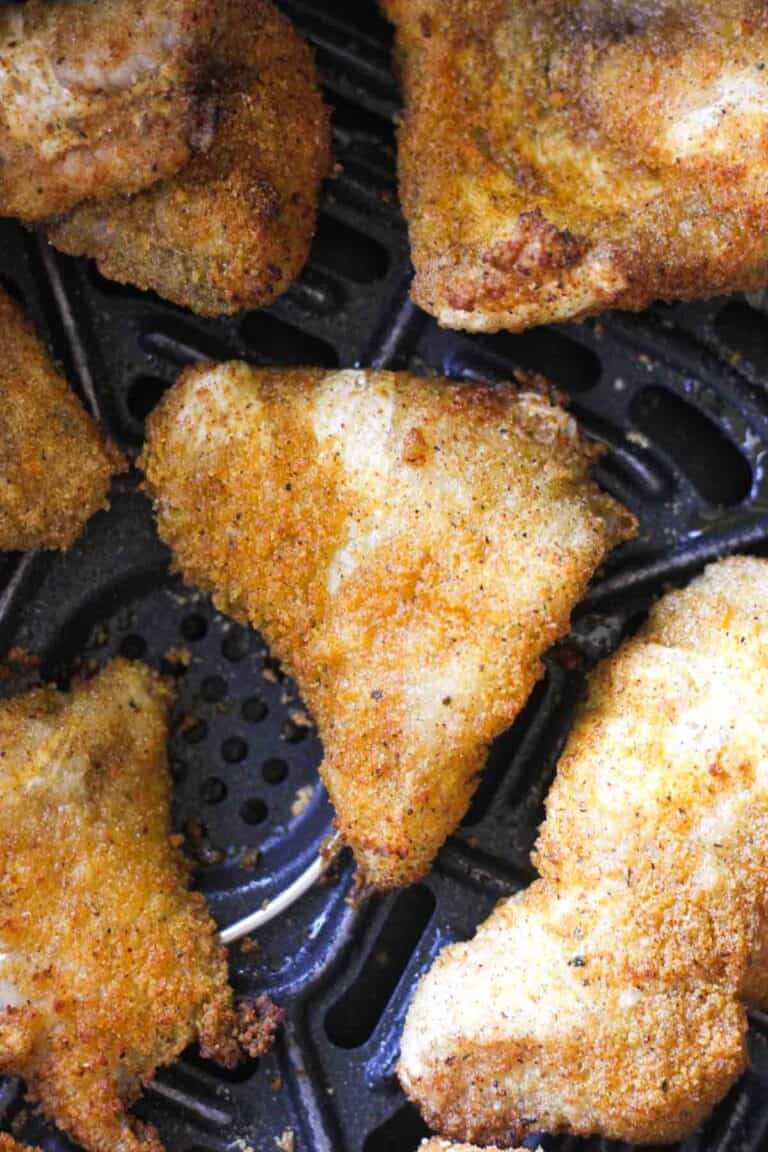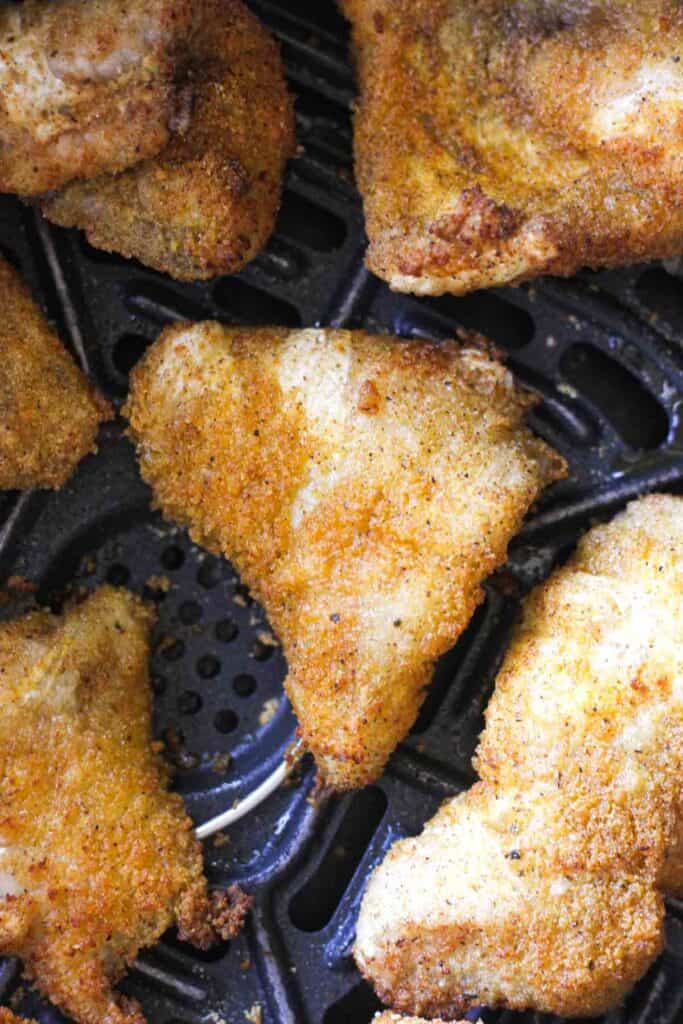 Can i use another fish
This recipe is flexible. You can absolutely use another fish. Cut it in small chunks, roll in your favorite fish fry dry mix and pop in the air fryer.
Salmon will work amazing here. It has just enough amount of fat to make a perfect nugget.
Air fryer coating mix
Below you can see the picture of an seasoning mix i used. I was surprised when i saw a fish fry mix made specifically for an air fryer.
The difference is that this mix already has oil in it so you don't need to spray nuggets with oil spray while cooking. I mean you still can if you want to but its not needed.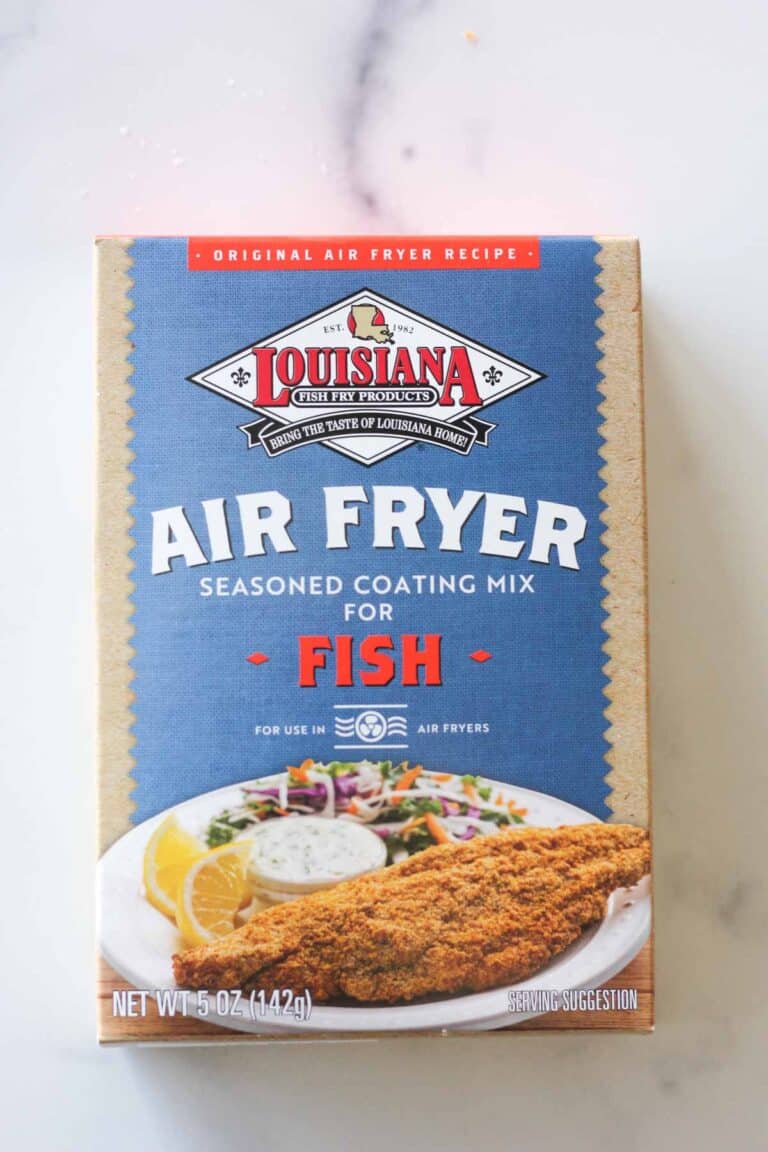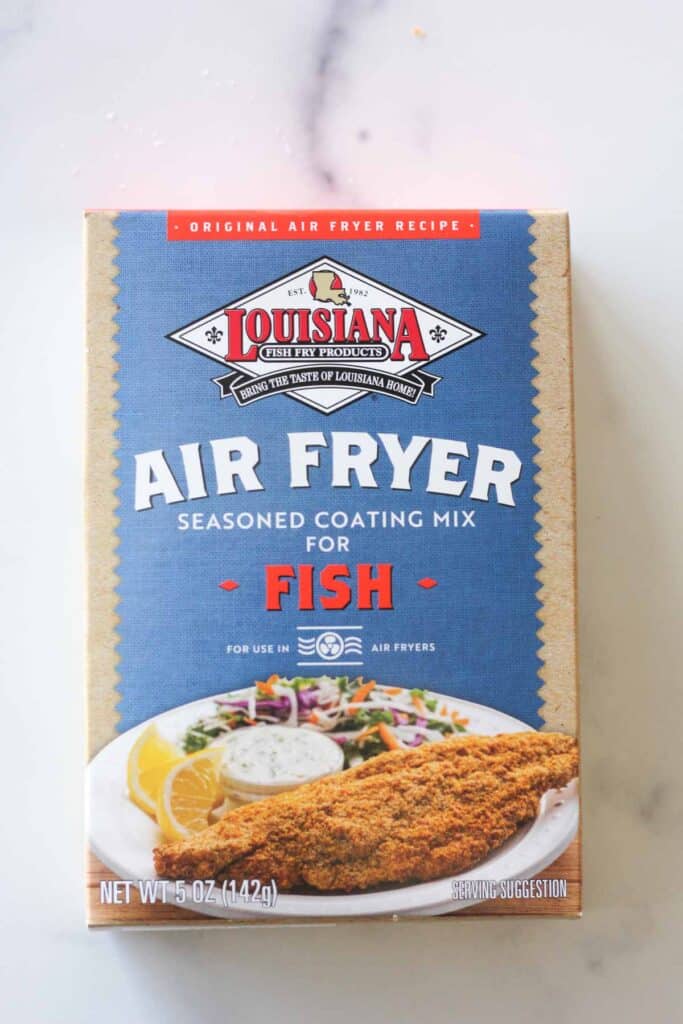 Catfish nuggets in air fryer actually look like they have been deep fried. They also taste the same to me! But so, so much healthier.
Also i prefer to cook nuggets to catfish fillets if i am serving lunch for kids. Finger food is always better for little eaters.
If you didn't see yet, i also cooked the whole catfish in oven and it turned out so delicious!
How to make air fryer catfish nuggets
So easy! This recipe only requires 2 ingredients- catfish and coating mix. Lets see what else do we need to do:
If the fish is frozen, you can easily defrost it by putting in the bowl filled with cold water (see the picture below). It will speed up defrosting process.
Dry catfish with paper towels. Pour fish fry mix in a bowl. Roll nuggets, one at a time in the mix and put in the air fryer basket. No need to spray it with oil.
Cook for 10 minutes. I don't recommend moving nuggets while cooking. They will cook evenly on each side if you will not overcrowd the basket.
Once done carefully remove from air fryer. Serve immediately with your favorite dip or without. Delicious both ways.
If you have a catfish fillet
If you have a catfish fillet instead of nuggets, here is what to do. Chop fillet in the nugget size pieces and here you have it!
Pieces does not have to be even in size or pretty. You are still going to air fry them in dry mix until they are golden in color.
More Air fryer recipes:
Recipe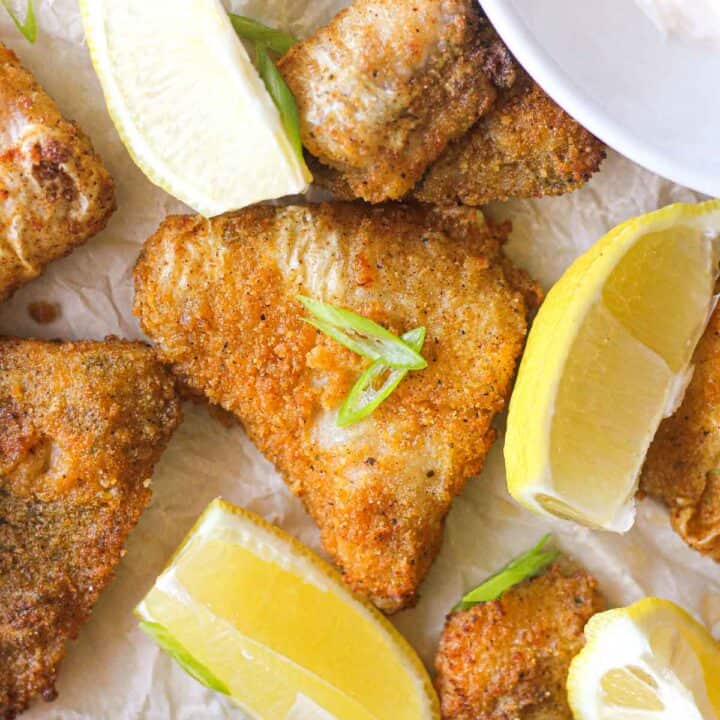 Air fryer catfish nuggets
Make catfish the healthy way! Try this air fryer catfish nuggets recipe, so easy and quick. Only 2 ingredients!
Ingredients
2 lb catfish nuggets
1 box of fish fry mix
oil spray
lemon
Instructions
Defrost catfish nuggets.
Pour fish fry dry mix into the bowl. Set aside.
Pat dry fish and roll in the fish mix, one at a time. Place in the air fryer basket.
Cook at 400 degrees for 10 minutes. No need to turn the fish. Oil spray the basket and nuggets if using regular fish fry mix, not specifically made for air fryers.
Carefully remove nuggets from the basket and enjoy with a squeeze of lemon.
Notes
DO NOT overcrowd the basket.
Fish is best thawed overnight in the fridge. Nuggets also can be defrosted on the counter for couple hours. If short in time, place fish in cold water, it will speed up the process.
Spray the basket and nuggets right before cooking with oil spray IF using a regular fish fry mix. If you are using the dry mix that's made specifically for air fryers, there is no need in extra oil. The mix already has oil in it.
Nutrition Information:
Yield:

4
Serving Size:

1
Amount Per Serving:
Calories:

548
Total Fat:

27g
Saturated Fat:

5g
Trans Fat:

0g
Unsaturated Fat:

19g
Cholesterol:

189mg
Sodium:

645mg
Carbohydrates:

20g
Fiber:

2g
Sugar:

1g
Protein:

53g