Juicy and with crispy skin, this air fryer turkey thighs are also so easy to make. Delicious dinner is ready in less then 30 minutes.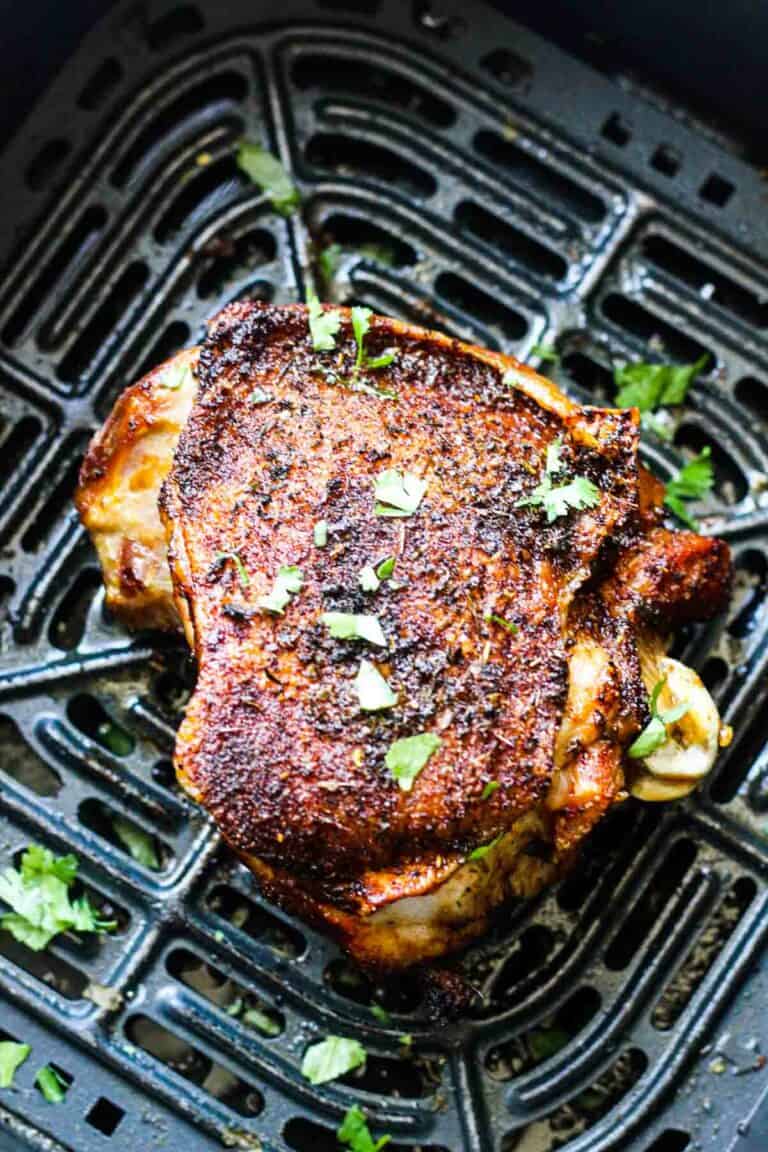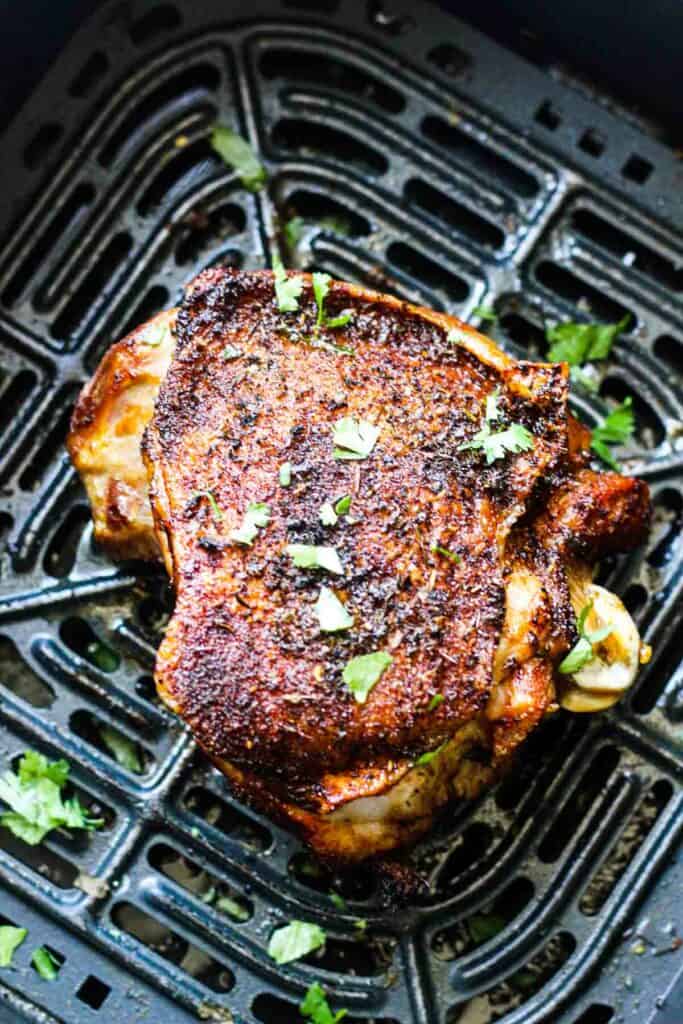 Do you want a delicious turkey dinner? Or its Thanksgiving and you don't need to cook for a large crowd, only for you and your family? I got you covered, try this juicy air fryer turkey thighs, they are ready in less then 30 minutes and the skin is flavorful and crispy!
Are turkey thighs healthy
Both turkey thighs and turkey breast are an excellent source of lean protein. Thighs contain three times more fat that breast that results in more calories per serving.
Dark turkey meat is delicious and has more minerals and vitamins. If you want to cook a healthiest version of it, cut the skin off. Skin is where most of the fat and calories are located.
How to make air fryer turkey thighs
This recipe is very easy and will require just few simple steps.
Wash and pat dry turkey. Make sure that the skin is dry and there is no moisture. Moist skin will take forever to crisp so its very important for crispy skin.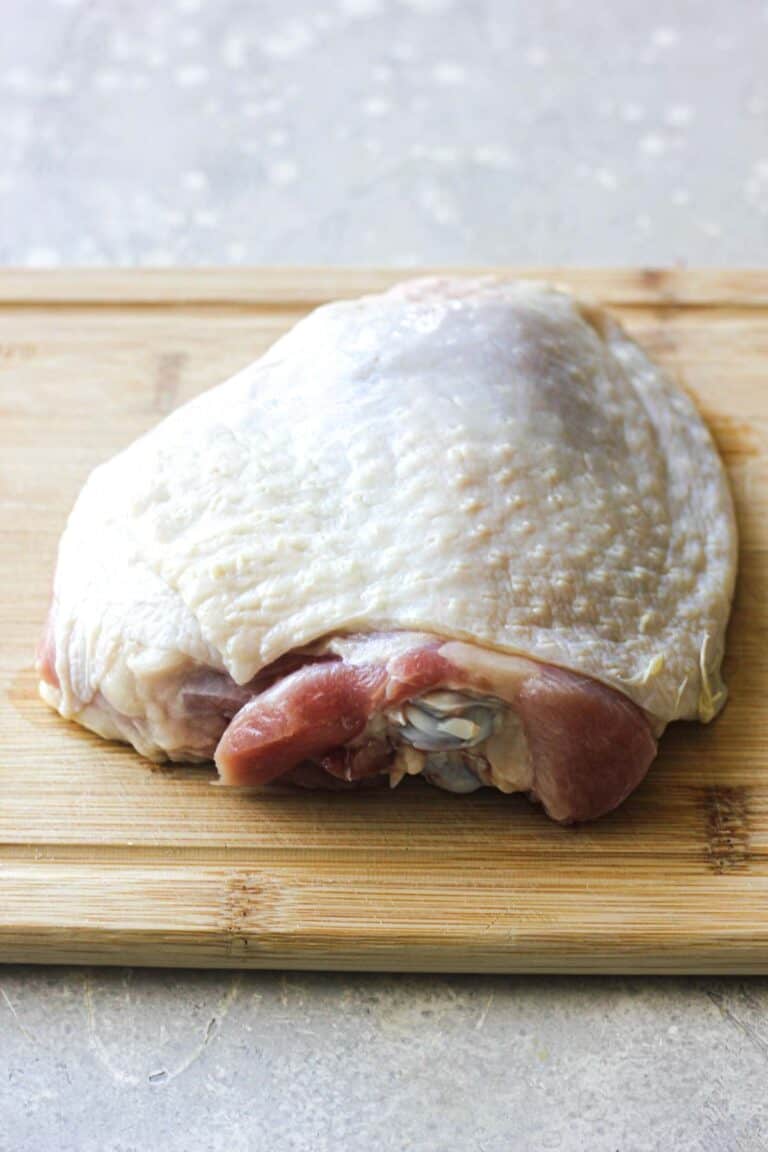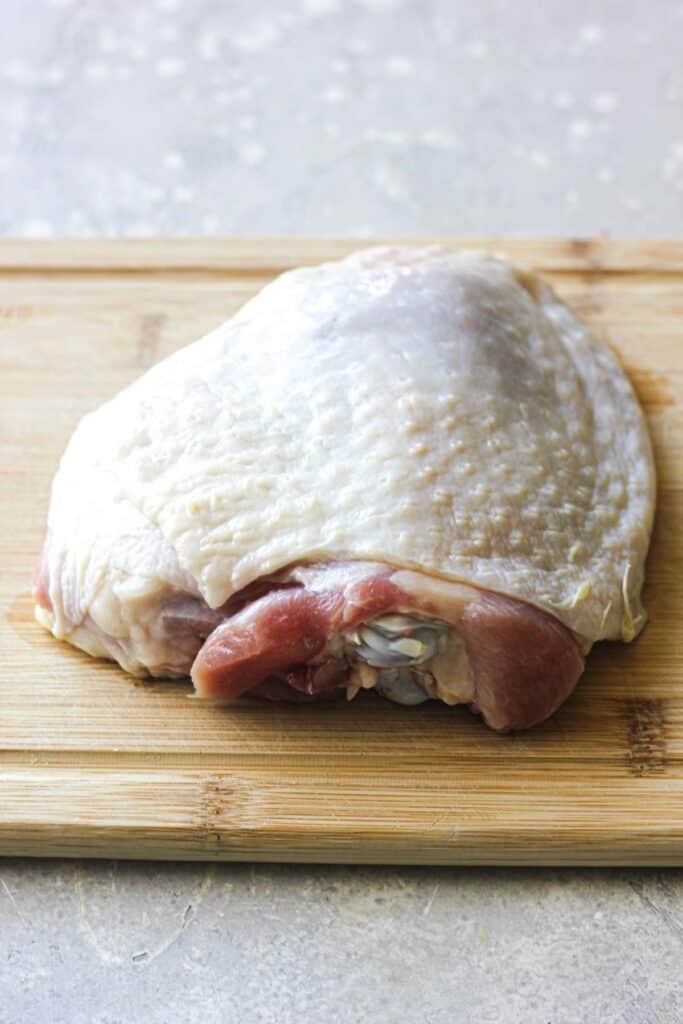 Combine spices in a small bowl and stir them well. Add more or less of your favorite herbs. I rubbed thighs in my favorite combination of Italian herbs with garlic, paprika and salt.
Rub thighs with rub. Cover in entirely and even rub some under the skin for more flavor.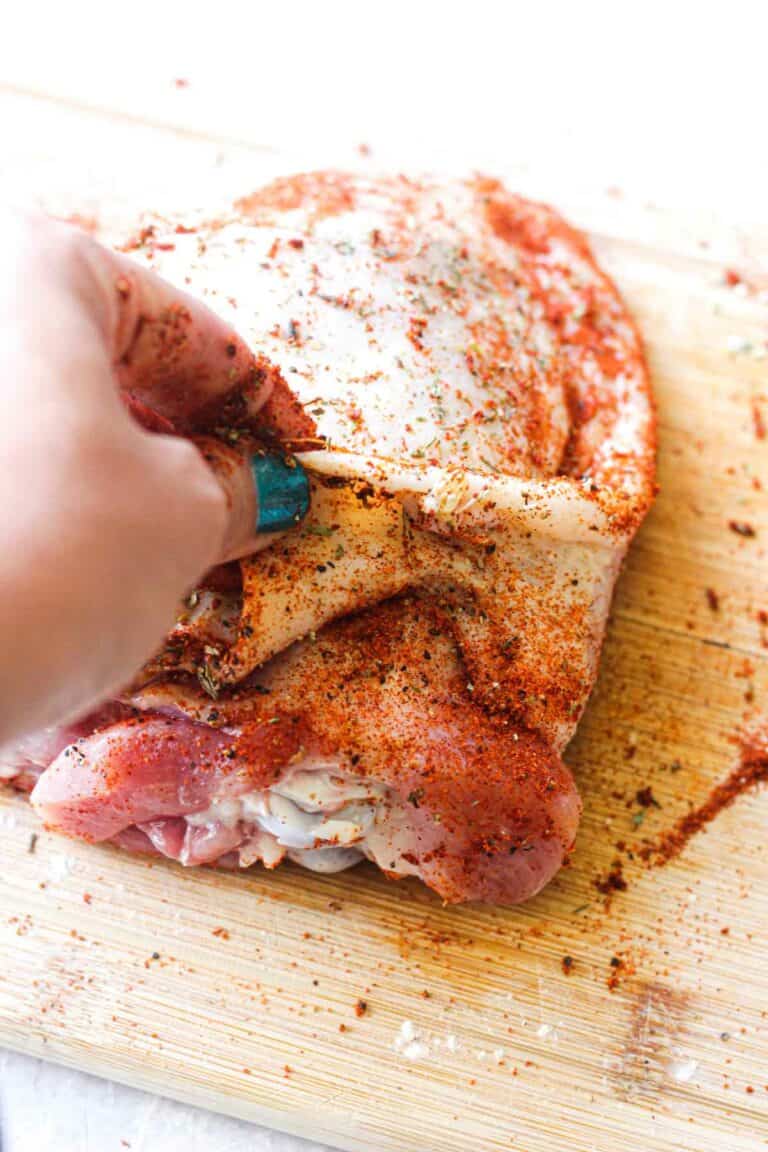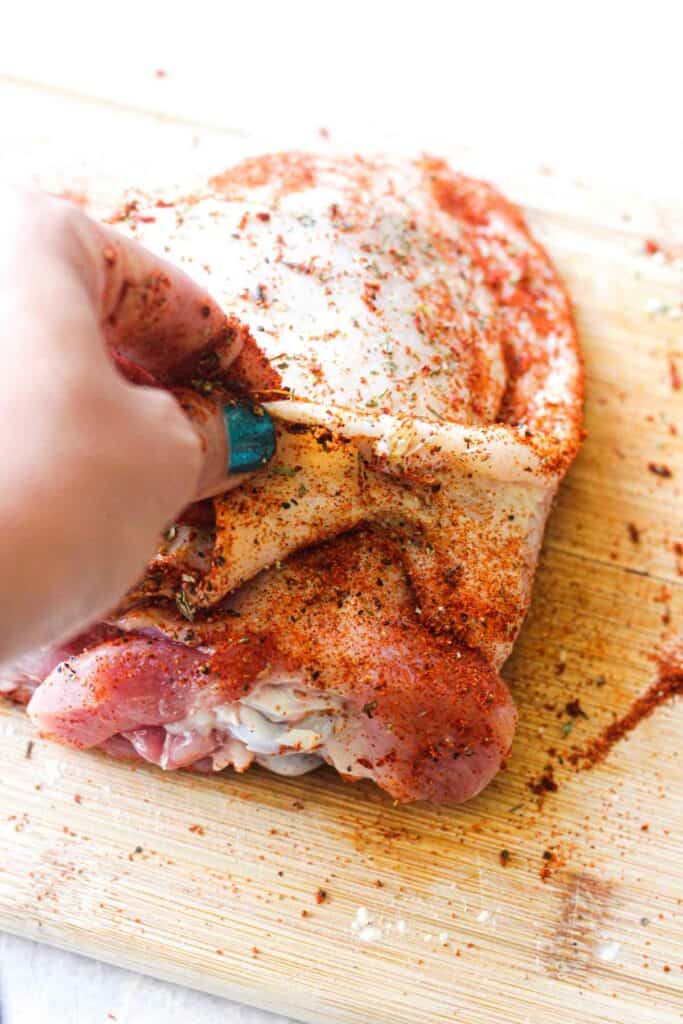 Place turkey in the air fryer and heat it to 390 degrees. Cook for about 25 to 30 minutes. There is no need to flip thighs or even move them around.
You can cook more then one thigh at a time. Standard air fryer basket will fit 2 or 3 thighs no problem. Or even 4 if thighs are not too big. Always leave space between to allow air to circulate properly.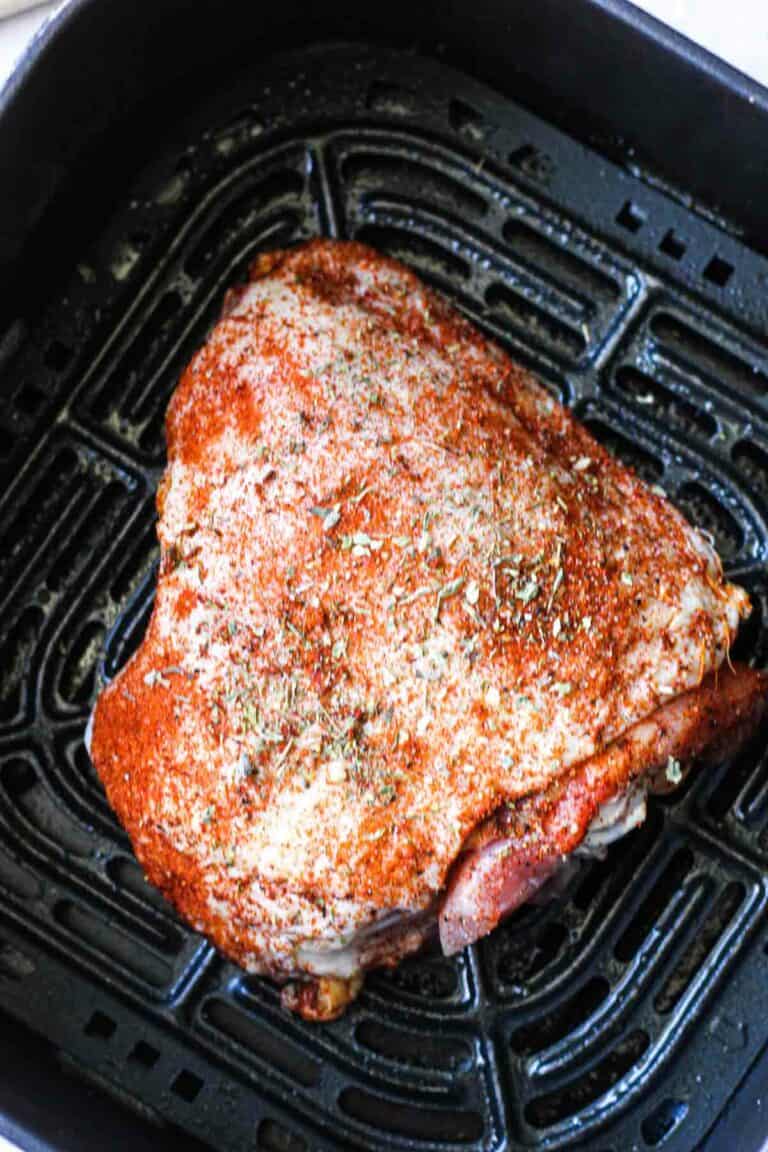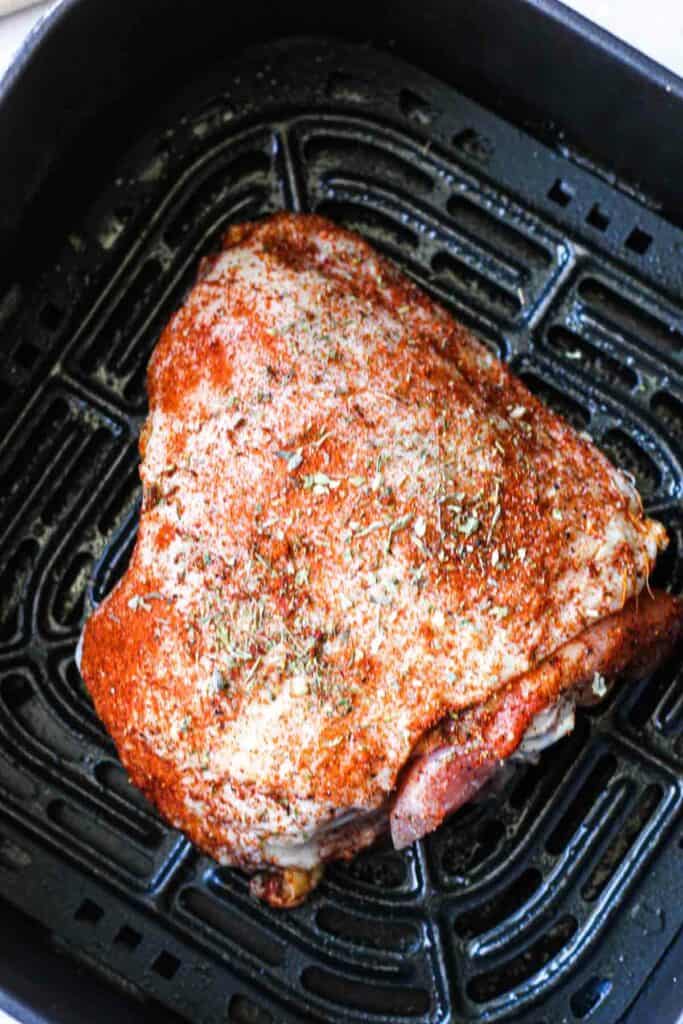 Some thighs are bigger then other so change cooking time accordingly. I highly recommend investing it instant meat thermometer. Its a life saver! Turkey just like chicken should be cooked till internal temperature reaches 165 degrees.
It might be lots of fat on the bottom of air fryer basket. Be careful so i doesn't splash you and don't burn your hands.
Can i cook it from frozen
You can make air fryer turkey thighs or drumsticks from frozen. Place frozen bird in the air fryer basket, and heat it to 390 degrees. Cook for extra 10 minutes. Halfway through drain the air fryer. It will collect some liquid that came from thawing turkey thighs.
If you will leave that juice in the basket, turkey will be steamed instead of fried. Important for crispy skin!
Internal temperature
Poultry needs to be cooked till its internal temperature is at least 165 degrees Fahrenheit. Turkey is not an exception. Most likely if you will slightly overcook it, it still will be juicy. Thanks to a high fat content.
Honestly i hardly ever cook chicken or turkey without using internal thermometer. It gives you the confidence and your bird is always juicy and cooked to perfection.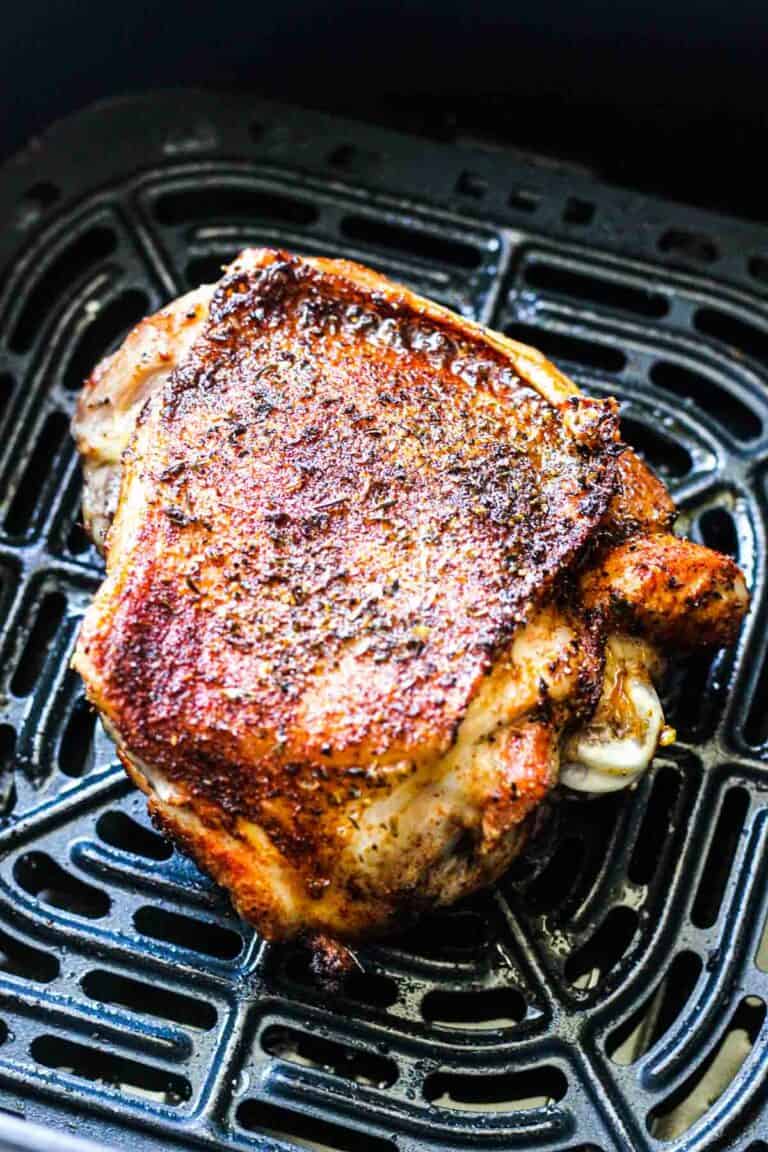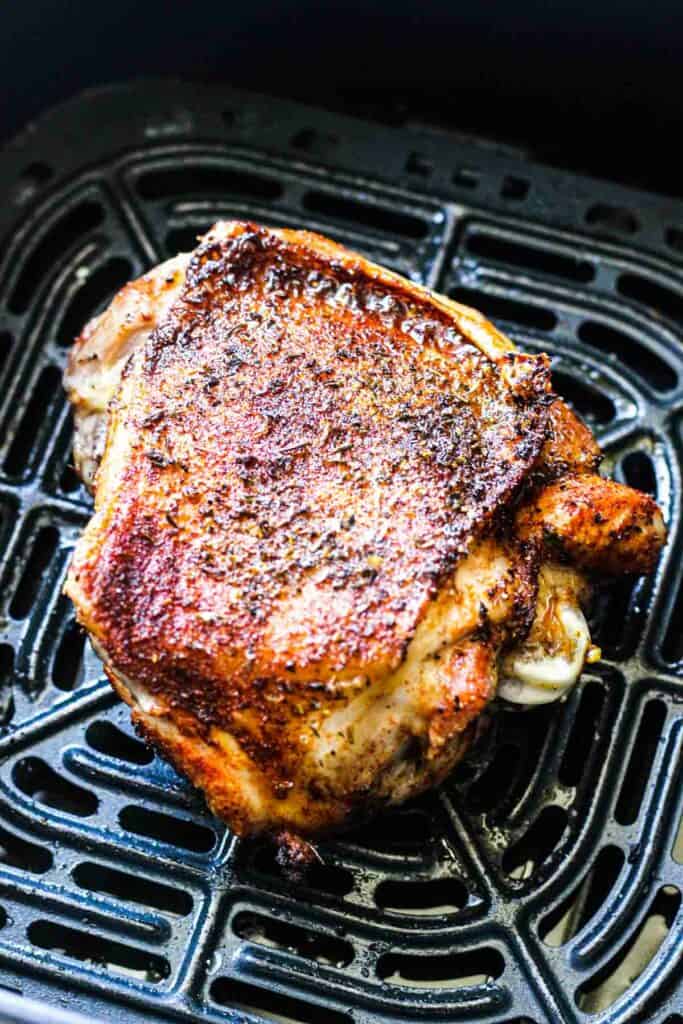 Serving suggestions
You can totally eat turkey by itself but to compete the meal add some sides. Here are some of my favorites:
Steamed broccoli. This is a probably the healthiest choice to pair with turkey thighs.
Mashed potatoes and gravy. If you are making this dish for Thanksgiving, potatoes are the must. Turkey with potatoes and gravy, oh my, its so delicious!
White rice. This is classics side dish for any kind of bird. Chop some green onions on top and serve in a bowl.
Sauteed vegetables. Another healthy low carb choice for late dinner. Try to saute eggplant, zucchinis, onions and mushrooms together for 10-15 minutes. Add some garlic and Italian herbs and you are good to go!
Mashed butternut squash, this recipe is for pressure cooker and is so easy to make. Holidays favorite.
If you have fresh herbs on hand, use them in the recipe instead of dry spices. Also rosemary looks amazing on a serving dish, no matter if you cook this air fryer turkey thighs during the year or for Thanksgiving dinner.
Leftovers
Store turkey leftovers in a airtight container in the fridge. You can also put them in a bowl and tightly cover it with foil. Thighs will last up to 4 days in the fridge.
To reheat just place legs back in the air fryer and heat on 400 degrees for about 5 minutes. Wipe skin with paper towels before reheating and it will get crispy again.
Can you freeze cooked turkey thighs
You can also freeze leftovers. Place thighs in a freezer-safe container or a ziplock bag and freeze for up to 3 months. Reheat in the air fryer or oven.
Can i make this recipe in Ninja foodi
If you follow my blog for a while you know that I make many Ninja Foodi recipes. From roasted salsas to pot roasts. Try my latest creation bacon wrapped Ninja foodi pork tenderloin, i guarantee you will fall in love with this recipe as much as i did.
Back to the subject, you can absolutely make this recipe in Ninja Foodi air fryer. Follow the instructions exactly and you will get yummy crispy skin turkey thighs.
More turkey recipes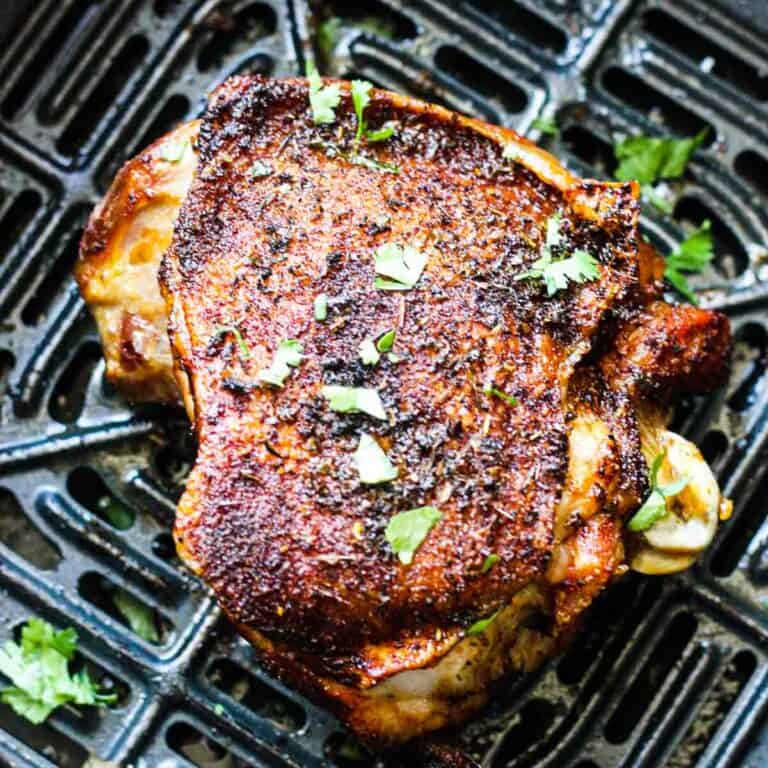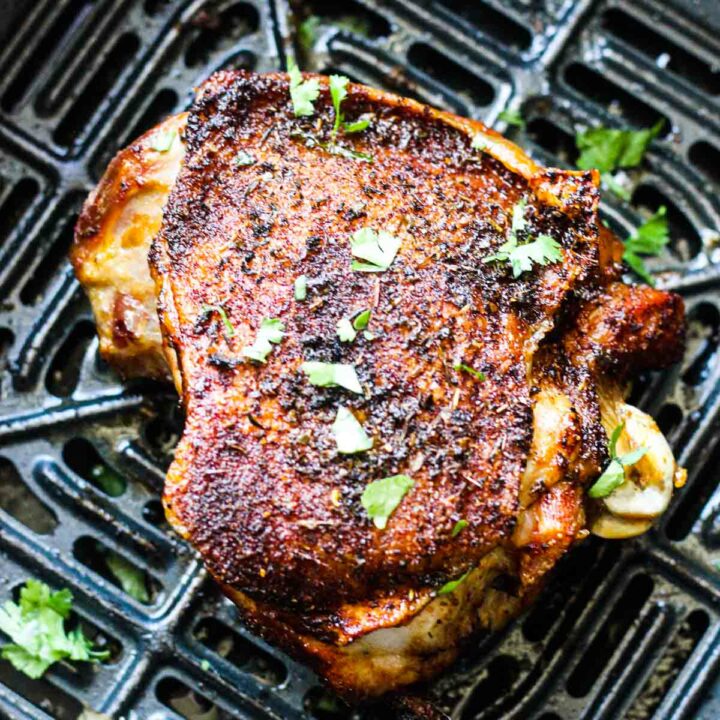 Crispy air fryer turkey thighs
Juicy and with crispy skin, this air fryer turkey thighs are also so easy to make. Delicious dinner is ready in less then 30 minutes.
Ingredients
1 turkey thigh
1 teaspoon salt
1/2 teaspoon thyme
1/2 teaspoon oregano
1/2 teaspoon rosemary
1/2 teaspoon garlic powder
1 teaspoon paprika
Instructions
Rinse turkey under the running cold water and pat dry.
Mix all the spices in a small plate and rub thighs with it. Rub some under the skin too.
Place turkey thigh in the air fryer. Cook for about 25-30 minutes at 390 degrees Fahrenheit. The cooking time depend on the thickness of turkey. Check internal temperature if you have a thermometer, it should be 165 degrees when fully cooked.
Sprinkle with chopped cilantro or green onions and serve.
Notes
Paprika adds lots of beautiful color to thighs so add as much as you want.
Make sure that the skin is completely dry before cooking, extra moisture will prevent skin from getting crispy.
You can cook more then one thigh at a time. Typically air fryer will fit up to 4 turkey thighs at once, depending on the size. Cooking time will remain the same, as long as there is space between turkey in the basket for the air to circulate.
I big turkey thigh will feed two people, with sides.
Nutrition Information:
Yield:

2
Serving Size:

1
Amount Per Serving:
Calories:

326
Total Fat:

17g
Saturated Fat:

5g
Trans Fat:

0g
Unsaturated Fat:

12g
Cholesterol:

202mg
Sodium:

1235mg
Carbohydrates:

2g
Fiber:

1g
Sugar:

0g
Protein:

42g