Try this super juicy and delicious, simply the best baked turkey wings with cream of mushroom soup. Soup gives this dish an extra creamy consistency and lovely flavor.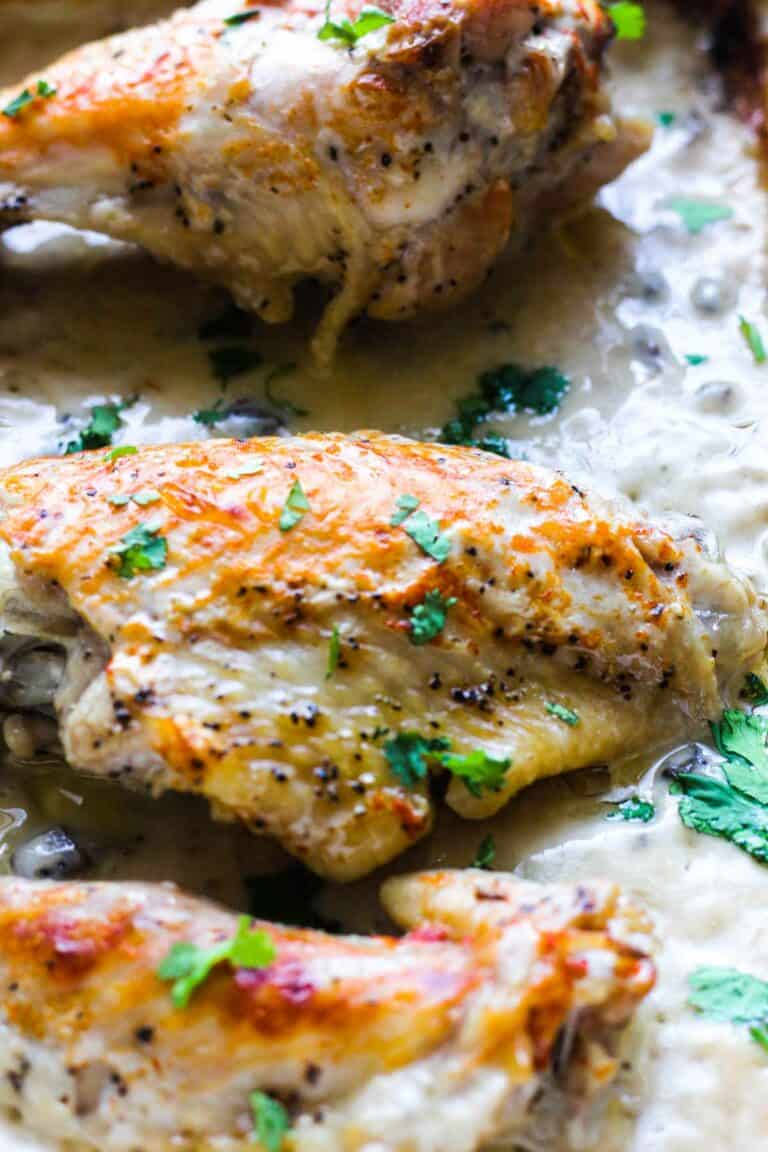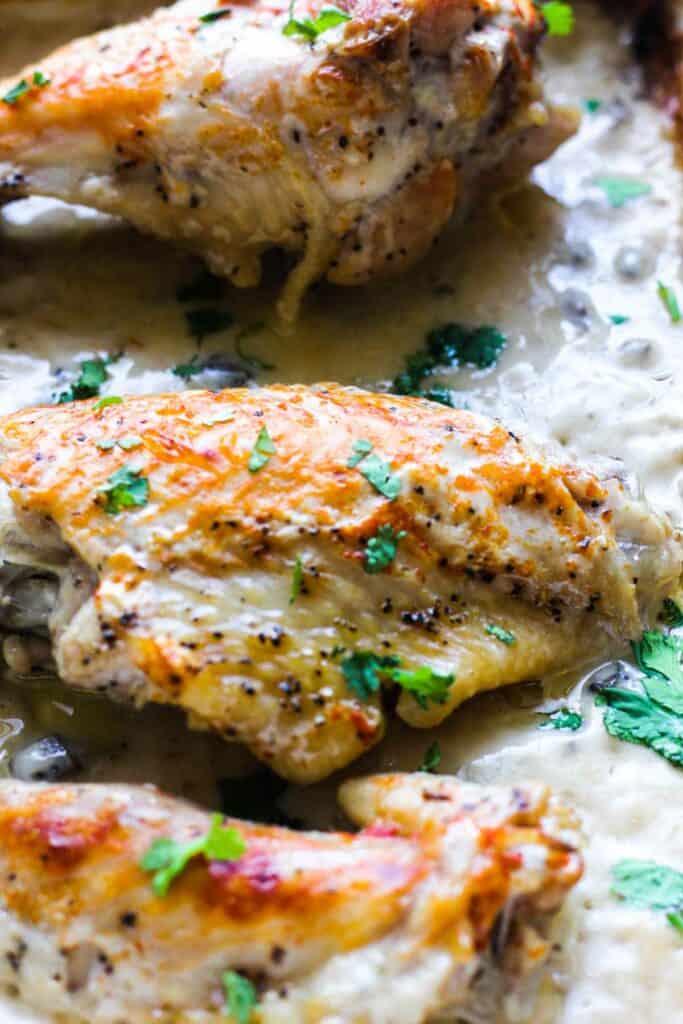 I never though before that i will try to bake turkey with cream of mushroom soup. It sounded kinda adventurous to me! The dish turned out just amazing, so flavorful and creamy! And turkey wings were so melt in your mouth tender.
Where to buy turkey wings
If Thanksgiving is not around the corner sometimes its hard to find wings in the store. Try to search online stores.
I was able to buy it in my local supermarket. You can usually find it in the meat and poultry isle in the fridge or in the freezer.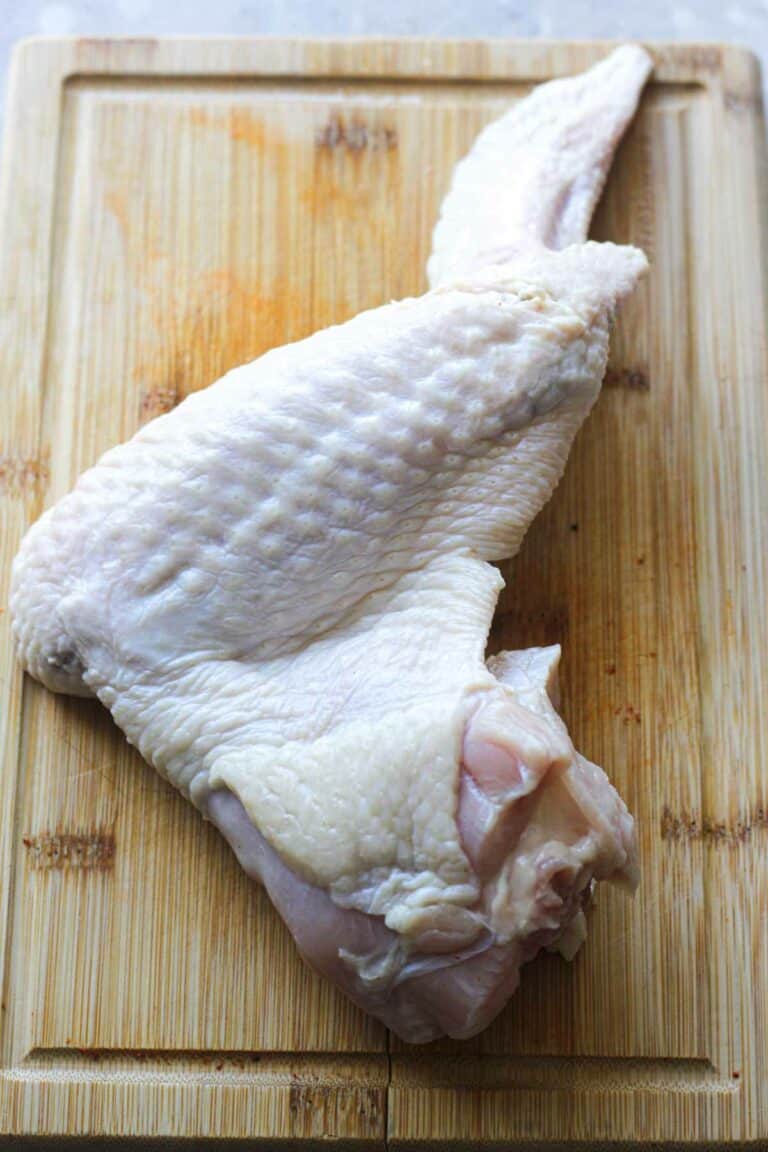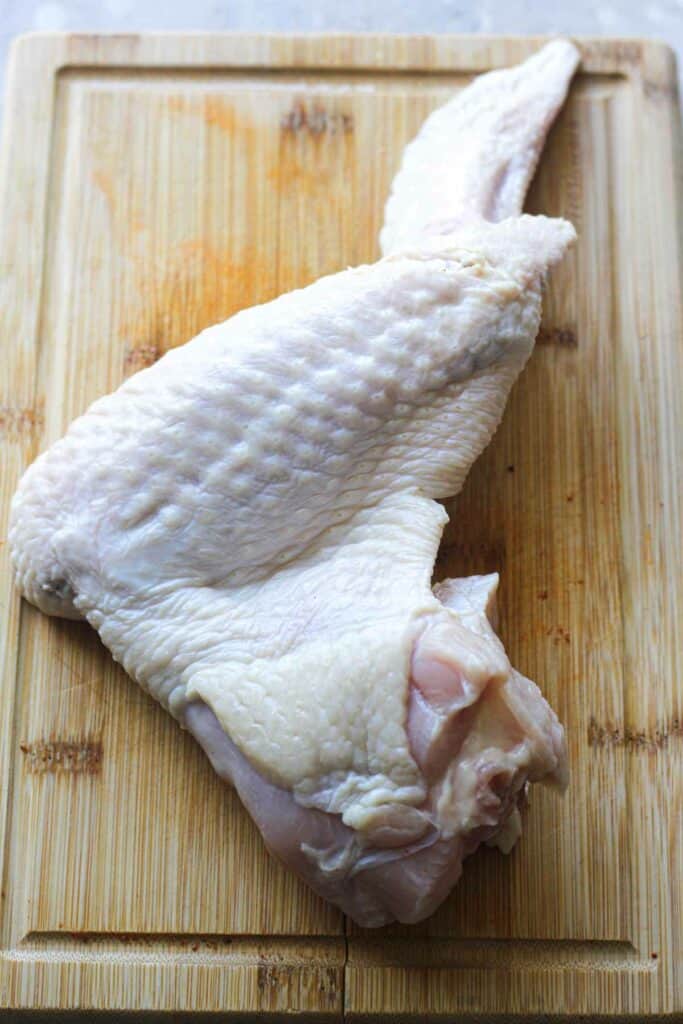 How to thaw it properly
Not everyone can find fresh turkey wings in the store. If you want to keep all the juices inside and prevent wings from being dry, thaw it properly.
Remove turkey wings from the freezer. Move them into the fridge in a medium size bowl. This bowl will collect some juices and will help to keep fridge clean. Thaw overnight.
If you are short in time you can always defrost turkey on the counter. It will take only couple hours but i don't recommend this method.
How to bake turkey wings in the oven
First start with washing turkey under the cold running water. I always wash poultry or any other kind of meat. Just wash the sink after. If you don't want to wash turkey you don't have to, it's up to you.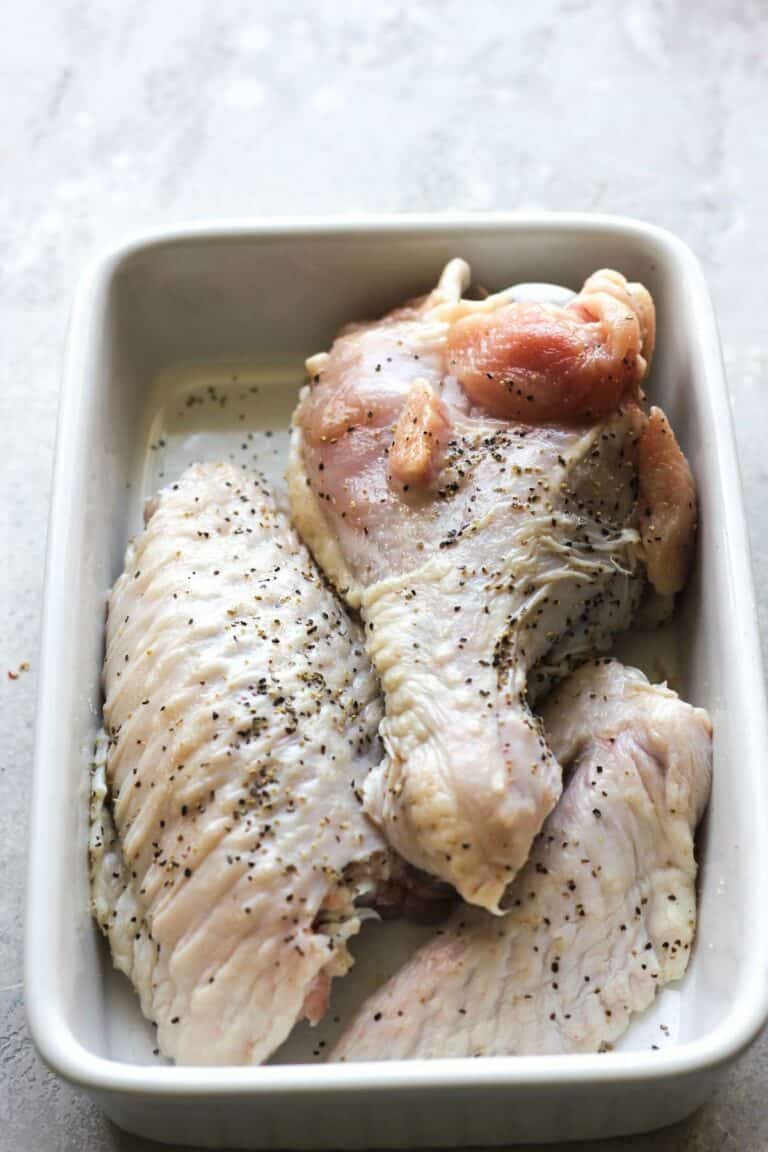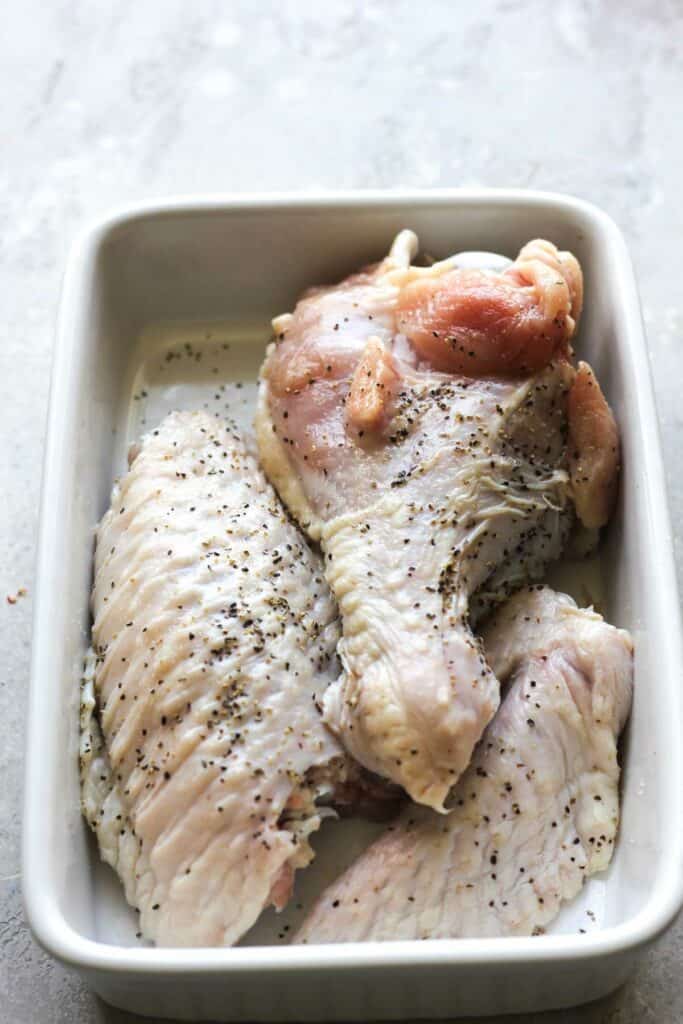 Pat dry wings with paper towel. If the wing is not precut, separate it into three sections using a sharp knife. Cover it in salt and paper,minced garlic, drizzle some olive oil on top and set aside.
Pour the entire can of cream of mushroom soup into the baking dish. Don't forget to preheat the oven.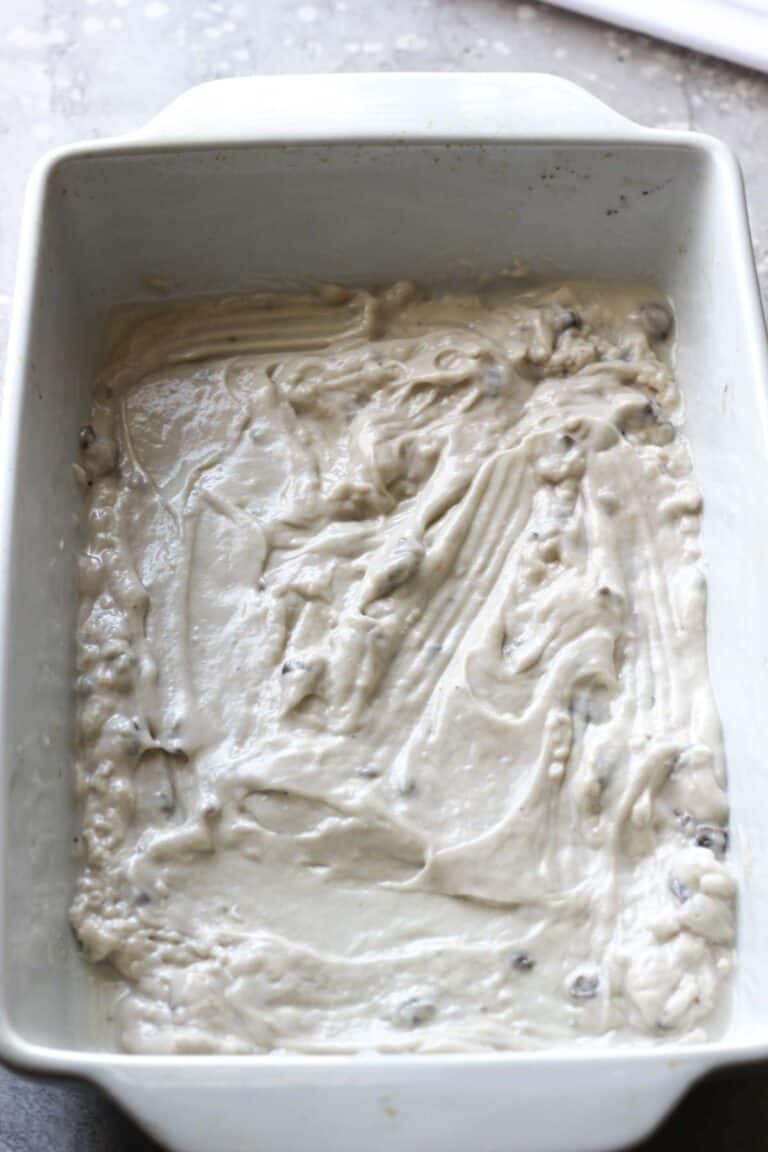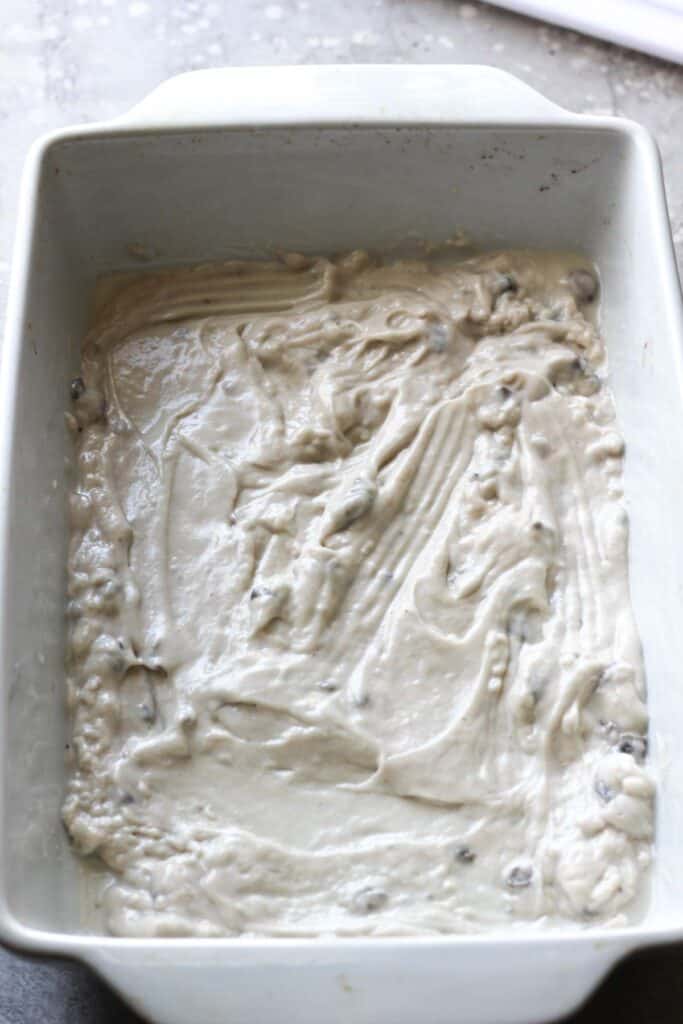 Place turkey wings on top of cream of mushroom soup and stir them around. Make sure they are covered completely in soup. Arrange around the baking dish. If using more wings make sure they don't overlap each other.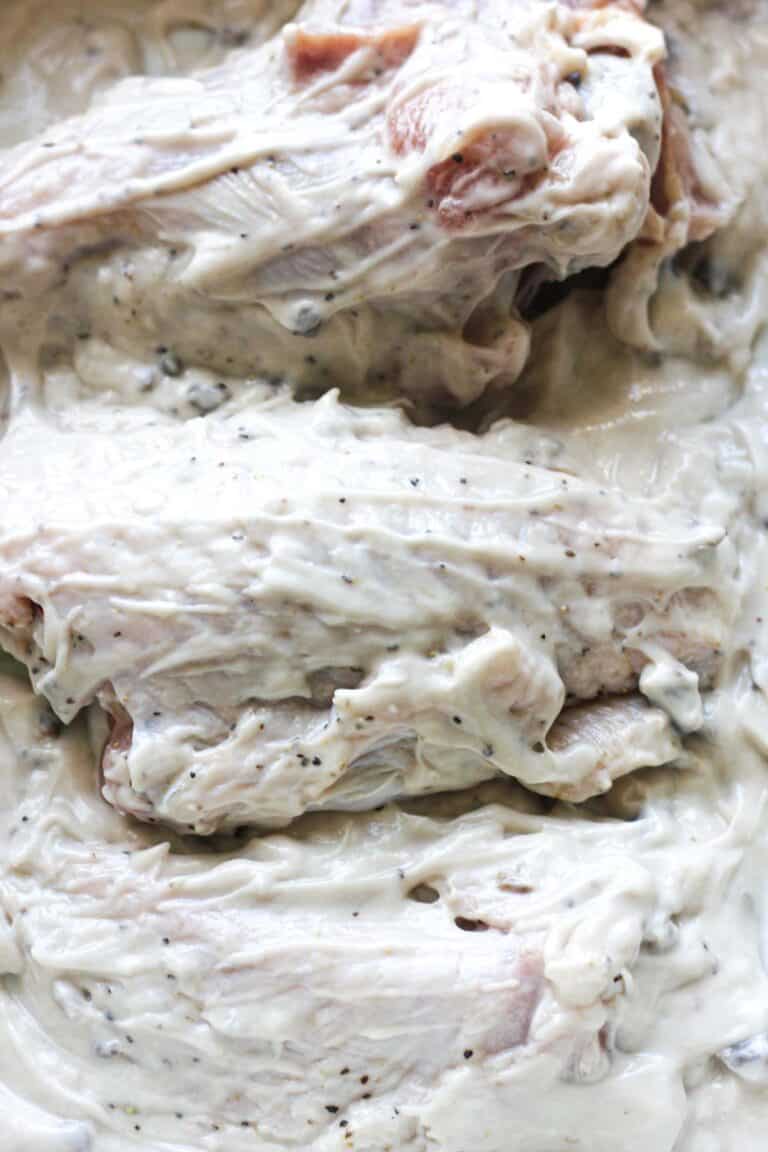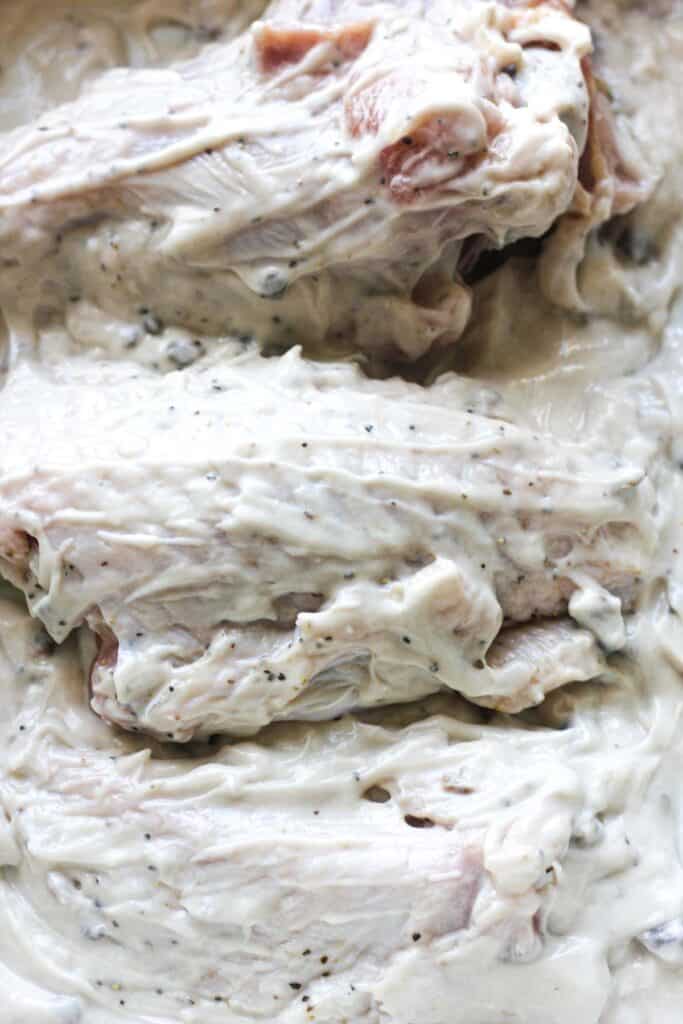 Brush each turkey wing with some hot sauce on top. It will add extra flavor and color. If you don't like it spicy, skip this step.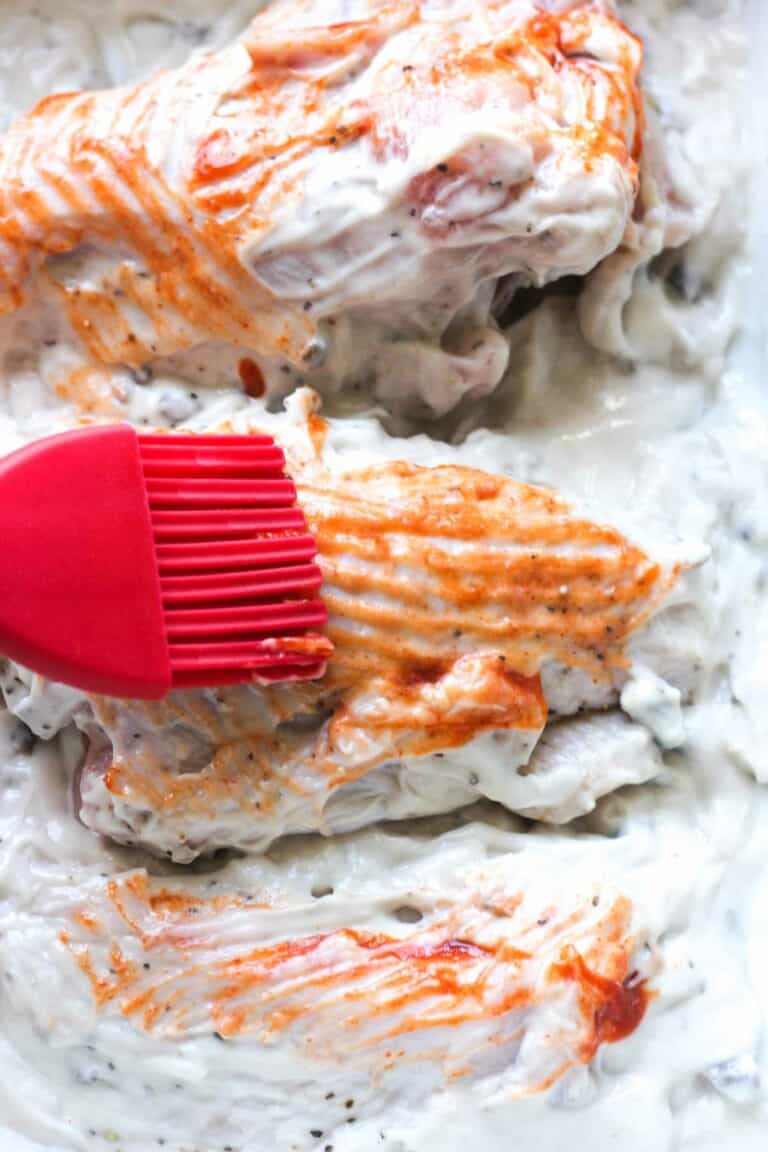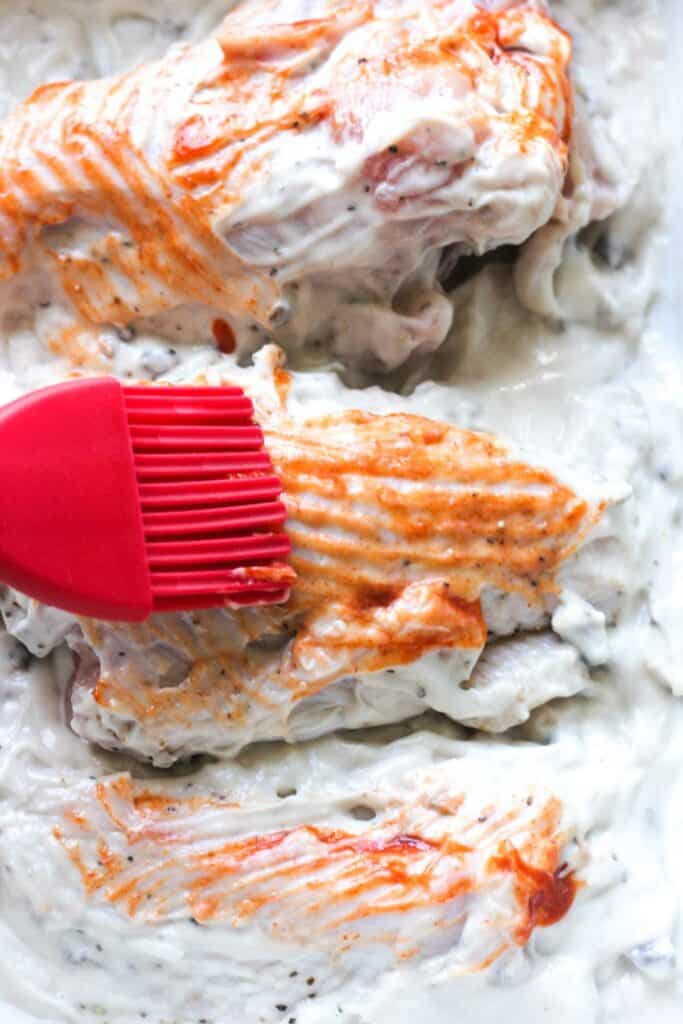 Cover baking dish tightly with foil. Bake in the oven for about 1 hour. Once cooked, enjoy it as is or stick the baking dish under the broiler for 5 minutes. It will help crisping the skin and it will add lovely brown color.
Time and temperature
Baked turkey wings will be done in about 1 hour in a 400 degrees oven. Make sure to use your instant meat thermometer to check if wings are done. Internal temperature of cooked wings should be at least 165 degrees. After 1 hour in the oven it probably will be higher but also tender and melt in your mouth.
Wings have high fat content so its ok to slightly overcook them. For example turkey breast is not forgiving. If you will go past 165 degrees the meat will be at high risk to be dry.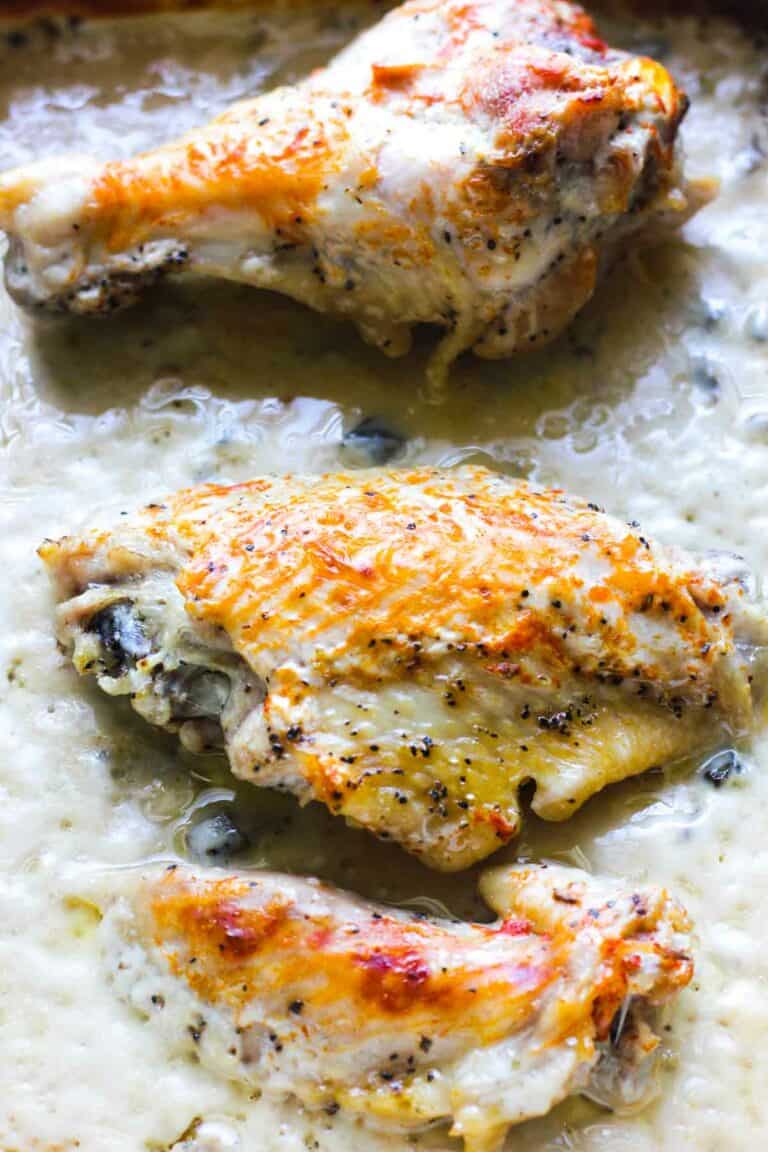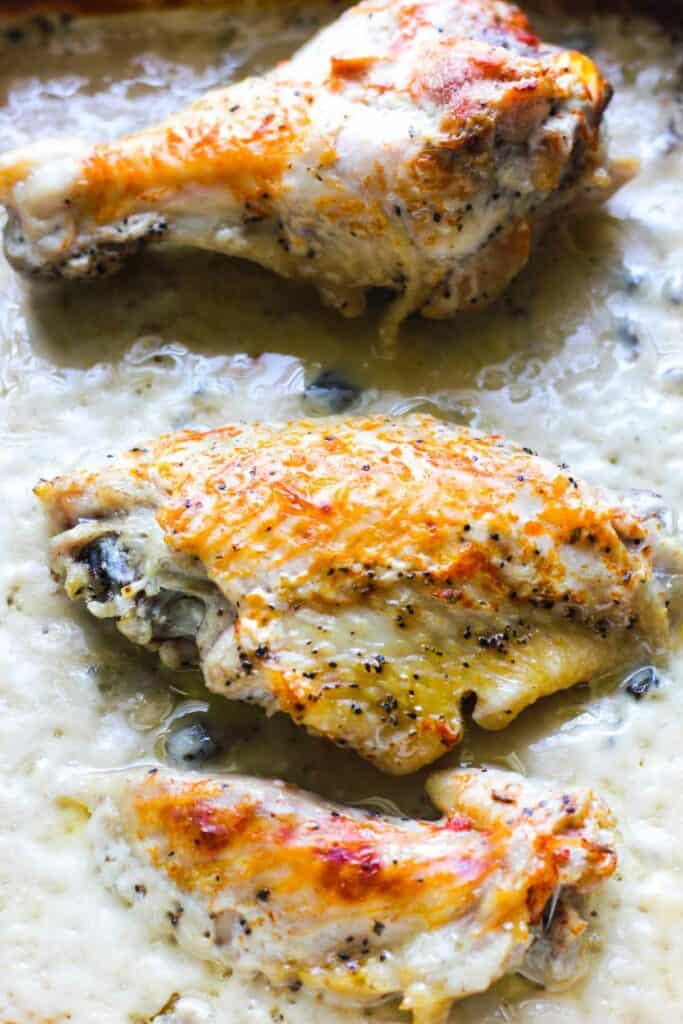 Side dishes
You can totally enjoy this turkey wings recipe by itself. The sauce is so creamy, you can dip wings in the sauce and eat it that way.
Or serve it with sides. My favorite side is mashed potatoes. Creamy delicious potatoes pair perfectly with juicy turkey wings. So good!
If you want to keep it on a healthy side make a garden vegetable salad. Mix chopped cucumbers, onions, cilantro, tomatoes and bell peppers. Add a splash of live oil and some salt and pepper to taste.
A steamy bowl of white rice goes very well with turkey. Pour some cream sauce over rice and enjoy.
Leftovers
Store baked turkey wings in the air tight container in the fridge for up to four days. You can reheat it two ways. In the microwave heat for couple minutes in a microwave safe bowl. Or heat it in the oven on 400 degrees for 10 minutes until hot.
More turkey recipes
Also try Air fryer lemon pepper chicken wings and Ranch chicken wings in air fryer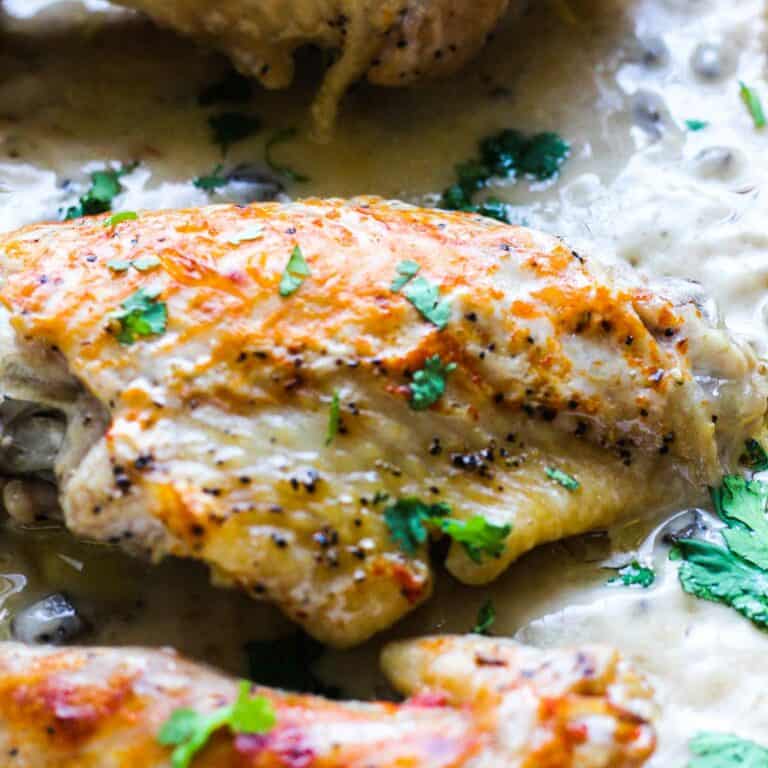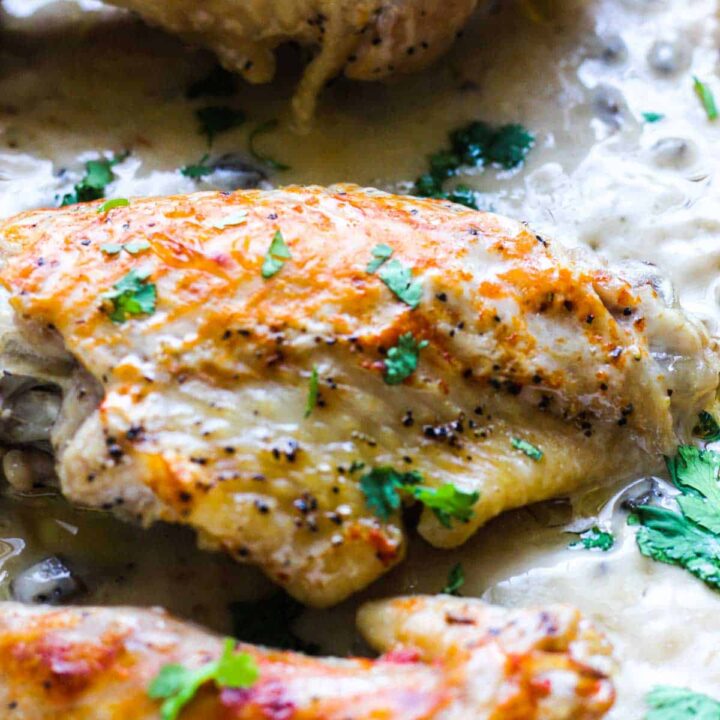 Oven baked turkey wings with cream of mushroom soup
Total Time:
1 hour
5 minutes
Super juicy and delicious baked turkey wings with cream of mushroom soup. Soup gives this dish an extra creamy consistency and lovely flavor.
Ingredients
2 turkey wings
2 cloves garlic, minced
½ teaspoon salt
freshly ground pepper
1 cream of mushroom soup can
Instructions
Preheat oven to 400 degrees.
Rinse and pat dry turkey. Season with garlic, salt and pepper and set aside.
Pour cream of mushroom into a baking dish you are planning to use. Set wings on to and mix them with the soup.
Cover tightly with foil and bake for 1 hour. After its cooked, take foil off and broil for 5 minutes. This step is optional.
Notes
I used only one turkey wing in this recipe. Instructions provided for 2. Feel free to bake as many wings at one time as you want. Don't overlap them in the baking dish.
If cooking for Thanksgiving or Christmas, add fresh rosemary to the dish. It will look and smell amazing.
Chopped cilantro or green onions will be great to add on top of cooked dish.
Best served with white rice, mashed potatoes or green salad.
Nutrition Information:
Yield:

2
Serving Size:

1
Amount Per Serving:
Calories:

638
Total Fat:

34g
Saturated Fat:

10g
Trans Fat:

0g
Unsaturated Fat:

21g
Cholesterol:

163mg
Sodium:

1767mg
Carbohydrates:

20g
Fiber:

1g
Sugar:

9g
Protein:

59g