Delicious healthy white fish prepared the most convenient way, try this air fryer walleye recipe with breading or with no breading. Squeeze some lemon on top and enjoy!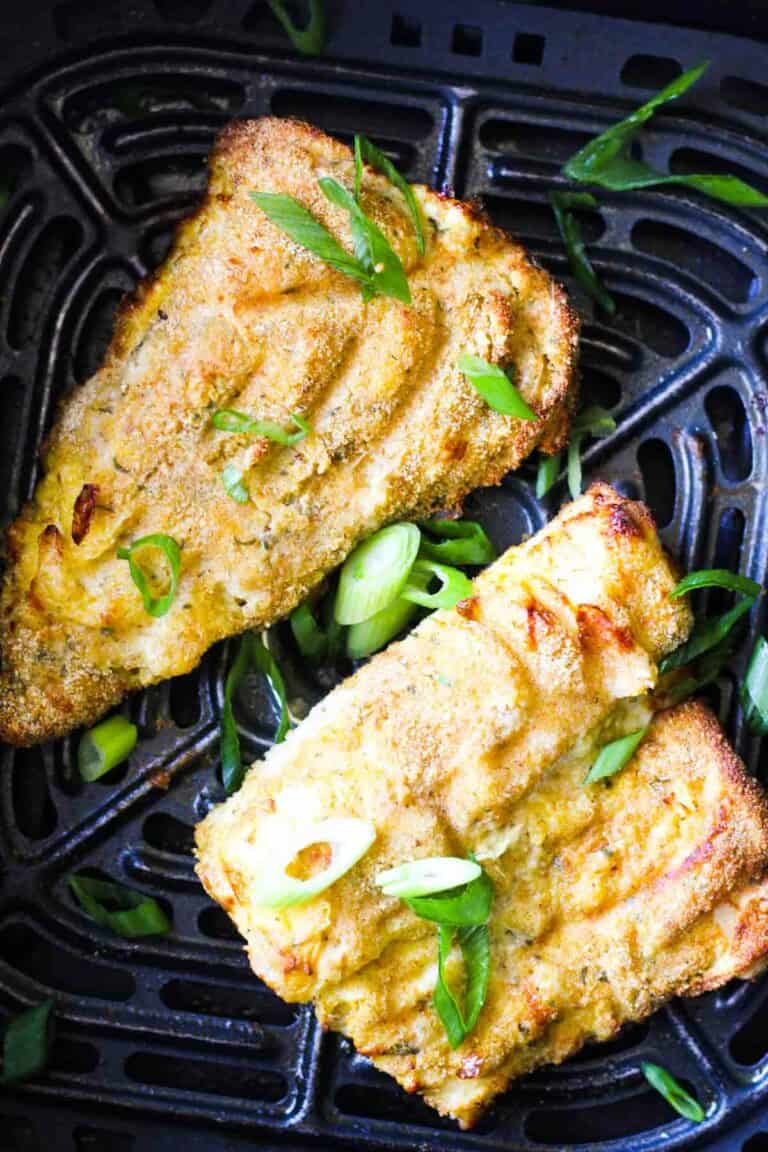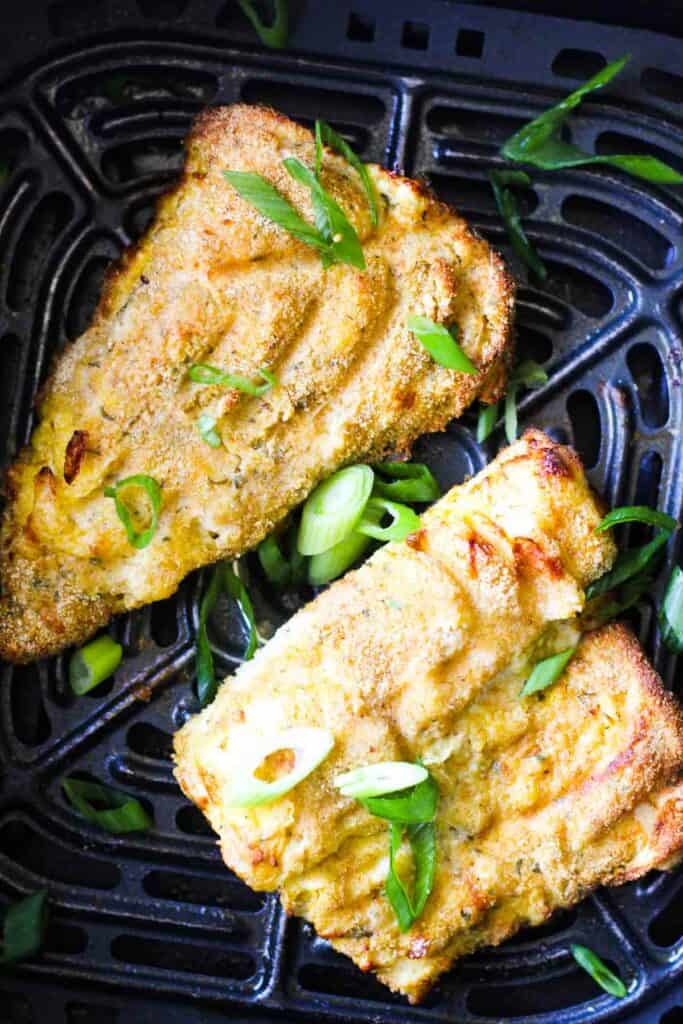 Walleye is white fish, native to most of Canada and Northers United States. It is also called yellow pike and has a mild tender meat. It also has a lightly sweet taste while being moist and low in bones.
How to make air fryer walleye fish
Its simple and i will show how in the next few steps:
With breading
Make sure your walleye fillets are completely thawed. Best if they are fresh of course but it depend where you live. Leave frozen fillets on the counter for couple hours, it should be plenty of time for them to thaw.
Now crack an egg in to a bowl and whisk it with some salt and pepper. Add a teaspoon of garlic powder if you wish.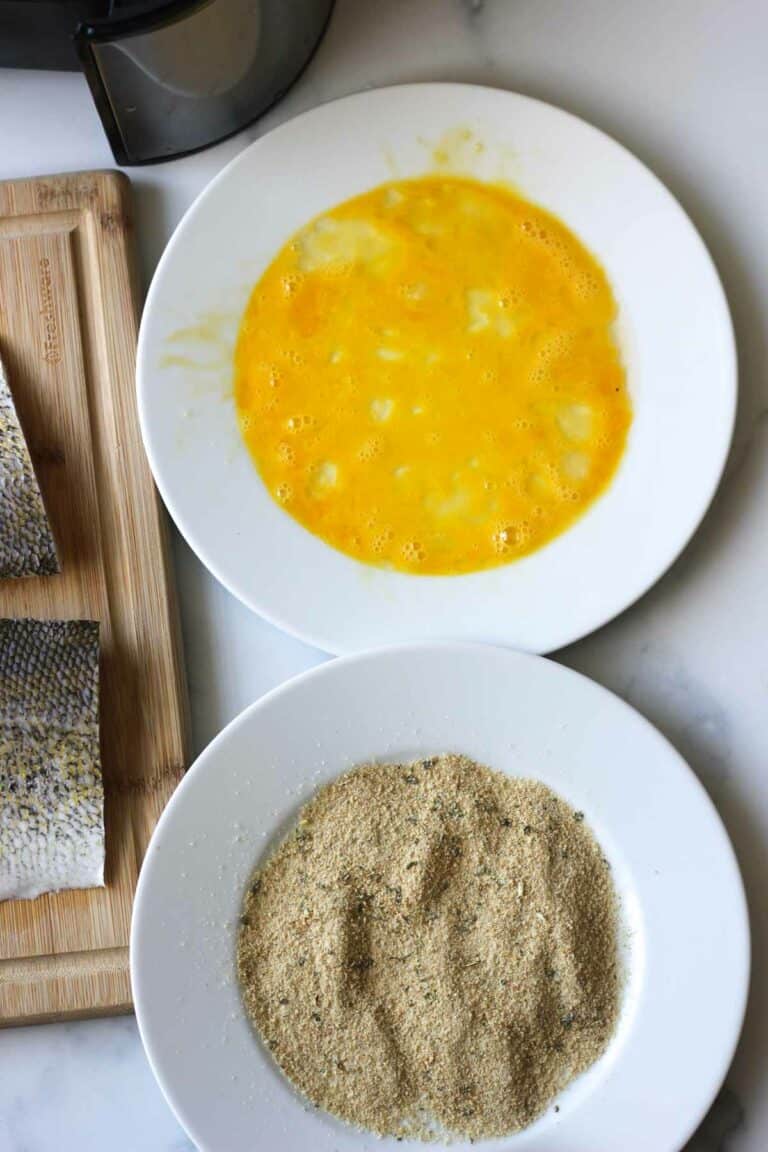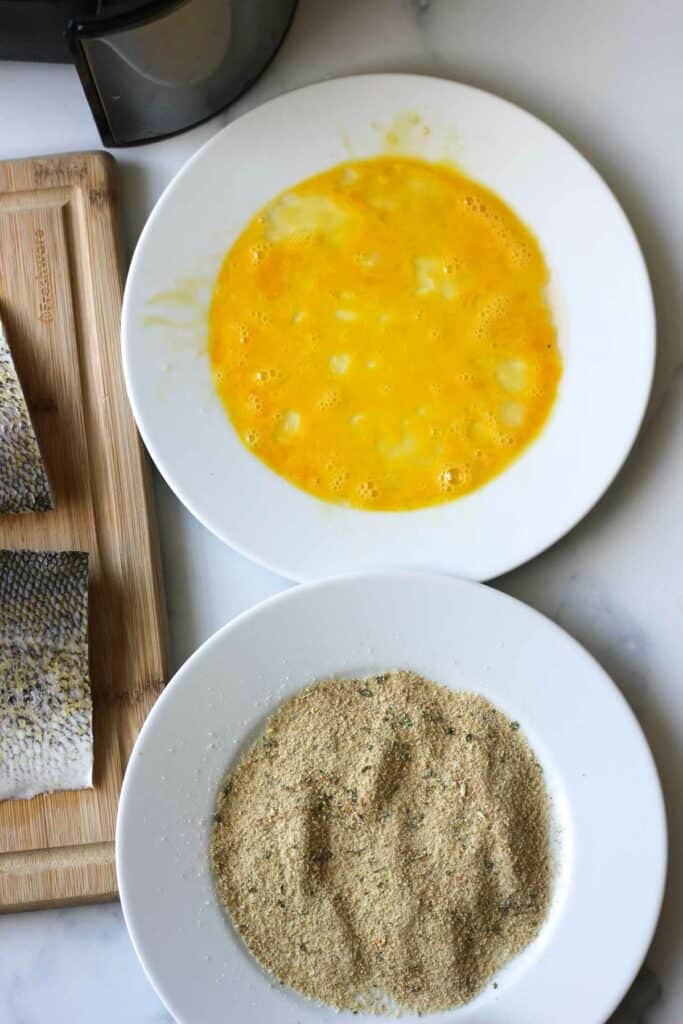 In the different bowl add breadcrumbs. It could be Italian herbs seasoned breadcrumbs or just plane. If so make sure to add some seasoning their as well. Salt and pepper will be good enough. You can also use panko breadcrumbs if you want. They tend to be more crunchy when air fried.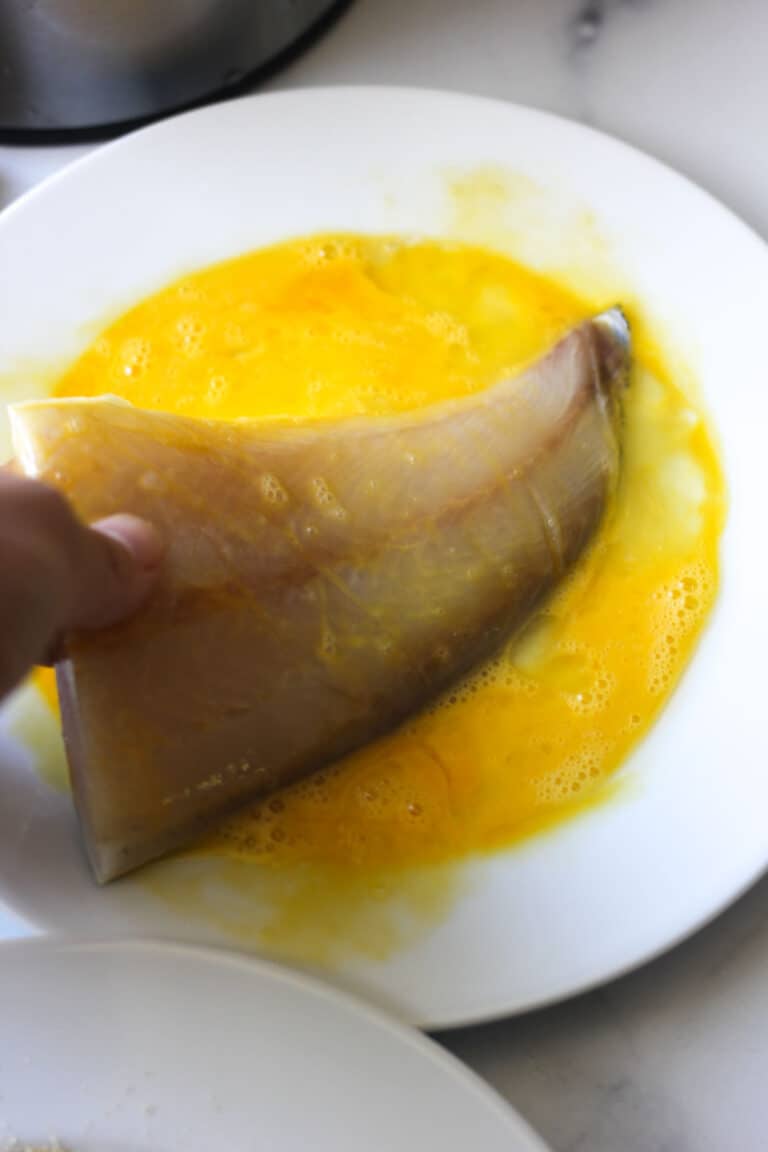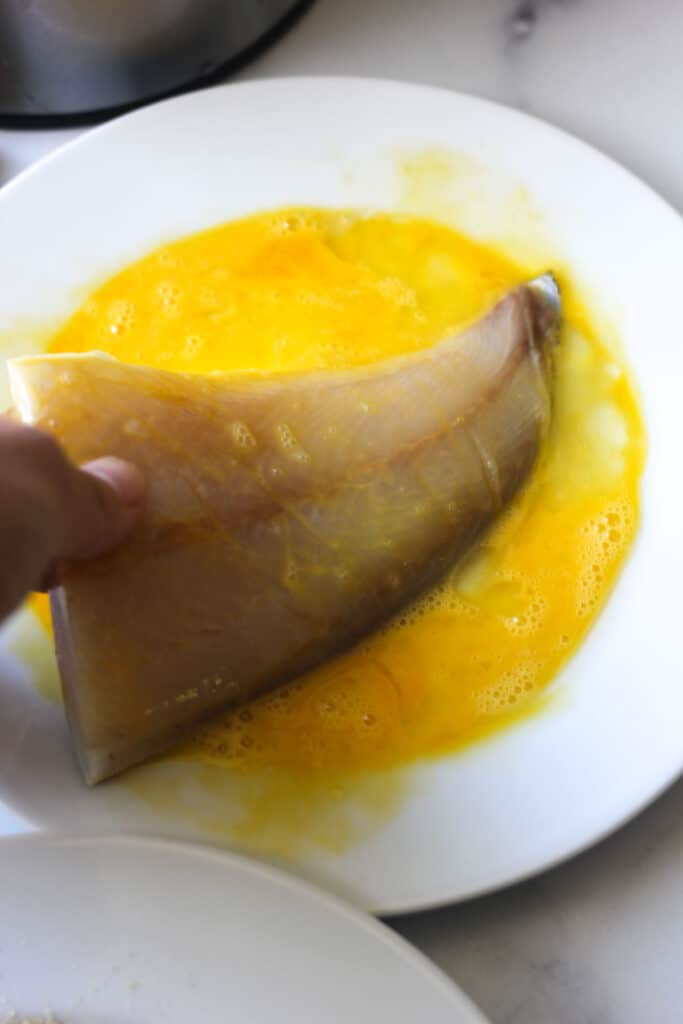 There is no need to remove skin from the fish. Now, dip fillets in the egg wash,shake and then drag through seasoned breadcrumbs. Remove extra crumbs and place in the air basket, previously sprayed with oil.
Do not add more then 2-3 fillets at a time, leave some space in between the fish for proper air circulation.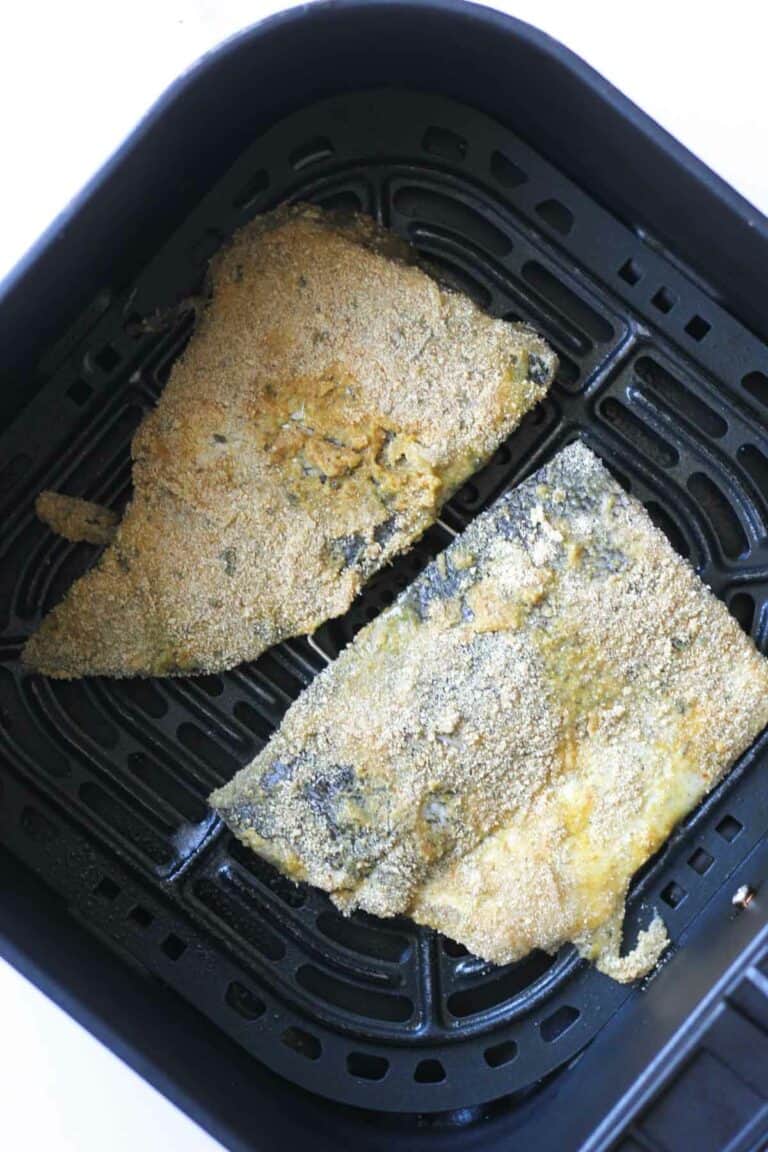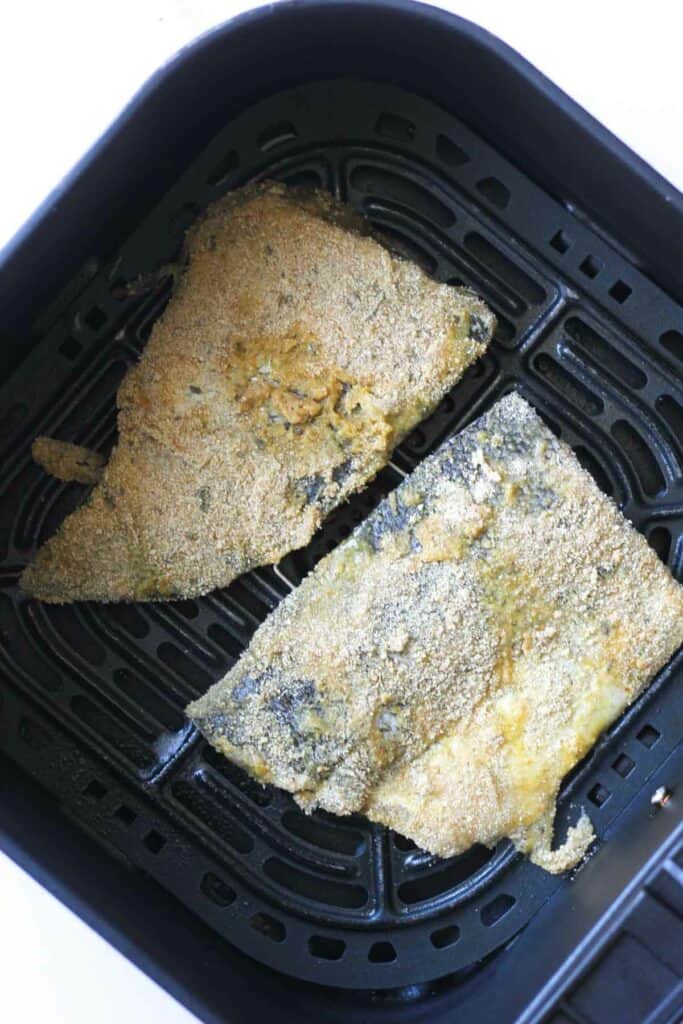 Try not to touch breaded fillets to much because it will chip breading very easily. Carefully move walleye using tongs or simply your fingers.
In the middle of cooking time spray fish with olive oil spray. Make sure you cover an entire fillet with the spray. It adds beautiful golden color and extra crispiness.
I don't flip fish in the air fryer during cooking. I don't want it to fall apart plus its not really necessary. If you don't overlap fish and leave extra space in the air fryer basket the fish will crisp evenly and there will be no need to flip it.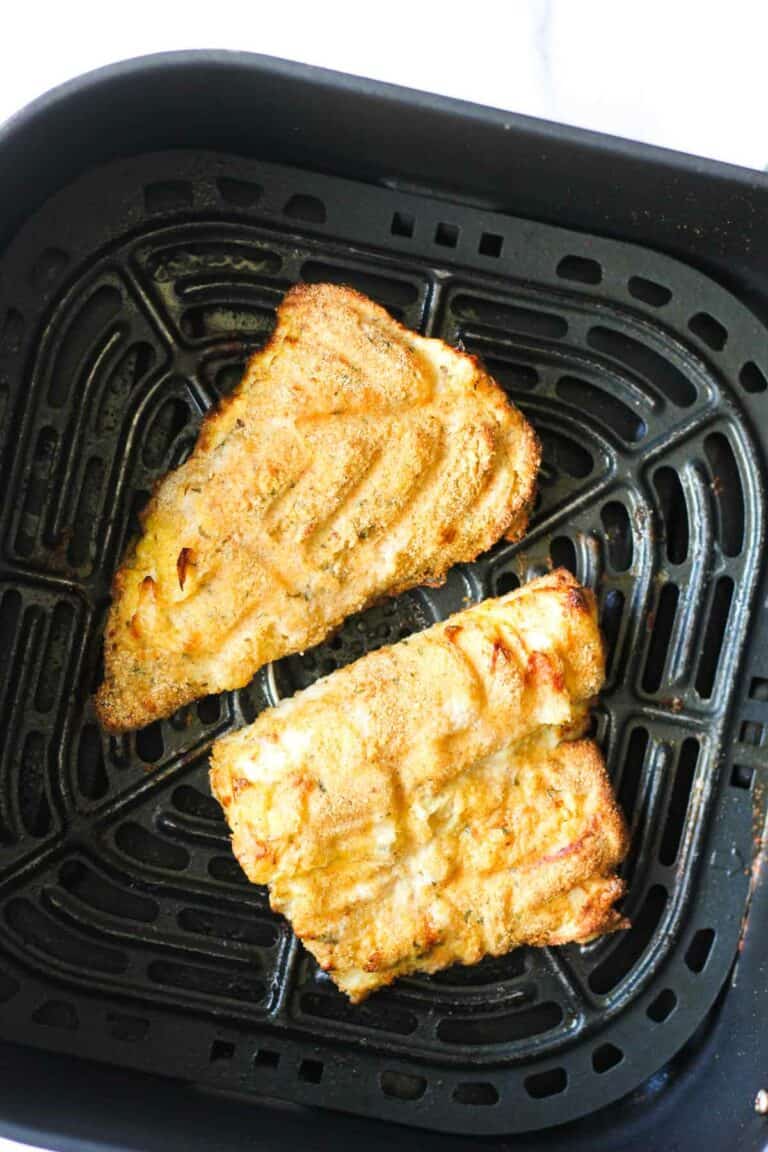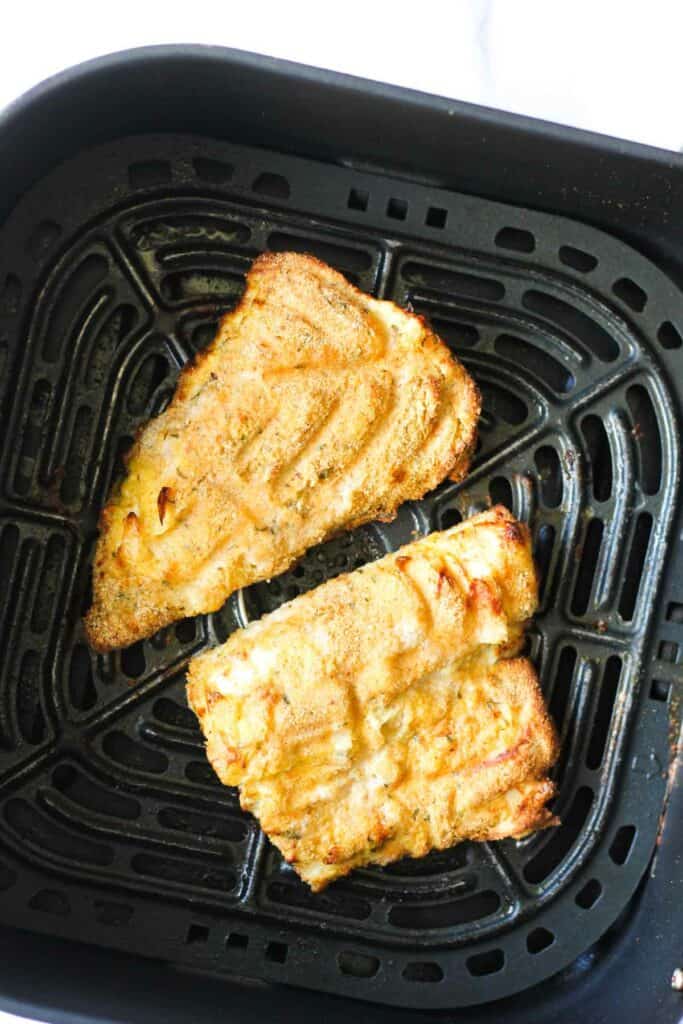 Cover walleye with lemon juice once cooked and top with chopped green onions for an extra crunch. Delicious!
With no breading
There is a healthier way to cook air fryer walleye, with no breading! Just thaw the fish, season it with salt, freshly ground pepper and some garlic powder. Slice lemon and lay on the bottom of air fryer basket.
Lay fish on top. Cook at 375 degrees Fahrenheit for about 10 minutes. Check the internal temperature, it should be 145 degrees.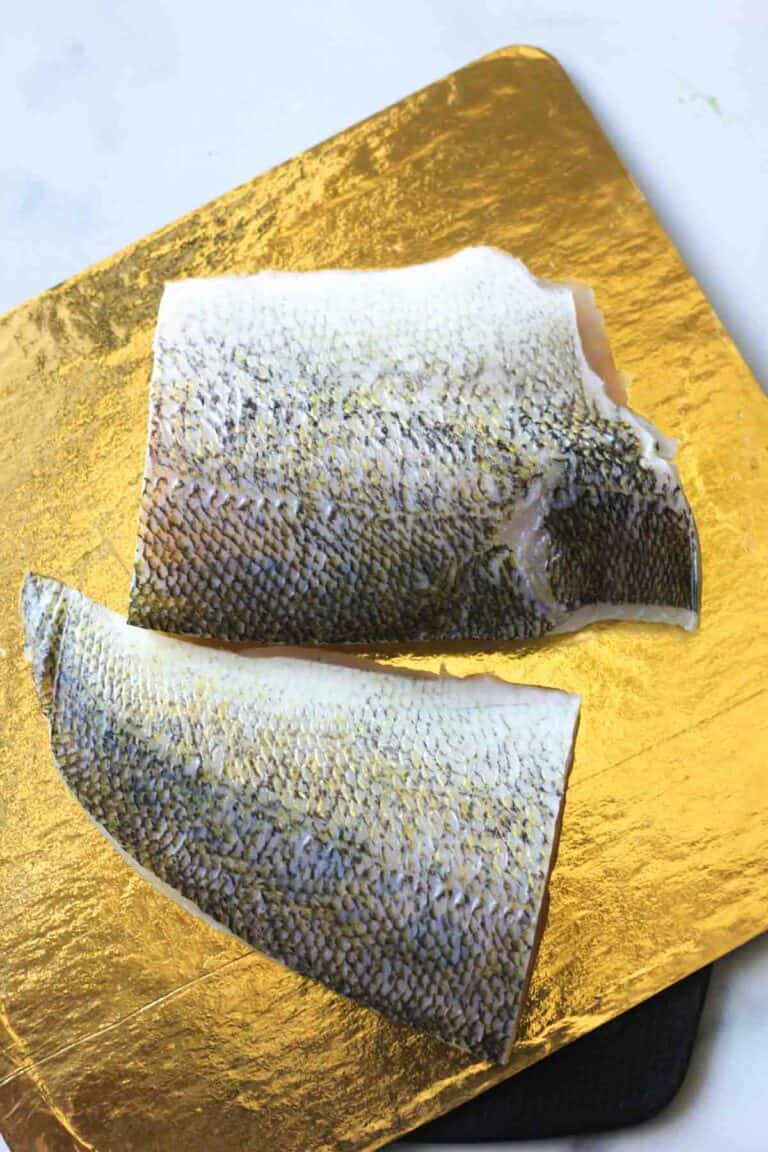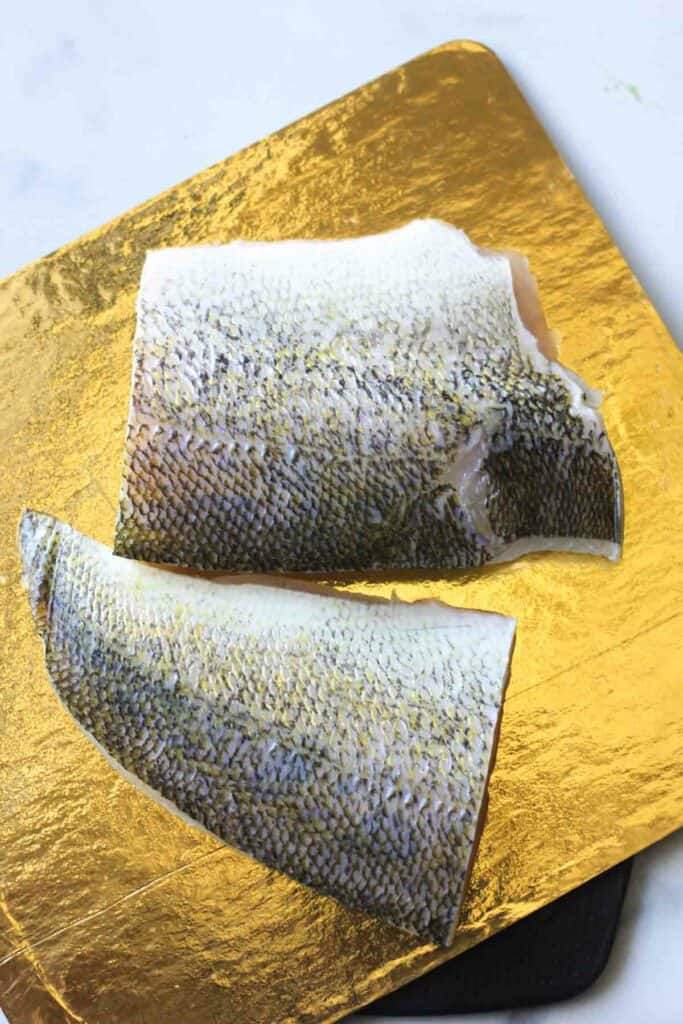 Thawing fish
Usually the walleye fish i am getting is frozen and i need to defrost it before cooking. Defrosting in the fridge overnight is preferable but couple hours on the counter in room temperature is OK too. Fish defrost pretty quick, compare to the meat.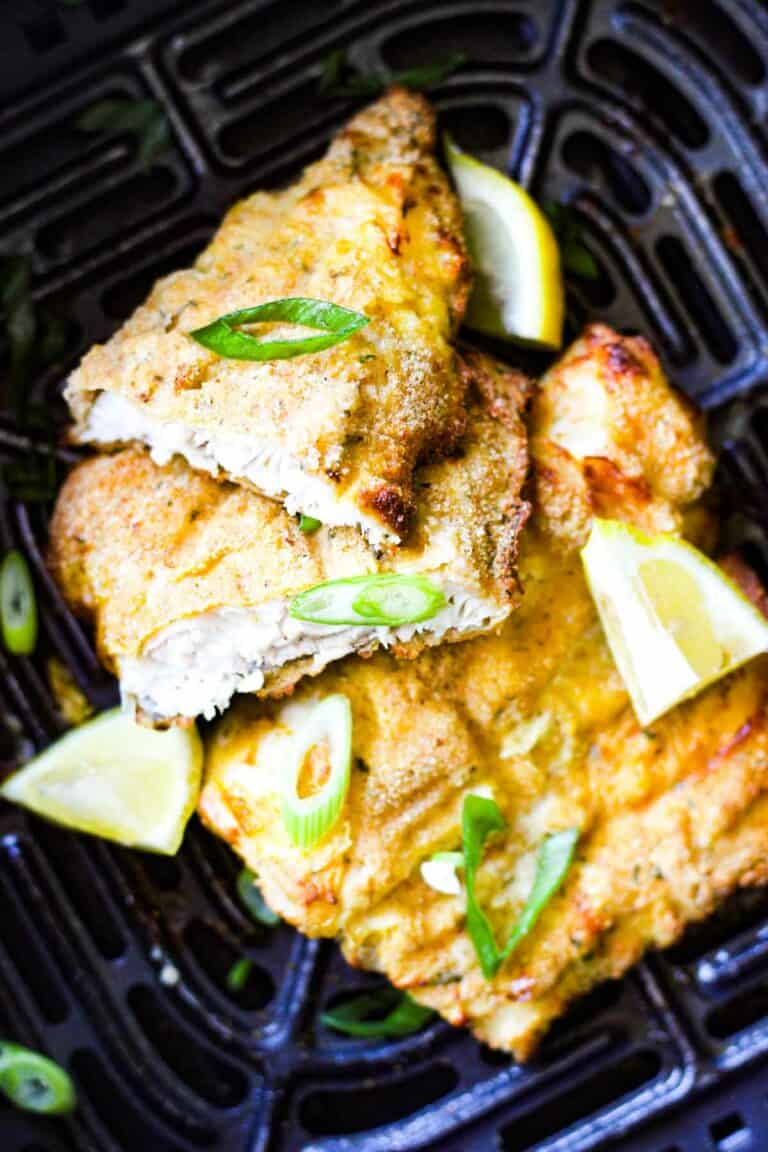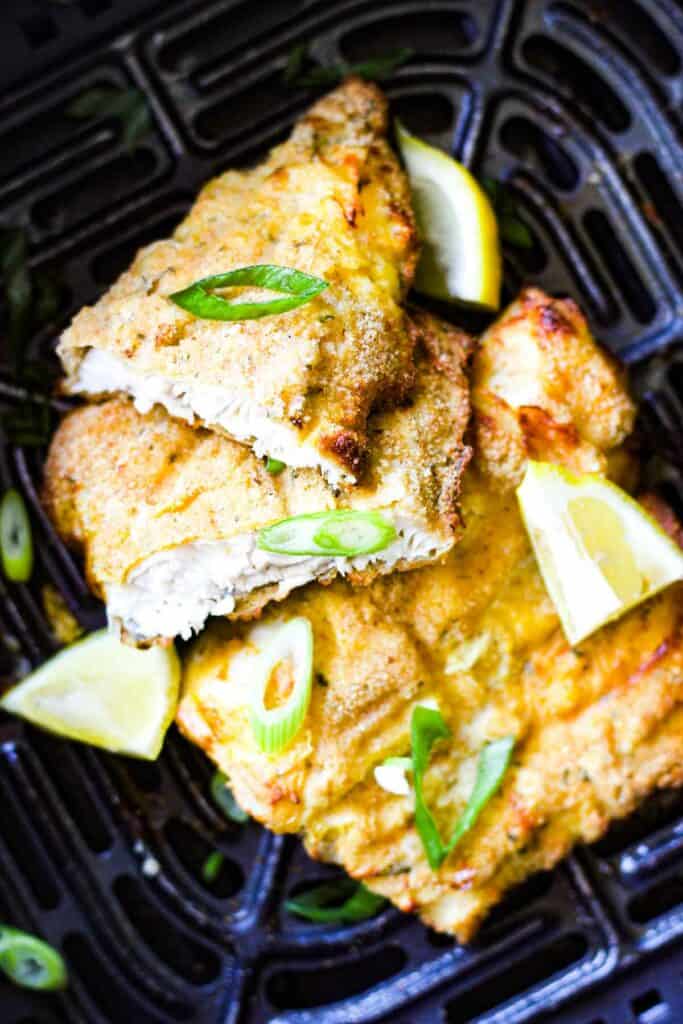 Recipe notes and tips
Use olive oil spray to spray fillets in the middle of cooking. It will add some crispiness to the crust (don't spray too much)
Do not overcrowd the air fryer basket. Fish will not cook properly and will be rather steamed then fried.
Adjust cook time if needed depending on the thickness of the fish.
Serve air fryer walleye with lemon wedges and tartar sauce. It pairs so well with the fish and it will feel like you are having lunch at your favorite pub.
Do not remove the skin from you walleye fish fillet. It will be soft enough to eat when cooked. Just make sure that its completely descaled.
You may also like…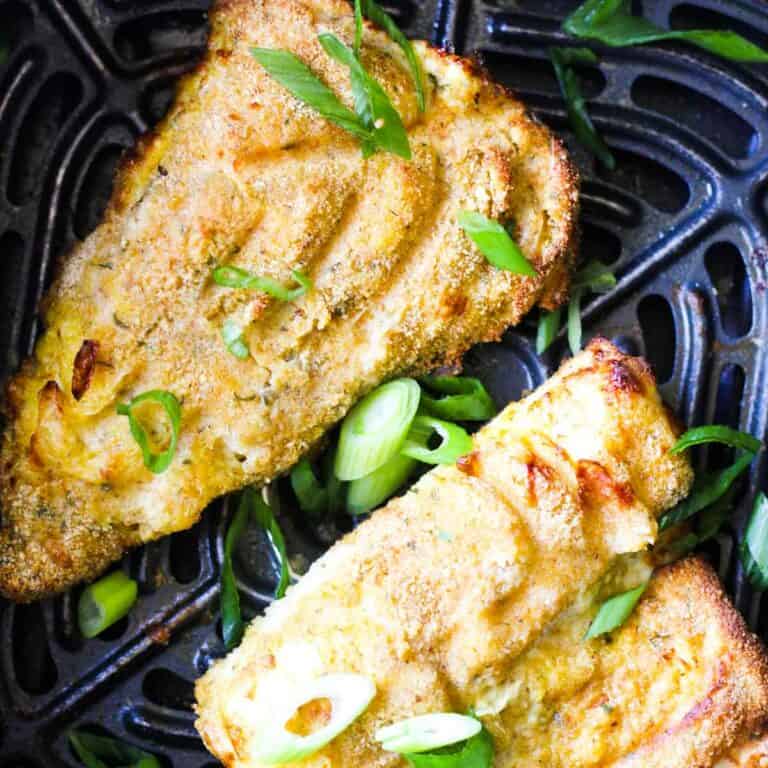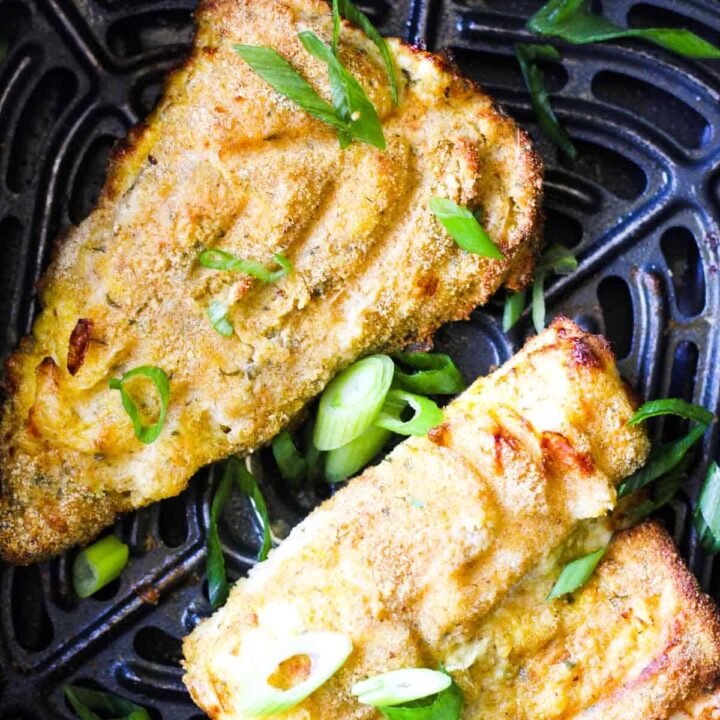 Air fryer walleye recipe (with or without breading)
Delicious healthy white fish prepared the most convenient way, try this air fryer walleye recipe with breading or with no breading. Squeeze some lemon on top and enjoy!
Ingredients
lemon
green onions
salt and pepper
garlic powder
olive oil spray
½ cup seasoned breadcrumbs
1 egg
Instructions
Thaw walleye fillets and pat dry. Crack an egg and whisk it in the medium size bowl. Add some salt and pepper. Add a pinch of garlic powder.
In a different bowl add breadcrumbs. Dip fish in egg, shake and then drag though breadcrumbs.
Spray air fryer basket with oil spray. Add breaded fish into the basket and cook for 12 minutes at 380 degrees Fahrenheit. Don't flip.
Squeeze lemon juice all over the fish and serve walleye with lemon wedges, tartar sauce and chopped green onions on top.
Notes
Make sure the fish internal temperature is 145 degrees before serving.
Thaw fish completely before cooking. Pat dry.
Do not overcrowd the basket
Nutrition Information:
Yield:

2
Serving Size:

1
Amount Per Serving:
Calories:

378
Total Fat:

13g
Saturated Fat:

3g
Trans Fat:

0g
Unsaturated Fat:

9g
Cholesterol:

230mg
Sodium:

668mg
Carbohydrates:

26g
Fiber:

3g
Sugar:

3g
Protein:

39g