Zesty refreshing crab ceviche, also called ceciche de jaiba is a Sunday brunch must have. Serve it with crunchy tortilla chips and a icy cocktail.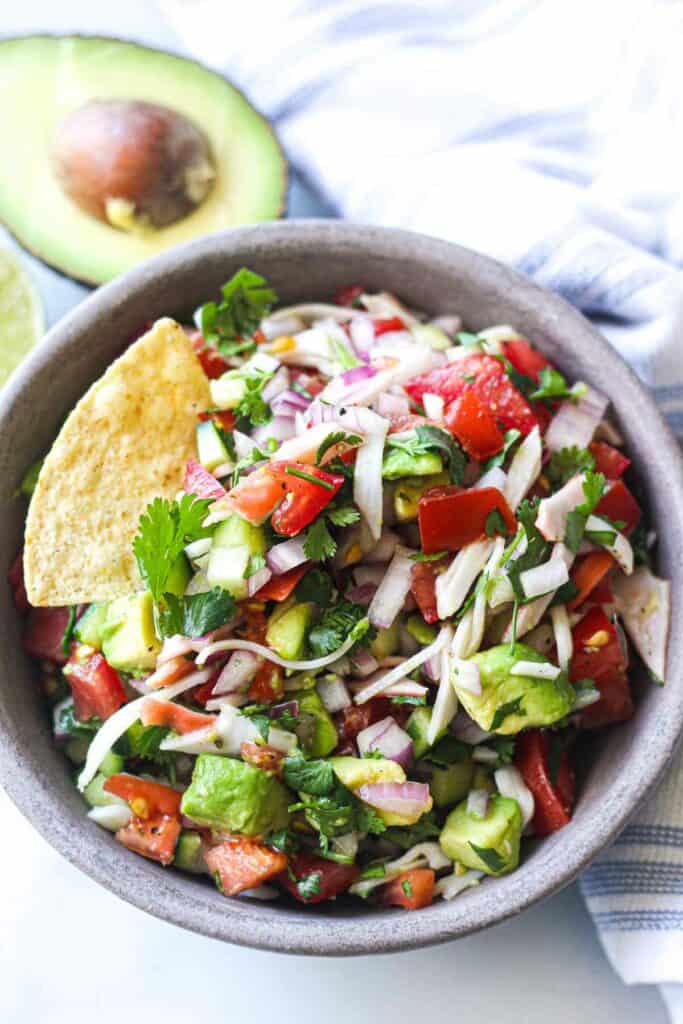 I tried this jaiba ceviche once at the local Mexican restaurant and now it became our weekly weekend appetizer. Jaiba is a Spanish word for crab. You can use both, imitation of crab and the real one in this recipe.
What is ceviche
Ceviche is a Southern American (originated in Peru) dish that traditionally has raw fish that is cured in lots of lemon or lime juice. The most popular way to eat it is as an appetizer or side dish with tostadas or corn chips. Ceviche varies in flavors and ingredients added, depending on what country you are visiting or what cuisine you are trying.
Always remember that citrus juice only marinates the fish, the process is called denaturation. It doesn't kill bacteria. If you are afraid of that then just use cooked seafood, like i did in this crab ceviche recipe.
How to make jaiba ceviche
The most important thing to remember when making crab ceviche is to use all the freshest ingredients. They create the flavor of the dish.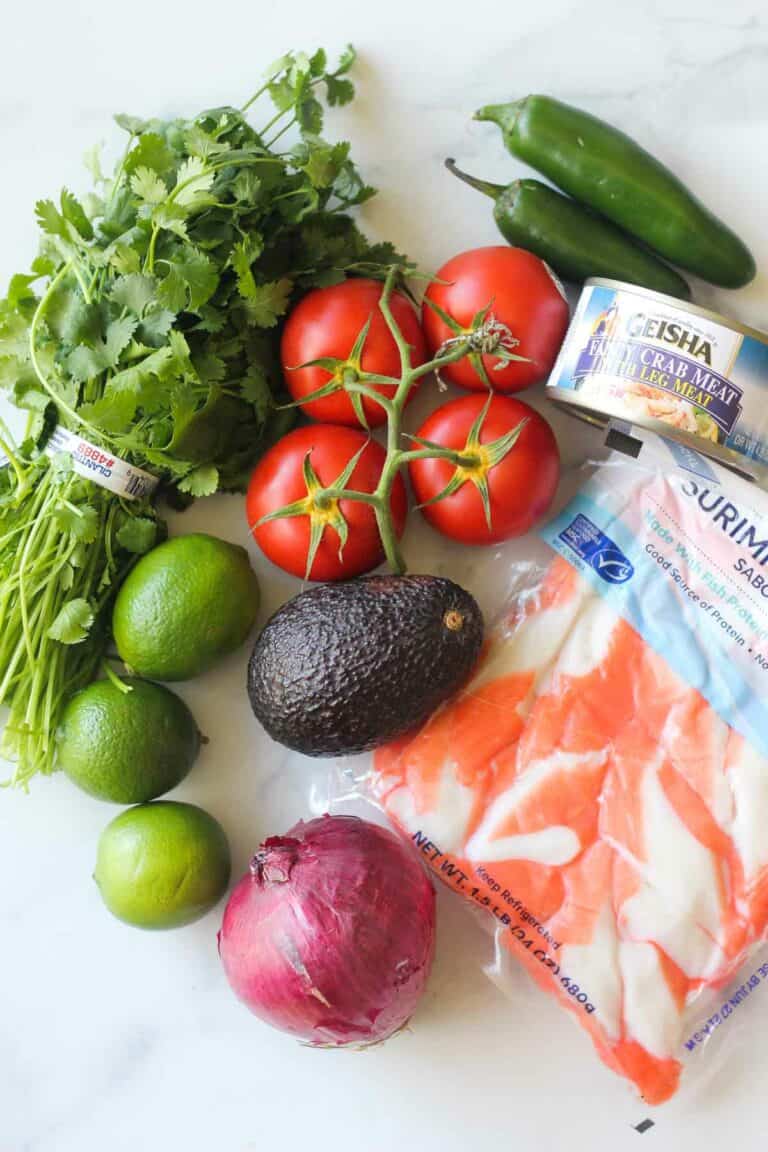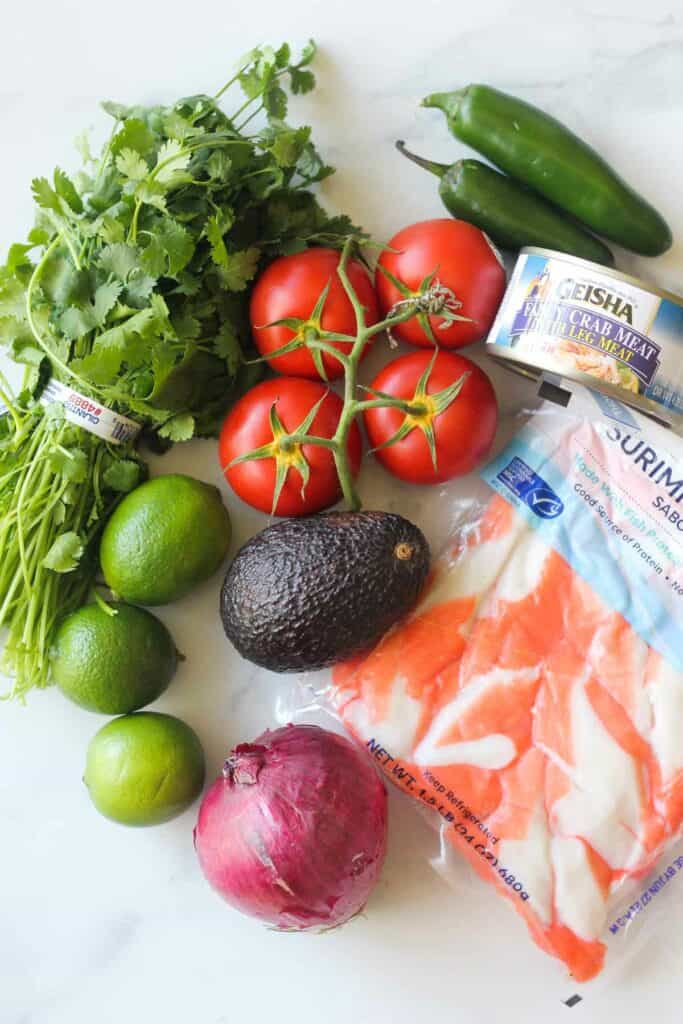 First i start with chopping tomatoes. Use a very sharp knife and cut tomatoes in small cubes if you can. Roma tomatoes are the best for ceviche.
Chop red onion and cilantro. Red onion is more commonly used in this recipe because of its mild flavor and vibrant color. For other recipes i prefer to use yellow onions.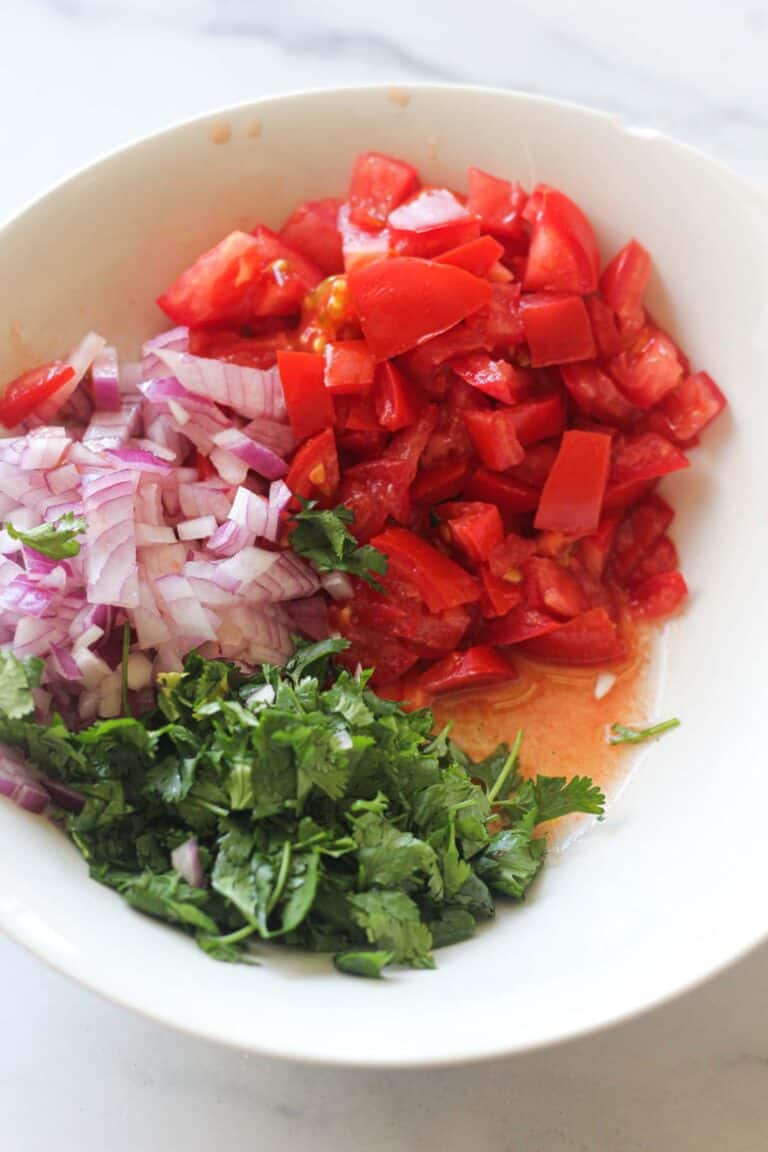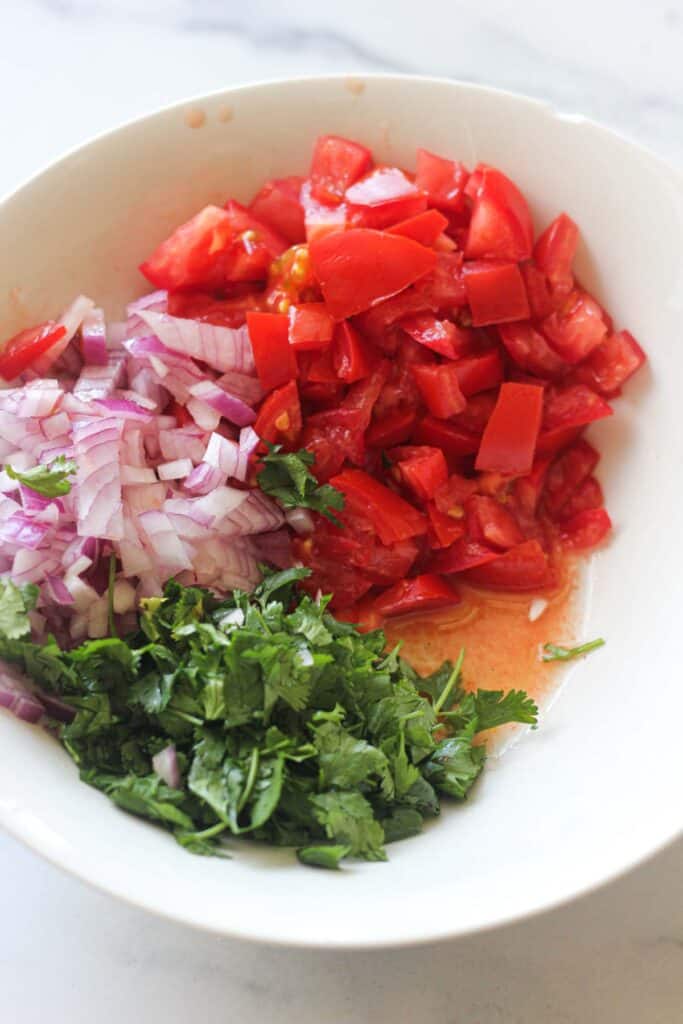 In the next step i chop cucumbers and avocado. Avocado is not something you traditionally add to ceviche but i just love how it adds to the flavor of the entire dish. It is delicious!
Now its time for some crab. If using imitation crab, pick the one that is flaked, not crab sticks. Its much easier to shred it to the ceviche. If using real crab, just chop it and add to the bowl.
Add hot peppers in this step. We like our ceviche hot so i added two jalapenos to the mixing bowl after i took pictures and separated half of the dish for kids to eat. You know, they don't like spicy food, yet.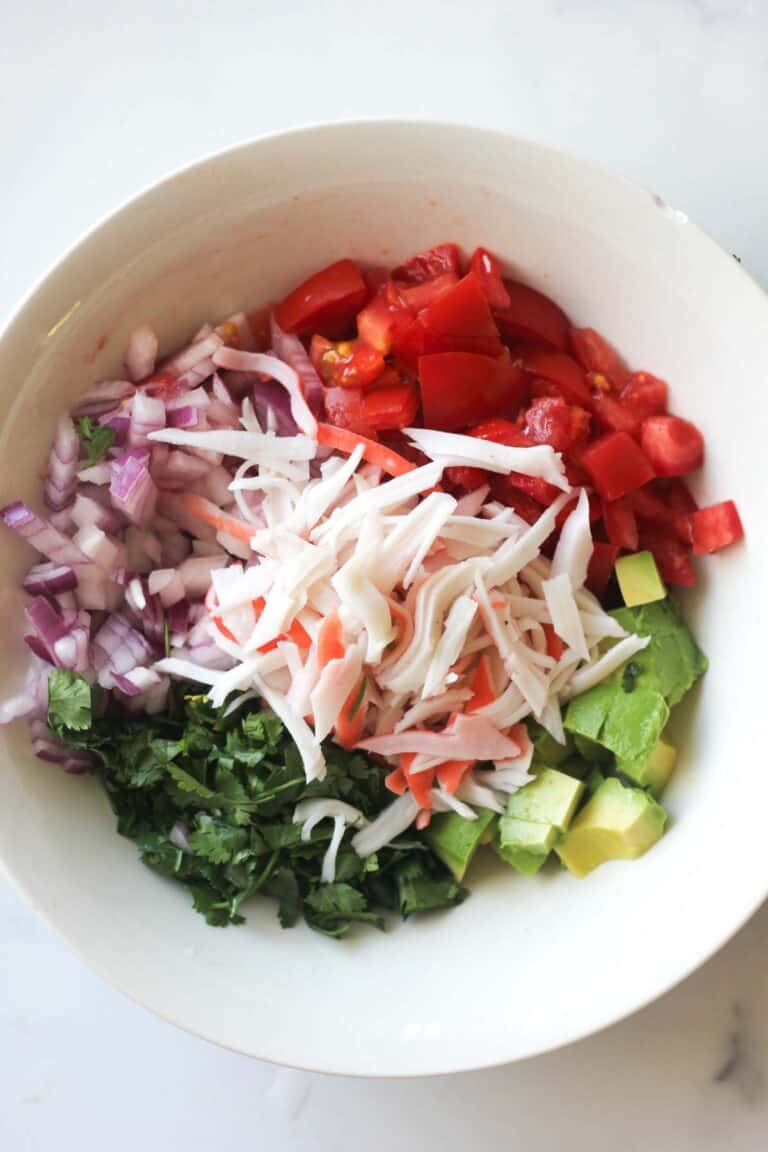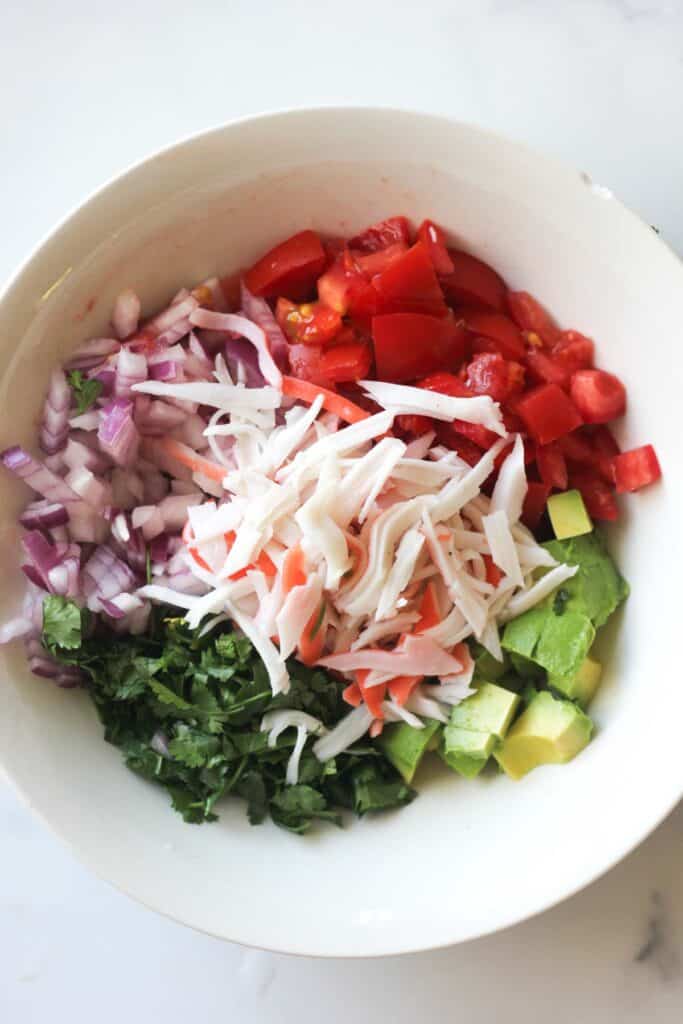 Dressing. Get a bunch of limes and roll them on the table. It will help with juicing. Juice about 3 limes and pour over chopped ingredients. Add salt and freshly ground black pepper and stir to combine.
Leftovers
Any raw seafood leftovers don't last long. Its best when eaten fresh. Since we are not using raw crab here, you can store jaiba ceviche in the fridge for 1-2 days. Use an airtight container or cover the bowl tightly with plastic wrap.
Can i make it ahead
Ceviche can be stored in the fridge for couple hours before serving. It tastes best when made fresh and served right away though.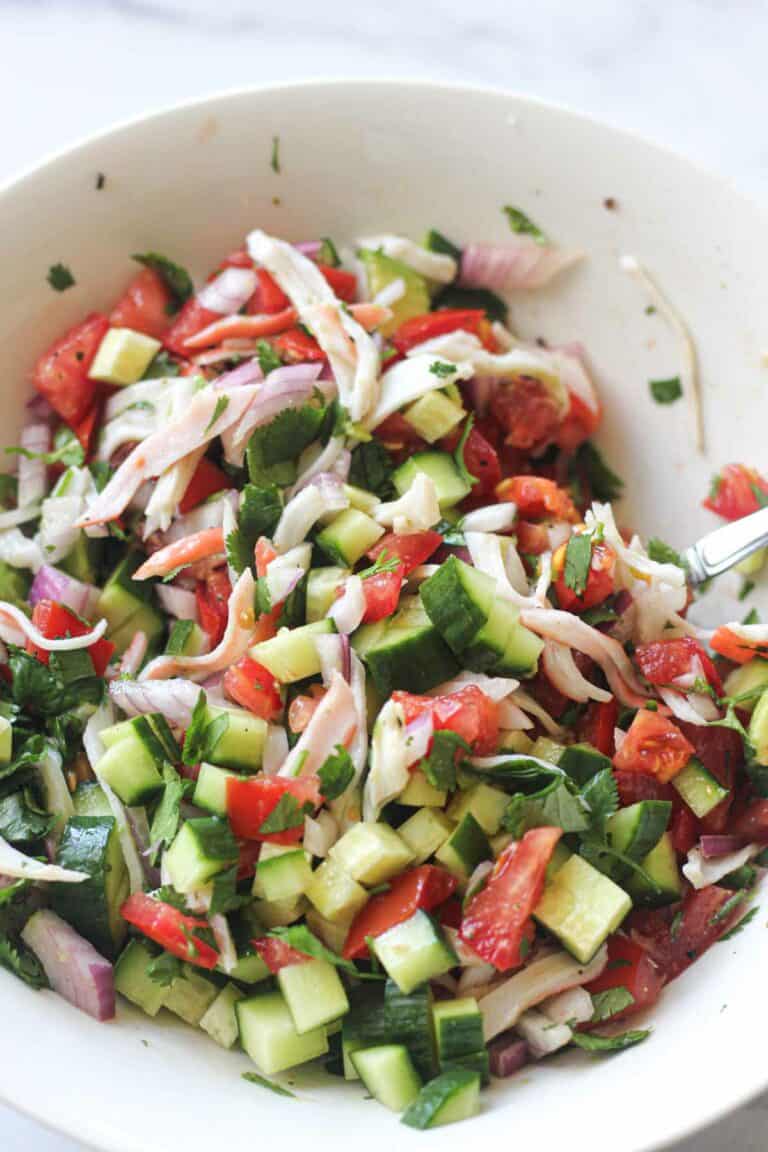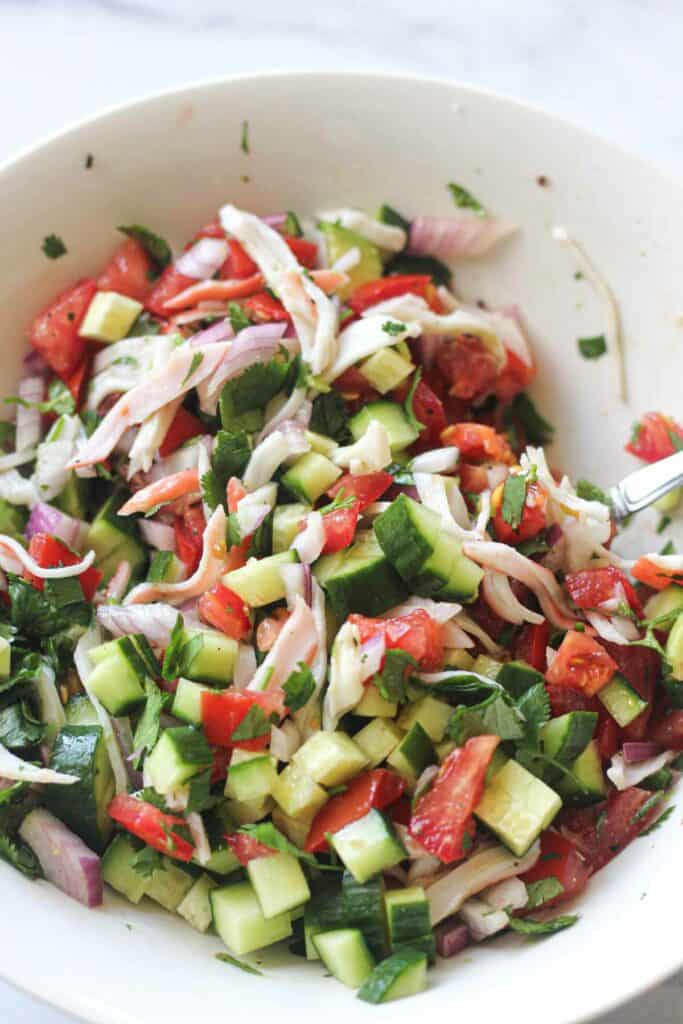 Recipe notes and tips
If using tostadas instead of corn chips, don't top it with ceviche until ready to eat. Otherwise tostada will become soft and soggy.
Use hot peppers of your choice. I didn't picture jalapenos in this recipe because at first i had my kids eat it. After i added some spice! Jalapenos, Serrano peppers- add as much as you want. Chop it really well.
DO NOT use crab meat from little cans. They are usually very cheap. I made that mistake once and ended up with a nasty mash when i opened cans. I even picture those cans, scroll up to see it. If you want to use a real crab in the recipe, get something that's more expensive.
Try to chop vegetables all the same size. It will look more appealing and also it will be easier to grab a bite with tortilla chip.
It is important to remember that you cant use metal or plastic bowl when making any kind of ceviche. Glass bowls are the best for acidic dishes.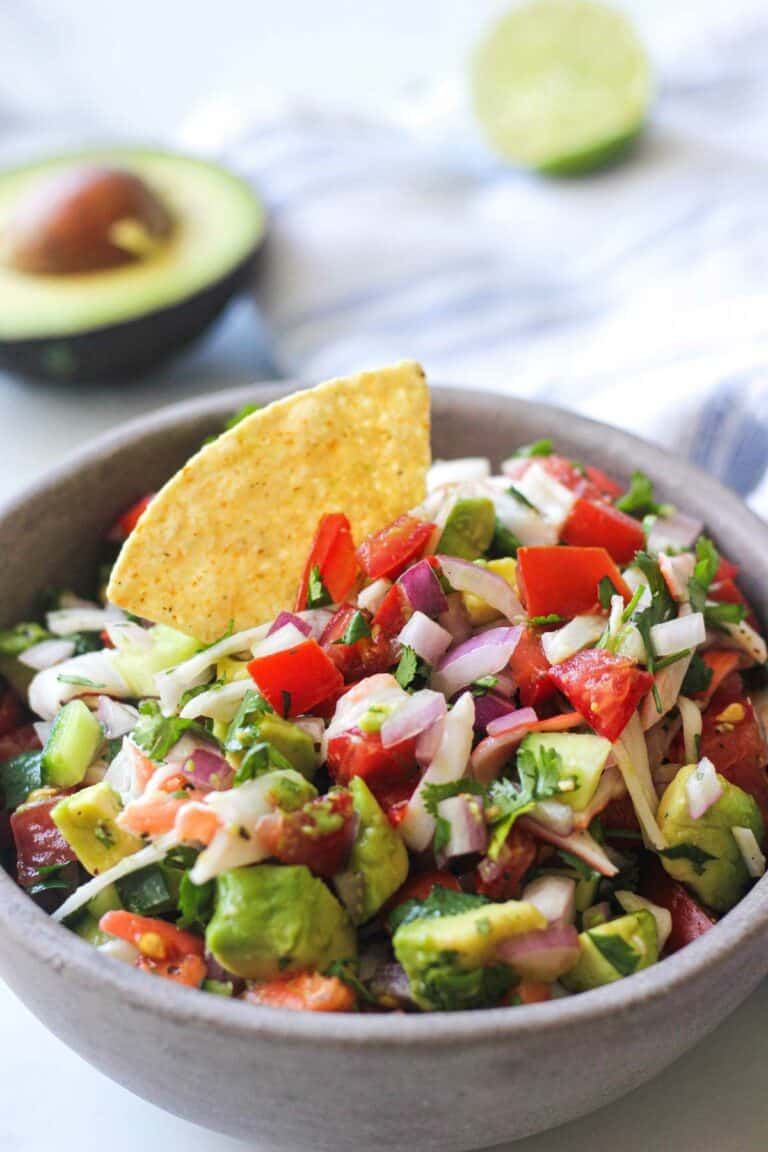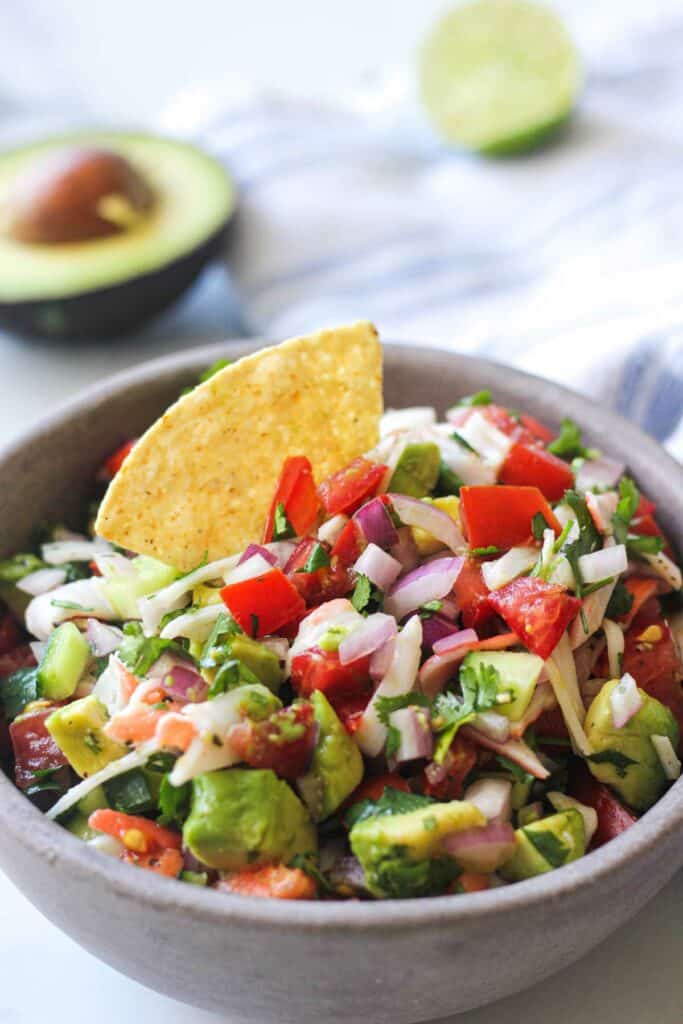 You may also like…
Recipe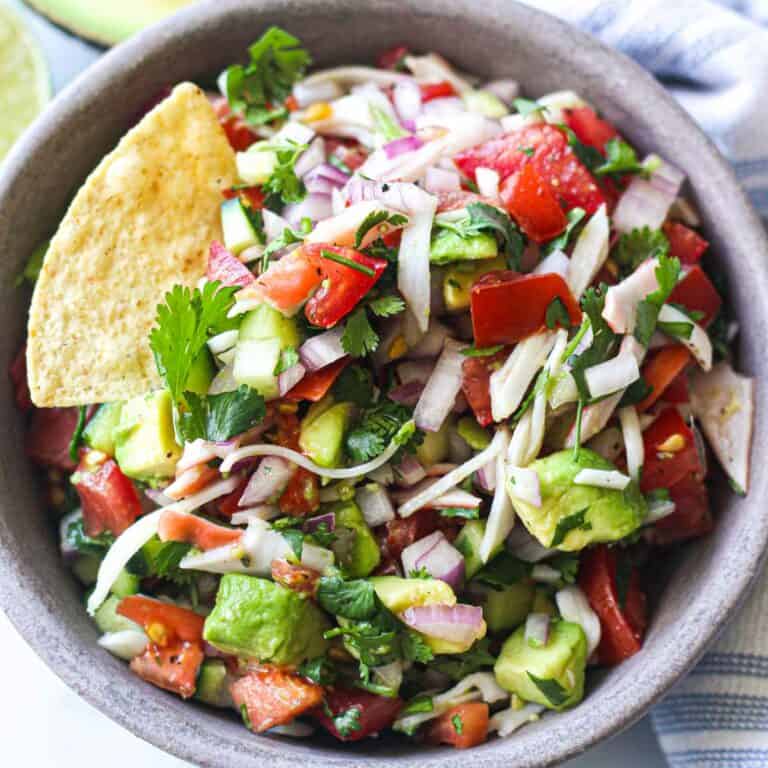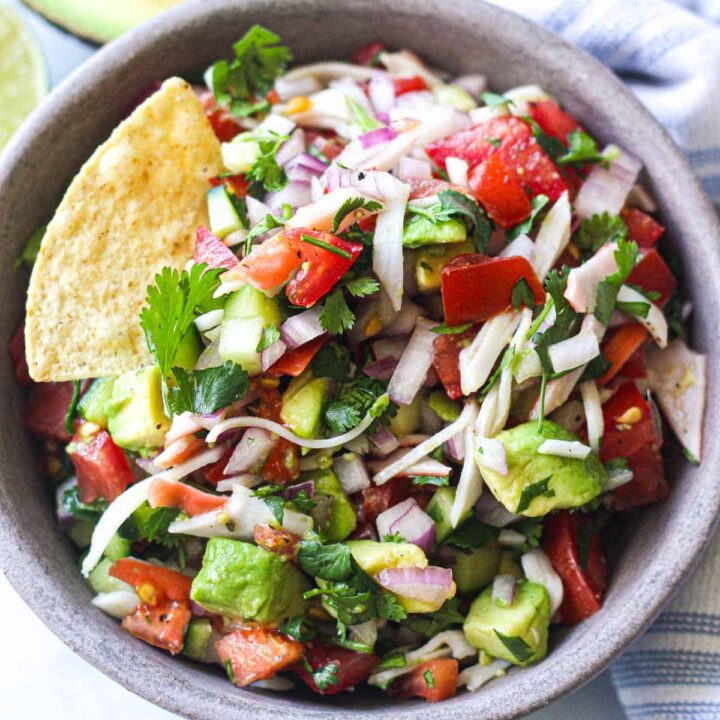 Crab ceviche (ceviche de jaiba)
Zesty refreshing crab ceviche, also called ceciche de jaiba is a Sunday brunch must have. Serve it with crunchy tortilla chips and a icy cocktail.
Ingredients
2 tomatoes
1 small bunch cilantro
1 cup chopped crab meat or imitation crab
1 small red onion
1 avocado
1 cucumber
1 jalapeno
4 limes
salt and pepper
Instructions
Dice tomatoes, onions, avocado, cilantro, jalapeno and cucumber and place in a medium size glass or ceramic bowl. Add crab meat.
Juice limes or lemon right into the bowl and add salt and pepper. Mix everything very well.
Serve with tostadas or corn tortillas. Or as is!
Notes
Do not use metal or plastic bowl for this dish. Citrus can react with metal and give your ceviche a bad taste. Same with plastic.
You can anjust the heat by adding more or less hot peppers. Also you can remove the seeds to make it taste milder.
Lemon is ok to use instead of lime
Try to use freshly squeezed lime or lemon juice in this recipe. Do not use the bottled one, ceviche will no aste the same.
Nutrition Information:
Yield:

2
Serving Size:

1
Amount Per Serving:
Calories:

345
Total Fat:

16g
Saturated Fat:

2g
Trans Fat:

0g
Unsaturated Fat:

12g
Cholesterol:

70mg
Sodium:

642mg
Carbohydrates:

41g
Fiber:

13g
Sugar:

12g
Protein:

20g