Creamy and a bit spicy, this delicious warm beef jerky dip has only 4 ingredients! Great with any kind of chips, sliced cucumbers or bell peppers.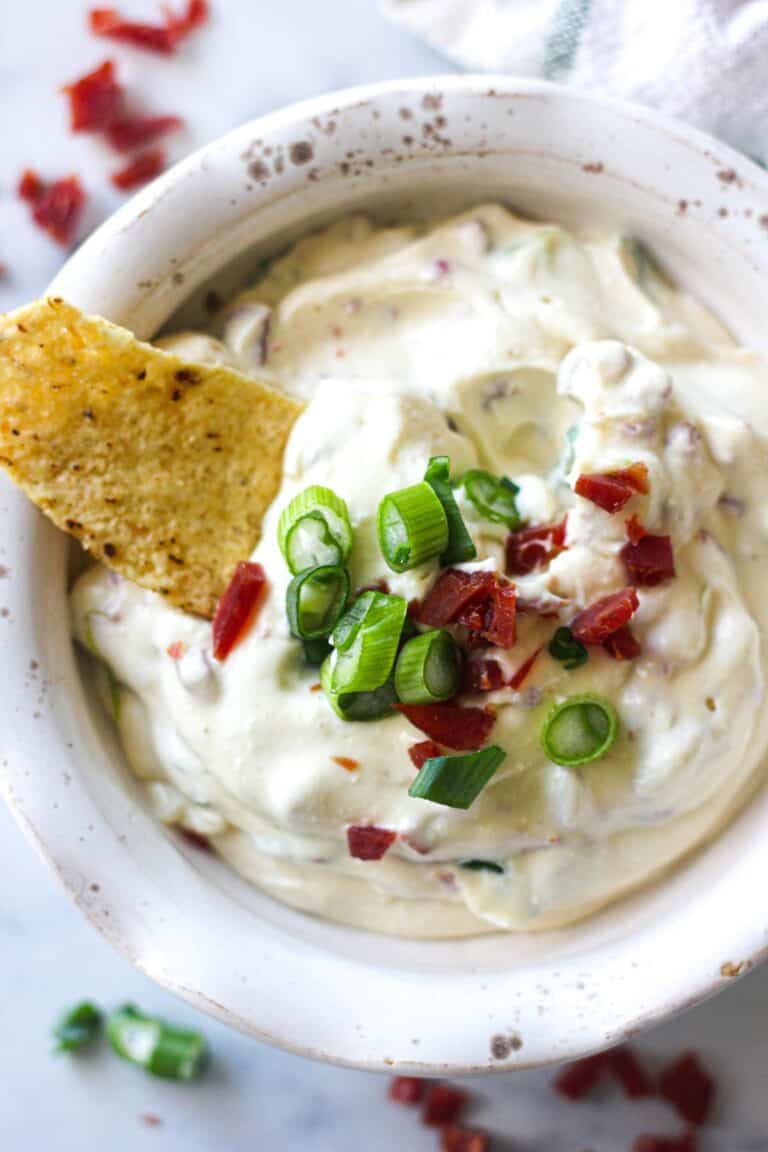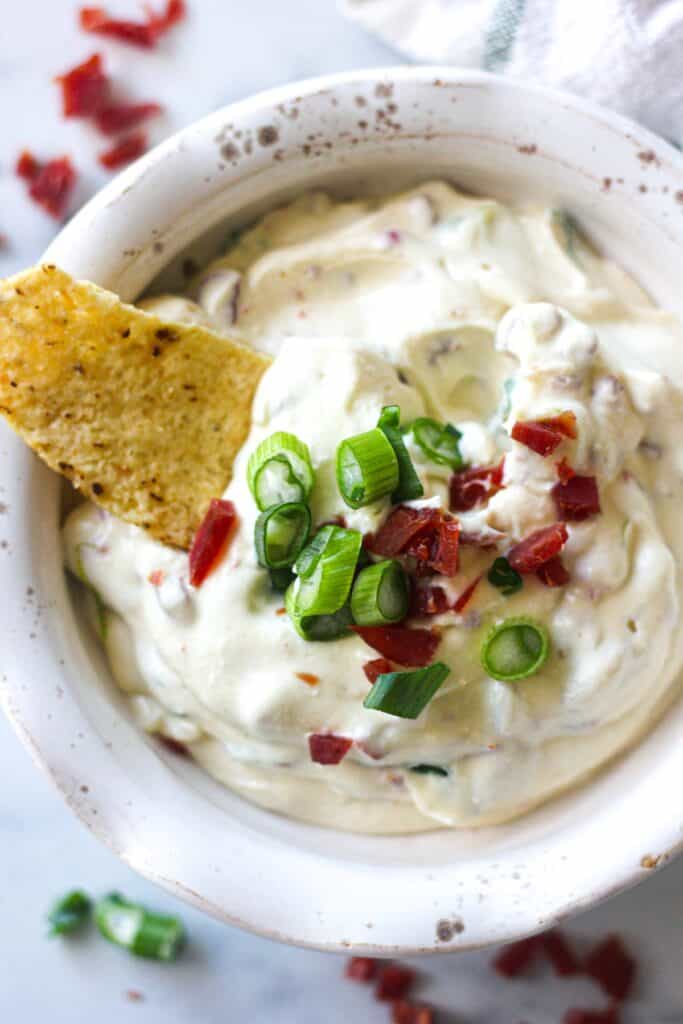 Who knew you can make such a delicious dip using just a few simple ingredients. I never had beef jerky in any other form than just dried meat before. Its always great to try something new.
When you heat sour cream and cream cheese together with beef, it creates a delicious soft warming dip that goes so well in a company of friends. Or on the family table. Or just any time of the day!
Use this recipe as a dip or as a spread. Take a toast of dark bread (rye is my favorite) and spread it right on top while its hot. DELICIOUS!
How to make beef jerky dip
It must be one of the easiest recipes i have on my blog. All you will need is 4 simple ingredients: sour cream, cream cheese, some Dijon mustard and of course beef jerky:
First, chop beef jerky. It can be tricky if the jerky is too dry. Use a very sharp knife and be extra careful. Place chopped jerky in the microwave safe bowl.
Add cream cheese and sour cream. Do no mix it up yet, first you need to warm it up so cream cheese and jerky are soft.
Microwave the bowl for about 25-30 seconds. Dip should not be too hot, just warm enough for mixing.
Add mustard and black pepper (if using) and stir until smooth. Add some hot sauce for an extra kick! My kids had this dip so i didn't add any but i bet you it would taste great.
You want to serve it warm. Not cold and not hot, right in the middle.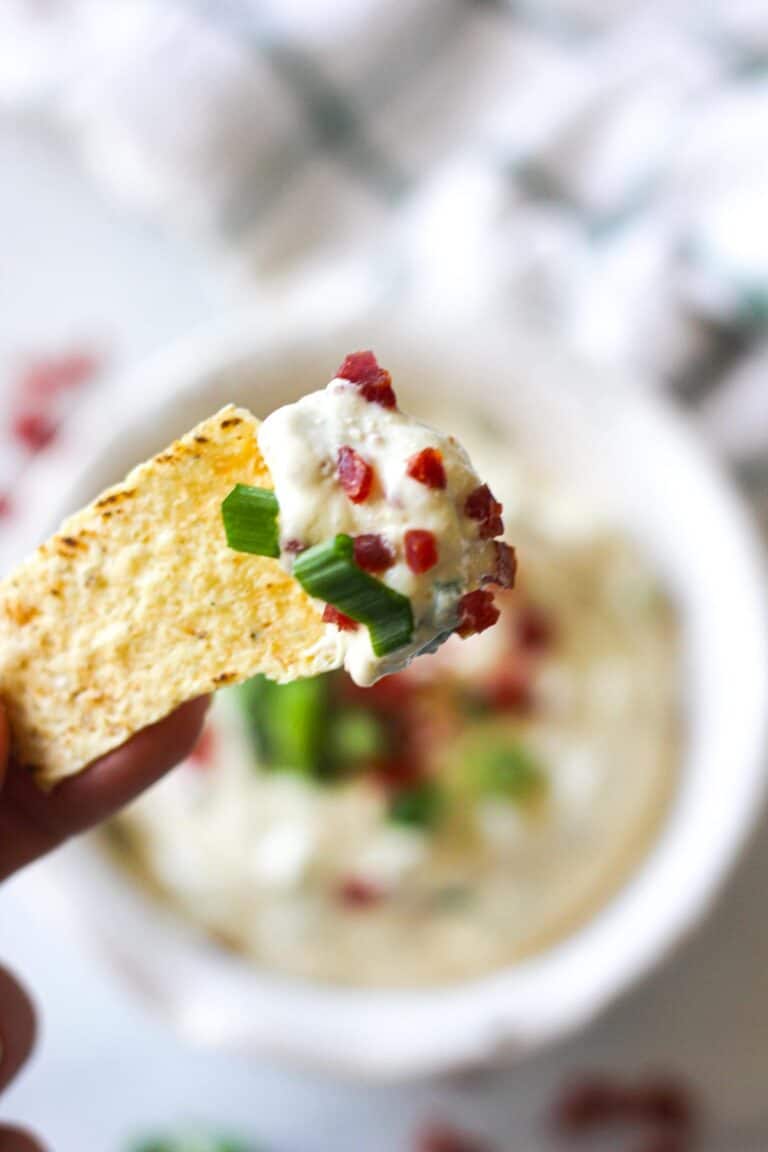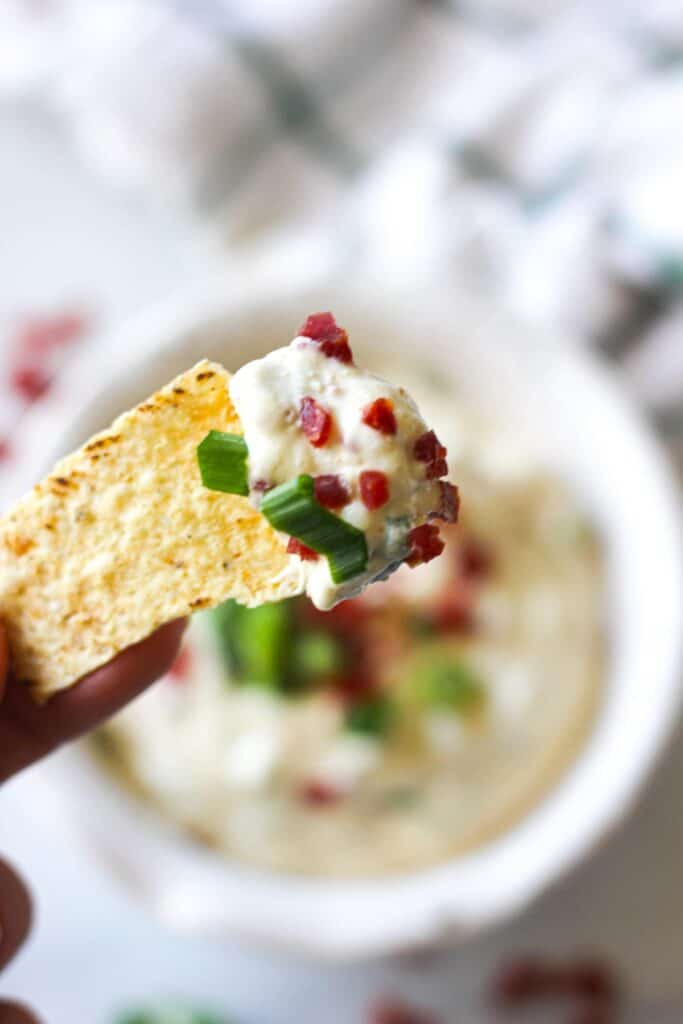 Serving suggestions
I love to have this dip with crackers, tortilla chips or toasted pieces of toast. It also tastes great with vegetables like sliced cucumbers or bell peppers. Dip baby carrots in it for a healthy snack.
Can i use turkey jerky
Absolutely! Whatever jerky you have in the pantry. Use equal amount and keep the rest of the ingredients the same.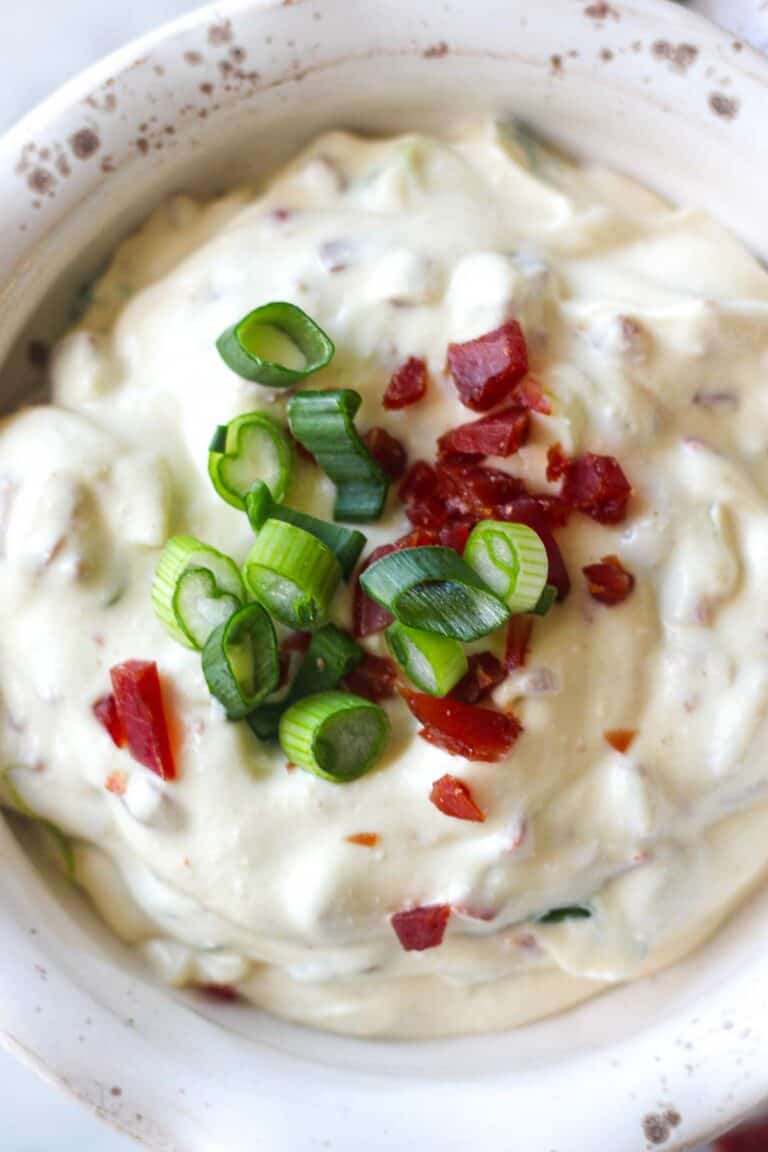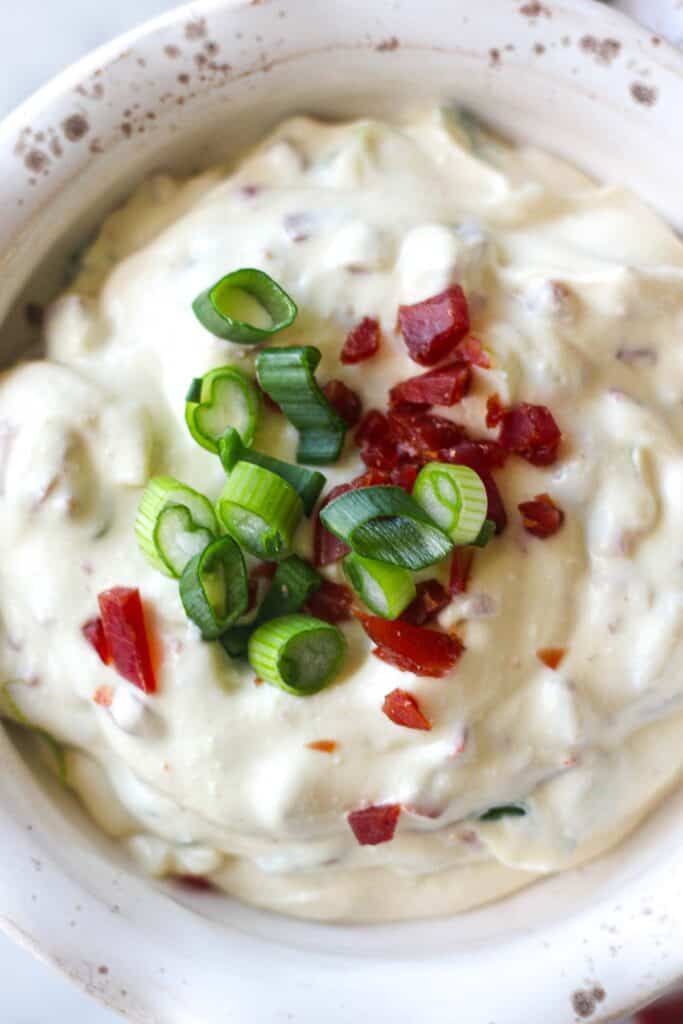 How to store dip
If you made it in the morning to serve later in the day, just cover the bowl with the piece of foil or a flat plate and place in the fridge. Reheat in the microwave for 15-20 seconds (take the cover off).
You can store beef jerky dip in the fridge for up to 4 days, covered.
More beef recipes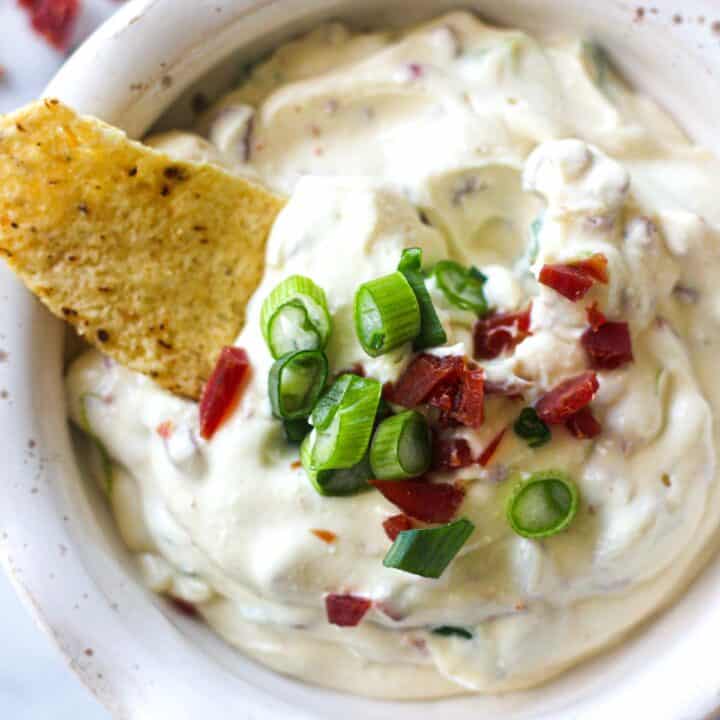 Beef jerky dip
Creamy and a bit spicy, this delicious warm beef jerky dip has only 4 ingredients! Great with any kind of chips, sliced cucumbers or bell peppers.
Ingredients
4 oz cream cheese
⅓ cup sour cream
2 oz chopped beef jerky (about ⅓ cup)
1 teaspoon Dijon mustard
freshly ground black pepper
chopped green onions
Instructions
Chop beef jerky as fine as you can.
Add it to the microwave safe bowl with sour cream and cream cheese. Warm in the microwave on high for 25 seconds.
Add mustard and stir well. Add black pepper if desired.
Top with chopped scallions and more chopped jerky.
Notes
Serve this beef dip with tortilla chips, slices of cucumber, bell pepper slices or pita chips. Baby carrots are amazing with dip too.
Chopped green onions are essential in this recipe. They add that crunch that changes everything. Trust me on that.
Use more jerky for more chunky consistency.
The recipe is very forgiving. The amount of any ingredient is adjustable depending on your personal preference.
Nutrition Information:
Yield:

2
Serving Size:

1
Amount Per Serving:
Calories:

397
Total Fat:

34g
Saturated Fat:

18g
Trans Fat:

0g
Unsaturated Fat:

12g
Cholesterol:

93mg
Sodium:

849mg
Carbohydrates:

9g
Fiber:

1g
Sugar:

6g
Protein:

14g