Ninja Foodi roasted salsa is the fastest way to broil vegetables for your favorite dip. Enjoy salsa with tortilla chips or over grilled chicken or fish.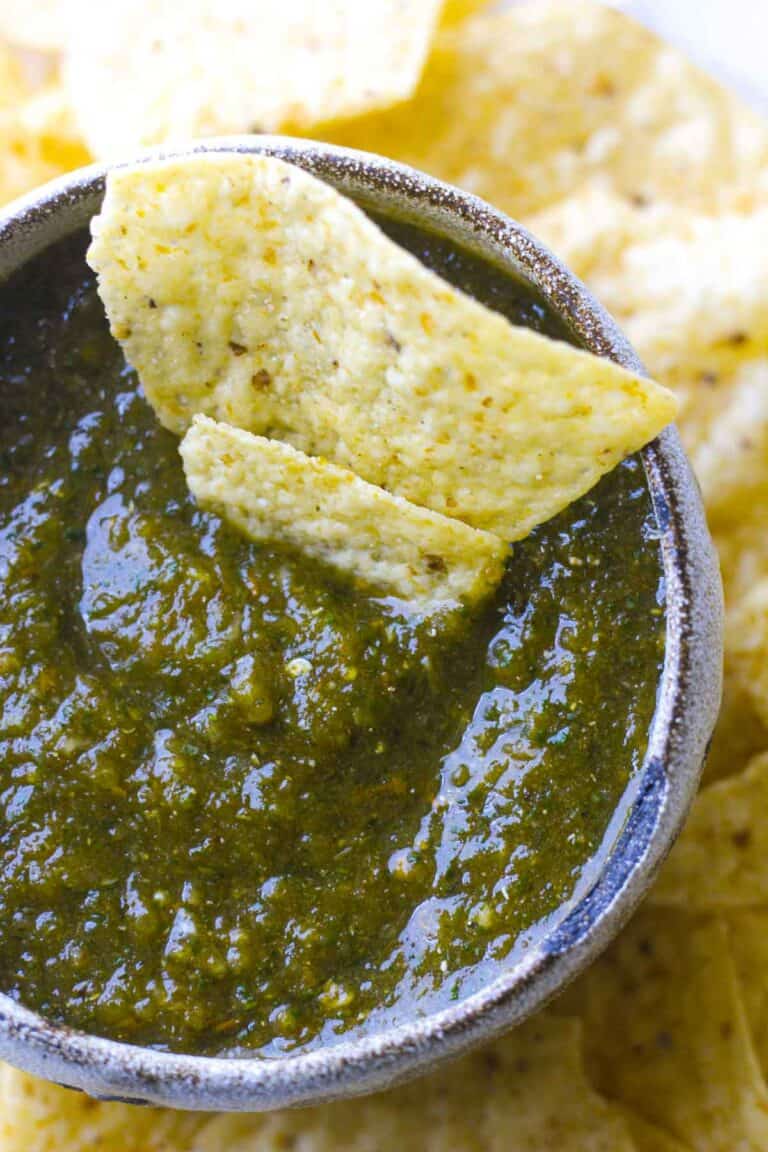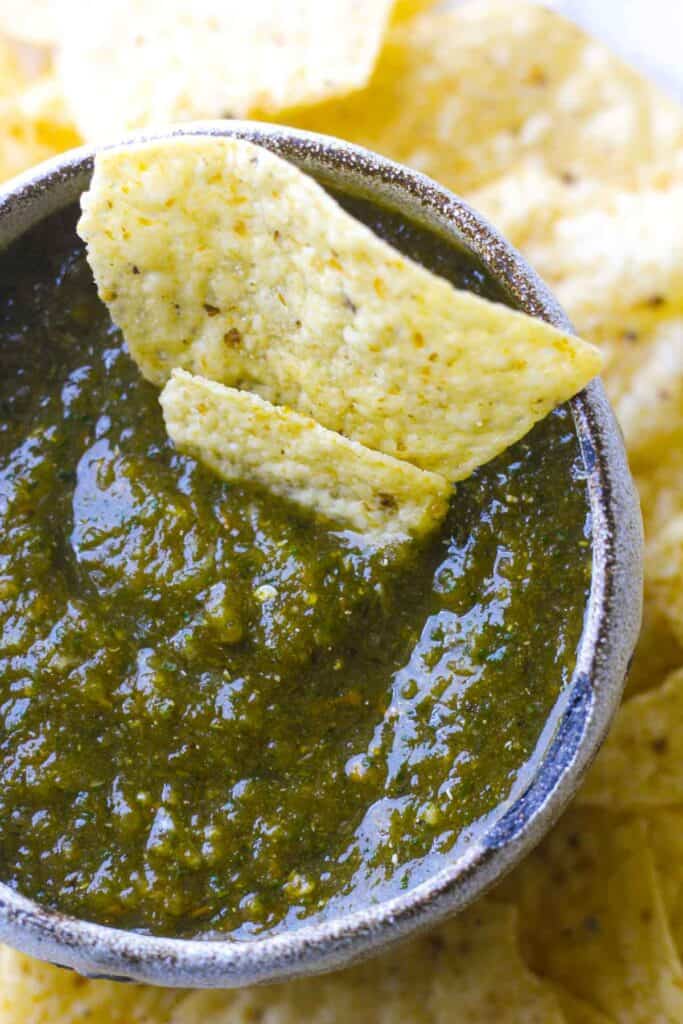 How to make salsa using ninja foodi
We are going to roast vegetables in Ninja foodi air fryer using the Air Crisp function. I tried using "Broiling" on the last 5 minutes of cooking and didn't see the difference. So just stick to the air crisp for the whole 20 minutes.
Wash vegetables and let dry or use a towel. Place a rack in the ninja foodi air fryer. It will help lifting veggies and get them closer to the heating element. Because we want those blistered peppers!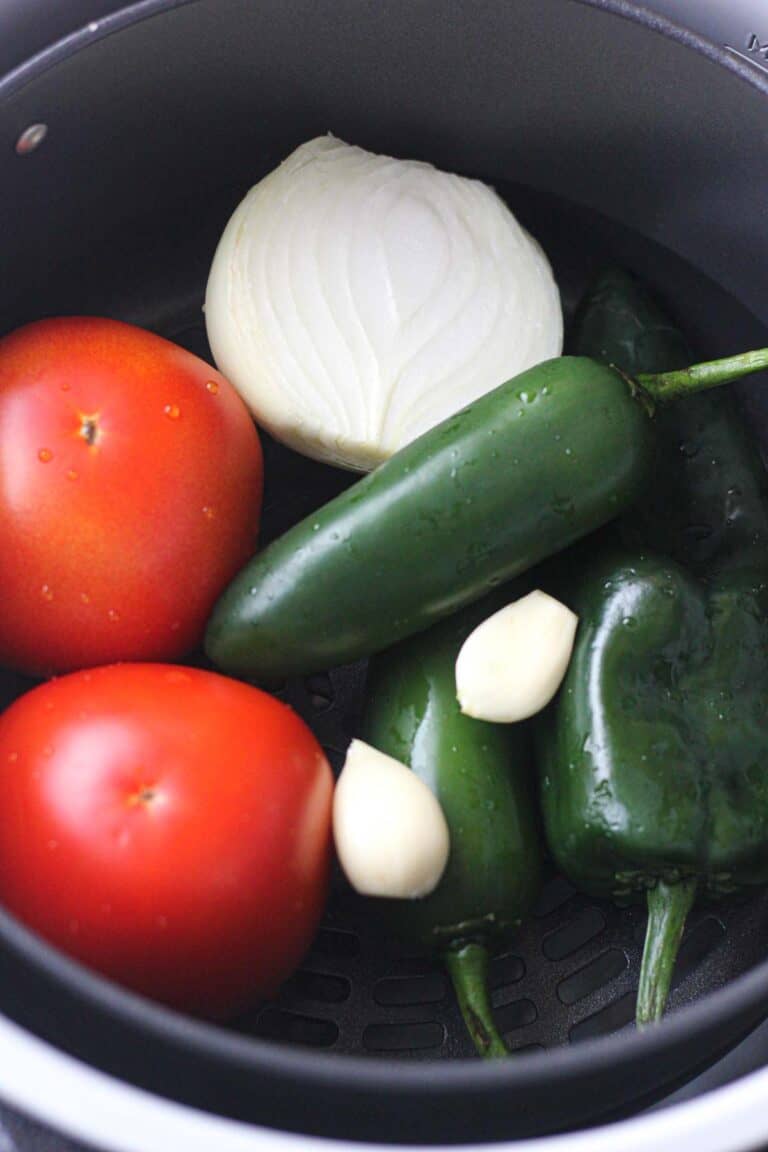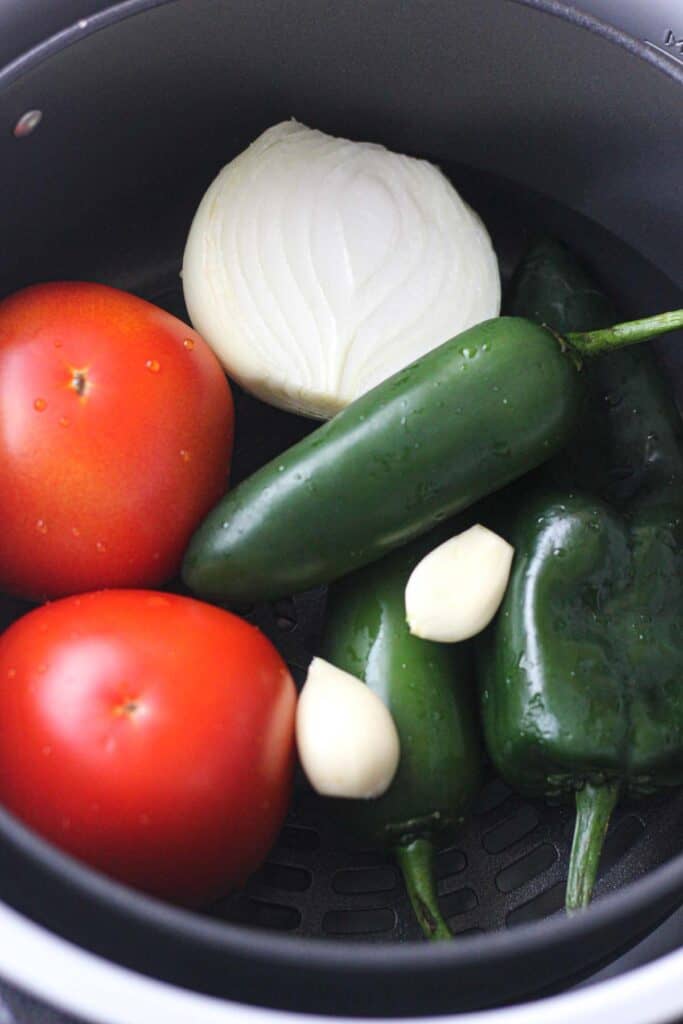 Put ingredients on the rack and air fry for 20 minutes at a 400 degrees Fahrenheit temperature. Check on them every once in a while. No need to turn or flip them.
20 minutes later move nice and burned veggies to the food processor. Don't forget to use tongs! At first i tried to grab them with my hands and almost got a burn. Be careful.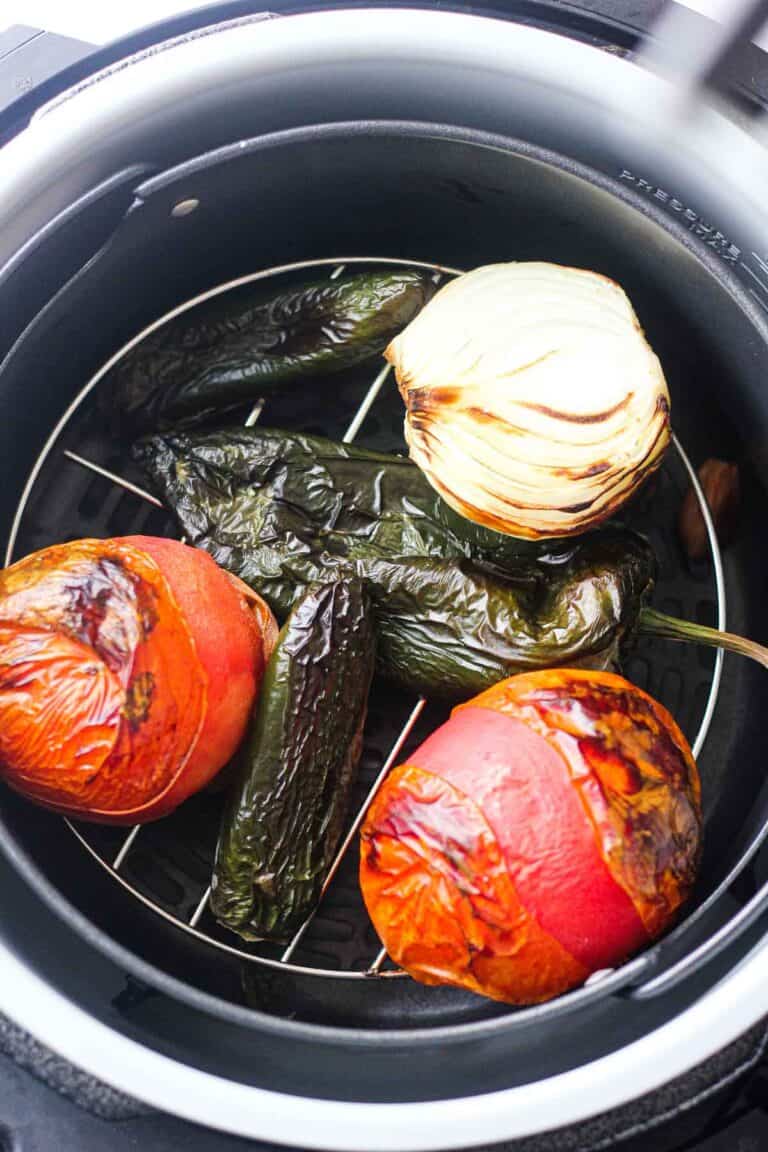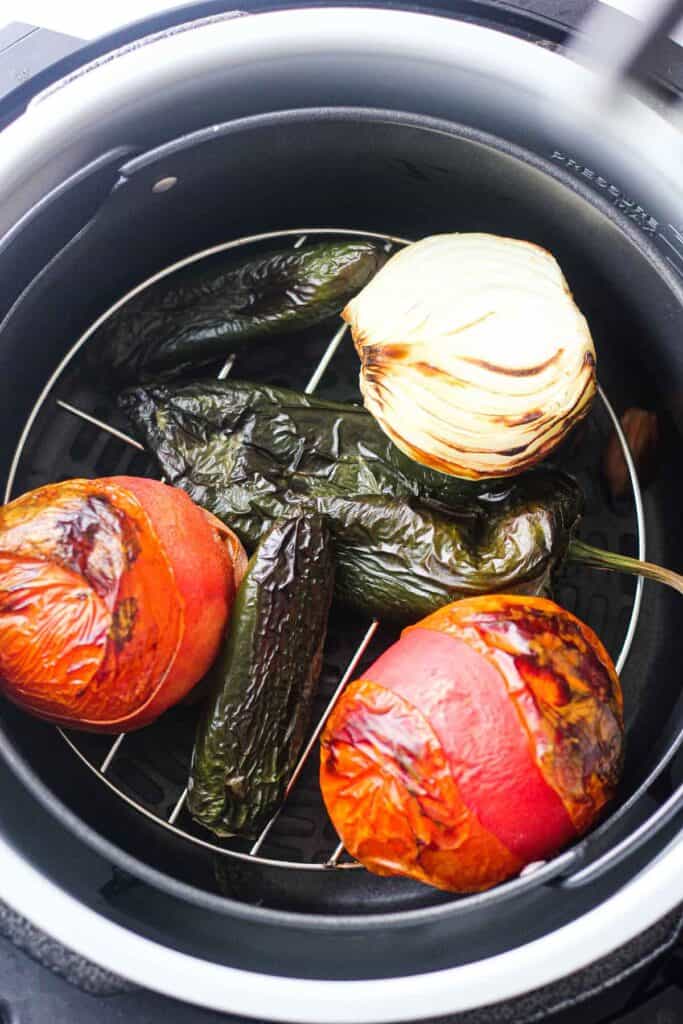 Pulse your future salsa in the food processor or blender until desired consistency. I like my salsa smooth but if you like it chunky go for it. Add cilantro and lime juice along the way.
Don't forget about salt. Salsa need a good amount of salt. I added 1 whole teaspoon in this recipe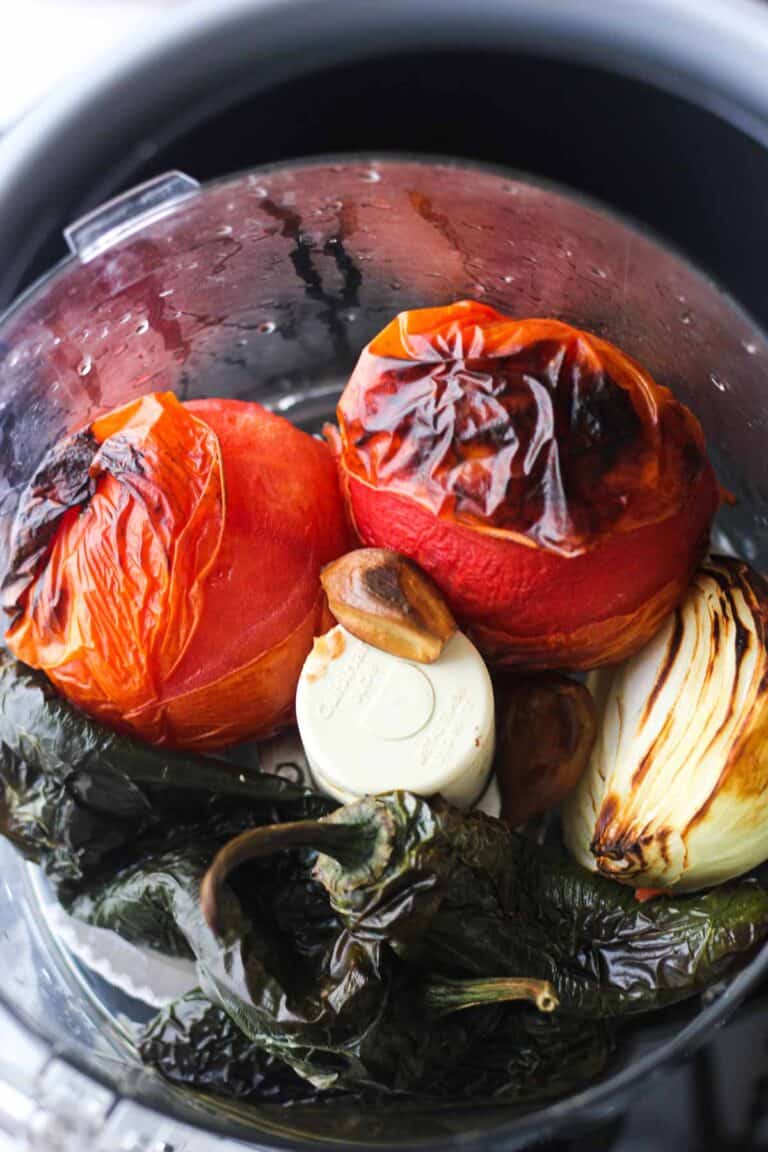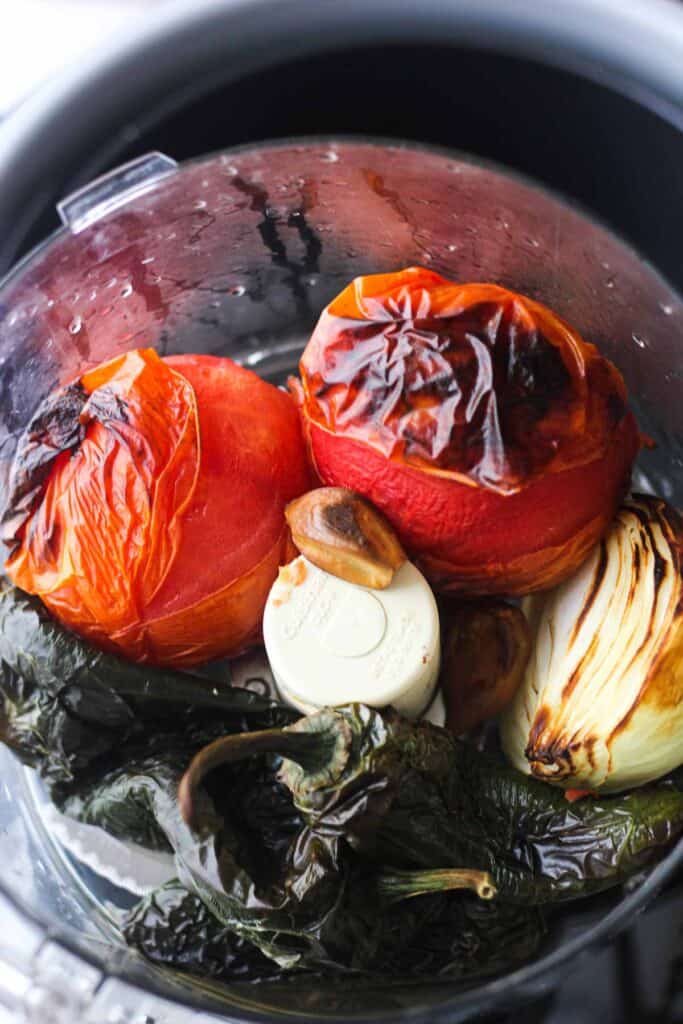 My salsa has bright green color because of the amount of peppers in it. If you prefer red salsa, don't use poblano pepper and add 1 more tomato to make it a total of three.
Let cool (or not, if you saw my video, the salsa is still steaming when i dip a chip in it) and enjoy with your favorite tortilla chips.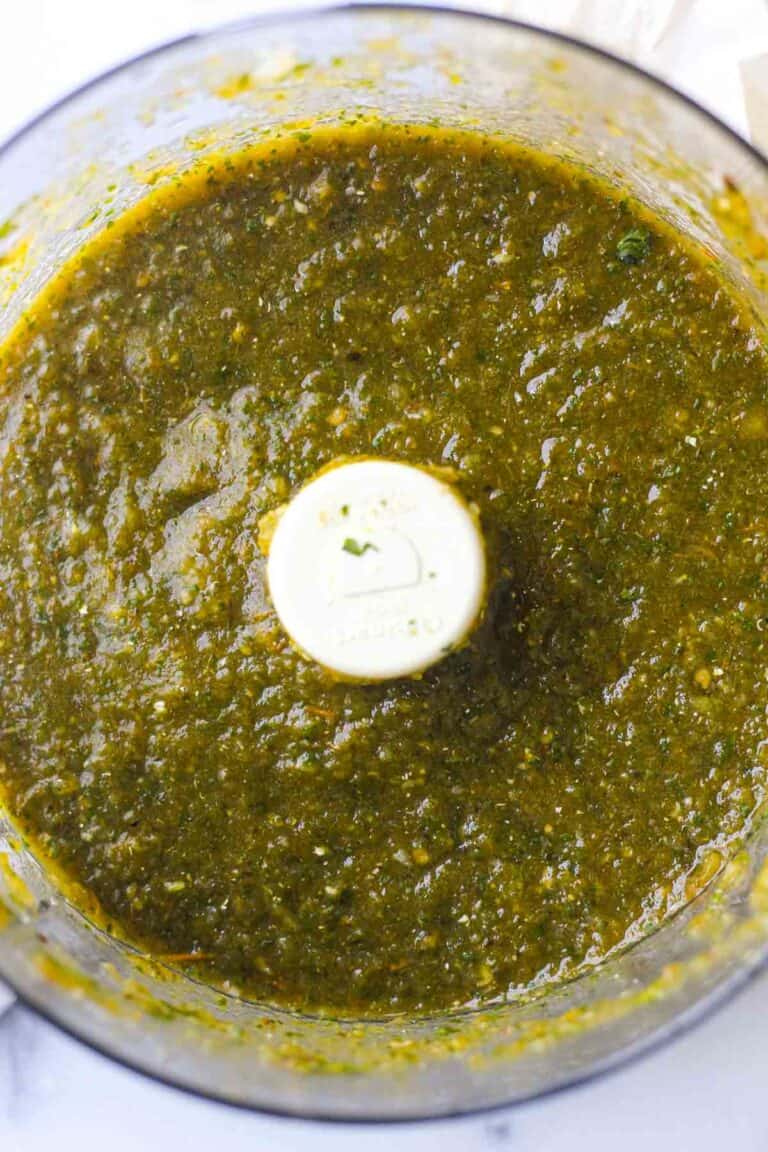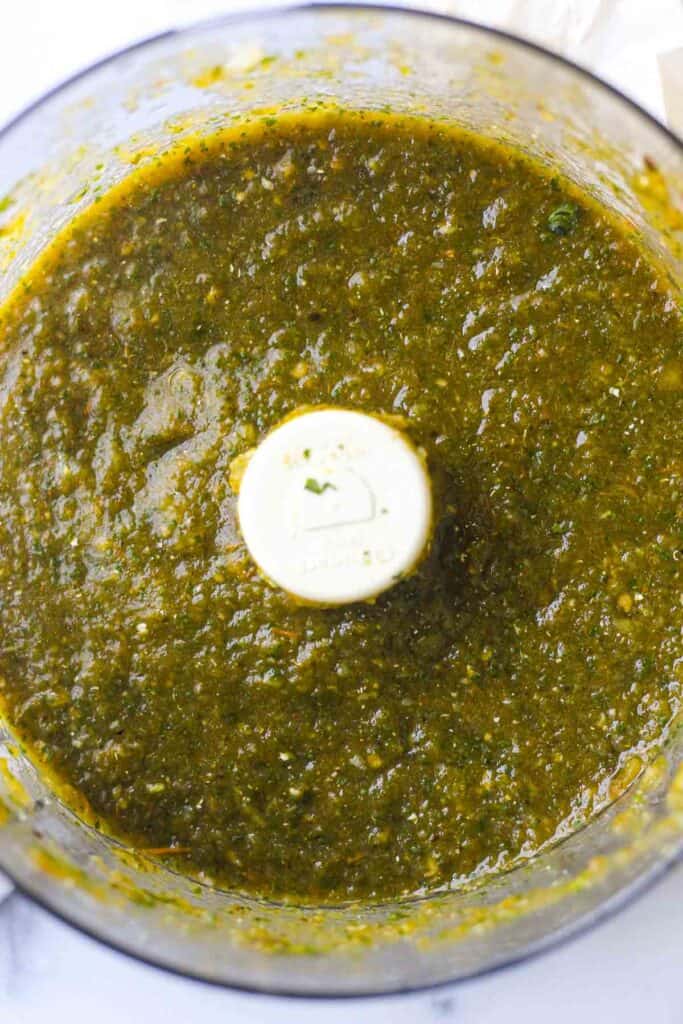 Do you cut the onion before roasting
I do. It helps to speed up the cooking time. If left whole in 20 minutes you will still have that raw bite in the middle which is perfectly fine! Just your salsa will have more intense onion flavor.
You can also use just outer layers of onion for the same reason. Up to you.
Do you peel tomatoes before roasting
There is no need to peel tomatoes! If you would like you can slip skins off the tomatoes after air frying, it will be very easy. I don't feel it's a necessary step. You food processor with chop skins so fine you will never know the are there. Plus tomato skin will be burned and give lots of flavor.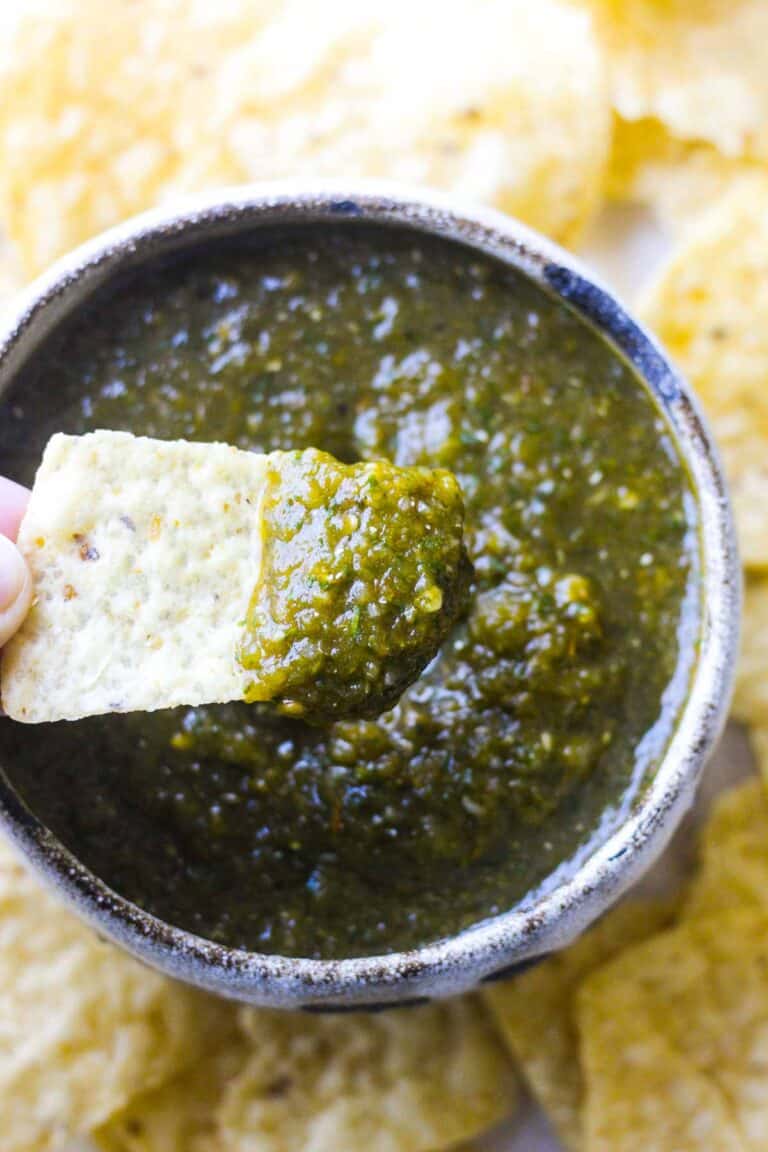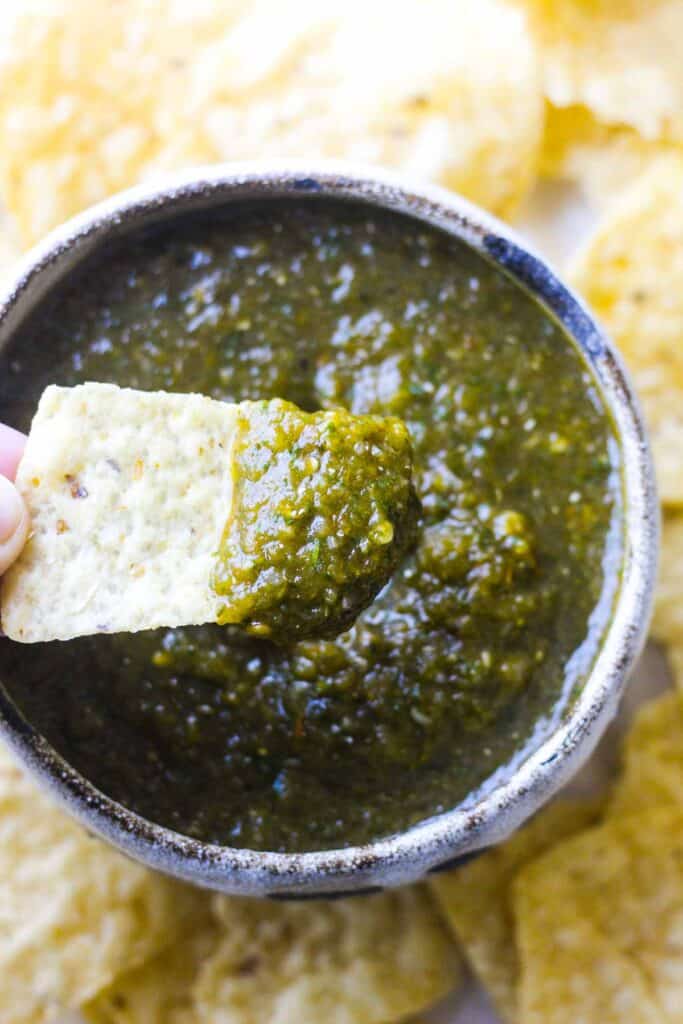 How to make tomatillo salsa
Tomatillos are Mexican husk tomatoes. They are usually cooked or broiled, raw they taste kinda strong and acidic.
Want to try tomatillo salsa? Just skip red tomatoes in the recipe and add tomatillos instead. Love it!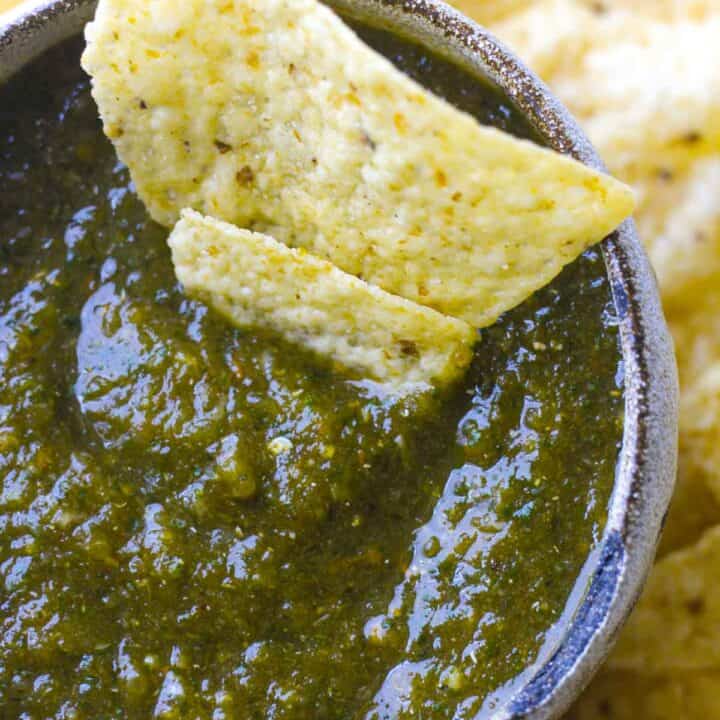 Ninja Foodi air fryer roasted salsa
Ninja Foodi roasted salsa is the fastest way to broil vegetables for your favorite dip. Enjoy salsa with tortilla chips or over grilled chicken or fish.
Ingredients
2 tomatoes
2 jalapenos
1 poblano pepper
2 garlic cloves
½ onion
juice of 1 lime
cilantro
1 teaspoon of salt
Instructions
Wash vegetables and place inside the ninja foodi air frying basket on a rack. Using air crisp function cook for 20 minutes on 400 degrees Fahrenheit. Check couple times, no need to flip.
Once cooked, transfer veggies in to the food processor or blender. Add cilantro and lime juice. Pulse a few times until salsa will reach desired consistency.
Serve with chips.
Notes
Don't use poblano pepper and increase the amount of tomatoes for the red colored salsa.
Use fresh squeezed lime juice instead of store bought.
Take garlic out of the air fryer basket after 10 minutes. I may cook too much and burn if left cooking for the intire time.
Nutrition Information:
Yield:

2
Serving Size:

1
Amount Per Serving:
Calories:

52
Total Fat:

0g
Saturated Fat:

0g
Trans Fat:

0g
Unsaturated Fat:

0g
Cholesterol:

0mg
Sodium:

1067mg
Carbohydrates:

12g
Fiber:

3g
Sugar:

6g
Protein:

2g