This Lebanese lamb liver recipe is easy and delicious. This filling meal makes a great lunch or dinner. Made in one pan and ready in 10 minutes, the lamb liver is tender and full of flavor.
Lamb livers are very nutritious, fairly inexpensive, and simply delicious. Also called Kaleji or mutton liver, lamb liver can be cooked in a variety of ways that you and your family are sure to enjoy. This recipe is easy and straightforward to prepare and it has a quick cooking time, making it ideal for busy weeknight dinners.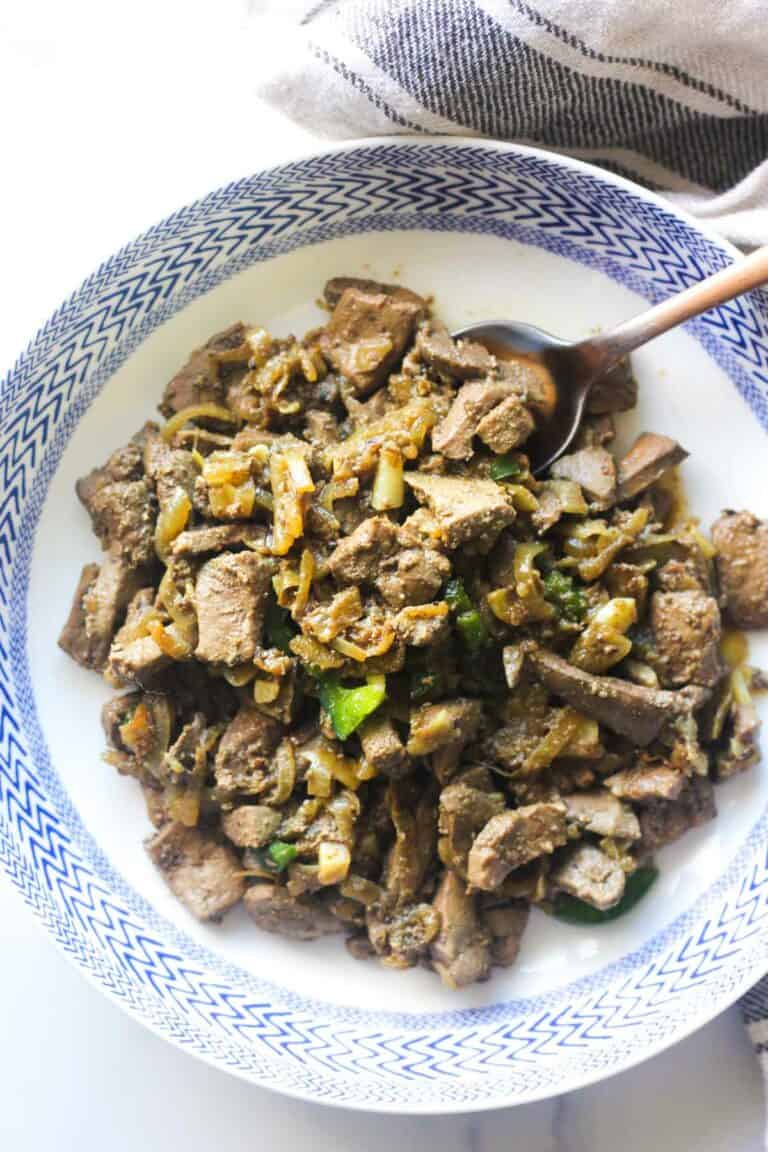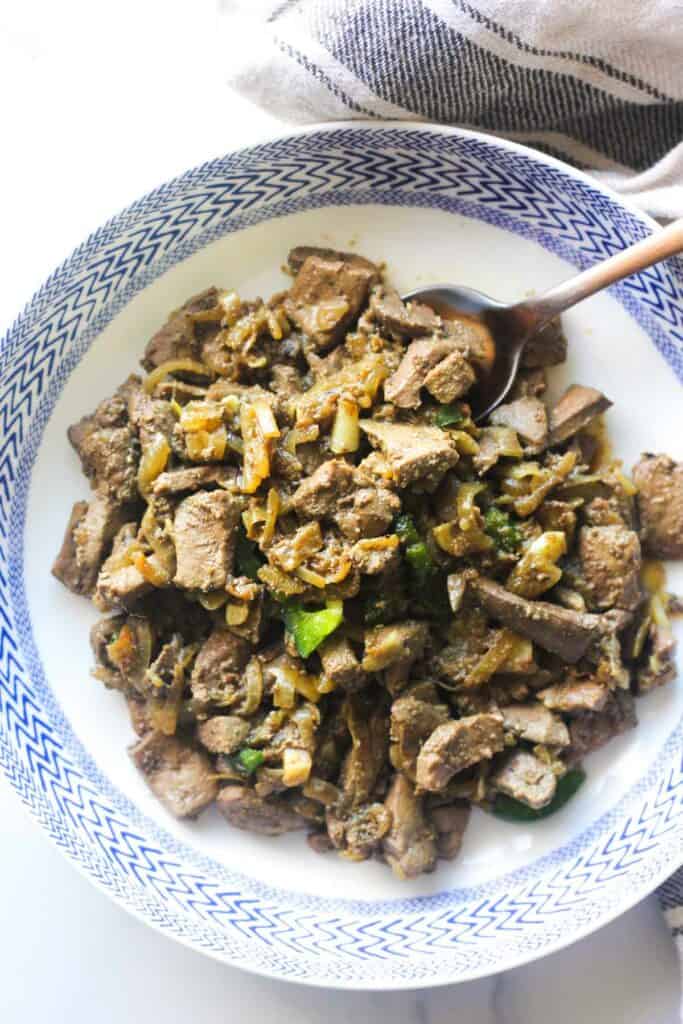 The flavor of the lamb liver is enhanced by the Lebanese-inspired spices that turn this simple organ meat into a tasty and full of flavor meal. Many people don't like the thought of eating organ meats, thinking they are full of toxins, but these meats are actually very nutritious. If cooked properly they can be a delicious and healthy addition to your diet.
How to cook Lebanese lamb liver
Wash lamb livers with cold running water. Its important to rinse them well to remove extra blood. Using a very sharp knife thinly slice onion and chop garlic. Saute them in oil over medium high heat for a few minutes, until very fragrant.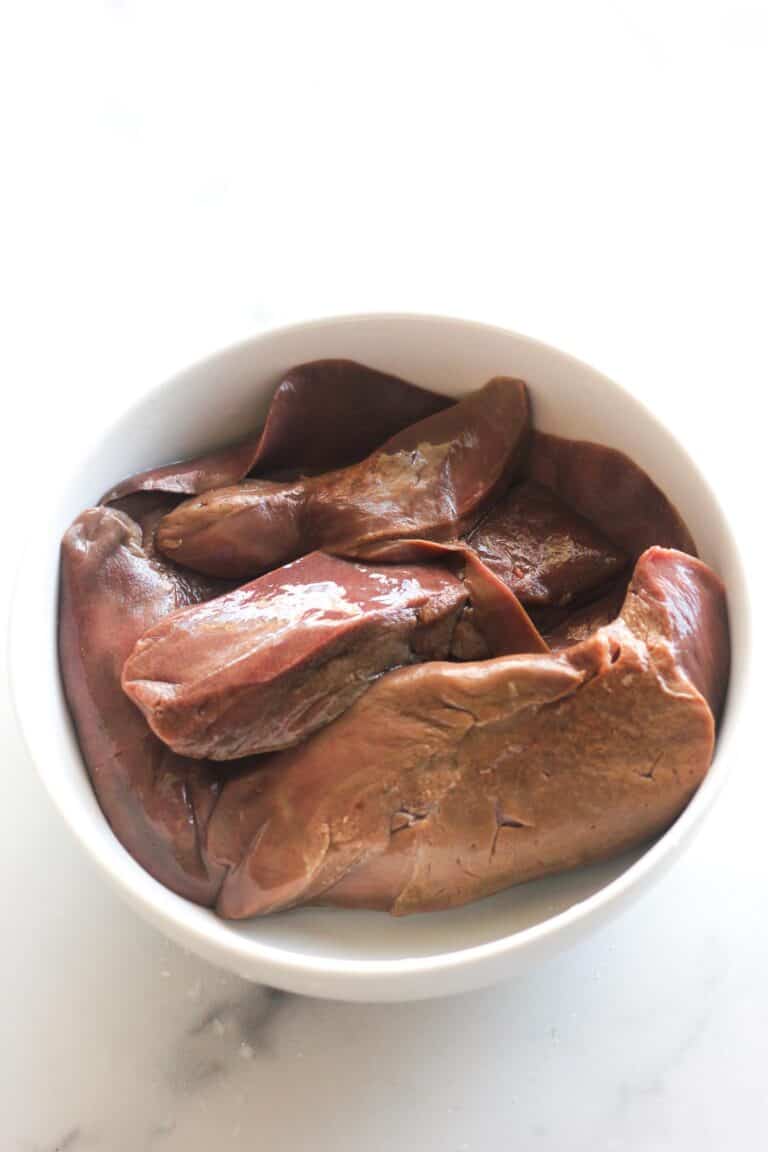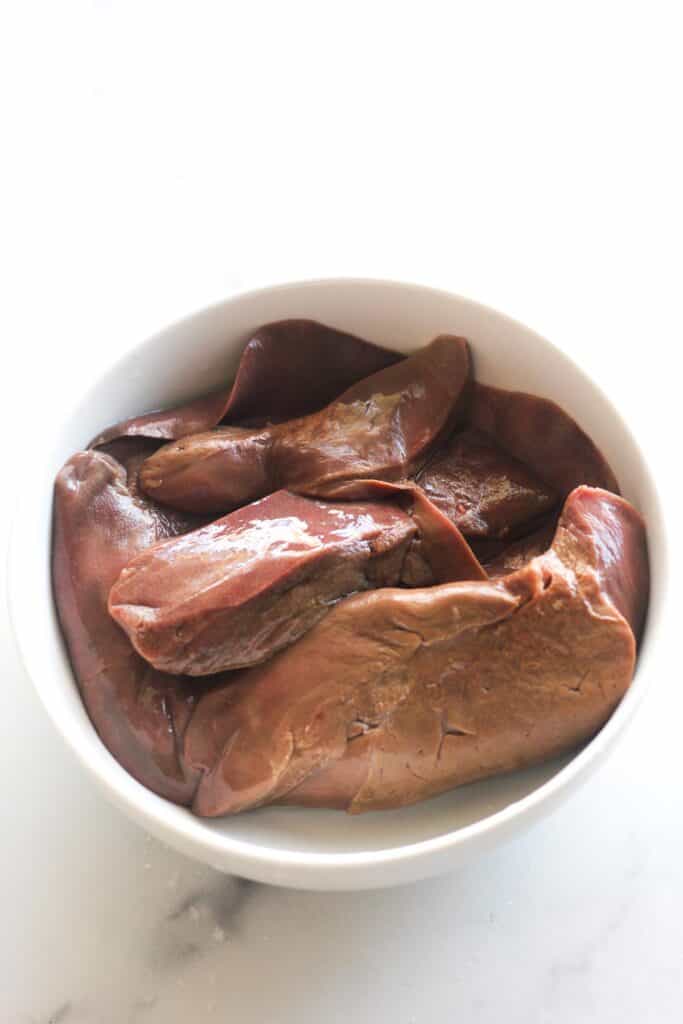 Meanwhile slice lamb livers in about 1 inch pieces. Add to the onion garlic mixture along with spices. I used cumin, coriander powder, garlic powder, salt and black pepper. Spices make this recipe called Lebanese lamb liver. Saute for approximately 4 minutes, stirring. You want livers to be no longer red from the outside but still a bit pink in the inside.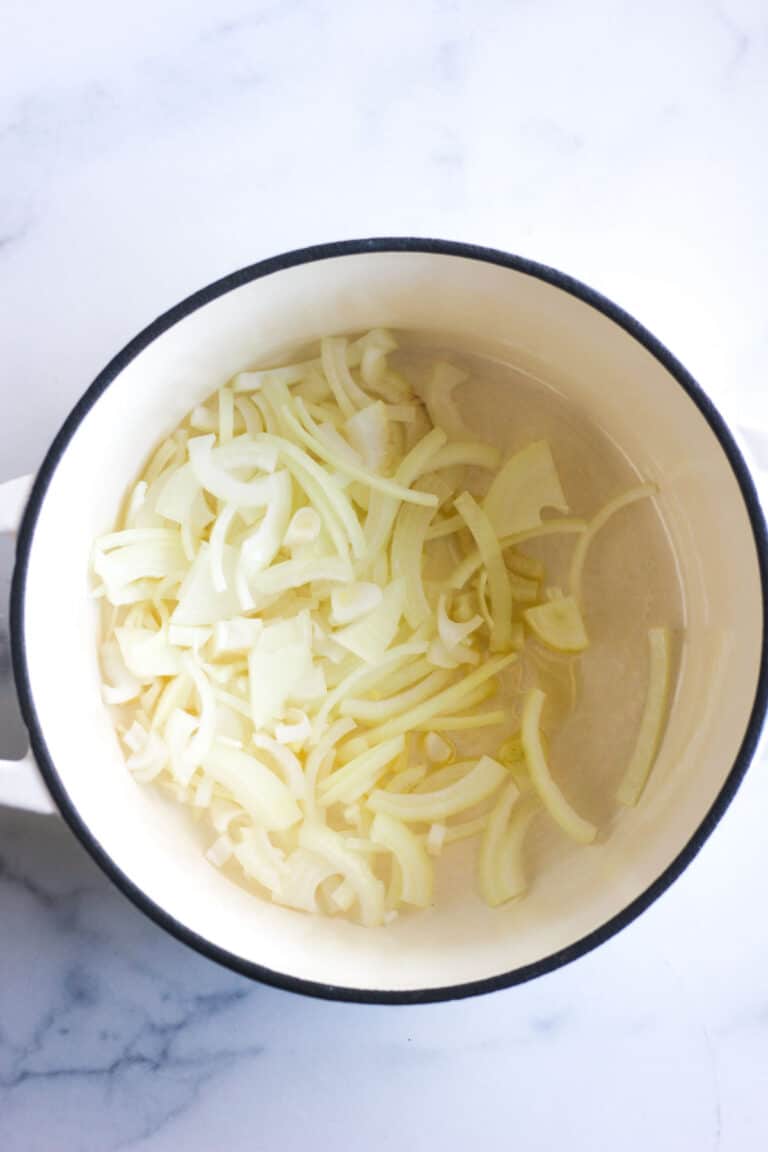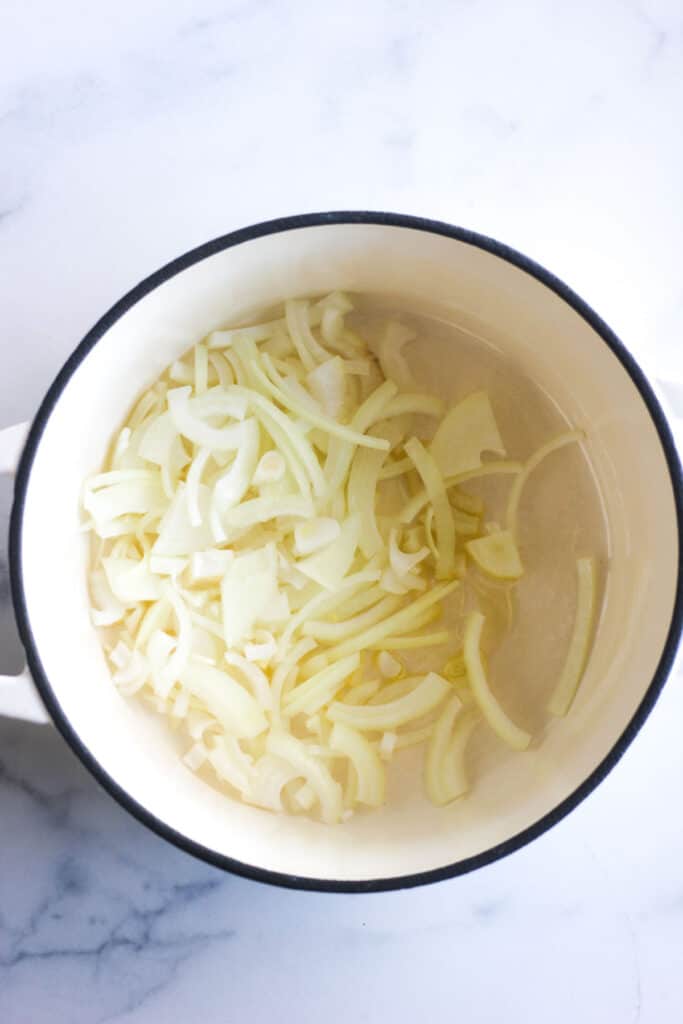 It nice to add spicy pepper to livers before cooking. Any kind of chili pepper will be perfect in this recipe. I didn't have any at the time so i added jalapeno peppers. Delicious too, and pretty spicy, just how i like it!
What does it taste like
Liver has strong, bold, and earthy tones, that are sometimes described as metallic, rich, or bitter. The liver of different animals can have stronger or milder flavors.
Beef liver is the most popular and least expensive type of liver available, but its bold flavor doesn't always appeal to many people. Calf liver is taken from a young animal and the texture is softer and sweeter than beef liver. Lamb liver is similar to calf liver, it's tasty with a mild flavor.
If you have tried beef liver in the past and didn't enjoy it, try calf or lamb liver because both of these have a milder flavor that you might enjoy better.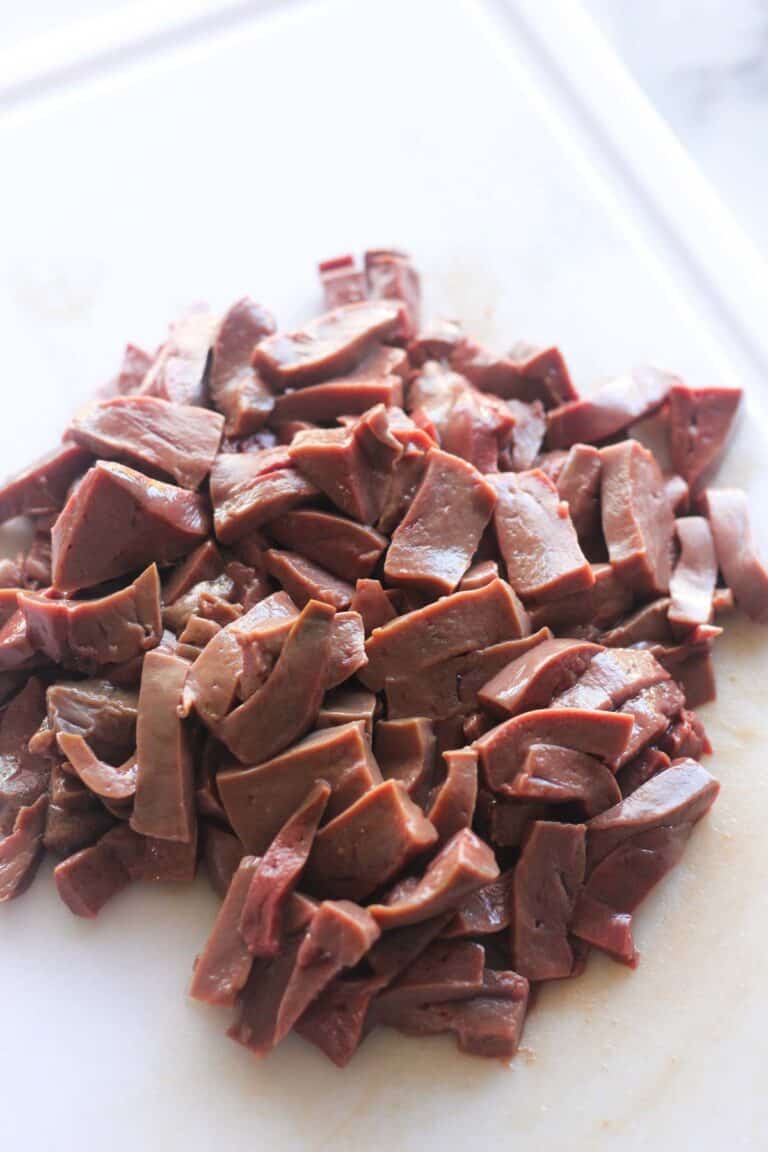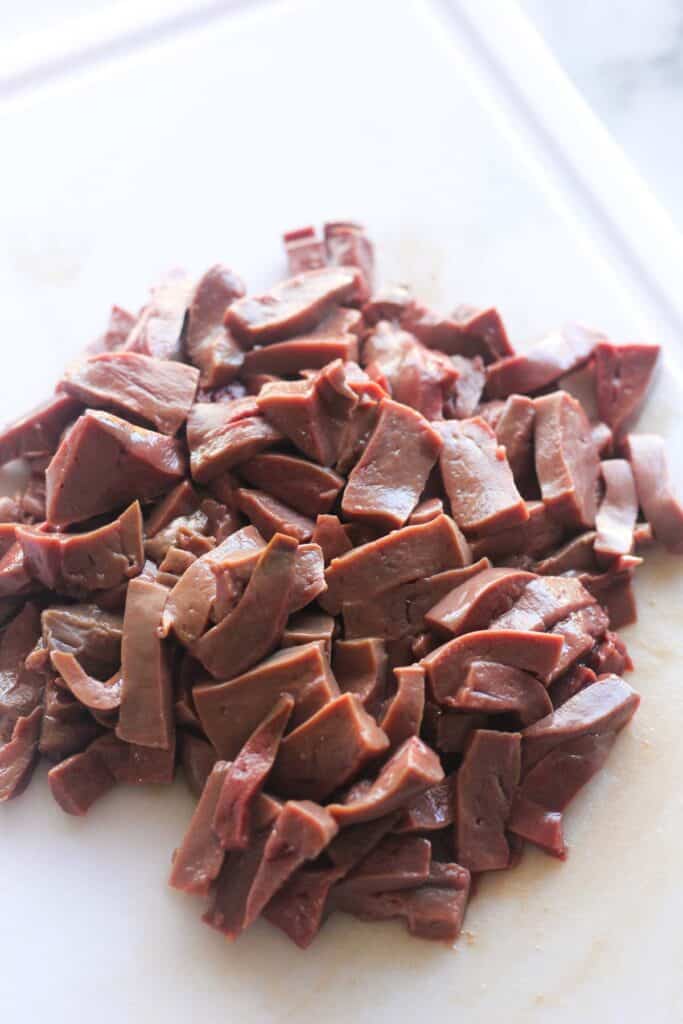 Is lamb liver good for you
Liver is one of the most nutritionally dense foods in the world. The liver doesn't store toxins and is actually full of many essential nutrients. It is an excellent source of protein, B vitamins, and vitamins A, D, and K, minerals such as copper, iron, niacin, potassium, and phosphorus, and is very low in saturated fat.
The nutrients in a single serving of liver are greater compared to even high-quality grass-fed beef and lamb, pasture-raised pork, chicken, and eggs.
Look for high-quality lamb liver to get optimal health benefits!
It is not recommended to consume liver on a daily basis, but consider eating it on a weekly basis to capture those great nutritional benefits.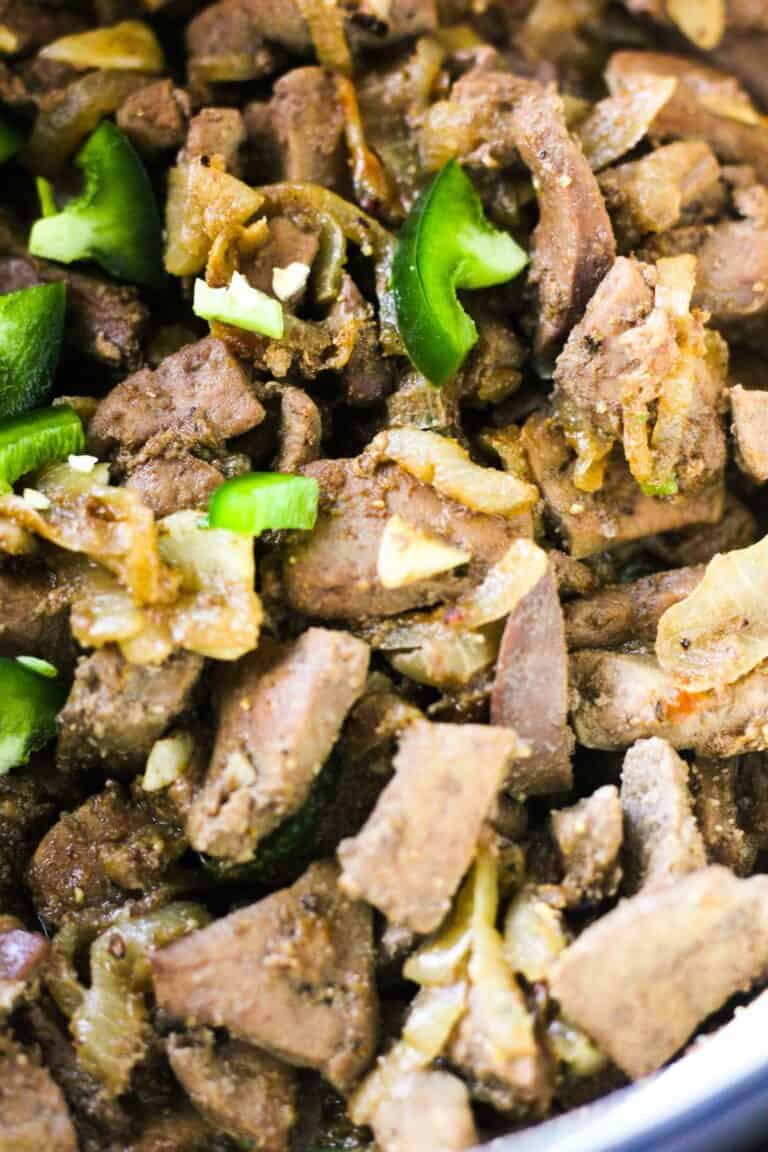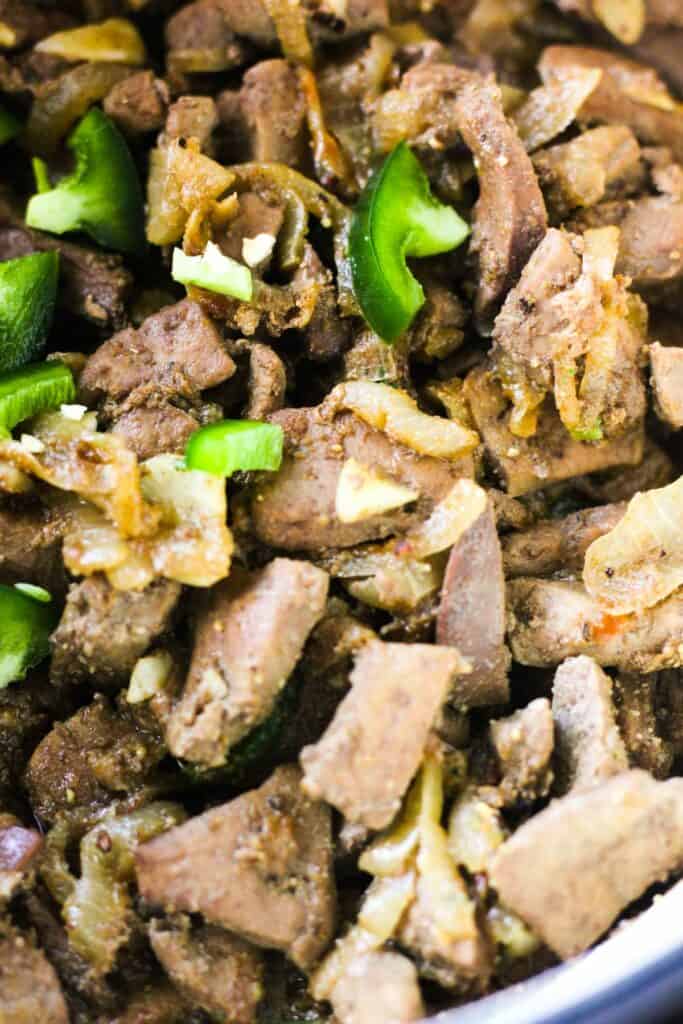 How do you make lamb liver taste good
There are many different tips and tricks to help lamb liver to taste good. If you don't like the way lamb liver was prepared in the past, mix it up! Try different flavors and spices. Try pan-frying it with onions.
Many people suggest soaking the lamb livers in milk or lemon juice to help cut down on the metallic or "iron" taste.
Also make sure to remove the outside membrane of the liver and any veins running along the flesh, both of these can contribute to an intense and unpleasant taste.
And lastly, a big mistake many people make when cooking liver is overcooking it, which can cause it to become tough and rubbery. It is easily pan-fried in less than 7 minutes. If you are unsure if it's done, use a meat thermometer. The recommended internal temperature is 165 degrees Fahrenheit.
How do you eat it
Most lamb liver recipes involve pan-frying it with onions and spices. This is a great way to eat it as a quick lunch or dinner with your favorite side. You can also broil, or bake it. Squeeze some lemon juice on cooked Lebanese liver and i will add so much flavor.
If you are not a fan of the taste, you could try mixing it with ground beef to hide the taste while still reaping the nutritional benefits.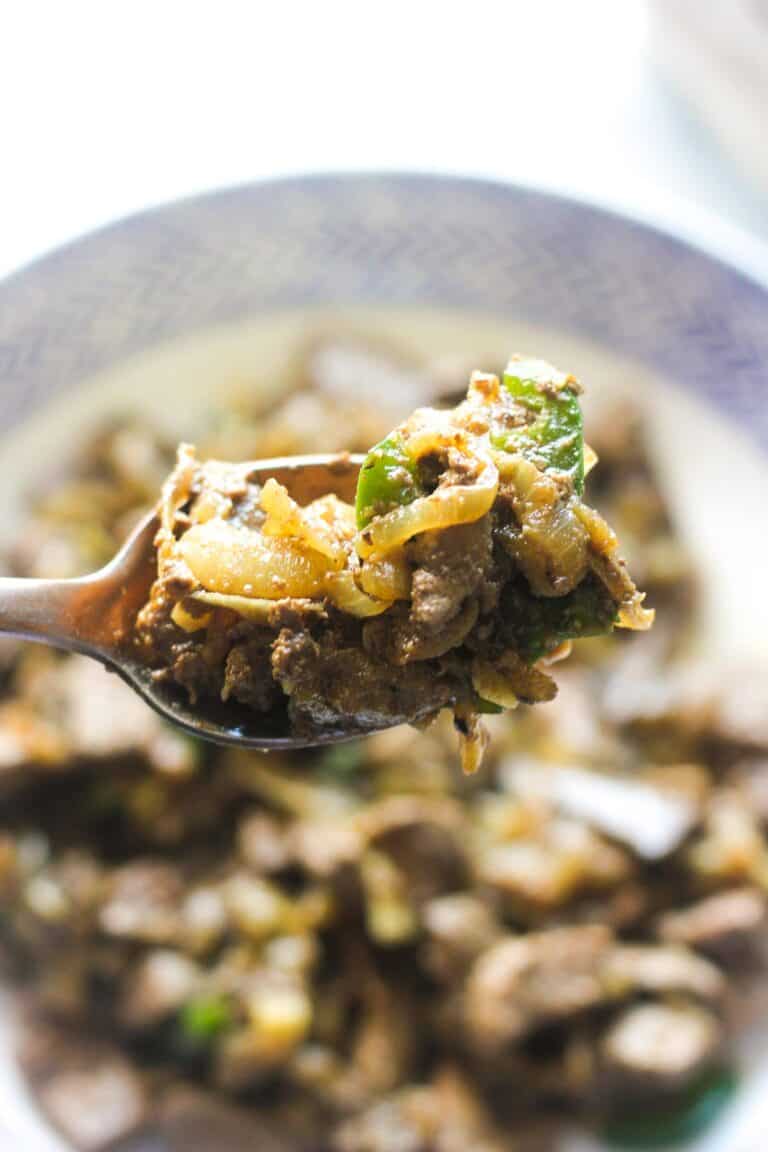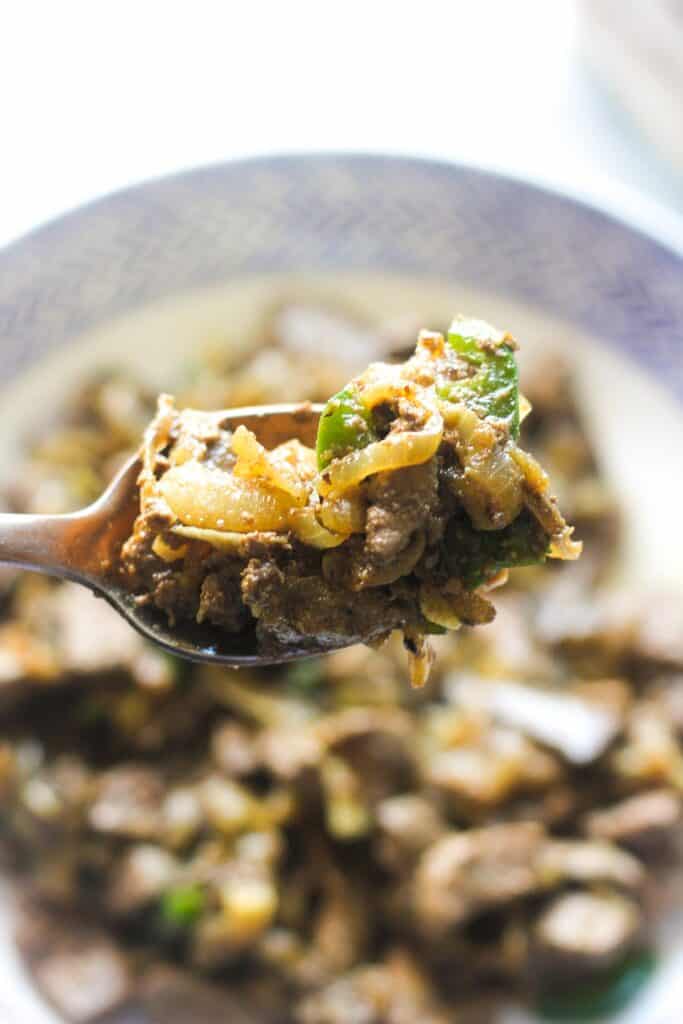 Where to buy it
You can buy lamb liver in the refrigerated meat section at your local grocery store, from a butcher, or Farmer's Market. You can also purchase it frozen from online grocery stores. It is readily available and is sure to be a nutritious and delicious addition to your diet!
What to do with leftovers
You need to store leftovers in the fridge for up to 5 days. Cover the bowl or use an air tight container. Reheat in the microwave for about 1 minute. I don't recommend freezing already cooked liver. It will dry it out and the liver will be chewy.
More offal recipe you may like
Hope you will like this lamb liver recipe. Please rate it you made it and leave comments below if you have any questions.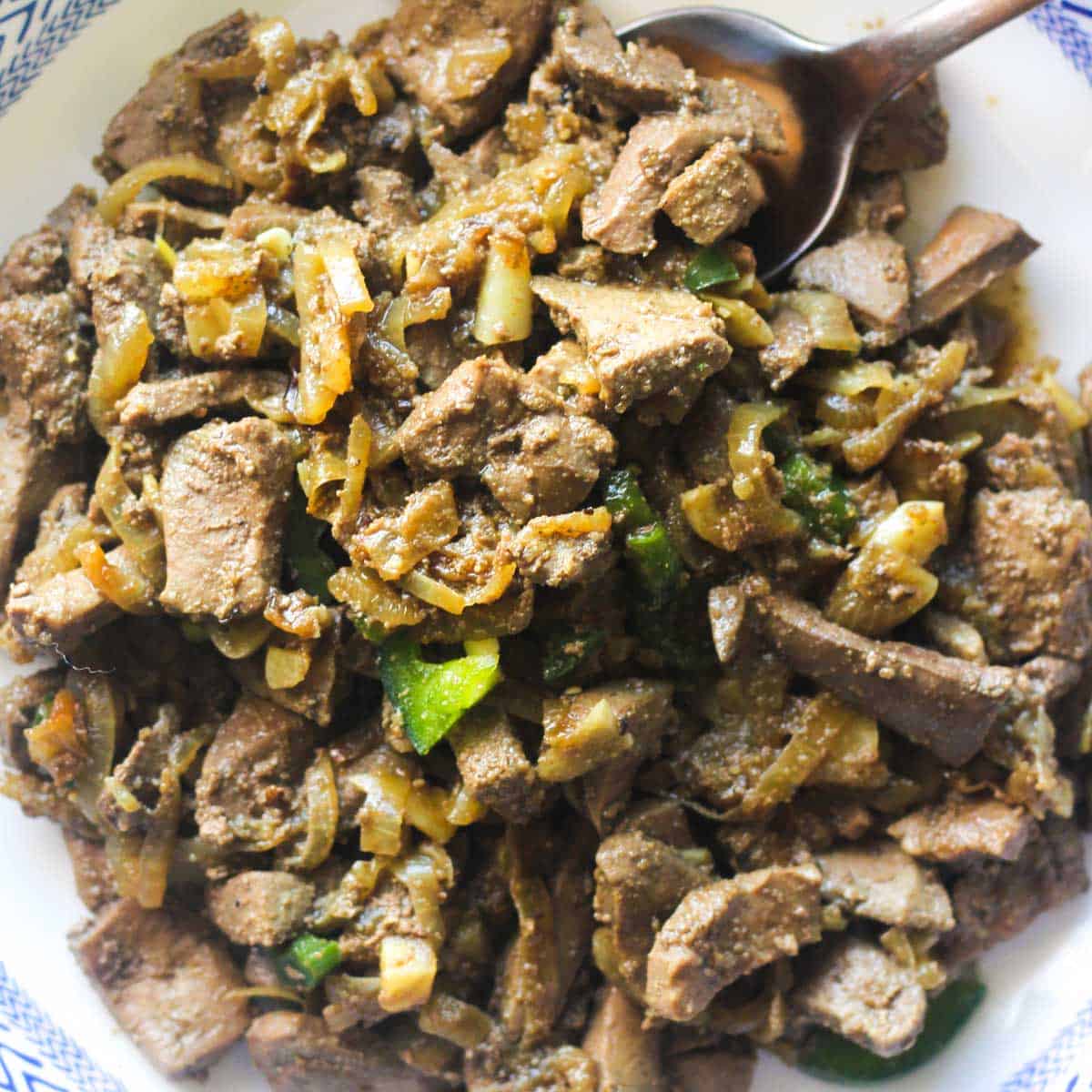 Lamb liver recipe (Lebanese style)
This Lebanese lamb liver recipe is easy and delicious. This filling meal makes a great lunch or dinner. Made in one pan and ready in 10 minutes, the lamb liver is tender and full of flavor.
Ingredients
1 onion
6 cloves of garlic
1 teaspoon black pepper
1 teaspoon cumin
2 teaspoon salt
2 teaspoon garlic powder
1 lb lamb livers
1 spicy pepper
1 tablespoon oil
1 teaspoon coriander powder
Instructions
Thinly slice onion and chop garlic. Add to the pan with oil and cook on medium heat until onion is soft and fragrant.
Slice liver in about 1 inch pieces. Add to the pan along with spices and chopped spicy pepper. I used jalapeno.
Cook on medium heat for about 4-5 minutes.
Notes
Don't overcook liver. It will become dry and chewy.
Store leftovers in the air tight container in the fridge for up to 5 days. Don't freeze.
Add your favorite hot pepper. It could be chili pepper, jalapeno, habanero, you name it!
Nutrition Information:
Yield:

4
Serving Size:

1
Amount Per Serving:
Calories:

413
Total Fat:

29g
Saturated Fat:

11g
Trans Fat:

0g
Unsaturated Fat:

16g
Cholesterol:

172mg
Sodium:

1159mg
Carbohydrates:

7g
Fiber:

2g
Sugar:

1g
Protein:

32g