This creamy Ninja Foodi mashed potatoes are made with Parmesan cheese, butter, garlic and cream. Very easy and quick recipe for your pressure cooker. So cheesy!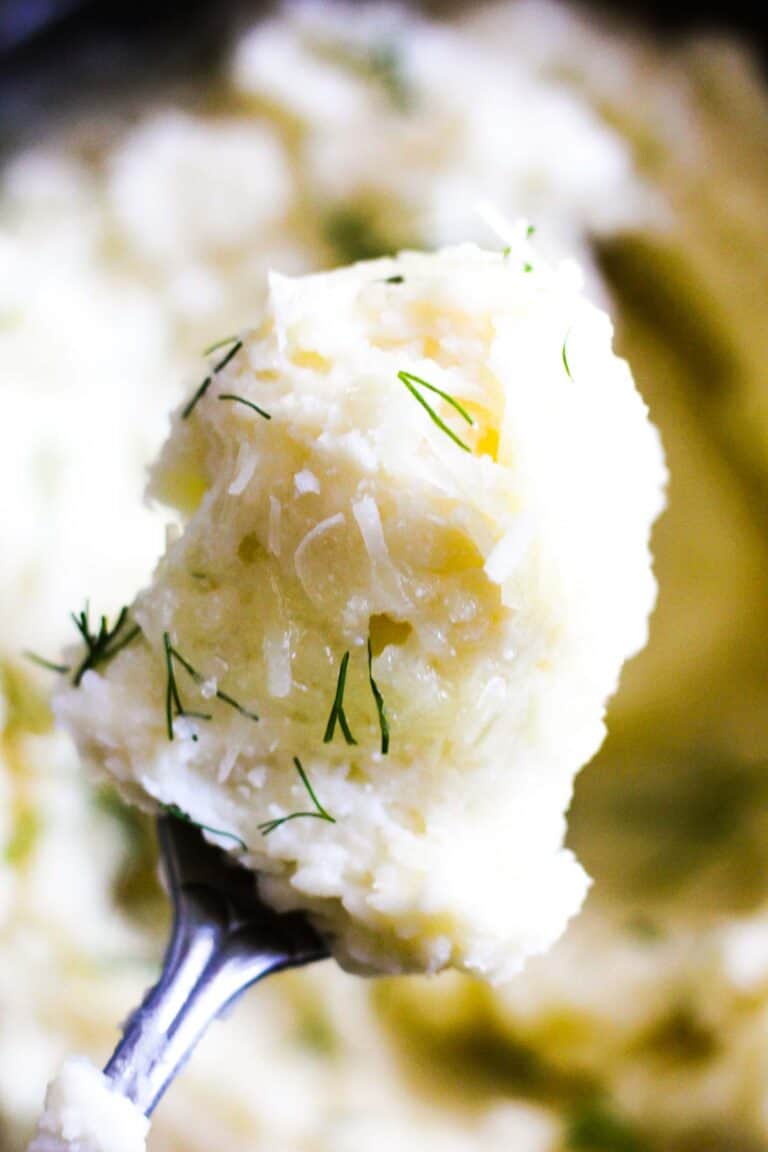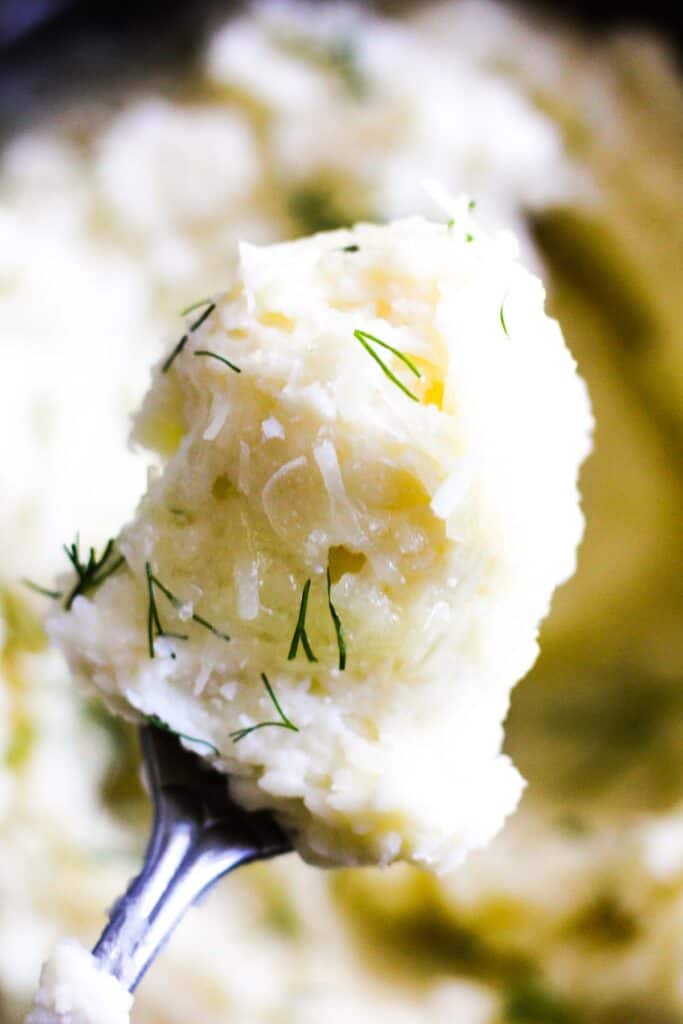 Today we are going to make cheesy dreamy mashed potatoes right in your Ninja Foodi! All you will need is some potatoes, butter, Parmesan cheese, salt, pepper, garlic and cream.
How to make Ninja Foodi mashed potatoes
Start with peeling potatoes. If you are going to use red potatoes and like the texture of potato skins, you don't need to peel it then. I used Russet potatoes and peeled and quartered them for creamy texture.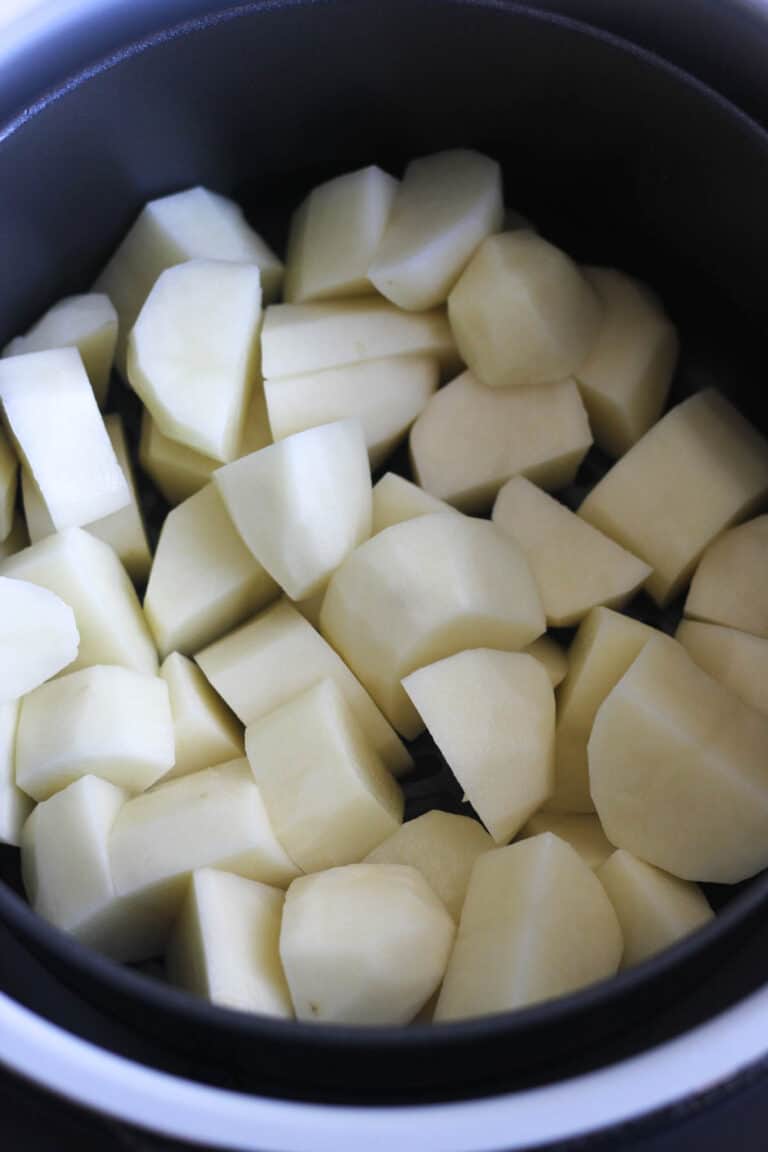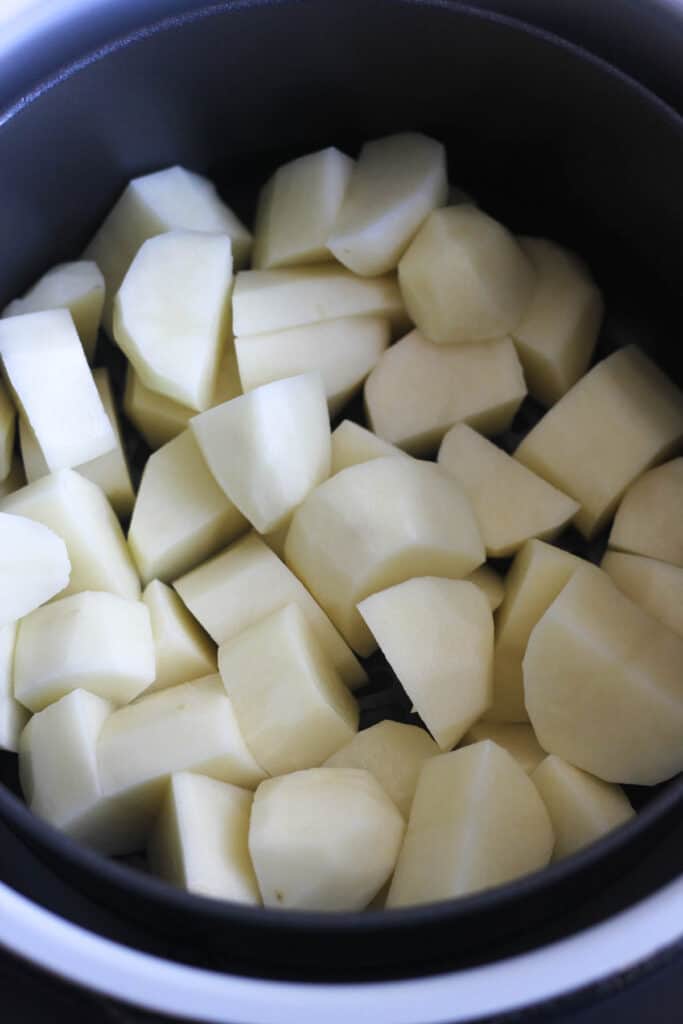 Place prepared potatoes in the Ninja foodi air fryer basket. Fill the bottom of the inner pot with 1 cup of water or broth. Broth could b used to infuse some chicken or vegetable flavors(it depend on what flavor broth will you choose) into potatoes. Its up to you.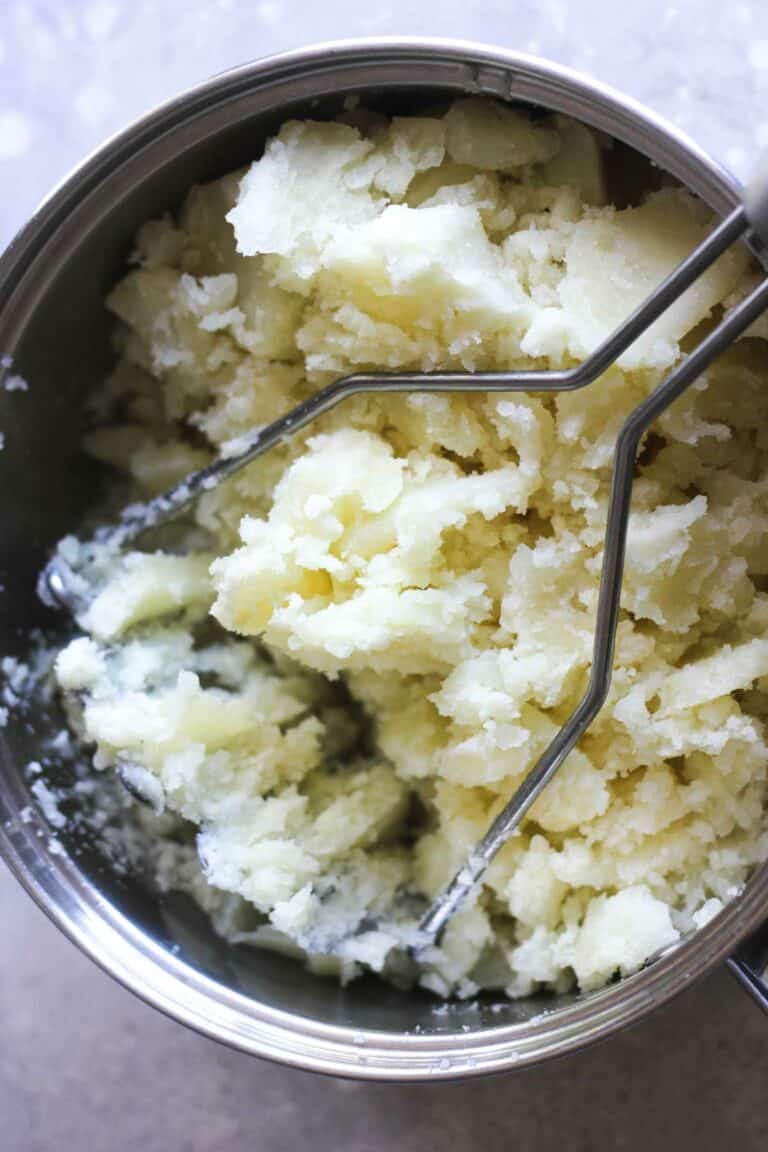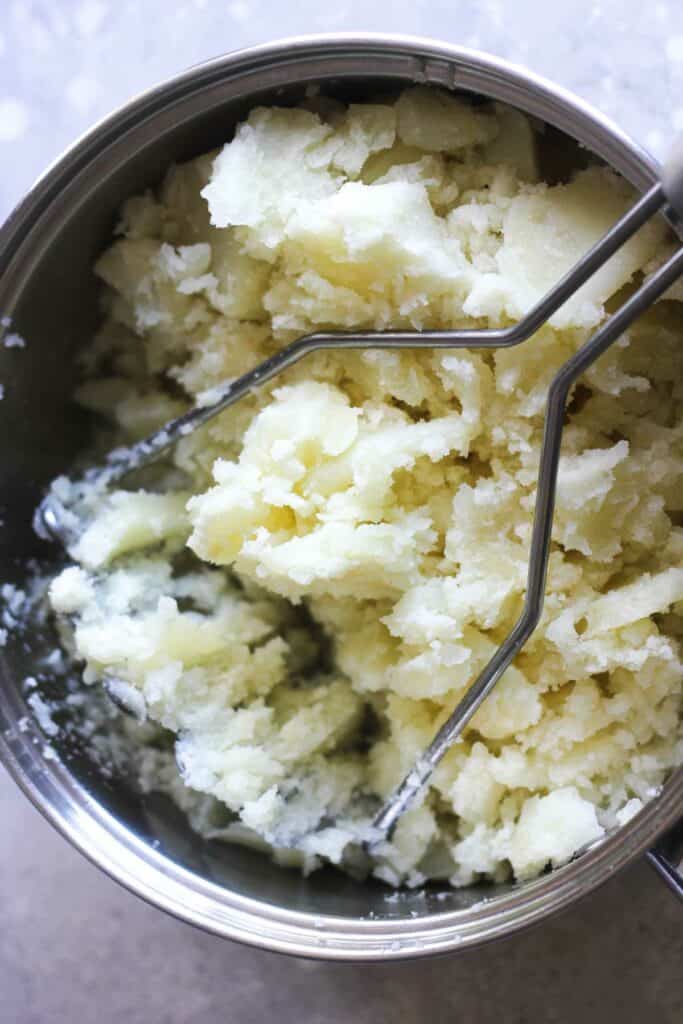 Close and lock the lid and cook on High pressure for 8 minutes. Quick release the pressure as soon as it beeps. Now, if you have a silicon potato masher (or ricer), congratulations, you can mash your potatoes right in the Ninja Foodi inner pot. Otherwise remove air fryer basket and place potatoes in to the different pot where you can mash it using regular masher.
Slowly add other ingredients listed in the recipe card and mash until there is no solid pieces.
Best potatoes to use
I usually go simply with russet potatoes because they are more common and more affordable. But when i feel fancy I use Yukon yellow potatoes or small red potatoes. For Russet, i always peel the skin. If you go with smaller potatoes, you can leave the skin on, it will be delicious.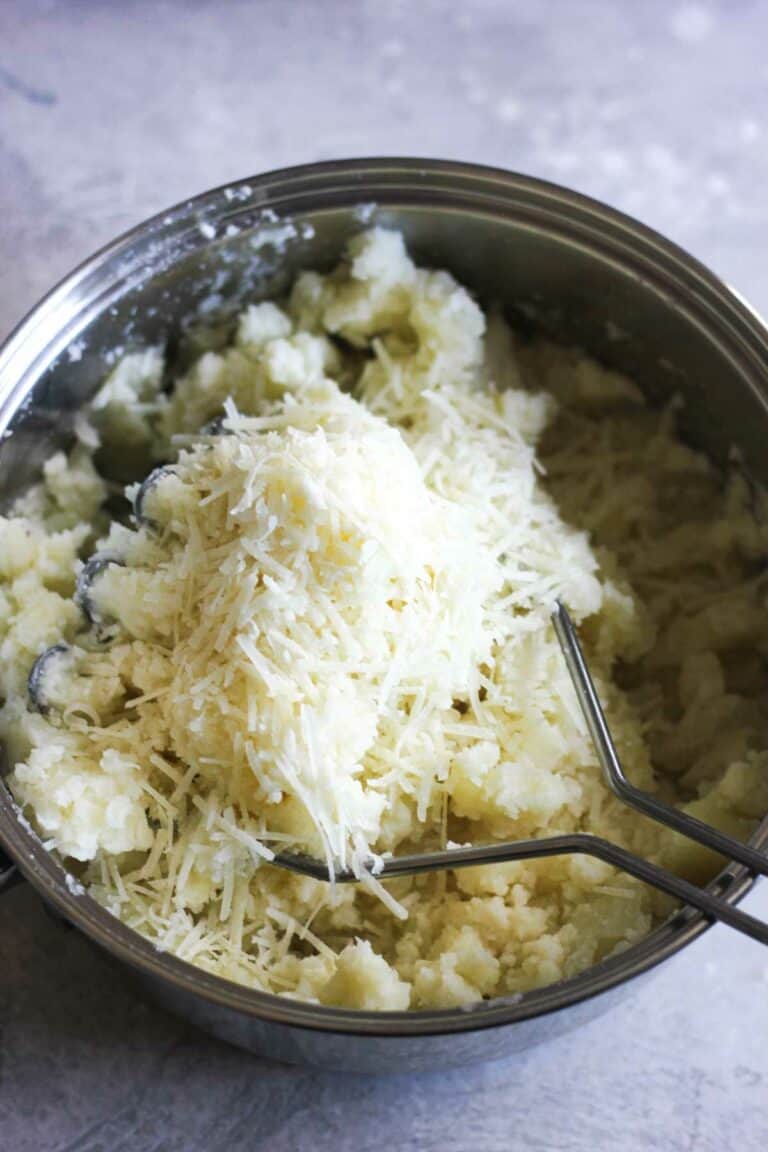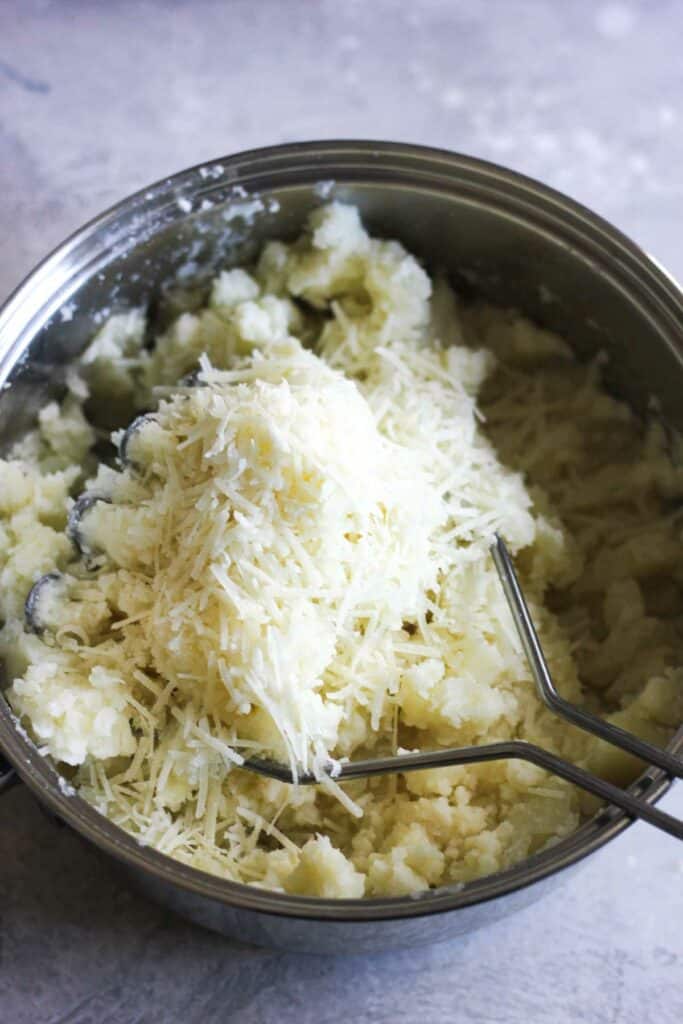 How many potatoes can i pressure cook at the same time
The 6.5 Ninja Foodi (that what i use) can probably fit about 5 pounds of potatoes. They need to be chopped or quartered to fit right. The cooking time doesn't change no matter how many potatoes you put in the pot.
Tips for creamy mashed potatoes
Use fresh young potatoes if possible. You will see the difference in the texture and possibly taste.
Use a stand mixer if you are in rush. Be careful though, over whipping will cause potatoes to become gluey and will not help with small lumps
Add more shredded cheese for more intense cheese flavor. You can mix different kinds of cheeses. Shredded cheddar cheese will make mashed potatoes to change its color to yellowish.
Mashing potatoes in Ninja Foodi non stick pot
You can not use metal potato masher in your Ninja Foodi. It will scratch and destroy your non stick inner pot. Just don't do it. If the metal masher is all you have, dump potatoes in another pot once they are cooked and mash them there.
Another option is to use a food processor or plastic (or silicon )masher. Ricer or food mill will work great too!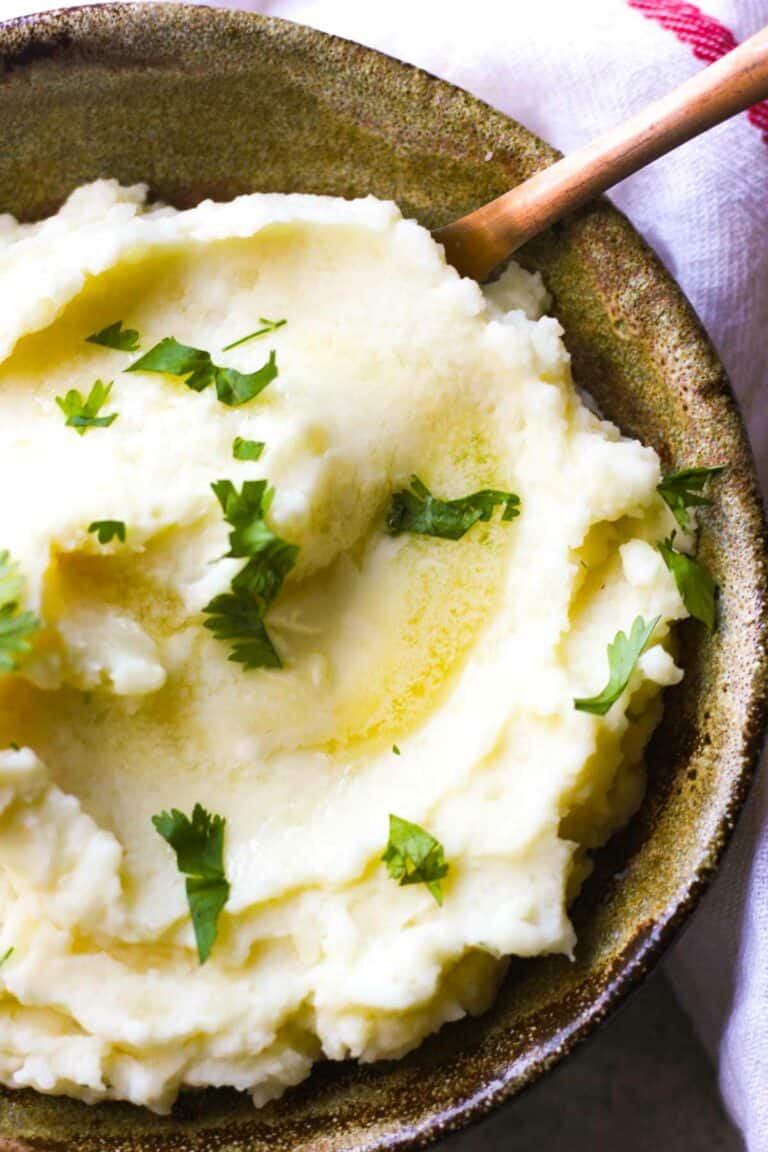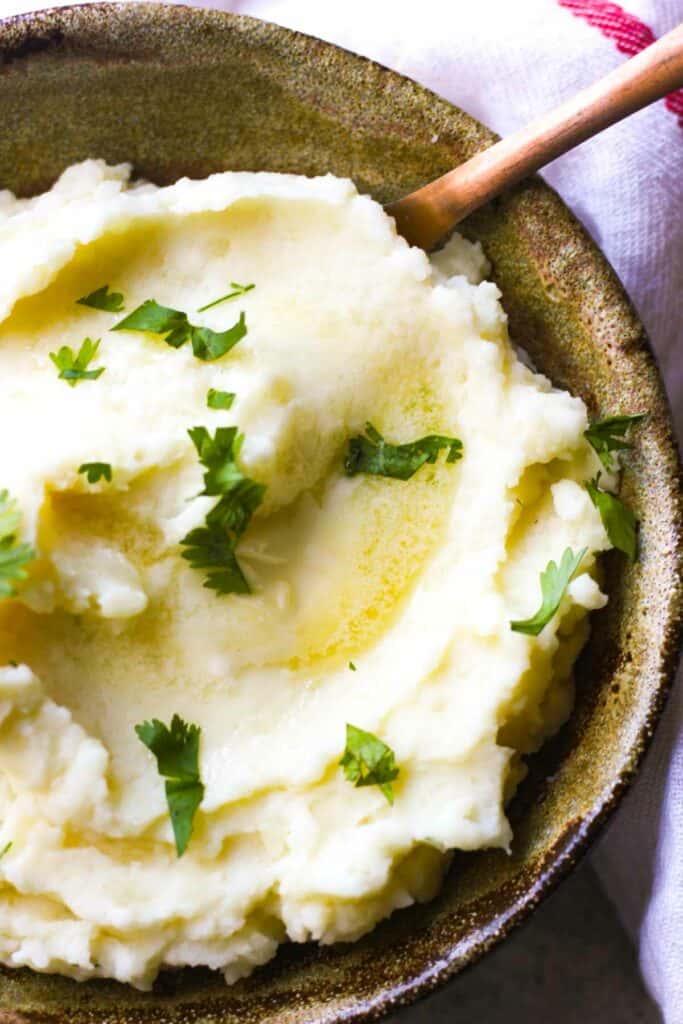 Can i make it in Instant pot
Absolutely! Instant pot just like a Ninja foodi is a pressure cooker. Use steamer basket in instant pot and follow instructions without changing anything. You will get the same amazing results and delicious mashed potatoes. Plus you can mash those vegetables right in Instant pot.
What to serve it with
Usually Ninja foodi mashed potatoes is a side dish a served with a large variety of meals. Try it with chicken wings, steak, pork neck bones. It will go well with any fish or seafood dinner. Making it for Holidays? Pair with cranberry sauce, turkey breast or whole roasted chicken! I have a bunch of Thanksgiving recipes prepared specifically in Ninja Foodi pressure cooker. Just scroll down you will see them right above the recipe card.
Reheating instruction
Of course the best is to eat mashed potatoes fresh. If you have any leftovers here is the easiest way to reheat them. I use microwave as s quick and mess free method. Cover the mashed potatoes bowl with a lid or a plate. Put in the microwave oven for 3-5 minutes. Once reheated, stir and add more cream and butter to make them creamy again.
More Ninja Foodi recipes
Recipe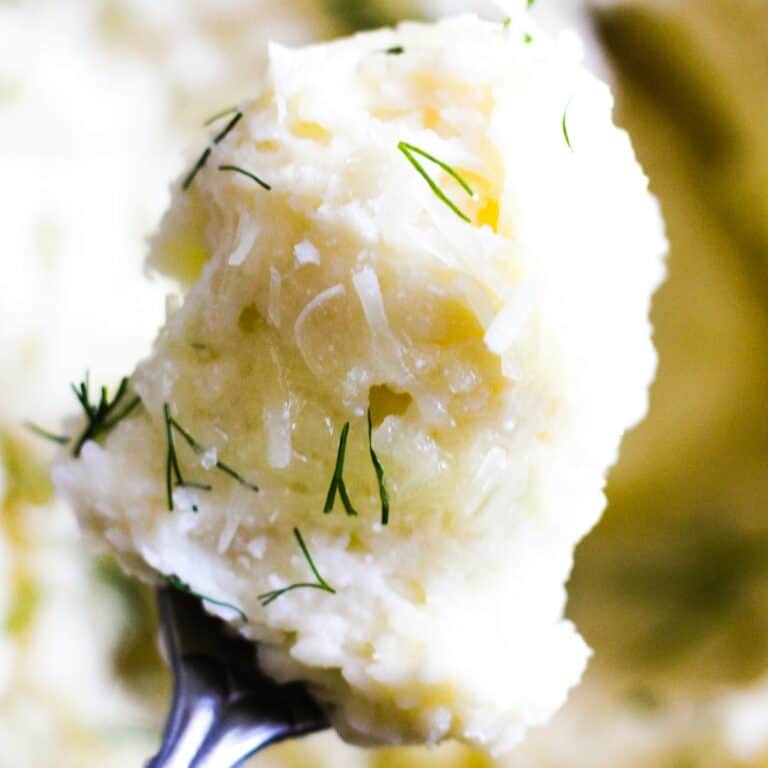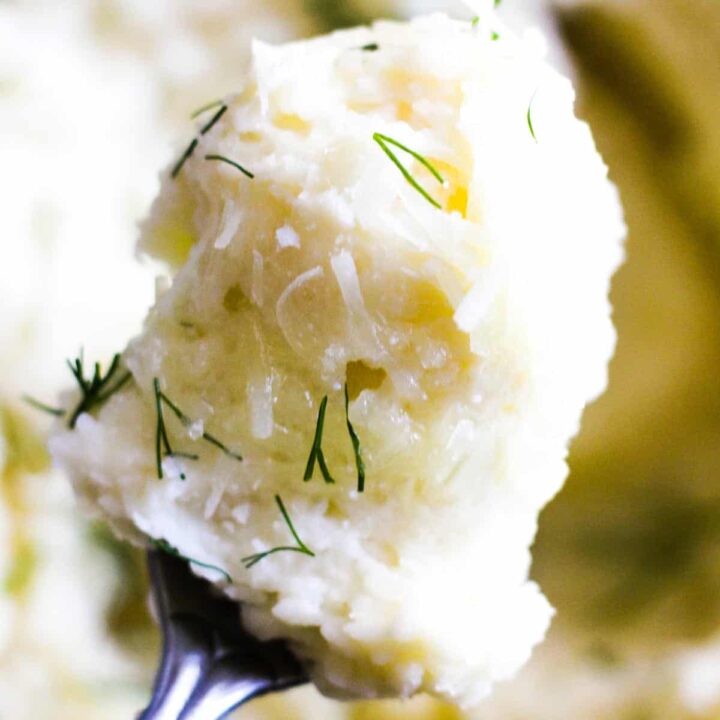 Ninja foodi mashed potatoes
Cheesy and creamy Ninja Foodi mashed potatoes made with Parmesan cheese, butter and cream. Very easy and quick recipe for your pressure cooker.
Ingredients
2lb russet potatoes
1 cup half and half
⅓ cup butter
salt and freshly ground pepper to taste
1 cup grated Parmesan
1 tablespoon garlic puree
Instructions
Ade one cup of broth or water in the inner pot. Place air frying (or if you call it steamer basket) on top. Fill it with peeled and chopped potatoes.
Close the pressure cooker lid and cook on manual for 8 minutes. If using more potatoes keep time the same. Quick release and open the lid. Drain the broth from the bottom of the pot and dump potatoes back into the pot. This option works only if you have a ricer or plastic (or silicon)potato masher. If all you have is a metal potato masher (like me), dump potatoes in different pot or metal bowl so its safe to mash.
Now its mashing time! Start with mashing potatoes using your favorite method. Add butter, garlic and Parmesan cheese. Slowly add cream and seasoning. Fluff it and serve.
Notes
Butter should be room temperature for the best results
If possible grate Parmesan or any other cheese yourself.
For fuller and more rich flavor use heavy cream instead of half and half.
Serve same day, preferably right after its made.
Nutrition Information:
Yield:

6
Serving Size:

1
Amount Per Serving:
Calories:

358
Total Fat:

19g
Saturated Fat:

12g
Trans Fat:

1g
Unsaturated Fat:

6g
Cholesterol:

55mg
Sodium:

476mg
Carbohydrates:

37g
Fiber:

4g
Sugar:

3g
Protein:

10g