Baked turkey gizzards are not only melt in your mouth tender but are very filling and make great lunch or an appetizer. Its not a quick dish, yo will need to cook it low and slow in the over for that delicious tender meat.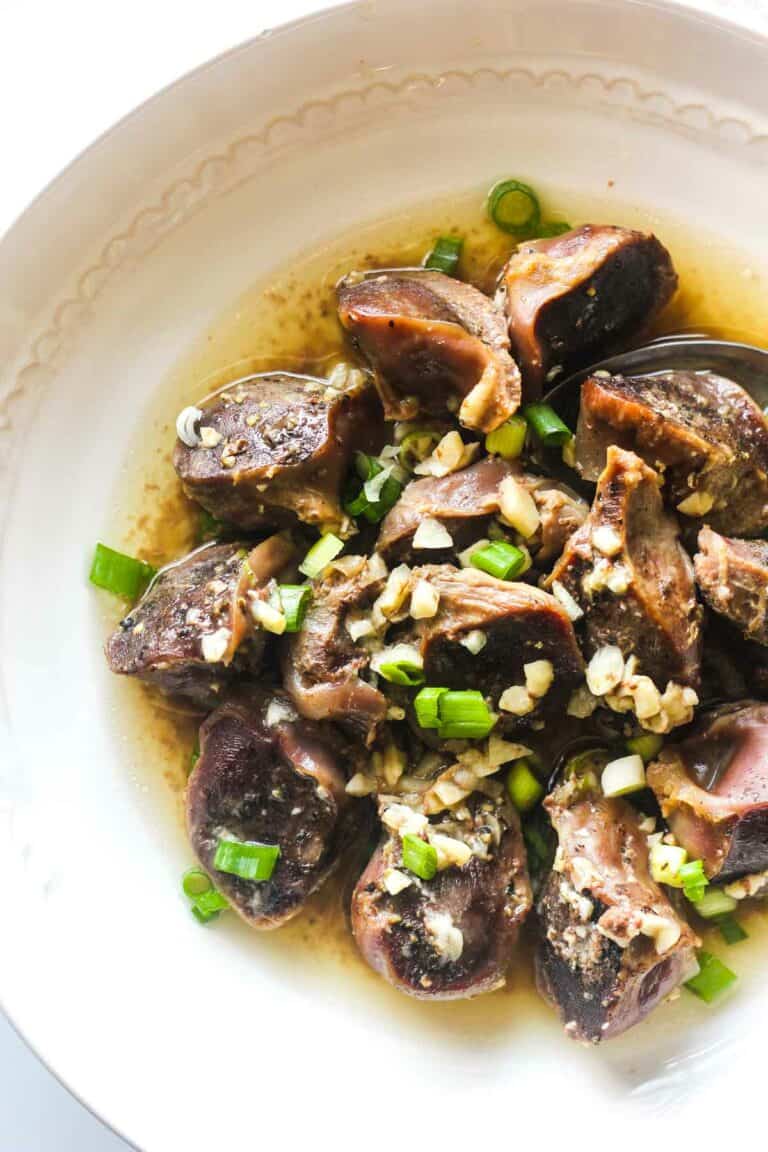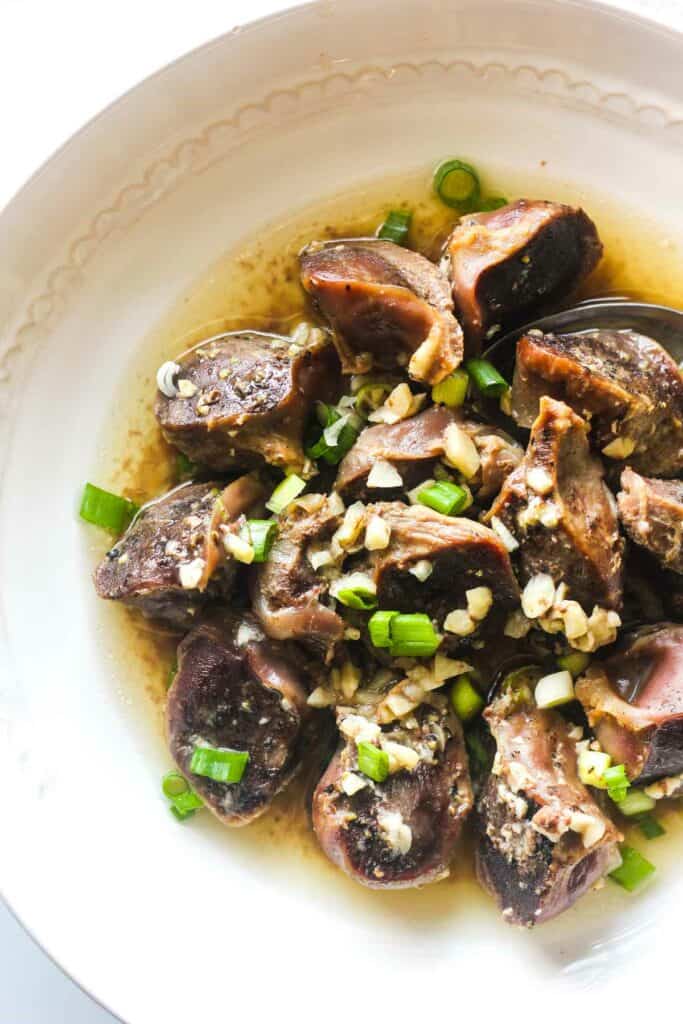 If you always thought that turkey gizzards are not for you, think twice. They are super nutritious, inexpensive and just delicious when cooked properly. I grew up trying all kinds of meat and offal meat and i love everything about it.
Today we are going to be making oven baked turkey gizzards. The recipe is very simple and also it is a one pot dish. Let's start.
How to make baked turkey gizzards
Open the package with your turkey gizzards. Defrost if needed. To defrost just transfer turkey form the freezer to the fridge and thaw overnight. Alternatively leave the package on the counter and it will defrost in a few hours.
Now its time to wash them really well with cold water. Scrub them with your fingers making sure they are very clean before cooking.
Slice gizzards in half and than slice every piece lengthwise. You actually will be surprised of how pretty gizzards look when cut this way( just look at the picture below). Season with salt and freshly ground black pepper. I don't add any more dry seasoning but you totally can add your favorite. I think dried parsley or cilantro will work well here.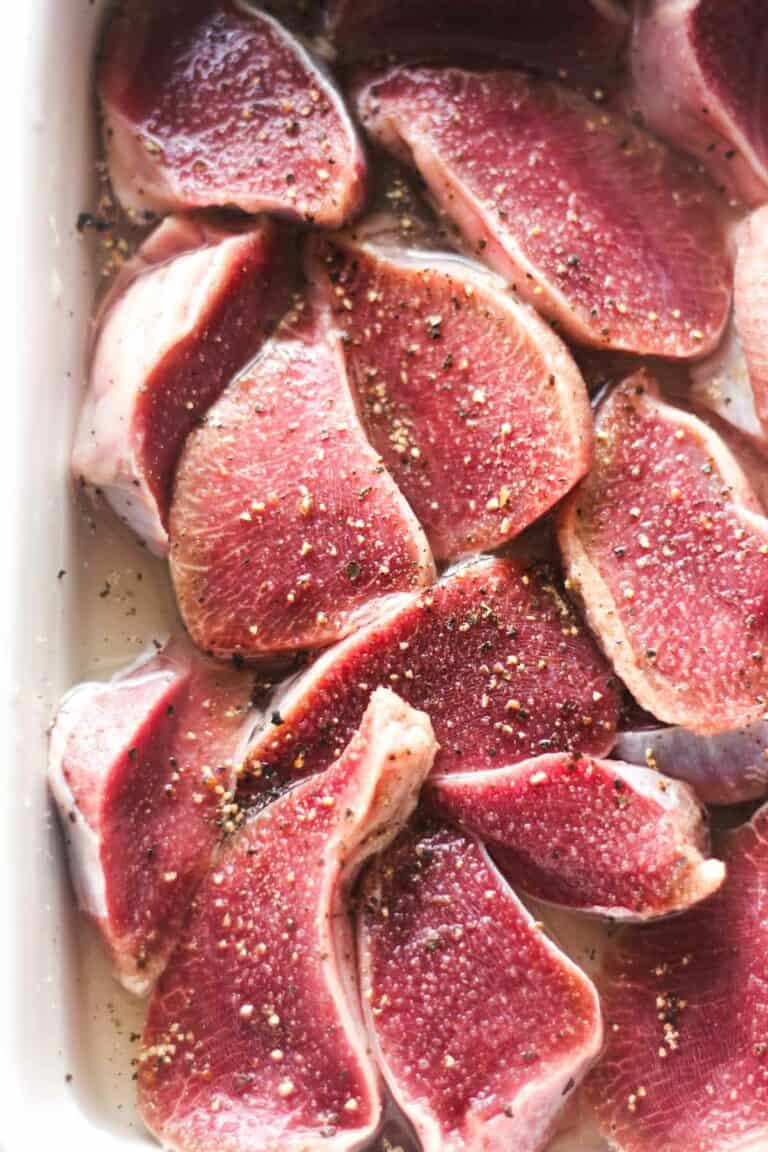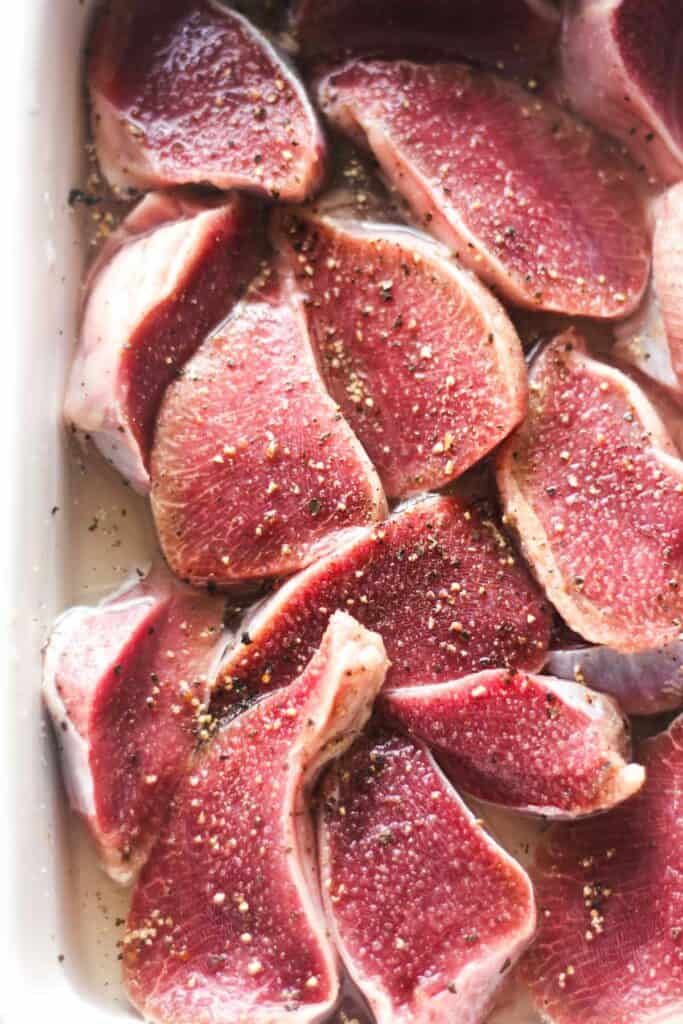 Peel some garlic and mince it or chop finely. Sprinkle all over the meat creating an even layer on top. We want every piece of gizzard to be seasoned with garlic.
Now add some water. There is no need to use chicken or vegetable broth because turkey will give so much richness to the water after cooking for 2 hours. Add just enough water to cover gizzards more than halfway.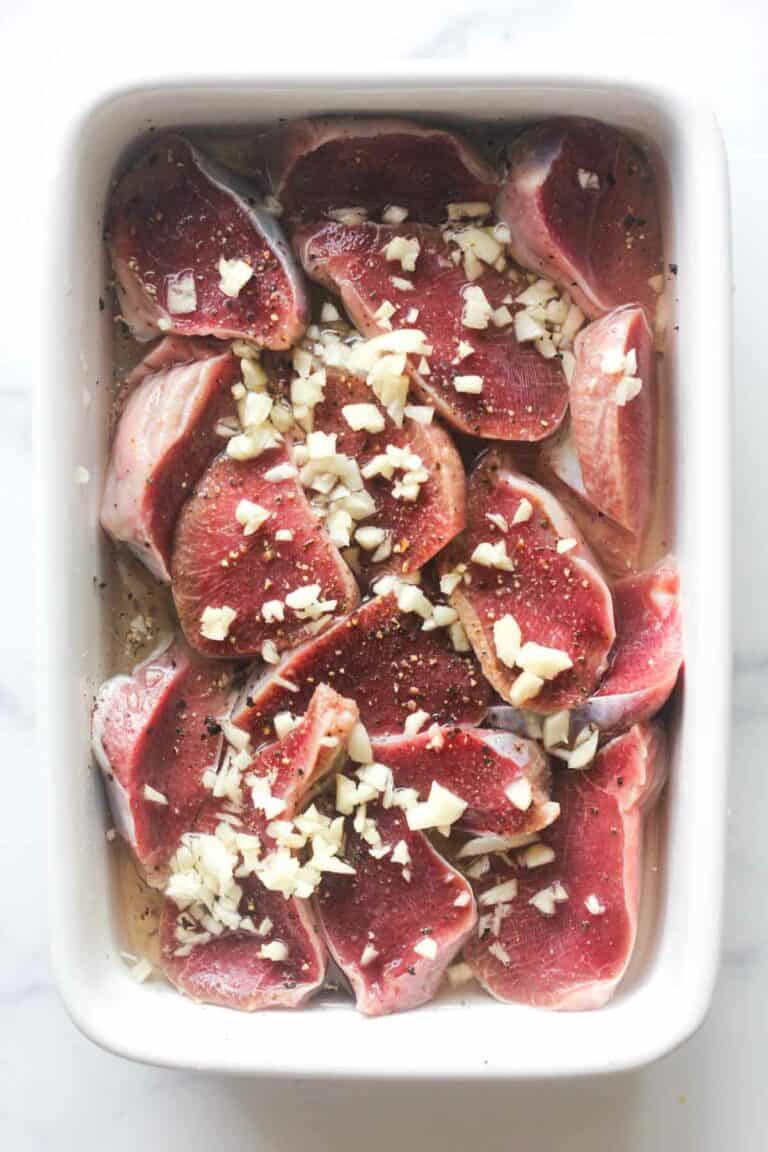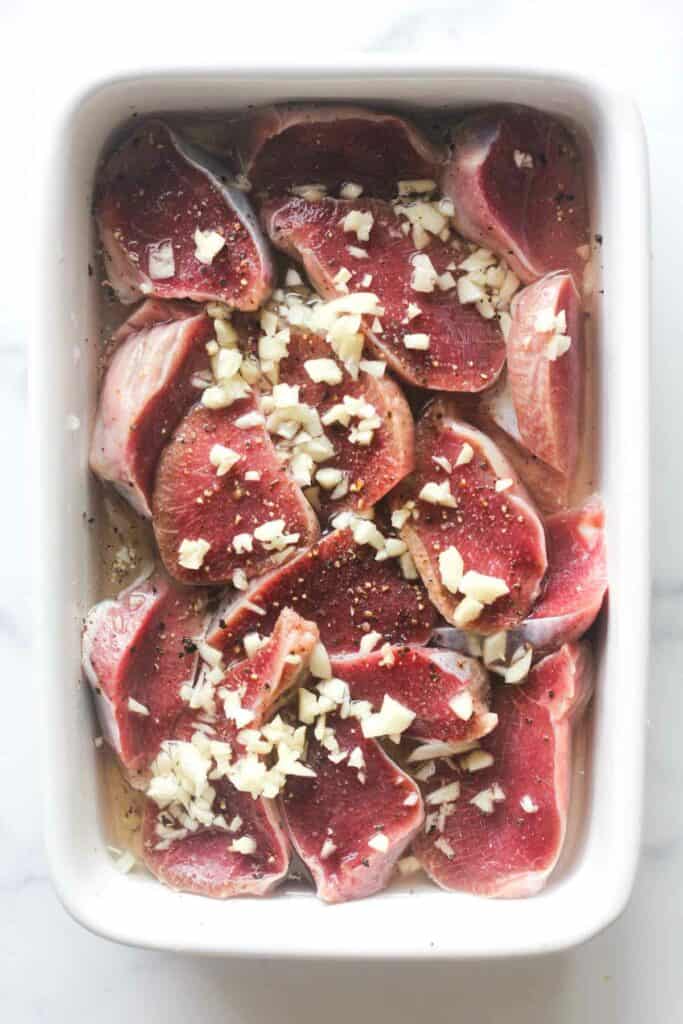 Cover the dish with foil and bake turkey gizzards in the oven for 2 hours. Is should be enough time for them to get super tender and juicy. If you have extra large turkey gizzards, bake them for half an hour longer. In fact if you can bake gizzards for as long as you want. If you will add an extra hour to the cooking time it only going to make gizzards more tender. Just make sure that there is enough water or broth inside so they don't dry out.
What is a gizzard
If you don't know what is a gizzard, here is some information for your. A gizzard is a tough muscle that's part of the digestive tract of a turkey. It can also be found in more animals like ducks and chicken.
What does gizzard taste like
Gizzard is a tough muscle and is really gamey if not cooked properly. The taste is pretty bland when not seasoned. But when you bake or saute it for a long time with right spices, it becomes very tender and delicious.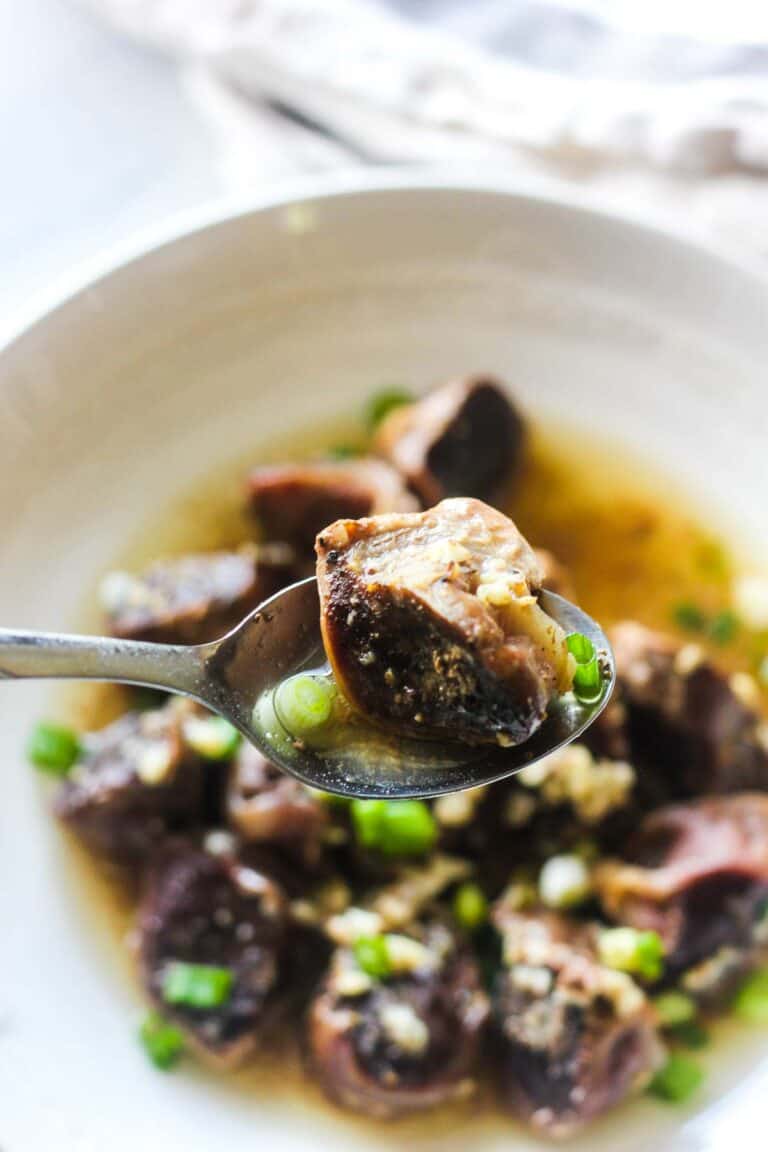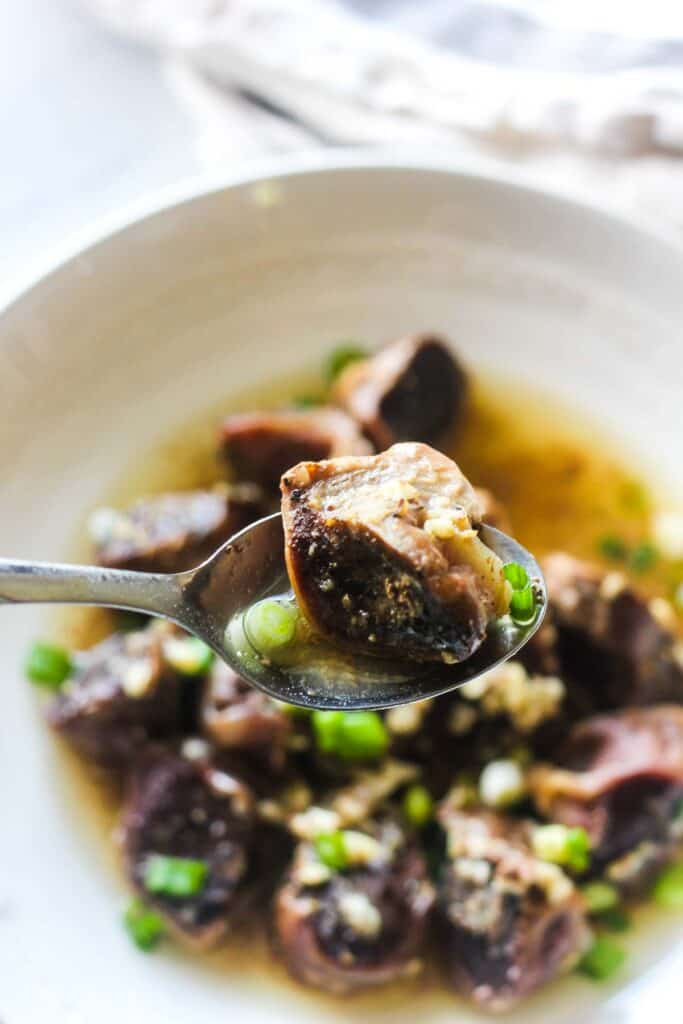 Where to buy
Turkey gizzards are sold in most grocery stores in United States. Sometimes you can find it in frozen meats isle but also in the fridge next to refrigerated turkey. You can see them more often around Thansgiving and Christmas time.
The package is about 1-2 pounds each. The recipe is very flexible and forgiving so if your package is a bit less or more, that its ok. Just use whatever you have and maybe grab a bigger baking dish.
Instant Pot| Ninja Foodi directions
This recipe can be adjusted for a pressure cooker. Add turkey gizzards with the rest of ingredients in to the pot. Cook on high pressure for 30 minutes and quick release. Will be melt in your mouth tender!
Ninja Foodi or Instant pot, it doesn't matter, all pressure cookers will work the same.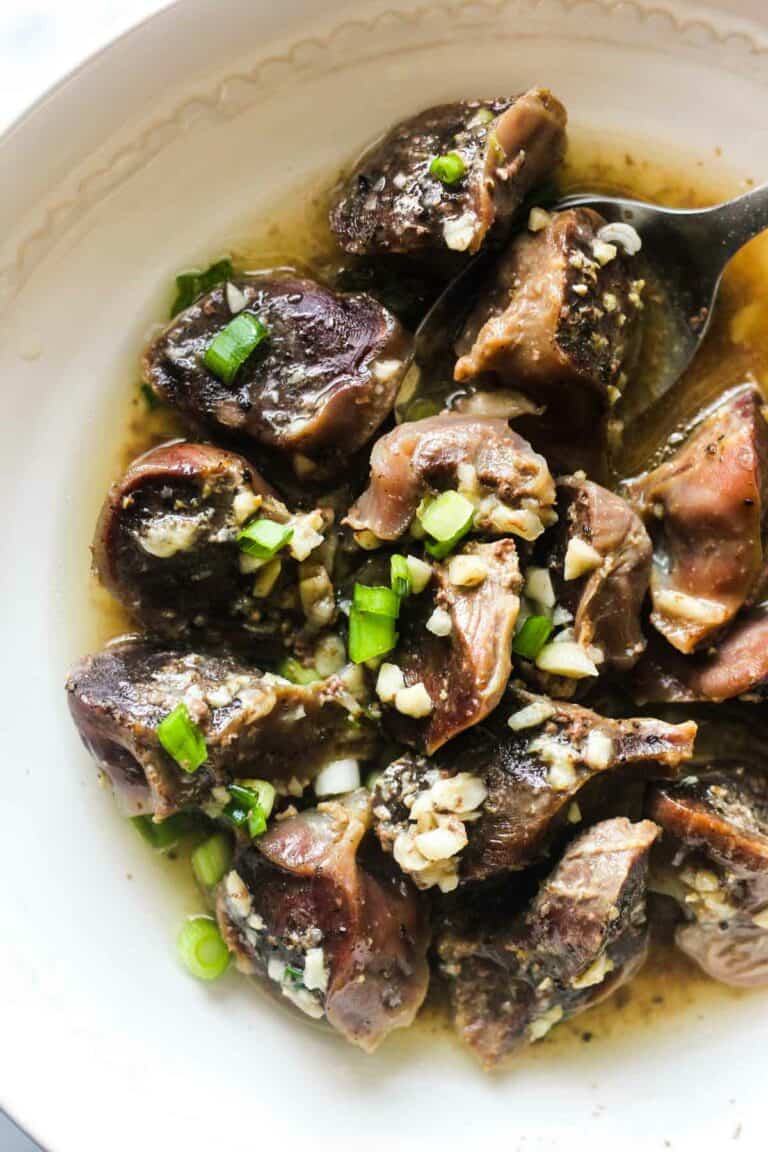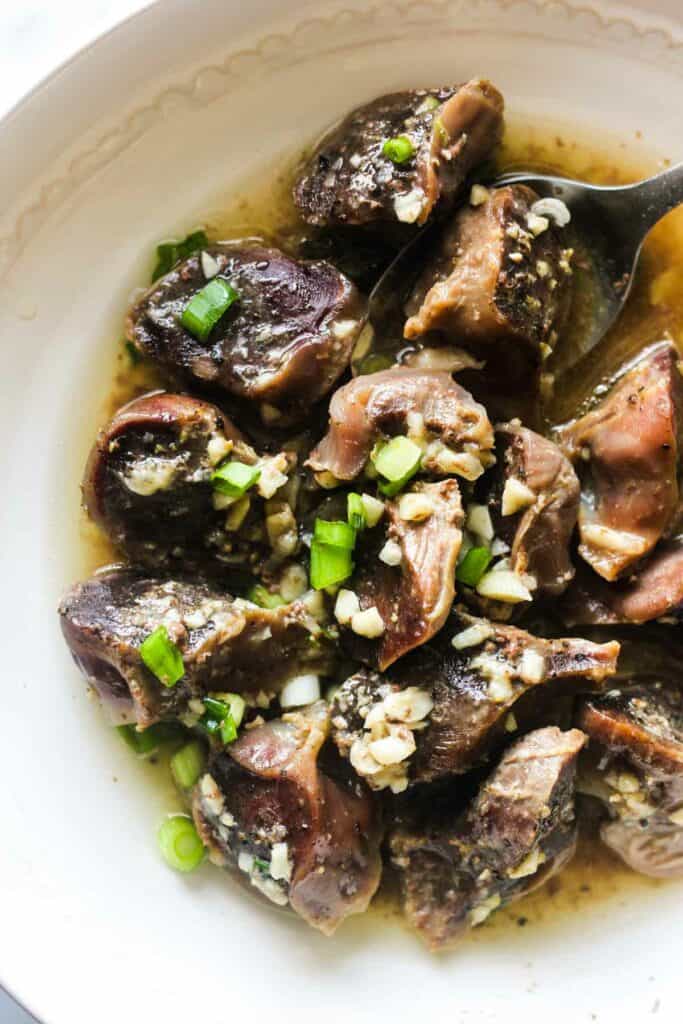 Serving suggestion
Serve this turkey gizzards recipe over rice or with mashed potatoes. I like it most when served over buckwheat and this is how i would eat it while in Russia. Buckwheat is something not typical on the American table but in Russia this side is a queen of the table. We eat it more often than rice but about the same amount as potatoes. Potatoes are also super popular.
Also thinly slice some scallions on top, it will add nice crunch and beautiful color to the dish. You can also double or triple the recipe if you like. The cooking time will remain the same.
Leftovers
Have leftovers? You can store them in the fridge for up to four days in the air tight container or in the bowl covered with the piece of foil, or a flat plate. Simply reheat in the microwave.
Or freeze leftovers. Use a container with a lid on it and keep in the freezer for couple months. In fact if your container is really good you can keep food in the freezer for much longer. It is all about getting that freezer burn on the food that nobody likes.
More offal recipes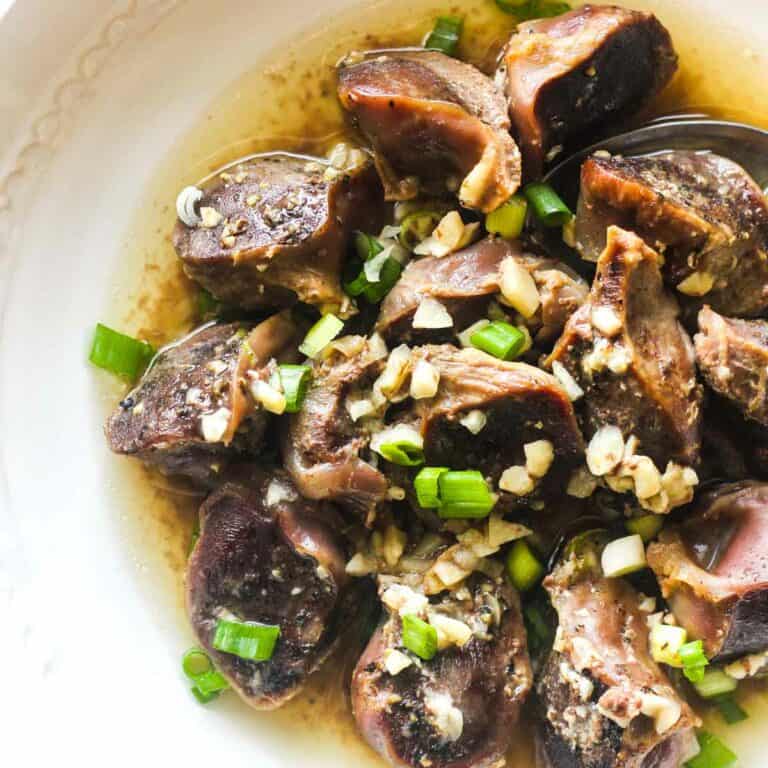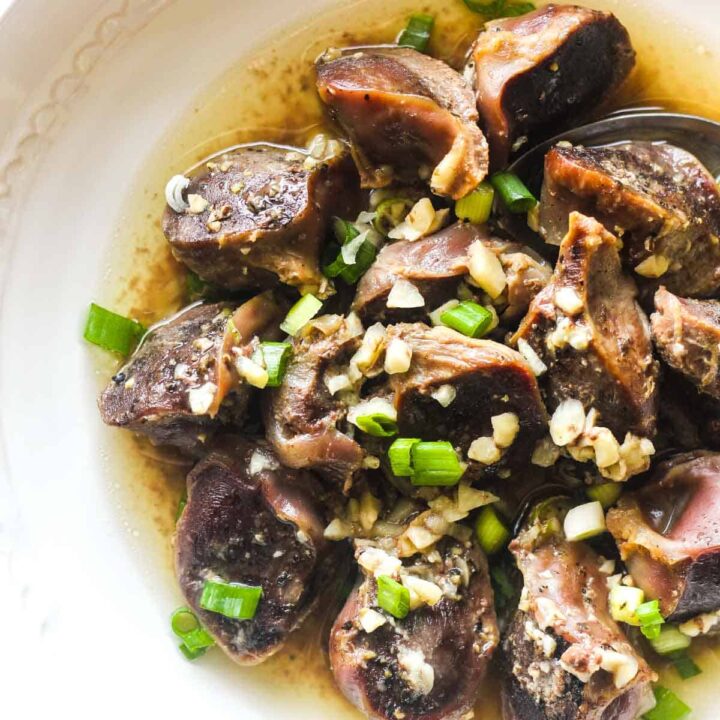 Tender baked turkey gizzards
Total Time:
2 hours
5 minutes
Tender baked turkey gizzards that not only melt in your mouth tender but are very filling and make great lunch or an appetizer. Its not a quick dish, yo will need to cook it low and slow in the over for that delicious tender meat.
Ingredients
1 lb turkey gizzards
½ cup water
5 cloves of garlic
Salt and pepper to taste
Instructions
Preheat oven to 375 degrees.
Clean turkey gizzards well, cut in half and than slice in half again. Place in the baking dish.
Cover gizzards with water. They don't have to be covered entirely though. Sprinkle with salt and pepper and add chopped garlic on top.
Cover the dish with foil and place in the oven for 2 hours.
Once done, carefully take the dish out of the oven and open the foil. Serve with chopped green onions on top
Notes
Serve with your favorite side dish
You can easily double or triple the recipe if you like to
Nutrition Information:
Yield:

3
Serving Size:

1
Amount Per Serving:
Calories:

246
Total Fat:

7g
Saturated Fat:

2g
Trans Fat:

0g
Unsaturated Fat:

5g
Cholesterol:

683mg
Sodium:

302mg
Carbohydrates:

3g
Fiber:

1g
Sugar:

0g
Protein:

40g