It might not be for everyone, but this dish is delicious! Pig feet stew with vegetables is cooked low and slow on the stove and is so comforting.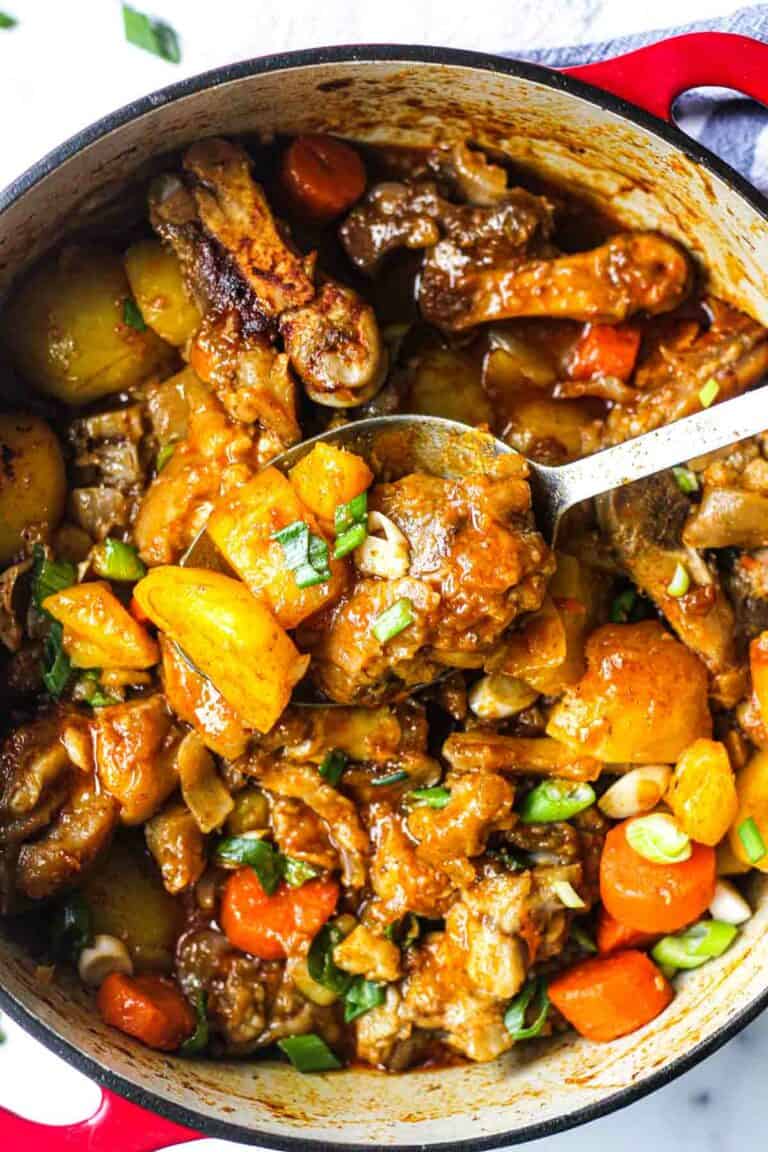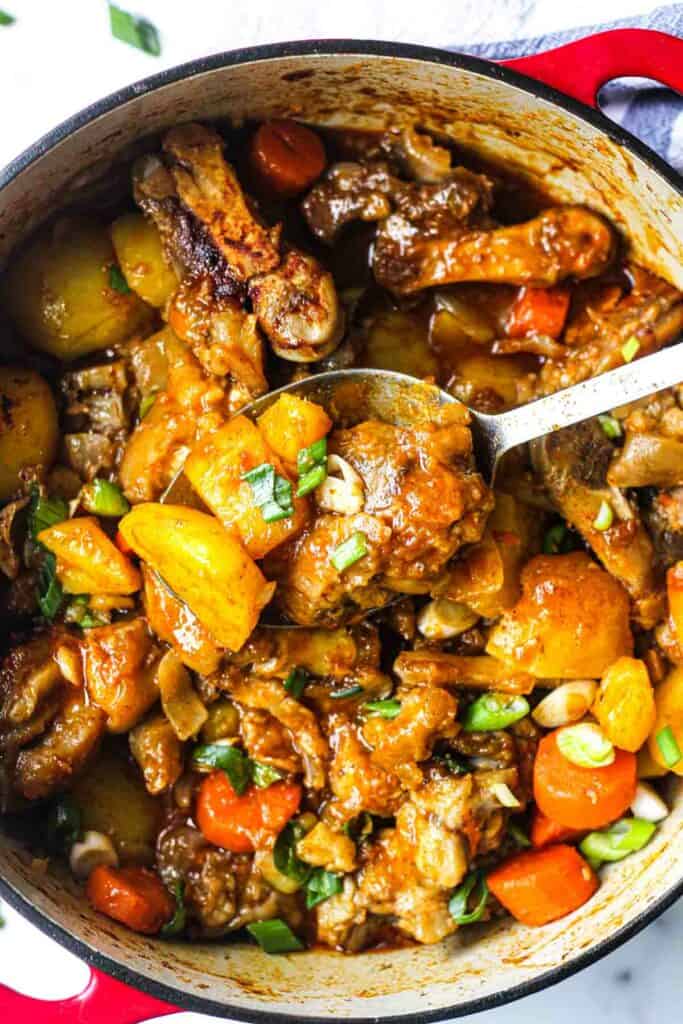 I created this recipe with the pot roast in mind. I cooked pig feet low and slow and then added root vegetables that i would always use in pot roast. Long cooking time helps breaking down tissues and makes the meat more tender. That's what we want!
Where to buy
I didn't find it hard to find feet in the store. Usually pork feet are located in the meat isle next to smoked turkey legs or beef marrow bones. Also check the freezer section. Most stores will sell it frozen.
Online stores is another option. I bought mine online and it came frozen. They actually sliced it in half lengthwise too which really helped me later.
I never had to clean pig feet because they came already nice and clean and hairless. But some farms might sell them the way that they will require some work.
So how do you clean them? Simply pour hot but not boiling water on them. Take a good amount of salt, about 3 tablespoon and scrub them with the salt. Rinse under the running water after.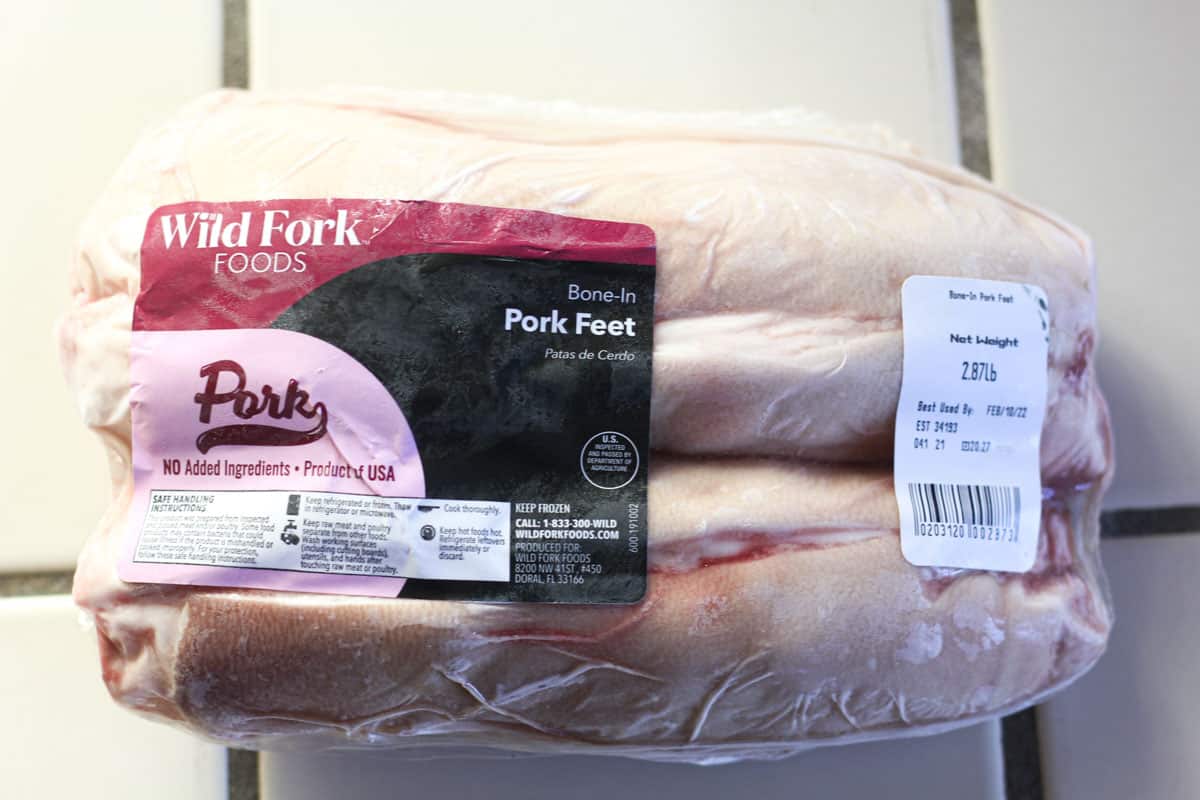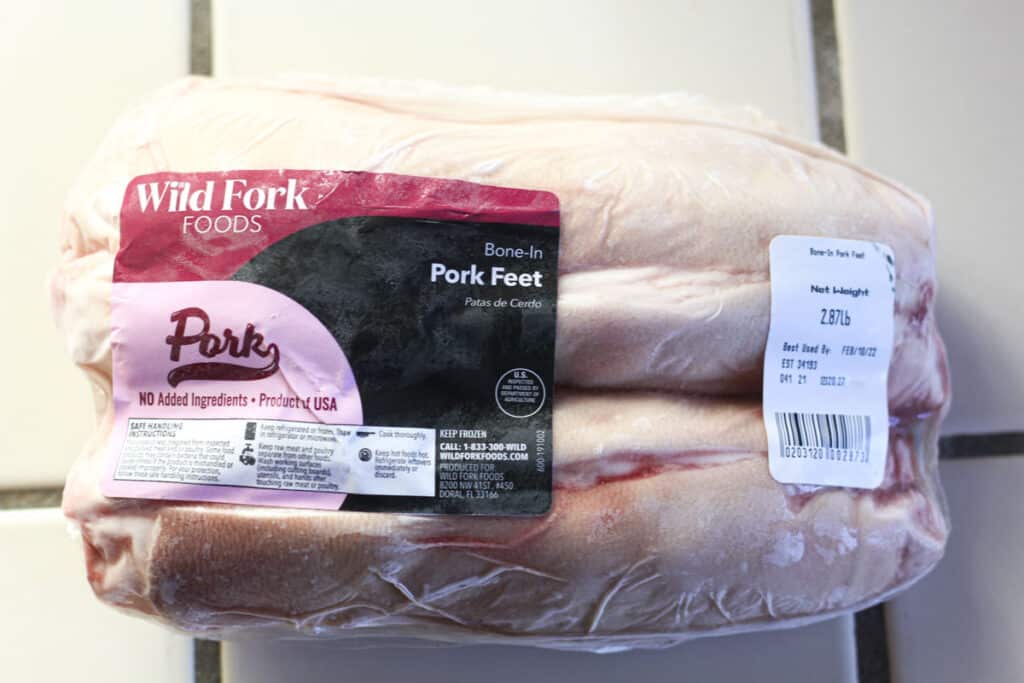 Is it healthy to eat
The most popular reason why do people even eat pork feet is the amount of collagen they contain. You can make a bone broth with them and it getting gelatinous by itself. Collagen helps your skin look younger and it also essential for you joints.
Feet are also loaded with fat and protein and have no crabs. So its suitable if you are on Keto or low carb diet. Here you will find more information about pork feet nutrition.
How to cook pig feet
There is many ways to prepare pork feet like slow cooking them, pressure cooking, in the oven or even air fryer! Today we are going to make a pig feet stew on the stove.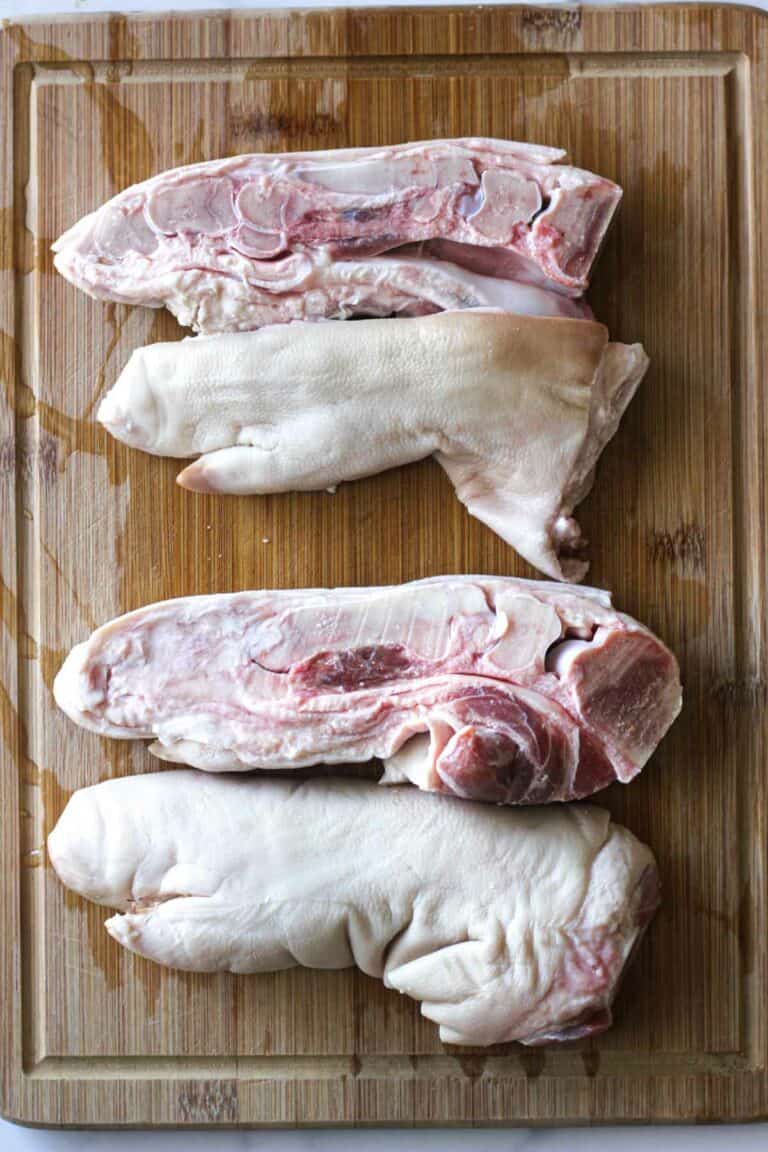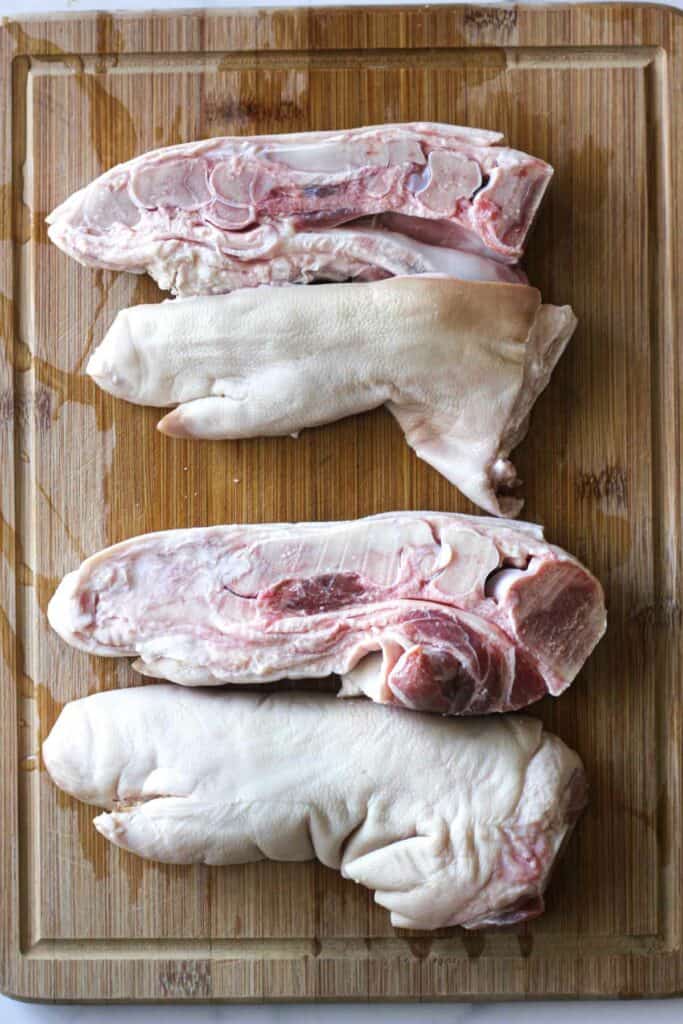 First thing to do is to slice pig feet and about three pieces. It a time consuming task. You can also cook them whole but it will take longer for them to get tender and you still will need to chop them when they are cooked and tender.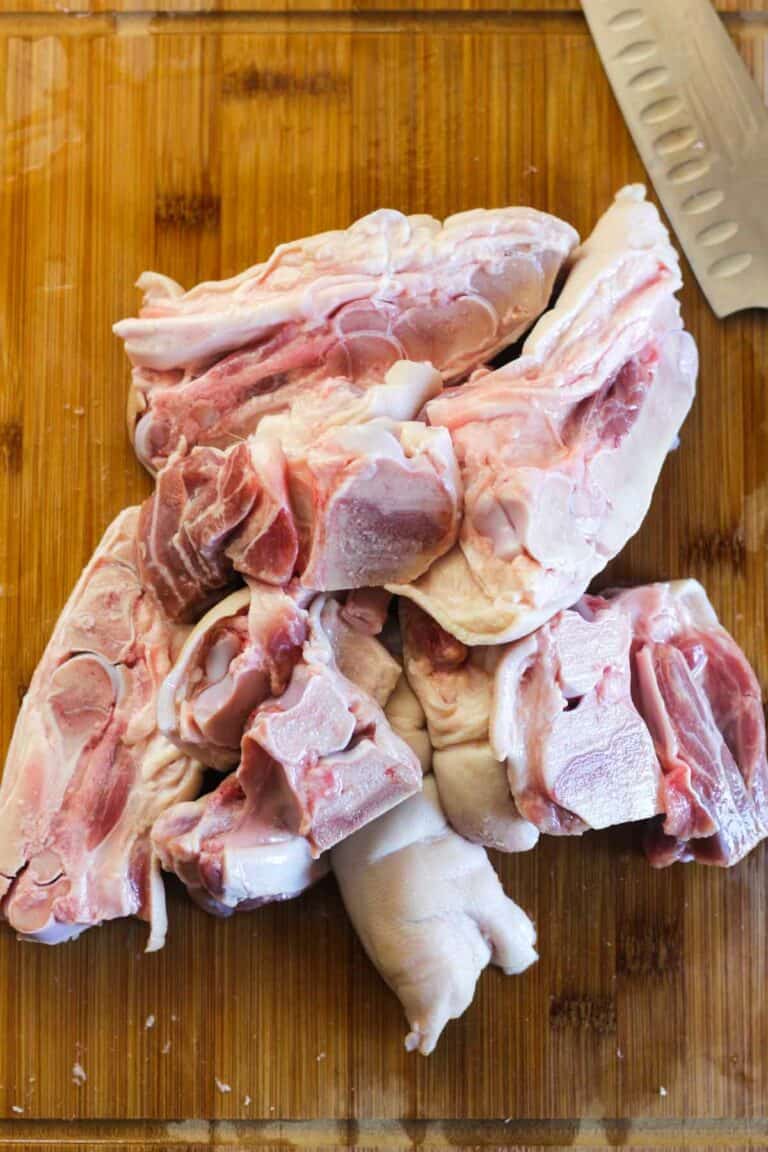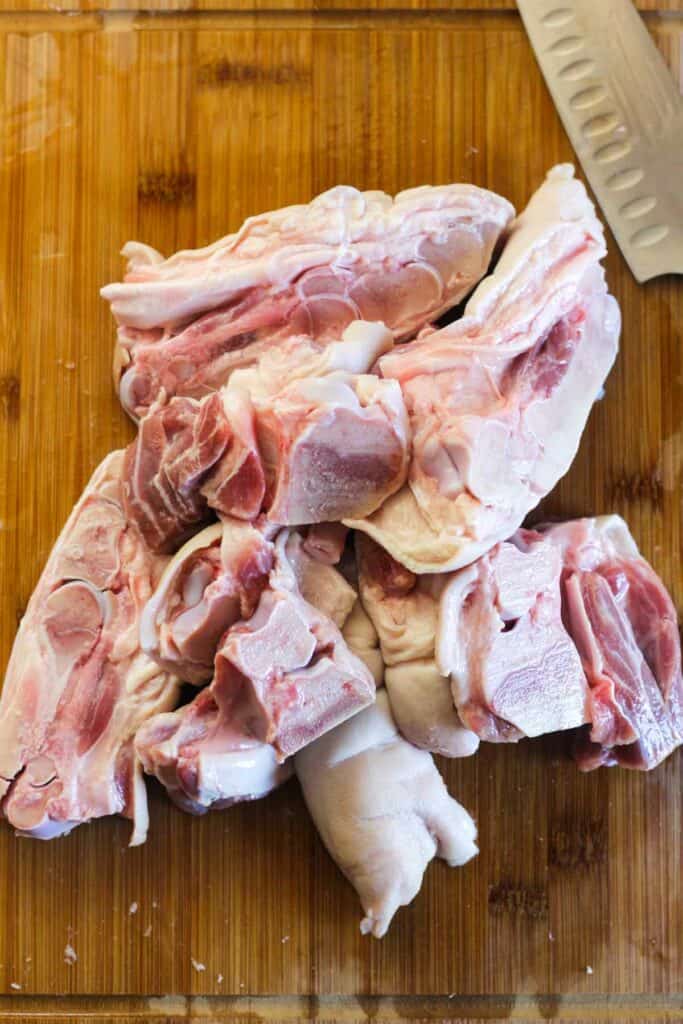 If you don't have a commercial grade slicer, just find bones inside feet and slice it right in between. It will take some time and you will need a very sharp knife. Rinse very well after you are done slicing.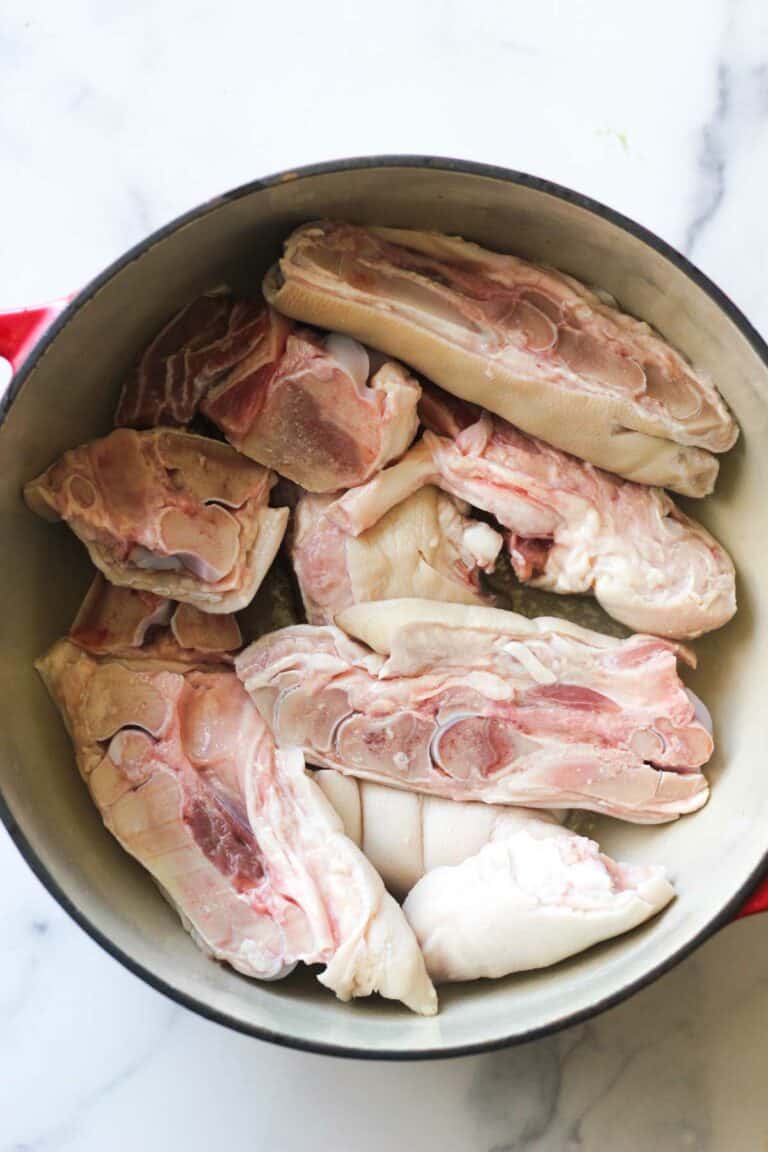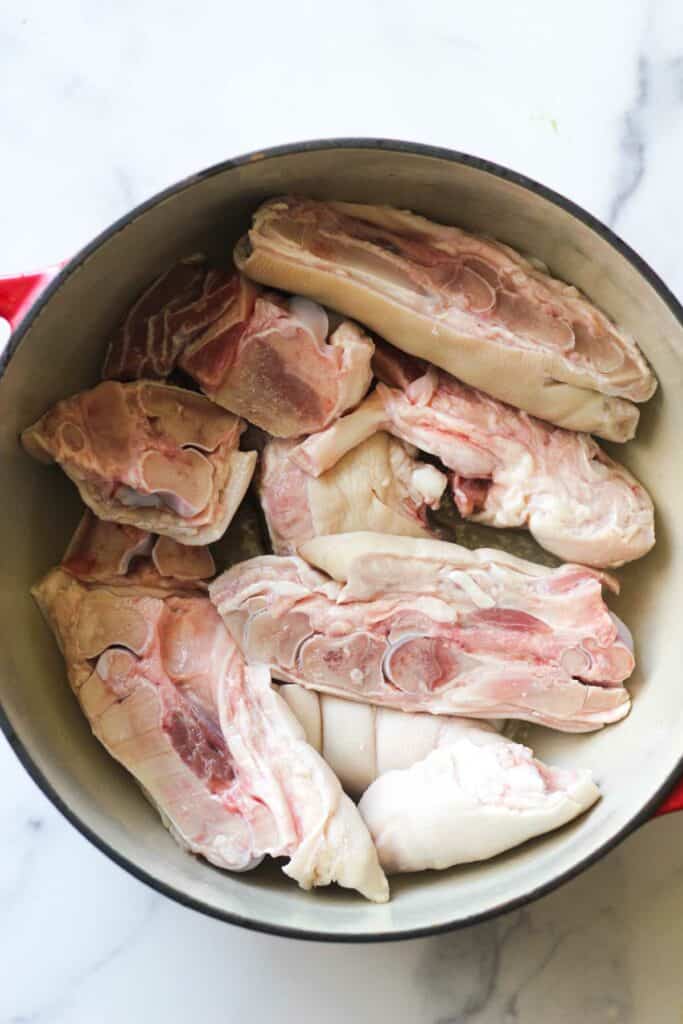 After that part is done, place feet in to the heave bottom medium size pot. Mine is cast iron. Add oil and sear them for about 10 minutes, turning couple times so they don't burn. This step is optional.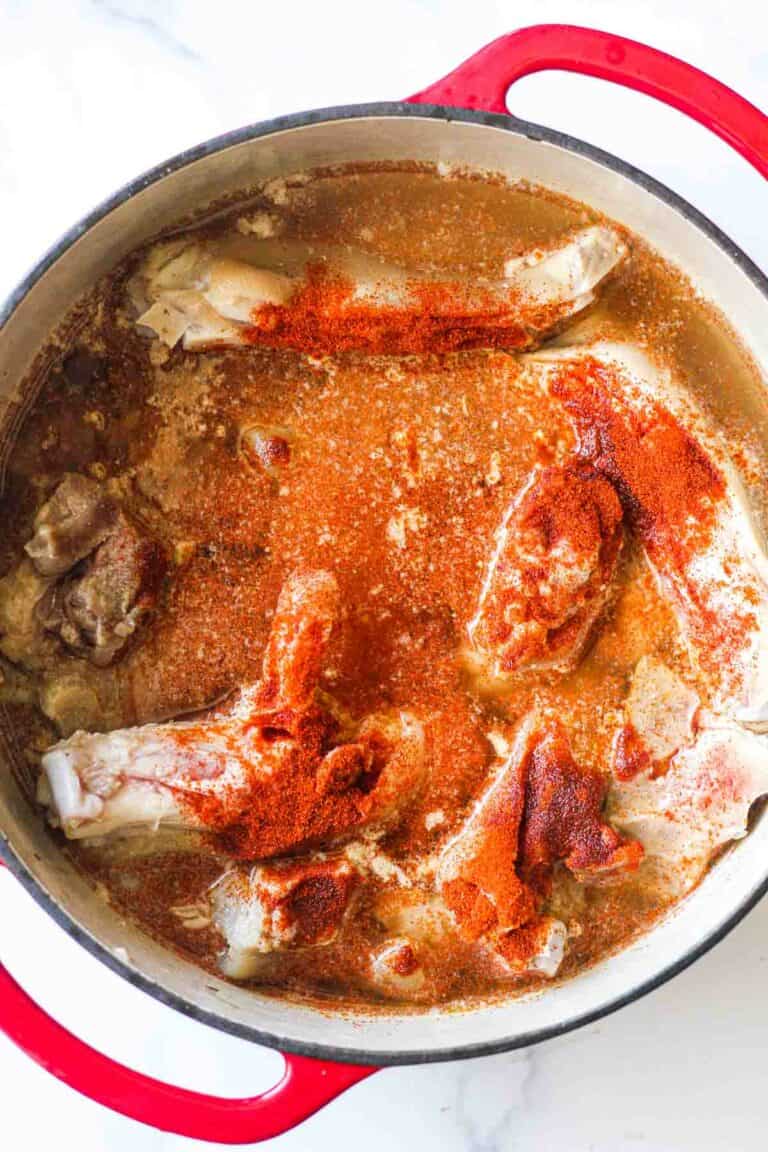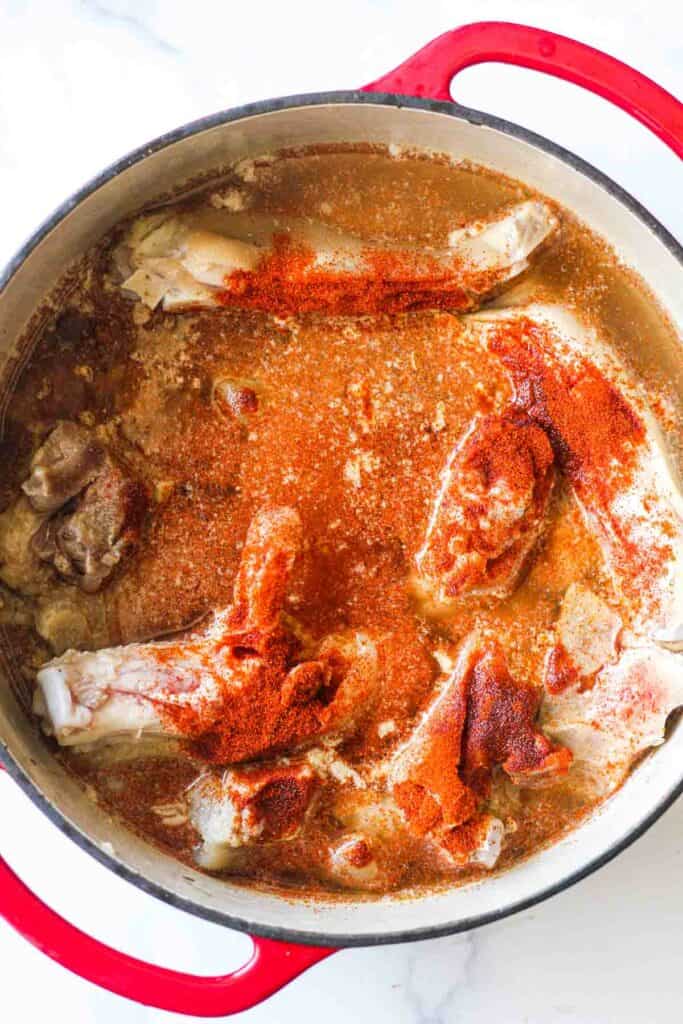 Add water to cover and bring to boil. You will be getting foam forming on top every once in a while, remove it.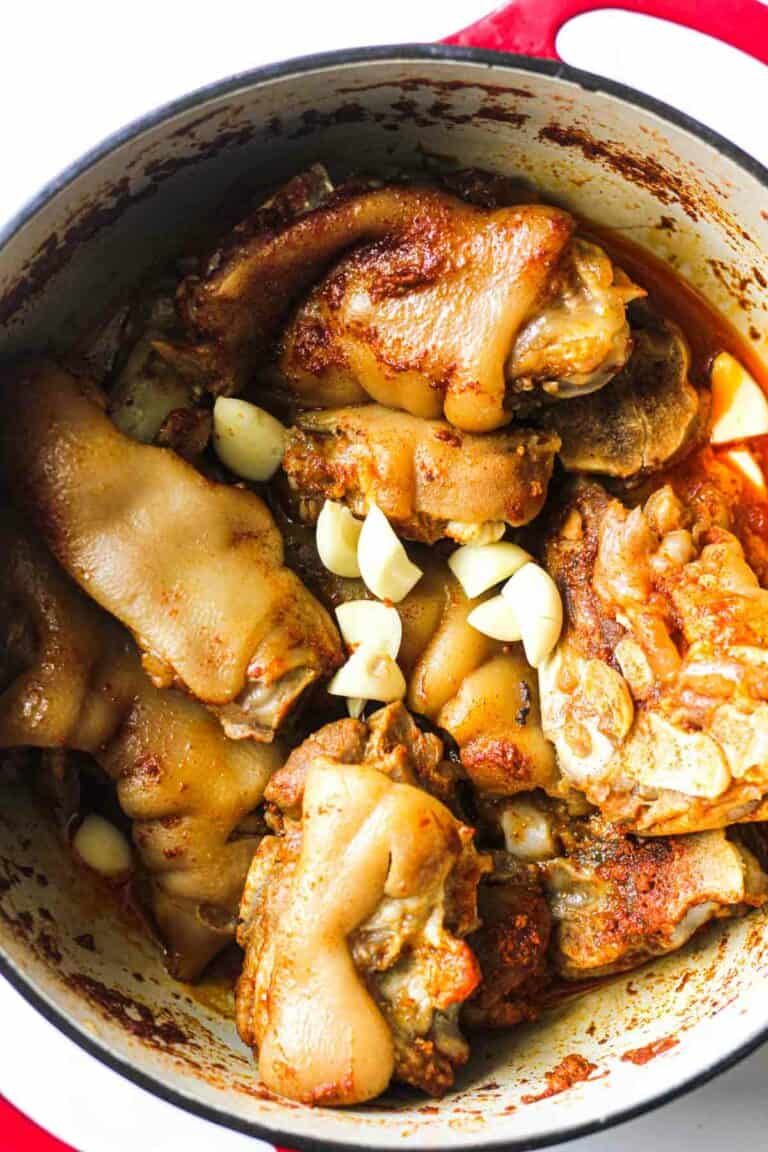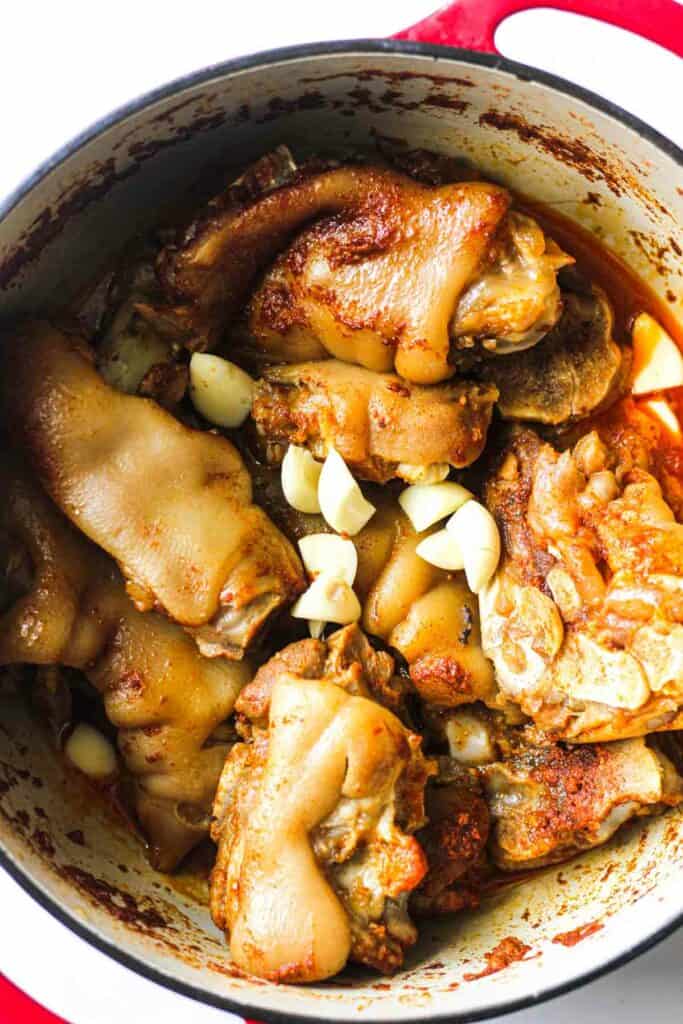 Add spices and garlic and simmer with the lid on for about 1 -1.5 hours. Add more water as needed (when it will get too low). When feet will be fork tender, start adding your vegetables. I had potatoes, carrots and onion. Add celery if you like too. Add 2 cups of water.
Cook for another 30 minutes or until potatoes and carrots are tender. Don't forget to stir the pot every once in a while. Don't let it burn on the bottom.
Here is your easy pig feet recipe. The stew tasted amazing and was very hearty.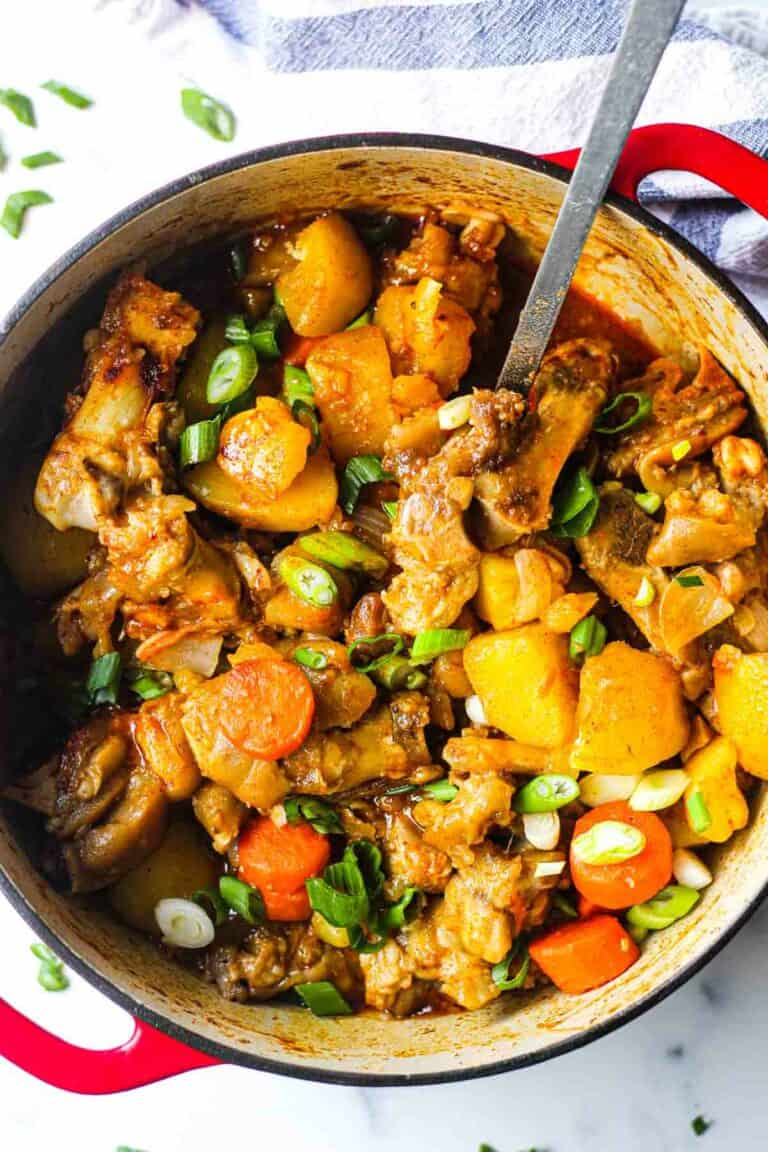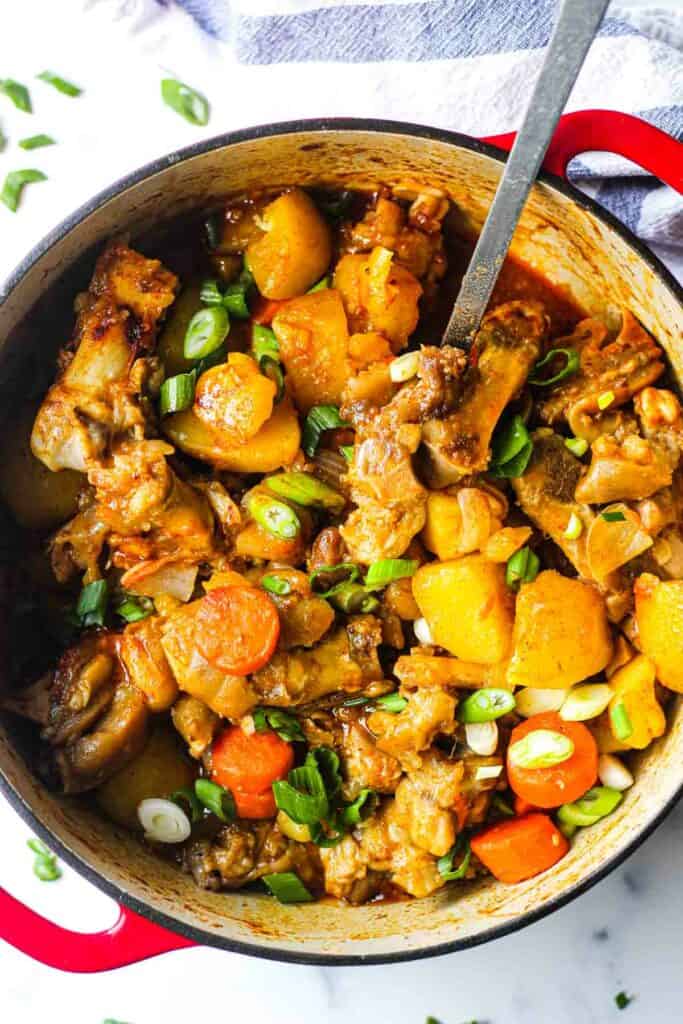 As i mentioned before this stew is not for everyone. It doesn't taste similar to pork stew or beef pot stew. Pork feet has a unique texture and are very sticky to touch when cooked. Its the collagen.
In Russian cuisine they like to boil pork feet along with beef knuckle bones to create a delicious broth called "holodetc". It becomes hard when cold and that is exactly how it served, sliced on the plate. Basically its just a bone broth, just served differently.
Oh and don't forget garlic when cooking pork feet stew. Garlic is so important and adds tons of flavor to the dish.
You may also like…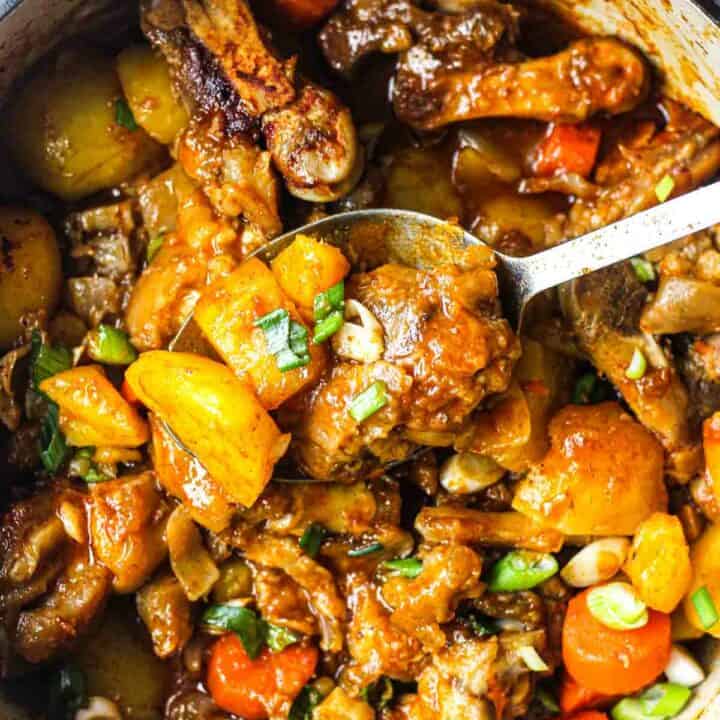 Pig feet stew recipe
Total Time:
2 hours
10 minutes
It might not be for everyone, but this dish is delicious! Pig feet stew with vegetables is cooked low and slow on the stove and is so comforting.
Ingredients
2 pork feet
2 teaspoon salt
1 teaspoon paprika
6 medium potatoes
2 large carrots
½ onion
2 bay leaves
1 teaspoon oil
5 garlic cloves
green onions
Instructions
Rinse pork feet under the running water. Slice each one in three pieces (more details on that is in the post).
Heat oil in a heavy bottom pan or pot. Add feet and simmer them for about 10 minutes, stirring.
Add water to cover and bring to boil. Remove all the foam that forms on top. Add spices and whole cloves of garlic. Close the lid, and simmer on low heat for 1-1,5 hours. Until meat is fork tender.
Add another 2 cups of water if needed and cubed potatoes, onions and carrots. Close the lid and cook for another 30 minutes, stirring couple times.
Top stew with chopped green onions and serve.
Notes
Don't overcook potatoes or they will turn into mash.
Cut potatoes and carrots in pieces about 2 inches thick. Not too big not too small.
Adding green onions in the end is essential because they add a nice crunch to the bite and spice kick.
Nutrition Information:
Yield:

5
Serving Size:

1
Amount Per Serving:
Calories:

300
Total Fat:

6g
Saturated Fat:

2g
Trans Fat:

0g
Unsaturated Fat:

4g
Cholesterol:

30mg
Sodium:

898mg
Carbohydrates:

48g
Fiber:

6g
Sugar:

4g
Protein:

15g