Super comforting and delicious rabbit stew made on the stove with potatoes, carrots and mushrooms. Let it simmer for an hour for tender melt in your mouth meat.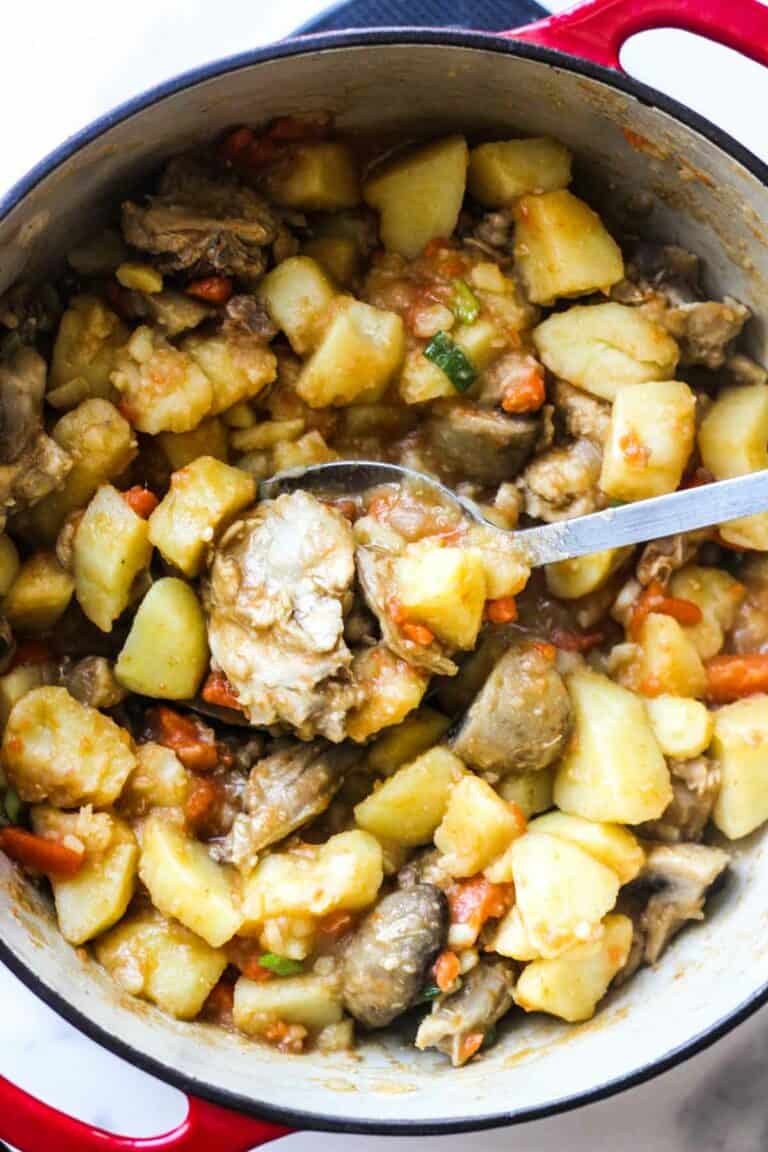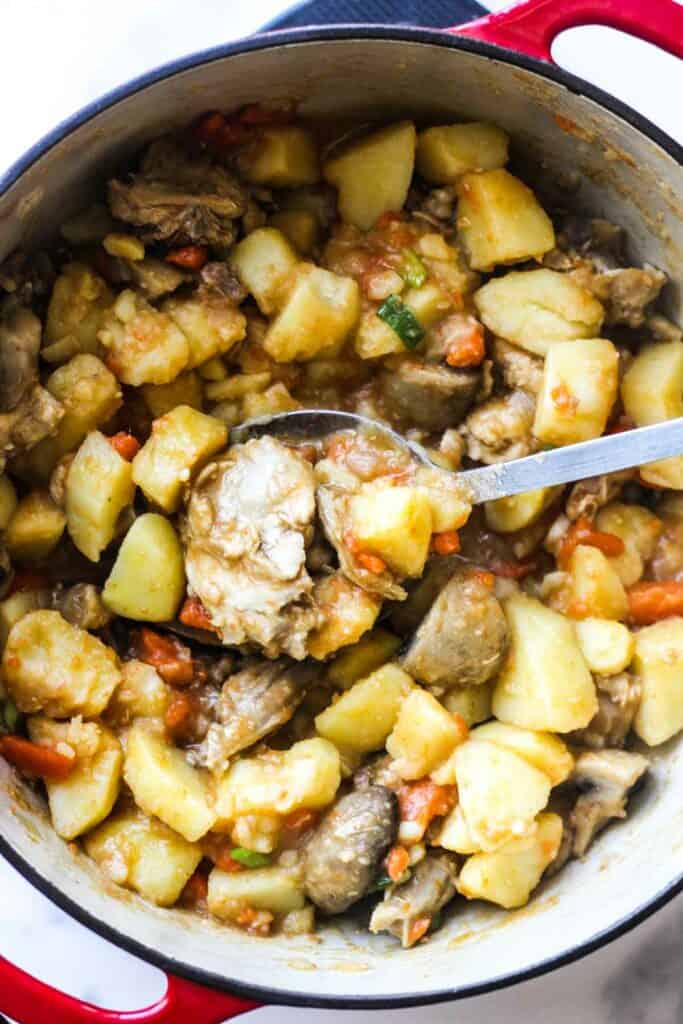 Rabbit has tender and delicious meat that even opens its flavor when cooked slow and low for an hour. Add your favorite root vegetables and you will get a filling and healthy dinner.
What does rabbit taste like
As for me rabbit tastes just like chicken breast. It might be a little more gamey or chewy if not cooked properly. Rabbit breast can be dry if you overcook it.
Is rabbit meat healthy
Rabbit is one of the healthiest meats on market. Its very lean, full of protein and very low in fat. It is much more healthy to eat that beef, chicken or pork all together.
Rabbit meat is also high in vitamins B12 and B3, potassium and selenium. Such a great choice it is to eat rabbit couple times per week for your health.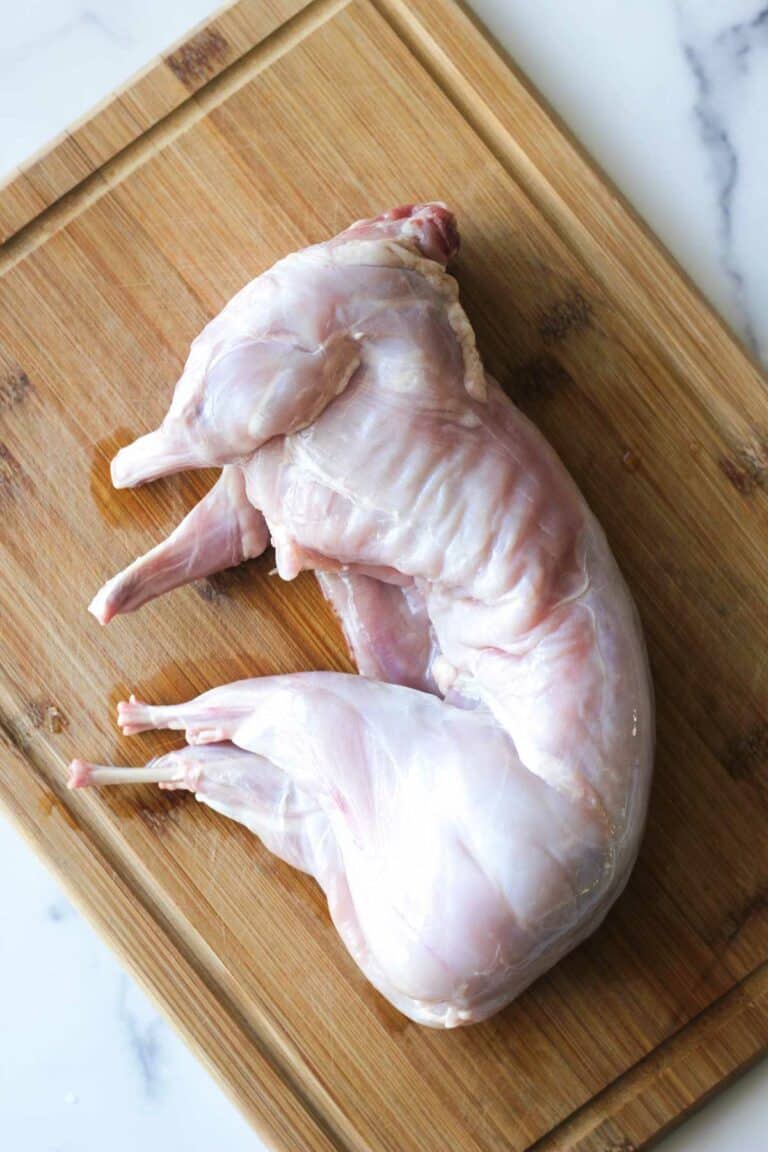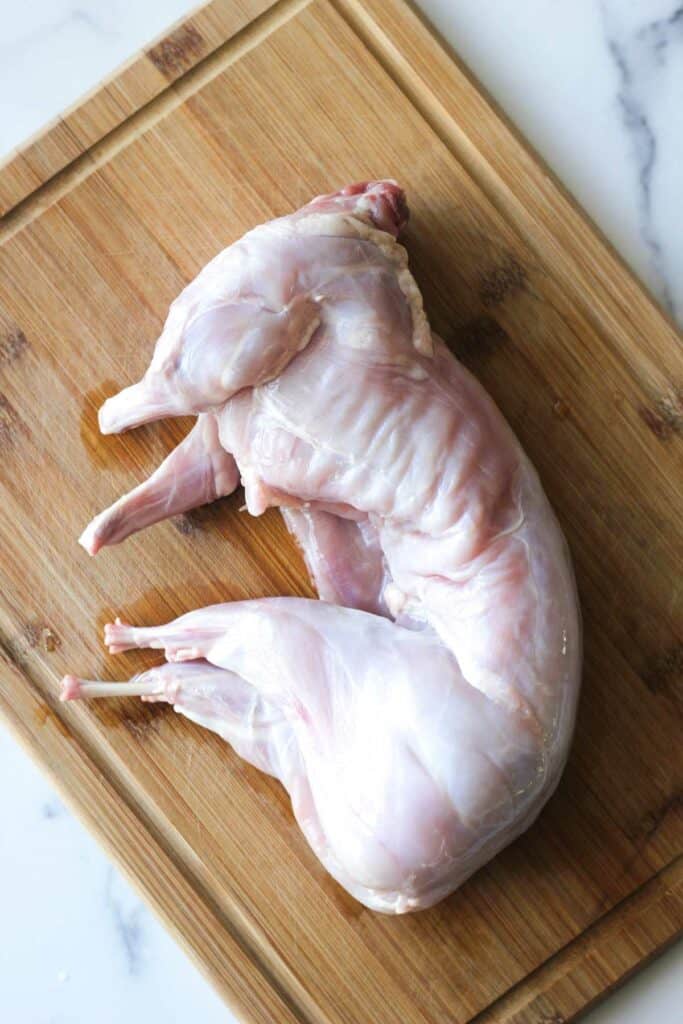 What spices go well with rabbit
Rabbit goes so well with traditional Italian herbs like oregano, rosemary or basil. Thyme is my other favorite herb to use in this recipe. Do not forget pink or sea salt and plenty of freshly ground black pepper.
Side dishes
You can enjoy the stew by itself or a bowl with some chopped green onions on top. Or you can add some side dishes for more full dinner experience.
Green garden salad is my number one choice. Its healthy and adds an extra crunch. A piece of garlic bread or buttered toast will be delicious with rabbit meat.
Sometimes i just cut cucumbers, tomatoes and bell peppers, lay them on a flat plate and let my kids snack on them while eating rabbit stew.
How to make rabbit stew
If you have a whole rabbit you will need to cut it for the stew. The best way to cut it is to chop off legs first, then cut through the rib cage and belly flap. Sometimes you will need to cut through the bone so make sure to use a nice sharp heavy knife. And be very careful!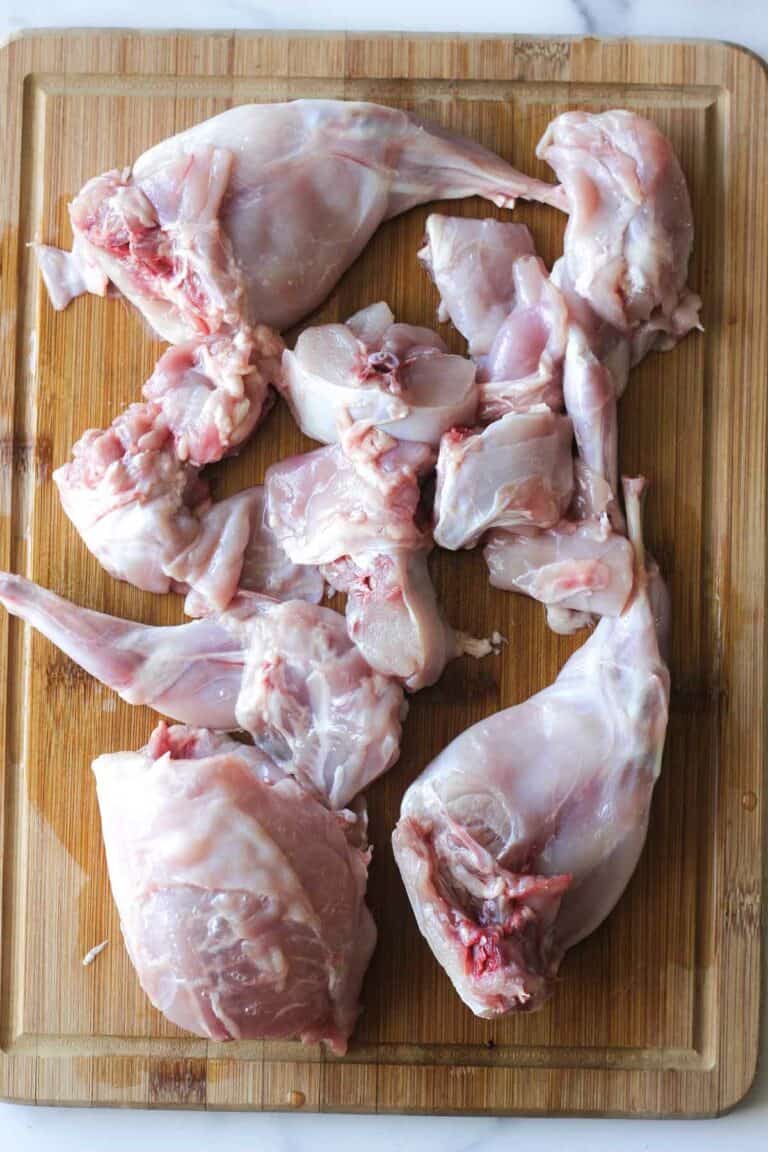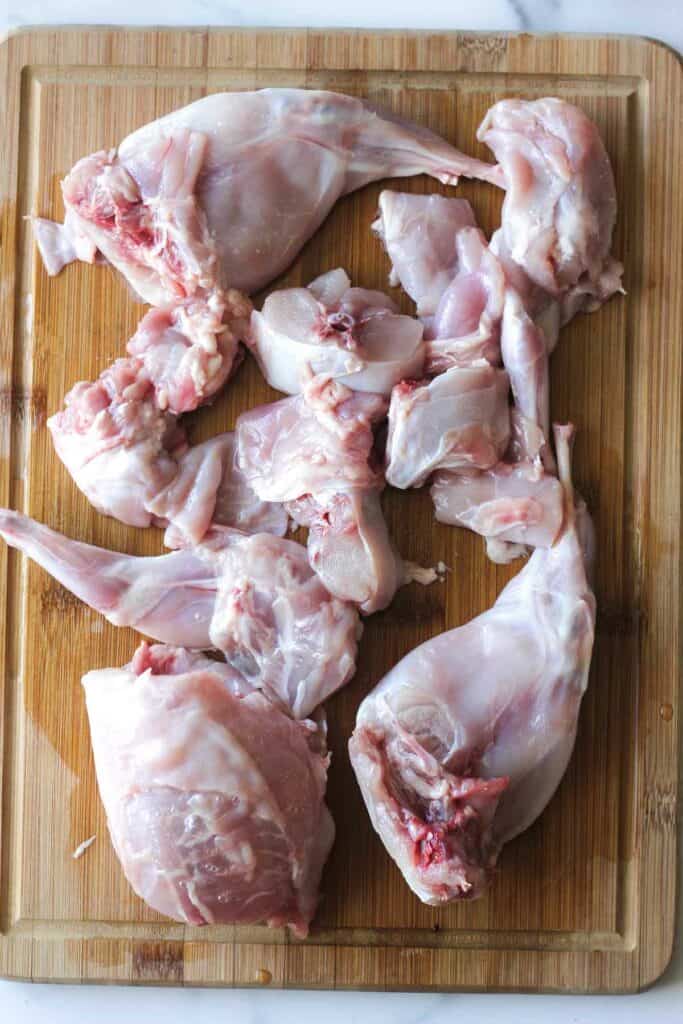 Second step is to brown rabbit pieces. Heat some oil on the heavy bottom pot and saute rabbit until evenly browned. We want to brown it on each side so it will keep its shape while cooking later.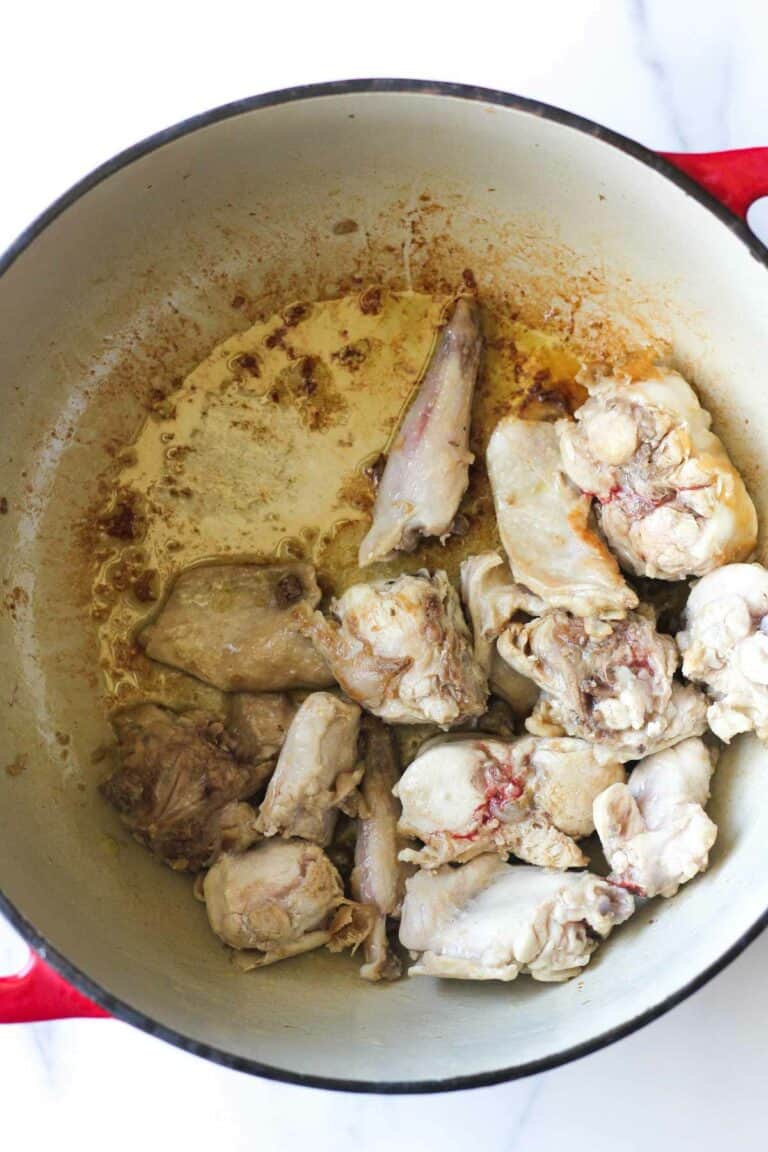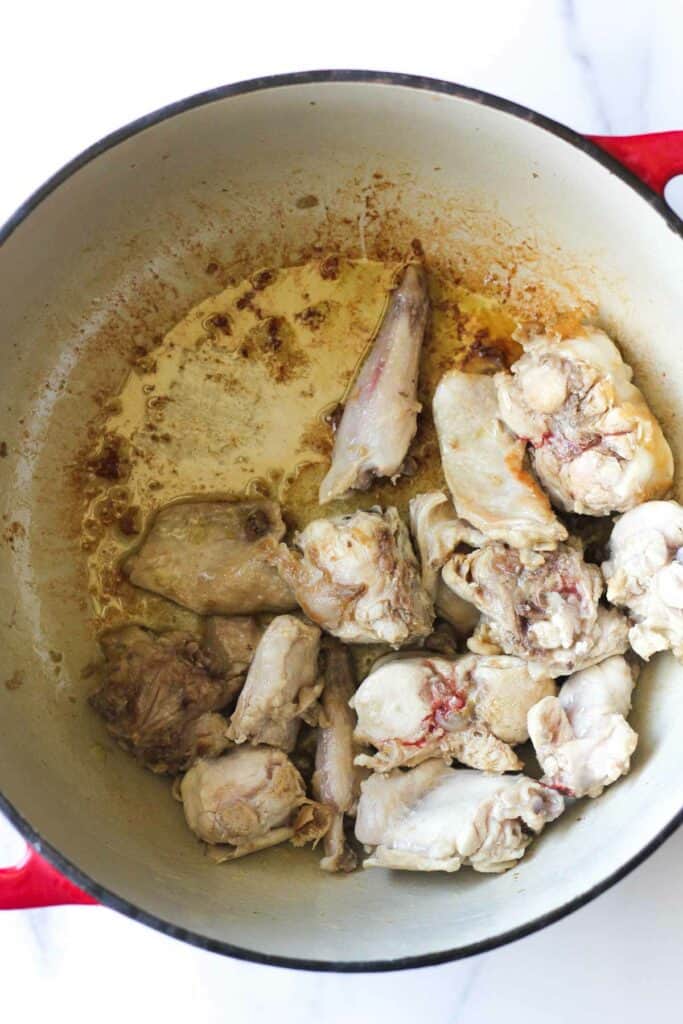 Any vegetable oil will work. After, add chicken or vegetable broth to the pot. Or water if you prefer. Add garlic, ketchup, plum sauce and all the spices. Simmer for about 1 hour with the lid on, on low heat.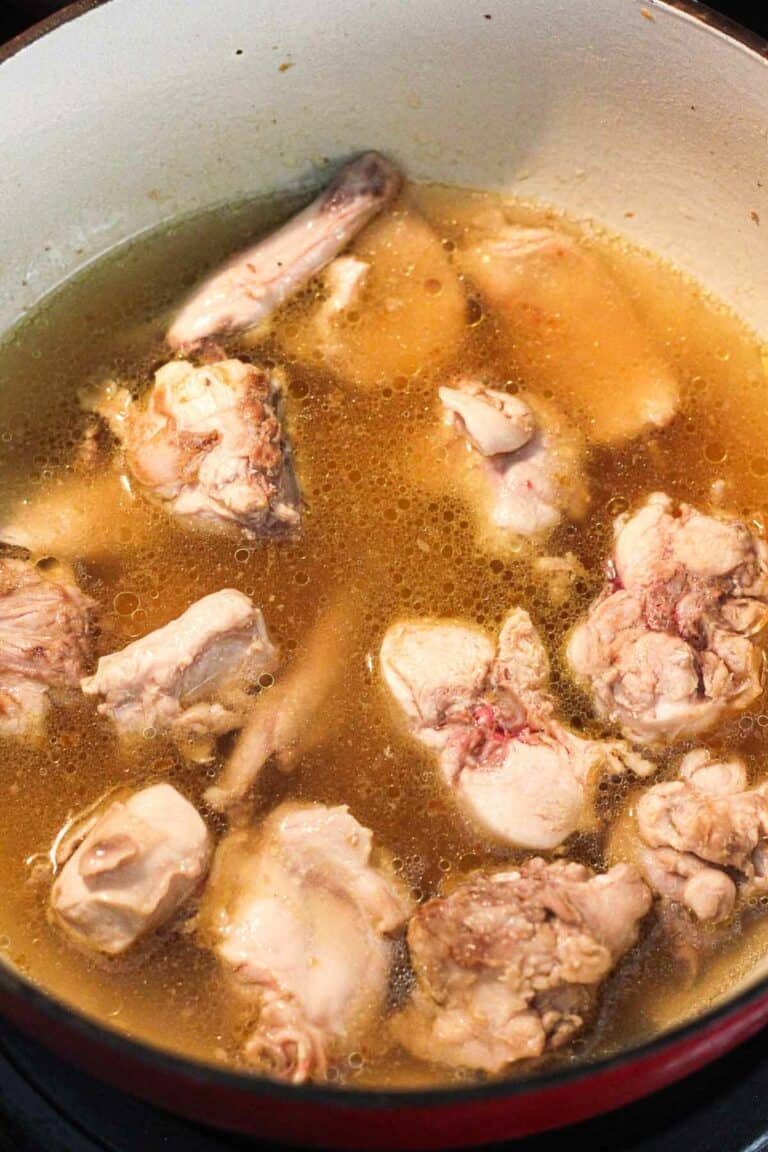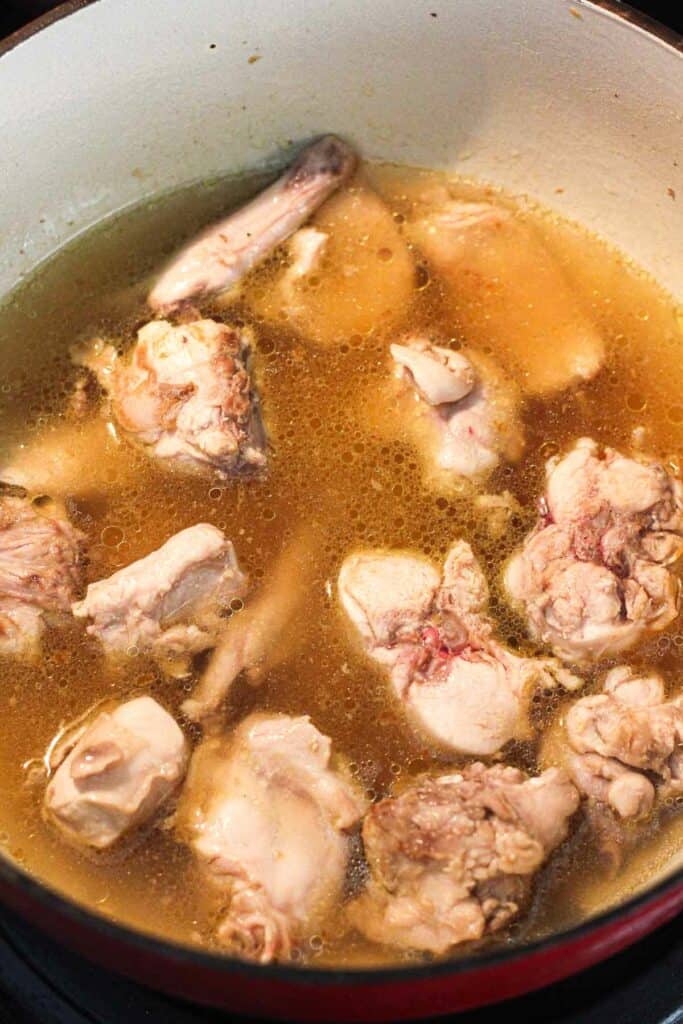 While the rabbit is cooking and getting tender, peel and cut vegetables. Onions and carrots. Add celery if you like.
One hour after add them to the pot and let cook for another 30-40 minutes.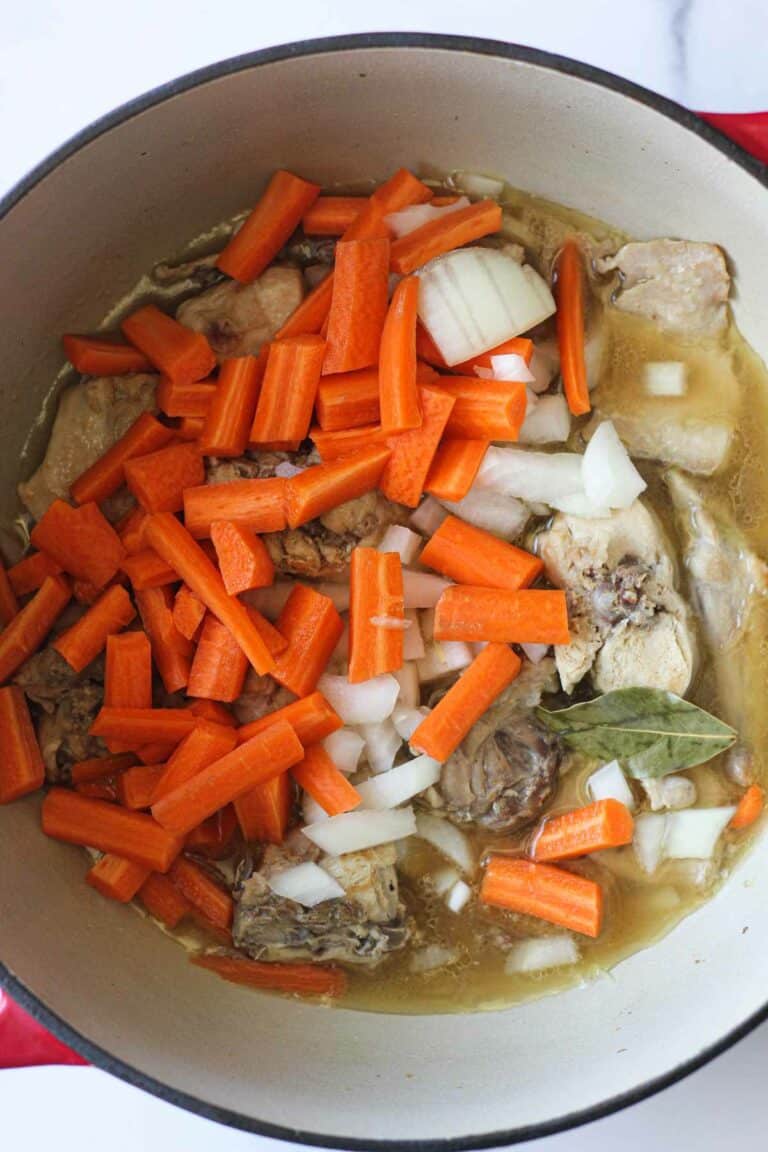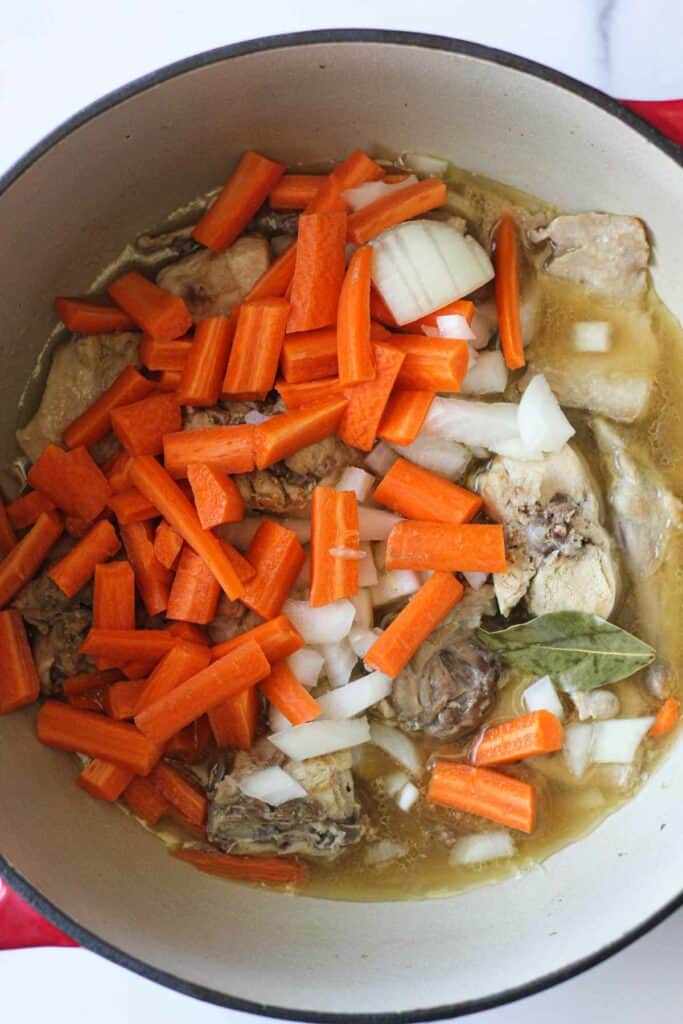 The last step is to add potatoes. I used yellow potatoes because they are waxy and hold their shape well when cooked.
Peel and cut potatoes and add to the pot. Cook for about 10 minutes, until tender but not mushy.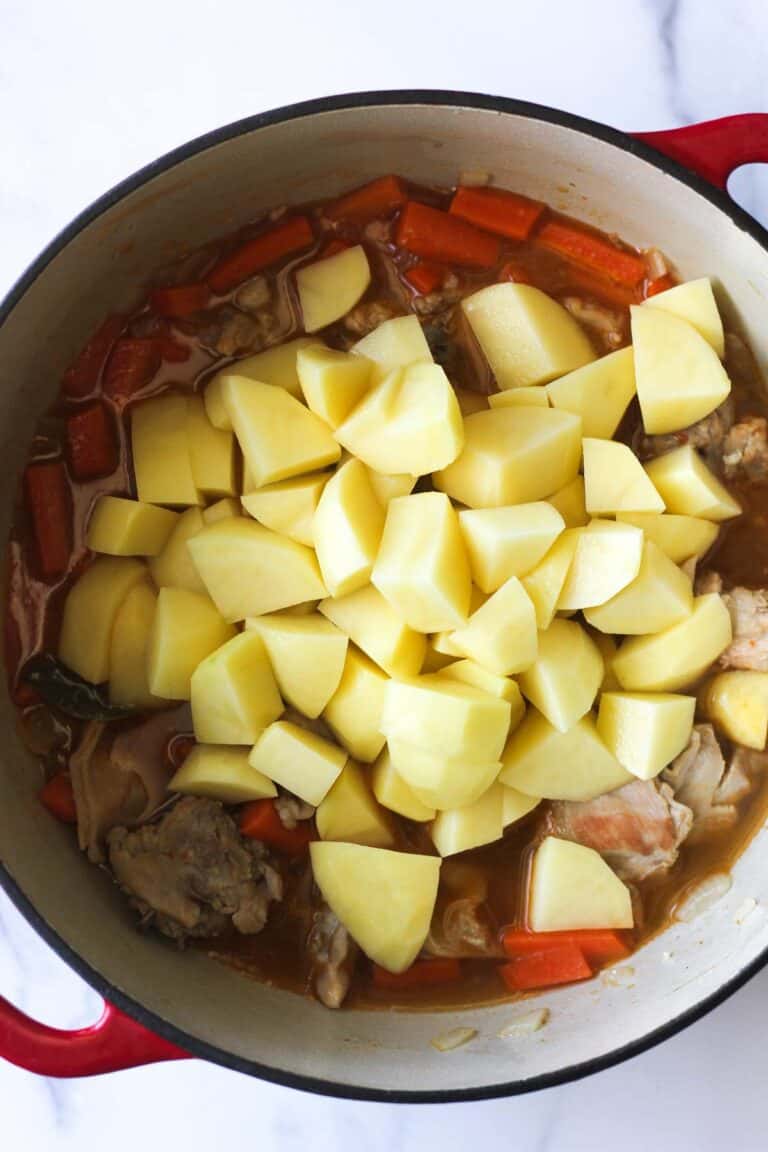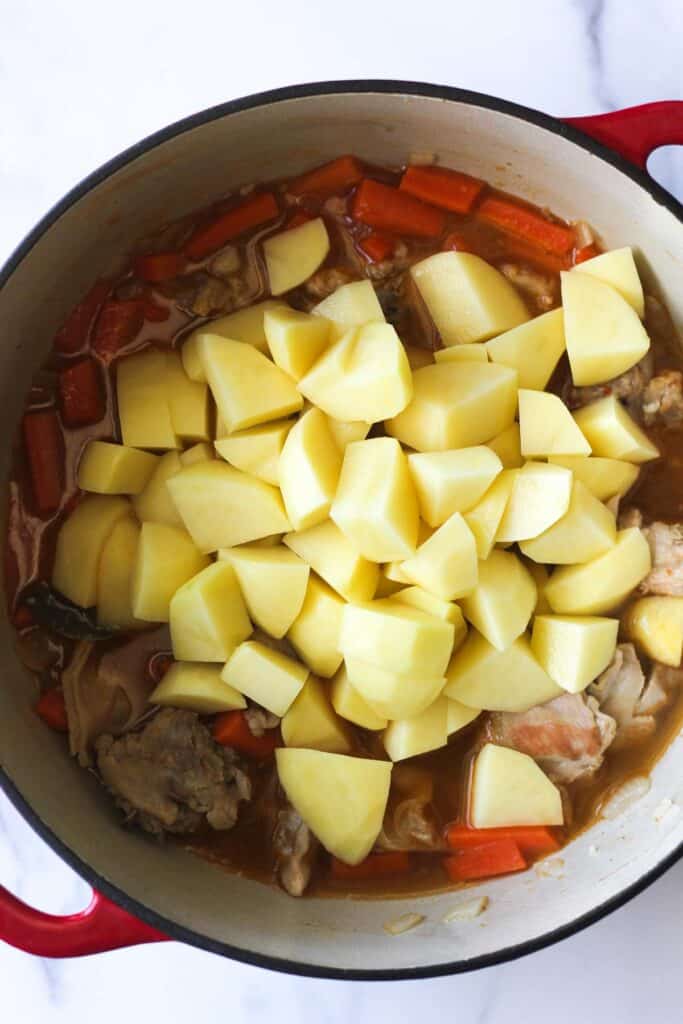 Once everything is done, stir and serve. Top the dish with chopped green onions and some chopped cilantro.
Recipe notes and tricks
Try not to overcook potatoes. If you like your stew mushy, use starchy potatoes like russet. If you prefer more firm solid pieces of potatoes then use Yukon or golden potatoes.
Leftovers. Keep leftovers in the fridge for up to 3 days. You can store it in the same pot with lid or use an airtight food container. Container can be reheated in the microwave while the pot will need to be reheated on the stove.
Internal temperature. Rabbit should be cooked until it reaches the internal temperature at 160 degrees Fahrenheit.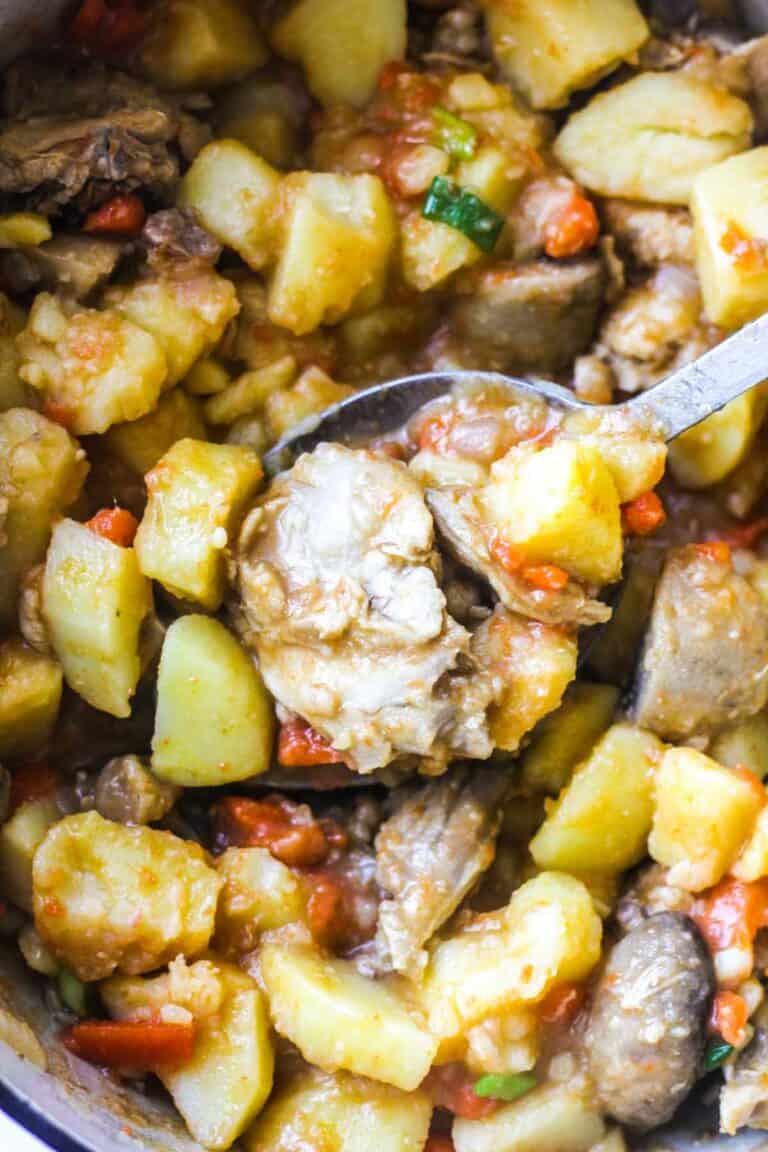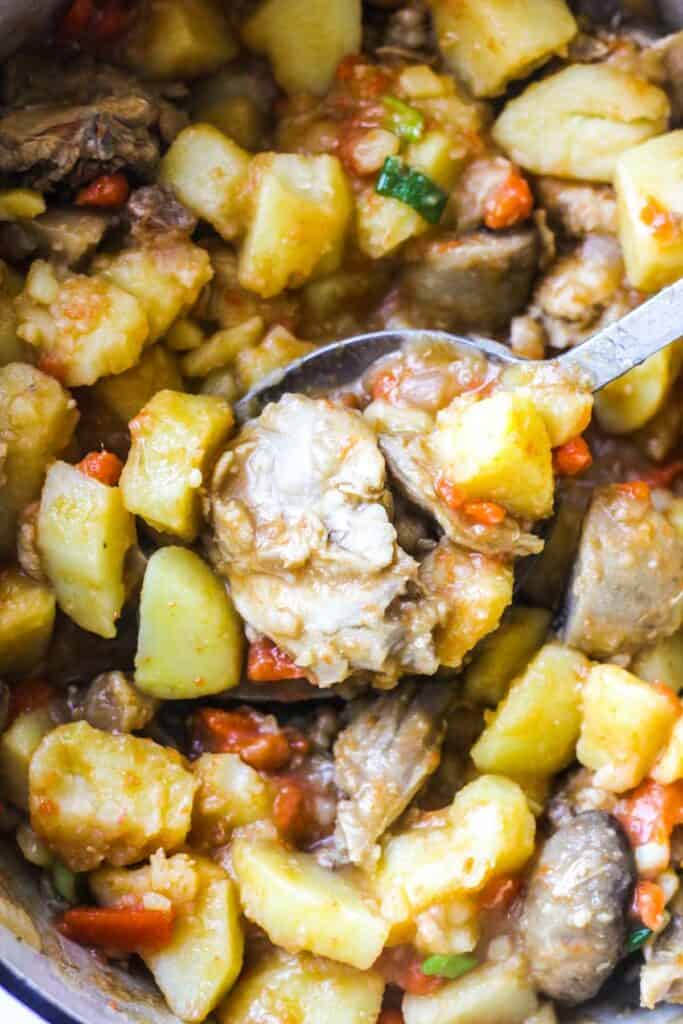 You may also like…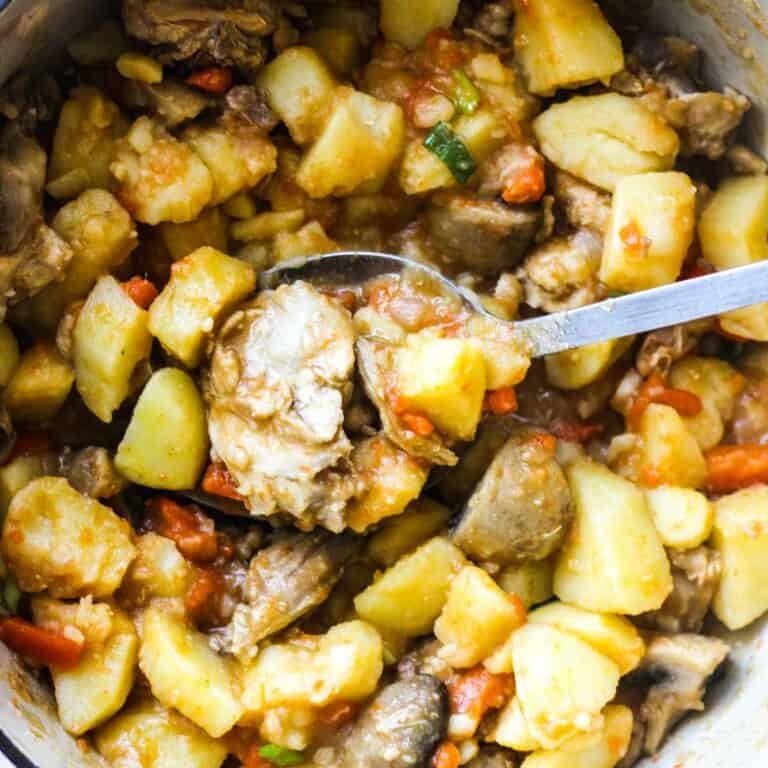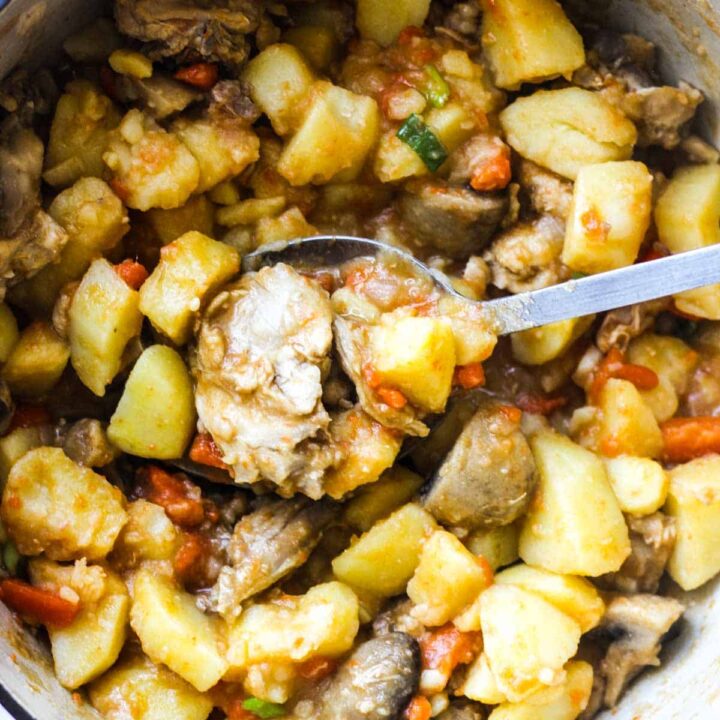 How to cook rabbit stew with potatoes
Total Time:
2 hours
10 minutes
Super comforting and delicious rabbit stew made on the stove with potatoes, carrots and mushrooms. Let it simmer for an hour for tender melt in your mouth meat.
Ingredients
½ rabbit
3 cups chicken broth
1 bay leaf
4 garlic cloves
2 carrots
½ onion
6 large yellow potatoes
1 cup mushrooms
2 tablespoon plum sauce
2 tablespoon ketchup
1 teaspoon thyme and oregano
1 teaspoon oil
Instructions
Cut rabbit in pieces. I used most of the rabbit except legs and rib cage. The rest i just chopped with a very sharp heavy knife.
Heat oil in a heavy bottom pot. Add rabbit and brown them for about 5 minutes, stirring.
Add 2 cups of broth, minced garlic , ketchup, plum sauce, bay leaf and simmer on low heat for 1 hour.
Meanwhile peel carrots, potatoes and onion. Chop onion and carrot and add to the pot. Cube potatoes and add them 10 minutes later and simmer for another 40 minutes.
10 minutes before its done add quartered mushrooms, oregano and thyme.
Stir and serve.
Notes
Mushrooms are optional if you don't like them. they go very well with this recipe though.
Don't overcook potatoes to prevent stew form becoming too mushy.
Add a nice spice kick by sprinkling the stew with cayenne pepper.
Nutrition Information:
Yield:

4
Serving Size:

1
Amount Per Serving:
Calories:

515
Total Fat:

3g
Saturated Fat:

1g
Trans Fat:

0g
Unsaturated Fat:

2g
Cholesterol:

13mg
Sodium:

880mg
Carbohydrates:

108g
Fiber:

12g
Sugar:

10g
Protein:

17g