Tangy delicious sauce combined with melt in your mouth tender rabbit legs, so good! This is the best rabbit recipe i ever tried and i will show you how easy is it to cook it in your oven.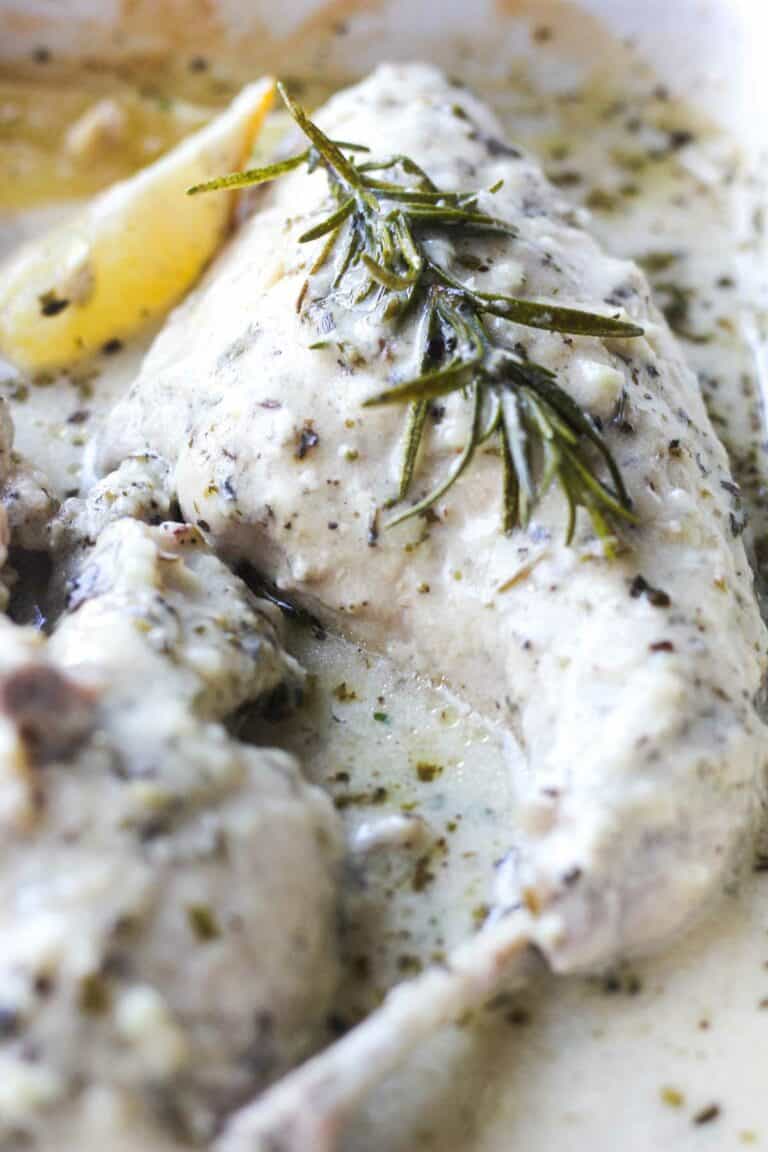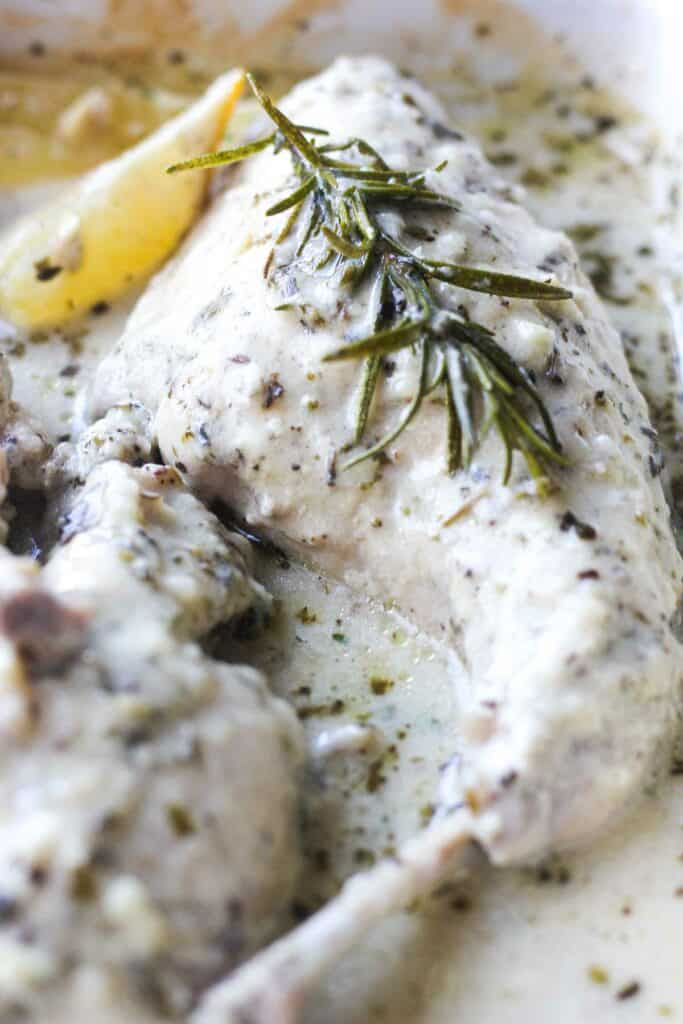 This Italian rabbit recipe is so tasty, i guaranty you will lick you plate! I used all kinds of Italian herbs here which made the recipe Italian style. The aroma in the house will make you very hungry!
Herbs that will make this easy rabbit recipe unbelievable are thyme, rosemary and oregano. This fabulous trio will make any meat recipe taste amazing.
Where to buy
I was not lucky enough to find rabbit meat in my local grocery stores so i turned my searches online. You can check local rabbit farms for fresh rabbit meat or use online stores.
It is easy to find whole frozen rabbit online.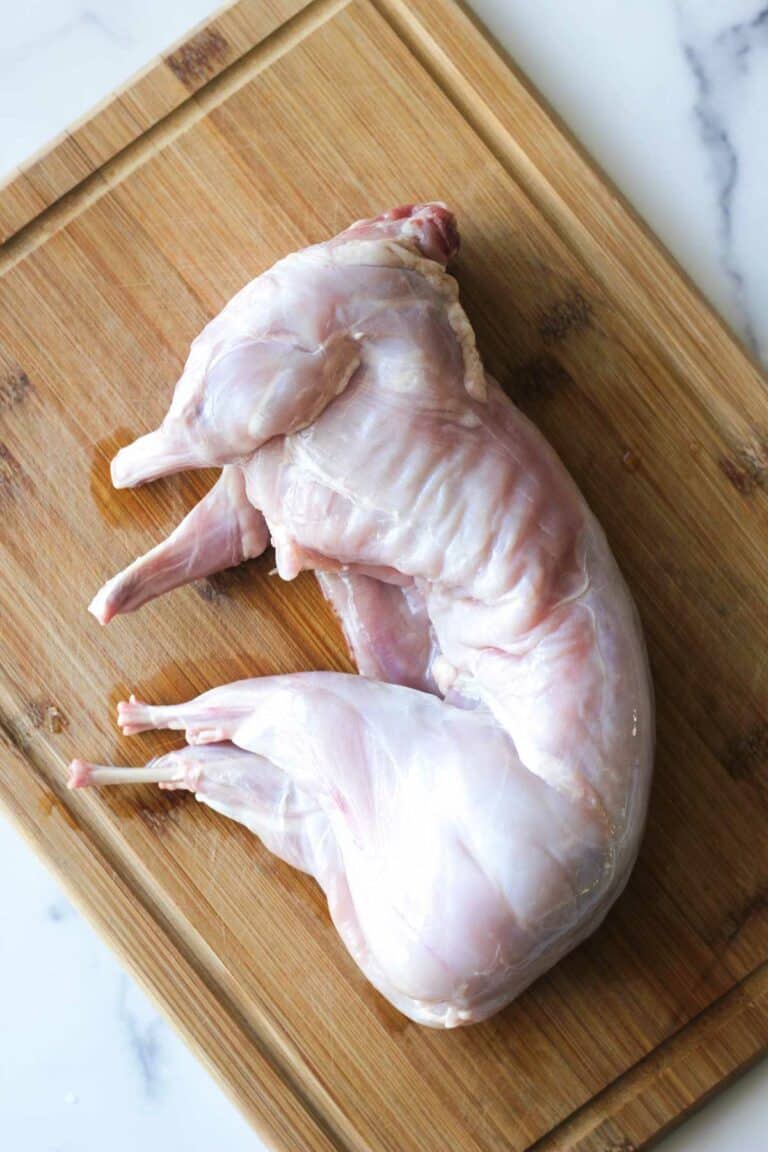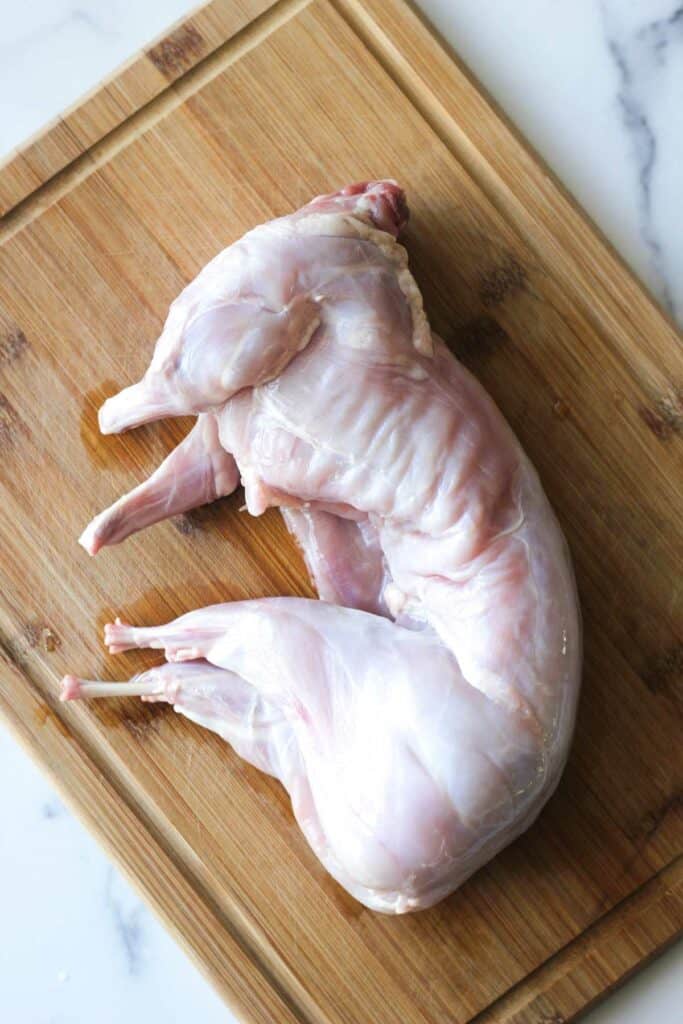 How to defrost a rabbit
The best way to defrost a rabbit is to leave it in the fridge overnight in a deep bowl. You can also defrost it on the counter. Submerge packaged rabbit into the room temperature water. The process will take about 3-4 hours.
How to cut up a rabbit
This recipe calls for only legs and if all you have is a whole rabbit, that means you will need to cut it. Cutting the rabbit is pretty easy and doesn't not require extra skills if you ever cut the whole chicken before.
Rabbit bones are not as hard and its easy to cut them. Just separate legs from the body by cutting between bones and place in the baking dish.
I did try to cut it in half as well but then changed my mind because legs fit in the dish whole with no problem.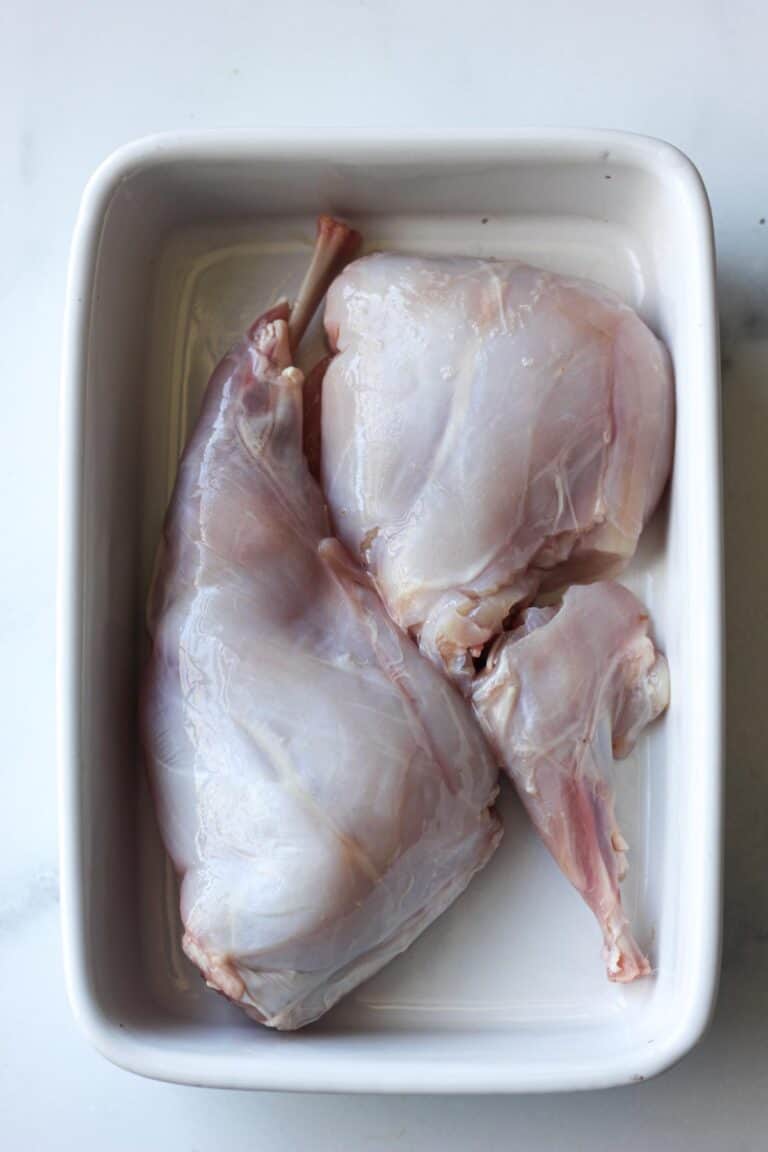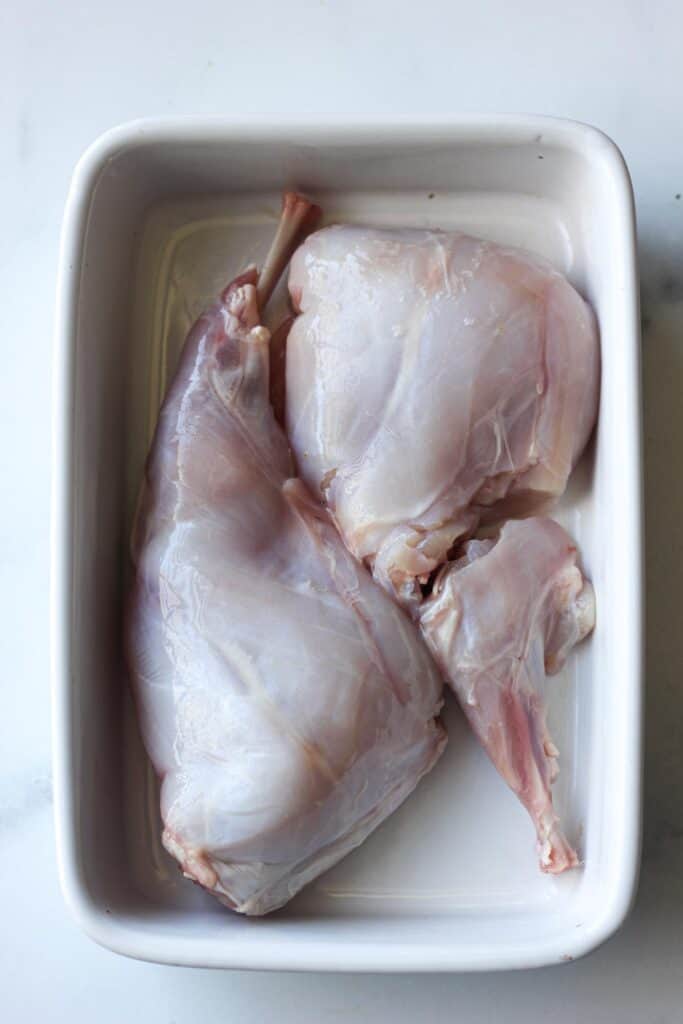 Cream garlic sauce
You can make this sauce two ways, using heavy cream or sour cream. I like a little sourness that sour cream gives so i used it. You can use cream in equal proportions.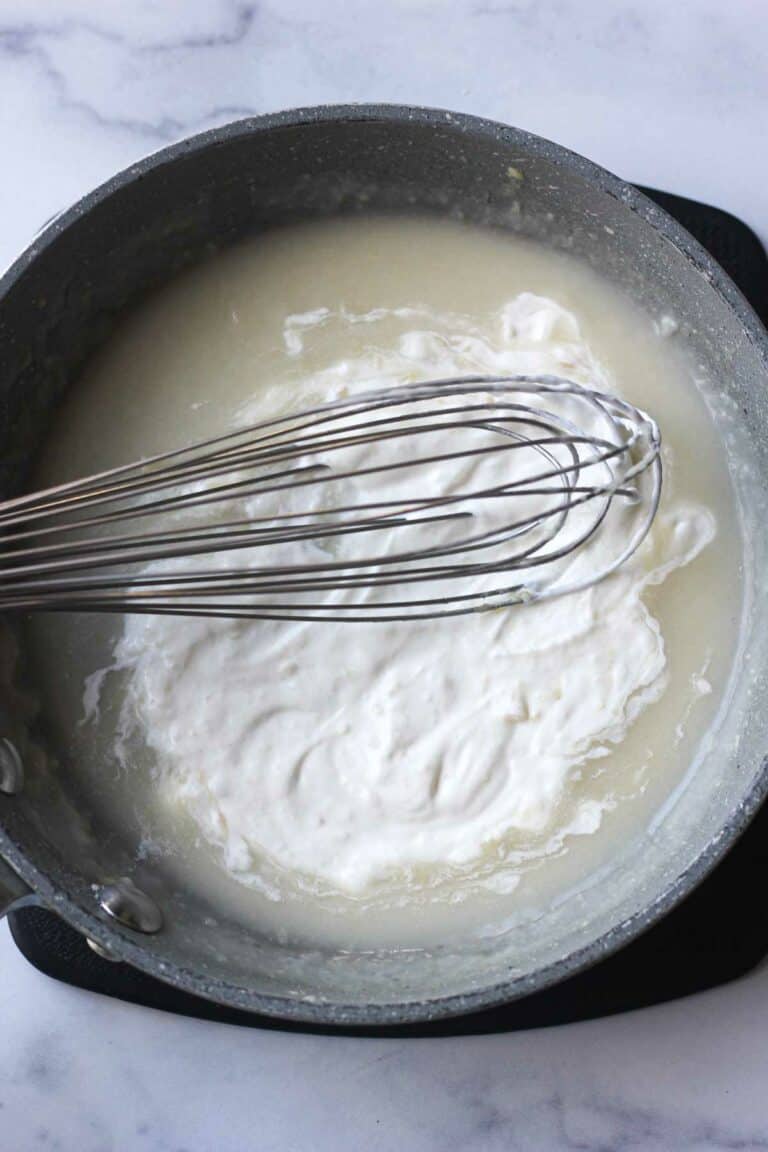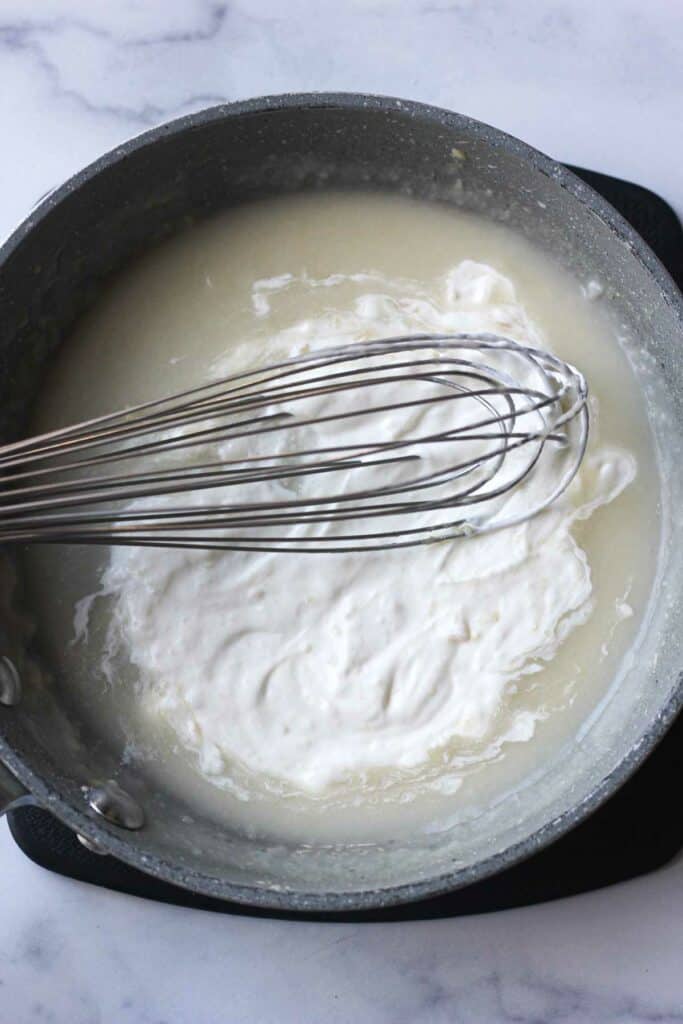 Heat some oil in a small pan. Add flour and whisk on low heat until fully combined and there is no chunks. Add hot water and keep whisking Then add sour cream or heavy cream and whisk even more. Mince garlic and add with herbs. Stir and your sauce is ready to go.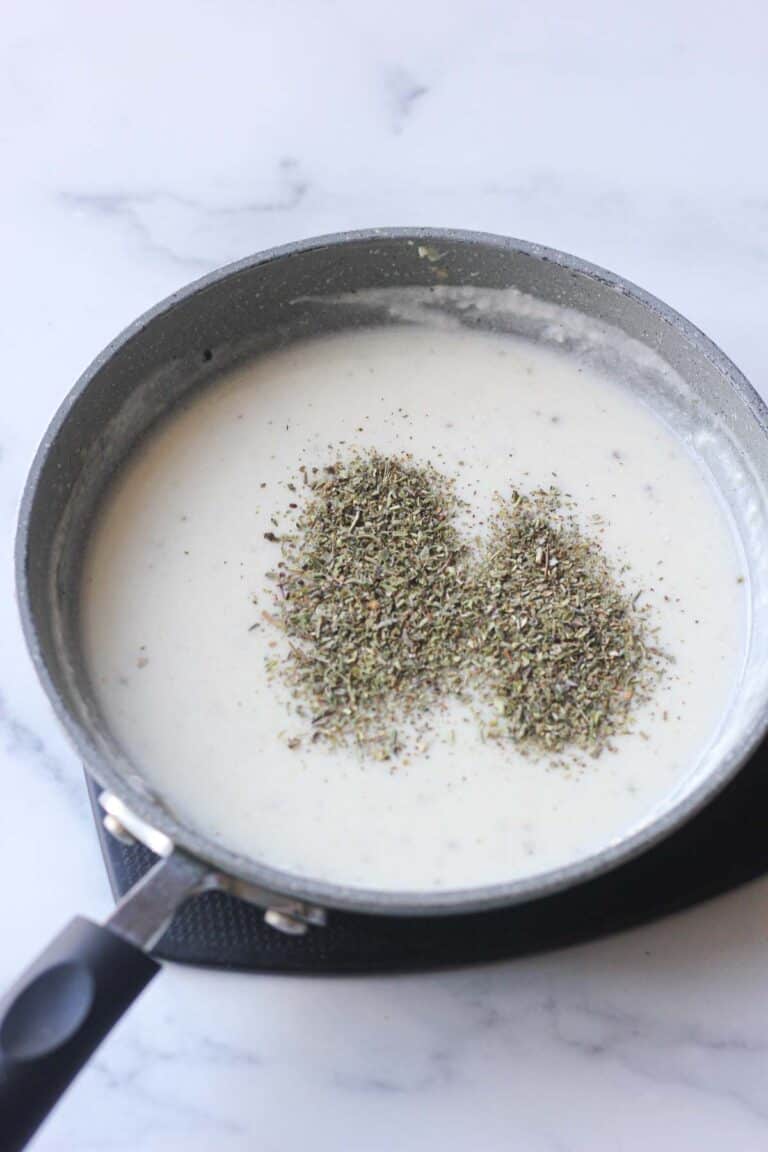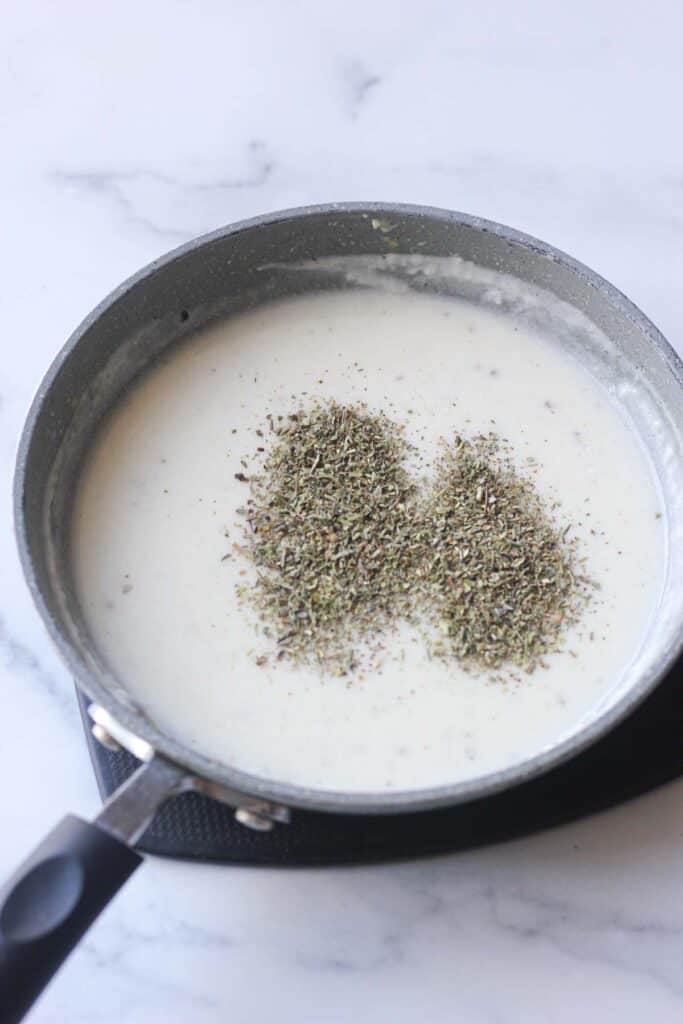 How to cook rabbit in the oven
Make sure rabbit legs are clean and rinsed well. Place them into the baking dish. Pick the dish based on the leg size. Don't use a very big one. Pour cream sauce over the legs. Make sure they are completely covered.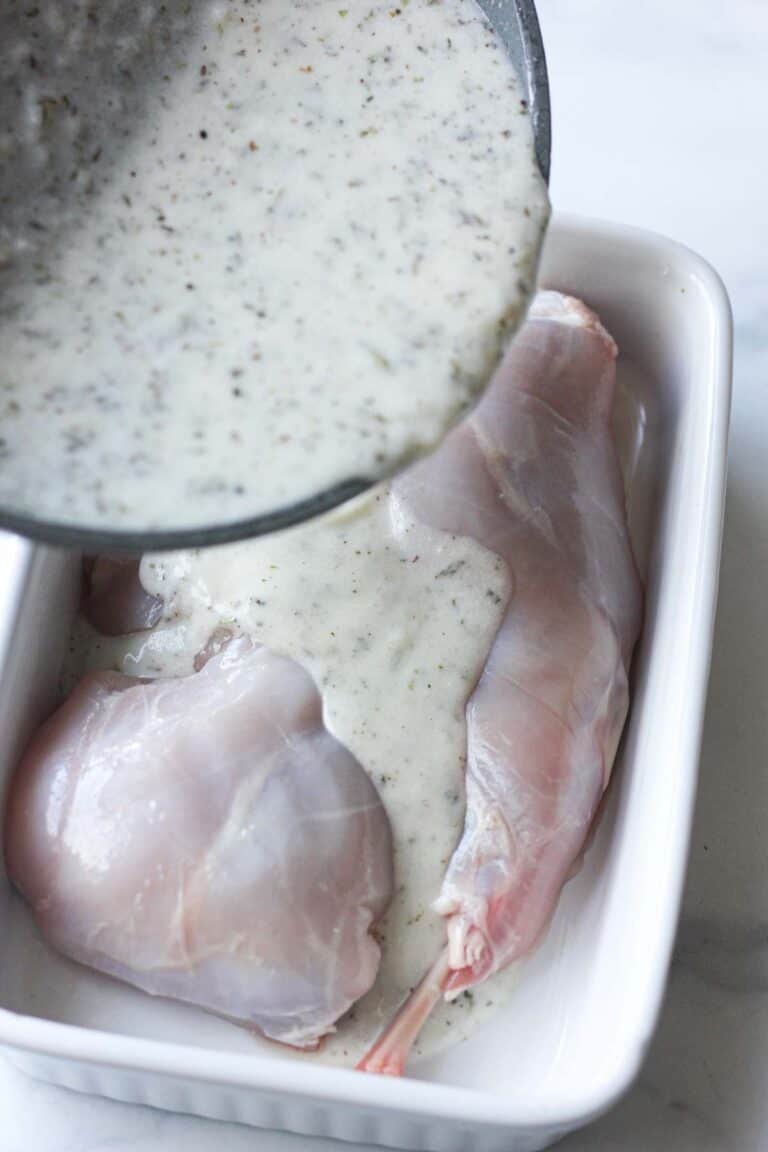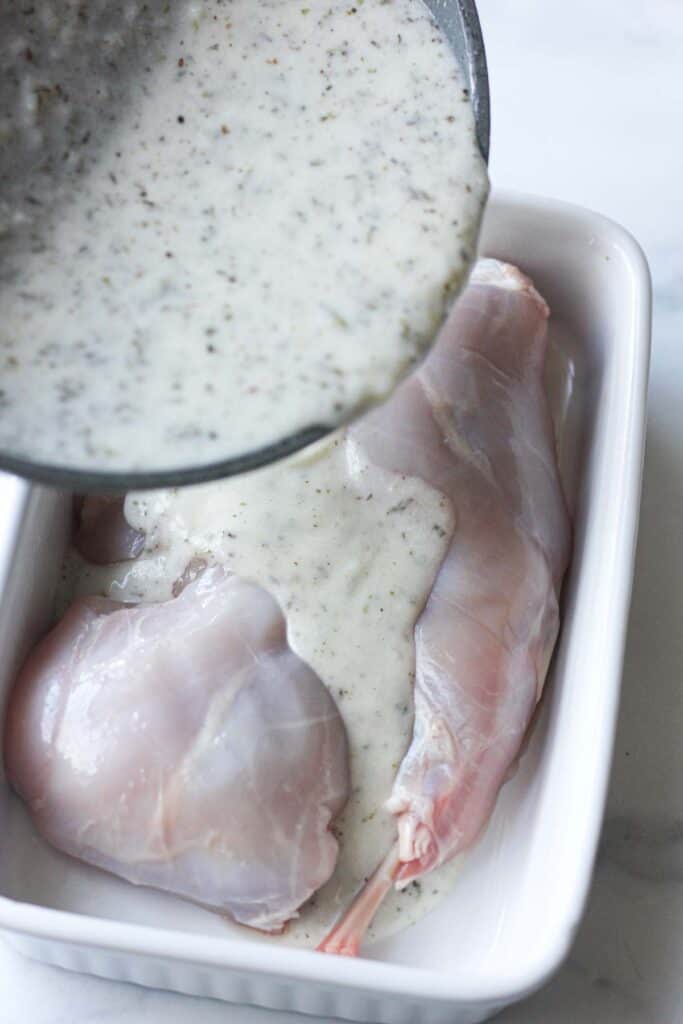 It is important to cover the dish with foil tightly. We want rabbit to be very tender and not dry. Cooking time is approximate, about 1 hour will be enough.
Once cooked carefully open foil to allow steam to come out. Now you can broil it for 5 minutes for the color or serve it as is.
Add lemon wedges and rosemary strings. Drizzle with little bit of lemon juice if you like, it will be delicious.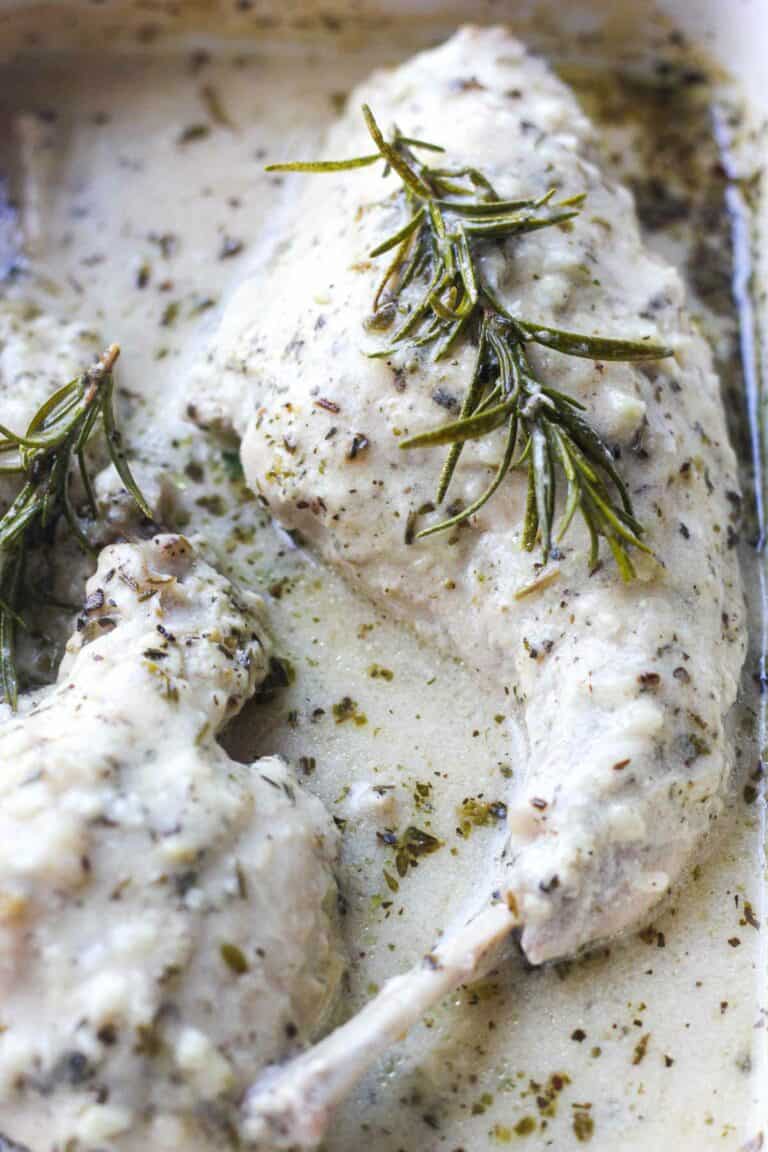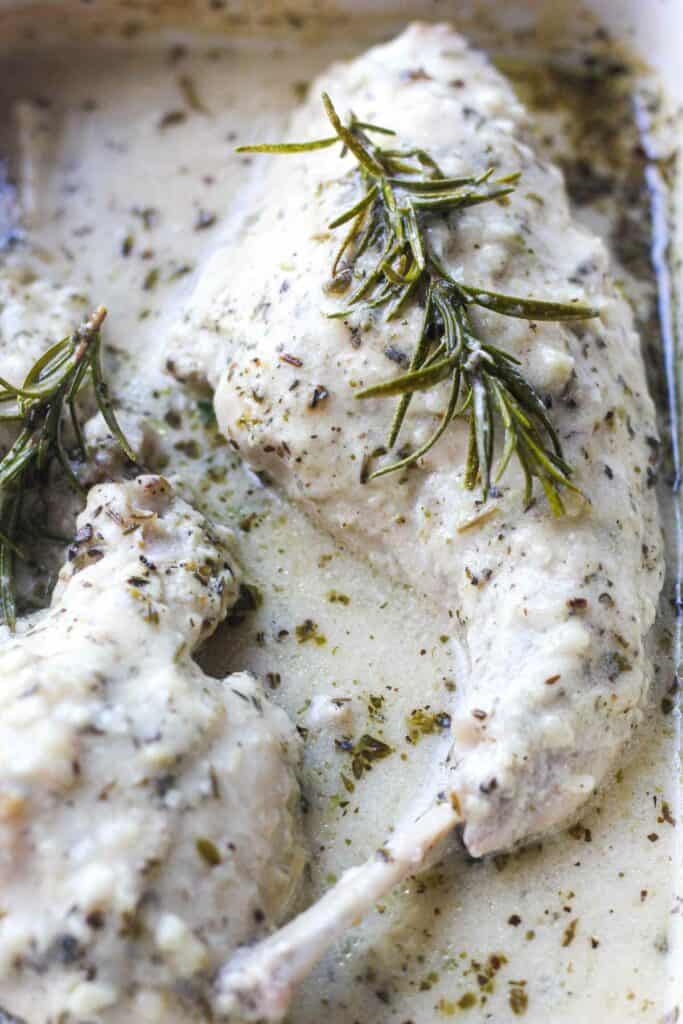 Internal temperature
To make sure your baked rabbit legs are cooked all the way through, check the internal temperature. It should be at least 160 degrees Fahrenheit.
This recipe does not require internal temperature testing because we are cooking rabbit in the foil for the whole hour. There is no way the meat will be raw. But if will cook rabbit on a pan that's a good thing to know.
More rabbit recipes
Recipe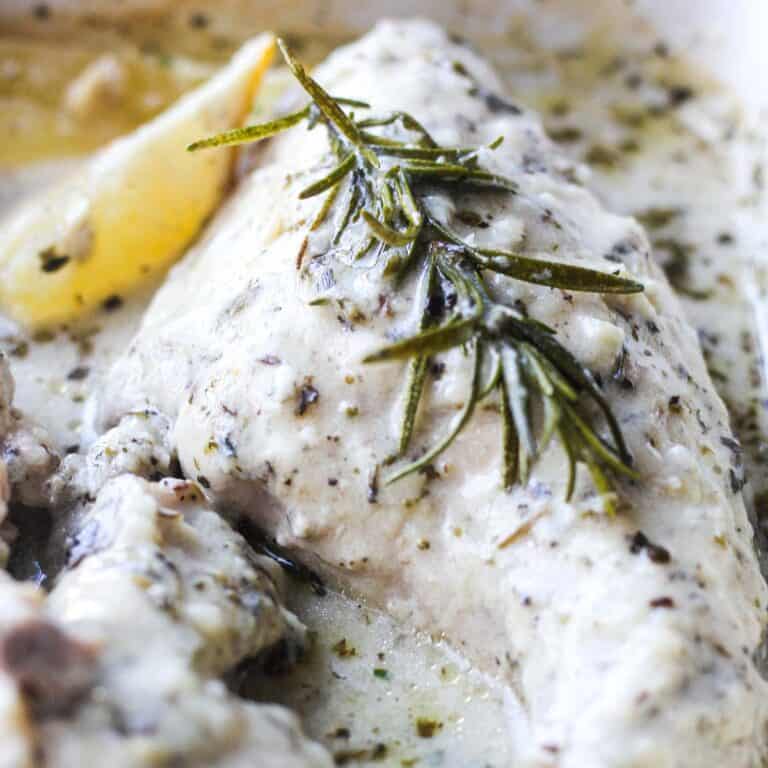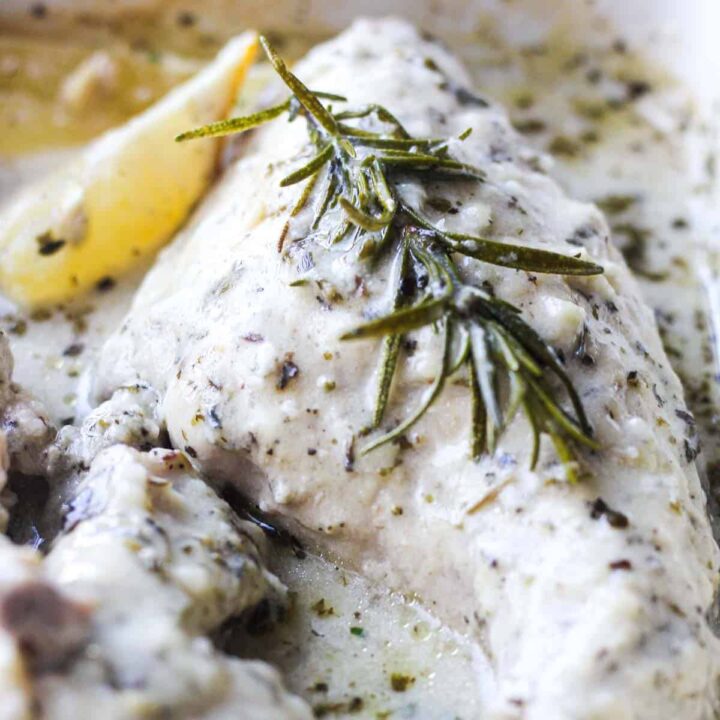 Italian style oven baked rabbit legs in cream garlic sauce
Total Time:
1 hour
10 minutes
Tangy delicious sauce combined with melt in your mouth tender rabbit legs, so good! This is the best rabbit recipe i ever tried and i will show you how easy is it to cook it in your oven.
Ingredients
2 rabbit legs
1 cup sour cream
1 cup hot water
2 tablespoon flour
3 cloves garlic (minced)
1 teaspoon oregano
1 teaspoon thyme
1 teaspoon rosemary
1 teaspoon salt
1 tablespoon oil
Instructions
Place two rabbit legs in the baking dish. Preheat the oven to 375 degrees Fahrenheit.
Make the sauce. Heat oil in a small pan, add flour and whisk. Add hot water and whisk until there is no chunks. Add sour cream and spices and mix it in.
When the sauce is creamy, pour it over the rabbit. Make sure to cover the meat. Cover tightly with the foil.
Place rabbit legs in to the oven. Cook for 1 hour.
Carefully open the foil, spoon some souce and pour over the rabbit. Add lemon wedges and squeeze some over the meat.
Notes
Place a cookie cheet under the baking dish you are using for easier removal from the oven.
Nutrition Information:
Yield:

2
Serving Size:

1
Amount Per Serving:
Calories:

504
Total Fat:

37g
Saturated Fat:

14g
Trans Fat:

1g
Unsaturated Fat:

16g
Cholesterol:

141mg
Sodium:

1131mg
Carbohydrates:

14g
Fiber:

1g
Sugar:

4g
Protein:

30g