Delicious melt in your mouth tender Italian rabbit recipe that is healthy too! Try this slow cooker rabbit cacciatore for dinner, so easy to make and so full of flavor.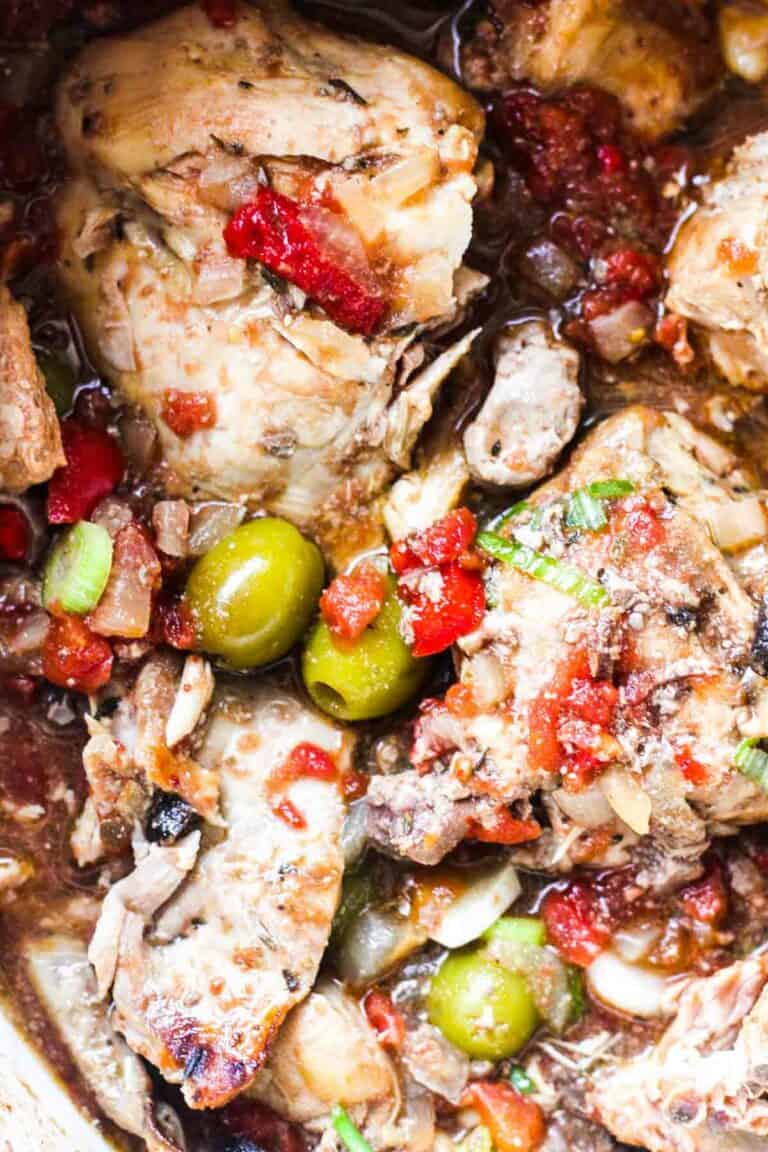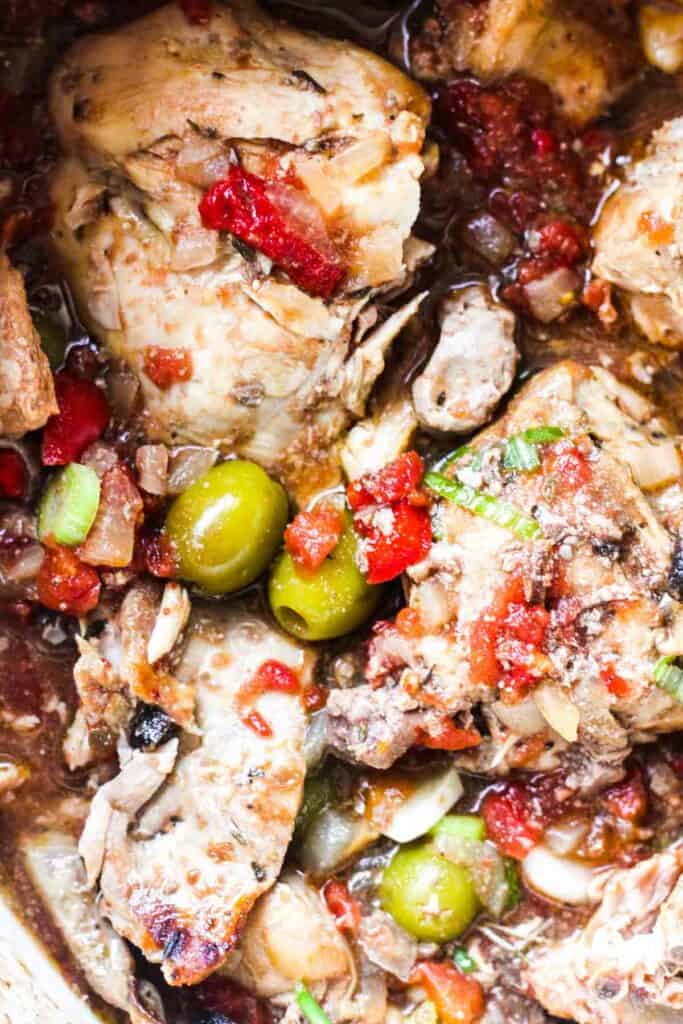 This rabbit recipe is very delicious and full of Italian spices and flavors and you absolutely need to try it!
What is cacciatore
Cacciatore means hunter in Italian. It usually refers to a rustic chicken or rabbit dish made with tomatoes, onions, mushrooms and sometimes wine. It is interesting that Northern Italian chefs like to use white wine more, while Southern chefs tend to like to add red wine. Today we are going to use white wine in my rabbit cacciatore recipe.
Where to buy a rabbit
Rabbit might be a regular food in some countries (like Russia or Italy) but here in United States it's not very common. You can still find rabbit or bunny farms but chances that you live close to them are very small. I purchase my rabbit online and it comes rock frozen in a plastic bag.
Some local grocery stores also might have a whole rabbit in the freezer section.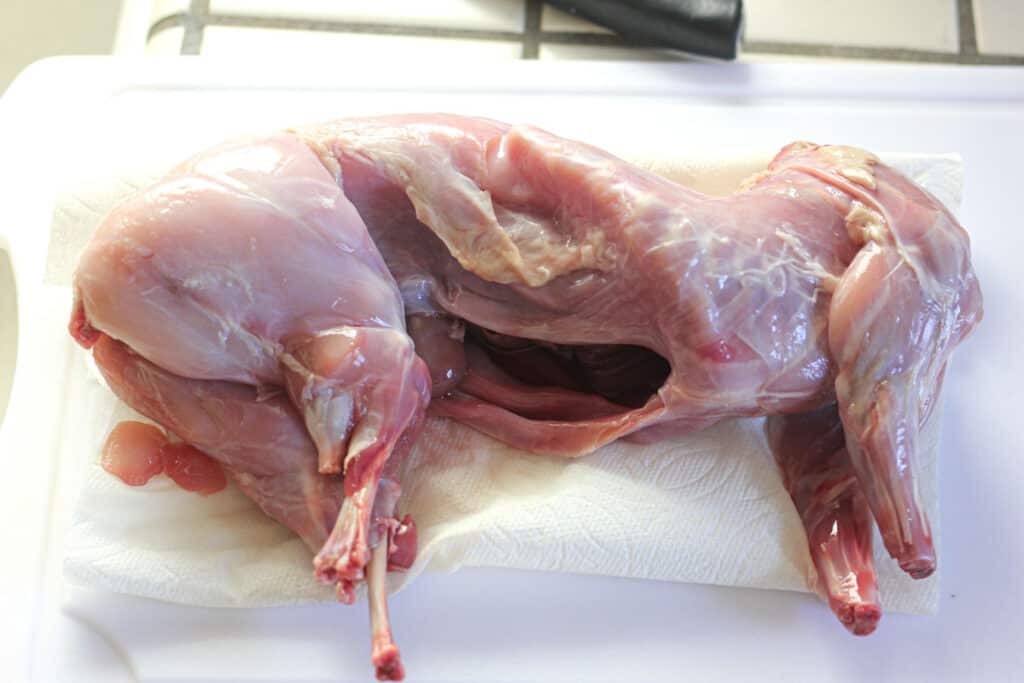 Thawing instructions
When you get a whole frozen rabbit, its important to properly thaw it. You want to keep all the juices inside and defrost it the right way. Pull rabbit meat out of the freezer and move it to the fridge.
Just like what you would do with turkey for Thanksgiving, just smaller. It will probably take about 17-24 hours to defrost, depending on the size of your rabbit. Don't forget to keep the rabbit in bowl so your fridge will not get dirty.
There is also a quicker way to thaw it. Just leave on a counter for a few hours. Or dip into the room temperature water and also leave rabbit in the sink or on counter.
How to cut a rabbit
For some people butchering a rabbit will look hard or tricky. But in fact it's not much different from cutting a chicken. It just requires a little bit more strength and a very sharp knife.
First you want to cut the legs. There are two segments in the leg, a thigh and a drumstick. Separate it. Then cut the front legs off, it should not be that hard.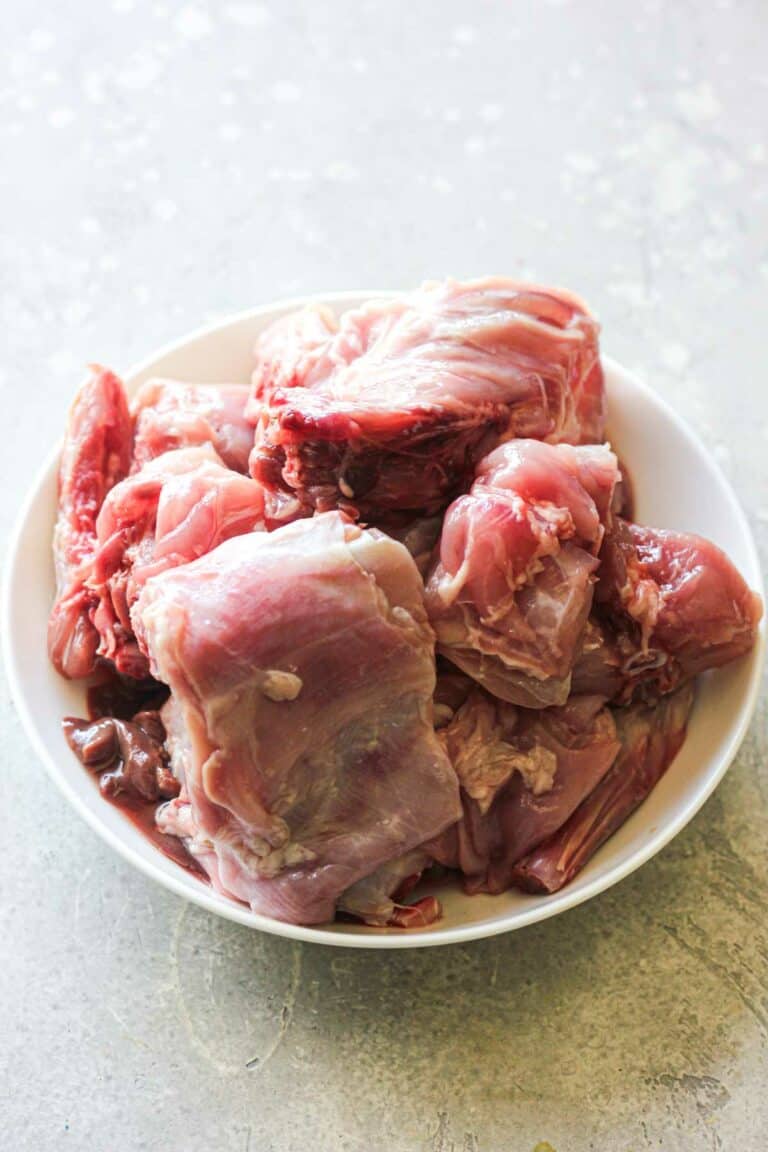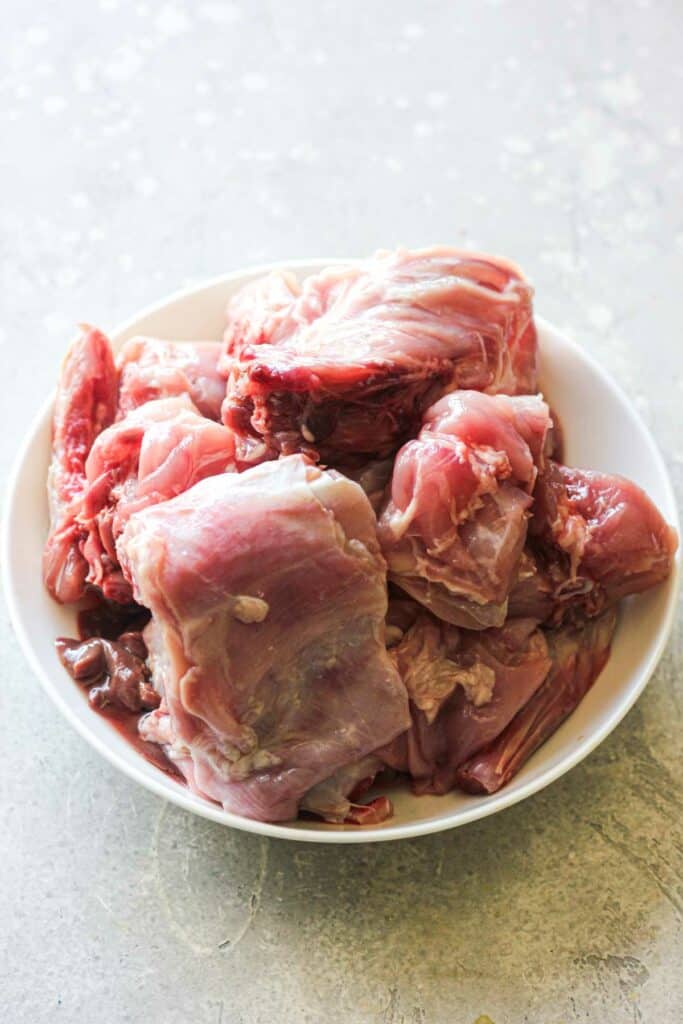 Now you have a carcass and the belly left. Cut off the belly flap and chop it in half. Using some strength chop the carcass in three or four even pieces. That's it! Usually you can find some organs like liver and heart inside the rabbit. I just rinse it and cook with everything else.
How to make slow cooker rabbit cacciatore
In this section I will show how to cook rabbit cacciatore in slow cooker, in pressure cooker and on the stove.
Slow cooker
This is my favorite method of cooking the rabbit. Low and slow and the meat is always melt in your mouth tender.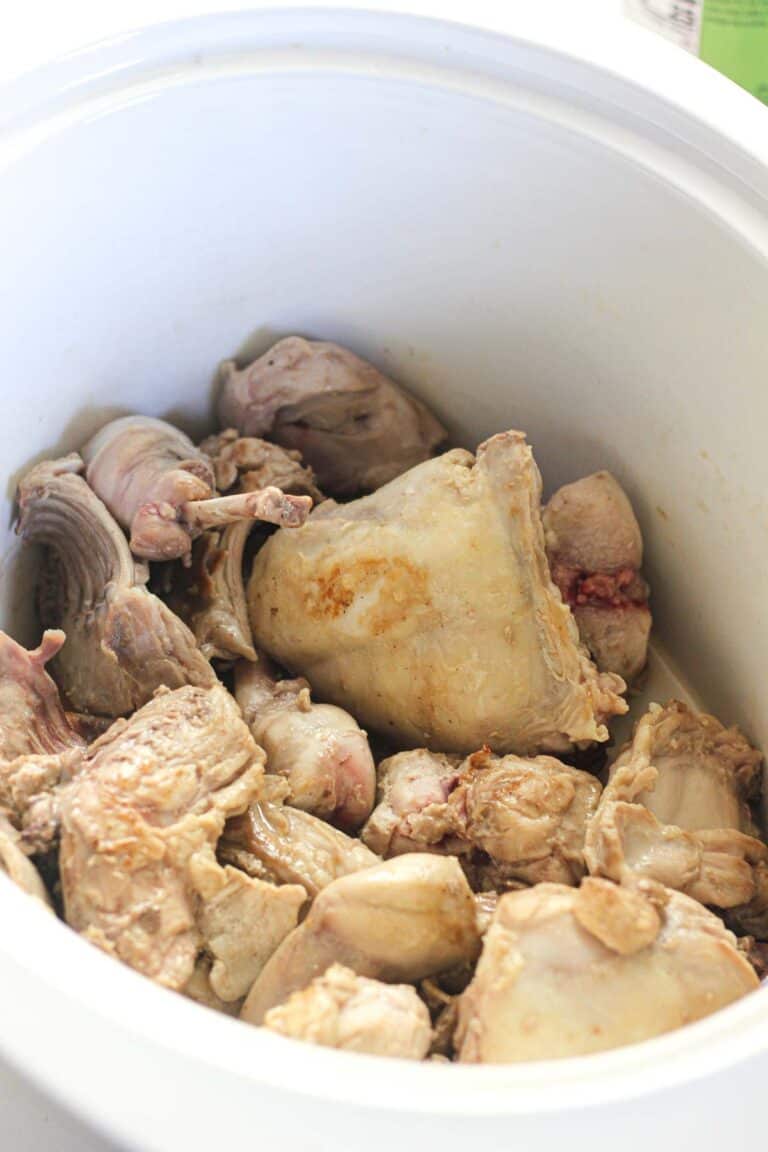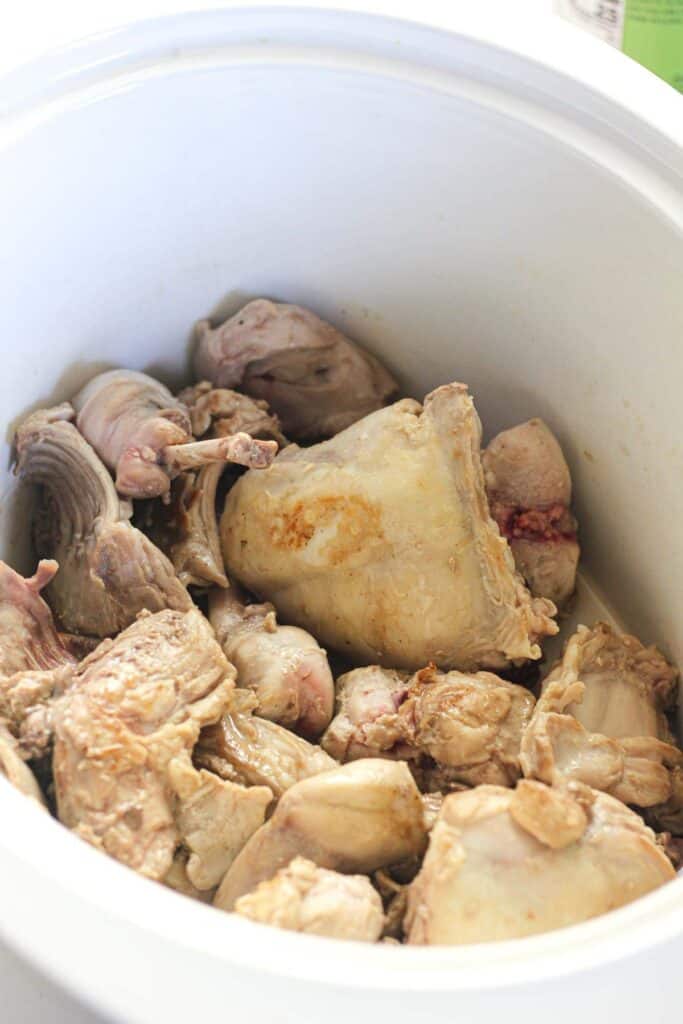 Brown rabbit pieces in about tablespoon of oil in the heated heavy bottom pan. Transfer to the slow cooker and add all the ingredients on top. I preserved half off the olives to add later, for some texture.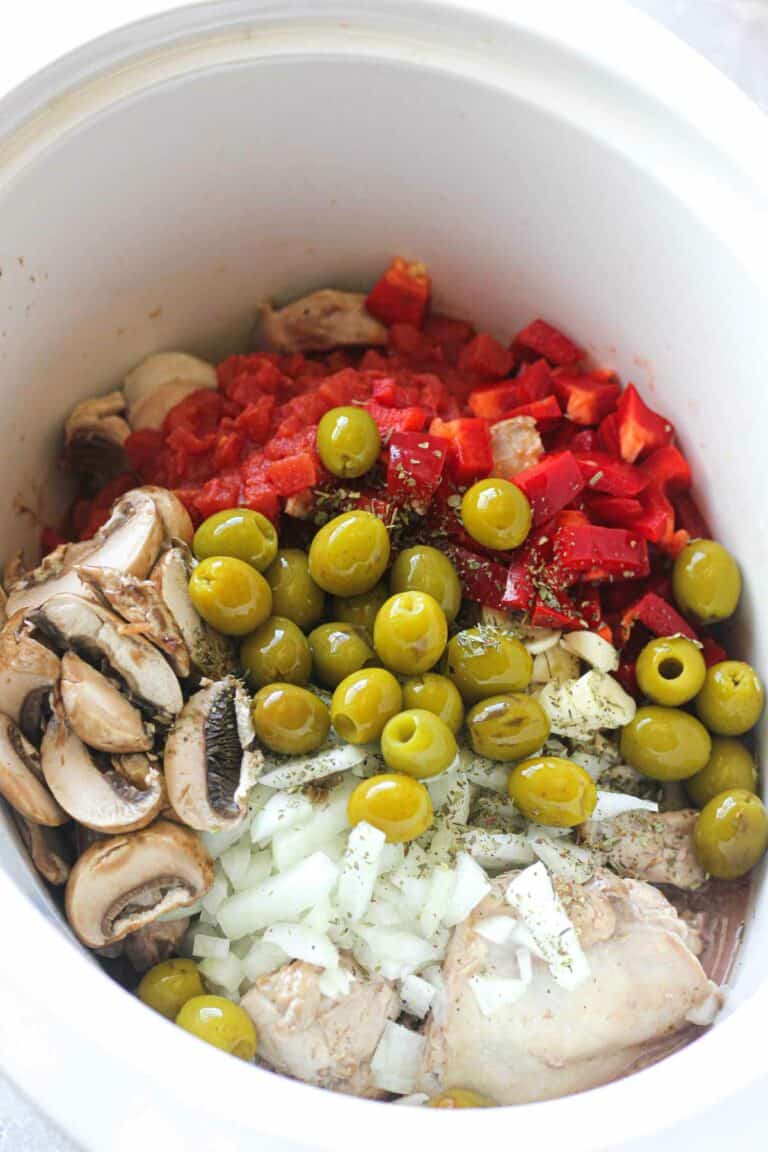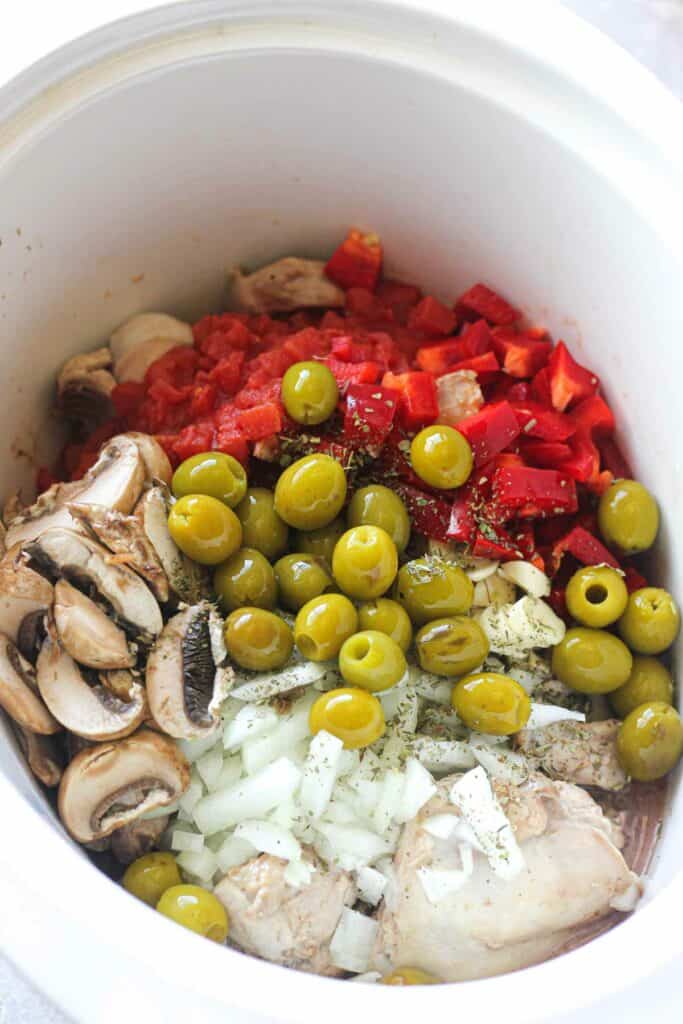 Cook on low for 8 hours or on high for 4 hours. Add remaining olives on top to the cooked dish and serve.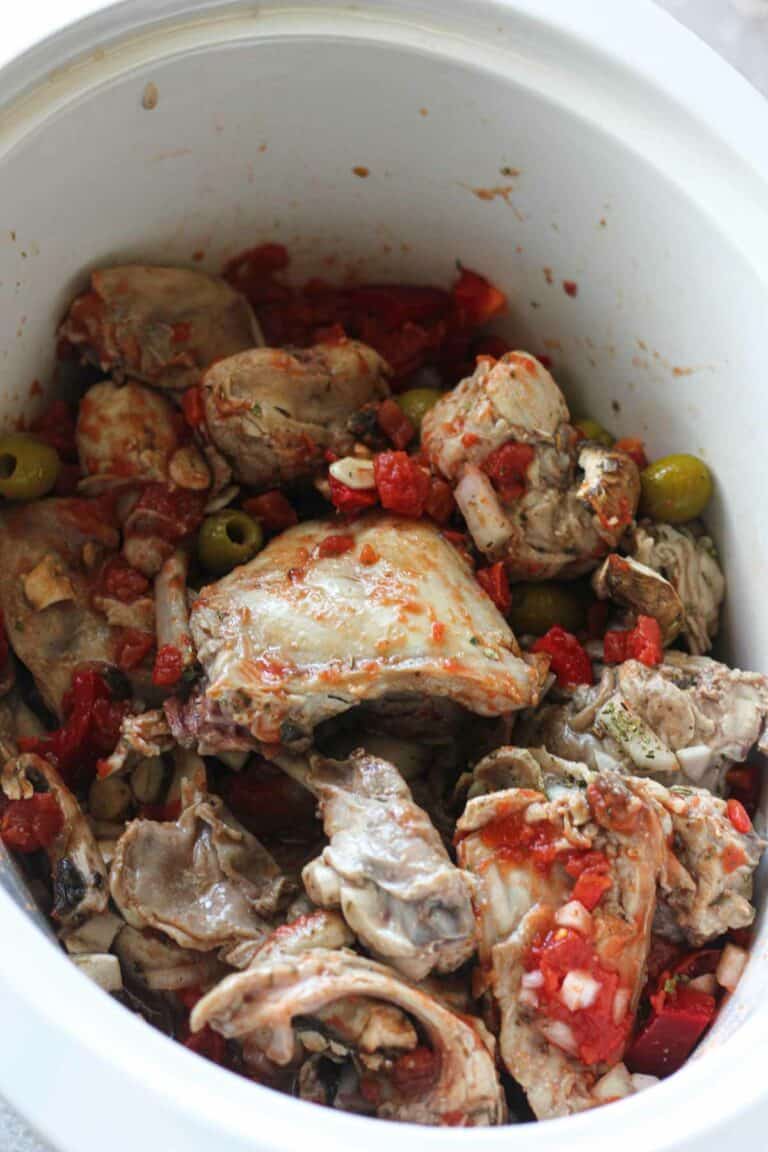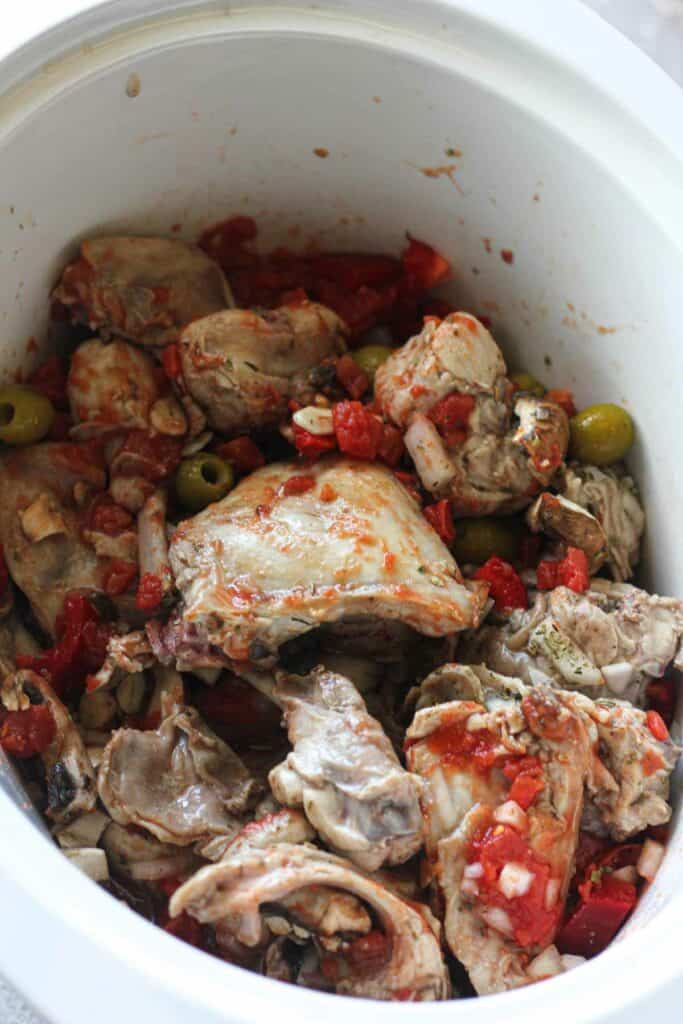 Pressure cooker
Heat oil in the inner pot of your pressure cooker. Brown rabbit pieces right in there until evenly browned. Add other ingredients from the list or too and stir. Close and lock the lid and set for 5 minutes High Pressure. Quick release the pressure once done and carefully open the lid. Serve with a piece of garlic bread or over noodles.
Stovetop
Heavy bottom pan is preferred in this method. Heat oil in the pan and evenly brown all the rabbit pieces. Transfer meat to the bowl and set aside. Add chopped onion and garlic to the same pan and cook until fragrant, couple minutes. Then add white wine and deglaze the pan. Add the rest of ingredients and the rabbit back into the pan, stir and cover with lid. Cook on low heat for 1-1,5 hours until tender.
Why do we brown the meat
Rabbit has a very tender and delicate meat. When it's cooked for a long time in the crock pot, instant pot or stove, it can fall apart and creature a mess. Browning process helps keeping pieces together.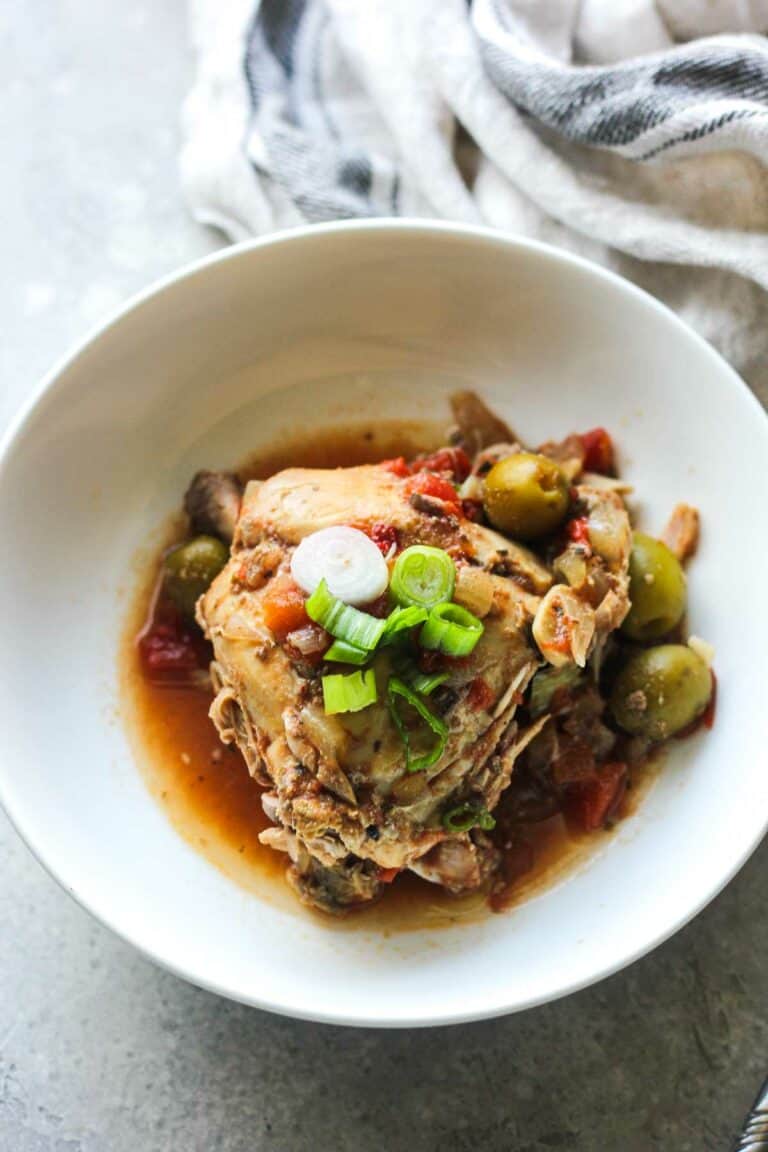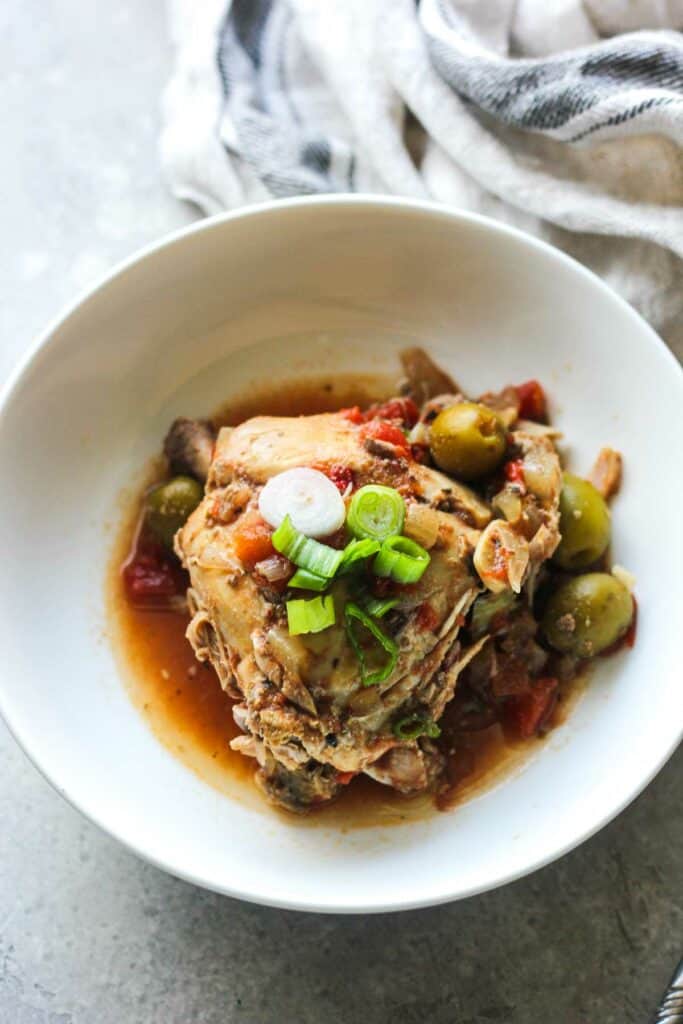 Serving suggestion
Serve this slow cooker rabbit cacciatore on a bed of wheat noodles or over rice. This is probably the most basic yet delicious way. Adding a piece of garlic crusty bread is also very good with rabbit. Just dip it into the juices and enjoy.
If you like potatoes, make mashed or roasted potatoes and top it with cacciatore. I never had it this way but i am sure its amazing.
More rabbit recipes
Also try this super yummy Baked chicken with artichokes and capers recipe, so easy and ready in 30 minutes!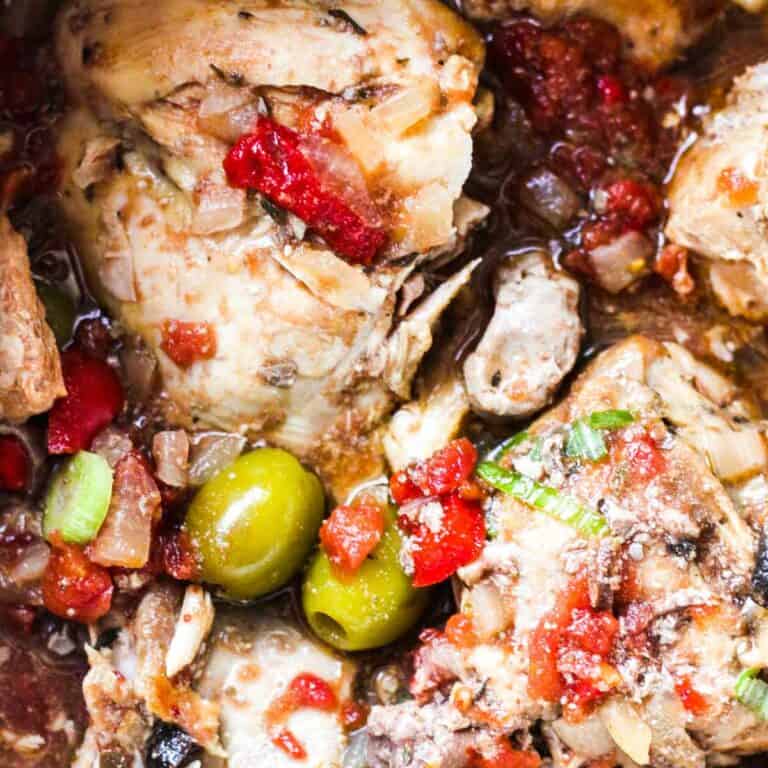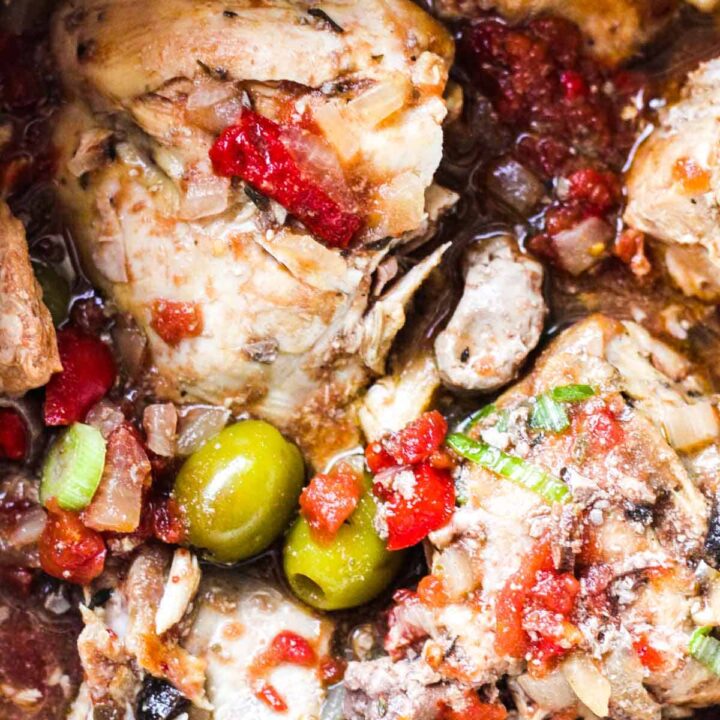 Easy slow cooker rabbit cacciatore
Total Time:
4 hours
10 minutes
Delicious melt in your mouth tender Italian rabbit recipe that is
healthy too! Try this slow cooker rabbit cacciatore for dinner, so easy to make and so full of flavor.
Ingredients
1 whole rabbit
1 teaspoon olive oil
1 onion, chopped
4 garlic cloves, minced
1 cup white dry wine
1 cup cremini mushrooms, sliced
1 teaspoon oregano
1 teaspoon thyme
1 teaspoon oregano
1 cup green pitted olives
1 can diced tomatoes
1 teaspoon salt
freshly grounded black pepper
Instructions
Cur rabbit in pieces like explained in the post. Heat oil in the pan and brown meat on each side for about 5-10 minutes.
Transfer rabbit into the slow cooker. Add all the ingredients on top, stir and cook for 8 hours on LOW or 4 hours on HIGH.
Serve with your favorite side.
Notes
Make sure you brown rabbit meat well. Otherwise it will not hold its shape while slow cooking and will all fall apart.
Do not discard the organs of the rabbit if it comes with any. Do not brown them but just add to the crock pot, it will add so much flavor!
In this rabbit recipe use only the wine that you would drink out of a glass. Don't go with something you don't like or it will destroy the flavor for you.
I used dried herbs but if you have fresh oregano or rosemary or thyme please feel free to those instead. It will make the cacciatore even better!
Nutrition Information:
Yield:

6
Serving Size:

1
Amount Per Serving:
Calories:

114
Total Fat:

5g
Saturated Fat:

1g
Trans Fat:

0g
Unsaturated Fat:

3g
Cholesterol:

12mg
Sodium:

561mg
Carbohydrates:

7g
Fiber:

2g
Sugar:

2g
Protein:

6g