An amazing way to cook a super flavorful chicken breast in the oven! Try this baked chicken with artichokes and capers recipe, super easy one pan dish with just a few simple ingredients.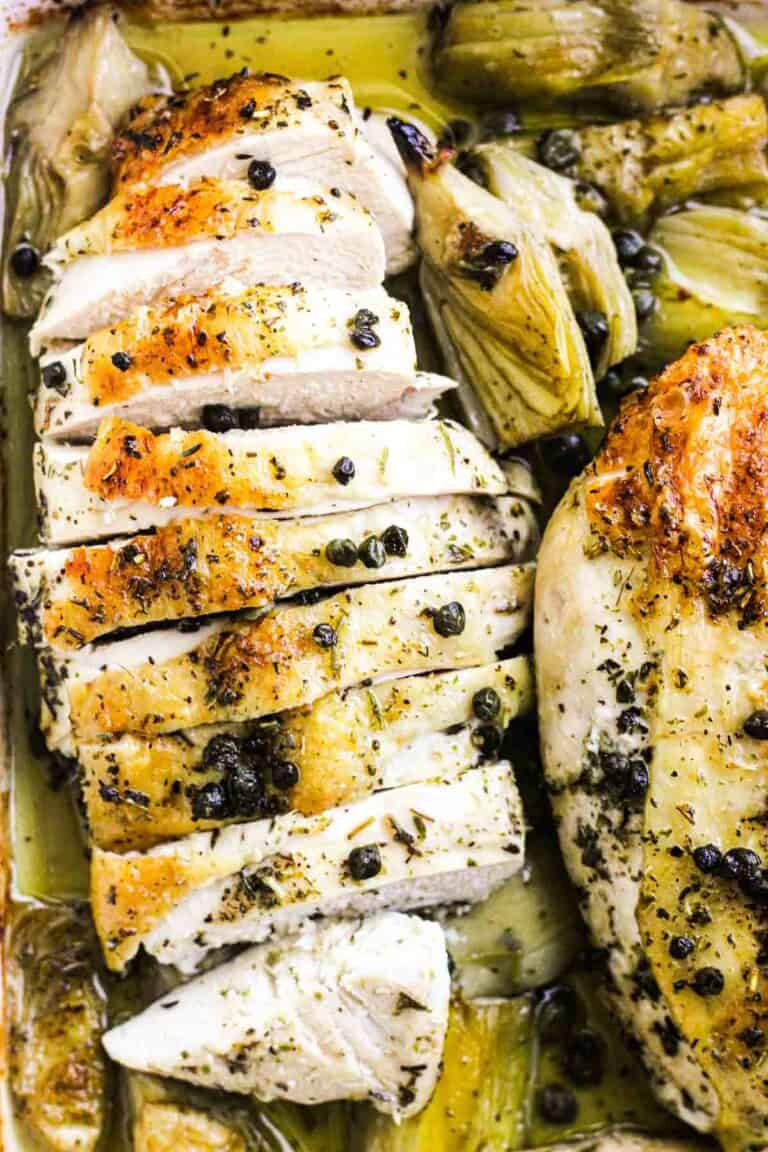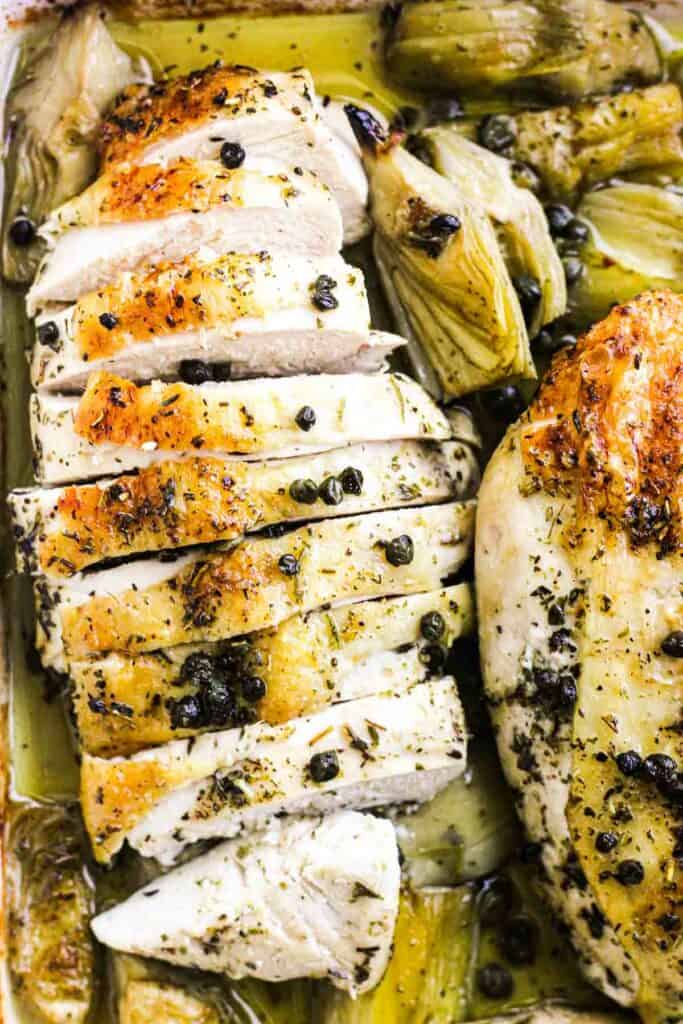 This easy recipe will not disappoint. You and your whole family will love it. Even children!
How long to bake chicken breast
It is very important to not overcook chicken breast because its easily gets dry. For a regular size breast it should take 20 to 30 minutes to cook. I ALWAYS use my meat thermometer when making any kind of meat or chicken.
Stick it to the thickest part of the breast. Its done when the thermometer shows 165 degrees Fahrenheit.
Chicken breast seasoning
My favorite seasoning for chicken is fresh oregano, rosemary and thyme. I didn't have fresh herbs so i used dried which is perfectly fine.
Can you make this recipe with thighs
Yes! Be aware that thighs will take a bit longer to cook, depending on the size. Artichokes and capers are delicious with any part of chicken and the spices will work just as well! And don't forget to check internal temperature in thighs as well.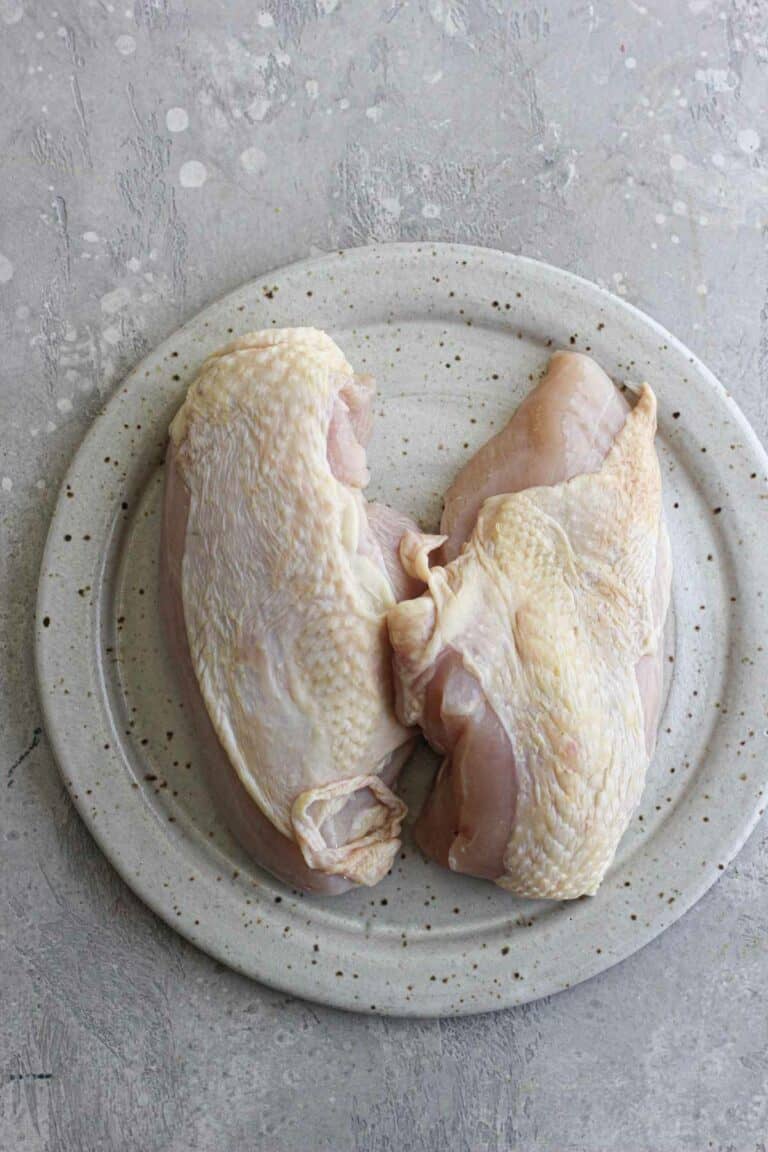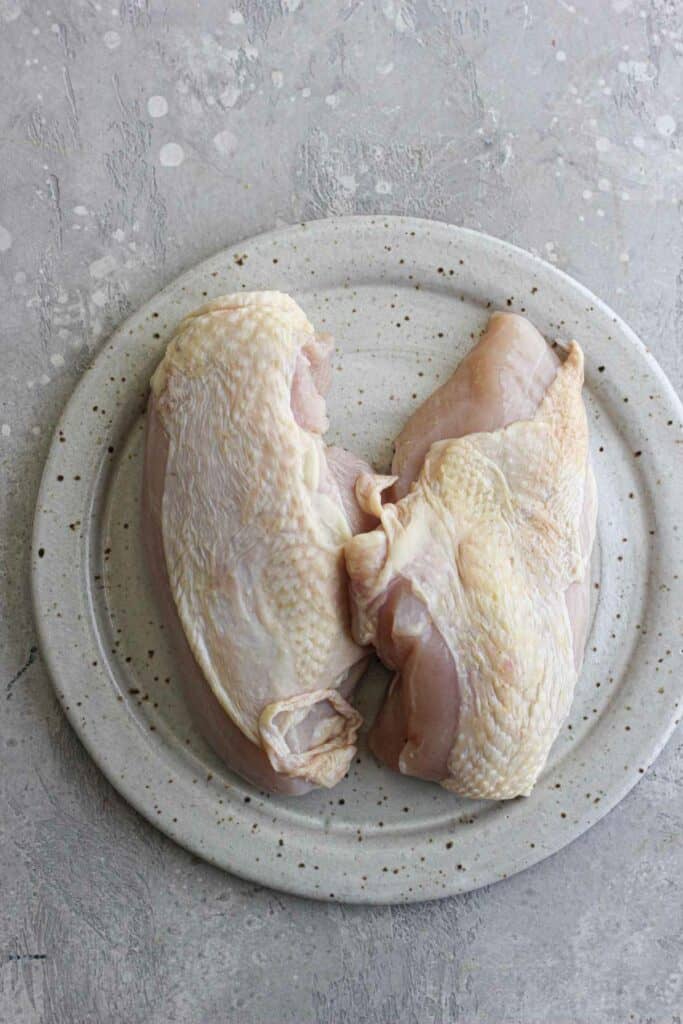 How to make oven baked chicken with artichokes and capers
The whole recipe will take only about 30-40 minutes total and its very easy to make. Let me show you how:
First, rinse chicken breast under the cold water. Don't forget to clean the sink after. Keep the skin on if you want, it will get crunchy. But if you want to reduce the amount of fat, remove the skin completely.
Pat dry chicken with paper towels and prepare the rub. Mix thyme, rosemary, basil, garlic powder,salt and black pepper. Rub it all over chicken and place chicken in to a baking dish. Lightly spray with olive oil spray.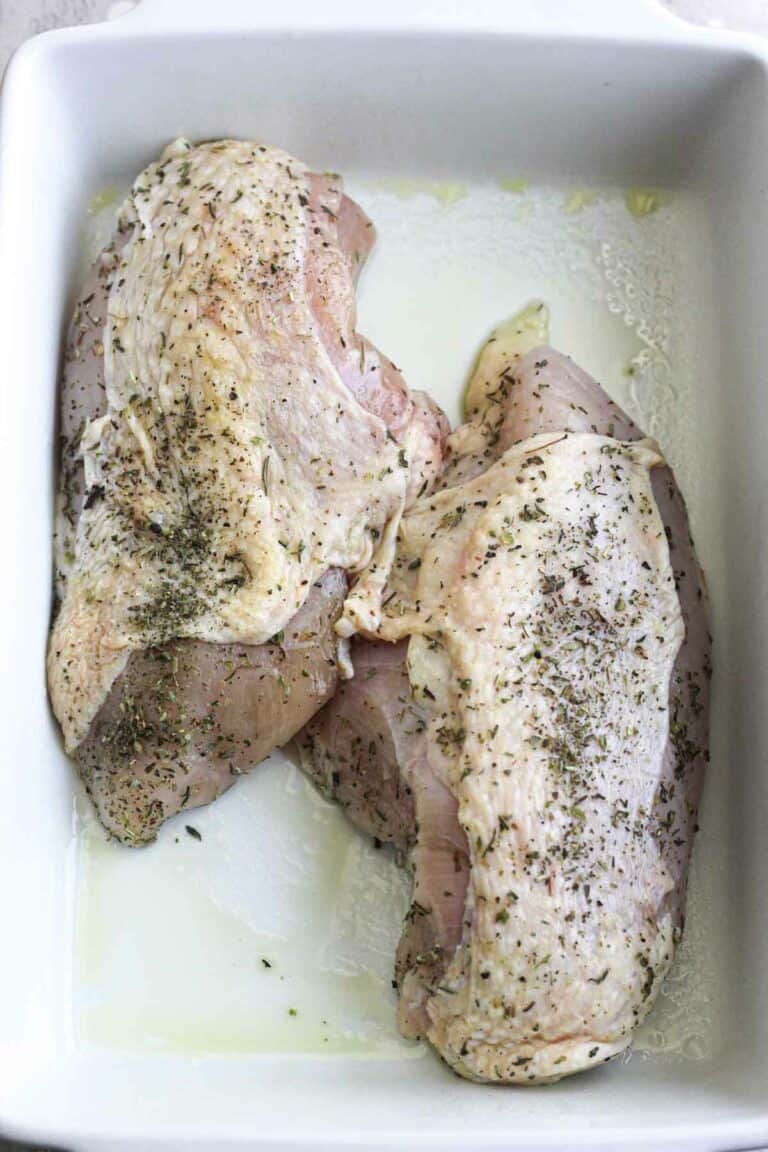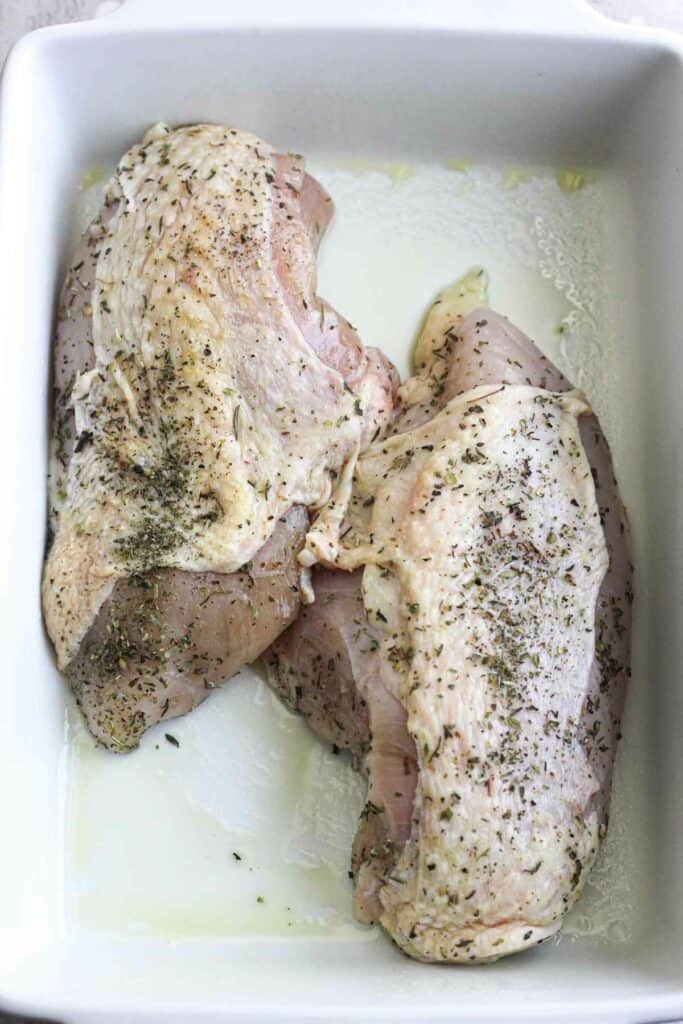 Open jars of artichokes and capers. Scoop artichokes into the dish, without oil or water. Arrange them around chicken. I uses the whole jar because i love artichokes!
You can also use frozen artichoke hearts. Scoop capers around and on top of chicken. those that are on top will get a little crispy.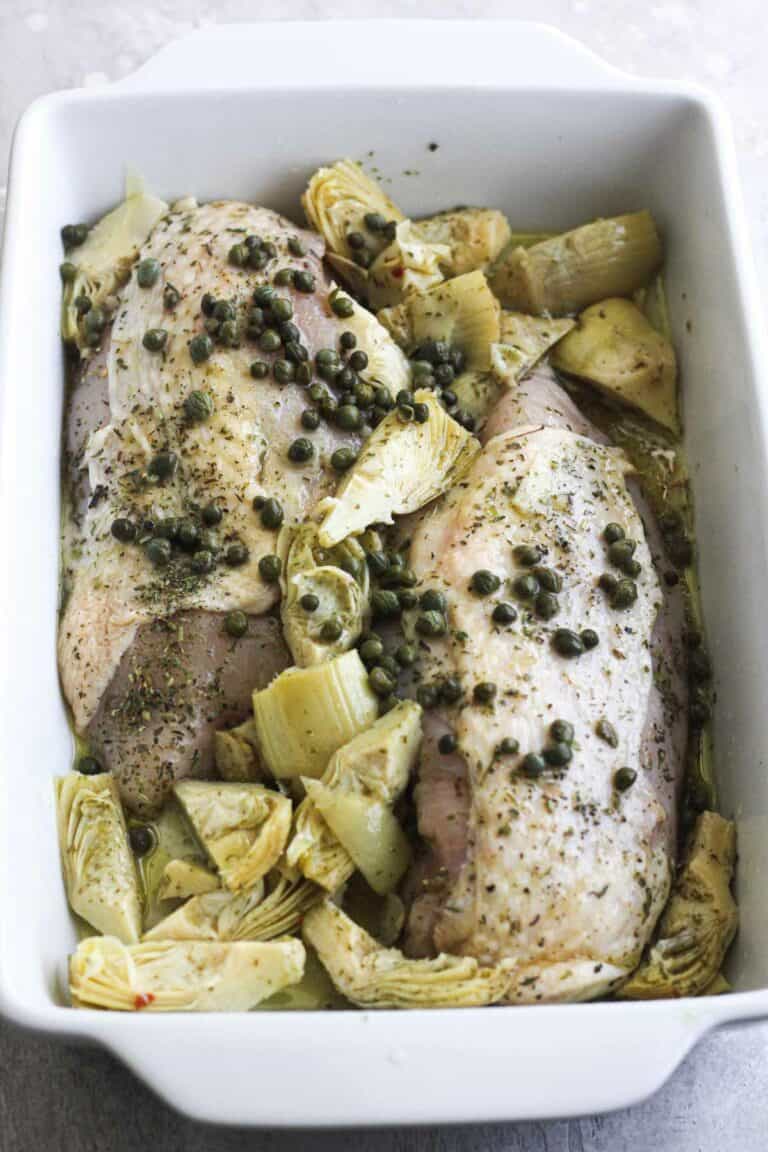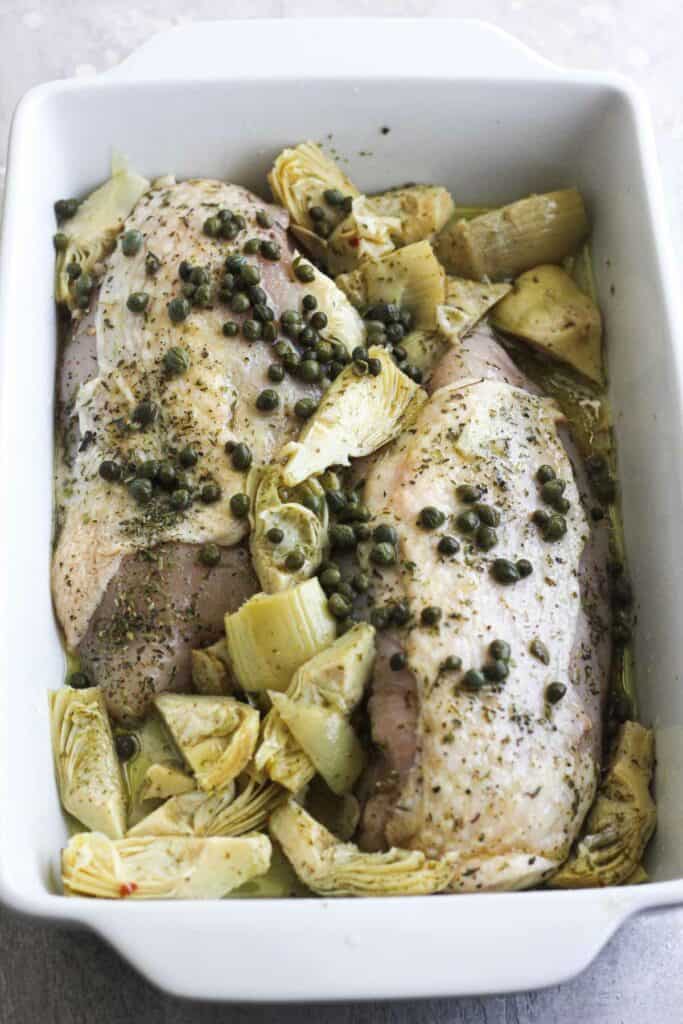 Do not use a very big baking dish so all the artichokes are kinda lay down next to each other. It will prevent them from drying out.
Now just put the dish in to the oven and wait for about 20 to 30 minutes (until the internal temperature will reach 165 degrees). Time will fly and you will feel the delicious smell coming out of the kitchen.
Voila! Absolutely delicious baked chicken with artichokes and capers is ready! Let is sit on the counter for few minutes before slicing.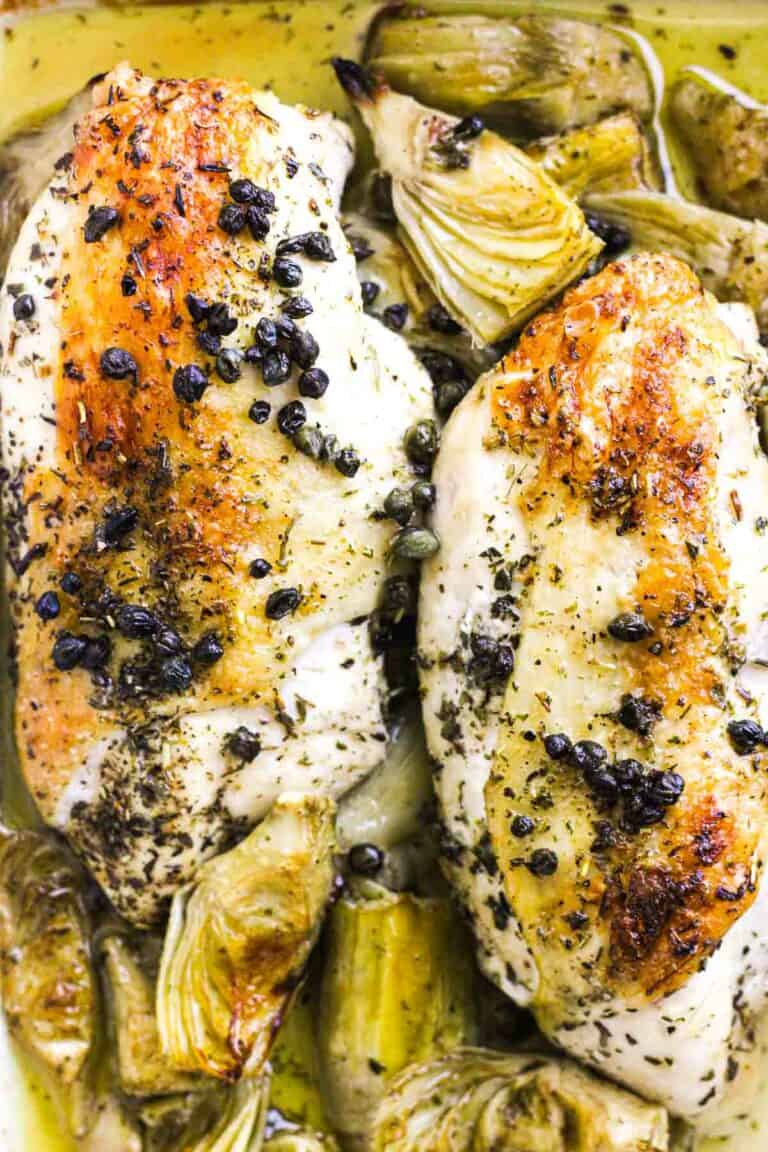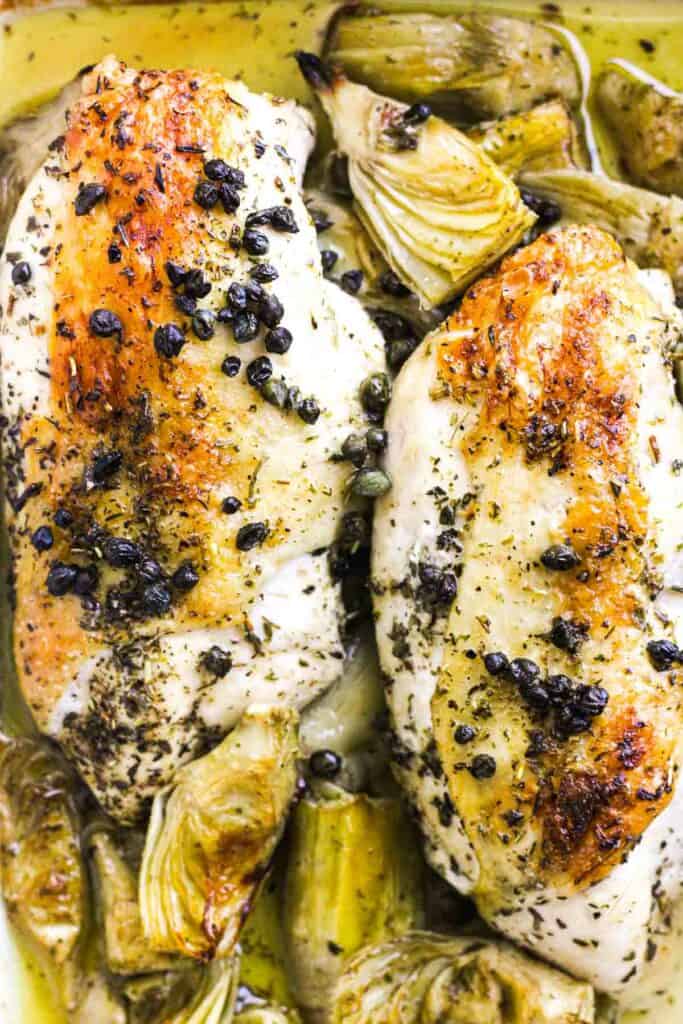 Why you will love this recipe
Its so quick and easy! Just a few ingredients and 30 minutes is all you will need.
This recipe is healthy. Chicken breast is low in fat and high in protein, perfect for those who are eating healthy and nutritional food. Drain as much oil as you can from artichokes to keep the recipe low fat.
It goes well with pretty much any side dish. Serve chicken over white rice, mashed potatoes, garden salad or a side of coleslaw. Delicious!
This is a one dish recipe. After cooking you will only need to wash the baking dish. Especially if you will lay it with foil or parchment paper. That way it will be no dishes to wash at all.
Leftovers
Leftover chicken breast can be enjoyed cold or hot even few days later. Keep it in the fridge for up to 4 days in an air tight container. Reheat in the microwave or in the air fryer. Use on salads, with leftover rice or slice it really thin and have it on a sandwich!
You may also like…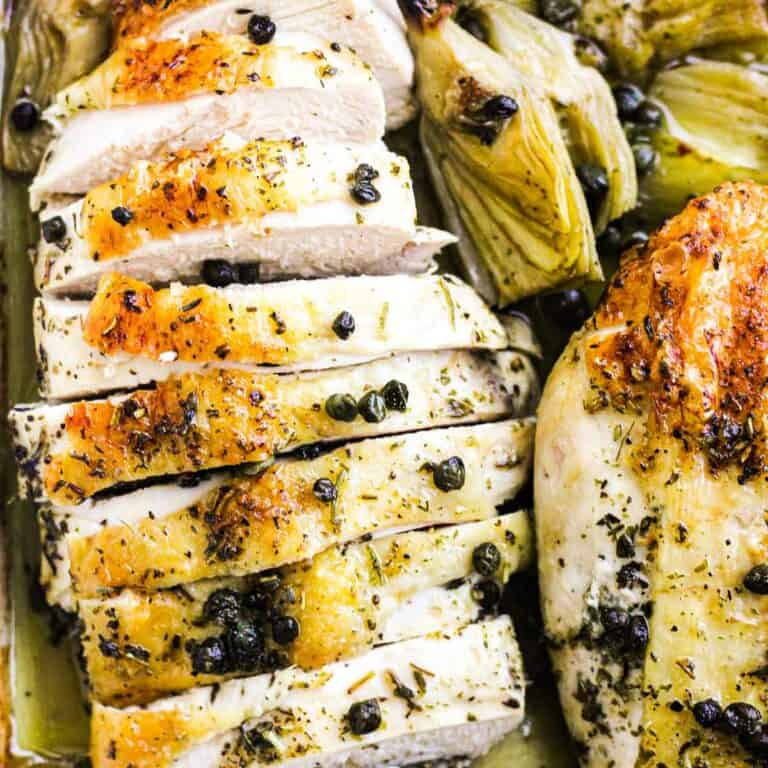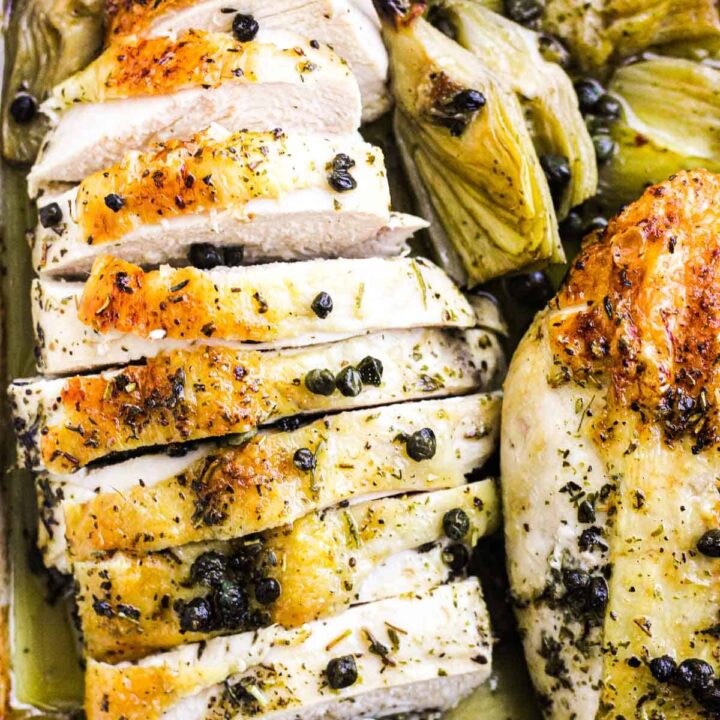 Baked chicken with artichokes and capers
An amazing way to cook a super flavorful chicken breast in the oven! Try this baked chicken with artichokes and capers recipe, super easy one pan dish with just a few simple ingredients.
Ingredients
2 chicken breasts fillets
artichokes in a jar (12oz)
3 tablespoon capers
olive oil spray
1 tablespoon dried basil
1 tablespoon garlic powder
1 tablespoon dried thyme
1 tablespoon fried oregano
1 teaspoon salt or to taste
freshly ground black pepper
Instructions
Preheat oven to 450 degrees.
Rinse chicken breasts under the cold running water and pat dry with paper towels.
Make a dry rub using all the spices listed in the ingredients and rub chicken breasts everywhere (including under the skin). Place chicken in the baking dish and spray lightly with olive oil spray.
Open artichokes jar and scoop artichokes into the baking dish. Add capers.
Place the baking dish into the oven for about 20-30 minutes depending on the thickness of your chicken. Chicken is done when its internal temperature is 165 degrees.
Notes
Place chicken in the baking dish skin side up
Use meat thermometer to check internal temperature. Its has to show 165 degrees Fahrenheit for the breast to be done and safe to eat.
Do not overcook chicken or it will become dry and hard to chew/
Nutrition Information:
Yield:

3
Serving Size:

1
Amount Per Serving:
Calories:

190
Total Fat:

7g
Saturated Fat:

1g
Trans Fat:

0g
Unsaturated Fat:

5g
Cholesterol:

56mg
Sodium:

983mg
Carbohydrates:

9g
Fiber:

4g
Sugar:

1g
Protein:

23g