You need to try this delicious melt in your mouth tender sauteed chicken hearts and gizzards stew recipe. So good over rice or mashed potatoes!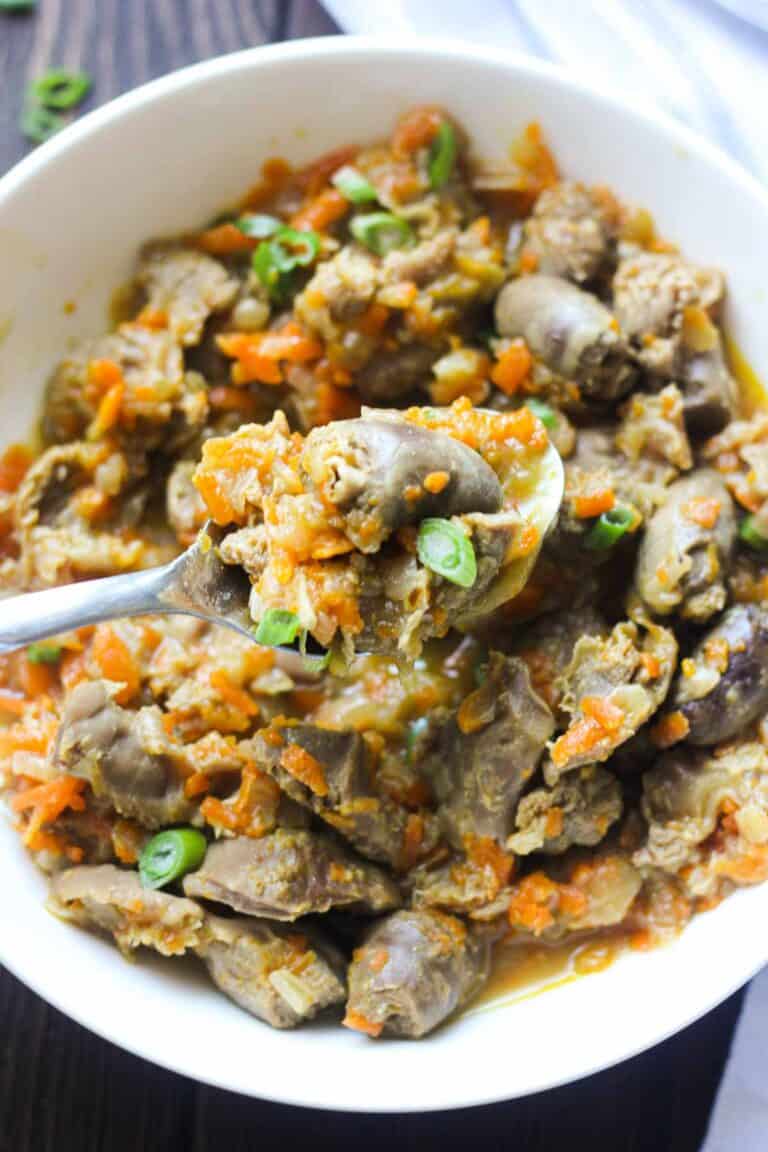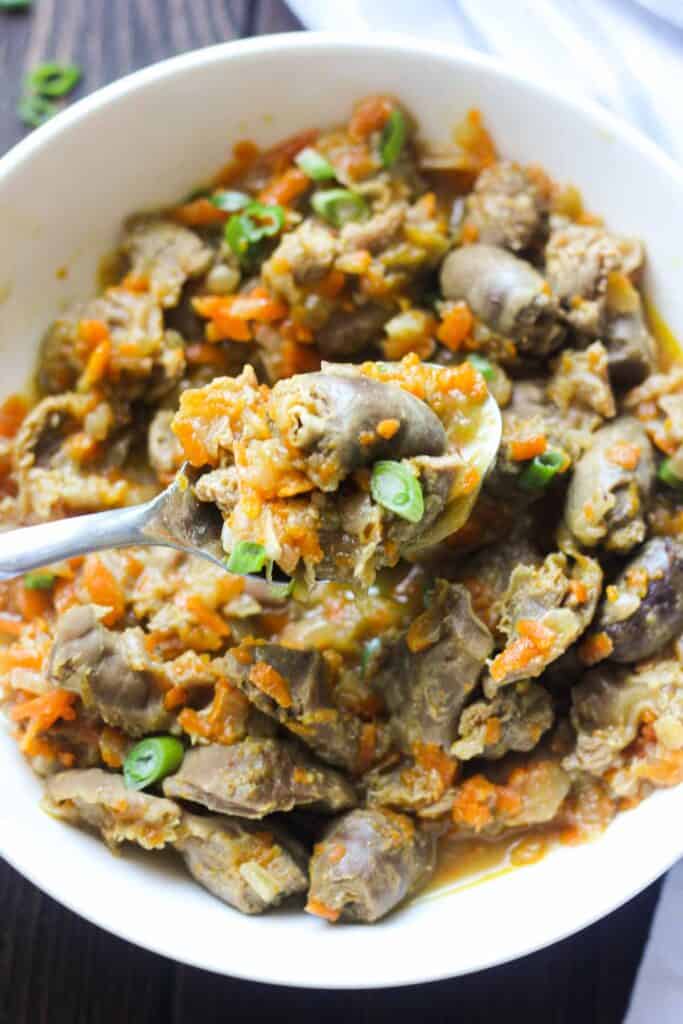 Chicken hearts and gizzards are very popular in a lot of countries. In Russia we do not throw away offal meat, we cook it into delicious dishes and enjoy them together.
I want to share a recipe that is popular in my family and i hope you will enjoy it too.
Where to buy it
Gizzards and hearts are sold in most grocery stores in United States. Sometimes you can find it in frozen meats isle but also in the fridge next to refrigerated chicken.
The package is about 1 pound each. The recipe is very flexible and forgiving so if your pack is a bit less or more then that its ok. Just use whatever you have.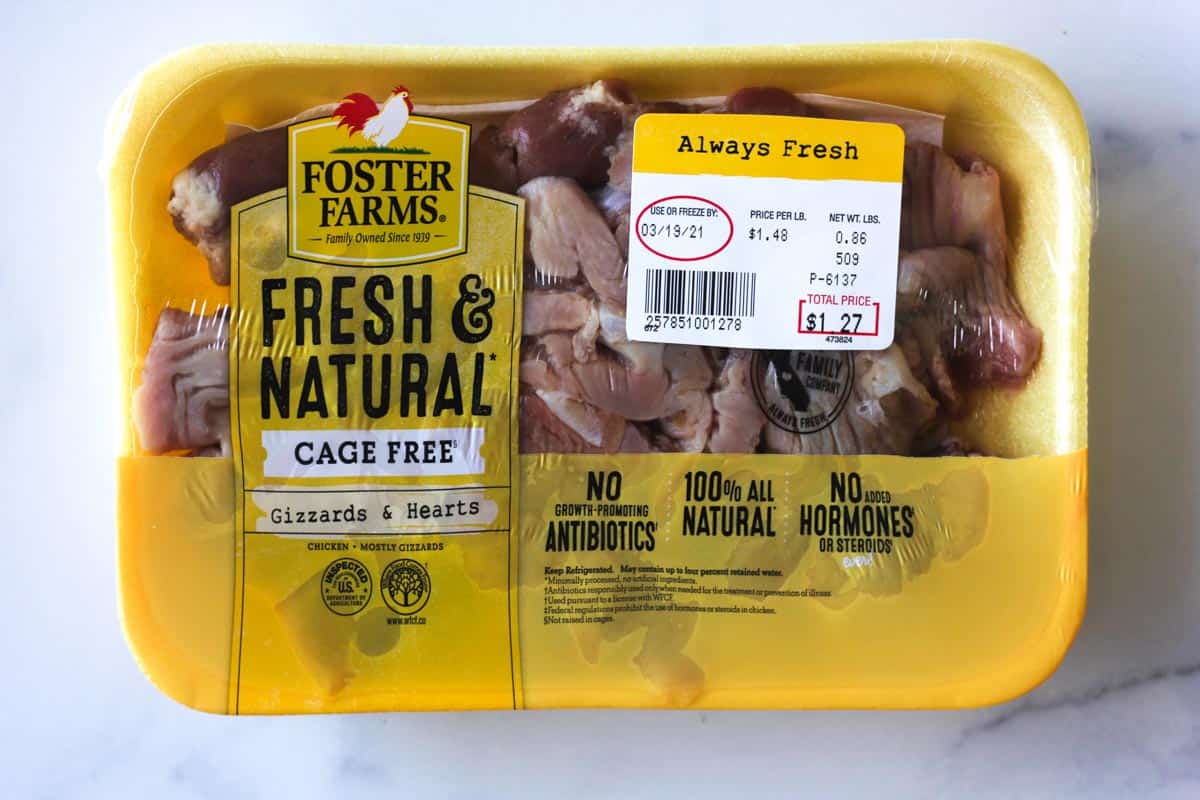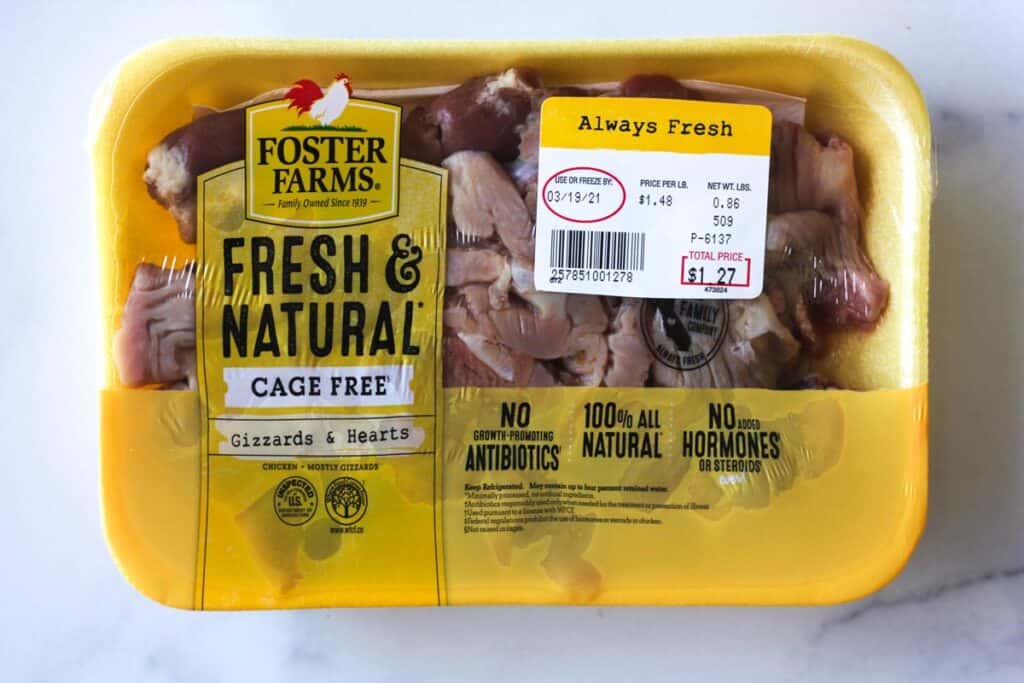 How to cook chicken gizzards and hearts
The main secret to tender chicken hearts and gizzards is cooking time. They need to be cooked low and slow for as long as you can. Here are step by step recipe instructions:
Chop onion and carrots. I use about 1 each for a pound of chicken hearts. Saute veggies in oil until tender and fragrant.
Cut gizzards in half and add them with hearts to the pan. Add water, spices and saute on low for at least one hour.
That's pretty much it! Enjoy with your favorite side.
Serving suggestions
Serve this hearts and gizzards over rice or with mashed potatoes. I like it most when served over buckwheat and this is how i would eat it while in Russia.
Also thinly slice some scallions on top, it will add nice crunch and beautiful color to the dish.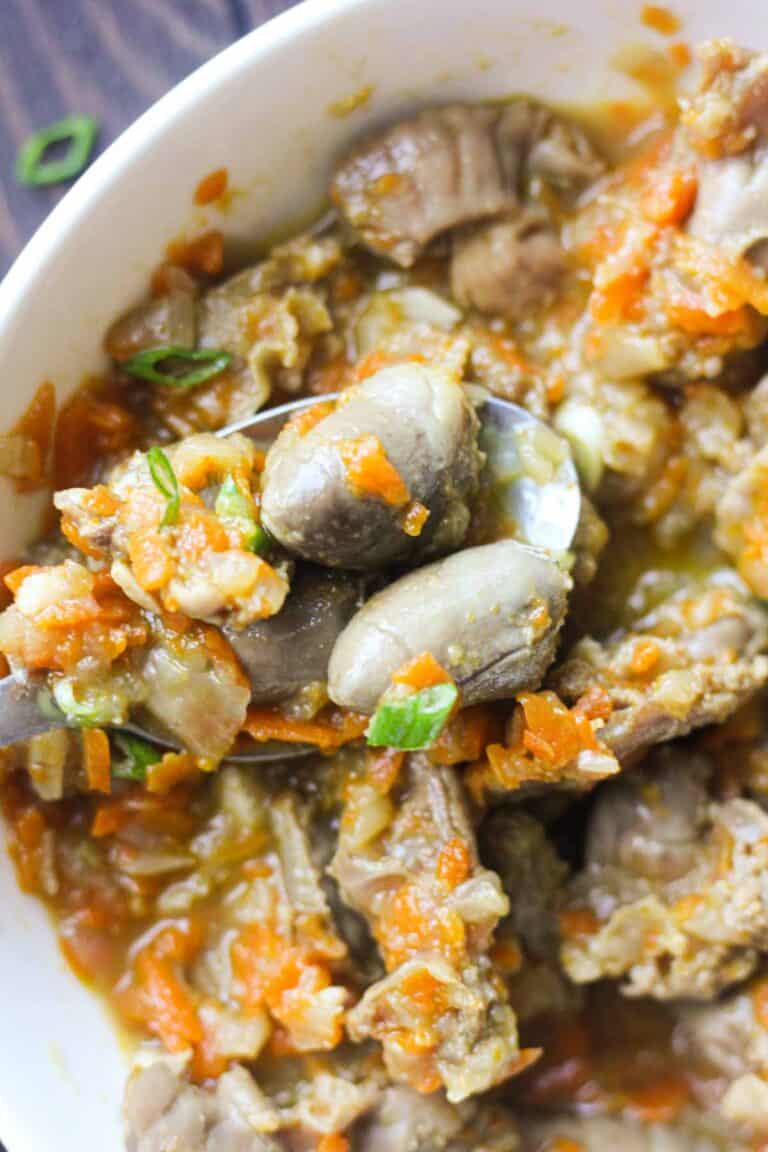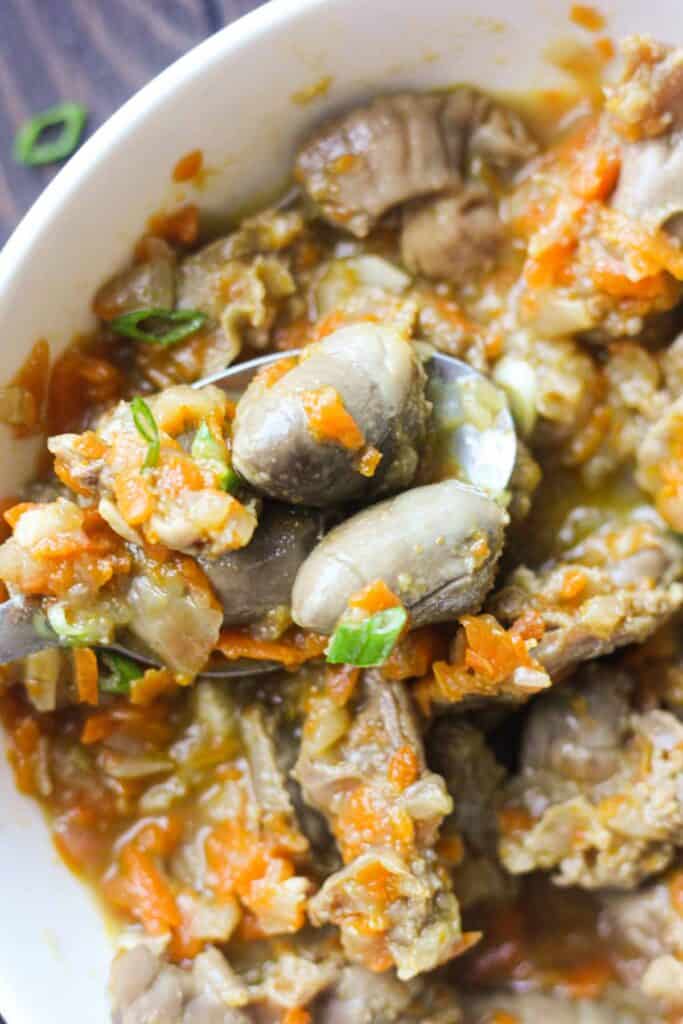 You can double or triple the recipe if you like. The cooking time will remain the same.
Have leftovers? You can store them in the fridge for up to four days in the air tight container or in the bowl covered with the piece of foil, or a flat plate. Simply reheat in the microwave.
Or freeze leftovers. Use a container with a lid for it and keep in the freezer for couple months.
Instant pot instructions
This recipe can be adjusted for a pressure cooker. Saute veggies right in the pot and the add chicken with water. Cook on high pressure for 30 minutes and quick release. Will be melt in your mouth tender!
Ninja Foodi or Instant pot, it doesn't matter, all pressure cookers will work the same.
More offal recipes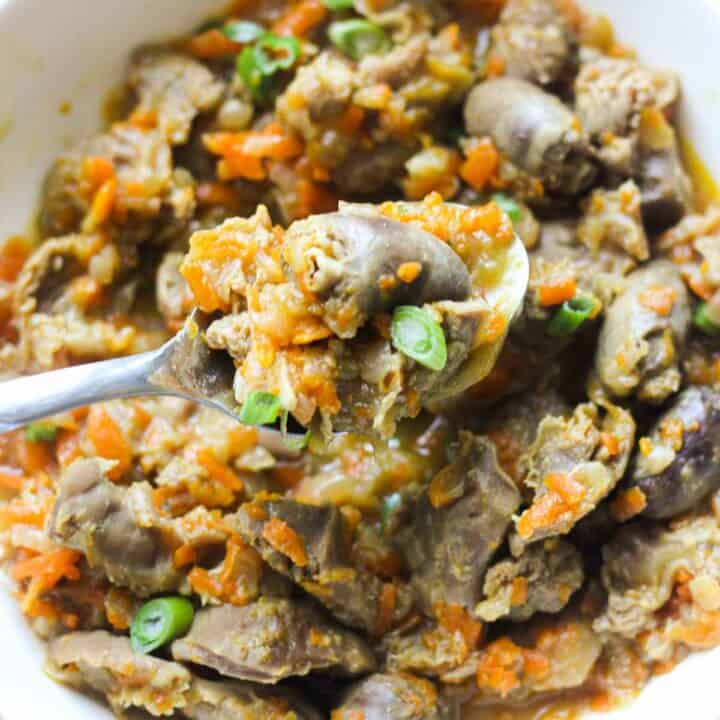 Sauteed chicken gizzards and hearts recipe
Cook Time:
1 hour
30 minutes
Total Time:
1 hour
35 minutes
You need to try this delicious melt in your mouth sauteed chicken hearts and gizzards stew recipe. So good over rice or mashed potatoes!
Ingredients
1 lb chicken hearts and gizzards
1 onion
1 carrot
1 teaspoon salt
freshly ground black pepper
1 teaspoon garlic powder
2 garlic cloves
1 teaspoon oil
1 cup of water
Instructions
Heat oil in a medium size heavy bottom pan or pot. Add chopped onion, grated carrot and minced garlic. Cook on medium heat until soft and fragrant, about 5 minutes.
Meanwhile rinse hearts and gizzards under running water. Slice gizzards in half. Add chicken to the pot along with a cup of water and spices.
Bring to a boil and then reduce the heat to low and cook for about 1 hour and 30 minutes. Stir once.
Serve over rice or mashed potatoes. Or as is! So good!
Notes
You can cook gizzards and hearts for as long as you want, it will only get better and more tender.
Top the dish with crunchy chopped green onions for extra flavor.
Slicing gizzards in half is optional.
You can easily double or triple the recipe and freeze the leftovers. Reheat in the panwith a touch of oil.
Nutrition Information:
Yield:

3
Serving Size:

1
Amount Per Serving:
Calories:

344
Total Fat:

14g
Saturated Fat:

4g
Trans Fat:

0g
Unsaturated Fat:

8g
Cholesterol:

434mg
Sodium:

811mg
Carbohydrates:

7g
Fiber:

1g
Sugar:

2g
Protein:

45g