This post will show you how to cook melt in your mouth beef tendon. It creates a fantastic broth that can be used as any soup base. Instant pot, slow cooker and stove top instructions.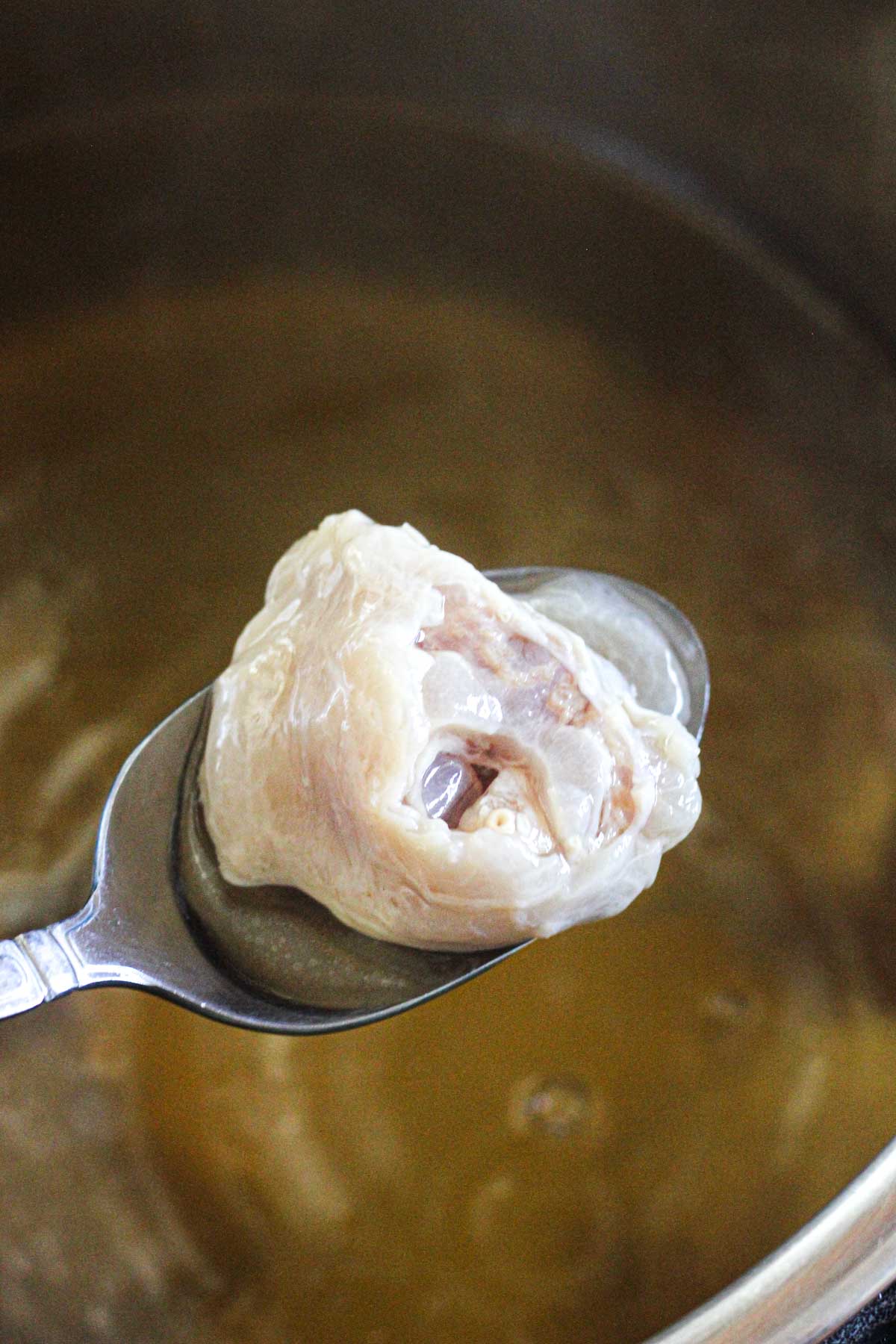 Each time i go to Vietnamese restaurant in our town, i order beef pho with extra tendon and brisket pieces. It took me a while to understand what part of beef i like so much… Lets learn it together!
So, beef tendon is a fibrous band of tissue that muscle to the beef bone. This cut is widely popular in Asian cuisine.
Raw tendon in very tough and fibrous and honestly look pretty weird. When you cook it enough it becomes very soft and melts in your mouth.
Is it healthy to eat?
The amount of collagen in beef tendon is crazy! It basically made out of collagen. You can easily make a bone broth with just one tendon and a gallon of water, it will gelatise (is it even a word?) well and get hard in the fridge.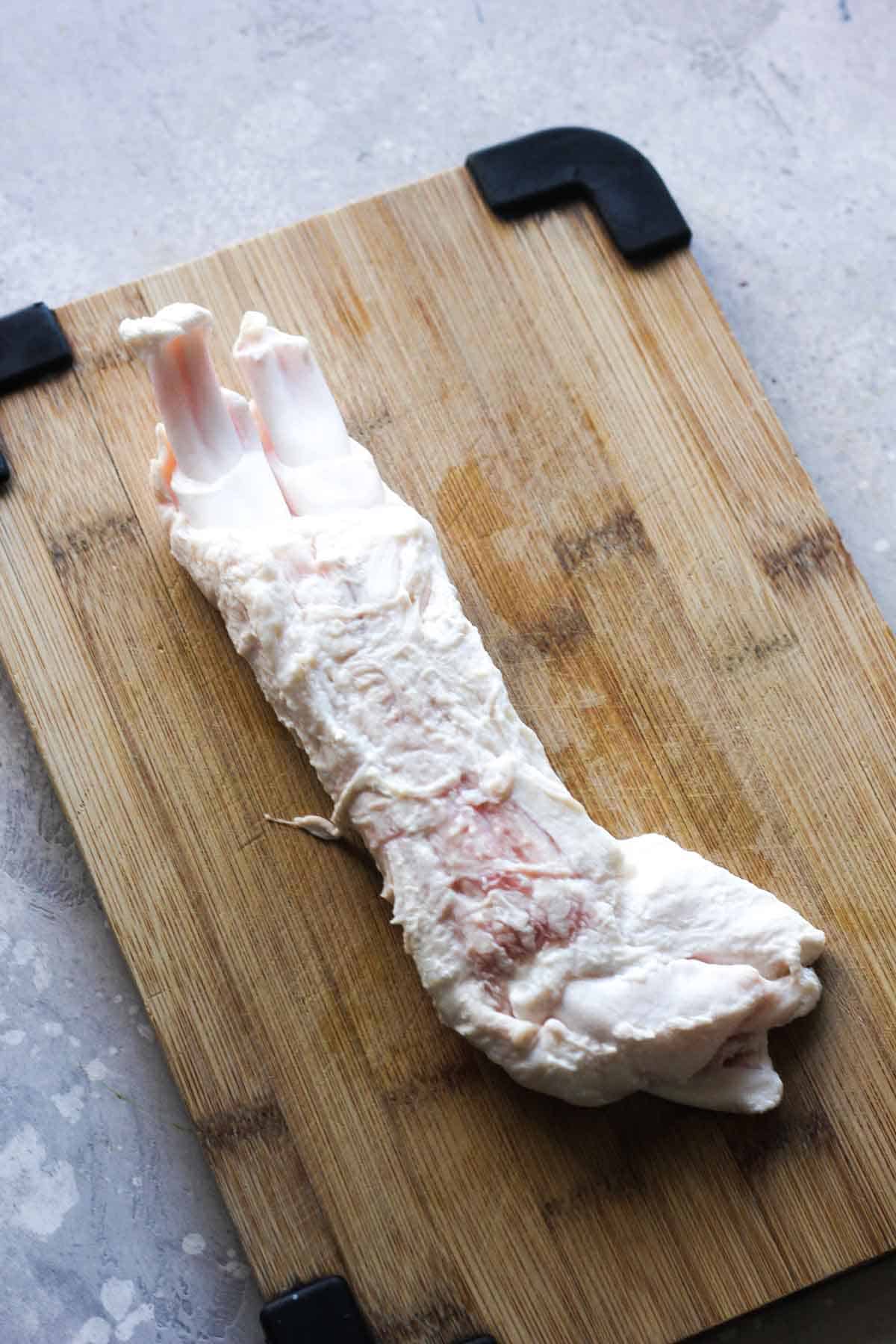 Collagen is so good for you, for your joints and skin. Besides that beef tendon is a great source of protein and very low in fat and carbs.
Where to buy
I live in Northern California, in a Central Valley and as long as you dont have Asian stores its hard to find a tendon. They definitely sell this at Chinese grocery stores, Japanese or Vietnamese. I managed to find it in the Mexican butcher shop across the street. Bucther stores are great to get this cut of meat from.
Well now its time to cook our delicious beef tendon! There are few different ways to make a good tender tendon with rich yummy broth:
Beef tendon recipe for slow cooker
Crock pot is a great way to cook tendon. Just set it in the morning and forget it. Or start in the evening and you will get a delicious rich and flavorful broth in the morning. You will need two beef tendons in the 8 quart slow cooker.
Fill the crock pot with water , leaving couple inches of free space on top. Add tendons, half of peeled onion and salt to taste. Cook on low for 10 hours.
Stovetop recipe
Add about 10 cups of water to the large pot along with cleaned and scrubbed tendons. Peel and cut onion in half and add to the pot. Bring to boil and then simmer over low heat for about 7 hours. Keep the lid closed to prevent water from evaporating. If you still feel like some water is gone, add more fresh boiling water and keep cooking.
Pressure cooker recipe
Add 10 cups of water to the Instant pot or any other pressure cooker. There is a line inside the pot so you don't have to measure cups manually. Add clean, washed and scrubbed tendons, two will be perfect. Add half of the onion, salt to taste and bring to a high pressure.
Set Instant pot to 100 minutes for very soft meat or 80 for chewy, chose what you like the most. Let it cook and then do a quick release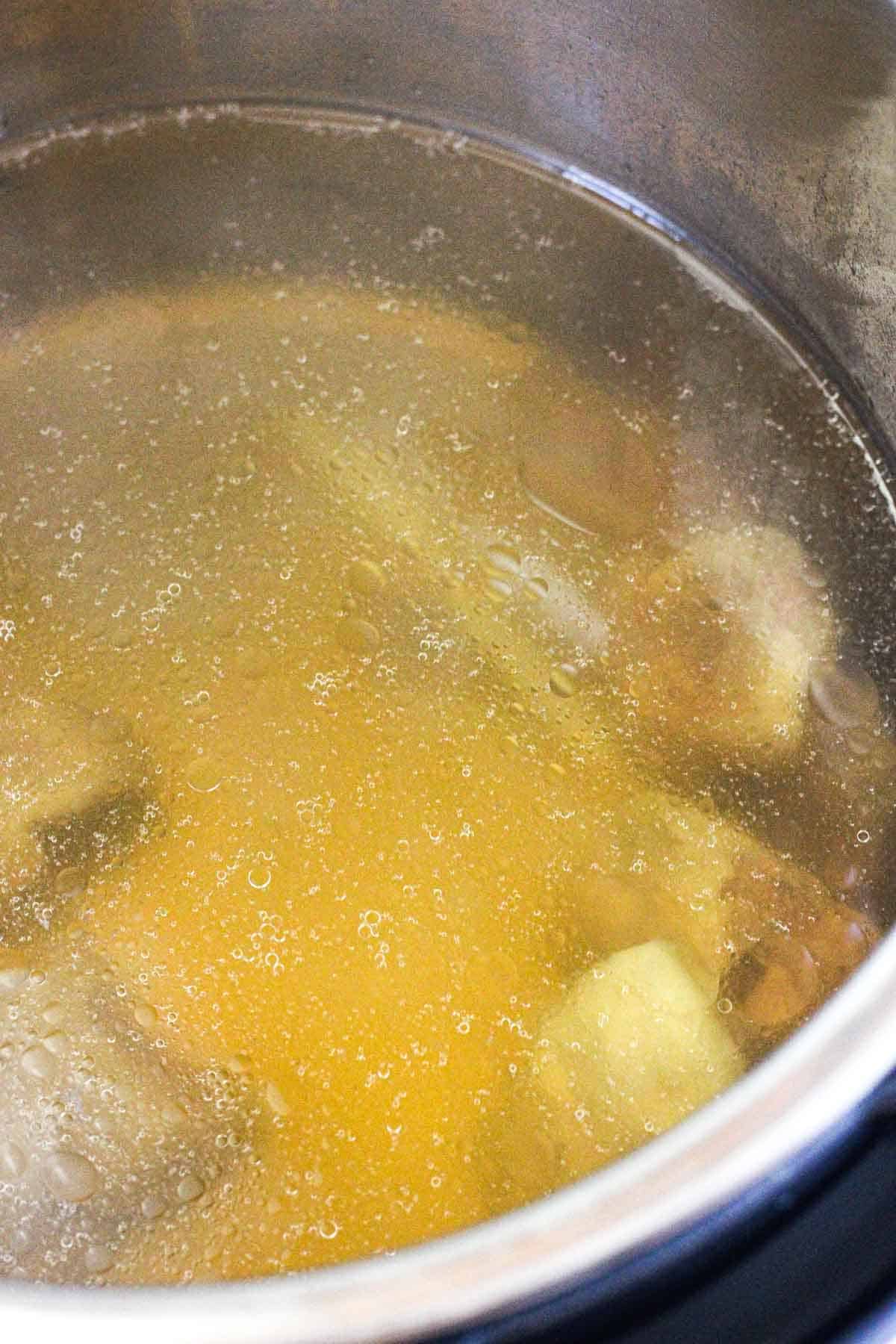 I just love when beef tendon is soft it just melts in your mouth.So each i time cook it i go with the maximum time. Traditionally in Pho soup, tendon is cooked until its chewy but not too soft. Anyways, its all a personal preference and you always can cook it the way you want.
I love recipes where the main ingredients is offal meat, or any other kind of unusual meat cut. Lots of people, especially in US feel weird eating this but in the rest of the world it totally normal (including Russia where i was born and raised).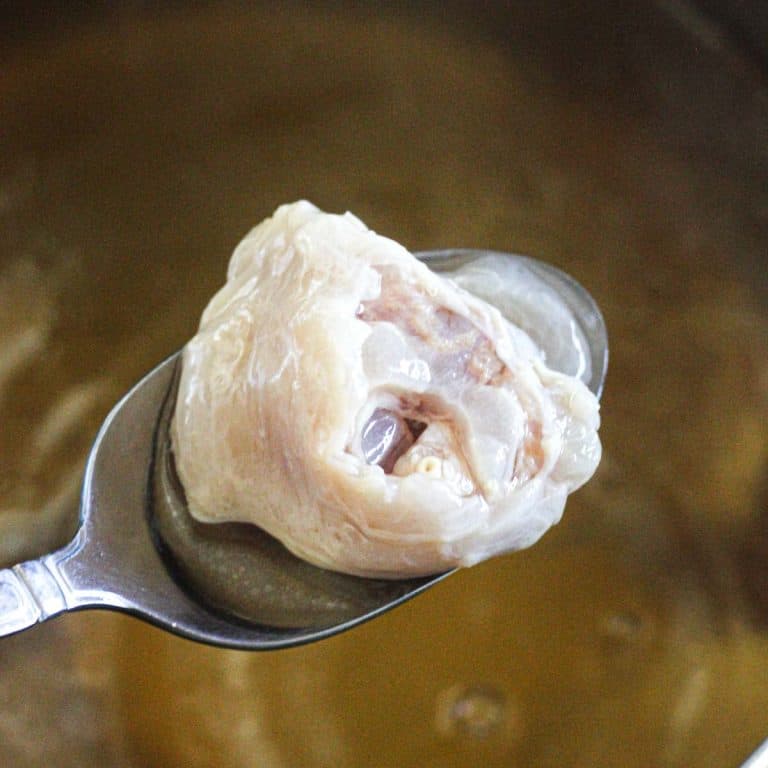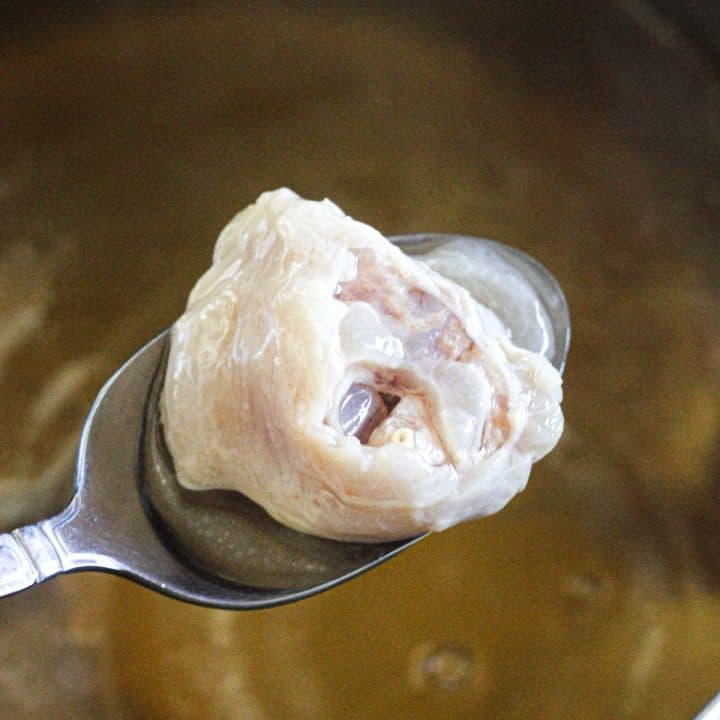 How to cook beef tendon
Cook Time:
1 hour
40 minutes
Total Time:
1 hour
45 minutes
Melt in your mouth beef tendon recipe for any meat lover. It creates a fantastic broth that can be used as any soup base. Instant pot, slow cooker and stove top instructions.
Ingredients
2 beef tendons
1/2 onion
salt to taste
bay leaf (optional)
Instructions
Remove beef tendons from the package. Wash them really well and scrub if needed. Remove any hair that may be stuck to it with tweezers.
Instant Pot instructions
1. Fill your pressure cooker with water, about 4 cups. Turn on the SAUTE mode and bring to boil. Add tendons to the water and let cook for 5-7 minutes. Drain the water and fill it up again with clean water, 10 cup (for 8 quart pressure cooker)*
2. Add a half of the onion and salt, you may also add a bay leaf. Turn the lid on, lock it and bring the pot to high pressure. Cook for 100 minutes for super soft melt in your mouth tendons, or 80 minutes for chewy.
3. Quick release the pressure and open the lid. Discard the onion. Your broth is ready and tendons are cooked to perfection.**
Slow cooker instructions
1. Bring a small pot of water to boil and add tendons to it. simmer for 5 minutes and then drain.
2. Add about 8-10 cups of fresh water to your slow cooker (6-8 quart). Add tendons and a half of the onion. Add salt to taste. Cook on high for 8-10 hours. Discard onion.**
Stovetop instructions
1. Add about 3 cups of water to the pot. Bring to boil and add tendons. Simmer for 5-7 minutes, then drain. Add 10 cups of fresh water and boil again. Add onion, salt and bay leaf if using.
2. Cook for about 8 hours on a low heat with the lid on to prevent water from evaparating. Check on tendons to get desired tenderness. It may take 10 hours for a melt in your mouth tendon.
3. Once cooked, discard onion and bay leaf. Salt more to taste if needed. **
Notes
*use 8 cups of water for 6 quart instant pot
**broth can be used for Pho ,as a base for any other soup. You can freese it in portions and use as a broth in cooking.
** let beef tendons cool off and then slice them and eat in the soup or by themself. East as is or dip in to a sauce.
Nutrition Information:
Yield:

8
Serving Size:

1
Amount Per Serving:
Calories:

64
Total Fat:

4g
Saturated Fat:

2g
Trans Fat:

0g
Unsaturated Fat:

2g
Cholesterol:

18mg
Sodium:

86mg
Carbohydrates:

1g
Fiber:

0g
Sugar:

0g
Protein:

6g