Air fryer grouper recipe is so easy to make and you will be impressed by how flavorful this fish can be. Cook it with butter and freshly squeezed lemon juice, the dinner is ready in less than 20 minutes!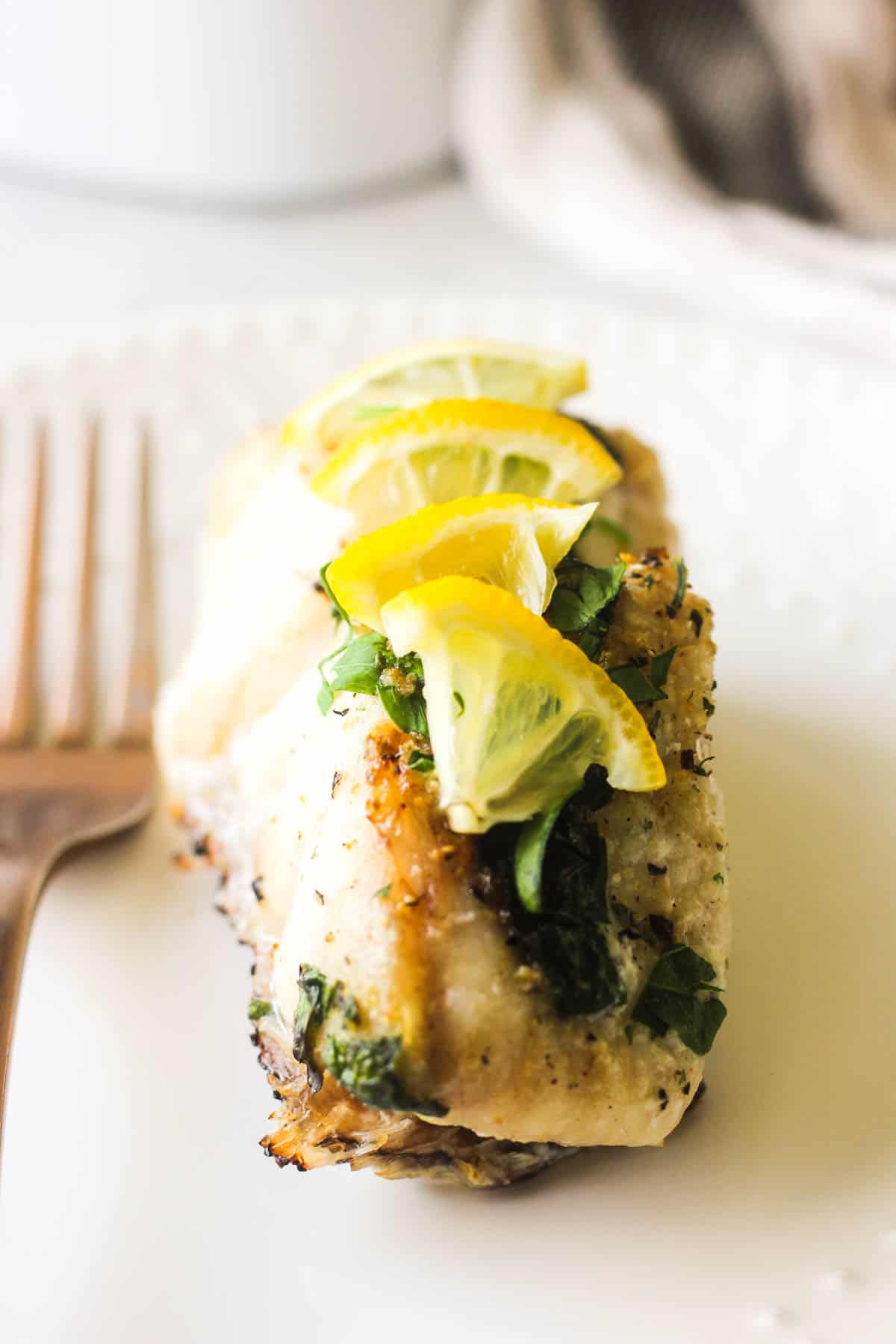 Grouper is such an amazing fish. Its available year around in United States, and most of the time its a red grouper. I already have a very popular grouper recipe on my blog, very similar to this one but made in the oven.
The most popular way you can buy it is in fillets, steaks and also the whole fish. In this recipe i used 6 oz fillet portions. The fish has high oil content and large flakes and is great for air frying, baking, grilling, broiling and even steaming.
How to make air fryer grouper
If your grouper fillet is frozen, thaw it first. Its easy to do just by leaving fish on the counter for about an hour or by defrosting it in the fridge overnight. Clean leftover scales, rinse with cold water and pat dry with paper towels.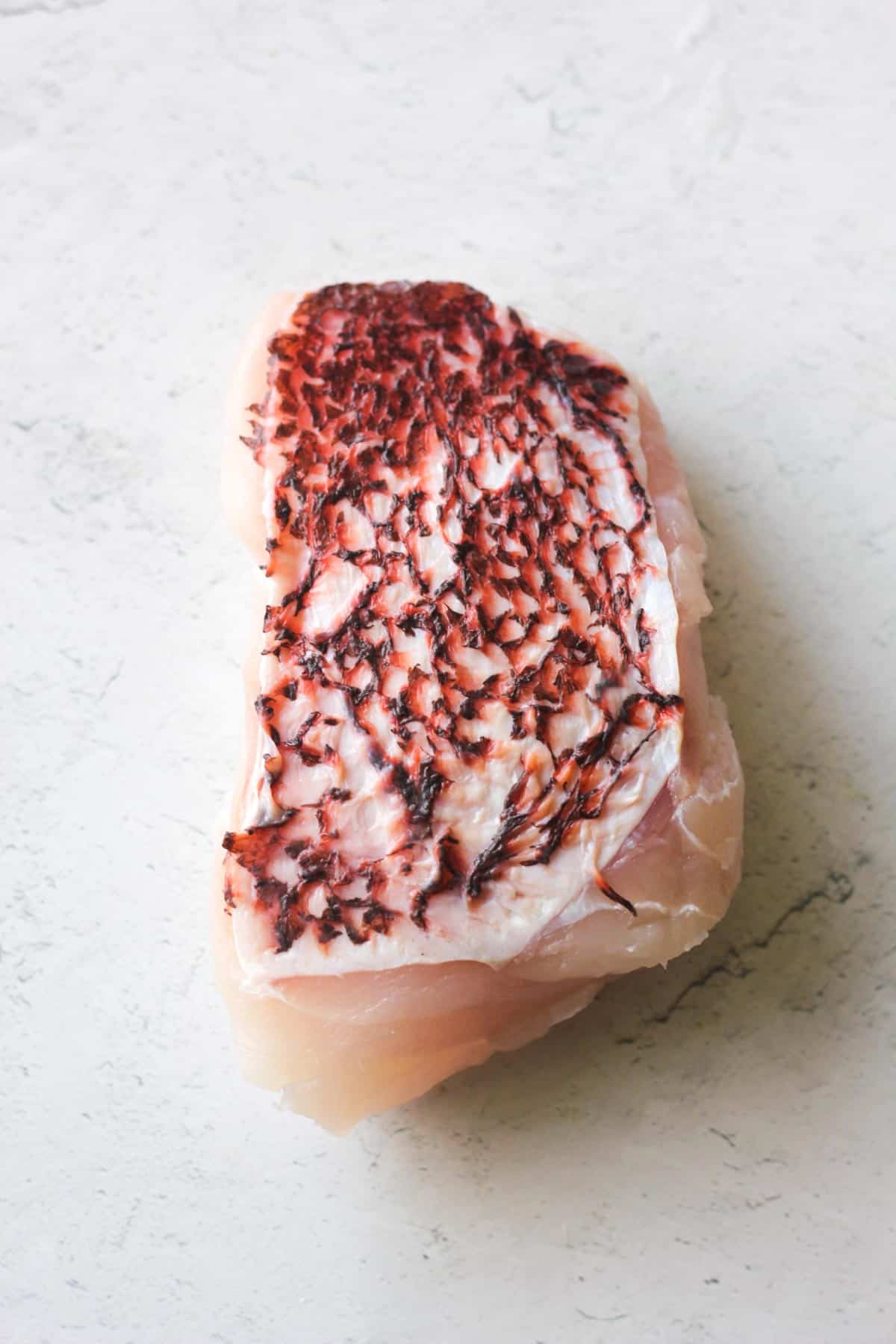 This recipe is pretty simple. Sprinkle salt, freshly ground black pepper and garlic powder on the fish. Let is sit for a minute. Meanwhile thinly slice lemon. Lay the bottom of the air fryer basket with lemon slices. Lemon will prevent grouper fillet from sticking to the air fryer basket. Plus it will infuse fish with lemon flavor.
Place seasoned fish on top. Get a small piece of butter and place on top of grouper. It will help fish stay juicy and tender. Add some chopped cilantro or flat parsley on top. Cook grouper fillet in the air fryer for about 15 minutes. More details on how to cook it properly you will find in the recipe card below.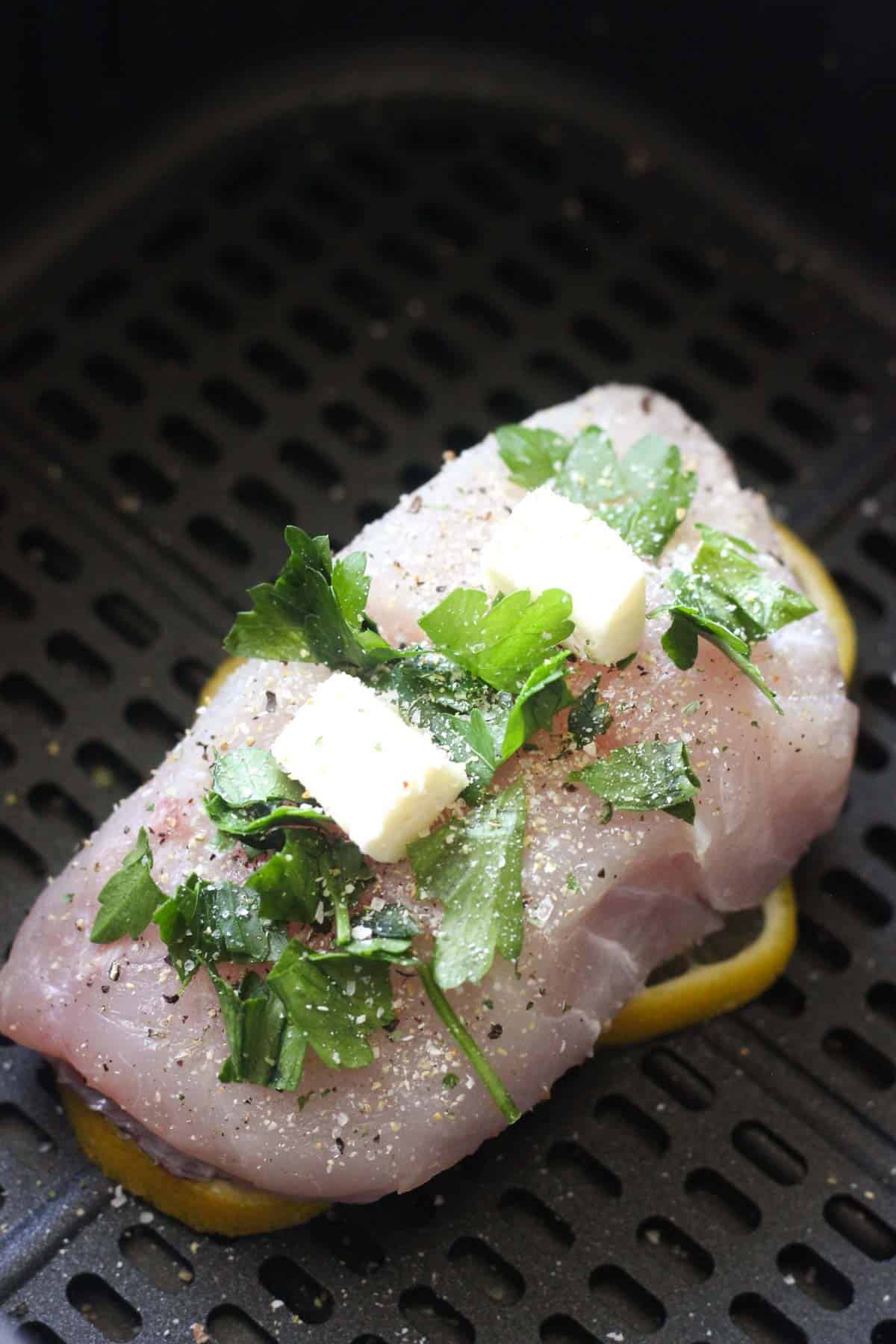 Recipe ingredients
Grouper fillet. I used fresh fish but if you have a frozen fillet, thaw it first.
Lemon. Its great to use lemon slices to prevent fish from sticking to the air fryer basket. Lemon juice is excellent to keep the flavor a little bit zesty.
Cilantro. Essential for a great presentation of the dish. You can add more fresh cilantro as well after fish is cooked for more vibrant color.
Salt and black pepper. Freshly ground pepper is always best.
Garlic powder. An essential ingredients in many seafood recipes.
Butter.Use unsalted butter or reduce added salt amount.
Grouper price
Wild grouper is not usually a cheap fish. For a fresh wild 1 lb order i paid about 18 dollars. I wish we had a store with local fish here. I actually had to order it online so the price also included shipping.
Usually the price varies between 13 to 18 dollars per lb. Especially if you get the fish frozen or you live around the area they catch it.
You can definitely find a much cheaper grouper as long as it's farm raised. I saw couple frozen packages in the frozen food isle in one Asian store. Fillets were thinner, so if you decide to use that fish, please reduce cooking time or the fish will end up dry.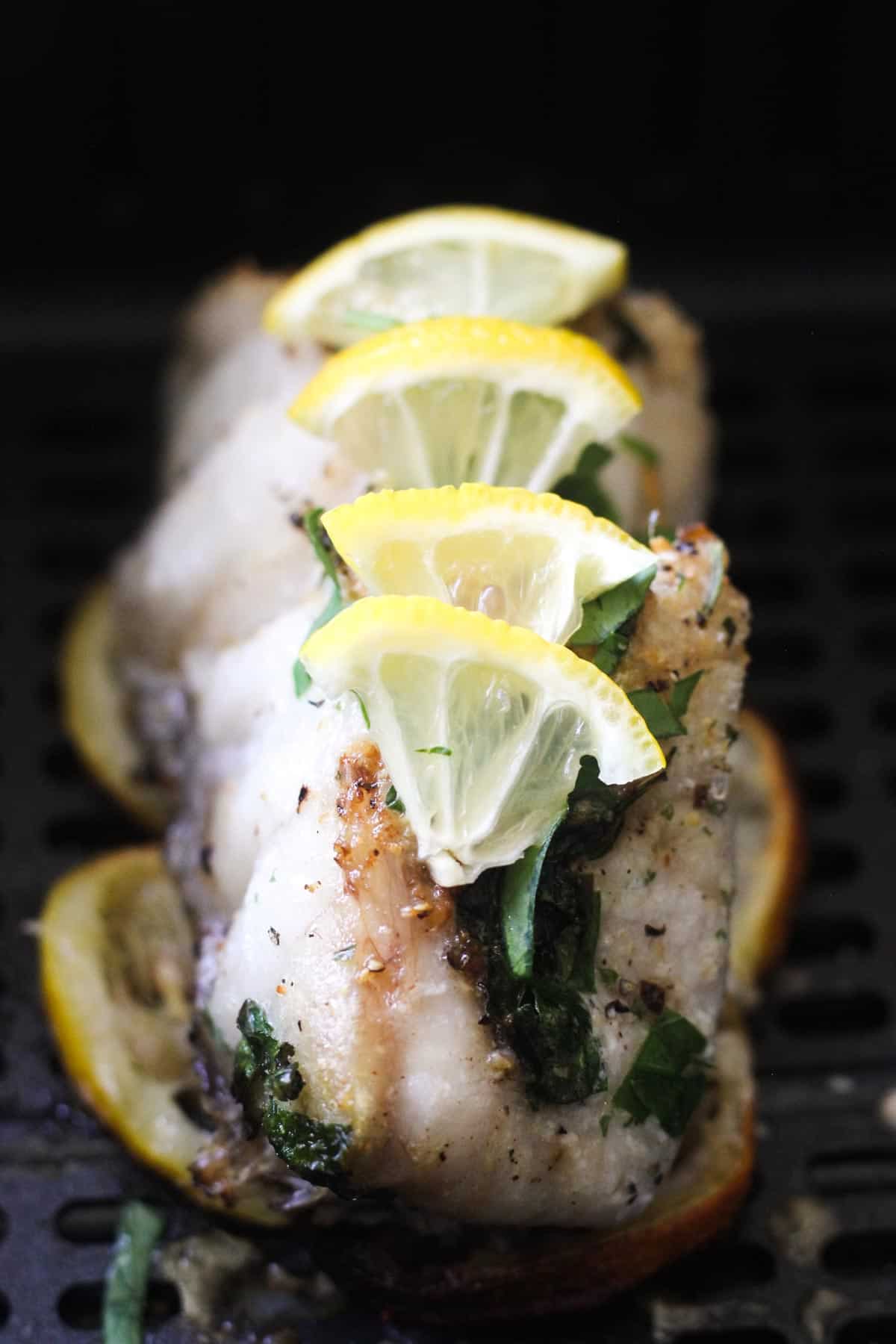 Grouper nutrition
You will not believe that this rich taste comes with so little calories. Only 92 calories per 100 grams.
Also grouper is packed with protein with over 19 grams per serving. Something you need to keep in mind is a pretty high mercury content. Limit your grouper consumption to 2 portions per month.
Expert tips
To ensure that the fish is cooked properly use an instant meat thermometer. It should show at least 145 degrees Fahrenheit for a fully cooked fish.
Do not overcrowd the basket. Less space allowed for the air to circulate means longer cooking time.
If you have favorite spices, add them too! Add a tiny pinch of cayenne pepper for a spice kick if desired.
Store leftovers in the plastic or glass container for up to 4 days in the fridge. You can also just wrap fish tightly in foil and store it this way. Reheat in the air fryer or in the microwave.
To prevent grouper from sticking to your air fryer basket, lay the bottom of the basket with air fryer liners. It's just pieces of parchment paper with holes for air circulation. Or use my preferred method- slice lemon and lay lemon pieces right under the fish. It will prevent fish from sticking and also will add lovely lemon flavor to the grouper.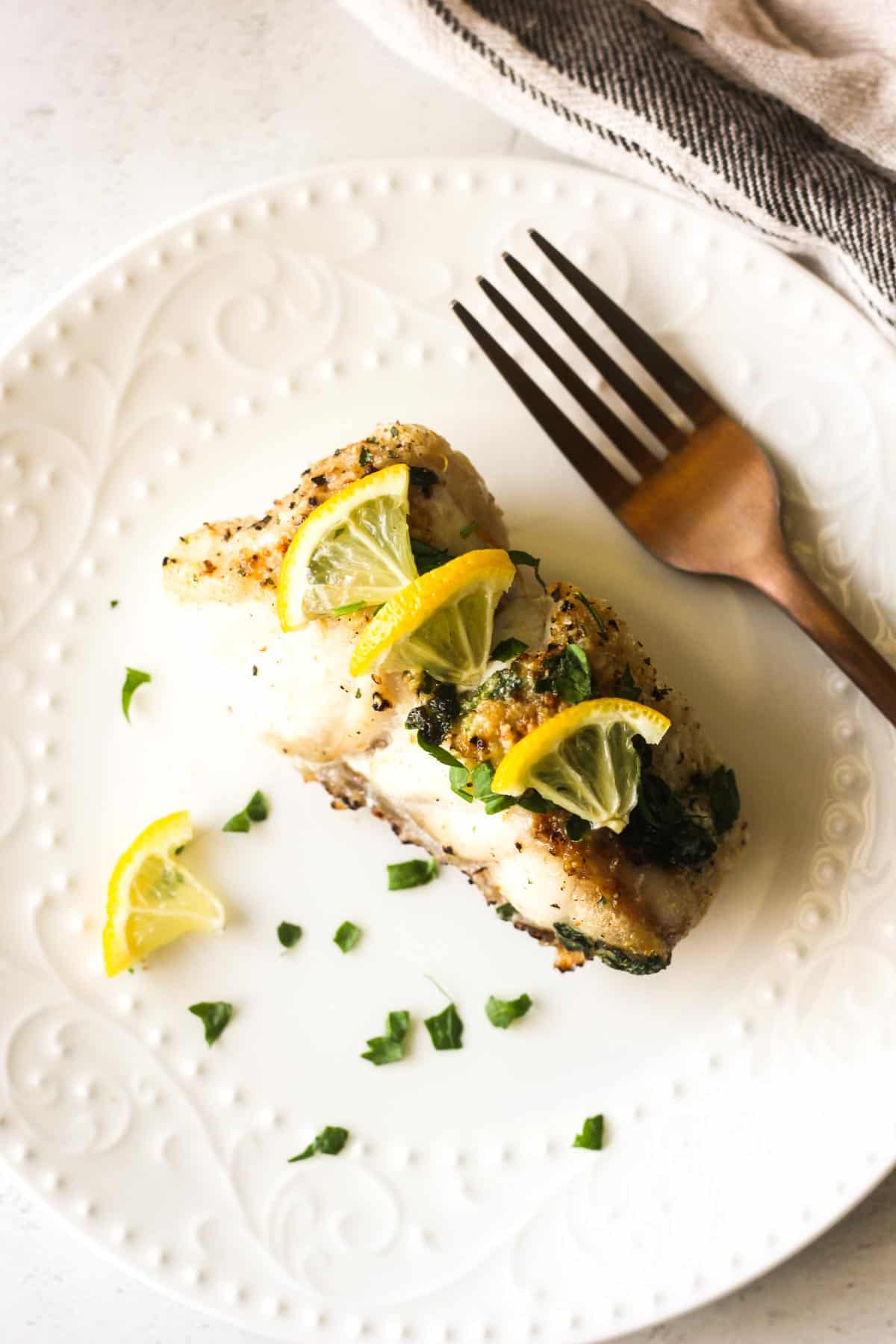 Side dishes
My most favorite way to enjoy this air fryer grouper recipe is with nice fresh garden salad. Chop juicy tomatoes, onions, cucumbers and bell peppers, add chopped cilantro and olive oil. Salt and pepper to taste and its ready to enjoy.
You can also make a nice bowl of white or brown rice. Fish always goes well with some rice for dinner or lunch. Roasted vegetables are great and light dinner option. Grill some corn on the cob, zucchinis, eggplants or mushrooms.
Leftovers
Store air fryer grouper leftovers in the fridge in the air tight container for up to 4 days. Fish doesn't last long so please eat it as soon as possible. Reheat in the microwave or in the air fryer.
You can freeze leftovers for a few months in the freezer safe containers or zip lock bag. Thaw in the fridge and reheat in the air fryer or in the microwave.
You may also like…
Hope you will like this air fryer grouper recipe as much as we did. Please rate the recipe if you made it and leave a comment below if you have any questions or suggestions. Or just want to talk!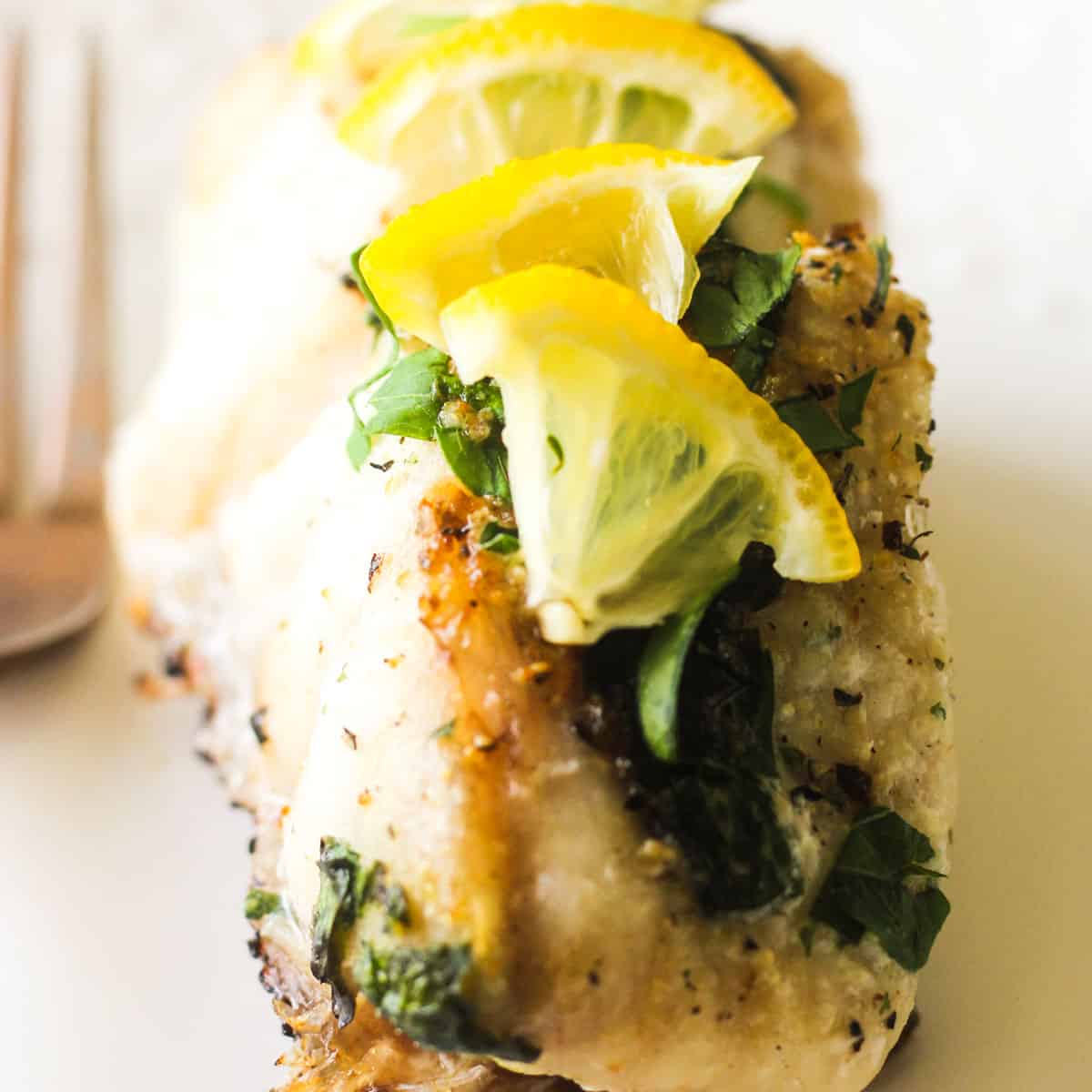 Air Fryer Grouper
Air fryer grouper recipe is so easy to make and you will be impressed by how flavorful this fish can be. Cook it with butter and freshly squeezed lemon juice, the dinner is ready in less than 20 minutes!
Ingredients
1 teaspoon butter
½ lemon, thinly sliced
½ teaspoon salt
freshly ground black pepper
½ teaspoon garlic powder
1 tablespoon chopped cilantro
Instructions
Lay air fryer basket bottom with sliced lemon pieces.
Cover fillet with salt, pepper and garlic powder.
Place grouper on top of lemon slices. Add chopped cilantro on top and 2 pieces of butter. Squeeze some lemon juice on top.
Cook at 360 degrees for 15 minutes.
Serve with more lemon slices on top.
Notes
Do not overcrowd the air fryer basket. Air fryer needs enough space to circulate hot air to cook food properly.
The internal temperature of fully cooked fish is at least 145 degrees Fahrenheit.
Use lemon slices under the fish to prevent fish skin from sticking ot the air fryer basket.
Nutrition Information:
Yield:

1
Serving Size:

1
Amount Per Serving:
Calories:

258
Total Fat:

6g
Saturated Fat:

3g
Trans Fat:

0g
Unsaturated Fat:

2g
Cholesterol:

90mg
Sodium:

1181mg
Carbohydrates:

7g
Fiber:

2g
Sugar:

1g
Protein:

43g