Learn how to cook bluefish fillets in few easy steps. Delicious oven baked bluefish with tomatoes and lemon, so juicy and flavorful. Try it today!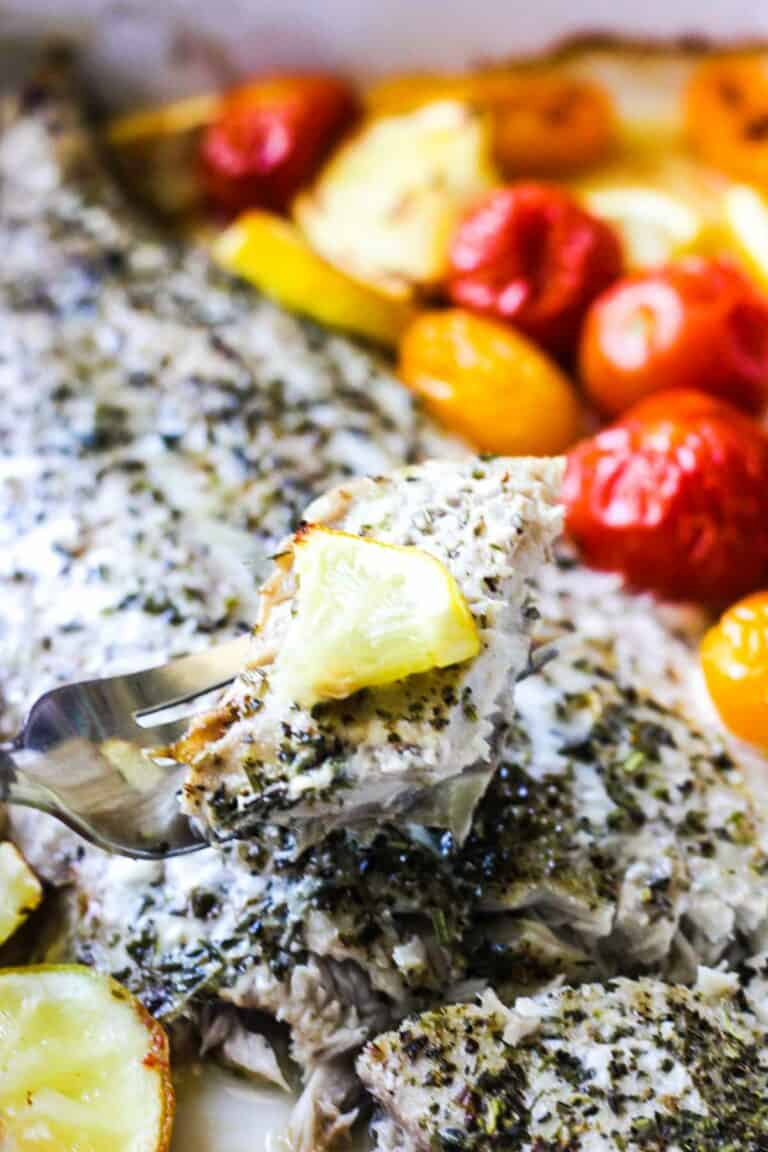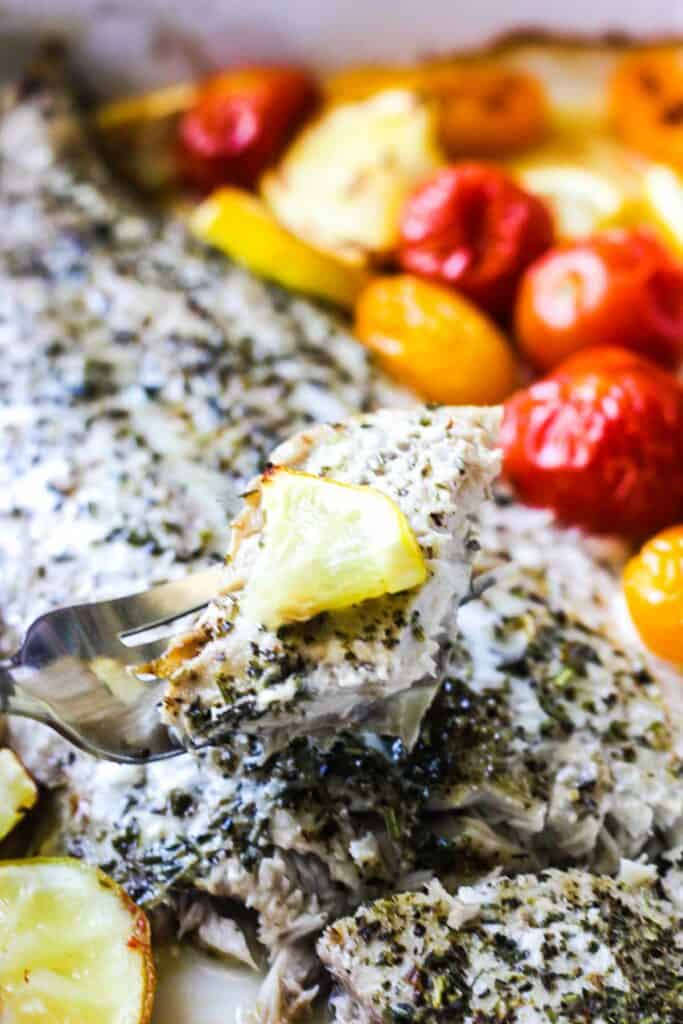 If you never tried bluefish you absolutely should. You can grill it, bake, broil or smoke it. I heard of some people enjoy it raw, you can totally try it in this salmon avocado ceviche recipe instead of salmon. I am sure it will be delicious! Use fresh bluefish in ceviche please, not thawed.
Bluefish is also delicious cooked with mayonnaise, especially broiled. I cant really fit mayo in my diet that much so i decided to go just with vegetables and herbs.
What is bluefish
I am a big fan of bluefish but for some people the taste might be a little fishy. Just make sure you get the freshest fish possible or at least thaw it properly.
Bluefish is an oily fish with strong flavor. The larger fish, the stronger the flavor. It has plenty of vitamins and minerals like selenium, niacin, Omega 3 and Vitamin B12. On the other hand it has a high mercury content and its not recommended to eat often.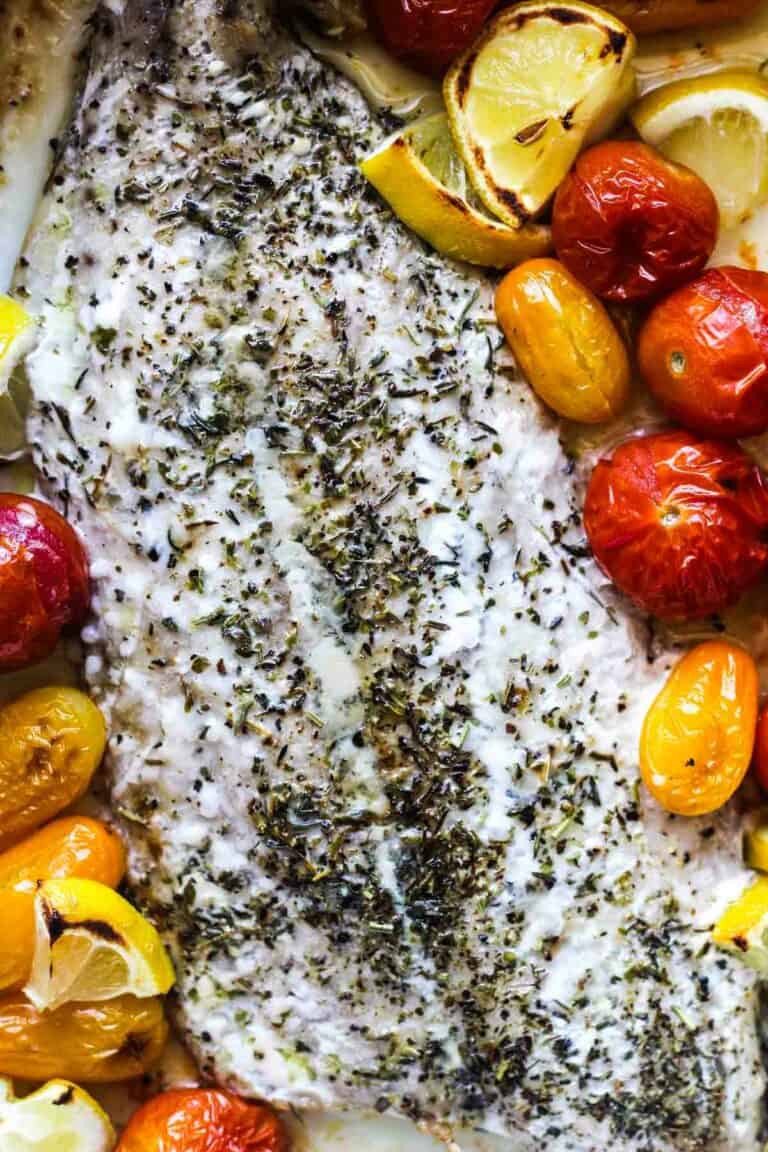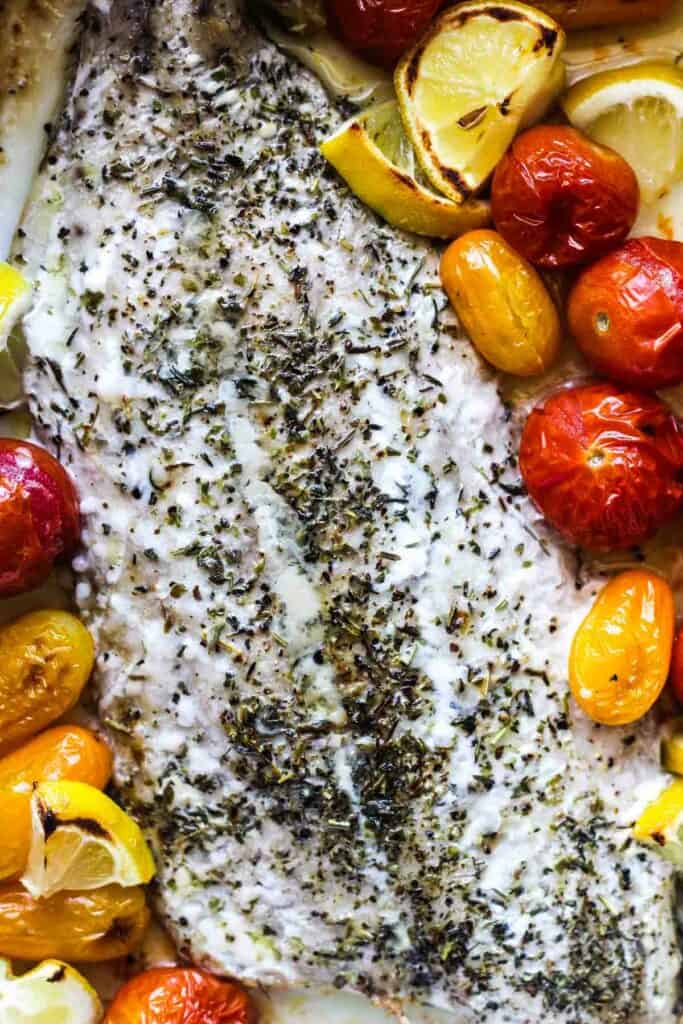 Thawing instructions
Bluefish is best when eaten as fresh as possible. My fish fillets came in frozen and i had to follow simple steps to thaw it properly. I learned that bluefish doesn't freeze well and its very important to defrost it properly so it doesn't turn to mush. Pull frozen fish out if the freezer and place it in the fridge. It will slowly defrost overnight.
How to make baked bluefish
If your fillet is frozen, defrost it first like mentioned above. If its fresh, cook withing two days! Bluefish goes bad very quickly.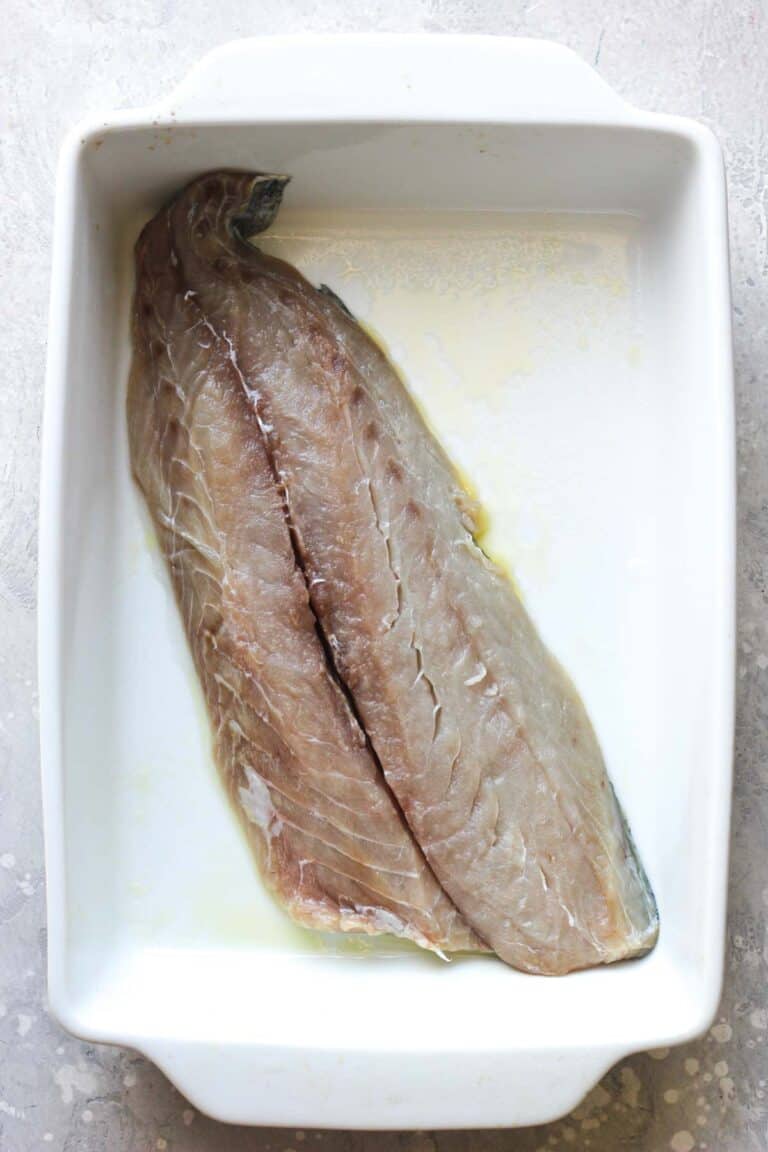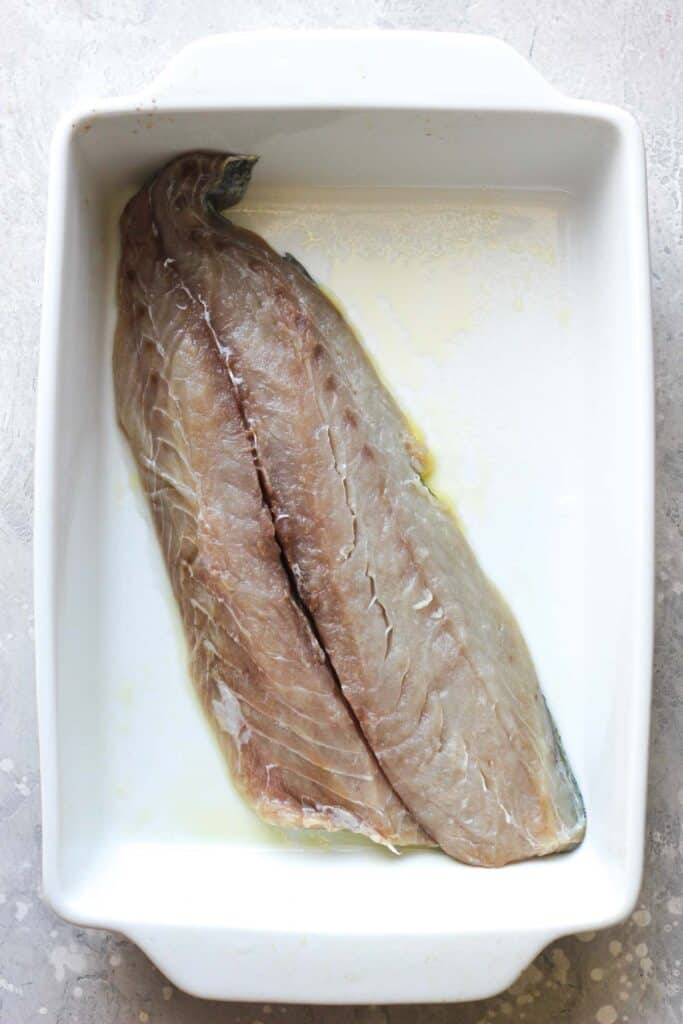 Rinse fillets under the cold running water and dry with paper towels. Cover it with the blend of Italian spices. I used dried thyme, oregano and pinch of basil. Add some salt and pepper to the mix too.
Place bluefish in the oil sprayed baking dish. If you are planning to cook just one fillet, use a smaller dish, like on the photo. You don't want to create too much empty space or all the juices will dry out while baking.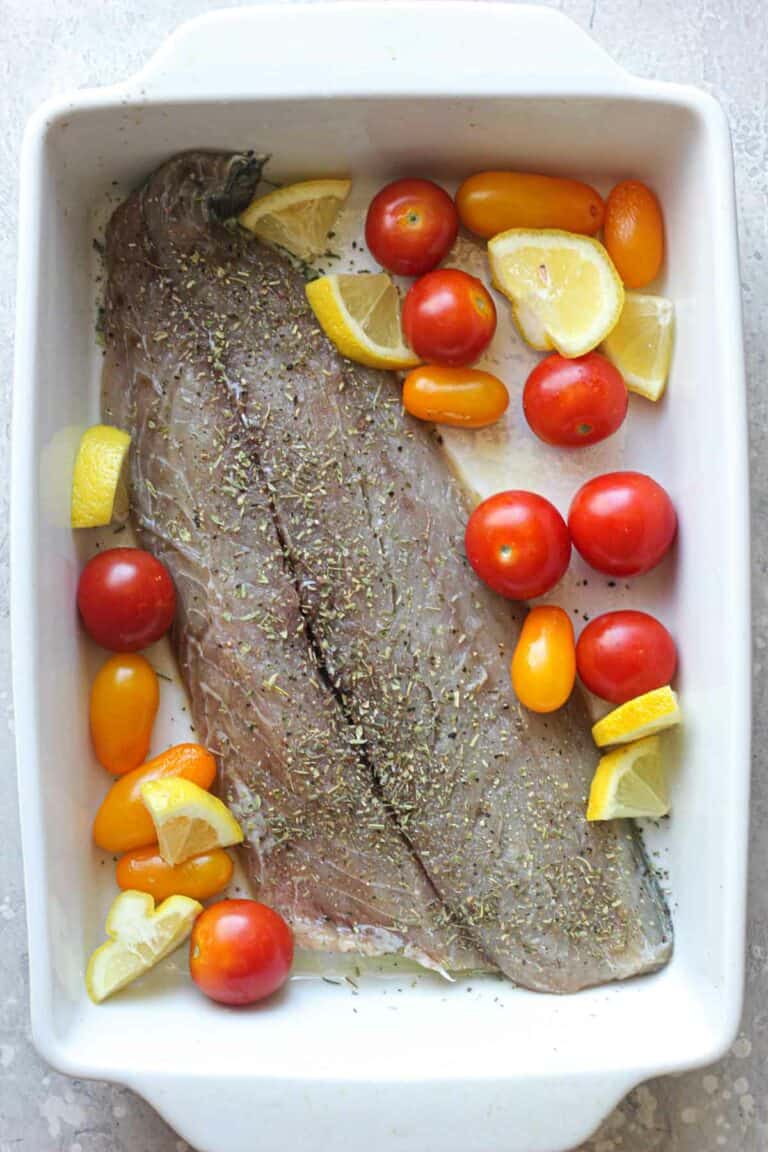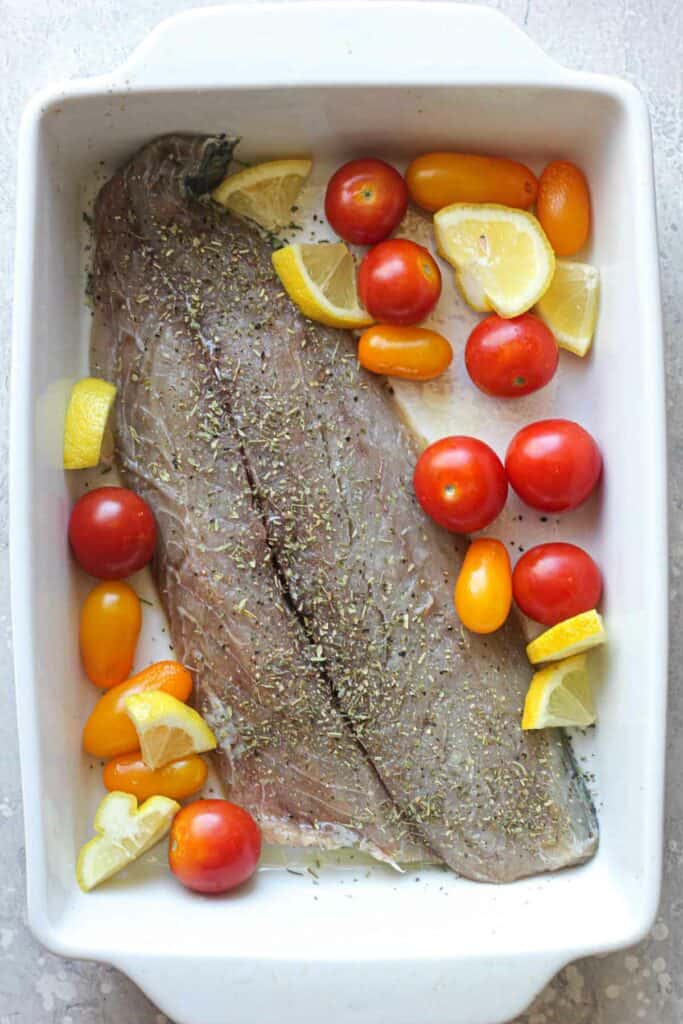 Fill all the empty spaces with cherry tomatoes and lemon slices. You can add more vegetable if you like like zucchinis, mushrooms or onions.
Bake until the internal temperature will reach 145 degrees Fahrenheit, about 15 minutes.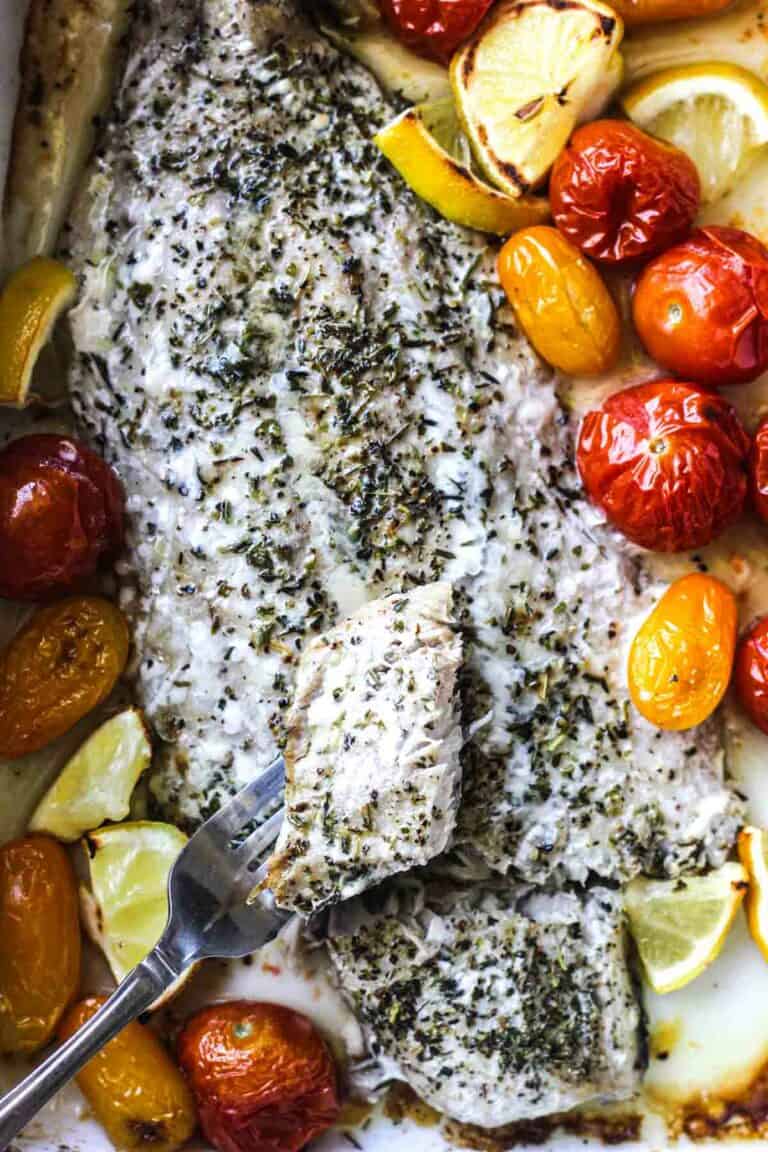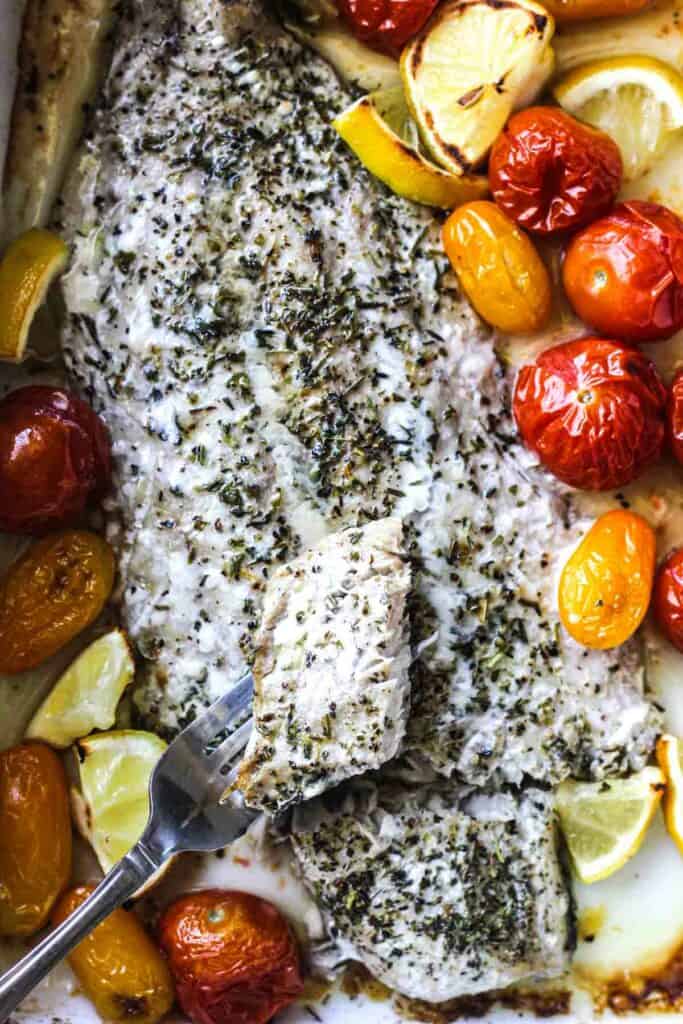 Broiling the fish in the end is completely optional. Fish will be delicious no matter what but if you want to add some color to tomatoes and lemons, don't skip this step.
Side dishes
Baked bluefish always goes well with white rice. Or try to make mashed potatoes for a full filling dinner. Coleslaw is as delicious with seafood as with any type of meat. If you are like me and prefer light meals, just enjoy this baked bluefish with garden salad and those roasted tomatoes from the same baking dish.
Hope you will enjoy this bluefish recipe just like we did! Please let me know in comment section if you have any questions.
More seafood recipes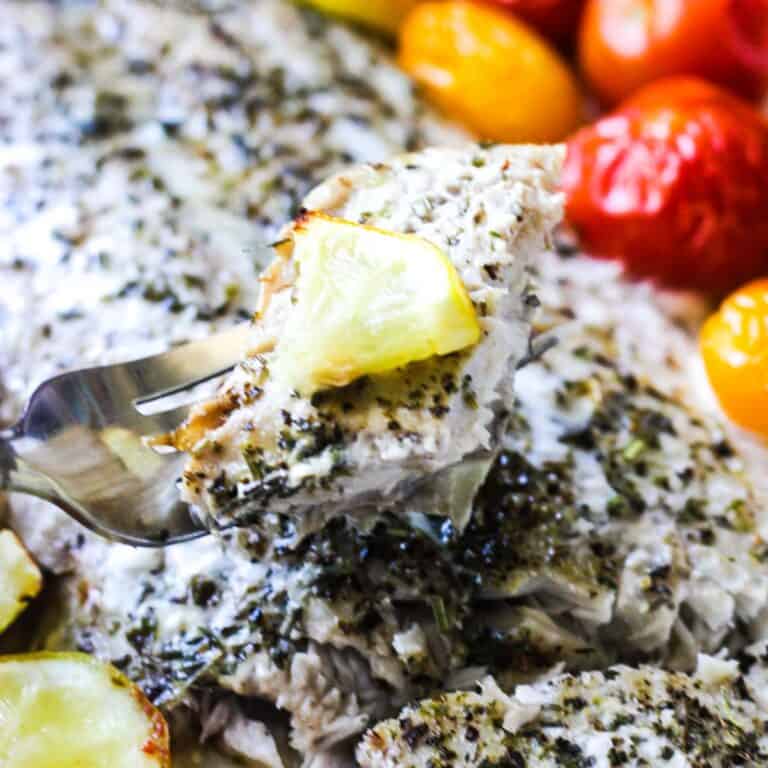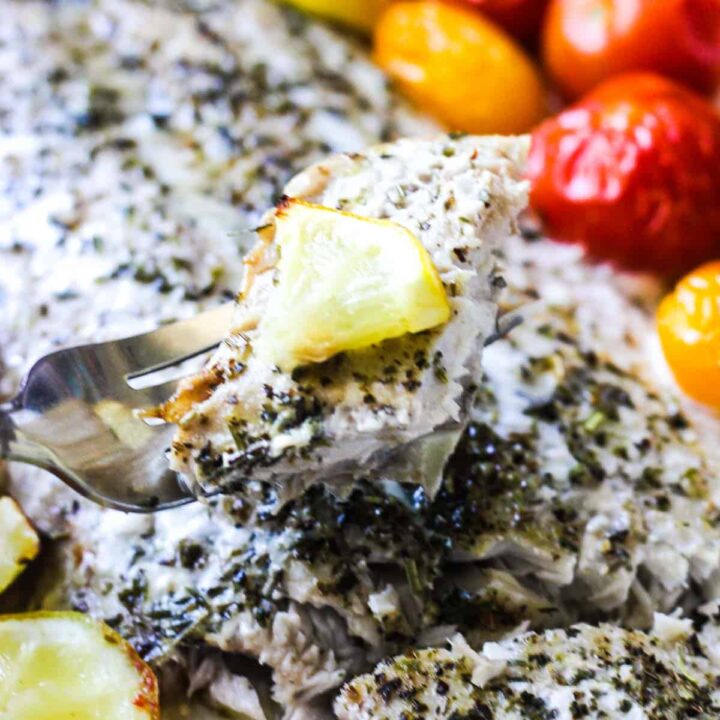 Easy oven baked bluefish
Learn how to cook bluefish fillets in few easy steps. Delicious oven baked bluefish with tomatoes and lemon, so juicy and flavorful. Try it today!
Ingredients
½ lemon
2 cups cherry tomatoes
½ teaspoon thyme
½ teaspoon oregano
pinch of salt and black pepper
olive oil spray
Instructions
Preheat oven to 400 degrees Fahrenheit. Spray baking dish with olive oil spray.
Rinse bluefish under the cold running water. Pat dry with paper towels.
Spray baking dish with olive oil spray and place fish skin side down in it. Sprinkle spices on top of the fish and lay tomatoes and lemon slices around it.
Place the baking dish in the oven for 15 minutes. Then broil for another 2-3 minutes.
Notes
There are 135 calories in a 3 oz portion of bluefish.
Bluefish is best when consumed fresh. It goes rancid very fast so make sure to eat it whiting 2 days.
This recipe calls for dried Italian spices, but if you have fresh thyme and oregano its even better! The flavor will be fantastic.
Lemon is everything in this bluefish recipe. Squeeze half of the lemon all over the fish when its done.
Nutrition Information:
Yield:

2
Serving Size:

1
Amount Per Serving:
Calories:

350
Total Fat:

59g
Saturated Fat:

13g
Trans Fat:

0g
Unsaturated Fat:

39g
Cholesterol:

184mg
Sodium:

261mg
Carbohydrates:

9g
Fiber:

3g
Sugar:

4g
Protein:

52g