Also known as a "poor mans lobster", this pan seared monk fish with garlic sauce is a dish everybody needs to try! Ready in under 25 minutes, delicious and healthy.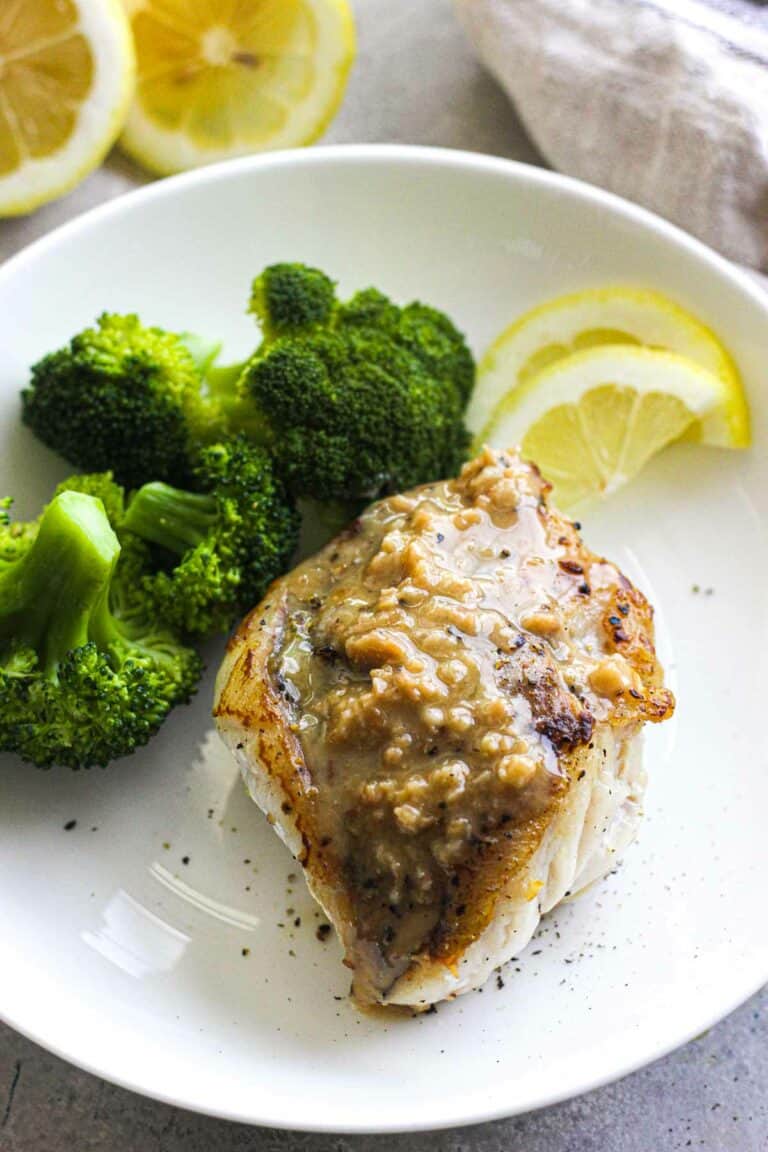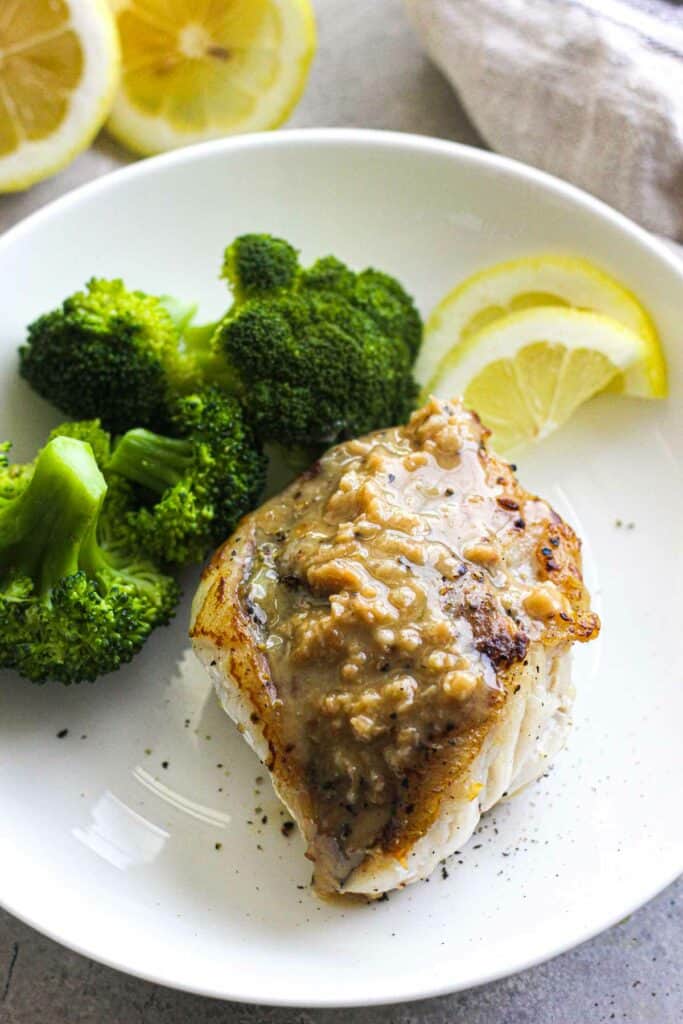 If you never tried monk fish before you will be surprised with its flavor and texture. This is not your average white fish. Its not flaky at all! The texture reminds lobster or crab meat a lot and the taste is very mild and a bit sweet.
What is Monkfish
Fun fact that this fish was rated the ugliest fish in the world. Monkfish has a large head with tiny eyes and enormous mouth with sharp like knife teeth. The only part of the monkfish that is edible is the tail. Liver is also sold to Japan and it usually used in soups. I really want to try it one day!
In Russia we call this fish "The Water Devil" because of the way it look.
Where to buy
I never had a chance to buy monkfish at any local grocery store. Even checked fish market and they didn't have any. Then I purchased mine at online store called Fulton fish market. This is not a paid post, i am just sharing where i was able to find it fresh.
How to thaw fish
If you purchased a frozen fish, you need to thaw it properly. Take it out of the freezer and move to the fridge. If you have a 6-8 oz fillet, it will take the whole night to defrost.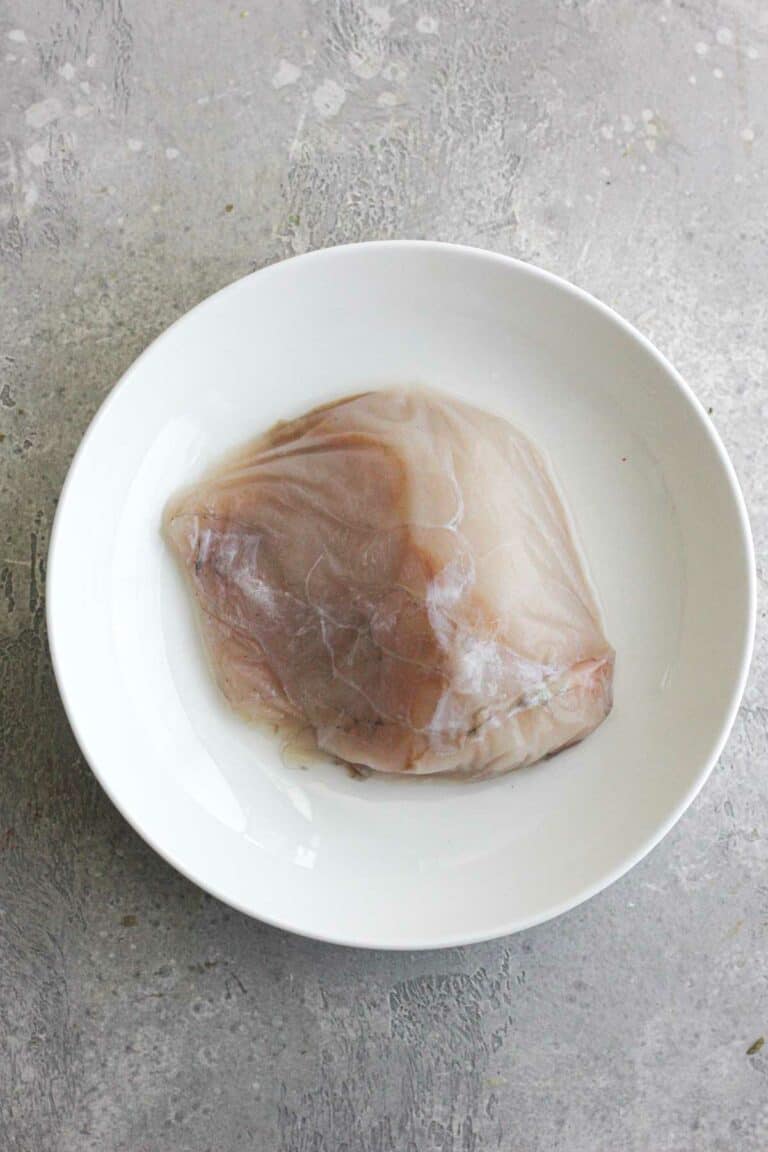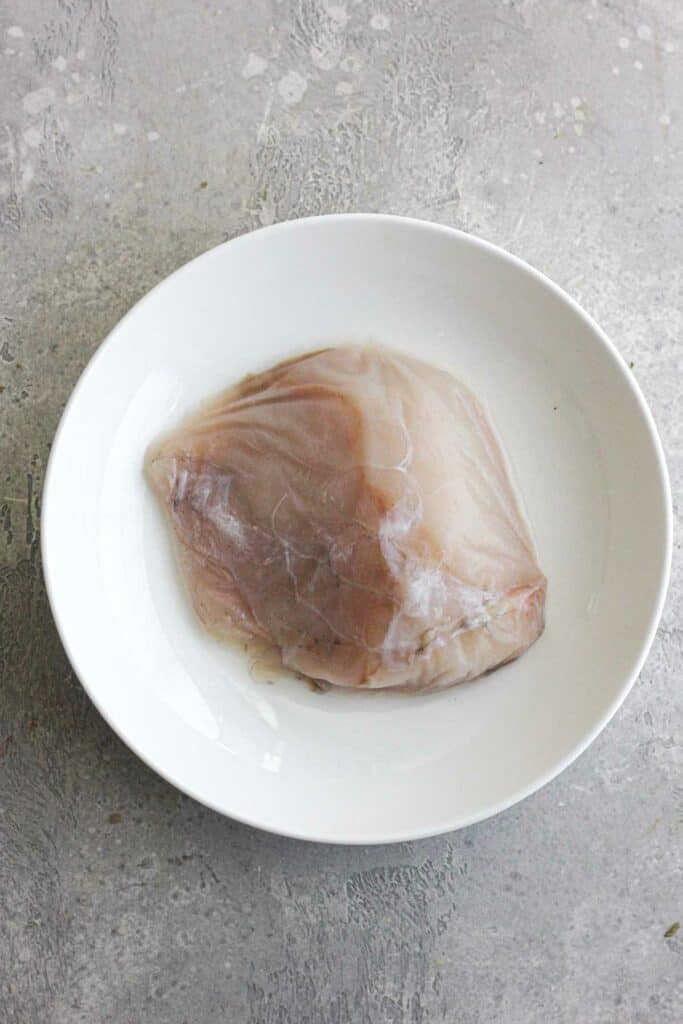 If you are short in time you can always defrost monkfish on the counter. It will be completely thawed in couple hours. This method is not preferred though.
How to make pan seared monkfish recipe
Start with rinsing your fish fillet under cold running water. Then season with salt and pepper, drizzle with olive oil and set aside.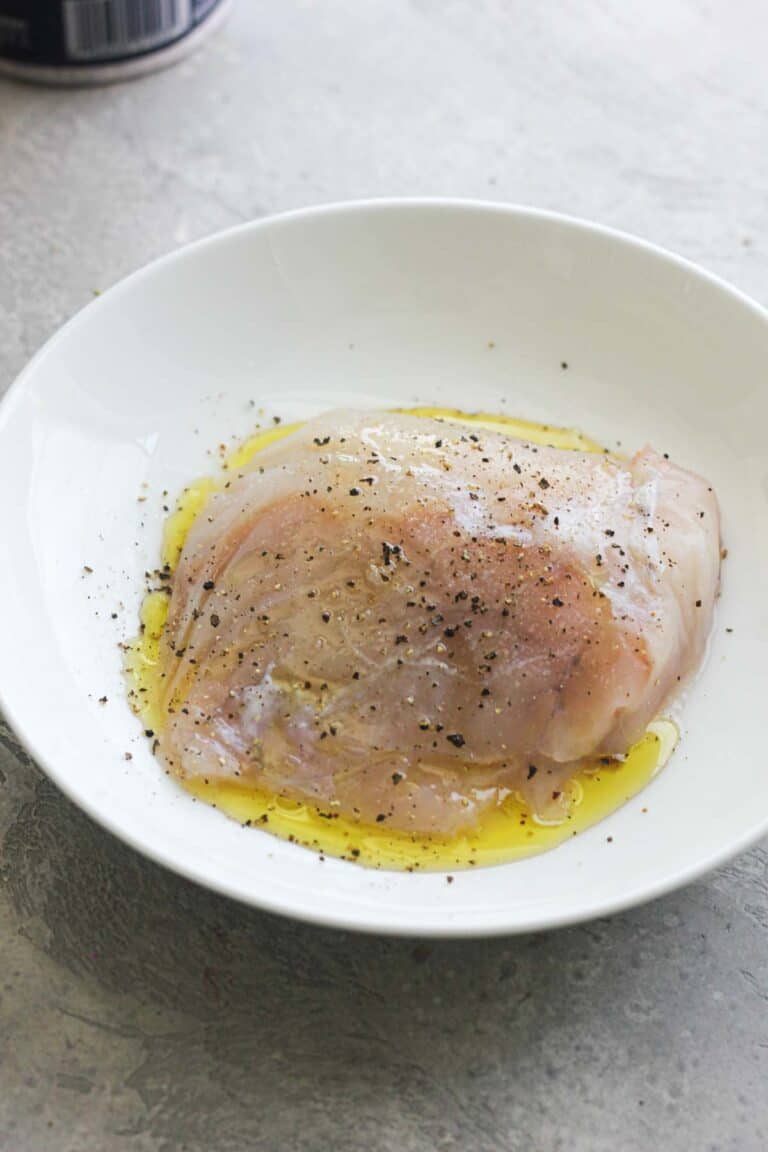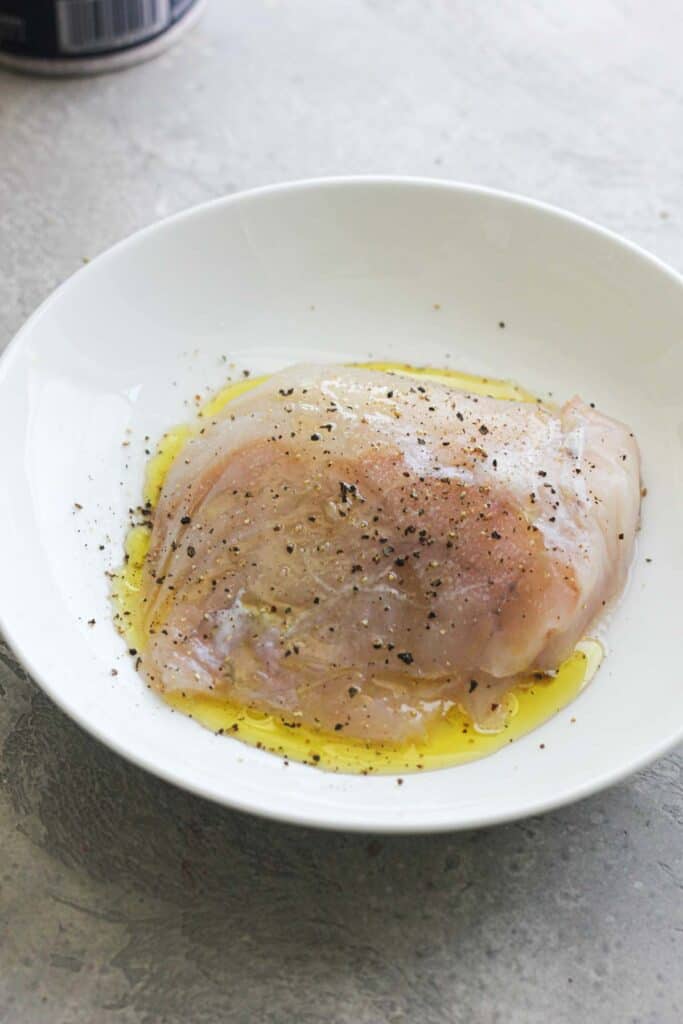 Heat some olive oil in the pan. Add monk fish and saute for about 7 minutes on each side. Fish should turn white in color and the internal temperature should be 145 degrees. Don't overcook the fish or you will end up with chewy fillet. Other method of checking if the fish is done is to stick a knife into it. It should come out hot when the fish is cooked.
It is very easy to overcook monkfish. The flesh should always feel a bit bouncy and let the fish rest fro 5 minutes after cooking.
Meanwhile make the sauce. Chop or mince garlic and add to the pan with the drizzle of olive oil. Saute until fragrant and add white wine. Stir and cook until slightly thicken and pour over the fish.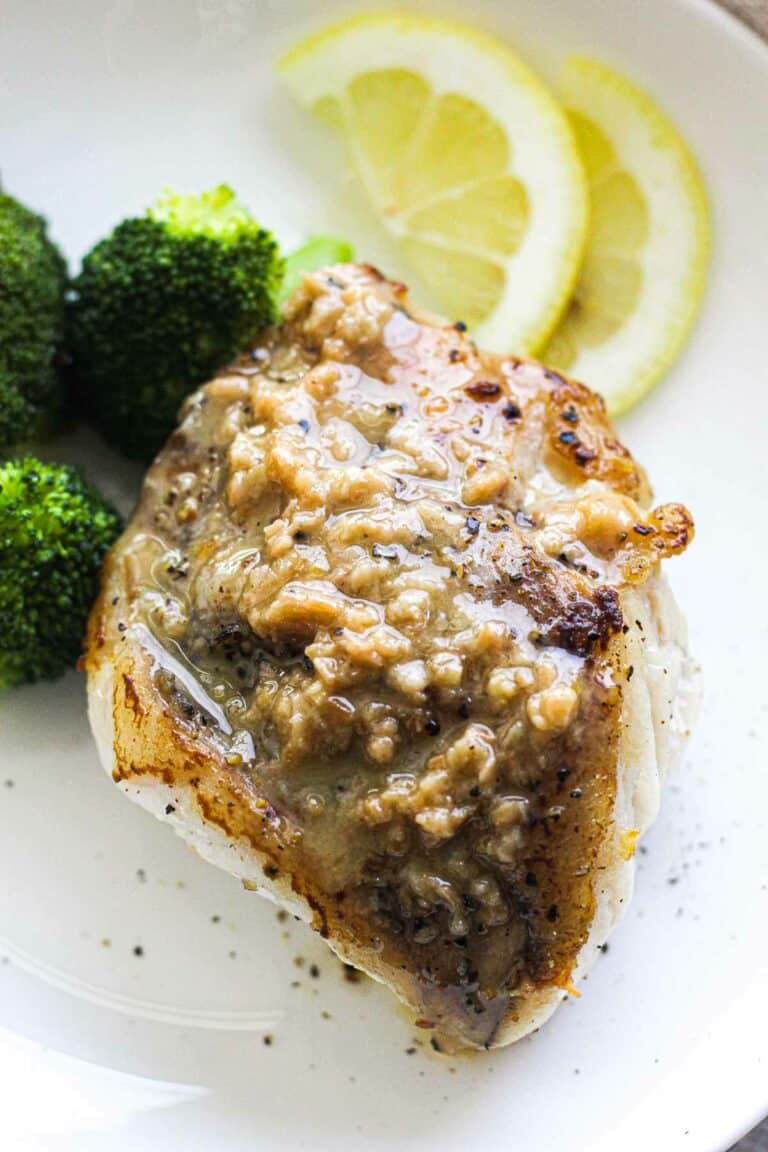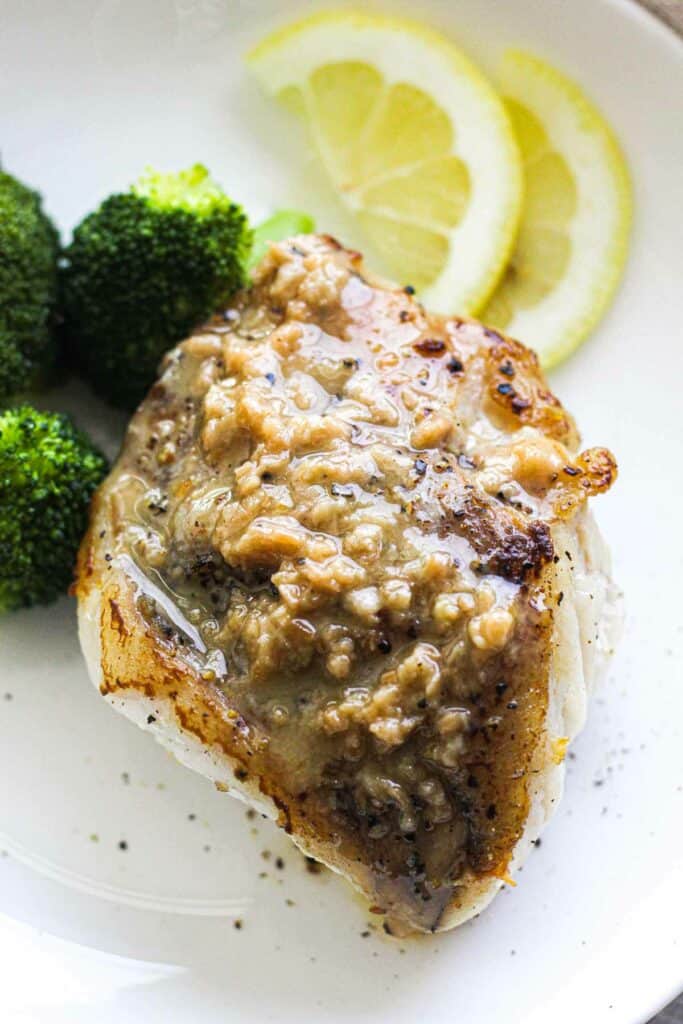 Freshness check
If you see any blood in the fillet that means that the fish is very fresh and was cough recently. If the blood is brown in color that means that the fish should be eaten soon. Do not consume if fillet has a intense fishy odor.
Serving suggestions
Serve pan fried monkish on a bed of white rice or with creamy mashed potatoes. It goes very well with any vegetables too. I served fish with steamed broccoli and slices of lemon on the side.
Monkfish nutrition and taste
Monkfish is pretty low in calories, about 110 calories for 6 oz serving. Fish is high in selenium and has lots of protein for your muscles. It is also high in vitamin B12 and B6. Great fish to eat on a healthy diet.
More seafood recipes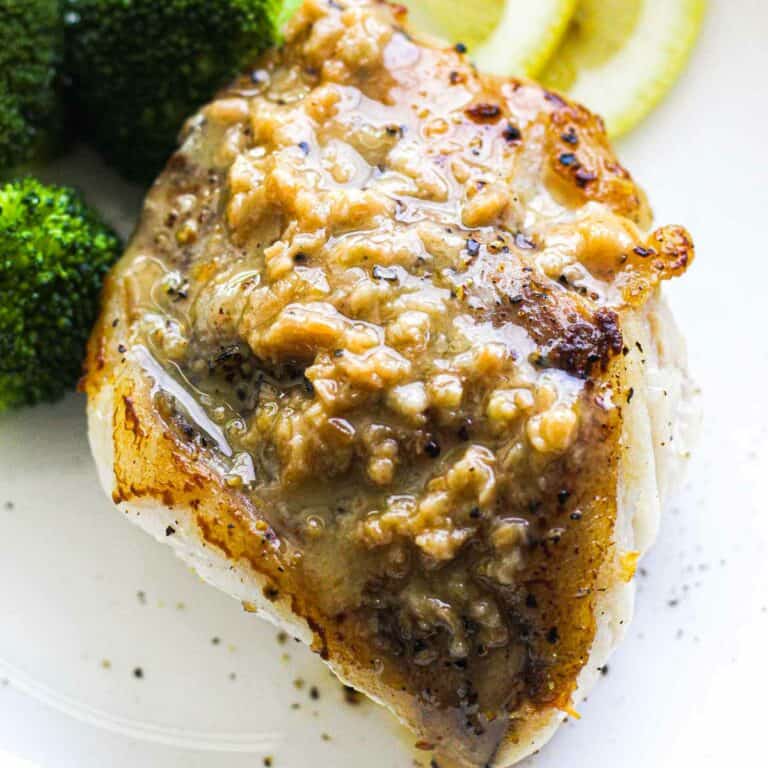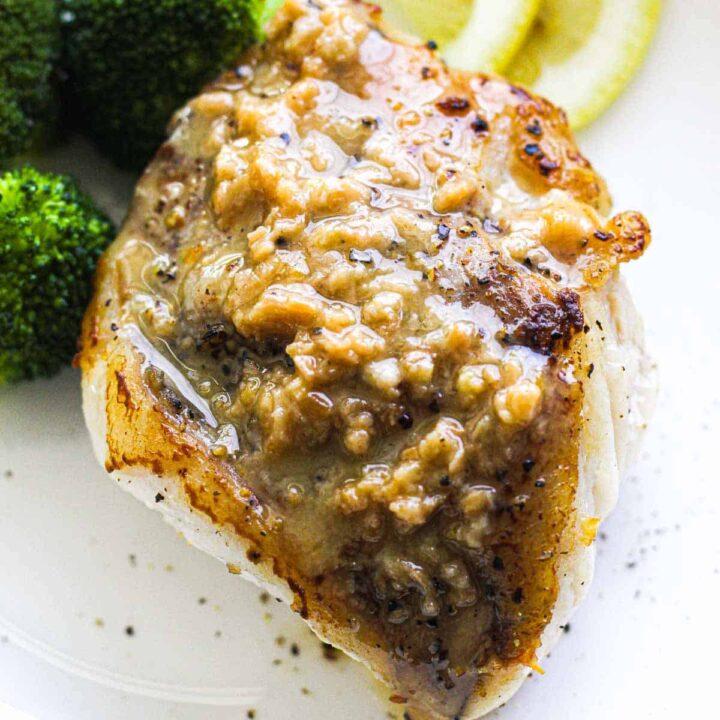 Pan seared monkfish with white wine garlic sauce
Also known as a "poor man lobster", this pan seared monk fish with garlic sauce is a dish everybody needs to try! Ready in under 25 minutes, delicious and healthy.
Ingredients
6 oz monk fish fillet
¼ cup white wine
3 garlic cloves
1 teaspoon olive oil
½ lemon
salt and pepper
Instructions
Rinse monkfish fillet under the running water and pat dry with paper towels. Season with salt and pepper on both sides and drizzle with olive oil. Let it marinate on the plate until ready to cook.
Drizzle olive oil in to a small pan. Saute fish on a medium high for about 5-7 minutes on each side.
Take monkfish out and set aside. Into the same pan add minced garlic and cook for a minute, stirring. Add white wine and deglaze the pan. Stir until slightly thickened, about 1 minute on low.
Top the fillet with the sauce and serve with you favorite side.
Notes
If not sure, use the thermometer to check the internal temperature. It should be 145 degrees Fahrenheit when done.
Deglazing is a process of scrapping all the stuck pieces from the pan using some liquid. I sued white wine in this monkfish recipe
Add some lemon right into the sauce for an extra flavor
Do not overcook the fish. It will become very chewy and tough.
Use simple seasoning. I only used salt and pepper, some lemon juice, garlic and wine.
Make sure you are using a good wine. Wine that you will drink. I used my favorite Pinot Grigio.
Nutrition Information:
Yield:

1
Serving Size:

1
Amount Per Serving:
Calories:

361
Total Fat:

7g
Saturated Fat:

1g
Trans Fat:

0g
Unsaturated Fat:

5g
Cholesterol:

213mg
Sodium:

557mg
Carbohydrates:

9g
Fiber:

1g
Sugar:

2g
Protein:

55g