This easy baked porgy recipe is juicy and full of flavor. A whole porgy is seasoned with fresh herbs, ginger, garlic, lemon, and soy sauce, then baked until the meat is tender and the skin is nice and crispy. Enjoy this savory and tangy low-carb dinner ready in only 30 minutes.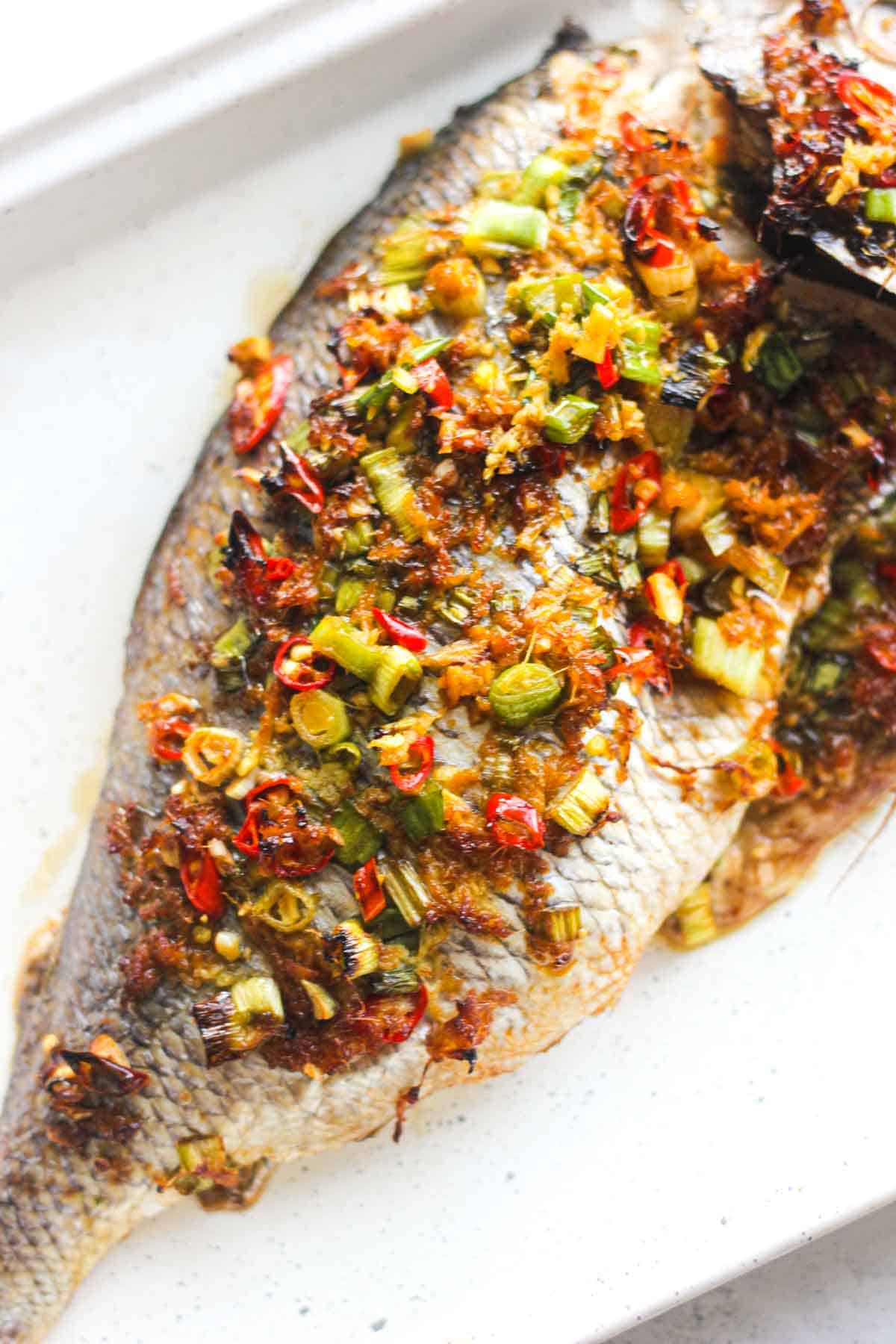 Seafood is an excellent dinner choice. It can sometimes be overlooked, in favor of chicken or beef, but baked fish is super easy to make in just a few minutes, and very delicious and flavorful. If your family isn't a fan of fish, choose a mild-flavored and non-fishy tasting fish, like porgy to make for them.
Porgy is not a fish that is commonly on restaurant menus, but it should be because of how easy and delicious it is! Because of its delicate and sweet flavor, it will taste great no matter how you season it. This baked porgy recipe is a delicious and easy dinner that is perfect to make any day of the week!
How to make baked porgy recipe
Start with preparing your fish. Descale and clean porgy fish if it came uncleaned. Or if you are buying it in the fish market ask your fishmonger to clean it for you.
In this recipe i used my absolutely favorite fish mixing sauce that i love to use on literally any fish, its that good! Mix in the small bowl finely chopped garlic, cilantro and green onions. Peel and grate ginger and add to the mixture.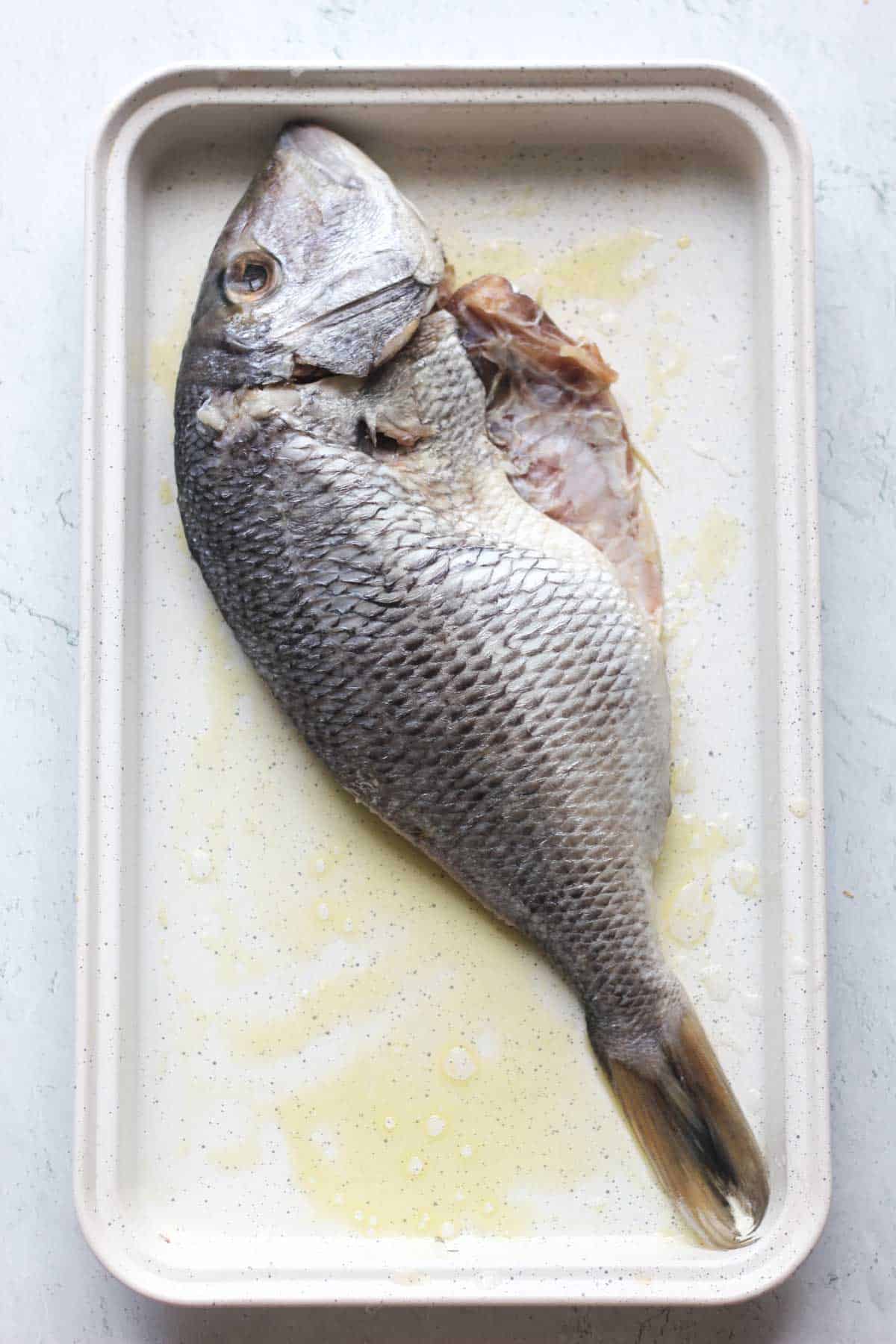 Add olive oil, soy sauce and pepper and mix very well. Place the fish on the lined baking sheet and cover it with the spice mixture. Add some inside the cavity as well and preserve about 1 tablespoon for later.
Bake porgy in well preheated oven for about 20 minutes. The instant thermometer stuck to the thickest part of the fish should show at least 145 degrees Fahrenheit.
Once done, transfer porgy to the serving plate and cover with the rest of spice mixture. Enjoy your delicious porgy recipe for lunch or healthy light dinner.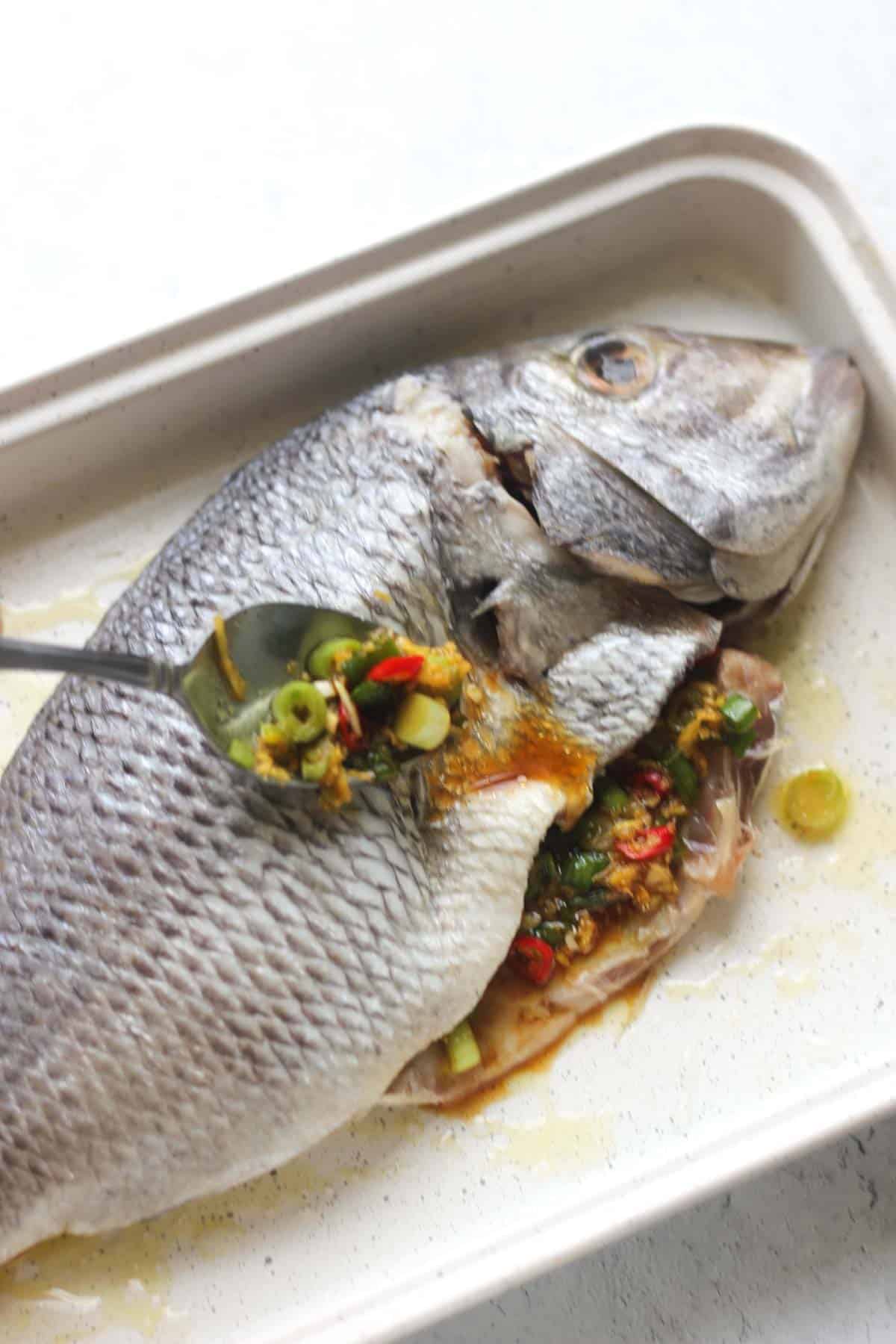 Recipe ingredients
Porgy fish. Use a whole fish that has been cleaned with the scales removed.
Fresh cilantro. Chopped and stuffed inside the fish cavity. Gives a fresh herby flavor to the dish.
Olive oil. Keeps the fish moist as it cooks.
Garlic. Whole garlic cloves are placed inside the fish to help flavor the meat.
Salt and ground black pepper. To season the fish. Freshly ground black pepper has a stronger flavor than preground, it's slightly spicy and very peppery.
Lemon. Adds a nice fresh citrus flavor, and keeps the fish tender and juicy.
Ginger. Freshly grated ginger adds a nice spicy aroma.
Soy Sauce. A rich, and savory salty sauce that pairs well with garlic, lemon, and ginger.
Green onion. Stuffed inside the fish and adds a fresh mild onion flavor to the dish.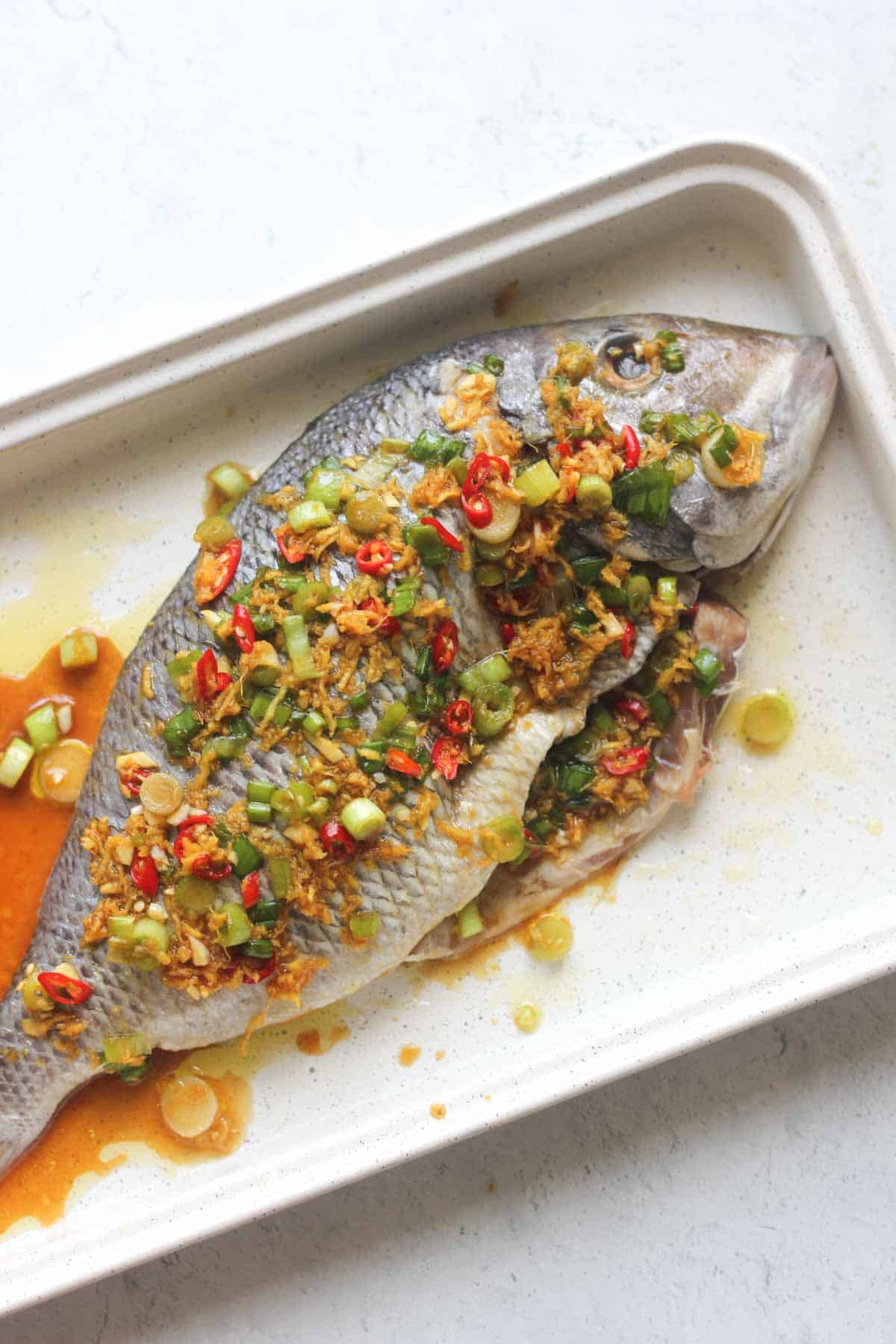 What kind of fish is it
Porgy is a fish found commonly on the east coast of the United States, and around the world. It is a recreational fish that is also known as scup, sheepshead, or sea bream in Europe. A bottom dweller, porgy's sweet and mild flavor comes because of its diet of mostly shellfish like mussels and oysters.
A popular fish around the world, porgy are very easy to catch. Its flat body is brown/ black with silver. This fish has many scales and plenty of bones, which can make it difficult to fillet at home. The tender meat flakes easily into large pieces, and can be used to make ceviche, filleted, or cooked whole either in the oven or over a grill.
Porgy fish are usually relatively small in size, staying within the range of about ½ – 3 pounds, but they can weigh up to 20 pounds. Because of its small size and its numerous amount of bones, you will mostly find it cooked whole. Larger porgies may be filleted already and available at local fish shops or sold frozen in grocery stores.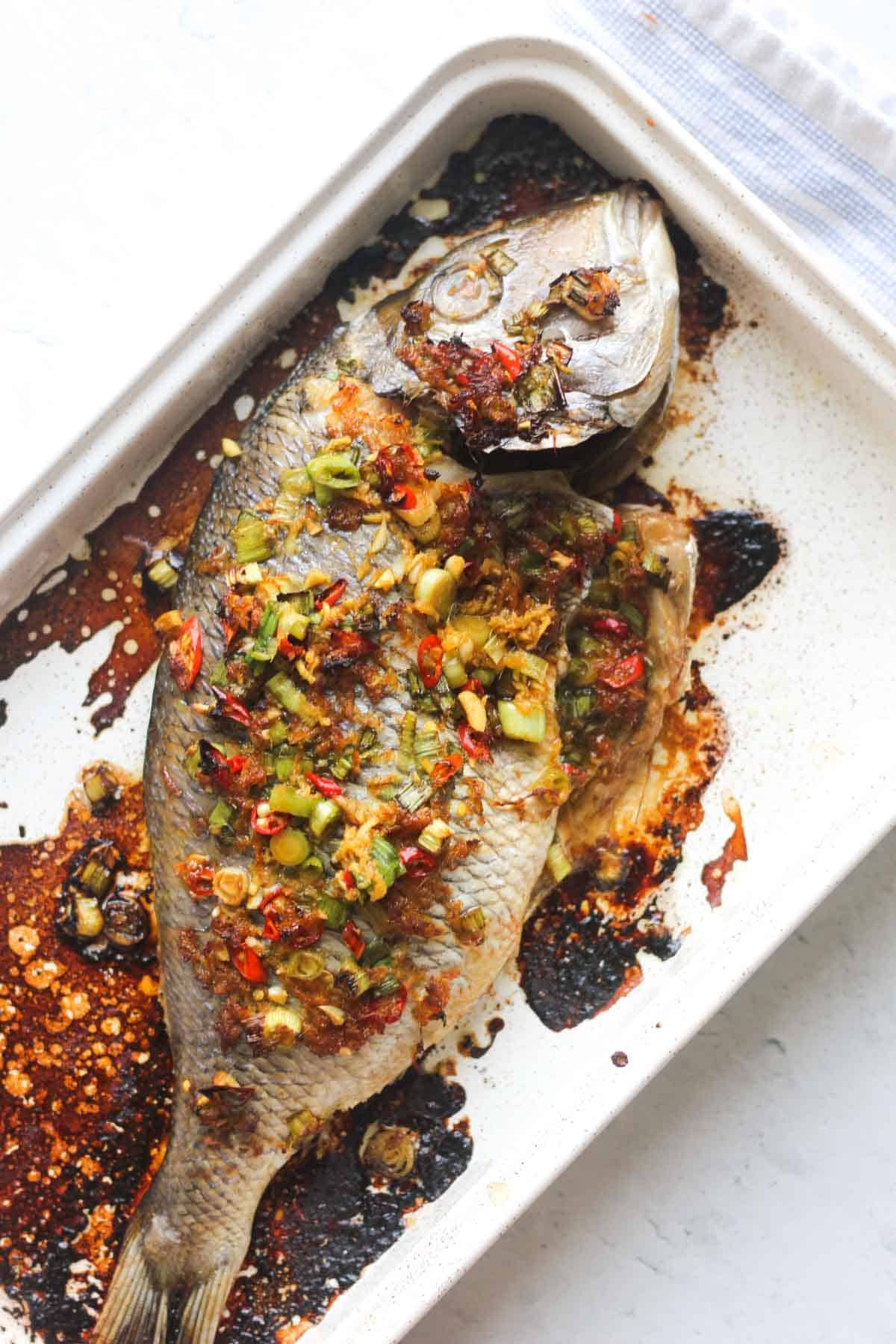 Is porgy a good fish to eat
Porgy is a very good fish to eat. This mild-flavored white fish has a light and flaky texture that can be prepared and seasoned in many ways. It is tender and delicious and cooks very quickly. It is a good source of protein, and the meat is lean with a little bit of fat in it. There's no need to remove the skin of porgy because it's soft and edible and gets nice and crispy when roasted in the oven or cooked on the grill.
More affordable than other whitefish species, baked porgy is a great option for weeknight family dinners.
Frequently asked questions
What type of fish does porgy taste like?
Porgy is similar to red snapper and tilapia, having a similar texture, but a sweeter taste. It is not fishy tasting at all, and you can also easily substitute croaker or grouper for porgy.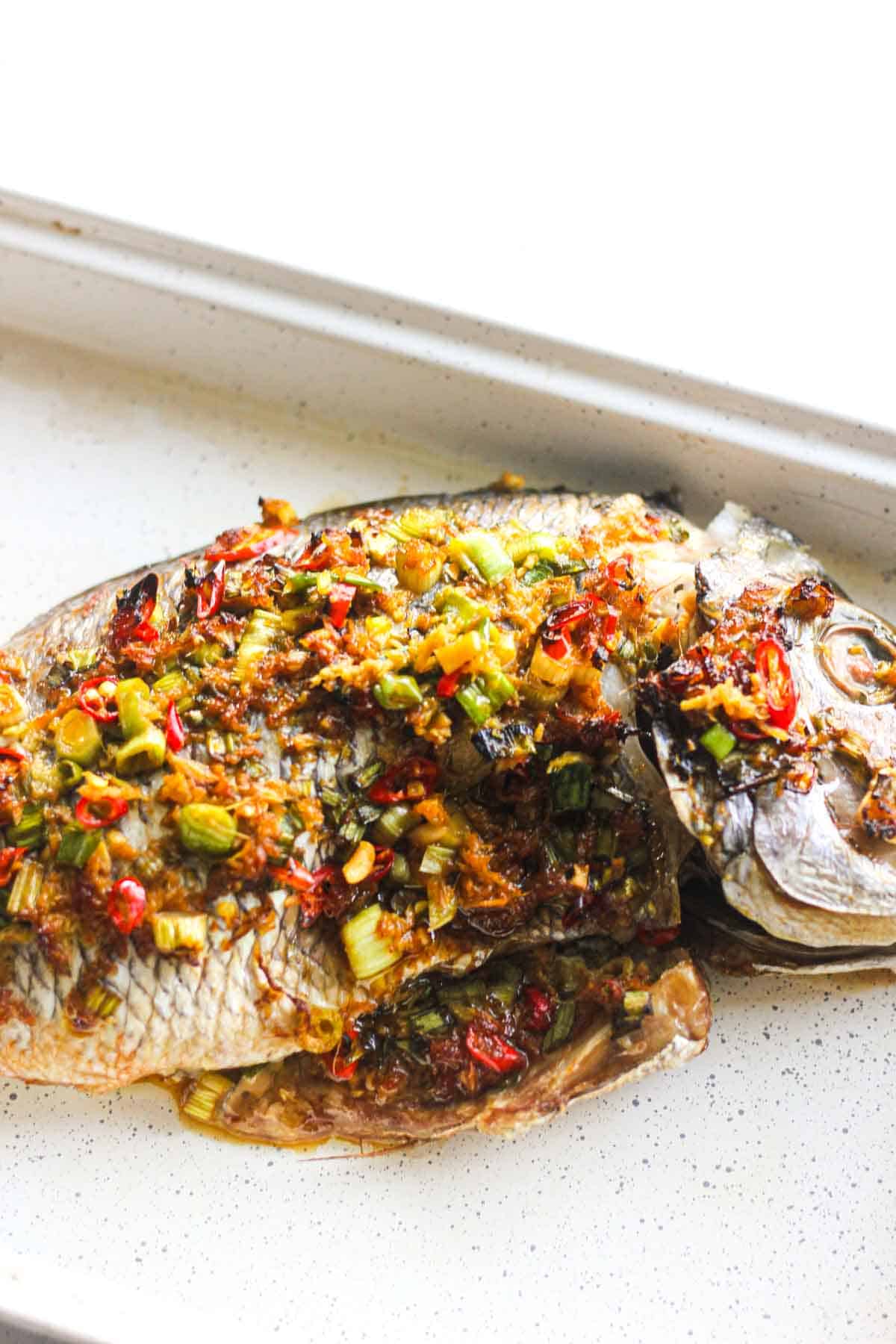 Side dishes
I like to serve white fish with different grilled vegetables like zucchini, corn on the cob or mushrooms. Salad is also a fantastic choice for a light dinner side dish. Classic combination of plain white rice and fish is quite delicious too.
If you like potatoes you can make roasted potatoes, mashed or scalloped potatoes. They are equally delicious with porgy and will fill you up quickly.
Leftovers
Store leftovers in the fridge for up to 3 days. Fish doesn't last long so make sure to eat it quickly. Reheat in the microwave for about one minute.
You may also like…
Hope you will like this porgy recipe as much as we do. Please rate the recipe if you made it and leave a comment below if you have any questions.
Recipe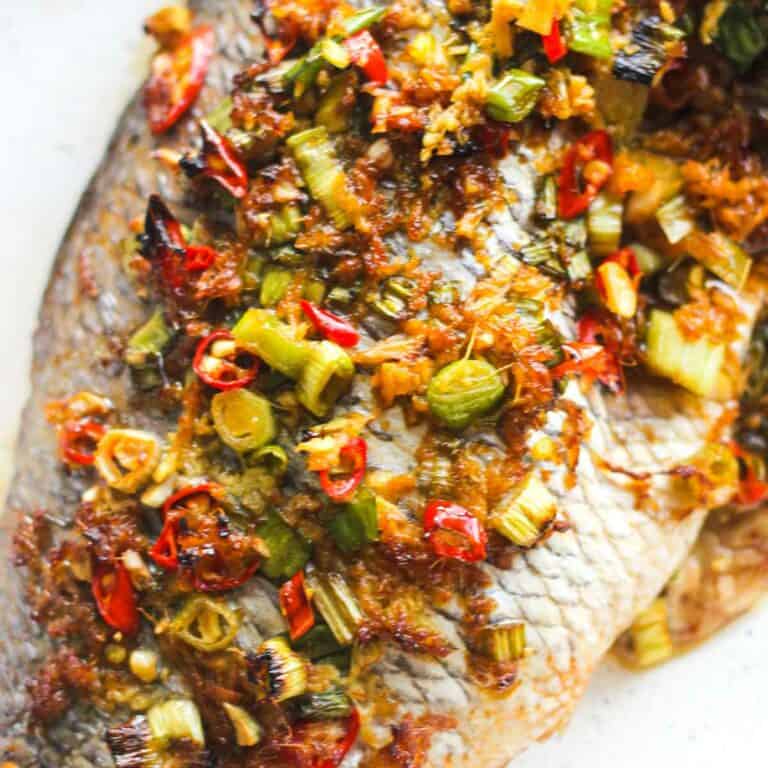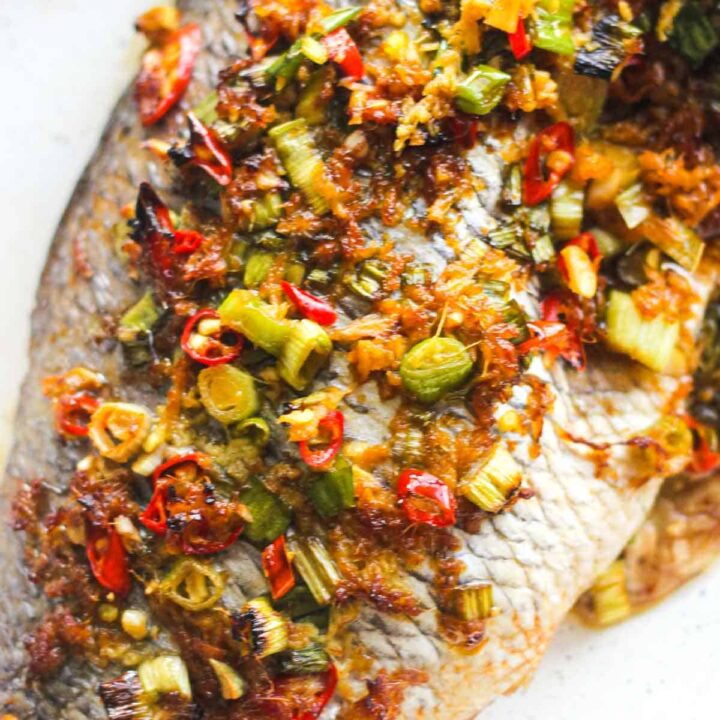 Baked Porgy Recipe
This easy baked porgy recipe is juicy and full of flavor. A whole porgy is seasoned with fresh herbs, ginger, garlic, lemon, and soy sauce, then baked until the meat is tender and the skin is nice and crispy. Enjoy this savory and tangy low-carb dinner ready in only 30 minutes.
Ingredients
¼ cup chopped cilantro
2 tablespoon olive oil
4 garlic cloves, chopped or minced
1 teaspoon salt
½ lemon, juiced
freshly ground black pepper
2 tablespoon grated ginger
2 tablespoon soy sauce
¼ cup green onions. chopped
Instructions
Preheat oven to 400 degrees.
Clean and descale the fish. Mix all other ingredients in the small bowl.
Put porgy on the baking sheet, lined with parchment paper. Add mixture on top of the fish and inside the cavity. Reserve some for later.
Bake for 20 minutes.
Add more seasoning mixture on top right before serving.
Notes
The internal temperature of fully cooked fish is 145 degrees Fahrenheit.
The skin is edible so make sure to clean porgy very well before cooking.
Store leftovers in the fridge for up to 3 days. Reheat in the microwave
Nutrition Information:
Yield:

2
Serving Size:

1
Amount Per Serving:
Calories:

282
Total Fat:

16g
Saturated Fat:

3g
Trans Fat:

0g
Unsaturated Fat:

13g
Cholesterol:

64mg
Sodium:

2005mg
Carbohydrates:

7g
Fiber:

1g
Sugar:

1g
Protein:

29g