Baked pompano is an amazing delicious dish that will impress your guests. Lemon ginger topping adds so much flavor and make this pompano recipe worth being in the best restaurants menu. Ready in less then 30 minutes and made in one dish!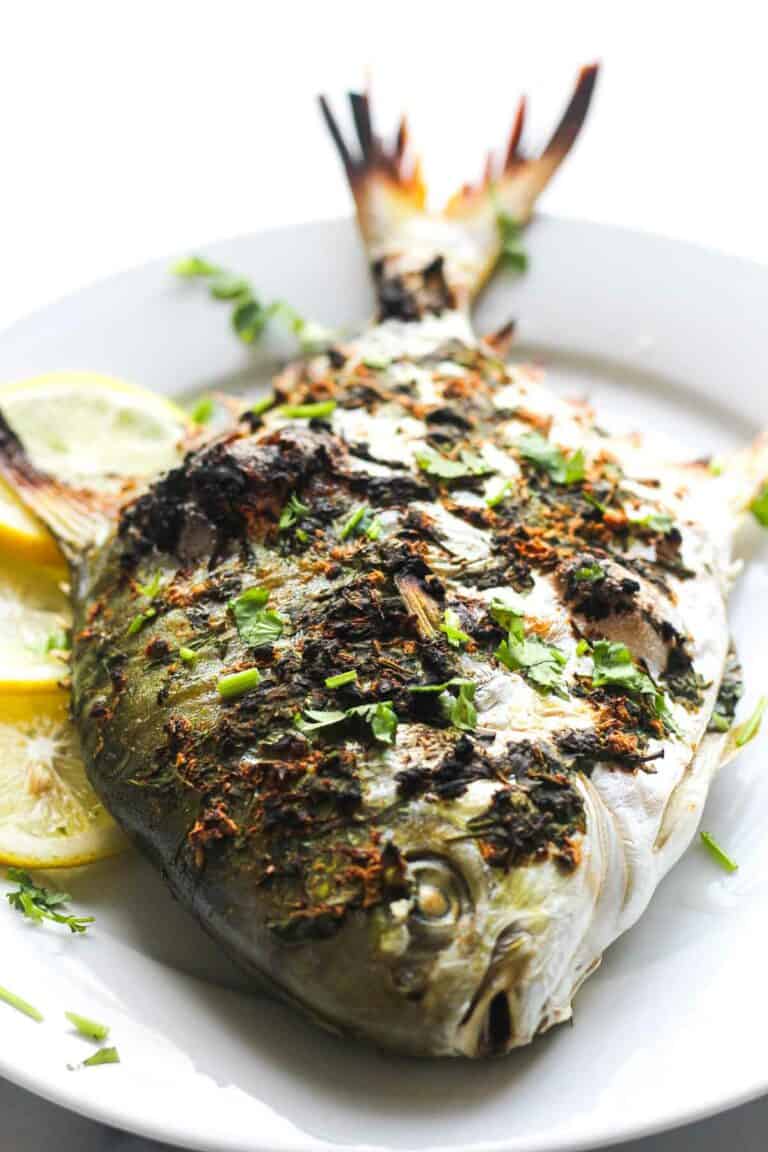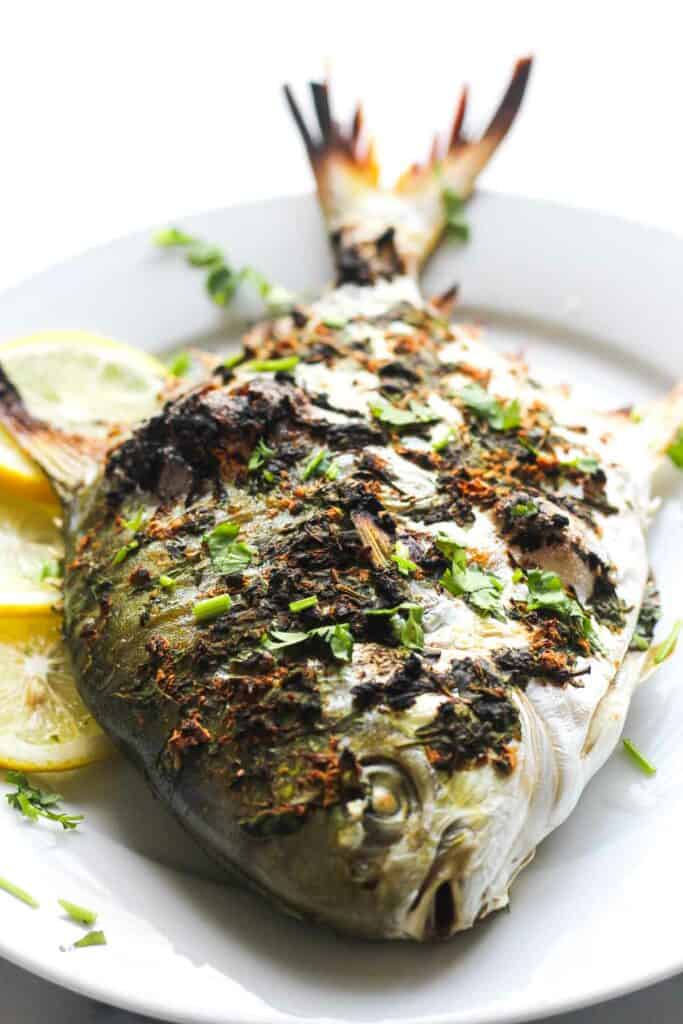 Honestly i was amazed how delicious this fish is. With just right amount of fat, pompano is considered delicacy and best when cooked whole.
How to make baked pompano
I love cooking fish whole and golden pompano is a perfect fish for it. Its small enough to fit into a baking dish. Whole pompano is better to bake or sear then fillets because bones help to keep the fish together and all the juices inside the fish.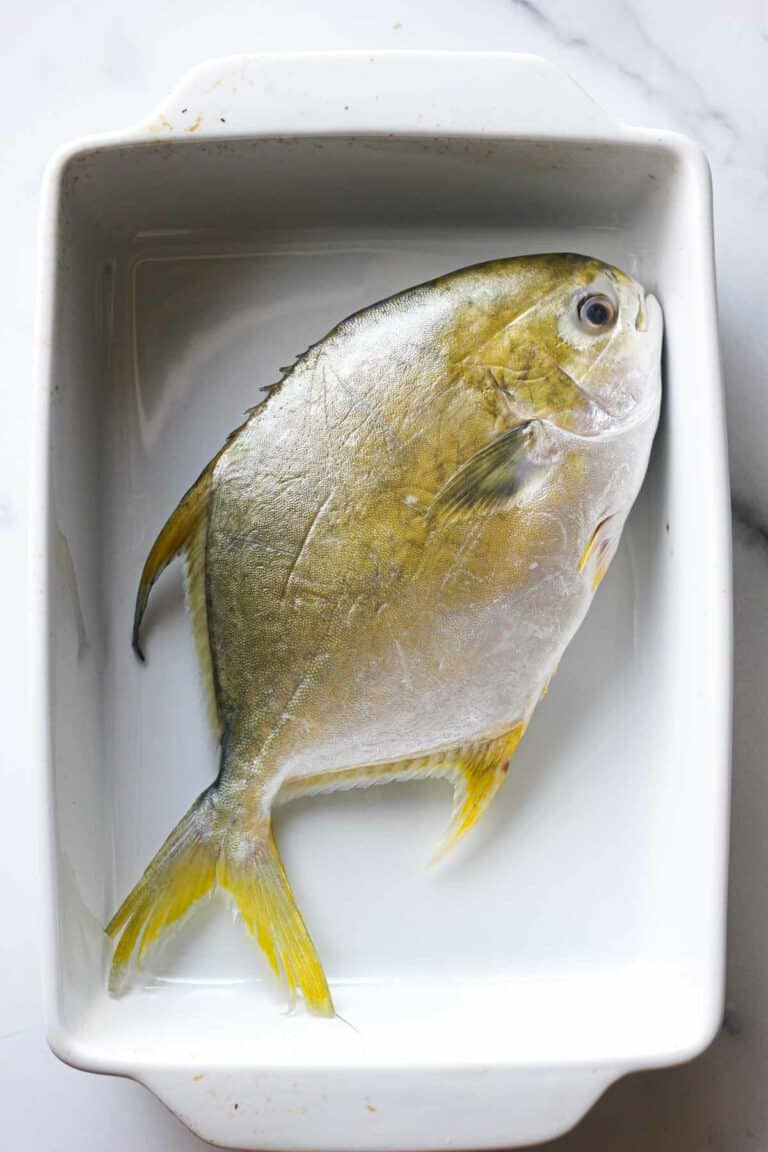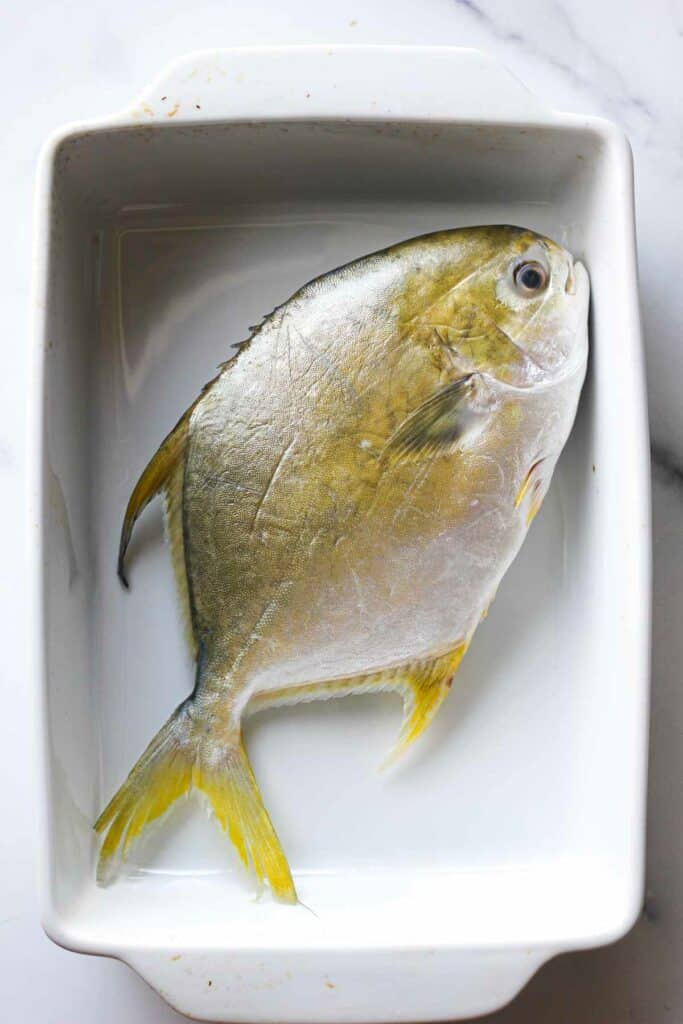 Clean the fish. First you need to start with cleaning your fish. If you can find already cleaned fish that would be perfect. Otherwise gut and remove scales by yourself. Pompano doesn't have lots of scales so the process is very easy. Rinse the fish and its ready to go.
Place fish in the baking dish. Laying the dish with foil is optional and absolutely will save you cleaning time after.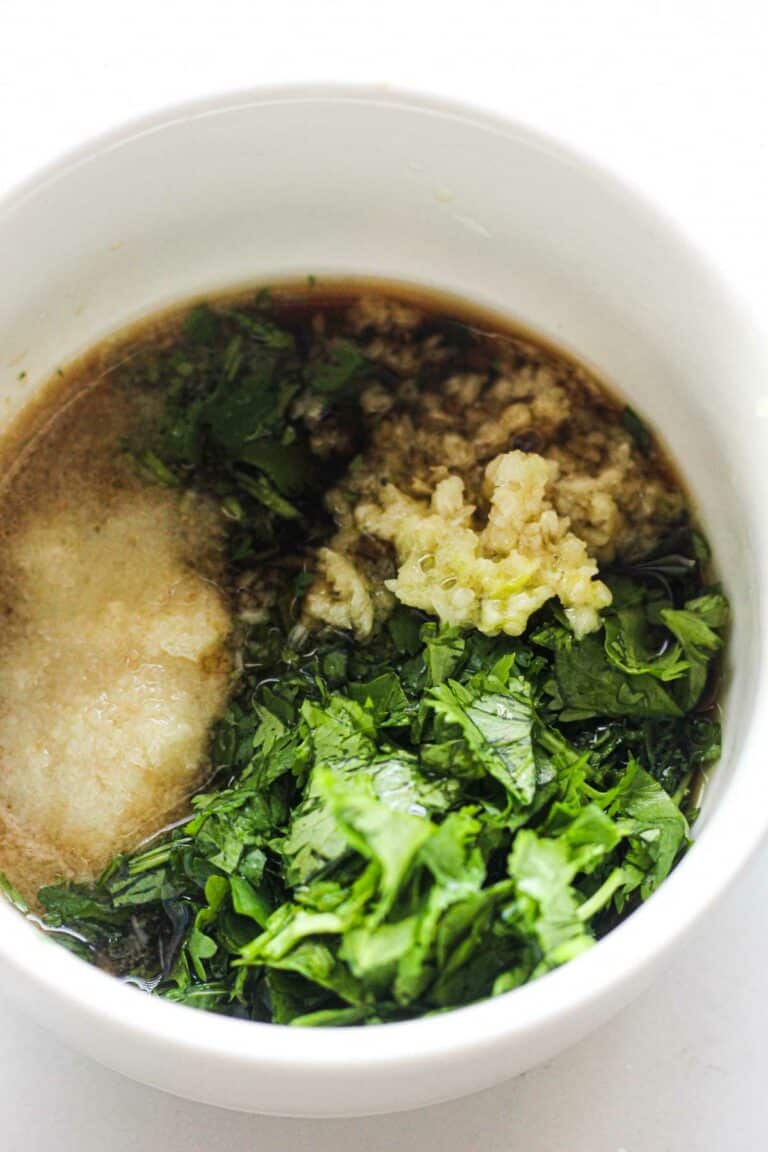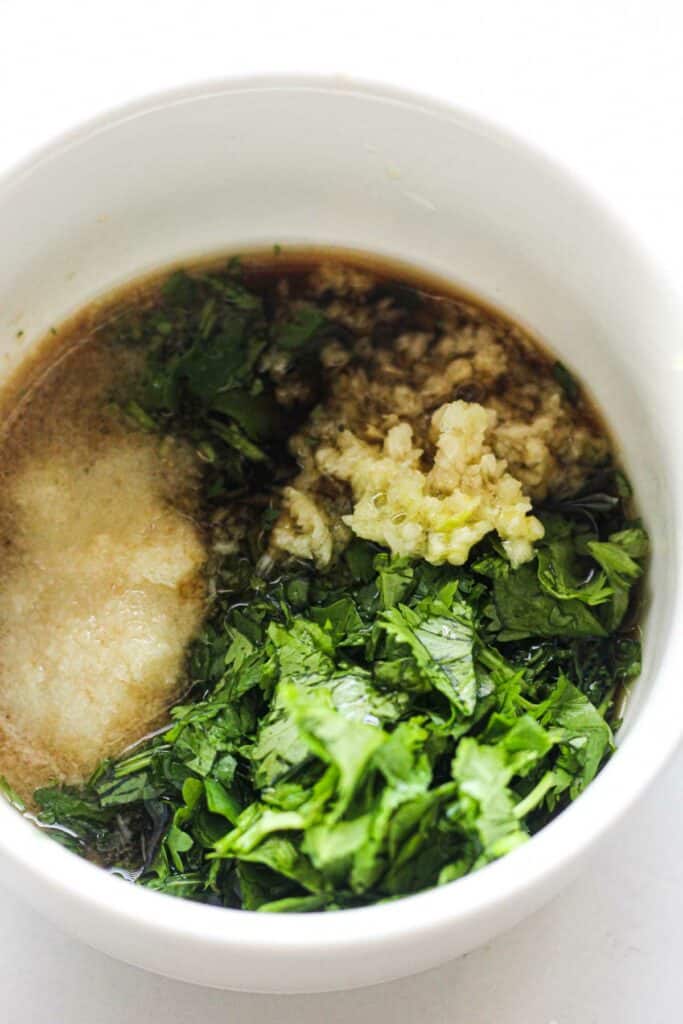 Prepare the sauce. Mix minced ginger puree with soy sauce and garlic. Add cooking wine ( i used rice cooking wine), lemon juice and stir very well. Now, add chopped cilantro. You can substitute cilantro to flat leaf or curly parsley. Stir well.
Bake the fish. Top pompano with the mixture and scoop some into the fish cavity. Add few lemon slices on top for a beautiful look. Bake pompano in the oven, covered in foil for about 20 minutes. Cooking time depends on the weight of the fish. The fish i made was 1,5 lb. Smaller fish will need only 15 minutes to cook all the way.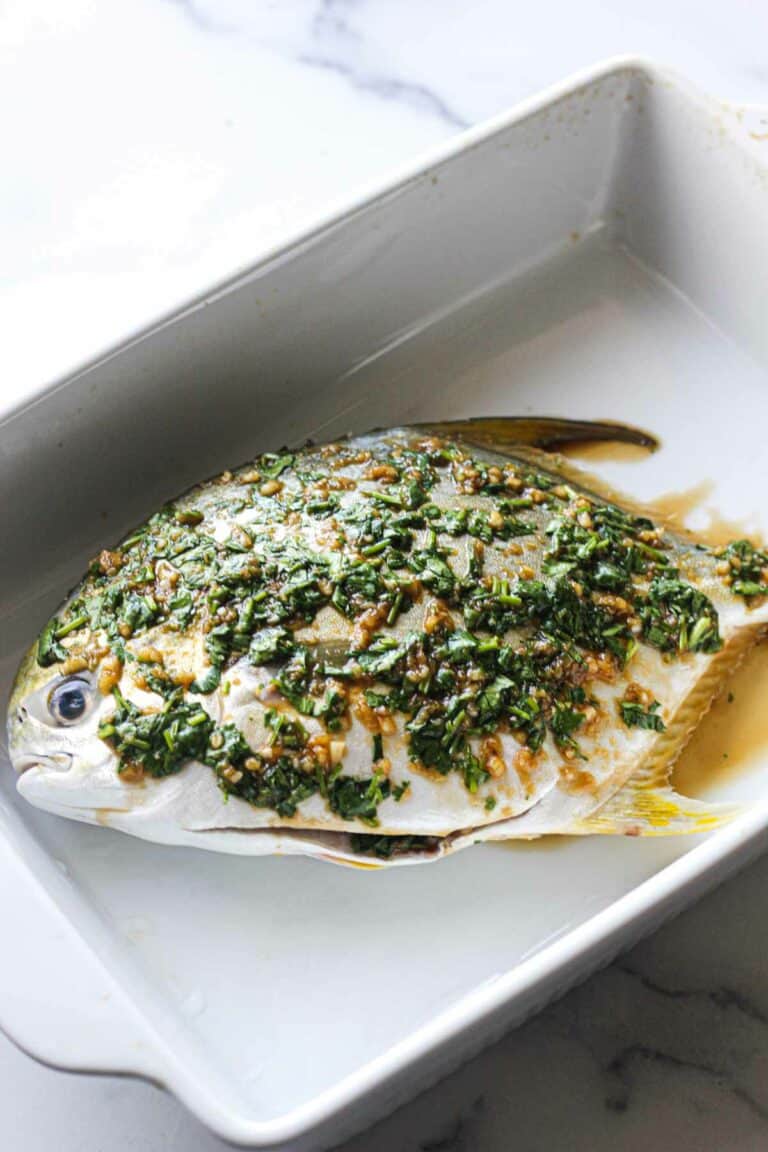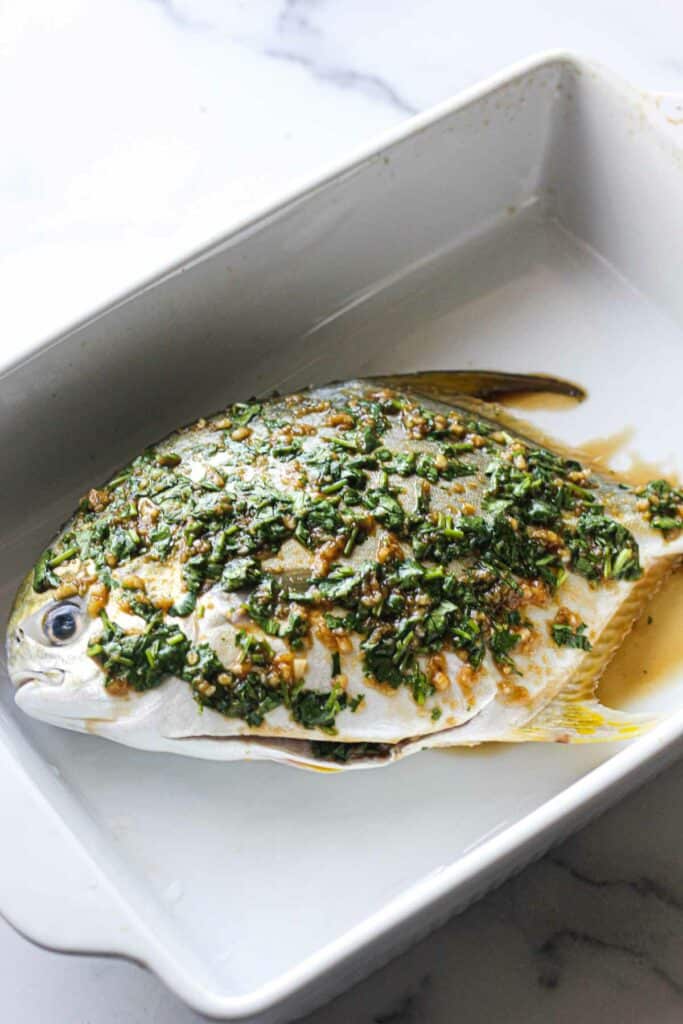 If in doubt that your fish is cooked through use instant meat thermometer. It should read at least 145 degrees when fully cooked. Open the foil and broil for 4 minutes. This process is optional but will make the skin crispy.
Is pompano good fish to eat
Golden or Florida pompano is an excellent source of vitamin D, selenium, vitamin B12 and thiamine. The fish is also low in mercury and is safe to eat as many as you want.
The taste of baked pompano is very mild and little sweet. The texture is flaky and the flesh is white. It stays white even after cooking.
There are different ways to cook pompano. My favorite is baking but you also can try steaming, broiling, pan frying and grilling. All of these methods are amazing when cooking golden pompano.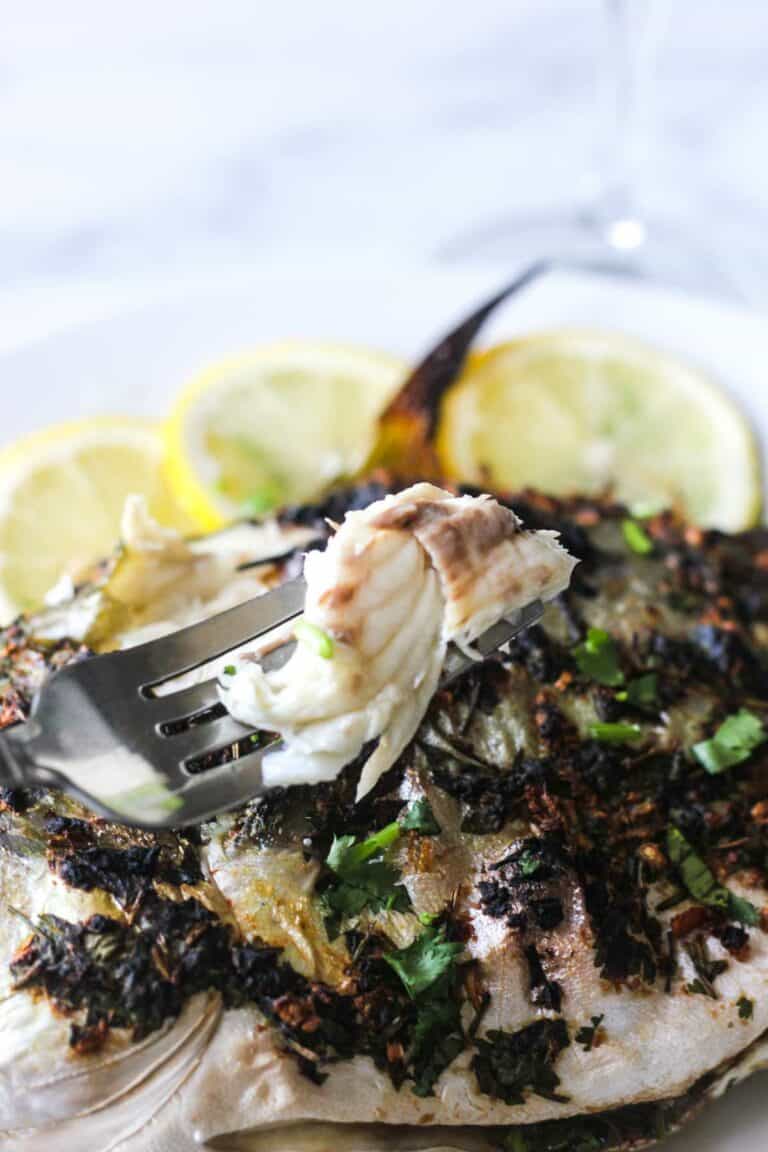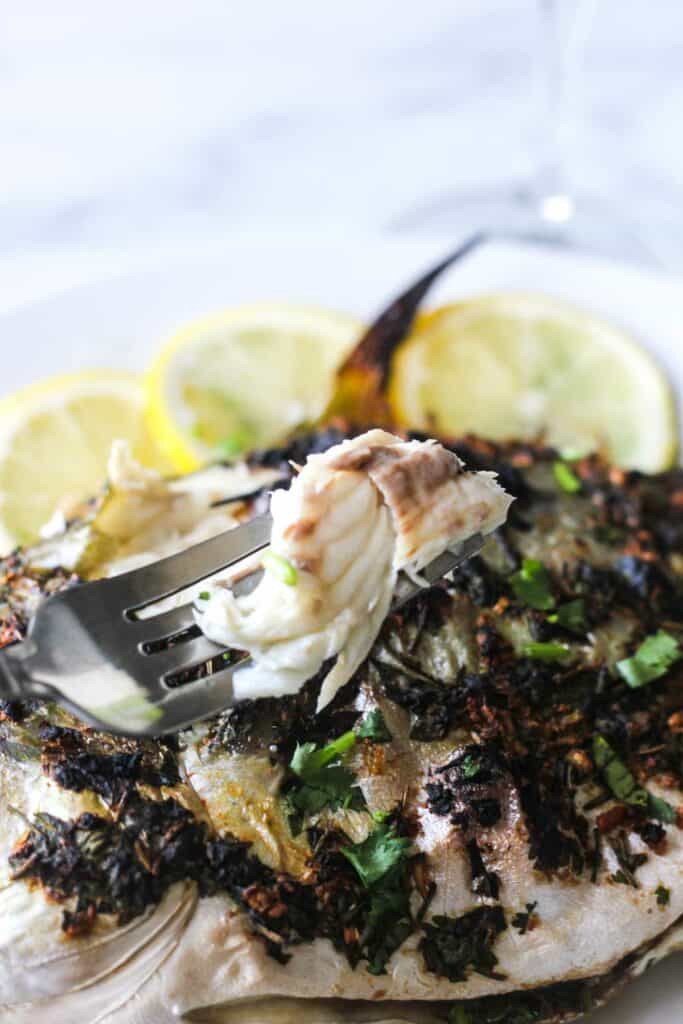 FAQ
Does pompano have a fishy taste? The fish has a mild taste with a hint of sea salt. No fishy taste.
Why is pompano so expensive? Pompano is considered premium fish due to its amazing taste, texture and fat content. Plus there are so many ways you can cook it and each way will end with delicious fish.
Can you eat pompano raw? Yes you can. Golden pompano is delicious in sashimi, sushi and ceviche. You can marinate it in some acid like lemon juice or lime juice.
Is pompano high in mercury? Baked pompano is low in mercury and considered safe to eat.
Is it hard to clean? If you are lucky and can get already cleaned fish that would be nice. Otherwise don't worry. Florida or Golden pompano almost has no scales. Its easy just to scrub few from the belly and around fins. You will still need to gut the fish.
Is pompano fish farmed? Due to its popularity and excellent taste, pompano is now being farmed as well being wild caught.
Best cooking method? Golden or Florida pompano is a very good tasting fish and there is a variety of cooking methods that you can use with the fish. My favorite are grilling and baking. You just cant go wrong with it. Roasting, pan searing , frying, poaching and steaming are also excellent ways to prepare pompano.
I cant forget about one very popular cooking method lately- air frying. If the fish fits in your air fryer- perfect! You dinner will be done in no time.
Where to the fish
I was not able to find any kind of pompano it my local grocery store so i ordered it online. Lots of Asian food markets sell it fresh or frozen. Mine came from New York fish market, fresh, packed with dry ice. When buying fresh make sure to cook it withing a day or two. Its goes bad quick just like nay other fresh fish.
Leftovers
Store leftovers in an airtight container in the fridge for up to 4 days. Optionally cover the plate with foil and store it that way. Reheat in the oven or microwave.
Side dishes
Classic side dish to any kind of white fish is of course white rice. Add your favorite sauce and enjoy classic rice fish combo for dinner.
Any type of green salad will work very well here too. Like kale or arugula salad. Its a healthy option and its my favorite. I like to add chopped tomatoes, Persian cucumbers and sometimes bell pepper to my salad. Squeeze some lemon on top and drizzle with olive oil. Delicious!
Sauteed or grilled vegetables will be amazing to accompany baked pompano too. By the way, i like to enjoy fish just by itself, with a squeeze of lemon. If you share fish with one or two more people, that would be an amazing appetizer before a big meal. But if you are eating the whole fish by yourself, especially with the side dish, thats the whole meal by itself.
Readers favorite fish recipes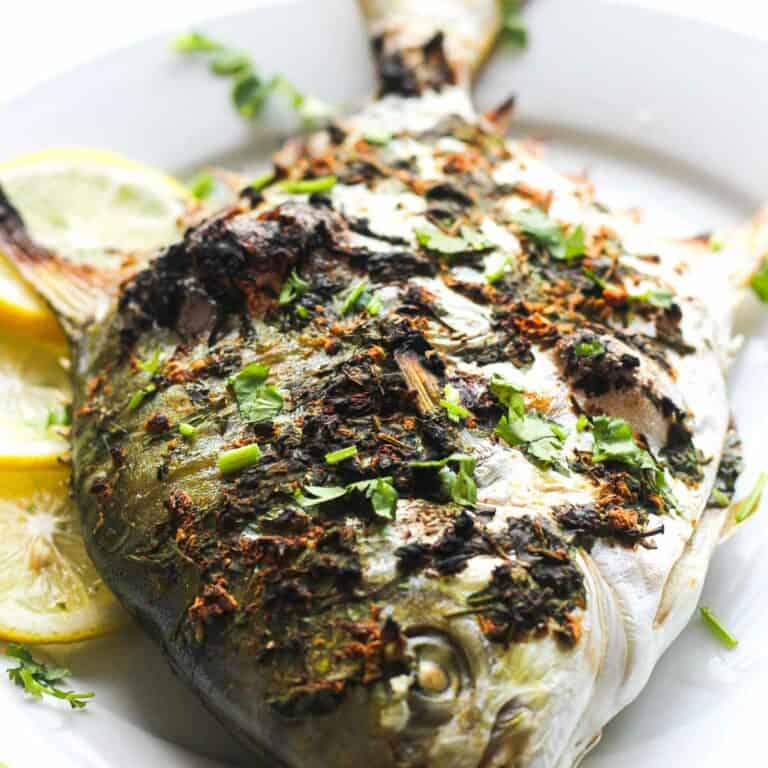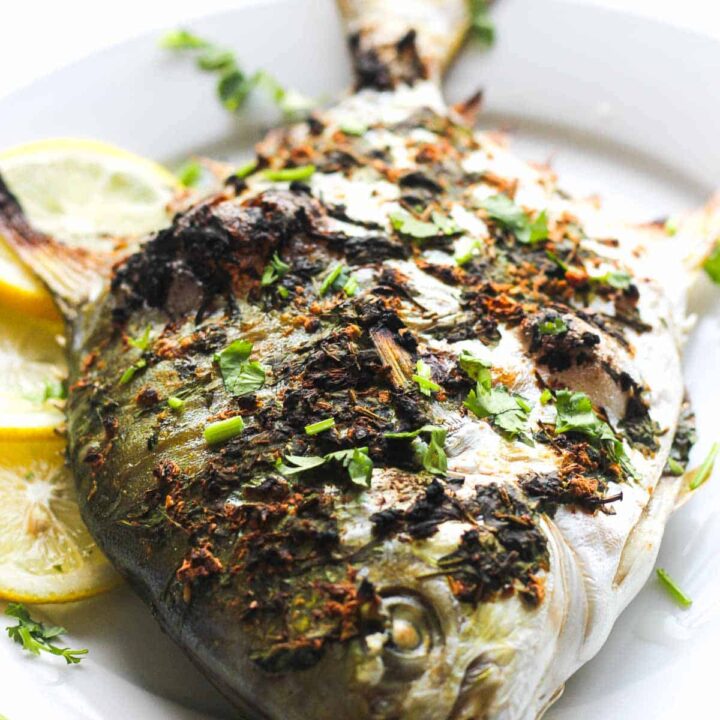 Whole baked pompano with ginger sauce
Baked pompano is an amazing delicious dish that will impress your guests. Lemon ginger topping adds so much flavor and make this pompano recipe worth being in the best restaurant menu. Ready in less then 30 minutes and made in one pan!
Ingredients
1 golden pompano
1 tablespoon ginger paste
2 tablespoon soy sauce
2 tablespoon cooking wine
2 chopped garlic cloves
1 cup chopped cilantro
½ lemon, squeezed
Instructions
Preheat oven to 400 degrees.
Clean and rinse the fish under the cold running water.
Prepare the sauce- mix ginger, garlic, cilantro, soy sauce and cooking wine in bowl.
Place fish in a baking dish, top it with the sauce. Add same sauce inside the fish.
Cover the dish with foil and bake pompano for 15-20 minutes, depending on the size. Take the foil off and broil for additional 4 minutes.
Notes
I used cooking rice wine
Broiling fish is optional. It helps create beautiful color and makes the skin crispy.
Internal temperature of a fully cooked fish should be at least 145 degrees Fahrenheit.
Lemon can be substitute to lime in equal proportions.
This recipe can be used with other type of fish too. Try to use mahi mahi, mullet or snapper.
Nutrition Information:
Yield:

1
Serving Size:

1
Amount Per Serving:
Calories:

121
Total Fat:

4g
Saturated Fat:

0g
Trans Fat:

0g
Unsaturated Fat:

3g
Cholesterol:

0mg
Sodium:

1763mg
Carbohydrates:

16g
Fiber:

2g
Sugar:

4g
Protein:

4g