You need to try this easy oven baked yellow croaker recipe! The fish is so tender and full of flavor, you will love it. Takes less then 30 minutes to prepare.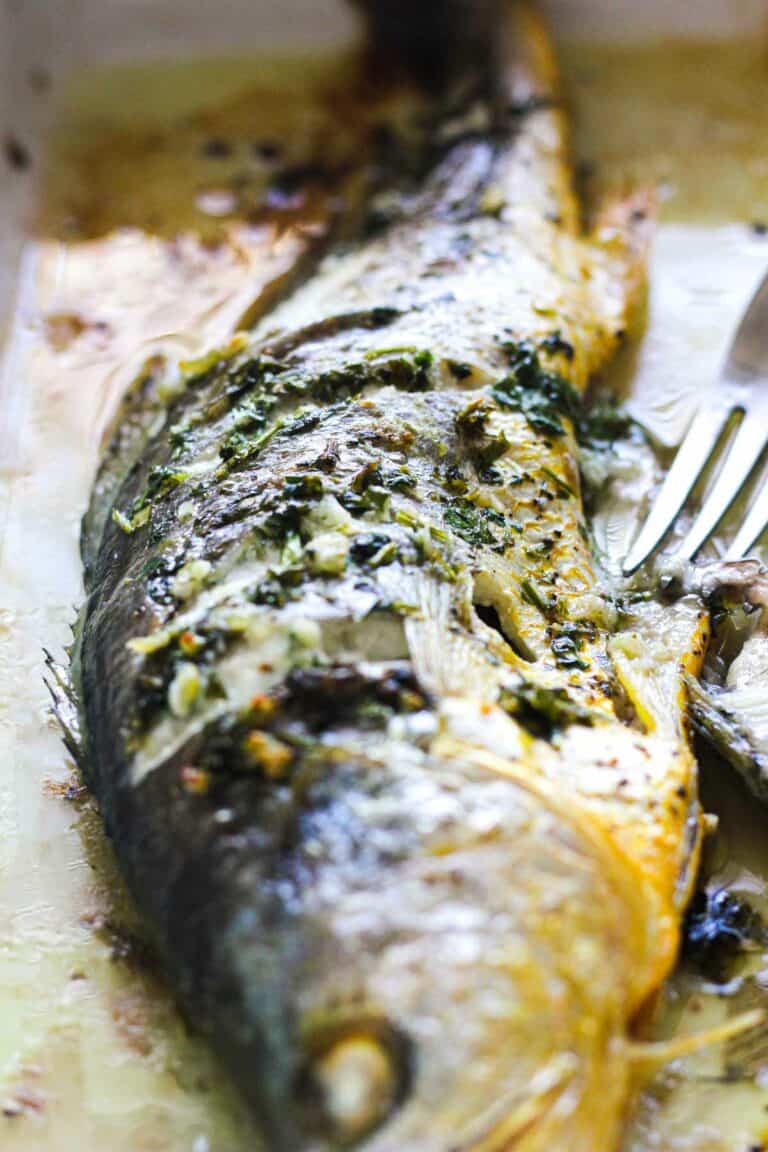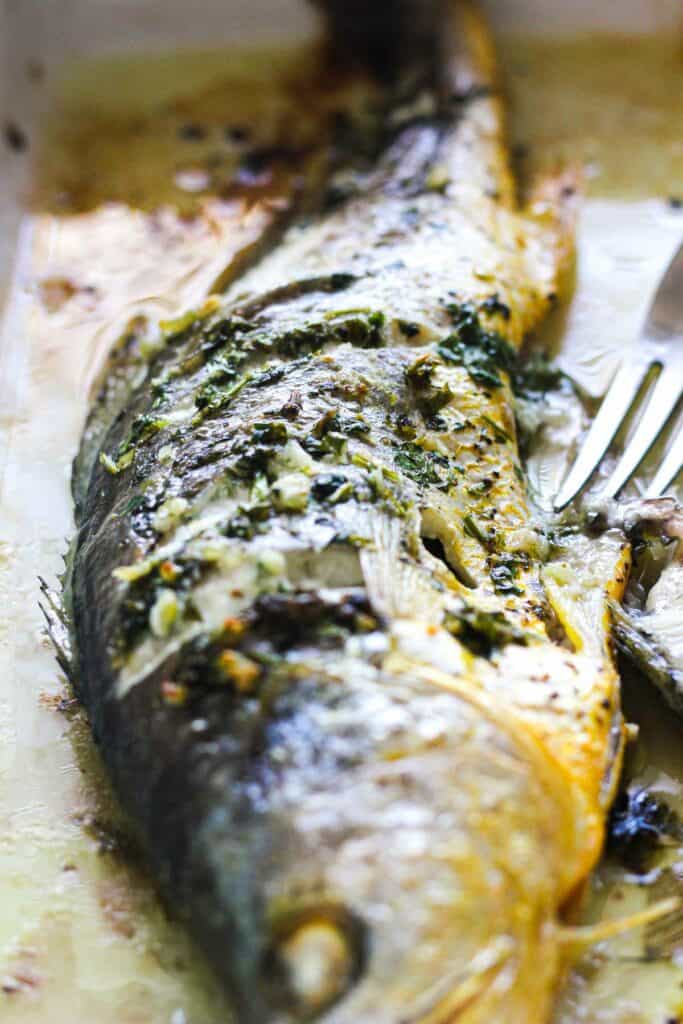 What is yellow croaker fish
Yellow croaker fish is native to western Pacific, mostly lives in Yellow sea and East China sea. It has an almost sweet but mild flavor. White flesh remain white after baking. You can eat the croaker skin too!
Best way to prepare
My favorite way to cook yellow croaker is to bake it covered with foil. Steaming is another great option to cook this white fish.
Pan seared or fried croaker is very delicious, especially its crispy skin. But unfortunately its not the healthiest way to cook it. Try to use olive oil and lots of herbs and garlic.
Where to buy it
Since yellow croaker is a western Pacific fish, its hard to find it fresh in US. At least i didn't have any luck. Please let me know in comments if you know where to buy it. I got mine from online store. Fish comes in rock frozen.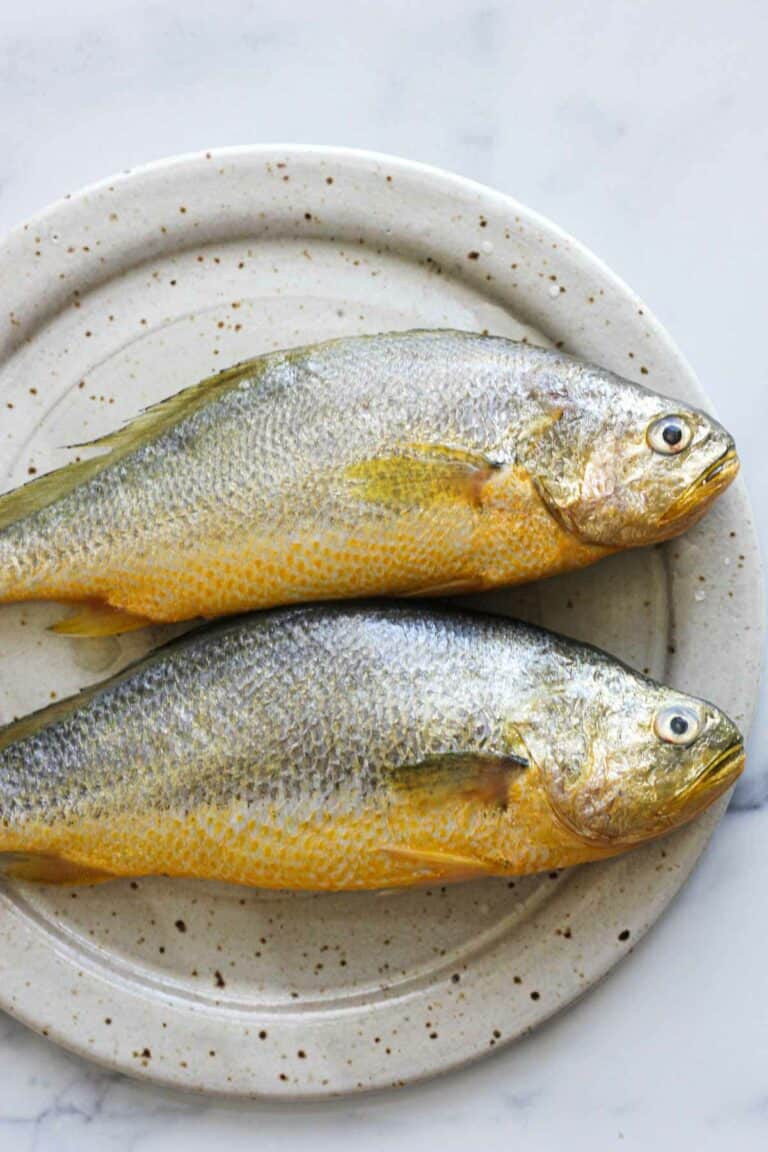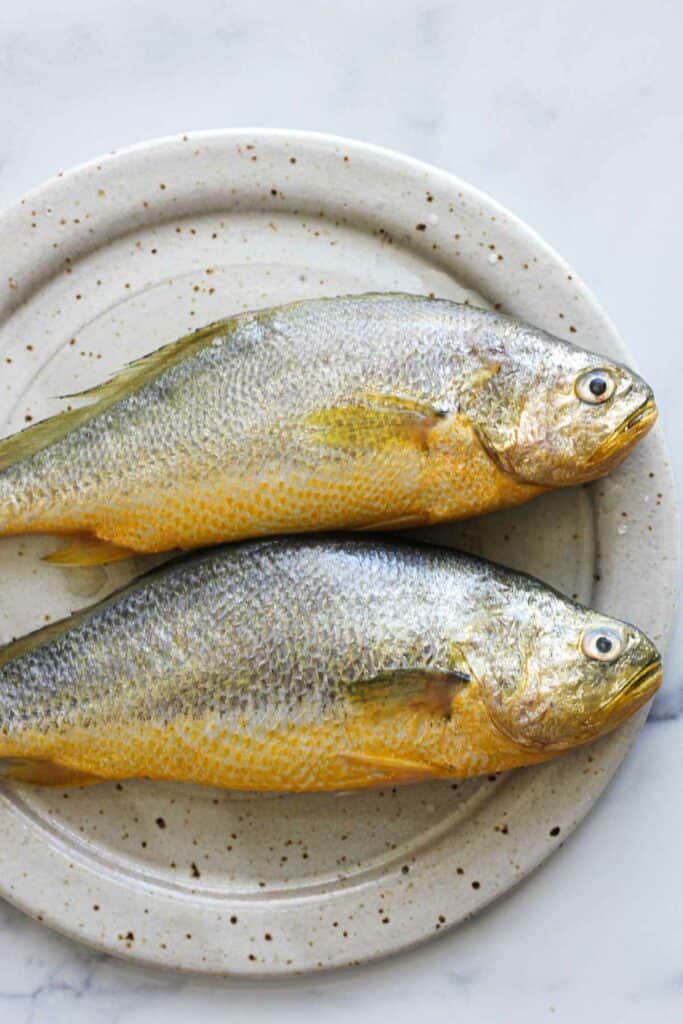 How to defrost fish
If you have frozen fish just like i do, please defrost it properly. Take it out of the freezer and place fish in the fridge. Let it thaw overnight. If you are short in time, you don't need to use the fridge.
Just leave fish on the counter or in sink for couple hours and that should be enough.
How to bake yellow croaker fish
This recipe is easy as one two three if you ever worked with whole fish before.
Clean fish
If your fish was sold to you whole, you will need to gut it and to descale. Here you can find how to properly clean the fish.
Once croaker is completely clean and ready to go, pat dry it with paper towels and place in the baking dish. Make few long slits.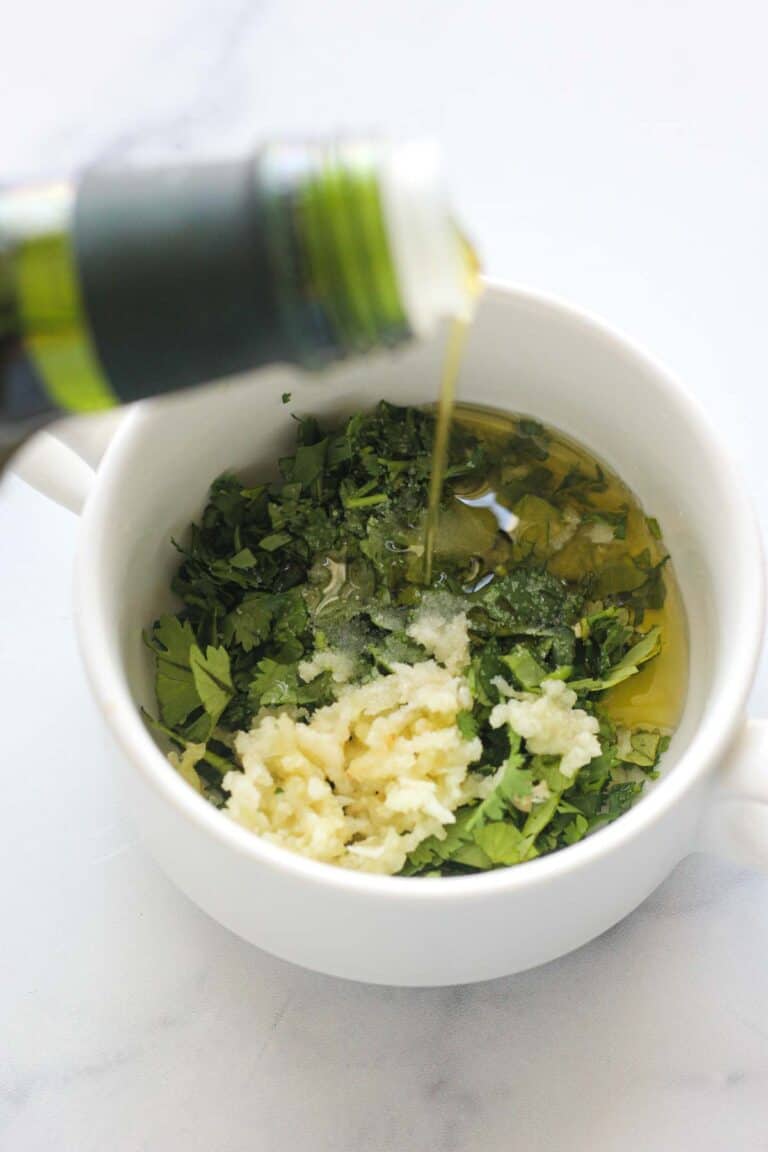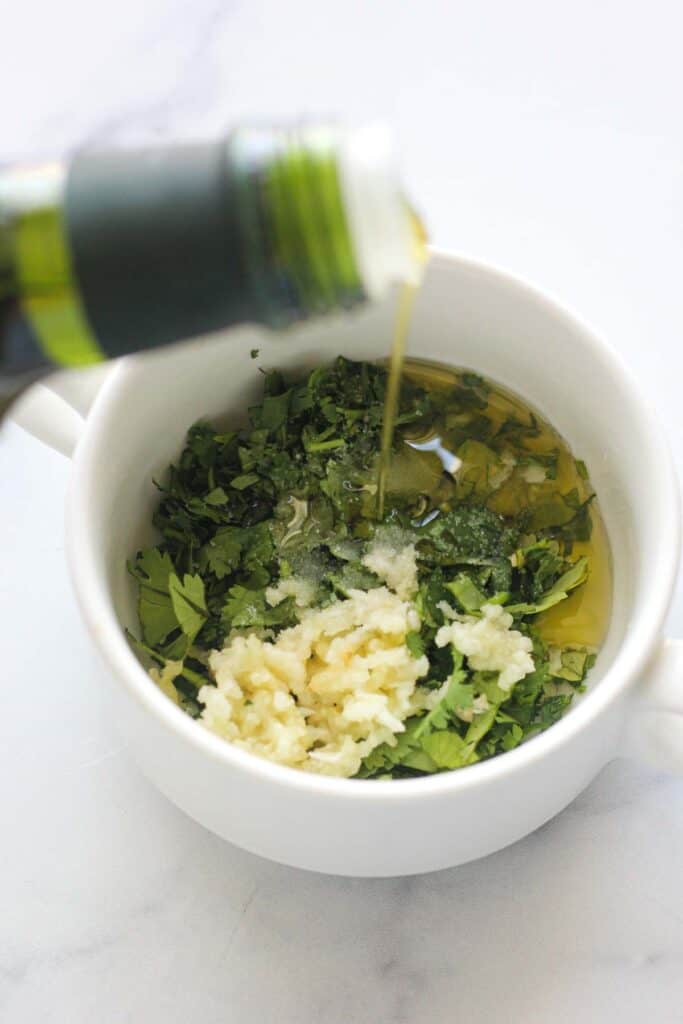 Make a topping
This topping combines all the best flavors that goes well with any white fish. Grab a fresh lemon and squeeze about ½ of it into the small bowl. Watch for seeds! Chop fresh cilantro and add to the bowl.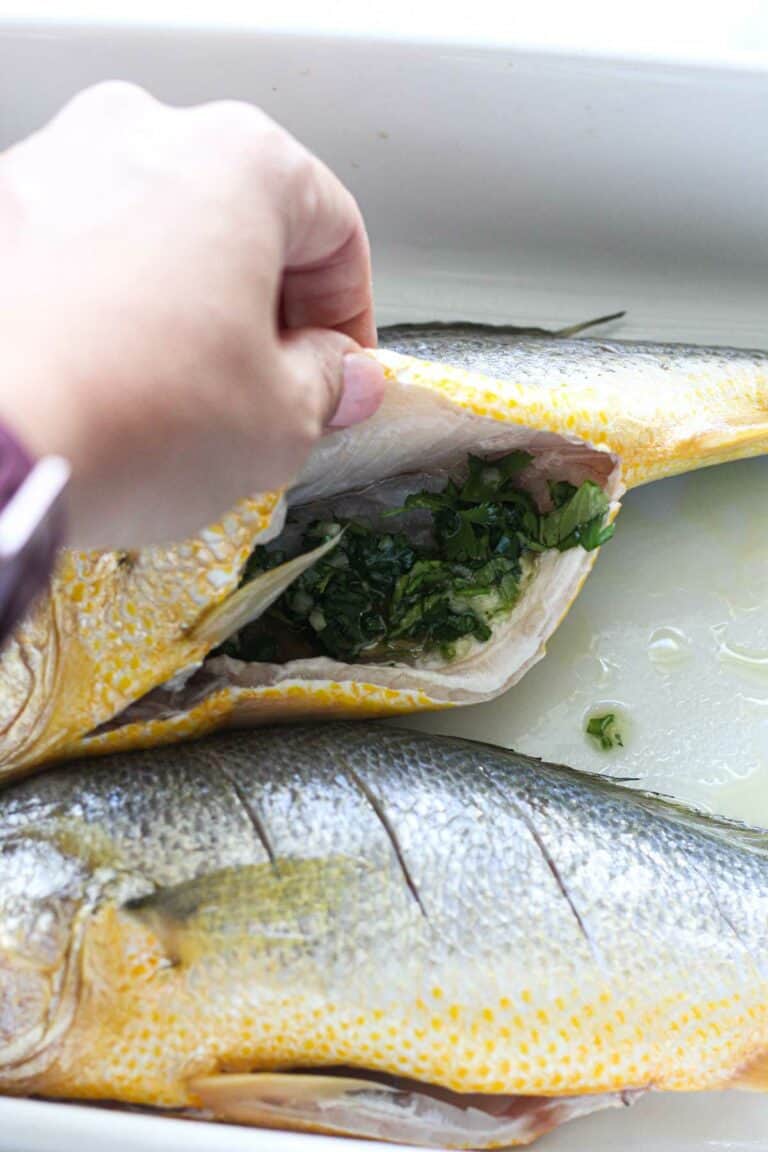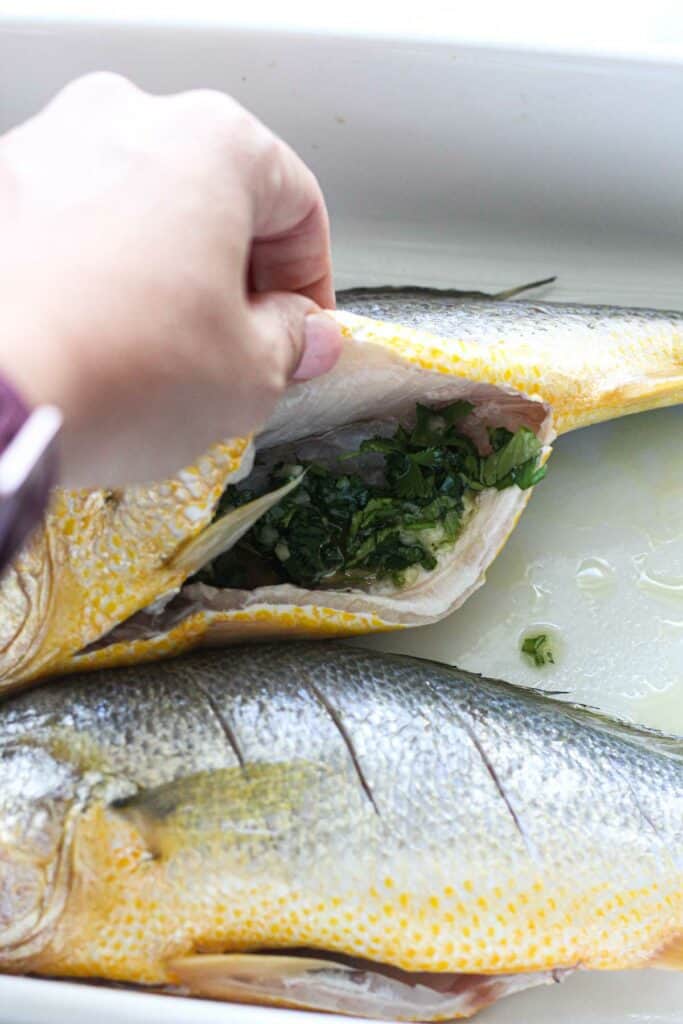 Peel garlic and mince it or finely chop and add to the mixture. Add salt and pepper and drizzle olive oil on top. Stir to combine. The mixture is not suppose to be runny, it has to be thick and chunky. If you will add too much oil it will make the fish too oily but its up to you.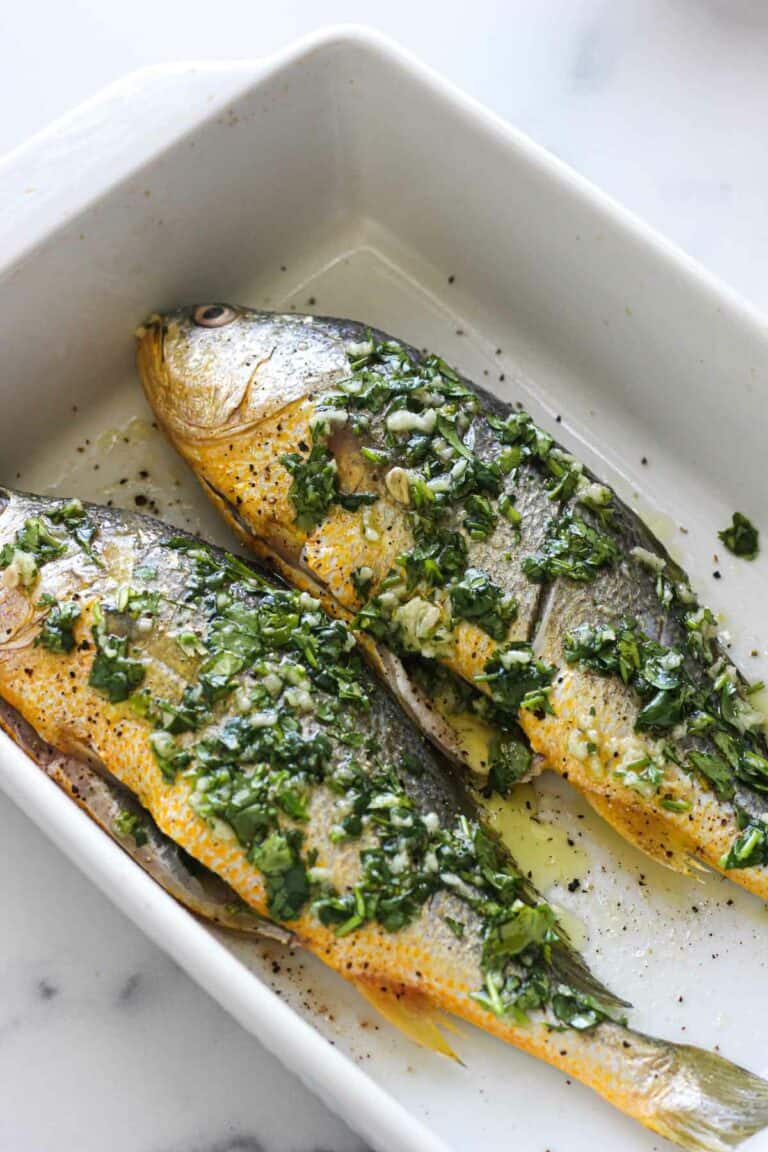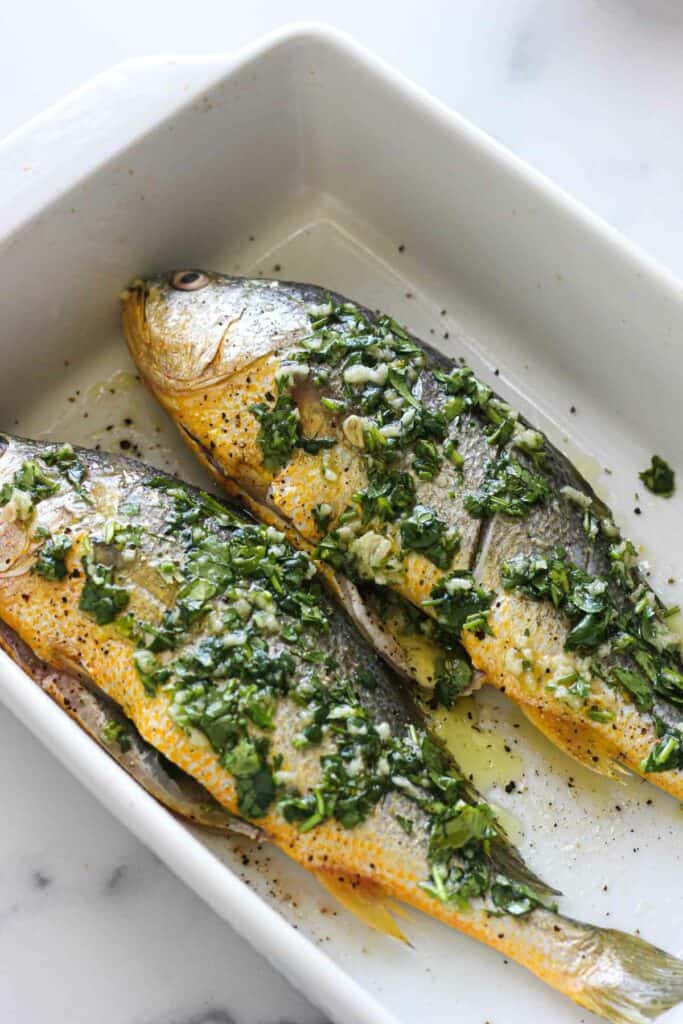 Prepare and bake
Stuff cavity of the fish with the mixture and cover the fish entirely. Its already looks and smells amazing. Cover the baking dish with foil. Make sure its covered tight, we don't want any steam to come out.
Cook for 20 minutes in a foil covered baking dish and then another 5 minutes under the broiler. Broiler time is optional but it adds extra look and flavor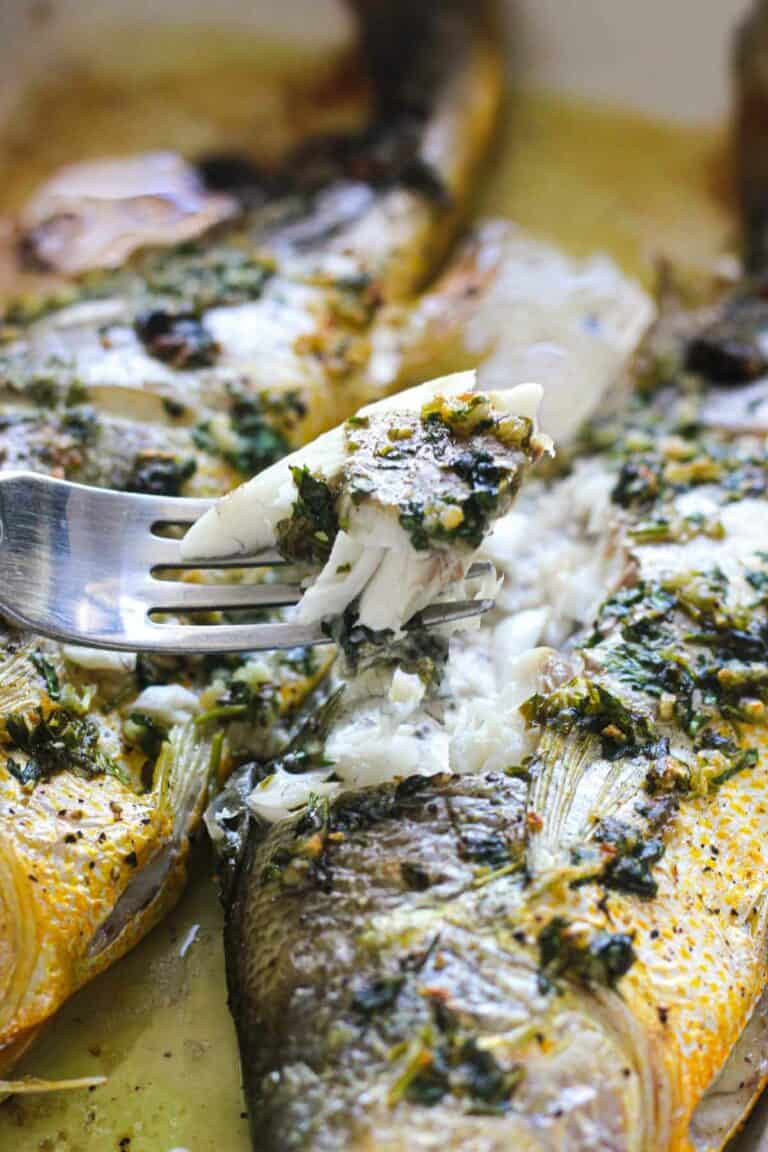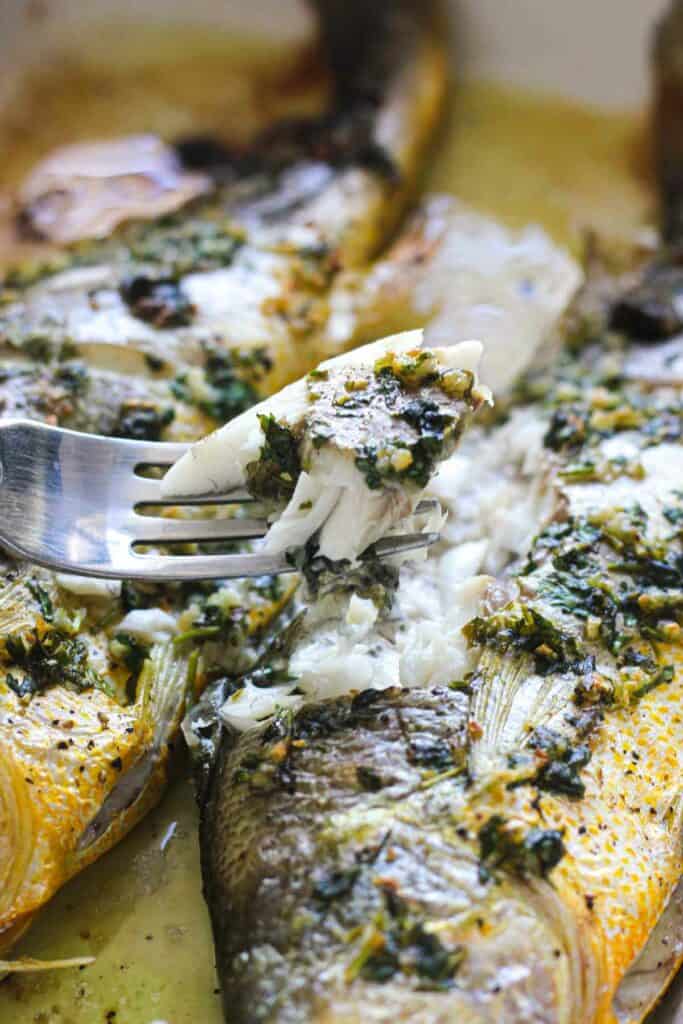 What do i love about this recipe
My first answer is just how easy this baked yellow croaker recipe is! Just top the fish with some herbs and lemon and bake. Also the recipe is flexible. Add more or less topping and change amount of herbs to your liking.
Despite the fact that croaker is a bony fish, its easy to clean it. You can fillet it easily. Even my daughter was able to do it without any problem. Always supervise your kids when they eat fish though!
Eating croaker fish for dinner once per week is a great way to stay healthy. It contains lots of Omega 3 fatty acids The fish is also high in protein! Its also high in iron and vitamin B12.
More seafood recipes
Recipe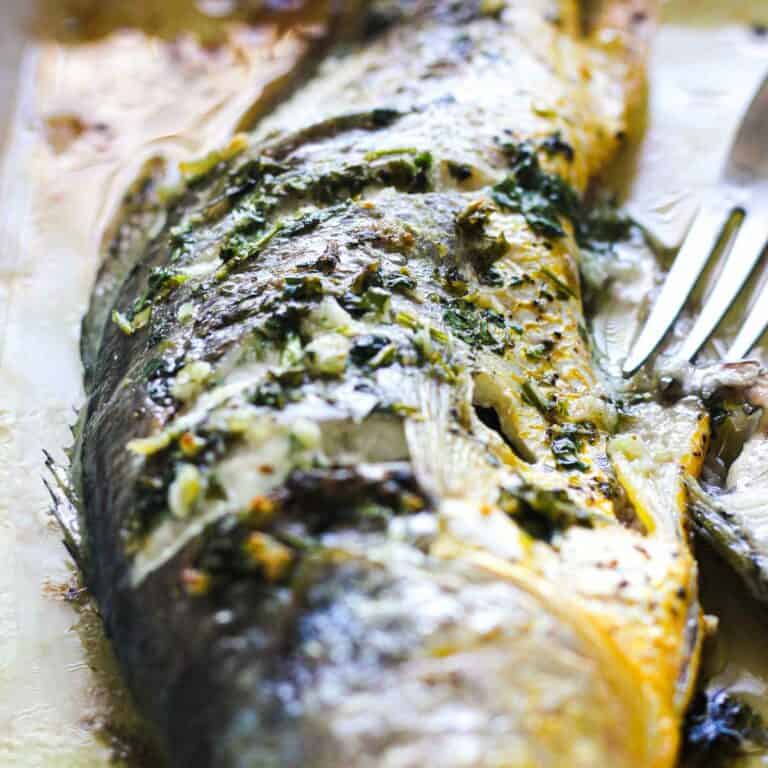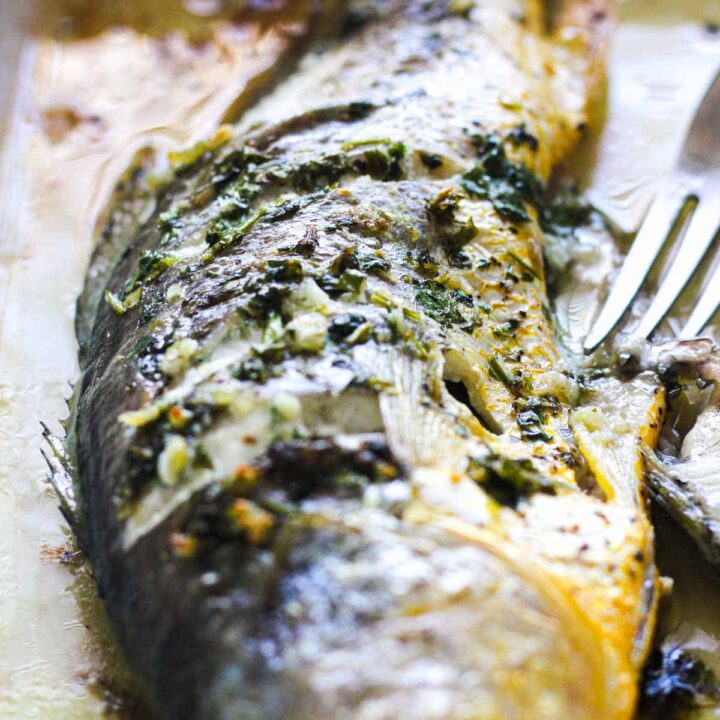 Oven baked yellow croaker recipe
You need to try this easy oven baked yellow croaker recipe! The fish is so tender and full of flavor, you will love it. Takes less then 30 minutes to prepare.
Ingredients
2 yellow croaker fish, descaled and cleaned
½ cup packed chopped cilantro
1 tablespoon olive oil
4 garlic cloves, minced
1 teaspoon salt
juiced ½ lemon
freshly ground pepper
Instructions
Preheat oven to 400 degrees Fahrenheit. Lightly spray baking dish with olive oil spray.
Rinse prepared fish and place in the baking dish.
Mix cilantro, garlic, olive oil and salt in a small bowl. Cover fish with the mixture. Don't forget to add mixture inside the fish too.
Cover baking dish with foil and place in to the oven for 20 minutes.
Take the foil off completely and broil fish for 3-5 minutes. This step is optional.
Notes
Add lemon slices on top of the fish for extra flavor and colors. After broiling lemon will look amazing.
If possible buy already cleaned fish. It will safe you lots of time.
Fish should be ready in 20 minutes. If unsure stick the meat thermometer in the thickest part of the fish. The temperature should be at least 145 degrees Fahrenheit.