This oven baked northern pike recipe features tangy sour cream and vibrant spices to create a creamy, melt-in-your-mouth, unbelievably flavorful fish dish! It's a decadently delicious main that's easy to prepare in just a few simple steps.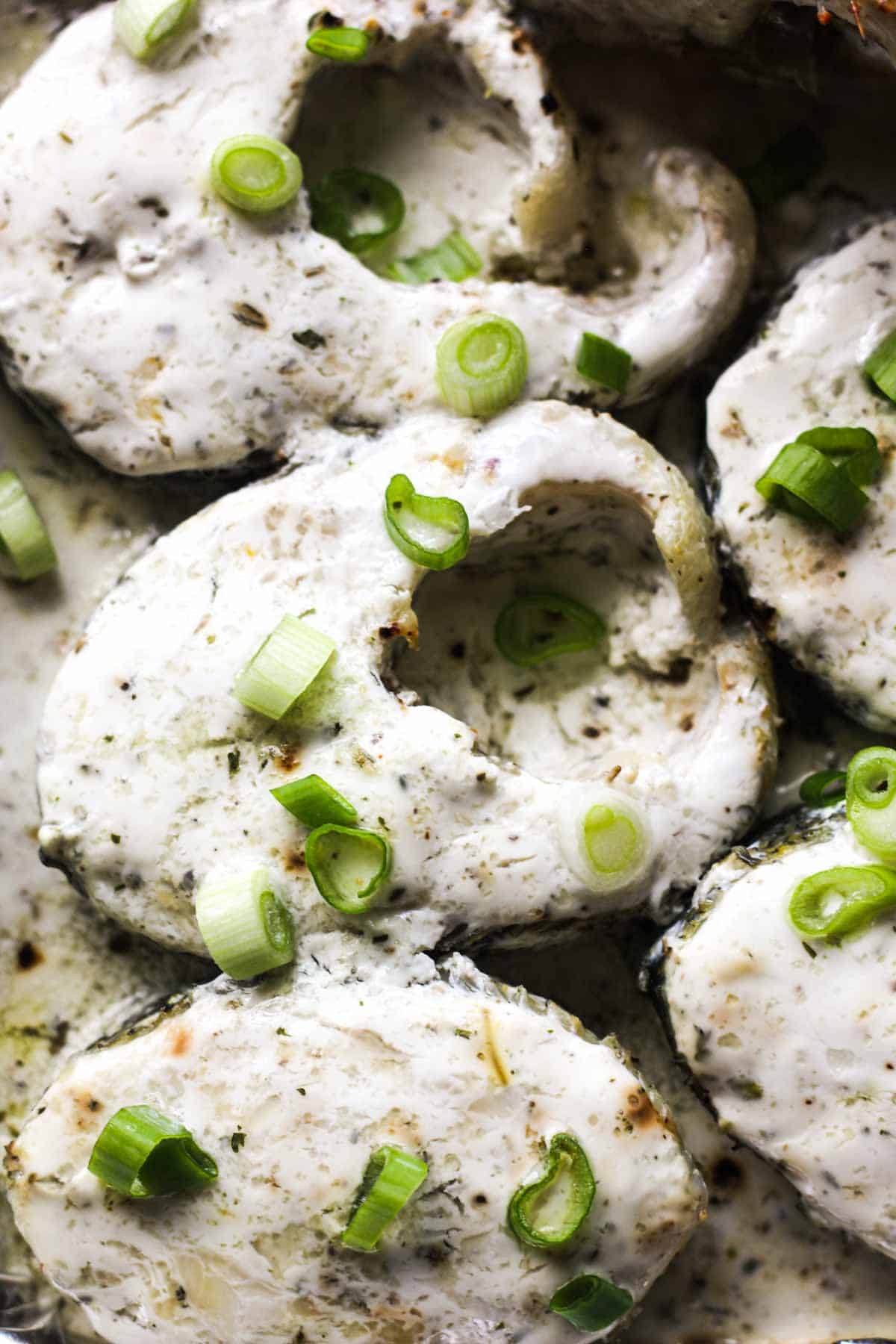 Pike is a tasty white fish that's versatile to prepare with a number of different methods and flavor profiles. Because it's a large and hearty fish, fillets tend to be terrifically thick and perfect for baking!
This easy northern pike recipe is made with simple key spices, like oregano and garlic, plus sour cream and just a bit of water. The fish is baked to tender, flaky perfection with a creamy and decadent sauce that's delightful with any number of side dishes. Top with chopped green onions for a bright pop of freshness!
Baked northern pike is rich and flavorful, but rustic and comforting – and practically effortless to prepare in just 40 minutes total, from start to finish!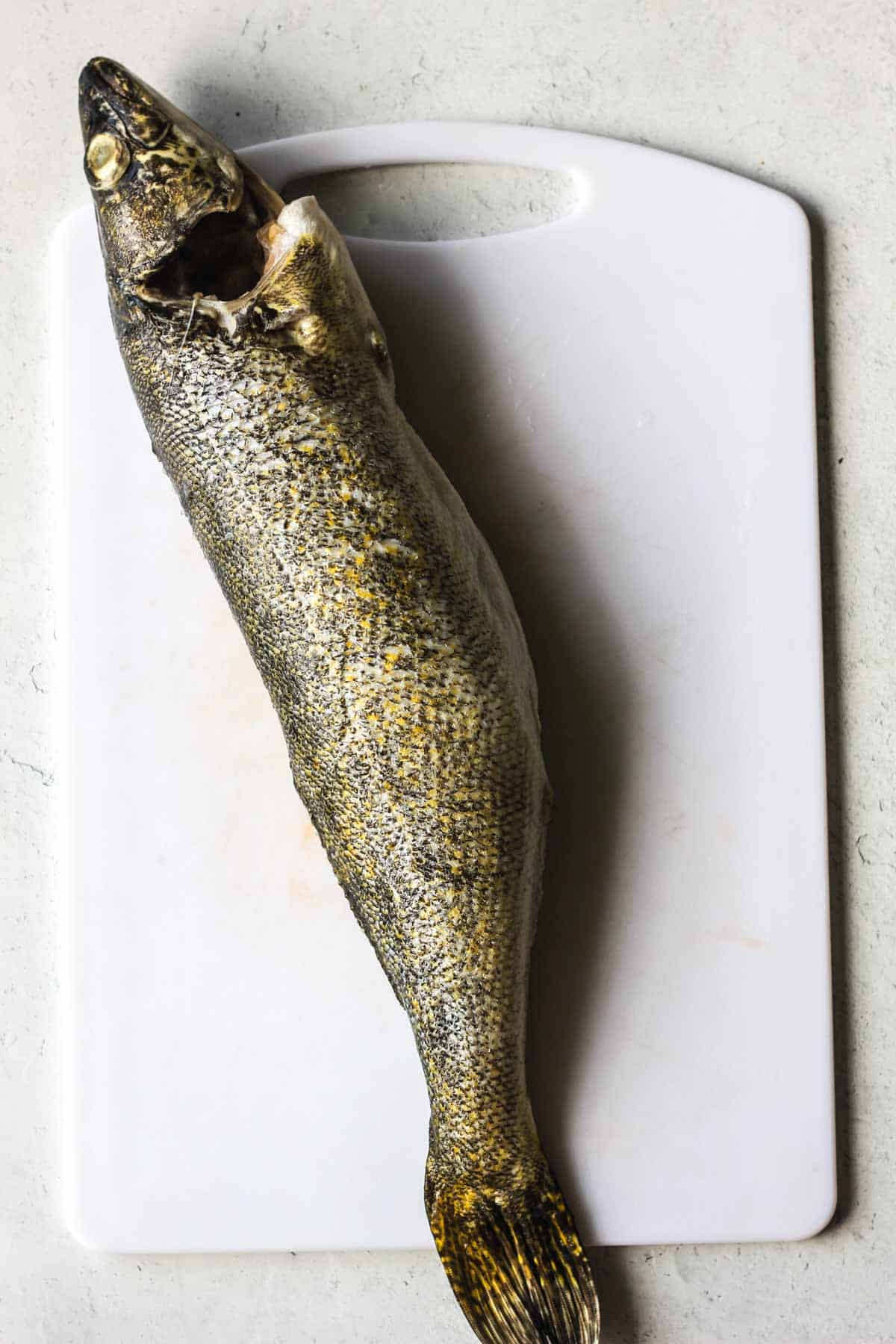 How to make baked northern pike recipe
To ensure that the fish is coked properly you will need to preheat oven to 375 degrees. If the fish if frozen, you will need to thaw it first. You can do it easily on the counter, it will take few hours. Or thaw it overnight in the fridge. This method is preferred since it will keep more moisture inside the pike.
If the fish is cleaned, just rinse it with cold water and cut into steaks. You can bake it whole of course if you want but the fish will not be as flavorful. The sauce will not get deep in to the pike.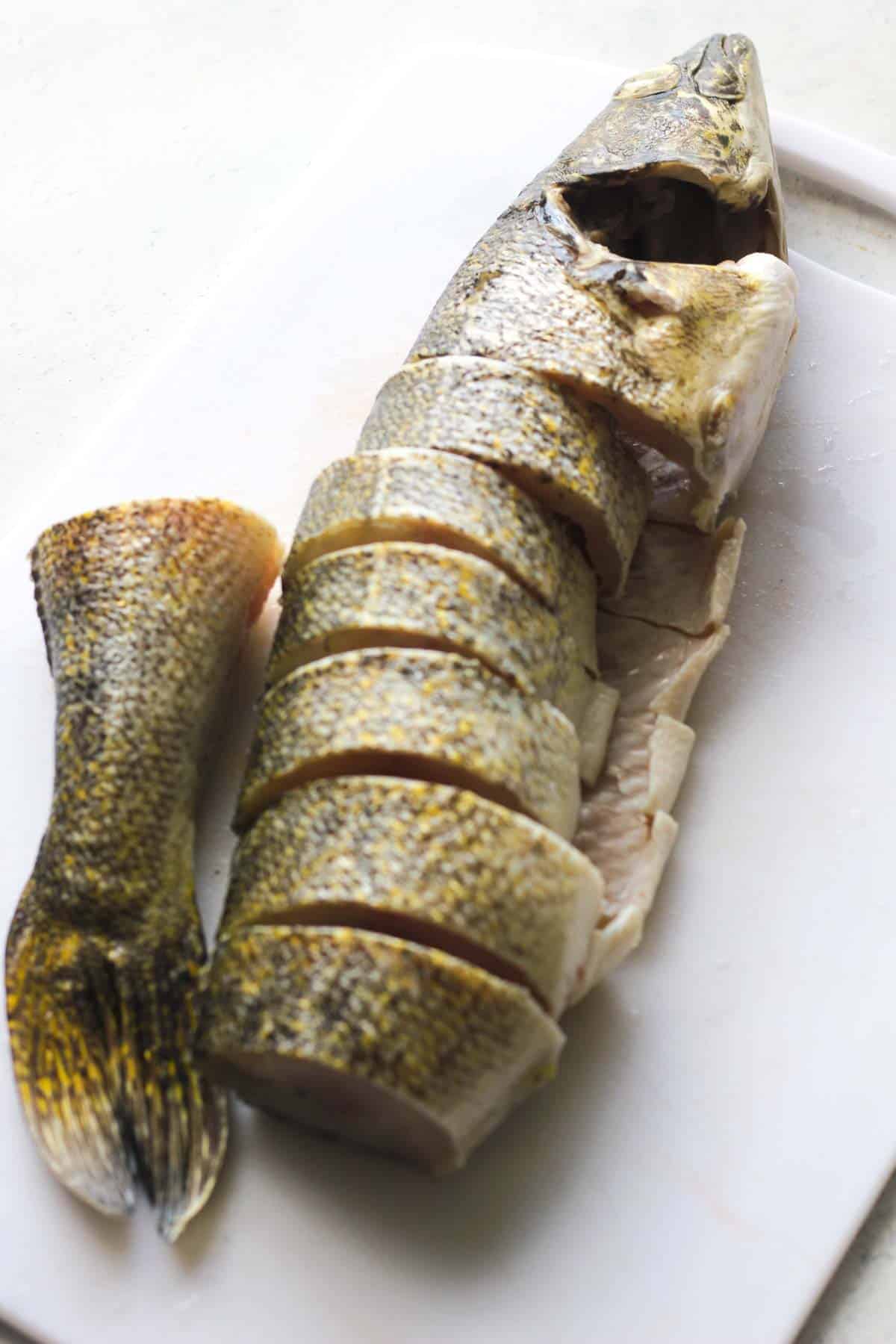 Anyways, line the baking dish with foil or parchment paper and brush with oil. Season pike steaks very well with salt, garlic powder and pepper and place in the baking dish. In a small bowl mix sour cream, water and oregano.
Cover fish with the mixture and bake in the preheated oven for about 30 minutes. Internal temperature of fully cooked fish should be at least 145 degrees Fahrenheit.
Enjoy by itself or with side dishes. We love this recipe but do not overcook Northern pike! It doesn't have much fat in it so it will dry out very quickly, even with the sour cream sauce.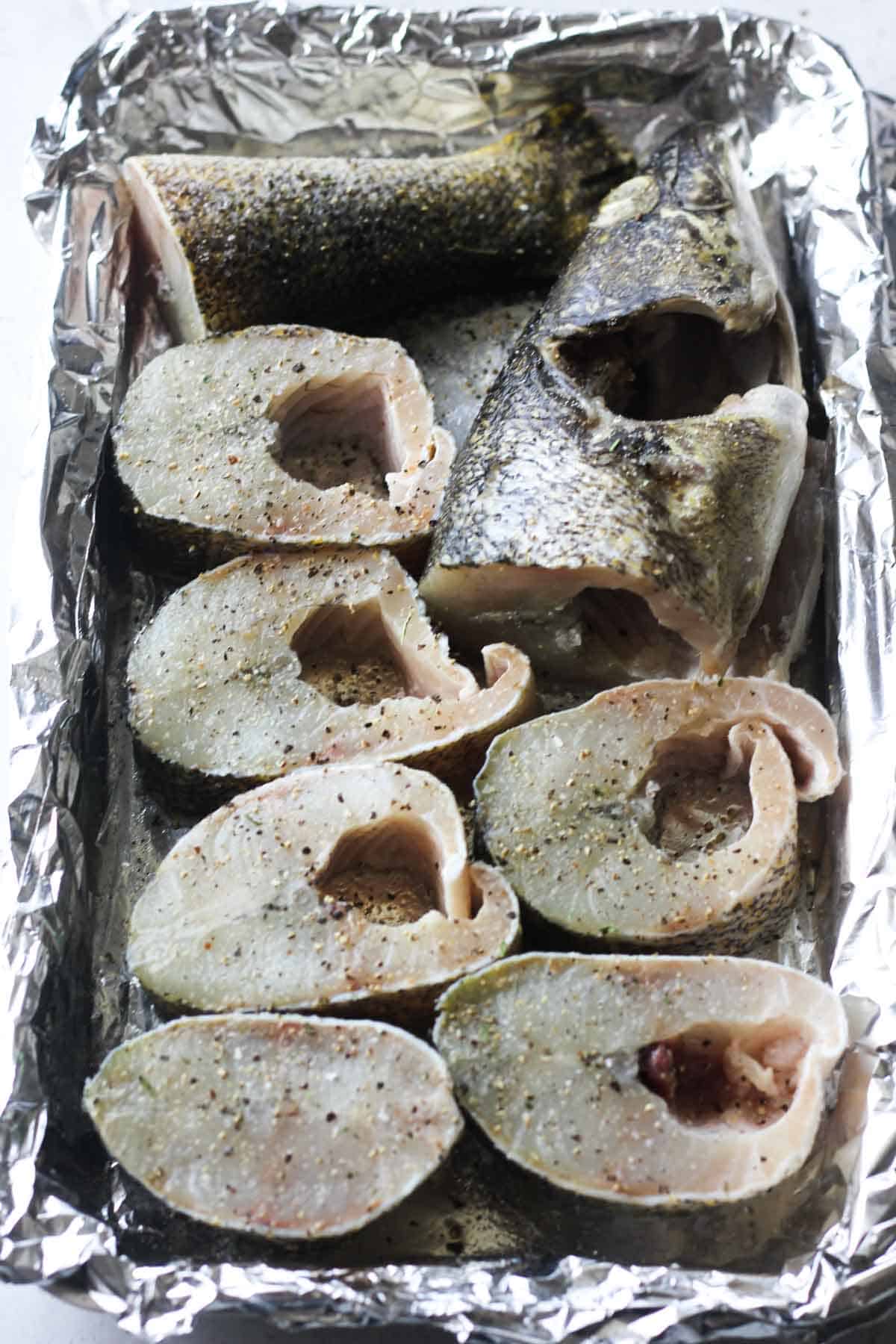 Recipe ingredients
Northern pike. Cleaned and cut into pieces. If purchased whole be sure that you first properly skin and de-bone the fish before filleting.
Salt and pepper. The foundational spices for building flavors.
Oil spray. High heat and neutral-flavored, like avocado oil or canola oil.
Sour cream. Or greek yogurt. Full fat is best vs. 2% or light sour cream or yogurt.
Water. Combined with the sour cream to make the baked northern pike perfectly moist and flaky.
Oregano. A fragrant dried herb that pairs great with the tangy sour cream.
Garlic powder. Classic savory spice for elevating the flavor of a dish.
Green onions. Fresh and chopped. The final touch of this northern pike recipe!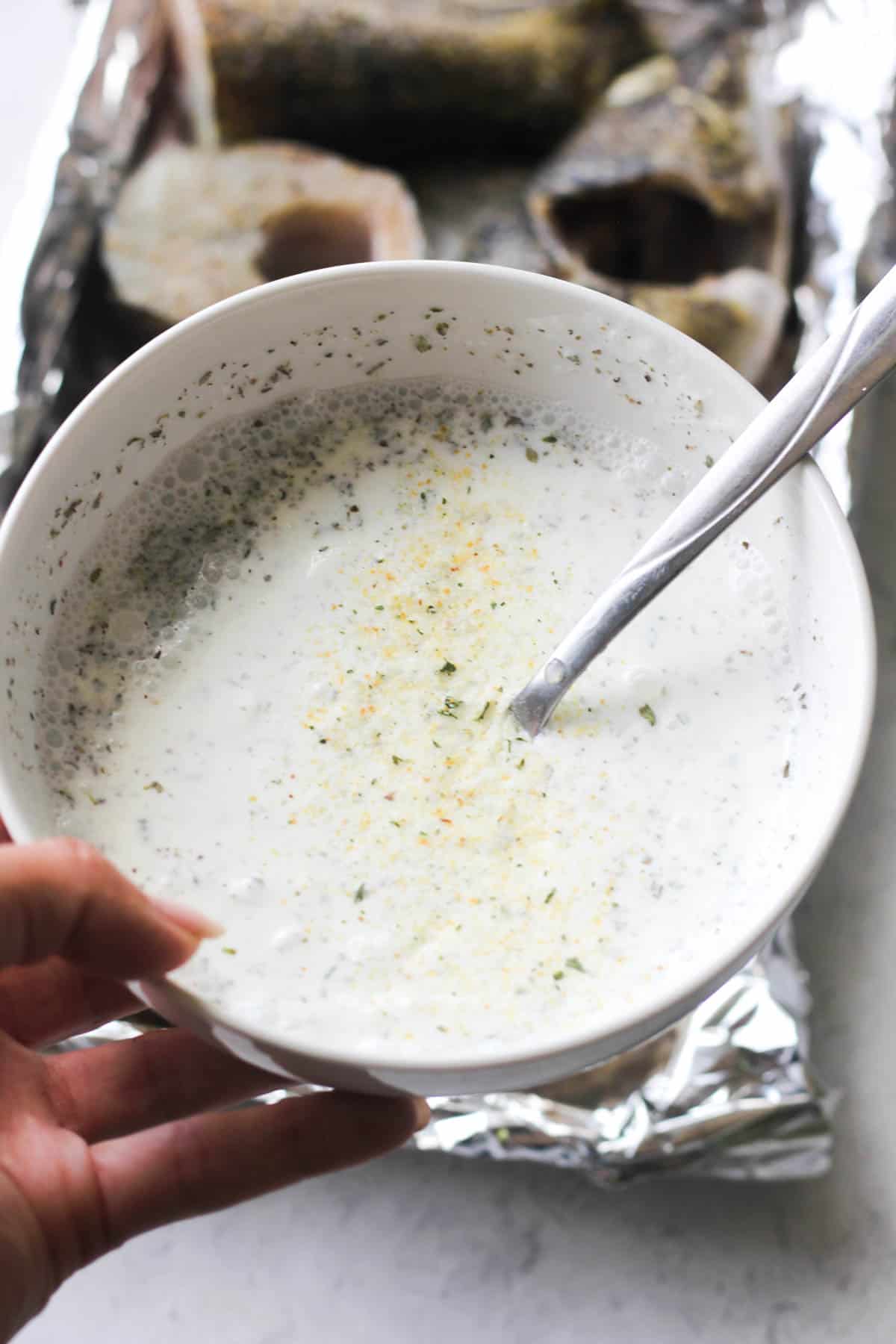 Why is northern pike good to eat
The fish takes some patience to properly clean and de-bone, but the bit of effort is well worth it.
Pike is good to eat for two main reasons: 1) It tastes very good! And 2) pike is an invasive species, and therefore is considered environmentally helpful to eat it. Because when pike is removed from freshwater lakes and rivers, it allows native species to re-emerge and thrive. Hooray for food that is delicious and good for the planet!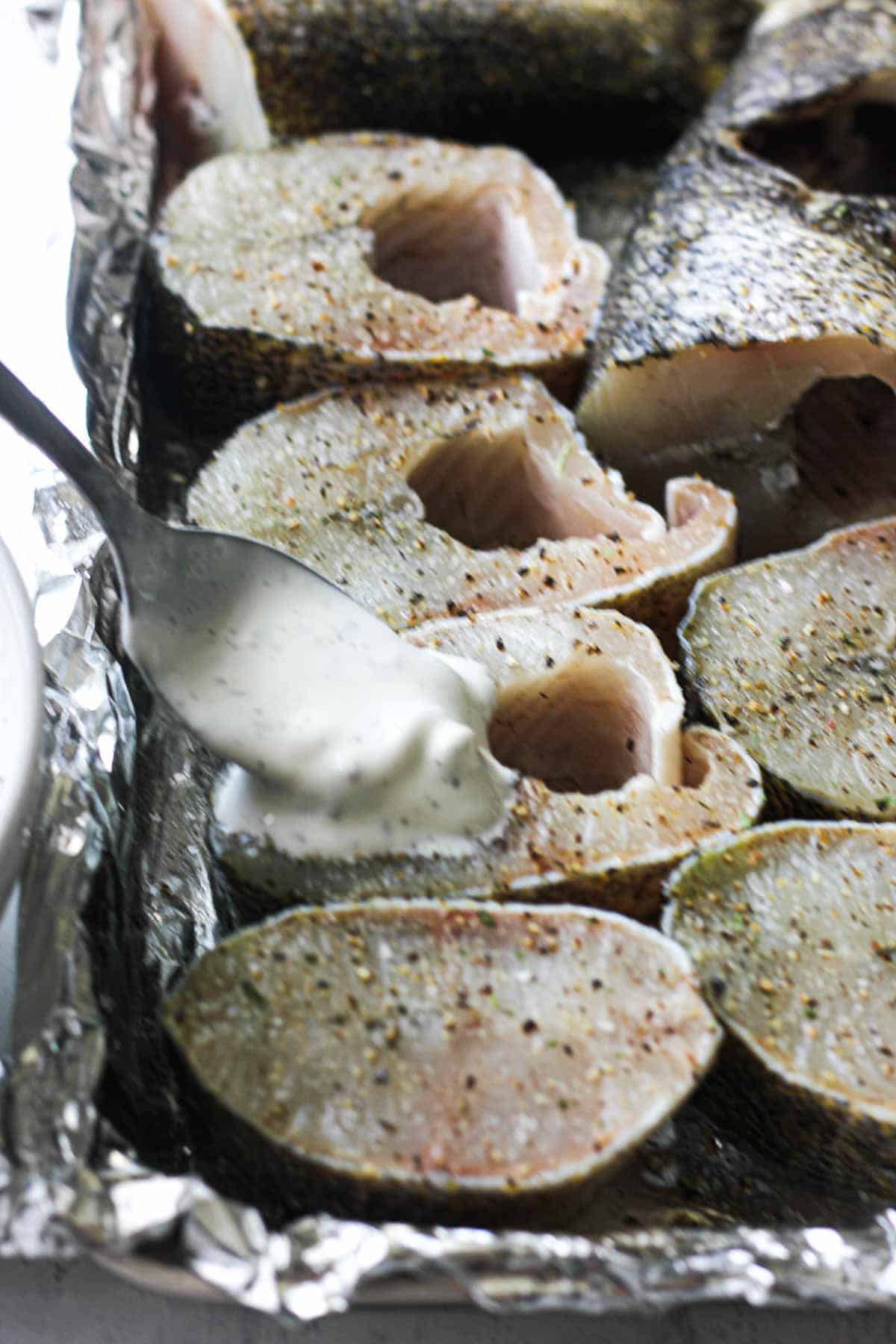 Other ways to cook
This oven baked northern pike recipe with sour cream sauce is great for rich, flaky and tender fillets. Like most other large fish, pike is also great to grill, smoke, and sear on the stovetop.
Taste
It's a flavorful white fish that many consider to have a "fishy" taste, often described as being similar to catfish. The texture is hearty, fatty, and wonderfully soft when oven baked.
Where to buy
Pike is not a common fish to find at the local grocery store. Rather, it is most readily available to purchase from fishmongers at seafood markets. The meat is best when prepared fresh, and it is therefore recommended that it not be frozen before cooking.
It can also be delivered from an online seafood service. That's right – fresh fish delivered right to your door!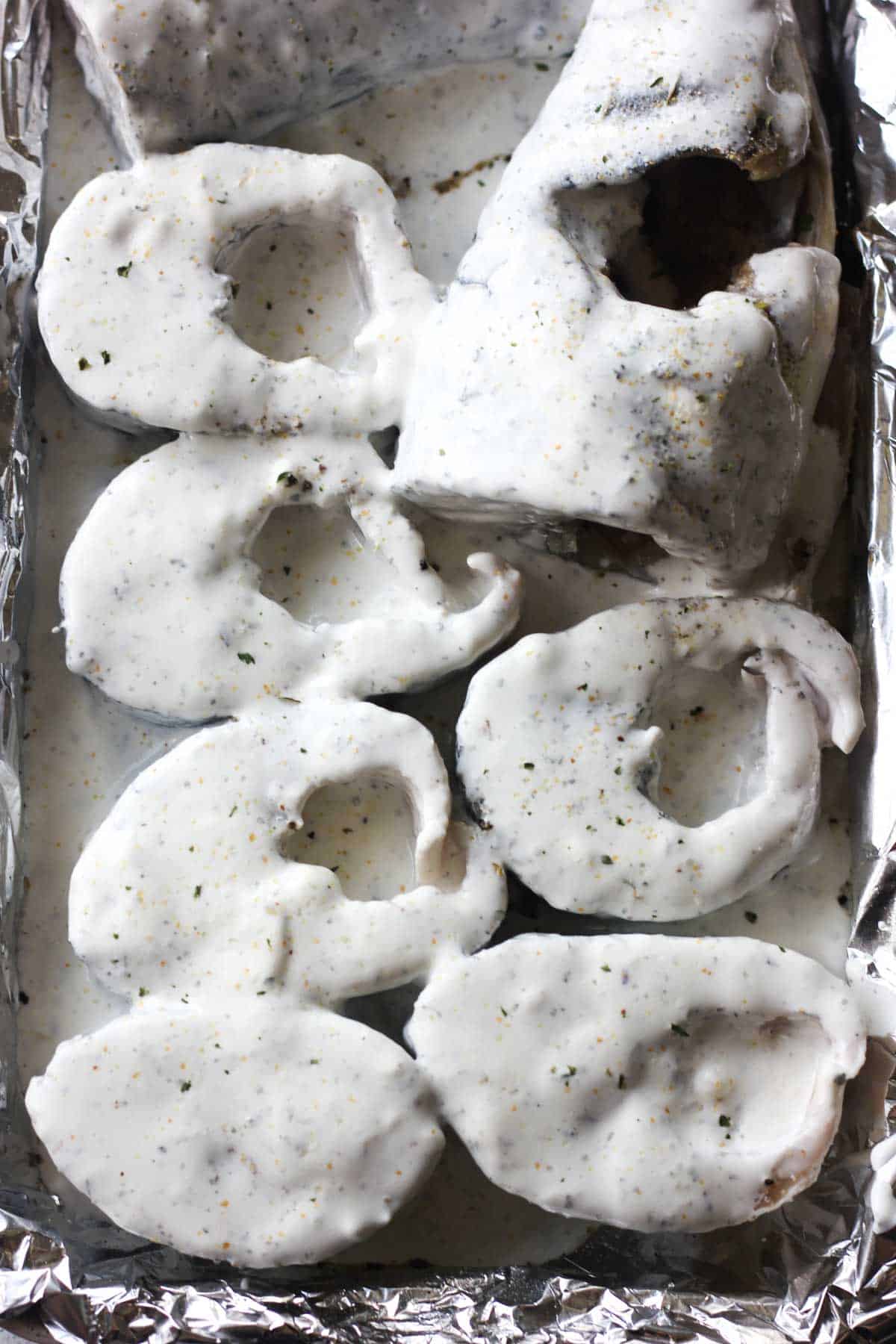 Frequently asked questions
Are northern pike healthy to eat?
Yes, they are! Pike has a lot of lean protein and essential nutrients like vitamin D, B-12, niacin and more.
What is the best temperature to cook fish in the oven?
It is best to cook fish in a rather hot oven. This northern pike recipe cooks the fish at 375 degrees. This high temperature helps keep fillets tender and juicy while also ensuring they cook thoroughly.
Can you eat the skin of a northern pike?
Northern pike fish skin is slimy and tough, and not good to eat. I recommend you purchase cleaned ready-to-cook fillets if you are unfamiliar with how to properly butcher pike.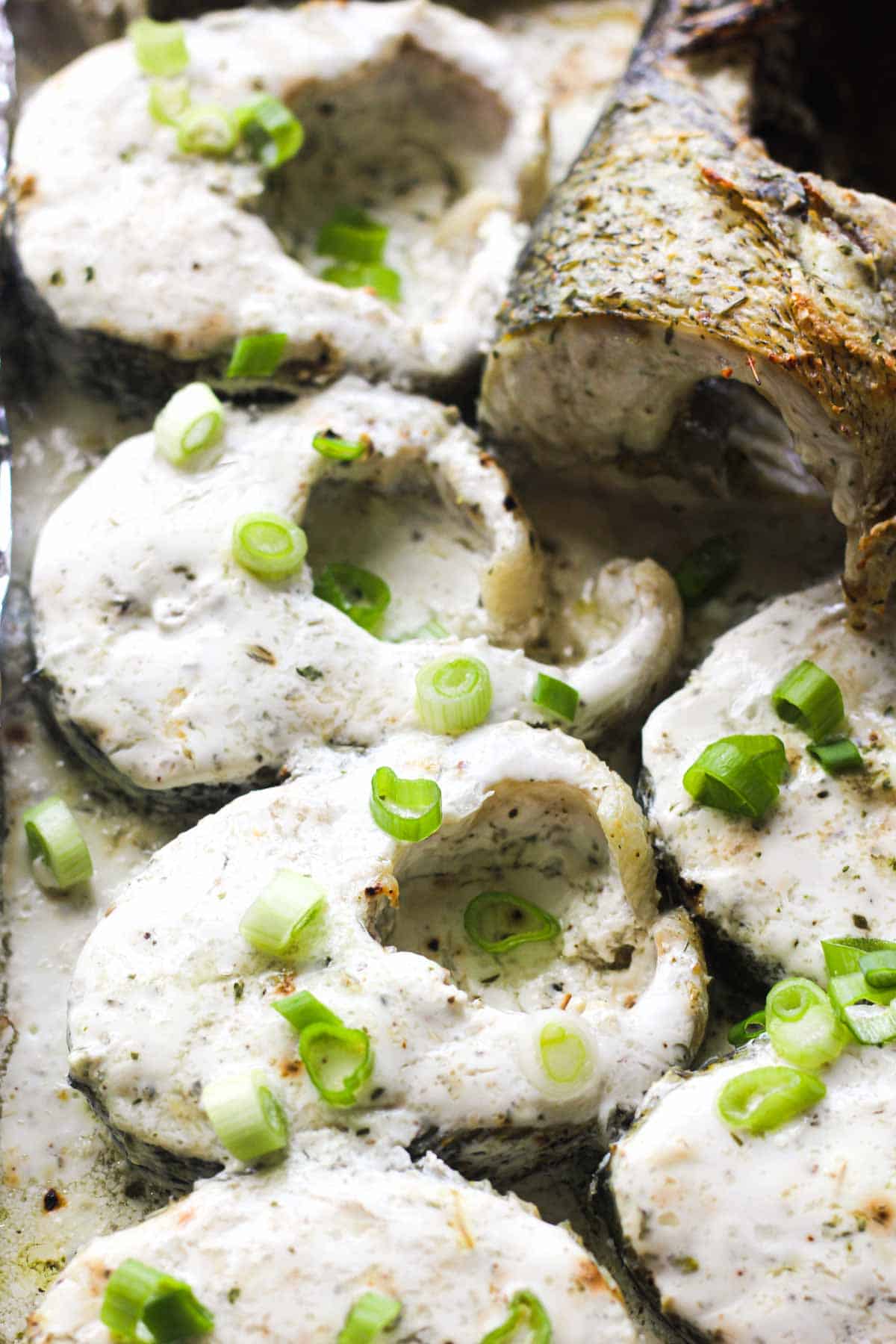 Leftovers
Store leftover pike in the air tight container in the fridge for 3 days. Baked fish doesn't last very long so please eat it as soon as possible. Reheat in the microwave for 1 minute.
You may also like…
Hope you will like this baked northern pike recipe as much as we do. Please rate the recipe if you made it and leave a comment below if you have any questions or suggestions. Or just want to talk!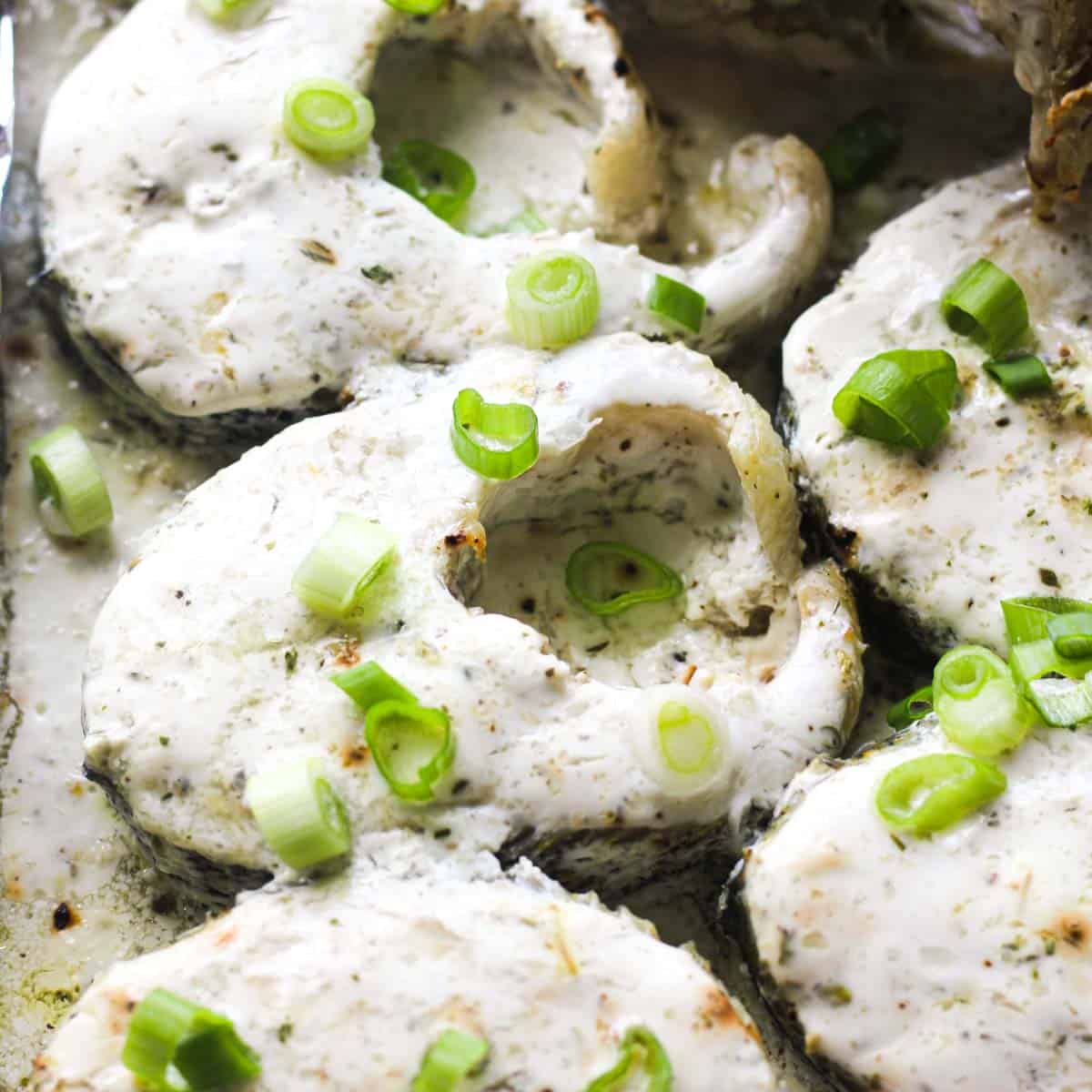 Baked Northern Pike Recipe
This oven baked northern pike recipe features tangy sour cream and vibrant spices to create a creamy, melt-in-your-mouth, unbelievably flavorful fish dish! It's a decadently delicious main that's easy to prepare in just a few simple steps.
Ingredients
1 northern pike
1 teaspoon salt
black pepper
oil spray
1 cup sour cream
1 cup water
½ teaspoon oregano
chopped green onions
1 teaspoon garlic powder
Instructions
Preheat oven to 375 degrees.
Cut cleaned fish in even pieces. Cover them in the mixture of garlic powder, salt and freshly ground black pepper.
Spray baking dish lined with foil and sprayed with oil. Place fish pieces in the dish and cover with the mixture of sour cream ,water and oregano.
Bake for 30 minutes, uncovered.
Cover baked pike with chopped green onions
Notes
Do not over bake pike. It will be dry if overcooked.
Internal temperature of fully cooked white fish should be 145 degrees Fahrenheit.
Keep leftovers in the fridge for up to 3 days. Reheat in the microwave.
Nutrition Information:
Yield:

5
Serving Size:

1
Amount Per Serving:
Calories:

140
Total Fat:

12g
Saturated Fat:

5g
Trans Fat:

0g
Unsaturated Fat:

5g
Cholesterol:

36mg
Sodium:

448mg
Carbohydrates:

3g
Fiber:

0g
Sugar:

2g
Protein:

6g