Super crispy and delicious crispy air fryer turkey wings recipe is full of cajun flavors. Ready in less then 30 minutes this wings are amazingly juicy inside and crunchy on the outside.
Also try my Instant pot turkey wings, Instant pot smoked turkey legs and Air fryer turkey cutlets recipes!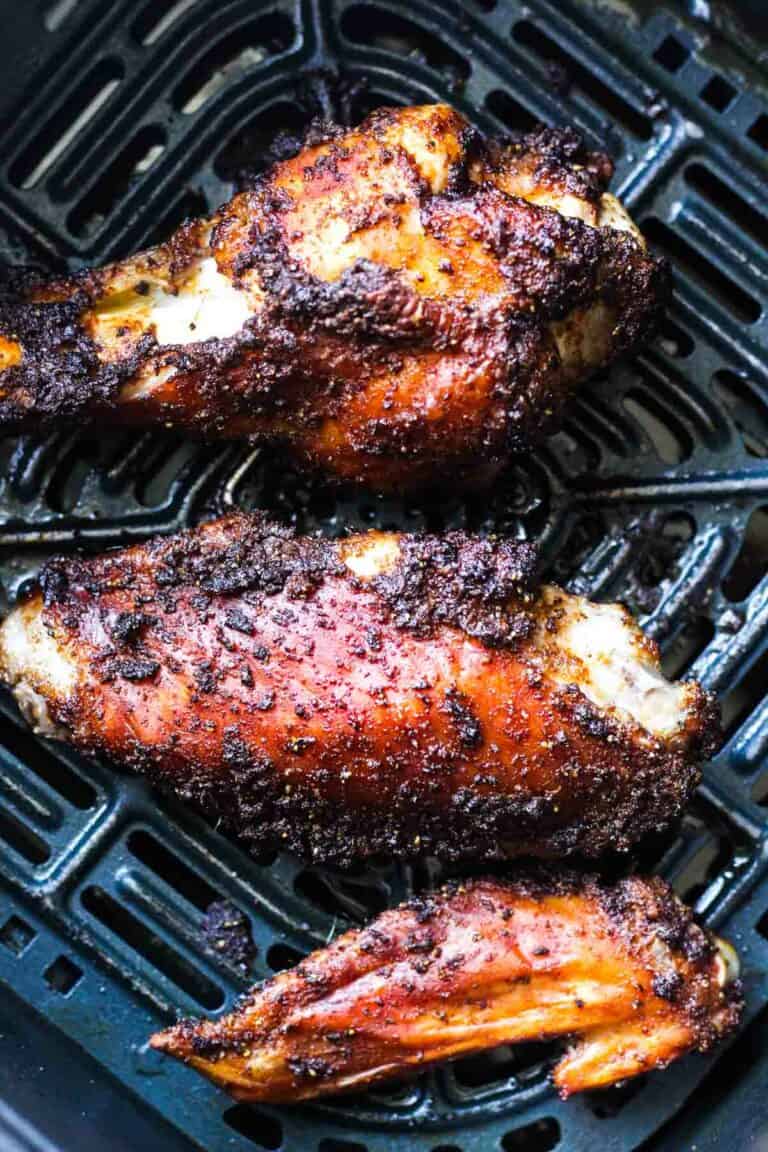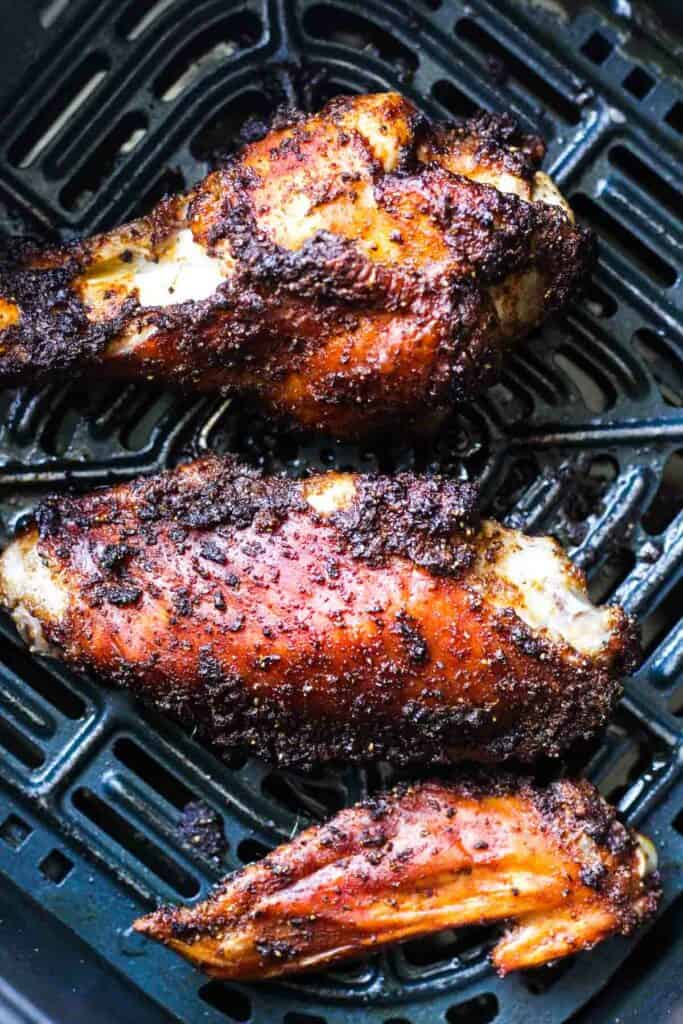 I used to eat only chicken wings before i tried turkey wings. The wing is so big it can feed you by itself! Of course they take longer time to prepare because they are bigger but the flavor is unbeatable.
Air fryer is one of the best way to prepare wings without any extra oil and so quick.
How to cook turkey wings in air fryer
Get 2 turkey wings and cut them into sections. You will need to cut between bones with a very sharp knife. It can get a little tricky because turkey wings are different from chicken wings.
So, once that is done, place wings in the medium size bowl. Drizzle them with some olive oil. Prepare the marinade- to a small plate add salt, black pepper, smoked paprika and Cajun seasoning. Mix it together and pour over the turkey.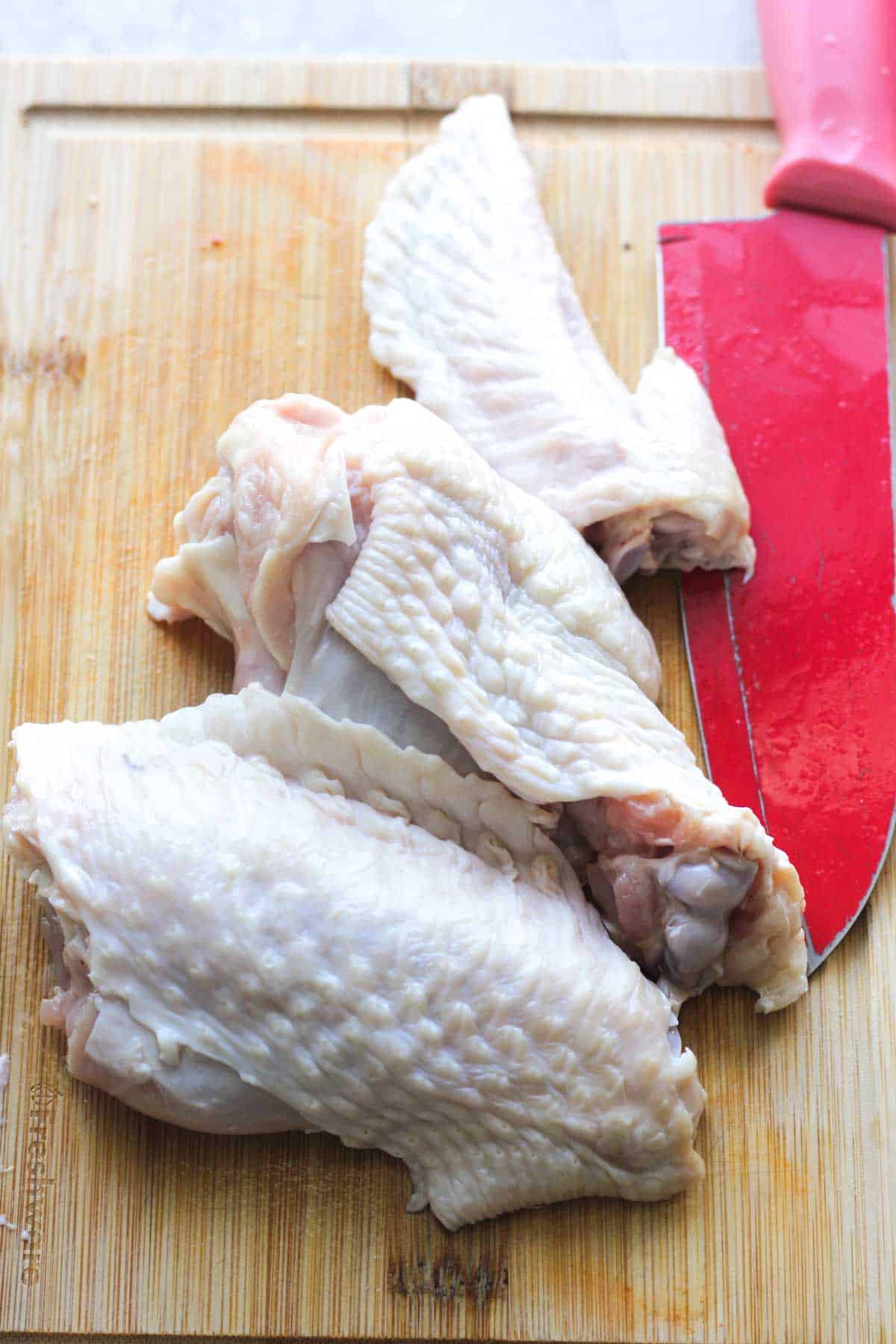 Rub it in turkey really well, stirring all around the bowl. The final touch to the marinade is a squeeze of hot sauce. This step is optional but we like it spicy. You can use any red chili sauce or sriracha will work just fine.
Mix it with turkey wings. Now, cover the bowl with clean wrap and leave in the fridge for an hour to marinate.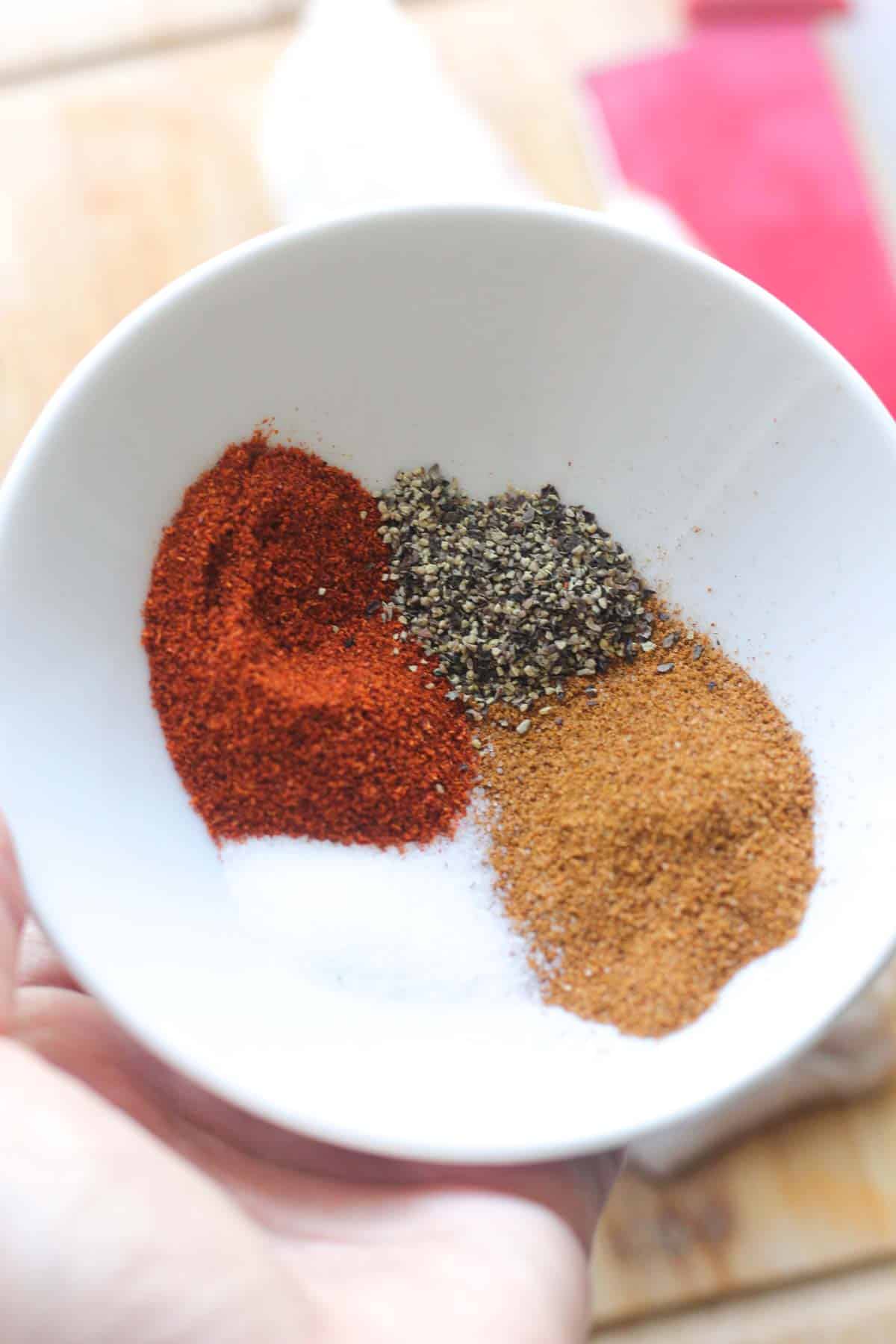 Get your air fryer ready. Take wings out of the fridge and place them in the air fryer basket. Do not overlap and don't place them too close to each other. You need the air to circulate between to properly cook wings and crisp the skin.
Cook for 30 minutes. In the middle of cooking shake the basket. Be careful they will be super hot when done.
Recipe ingredients
Turkey Wings: The main star of our dish. When air-fried, turkey wings achieve a delightful crispy skin while maintaining a juicy interior. These meaty wings are the perfect canvas for our Cajun-inspired seasoning mix.
Black Pepper: In air frying, this spice helps build a robust depth of flavor on our turkey wings.
Salt: An essential seasoning, salt elevates the natural richness of turkey meat. In this recipe, it works to harmoniously balance the array of spices and ensures the wings are seasoned throughout.
Smoked Paprika: Adding a whisper of smokiness to our wings, smoked paprika complements the air fryer's ability to crisp food perfectly. It's a gentle nod to traditional smoked dishes without needing a smoker.
Cajun Seasoning: This spicy and aromatic blend is the heart of our Cajun flavor. As the wings air fry, the heat and circulation process will help the spices penetrate, giving the turkey that signature Louisiana zing.
Olive Oil: A light drizzling of olive oil ensures our turkey wings get that desirable crispy skin in the air fryer. It also aids in the even distribution of our seasoning blend on each wing.
Hot Sauce: For those craving an extra kick, a splash of hot sauce marries well with the other spices. When air-fried, this hint of fiery flavor becomes more pronounced, making it a perfect addition for spice enthusiasts.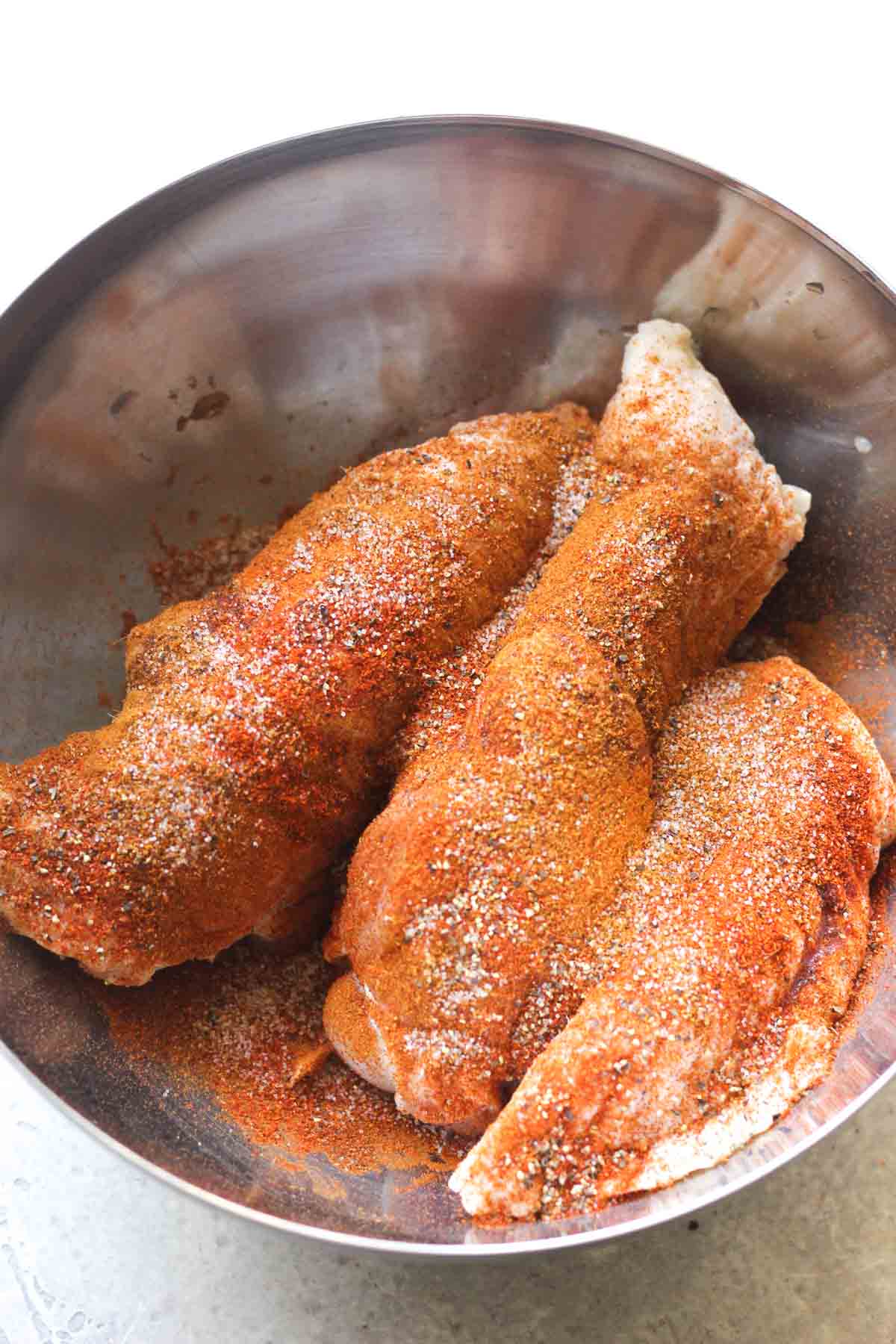 When combined in the air fryer, these ingredients transform ordinary turkey wings into a mouthwatering, Cajun-inspired delicacy. The crispy skin, tender meat, and warming spices make this dish a must-try for anyone looking to spice up their culinary repertoire.
Thawing instructions
Its easy to thaw just turkey wings compare to the whole turkey. You don't have to defrost it for days. Just pull wings out of the freezer the night before and let it thaw in the fridge overnight.
There is also a quicker way to do that. Just leave wings on the counter for couple hours. They might loose some juices but this method is great if you are in rush.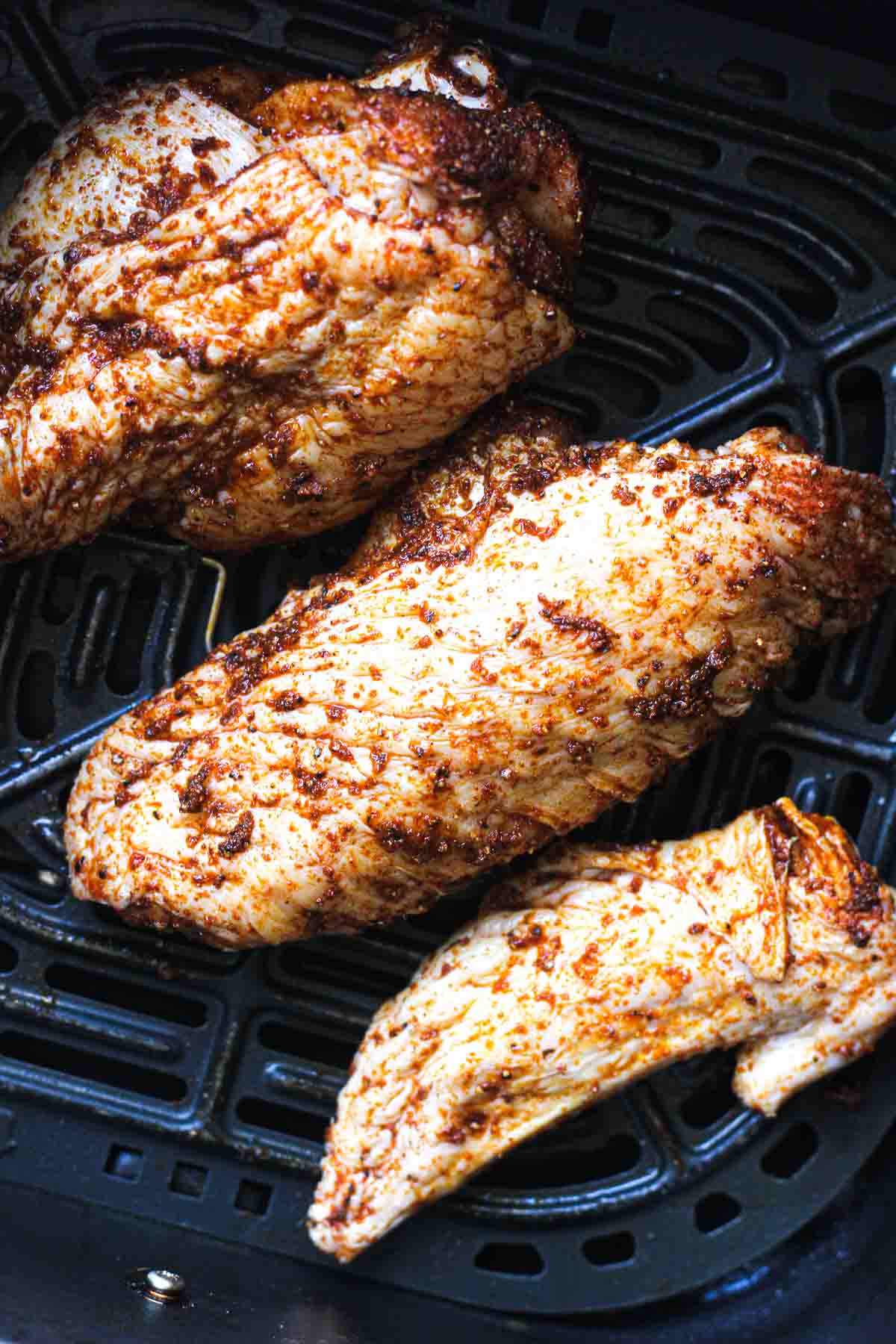 Where to buy turkey wings
If its not around Thanksgiving, sometimes its hard to find fresh wings in grocery stores. I bought mine in local supermarket, fresh. Look in the meat and poultry fridge and also check the freezer section.
If you still can't find it anywhere, purchase one online. There is a large variety of stores online you can buy poultry from, depending on where you live.
Leftovers
You can keep leftovers for 4 days in the fridge in the air tight container. To reheat just place wings back to air fryer. Reheat at 400 degrees for about 5 minutes until hot and crispy.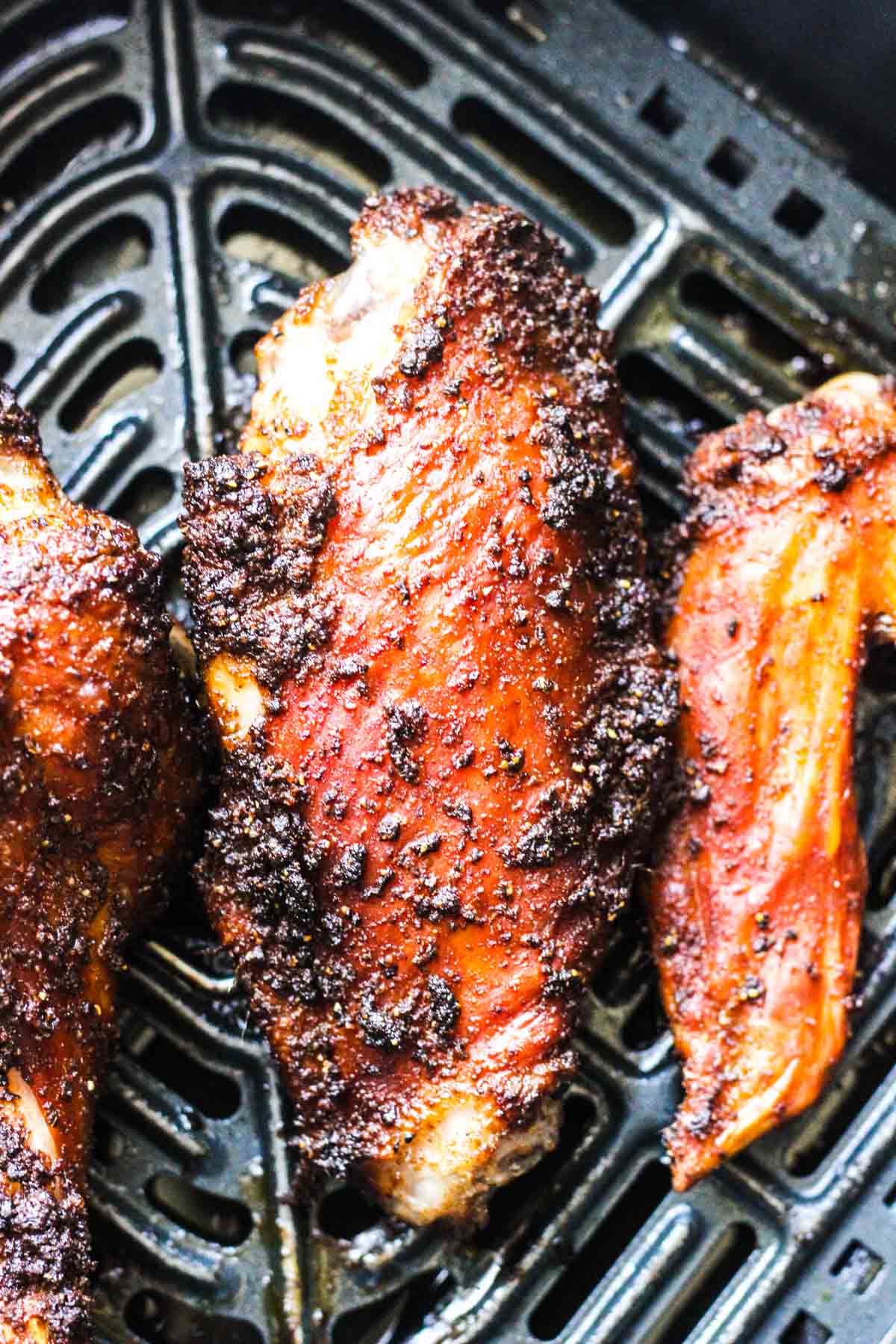 Expert notes and tips
Adjust the amount of hot sauce to your liking. My favorite hot sauce to add to this air fryer turkey wings recipe is Sriracha. I also had great results with Huy Fong chili sauce.
Don't skip marinating process if you can. Letting wings soak in spices for one hour or more will make them more flavorful and tender.
Watch the internal temperature. Try not to go over 165-170 degrees Fahrenheit for best results. Turkey wings are high in fat but its still possible to overcook them and end up with dry meat.
Wings tips are not necessary to use. They become really crunchy when air fried but there is almost no meat in them. You can safe them and add to chicken stock or any other soup you are making. They will make any broth rich and extra flavorful.
Serving suggestion
Serve this delicious crispy turkey wings with garden salad, or on the bed of green leaves. Well, you don't have to go that healthy and make creamy mashed potatoes. Oh they will be so good together!
A bowl of plain white rice is great with turkey as well. And super easy to make! My kids like to enjoy turkey with grilled corn, fresh cucumbers and sauteed zucchinis. Pick you favorite side and have a great dinner.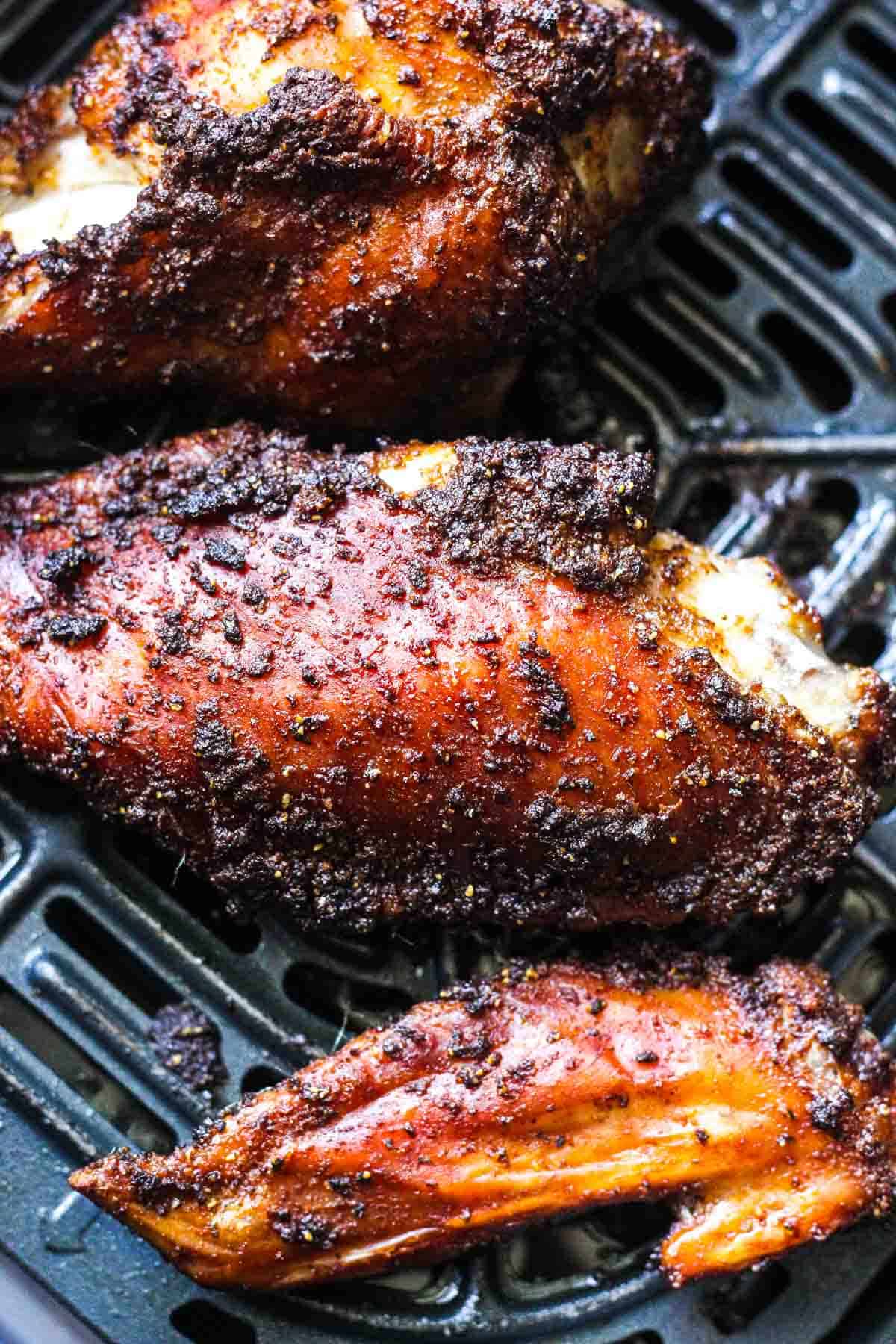 Frequently asked questions
How many wings can I cook at once in my air fryer?
This depends on the size of your air fryer. Do not overcrowd the basket; ensure there's enough space between each wing for proper air circulation.
Can I cook frozen turkey wings in the air fryer?
Yes, but it will require a longer cooking time. It's best to defrost the wings before cooking to ensure even cooking and better seasoning penetration.
How do I achieve the crispiest skin?
Pat the wings dry with paper towels before seasoning. This helps reduce any excess moisture, which can prevent crisping. Also, ensure there's space between each wing in the air fryer to allow for proper air circulation.
Should I pre-cook or boil the turkey wings before air frying?
Some people boil or simmer the wings before air frying to ensure they're tender. This is optional. If you do, reduce the air frying time since they'll already be partially cooked.
More turkey recipes
No matter if you are making these air fryer turkey wings recipe for holidays like Thanksgiving or Christmas or just for weekday dinner, they are delicious! Its great how you can create such an amazing dish with just a handful of simple ingredients.
Hope you will like this crispy air fryer turkey wings recipe as much as we do. Please rate the recipe if you made it and leave a comment below if you have any questions or suggestions.
Recipe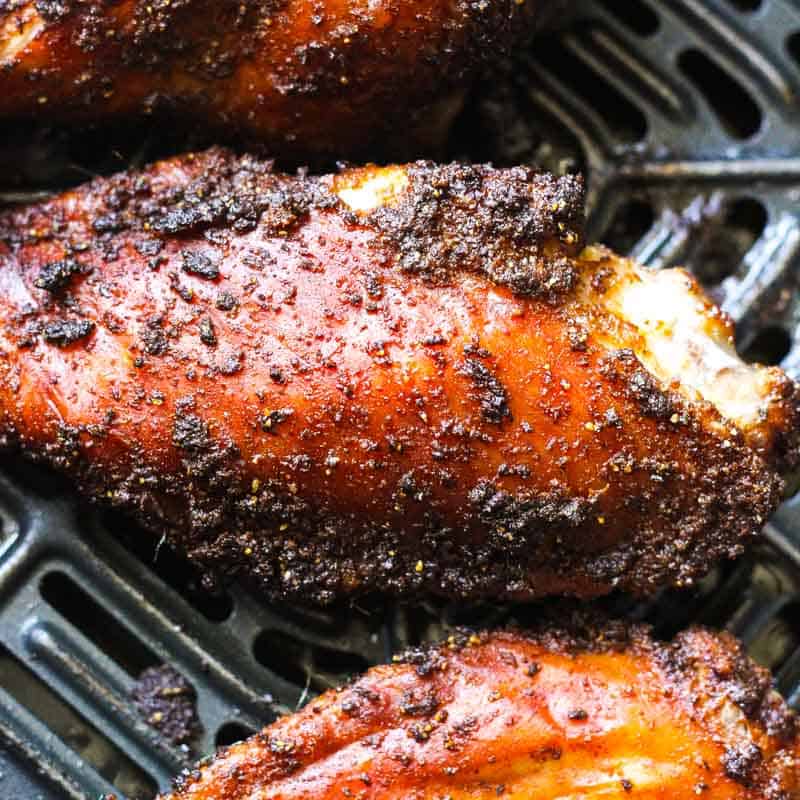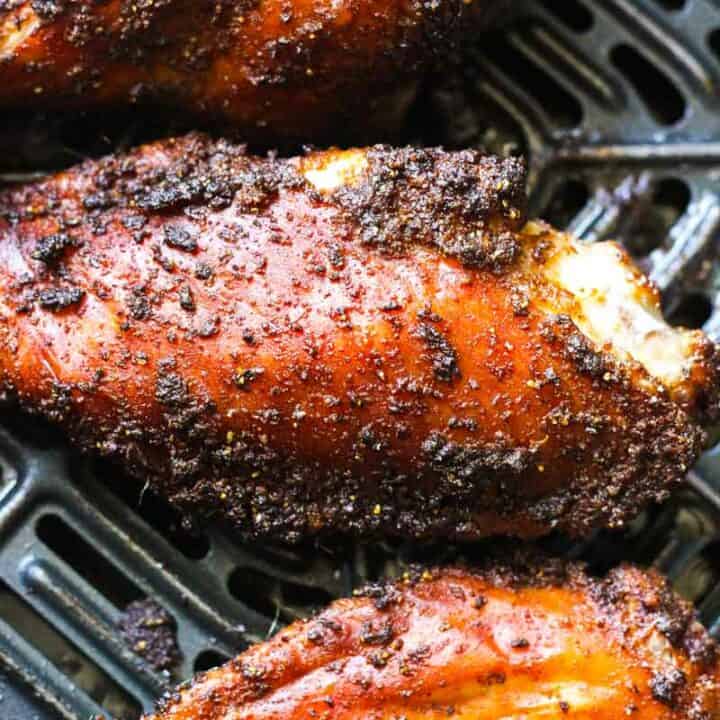 Crispy Turkey Wings in Air Fryer
Total Time:
1 hour
35 minutes
Super crispy and delicious air fryer turkey wings recipe is full of Cajun flavors. Ready in less then 30 minutes this wings are amazingly juicy inside and crunchy on the outside.
Ingredients
2 turkey wings
1 teaspoon black pepper
1 teaspoon salt
1 teaspoon smoked paprika
2 teaspoon Cajun seasoning
Drizzle of olive oil
1 tablespoon hot sauce (optional)
Instructions
Rinse turkey under cold water. Pat dry. Place in the bowl and drizzle some oil on top.
Mix all the spices in a small plate and cover turkey wings with them. Add hot sauce if using and mix it all together very well.
Cover the bowl with plastic wrap and put it in the fridge to marinate for 1 hour.
Remove turkey wings from the bowl using tongs . Place them in air fryer and cook at 400 degrees for 30 minutes. Shake the basket in the middle of cooking.
Notes
Always check the internal temperature using instant meat thermometer. All the way cooked turkey internal temperature should be 165 degrees.
Adjust the amount of hot sauce to your liking. I used sriracha sauce and i love it!
Wings tips are optional in this recipe. You can cut them off and use in stocks or soup. When using air fryer they become extra crunchy and there is almost no meat in them. I like a good crunch though!
Leftovers. You can keep leftovers for 4 days in the fridge in the air tight container. To reheat just place wings back to air fryer. Reheat at 400 degrees for about 5 minutes until hot and crispy.
Nutrition Information:
Yield:

2
Serving Size:

1
Amount Per Serving:
Calories:

497
Total Fat:

30g
Saturated Fat:

7g
Trans Fat:

0g
Unsaturated Fat:

20g
Cholesterol:

151mg
Sodium:

2258mg
Carbohydrates:

2g
Fiber:

1g
Sugar:

0g
Protein:

51g