Learn how to cook an easy warming rabbit soup with egg noodles and vegetables. It will not only warm you up on a cold day, but also is very nutritional and healthy.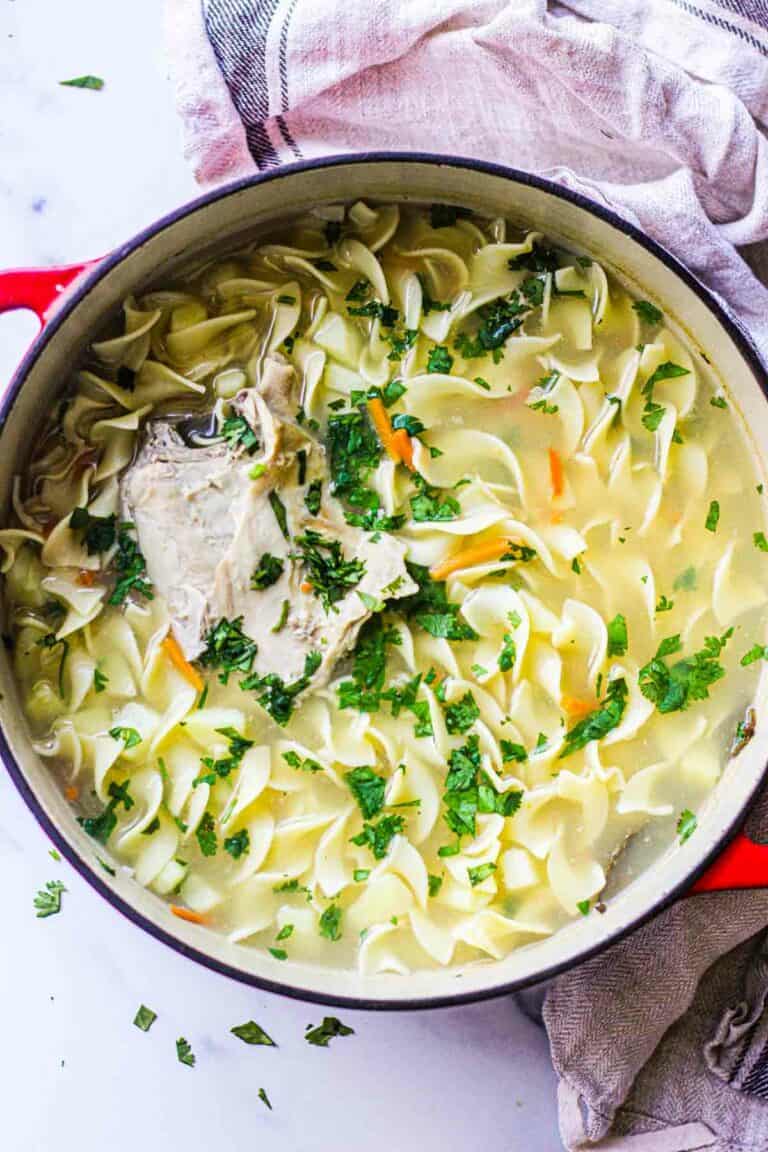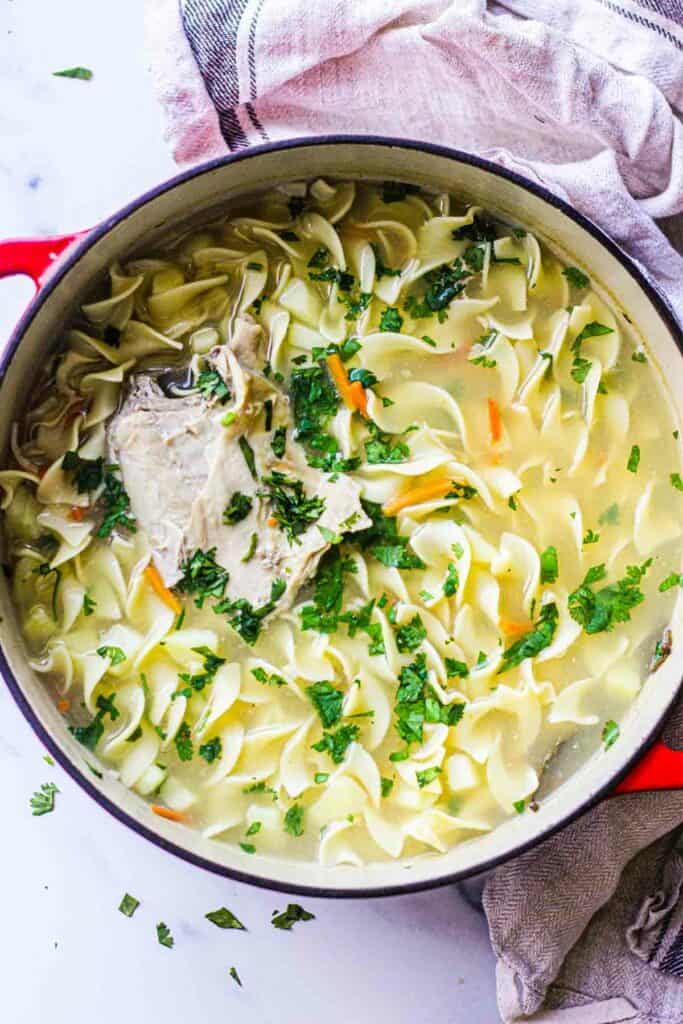 This rabbit soup is not only great on a cold day, but for any day! Adjust the amount of noodles or potatoes to your liking and enjoy the delicious soup that will not disappoint.
Where to buy rabbit
So far i didn't see a rabbit sold in grocery stores. You may find some in Asian market or Russian stores. The best way to purchase a rabbit it from online store.
Many online markets offer whole rabbits, usually frozen. Just search it online and you will easily find one.
How to defrost
Best way to defrost a whole rabbit is with no doubt in the fridge overnight. Use a big bowl and place rabbit inside, it may leak when defrosting.
Another way is just to leave it on the counter for a few hours. Preferably in a bowl full of water, it will make the process quicker.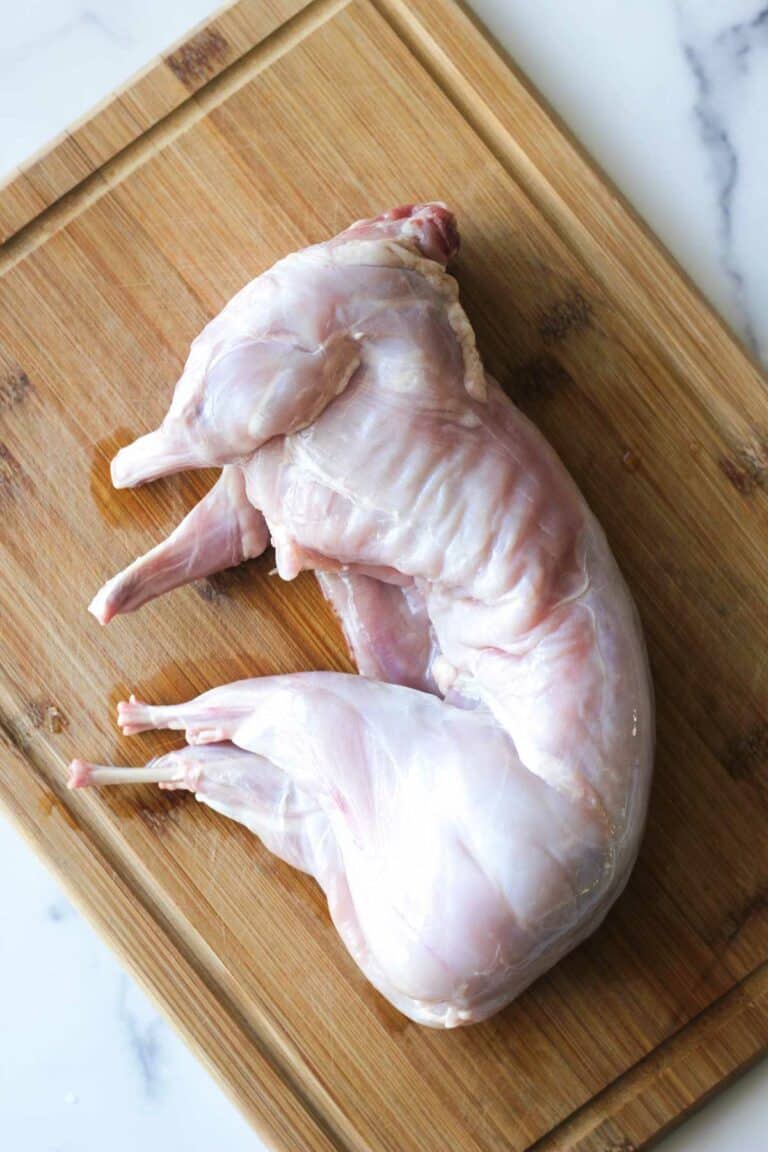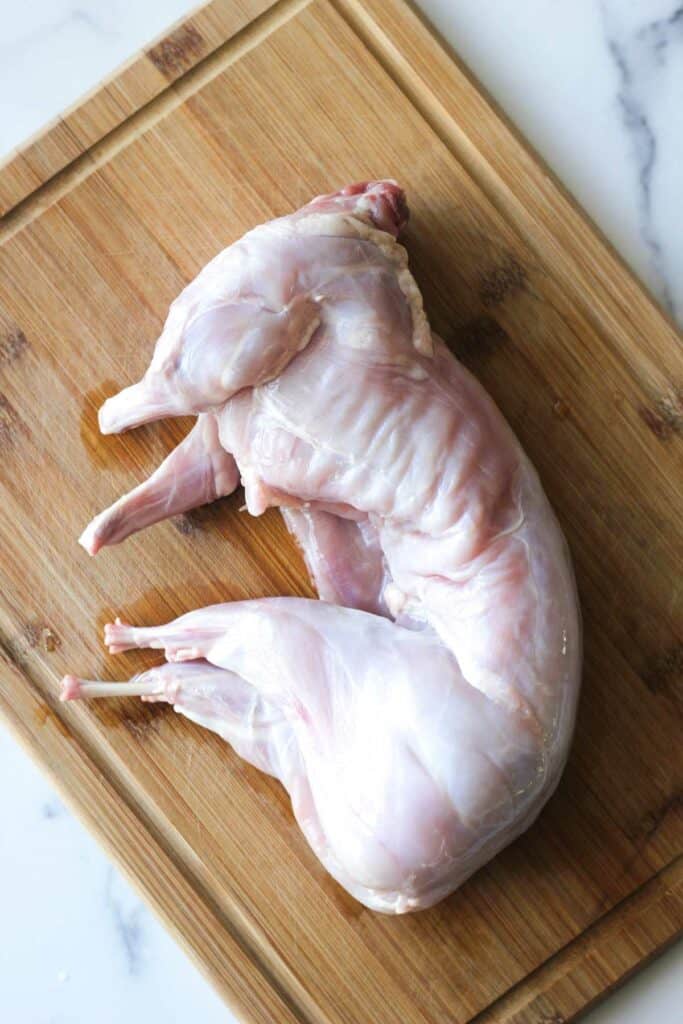 How to cut rabbit for soup
In this recipe i only used a carcass and belly flap and all the insides of a rabbit. You can totally use more meat for a richer broth.
Cutting the rabbit is very similar to cutting a chicken. Separate legs first and there you have it, a carcass and the belly flap. Rabbit bones are pretty soft and you will not have problems cutting though them.
Can you cook noodles directly in soup
Yes and no. It will depend on a type of noodles you are using. If its egg noodles, drop them in the very last moment into the soup to cook so they are not mushy.
What can i use instead of noodles
If you don't like to use noodles in your soup, you don't have to. Switch it with spiralized vegetables like zucchini. Adding barley will be a great healthy alternative to egg noodles too. I love barley soups just as much as i like noodle soups!
How to make rabbit soup recipe
Cooking rabbit soup is not much different from cooking chicken soup. So the process will be similar too.
Prepare rabbit parts you are going to use. I decided to use carcass and inner parts for the soup. But the more rabbit meat you will use, the better richer broth you will get.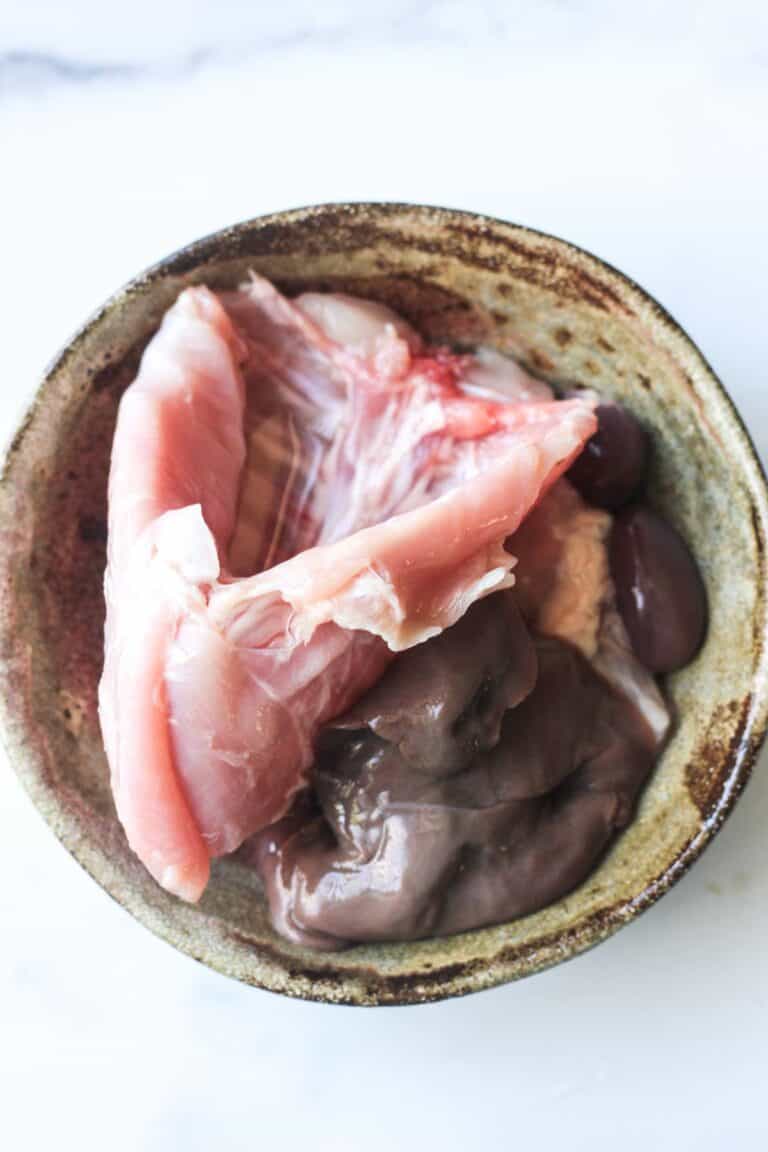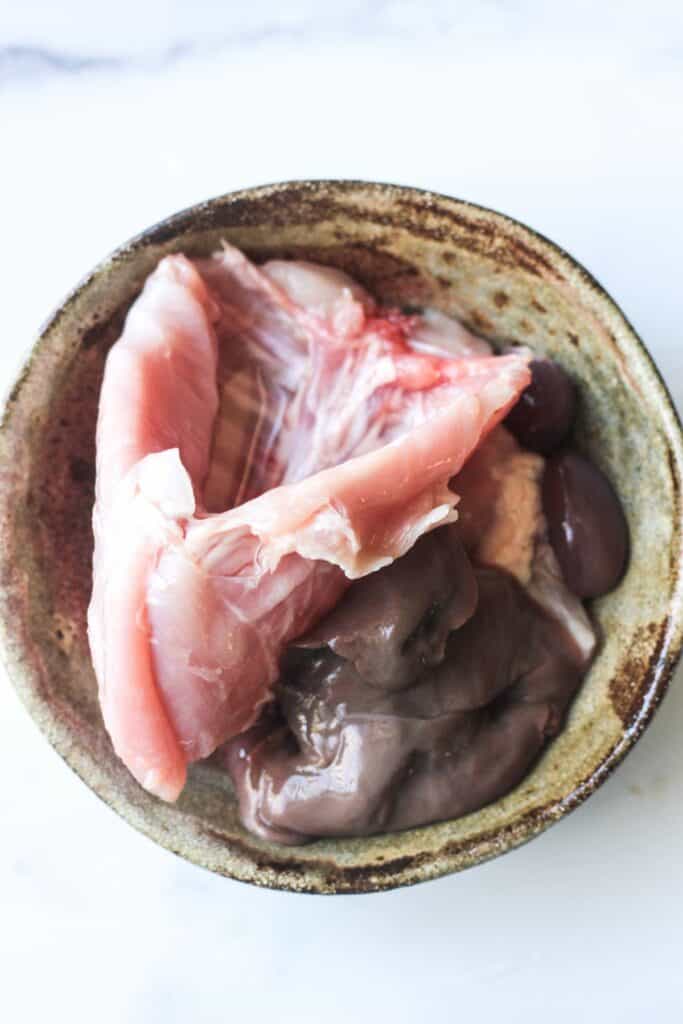 Fill pot with water and add rabbit. Bring to boil and let simmer. Discard white foam forming on top.
Meanwhile peel and grate carrots and chop onions. Saute them on the pan with little bit of olive oil until soft. Add to the pot and keep simmering for another 15 minutes.
Peel and cube potatoes. I used russet potatoes but any kind of potatoes will work well. Add to the pot. Spices i used in this rabbit soup recipe are salt, pepper, garlic, bay leaves and thyme.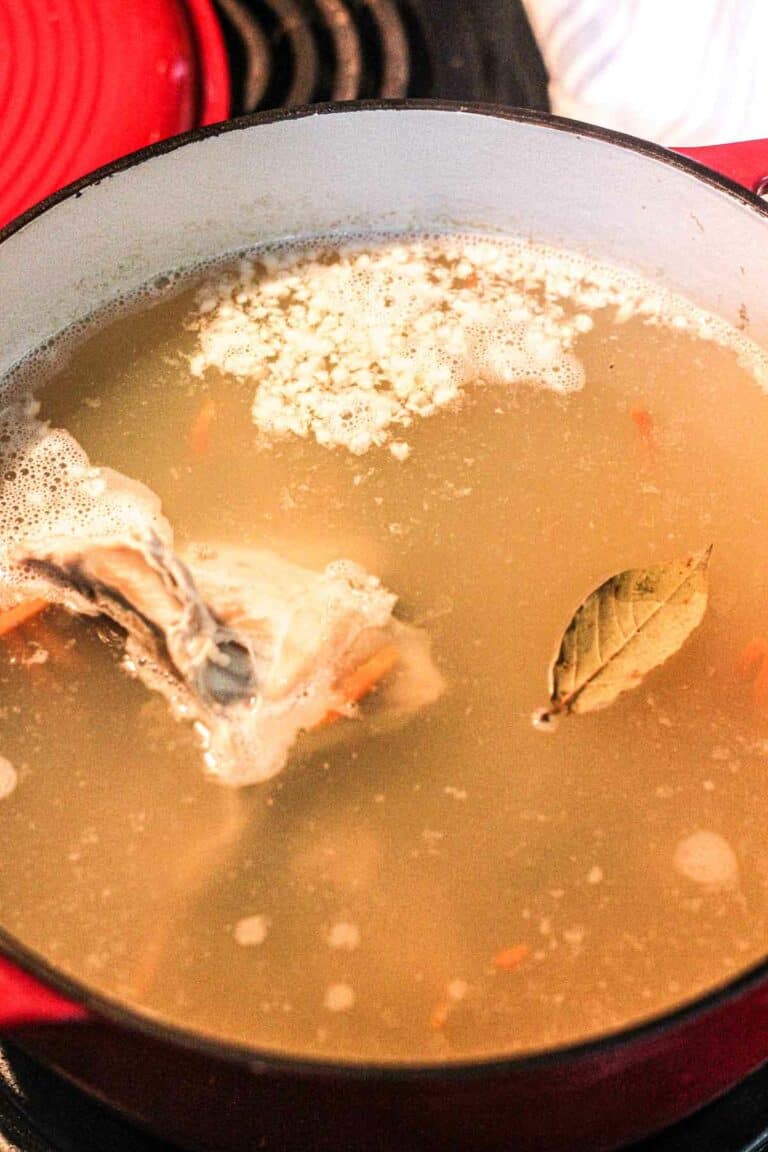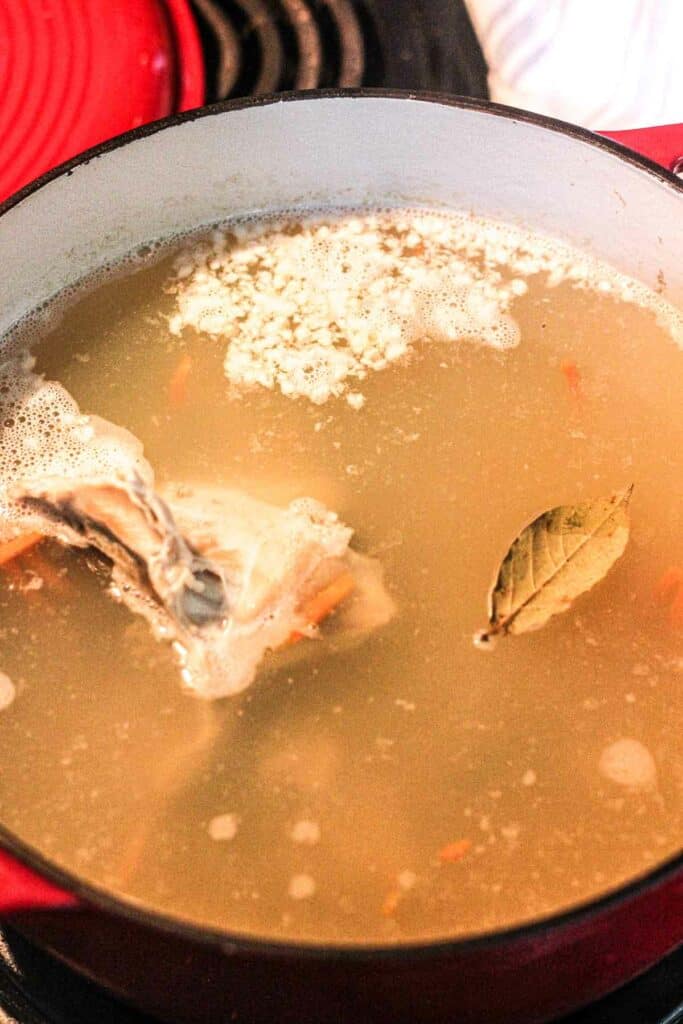 After simmering everything for a while, its time to add noodles. Egg noodles work great in the recipe.
Top cooked soup with chopped cilantro, green onions and more minced garlic and stir.
You may also like…
Recipe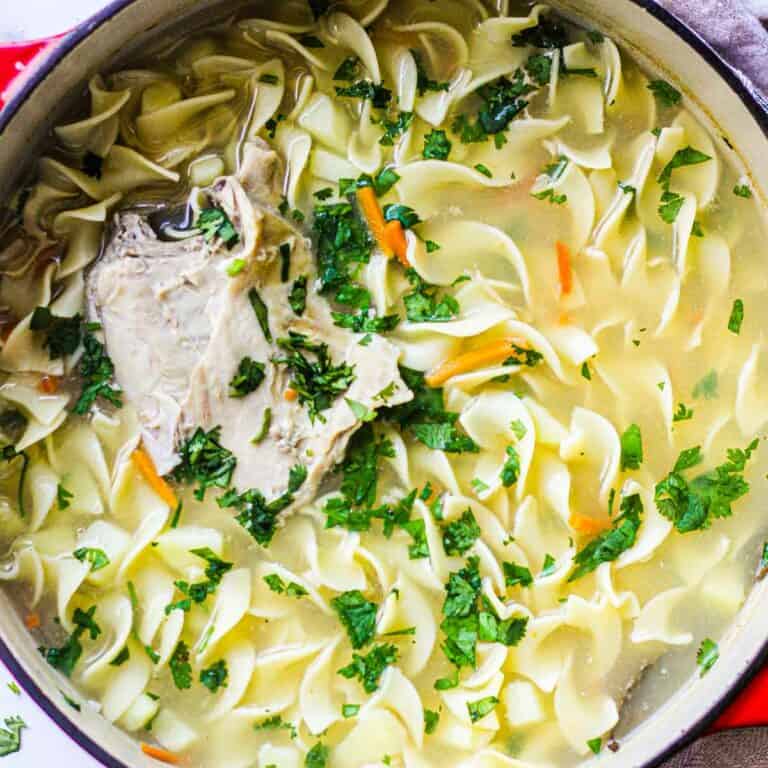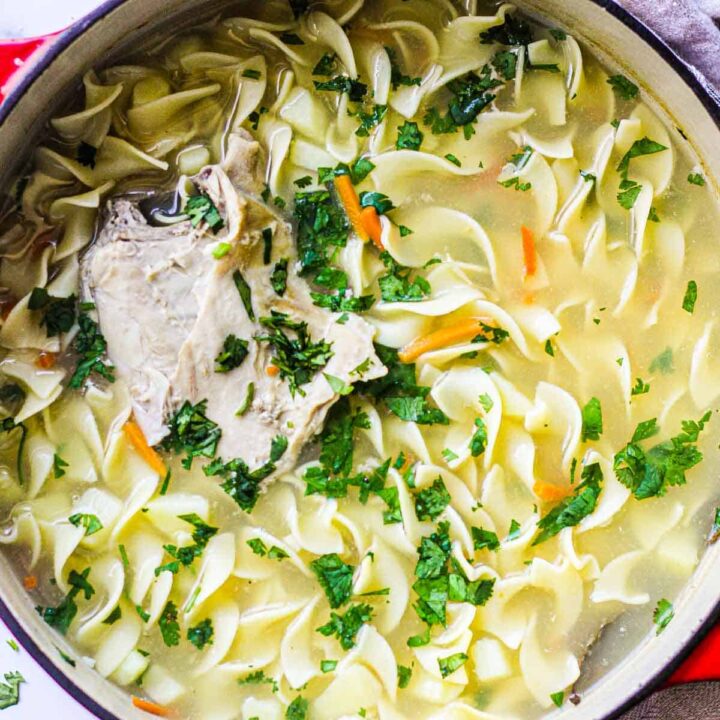 Rabbit soup with noodles and vegetables
Total Time:
1 hour
10 minutes
Learn how to cook an easy warming rabbit soup with egg noodles and vegetables. It will not only warm you up on a cold day, but also is very nutritional and healthy.
Ingredients
½ of rabbit
1 carrot
1 onion
4 garlic cloves
5qt water
3 potatoes
egg noodles
1 tablespoon dried thyme
salt and pepper to taste
1 tablespoon olive oil
cilantro and green onions
Instructions
Rinse rabbit and place in water filled pot. Bring to boil and simmer for 15 minutes. Remove any white foam.
Meanwhile saute chopped onion and grated carrot in oil in a small pan for 5 minutes. Add to the broth.
Peel and cube potatoes and add to the soup. Add spices.
Simmer for another 20-30 minutes. Add noodles for 5 minutes. Add minced garlic in the end, chopped cilantro and chopped green onions. Stir and serve.
Notes
Use more rabbit for richer broth
Add celery for extra flavor. My kids don't like celery so i didn't add any to my soup
If using barley, add 1 cup in the step 1. It ussually take about 50 minutes to cook barley
Nutrition Information:
Yield:

6
Serving Size:

1
Amount Per Serving:
Calories:

160
Total Fat:

3g
Saturated Fat:

1g
Trans Fat:

0g
Unsaturated Fat:

2g
Cholesterol:

11mg
Sodium:

68mg
Carbohydrates:

28g
Fiber:

3g
Sugar:

2g
Protein:

5g