Lamb heart stew is the most delicious and easy way to cook lamb! Melt in your mouth tender meat and actually healthy too. Cook it low and slow on the stove and enjoy this lamb heart recipe with white or brown rice, noodles or mashed potatoes.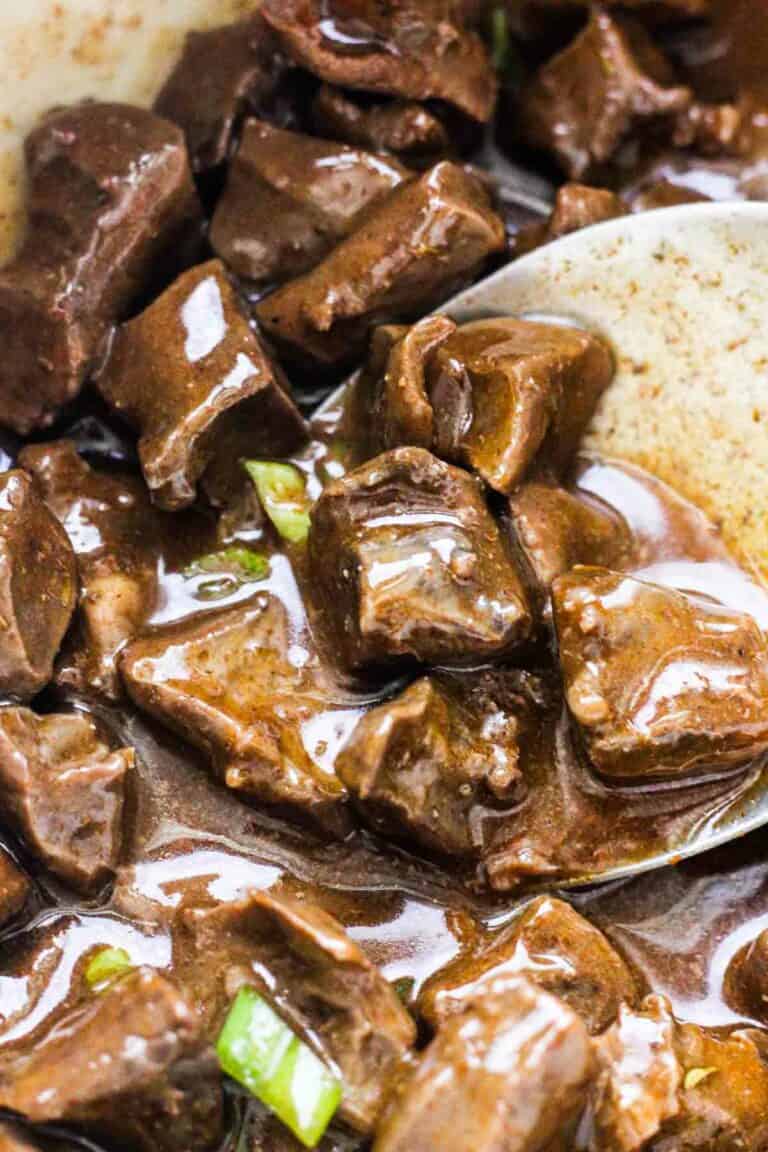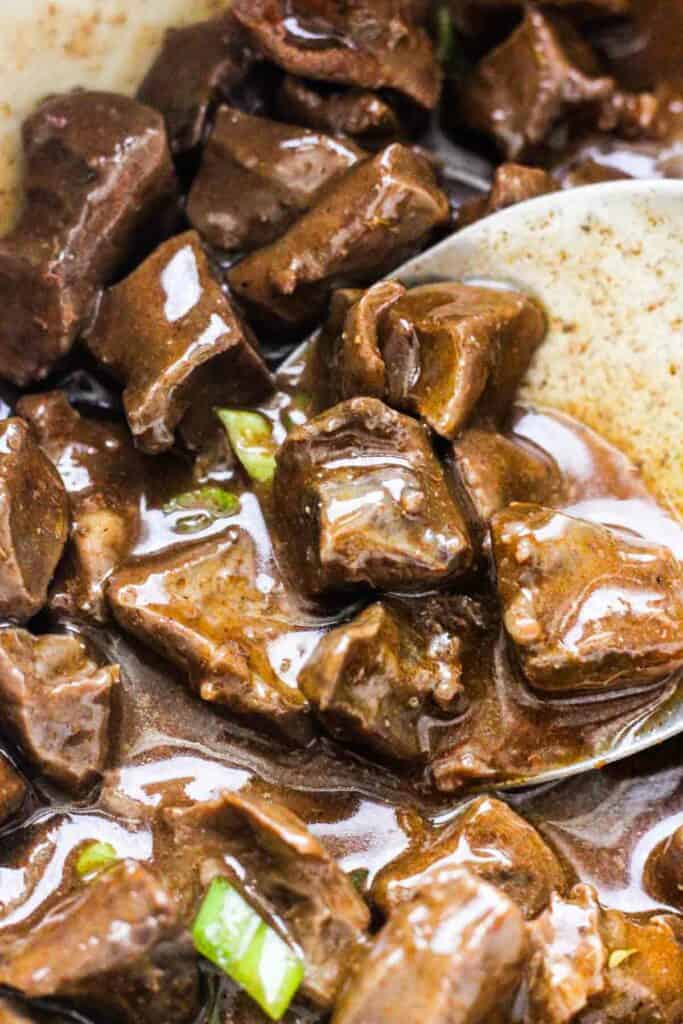 This is a basic stew recipe that just shows you how to cook lamb heart properly on a stovetop. If you like some vegetables in your stew i will add instructions later in the post.
How to cook lamb heart stew
Start with washing meat. Rinse hearts under the cold running water and transfer to the cutting board. Heart might have lots of fat on it and we need to cut off most of it. It may take you a minute and make sure you have a very sharp knife.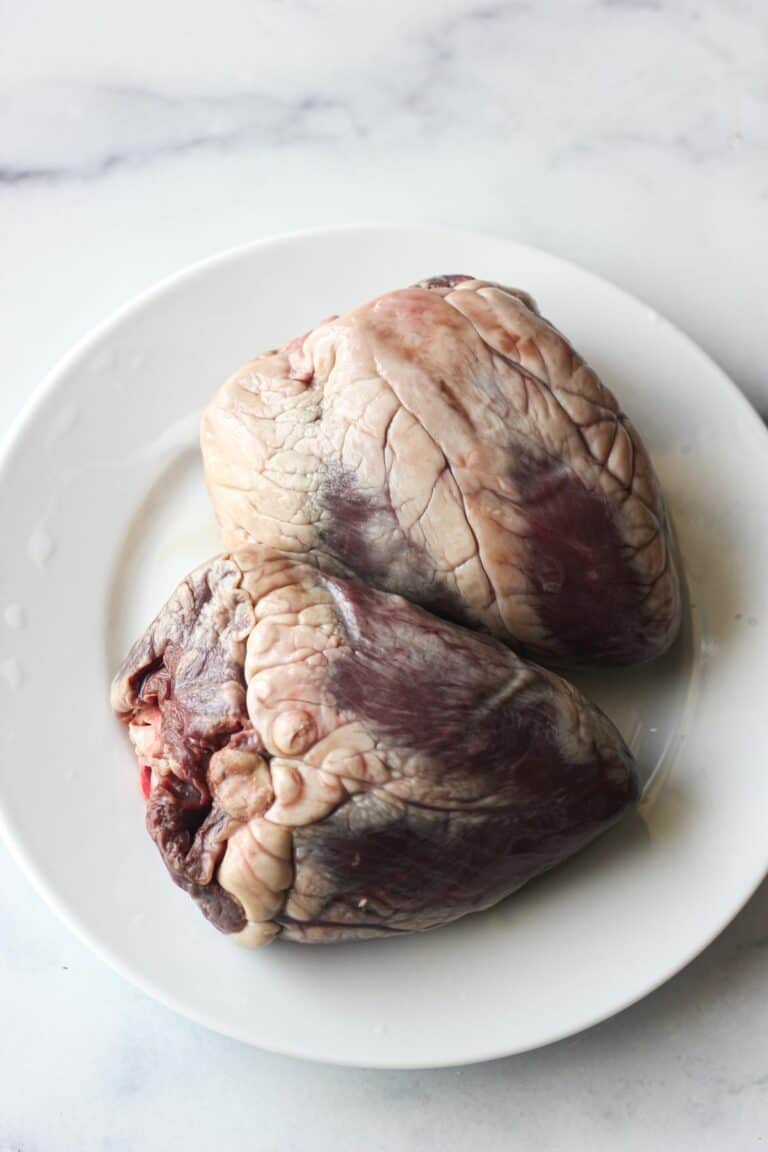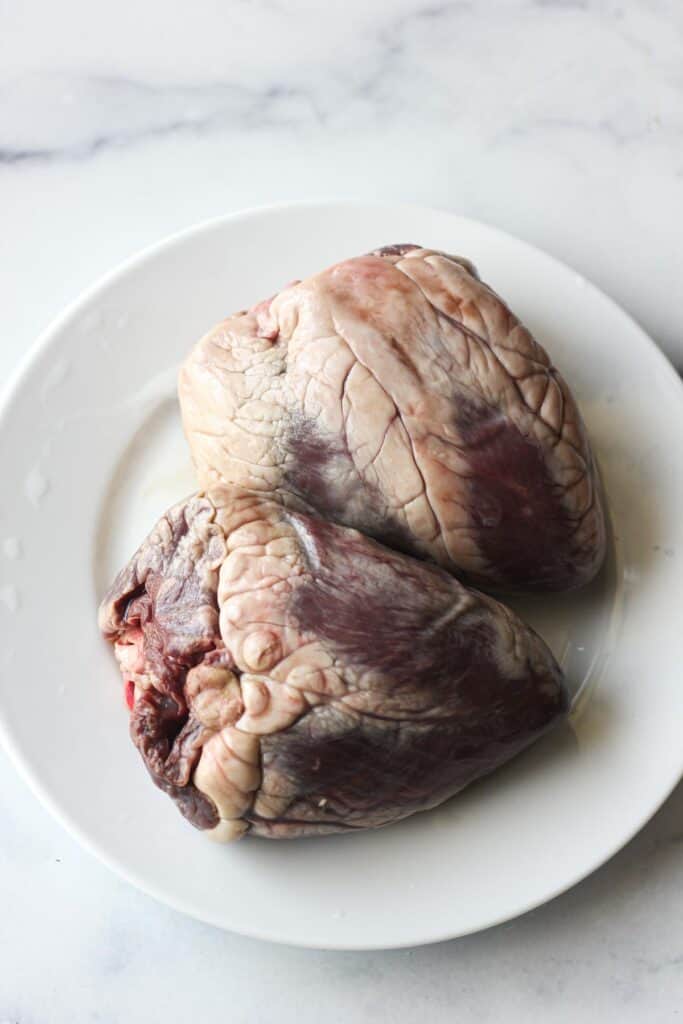 After that, cut heart in chunks about 1 inch in size. Pieces don't have to be even just try your best. All my pieces ended up being different in size and shape so don't worry, it will not affect the flavor.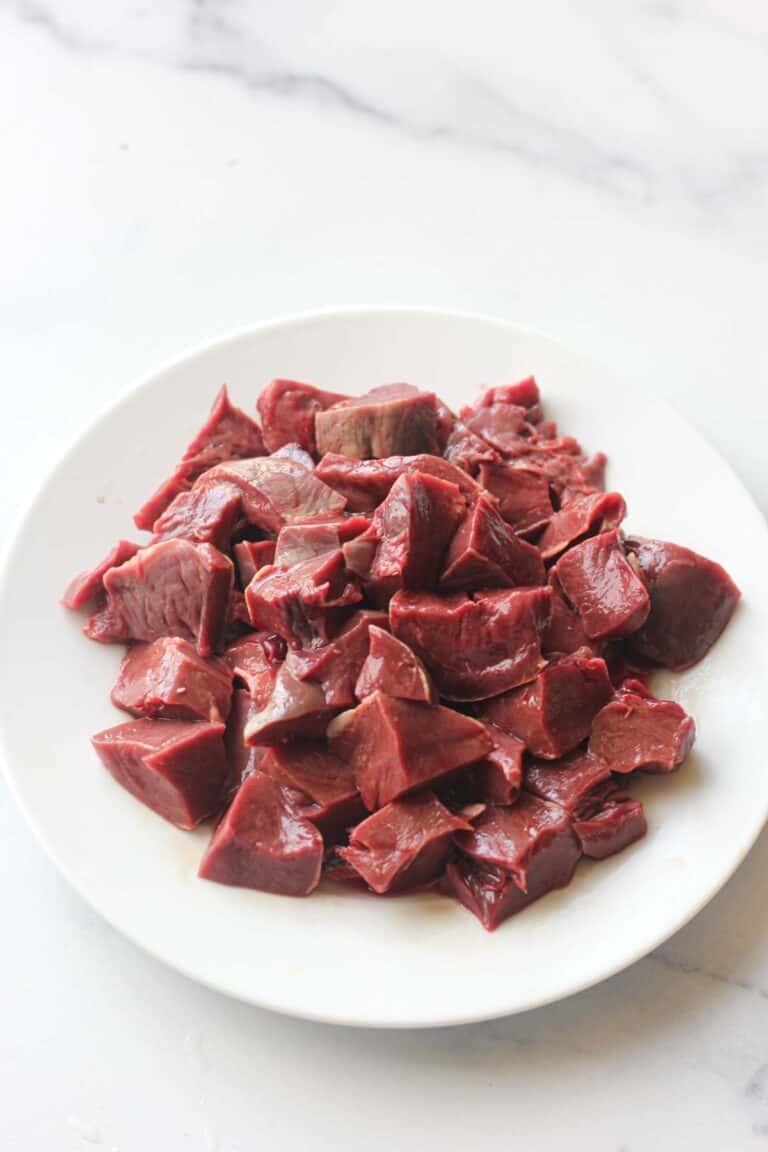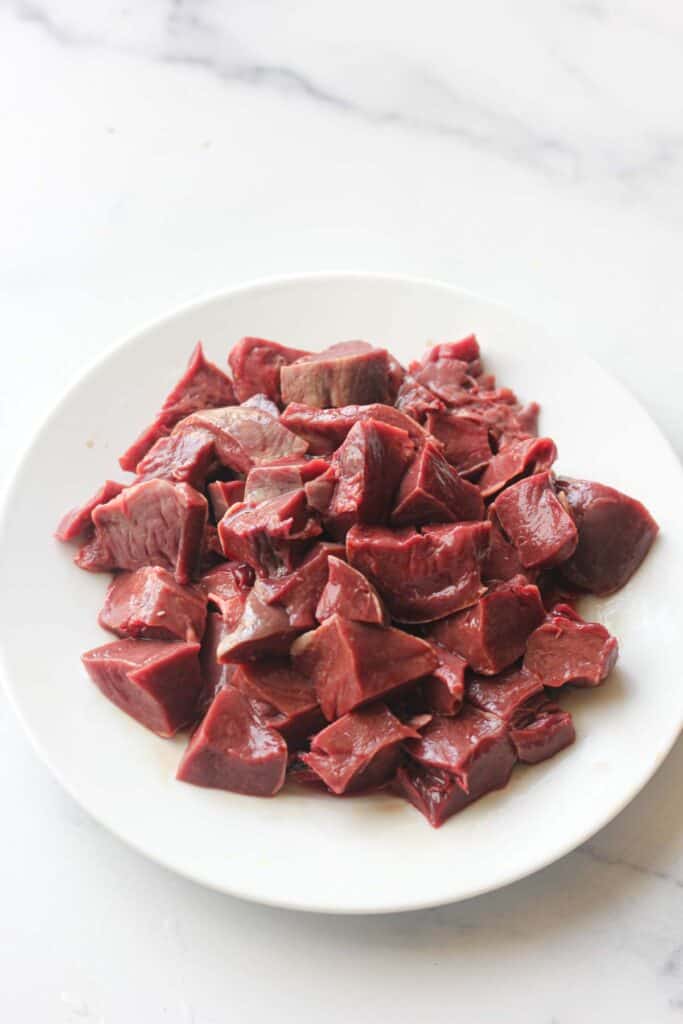 Heat oil in heavy bottom pot. Regular pot will work too. Add heart and brown them on high for couple minutes, stirring. This process will help sealing juices inside heart pieces while cooking. Now add chicken or beef broth or water into the pot. Add spices. Stir everything very well and bring to boil.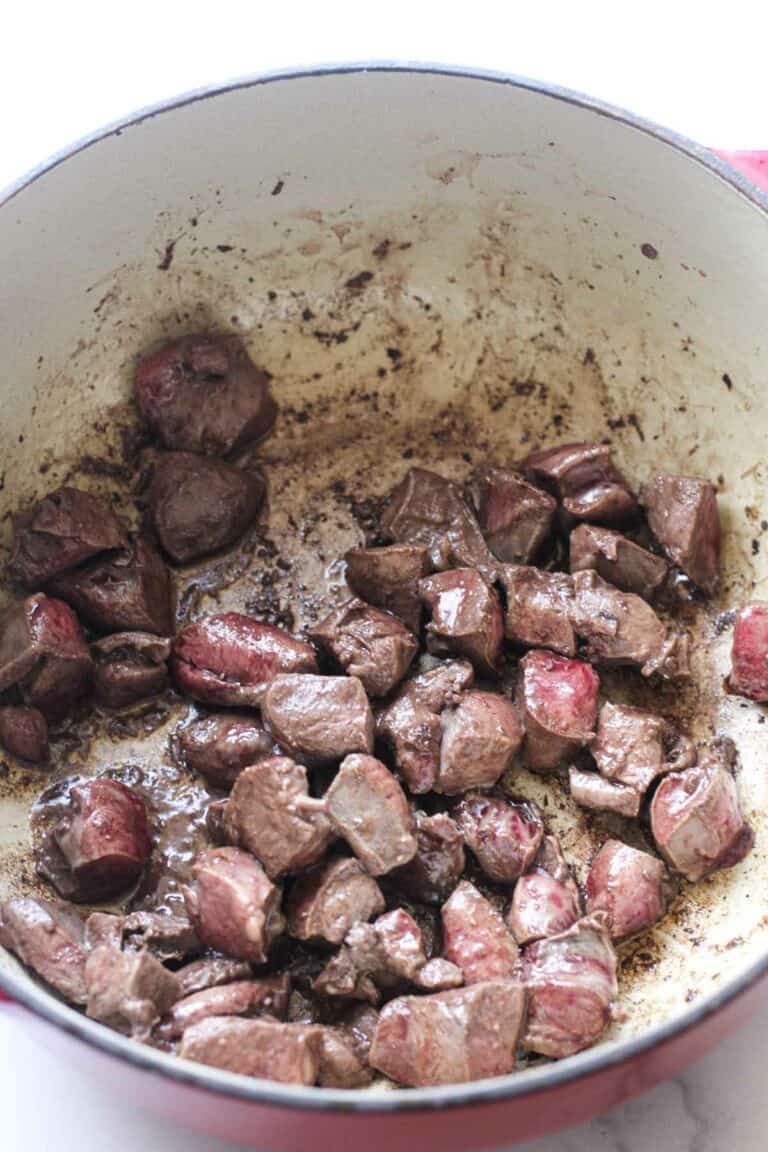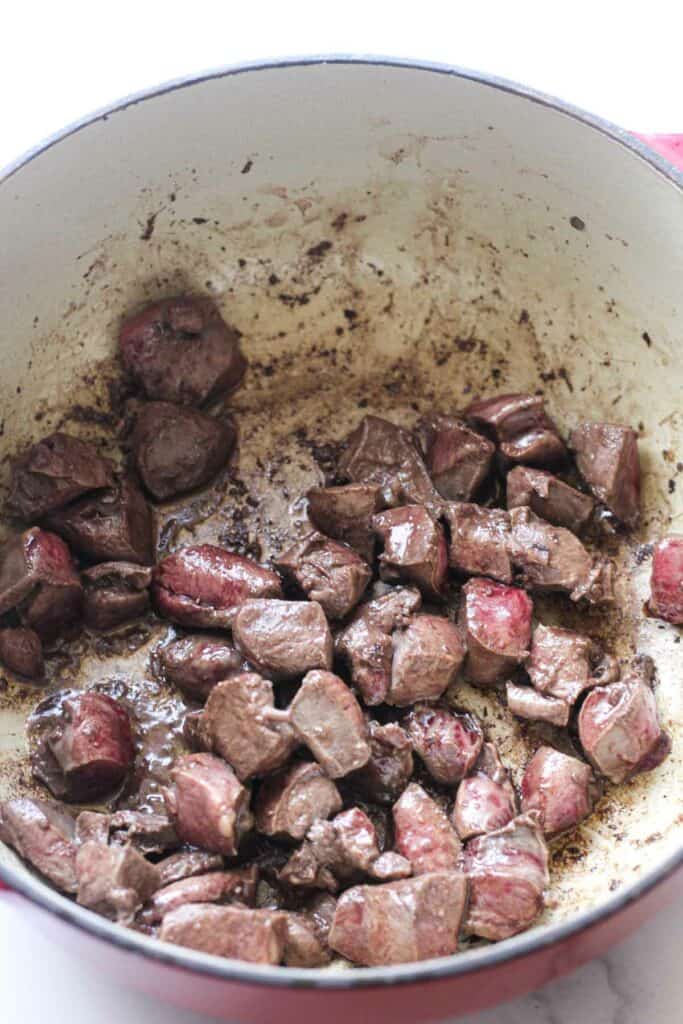 Set the heat to LOW and cover pot with a lid. Let stew simmer for at least 1 hour. Honestly it depend on a heart. If its old, it might take longer for it to get tender. Looks like my lamb hearts were pretty young and it only took them 1 hour to reach melt in your mouth texture.
But don't worry, you cant really overcook lamb heart. The more you cook, more tender it will get. That's so amazing!
Add a slurry (see recipe card) to the broth and it will create a fantastic gravy. So thick, flavorful and absolutely delicious. I could eat it by the spoon.
Add vegetables
If you cant imaging a stew without vegetables here is what you need to do. Add chopped onions and chopped celery at the same time as you add lamb. Quarter potatoes, cut carrots and add them about 25 minutes before the stew is done. You will also need to add an extra cup of broth or water to the pot. If you like to add canned beans or mushrooms, add them about 5 minutes before serving.
Spices i used
In this lamb heart stew recipe i used just cumin, thyme, paprika and salt. Feel free to add oregano and dry parsley. Paprika can be substituted to smoked paprika which is basically the same thing but a little better. Freshly ground black pepper is optional but great to add too. I didn't because my kids didn't want it.
Are lamb hearts good for you
Lamb heart meat is an amazing source of Vitamin B12, Niacin and Vitamin B2. It also contains lots of protein. It may get high in fat too if you will not trim any of that fat. I usually remove almost all the fat.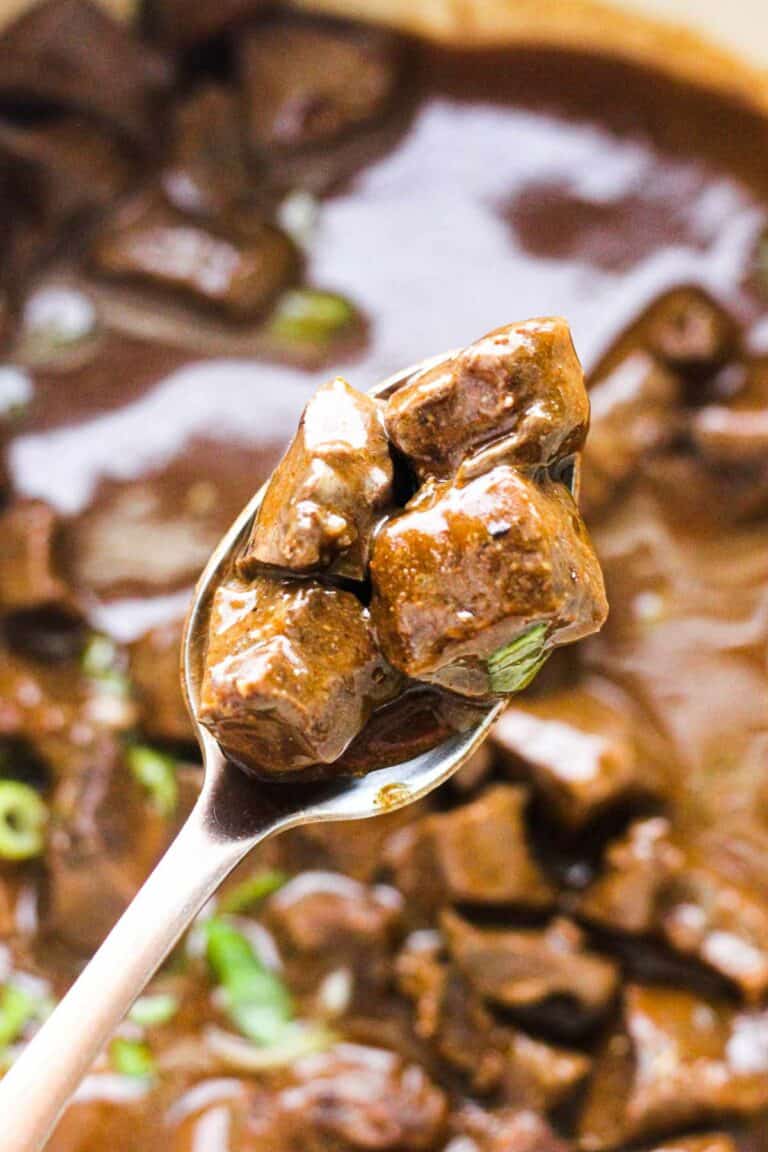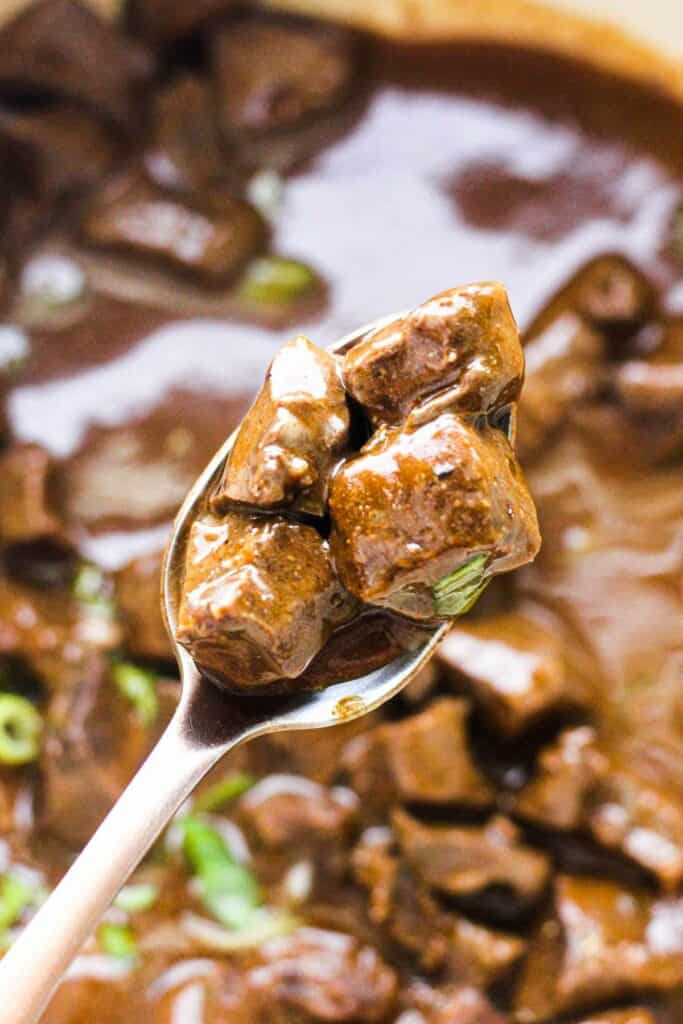 Where to buy
Sometimes it's hard to find some organ meats in local stores fresh. Try Asian markets or butcher shops. If you will have no luck just search online for a lamb heart and i promise you will find an online store that sells it in your state.
I purchased mine online and hearts came rock frozen. But amazing quality!
Recipe tips and tricks
To make sure that hearts are going to be tender they need to be cooked low and slow.
Slow cooker lamb heart stew option. Prepare hearts just like in the recipe card and without browning just place them in crock pot. Cook on low for 8 hours or HIGH for 4. This method is mostly for people who like to leave meals cooking for the whole day while they are at work.
Trim as much fat as you can if you want to safe on calories. Lamb fat is also not the healthiest thing in a world so i recommend avoiding it in this recipe.
I used a low sodium chicken broth in this lamb heart recipe . If you use regular chicken or beef broth or water, adjust salt accordingly.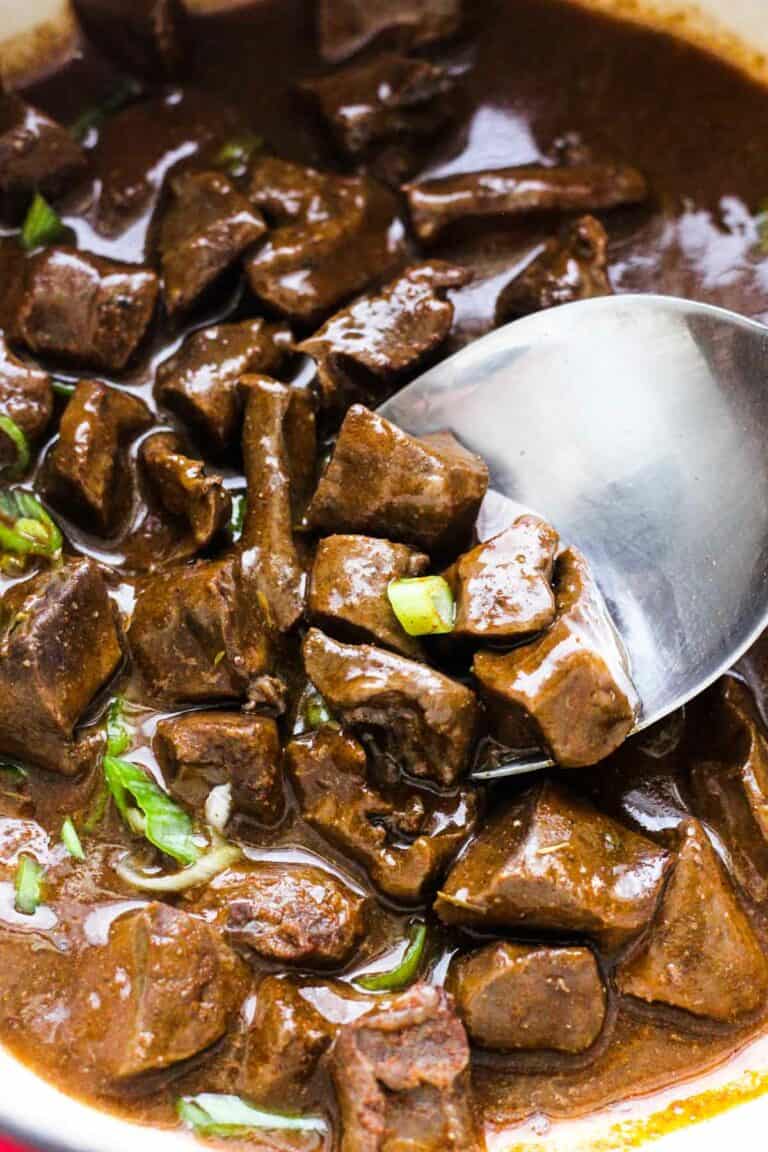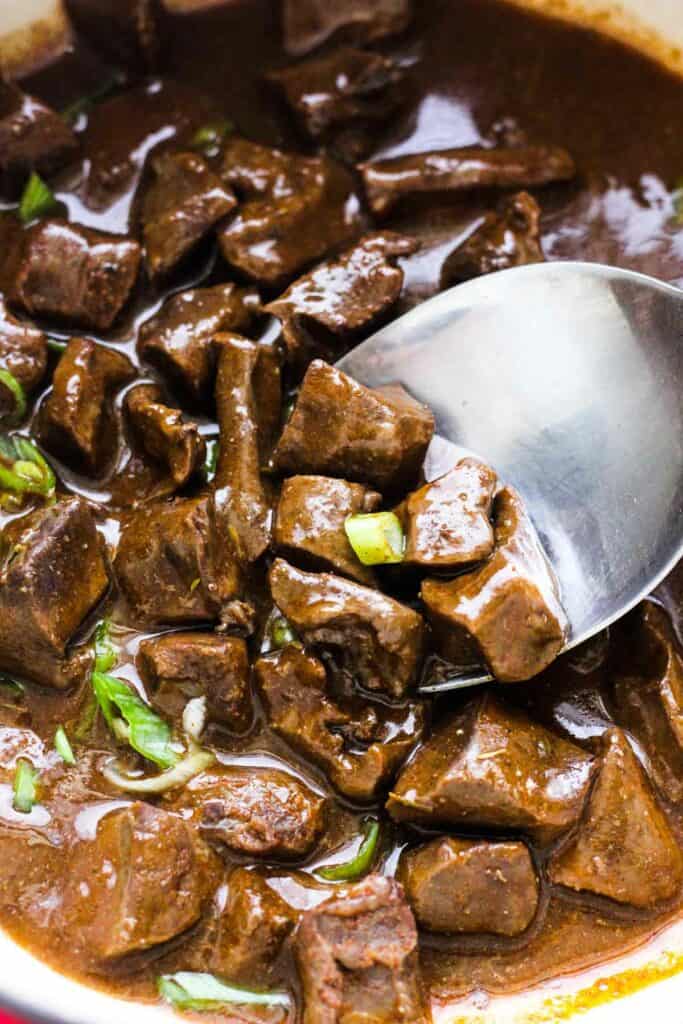 Side dish
Top cooked lamb hearts with chopped green onions and chopped cilantro. Serve this dish with a bowl of plain white rice. Mashed potatoes will be absolutely delicious with this lamb heart gravy.
If you like noodles serve heart over noodle. I could not stop myself from just eating it by the spoon. Its very addicting.
Leftovers
Store lamb heart stew in a airtight container in the fridge for up to 4 days. Reheat in the microwave for couple minutes until hot. Gravy can get very thick when refrigerated and will get back into its normal texture after it will get hot.
More offal recipes
As you can probably already tell i just love organ meats. They are so delicious and very nutritious and i am surprised that most Americans do not eat it. In other countries something like beef liver or lamb heart is just normal food to eat and people create amazing recipes with it. Anyways, try some of the offal meat recipes from my site if you like!
Recipe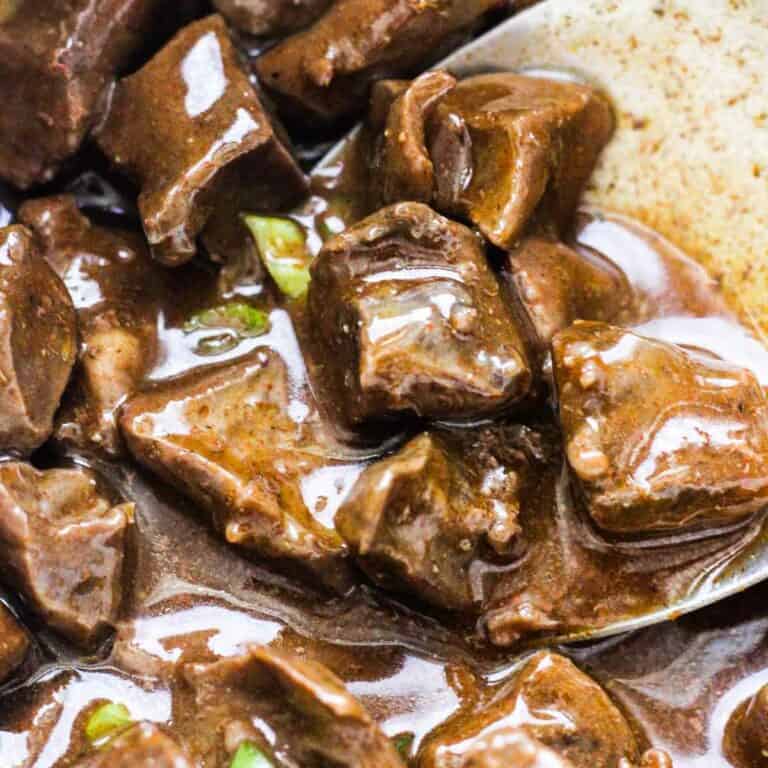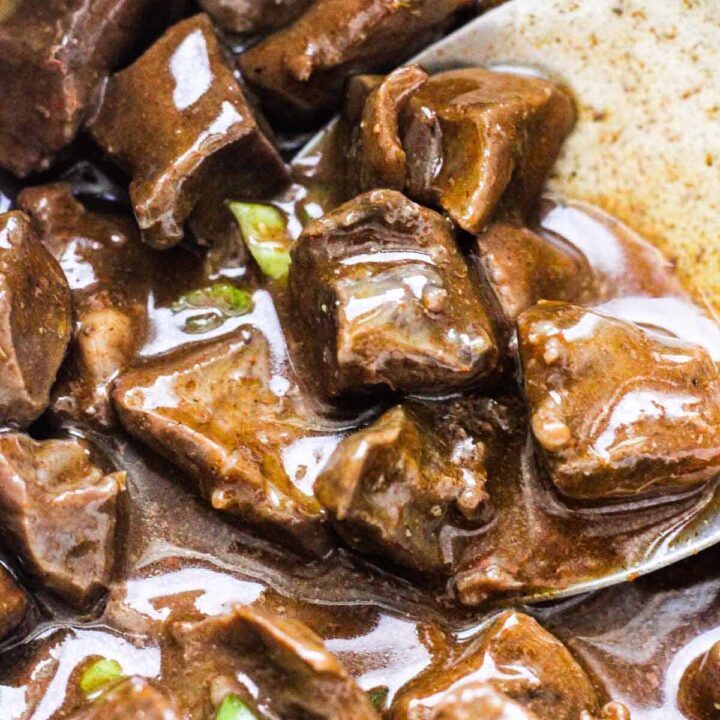 Delicious lamb heart stew
Cook Time:
1 hour
30 minutes
Total Time:
1 hour
35 minutes
Lamb heart stew is the most delicious and easy way to cook lamb hearts! Melt in your mouth tender meat and actually healthy too. Cook it low and slow on the stove and enjoy with rice, noodles or mashed potatoes.
Ingredients
2 lamb hearts
1 cup low sodium chicken broth (or beef broth or water)
1 teaspoon salt
1 teaspoon paprika
½ teaspoon cumin
½ teaspoon thyme
1 teaspoon olive oil
2 teaspoon cornstarch
¼ cup cold water
Instructions
Remove most of the fat from lamb hearts. Cut hearts in about 1 inch chunks.
Add oil in the heavy bottom pot and brown lamb pieces for couple minutes.
Add broth, seasonings and bring to a boil. Lower the heat to LOW , cover with the lid and simmer for 1,5 hours or until tender.
Make a slurry by mixing corn starch with cold water. Add to the pot and stir very well.
Top with chopped green onions and serve.
Notes
Serve over rice or mashed potatoes. Or noodles.
You can make this recipe in slow cooker. Follow same instructions except browning and slow cook for 8 hours on HIGH or 4 hours on LOW.
Add potatoes and carrots if using about 25 minutes before the end of cooking time.
Discard fat trimmings, you don't need them.
Always use only very sharp knife when cutting lamb heart.
If using water or beef broh instead of low sodium chicken broth, adjust salt to your liking.
Nutrition Information:
Yield:

2
Serving Size:

1
Amount Per Serving:
Calories:

212
Total Fat:

10g
Saturated Fat:

3g
Trans Fat:

0g
Unsaturated Fat:

5g
Cholesterol:

212mg
Sodium:

1150mg
Carbohydrates:

6g
Fiber:

1g
Sugar:

0g
Protein:

24g