Chicken marinade with dill is simple and easy to make and will liven up any chicken dinner! This marinade is made with freshly chopped dill, olive oil, bright lemon juice, minced garlic, and salt and black pepper. It keeps the meat juicy and tender and adds incredible flavor to any piece of chicken!
Need more flavorful chicken recipes? Try my all time favorite capon recipe and pulehu chicken recipe.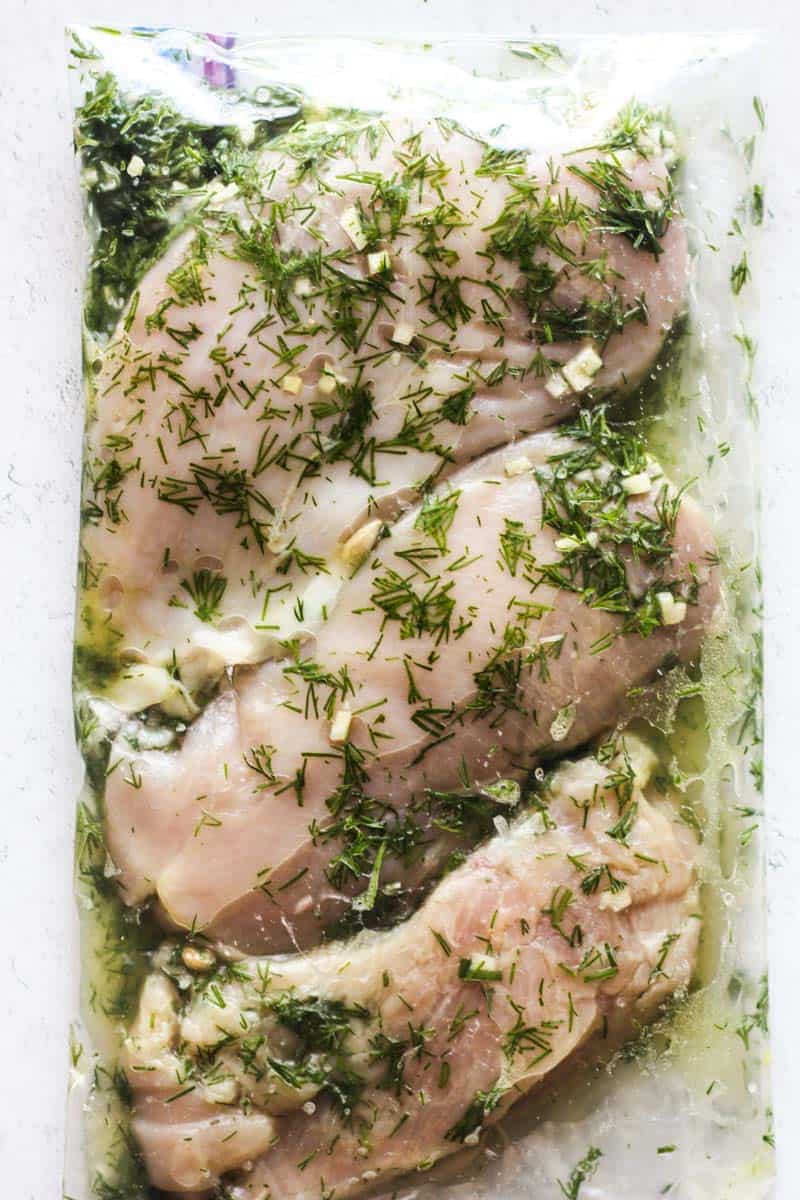 Chicken is a very versatile meat but it can be a little boring sometimes. Making a simple marinade with dill for your chicken breast, legs, or thighs is a great way to switch things up and give your weeknight dinners a different flavor.
This simple lemon dill marinade recipe is quick to put together in 5 minutes. It has plenty of fresh herbs and bright and savory flavors. Everything comes together easily inside a bowl or plastic ziplock bag and it doesn't take a whole lot of time to prepare.
Add the chicken to marinade a few hours before you are ready to serve it or even the night before, so you have a quick home-cooked meal to serve even during your busiest weeks!
Whether you grill, pan-fry, or oven-roast your chicken, it is so flavorful, juicy, and very delicious.
How to make chicken marinade with dill
Start by preparing the marinade in a medium-sized mixing bowl. Pour in the olive oil and freshly squeezed lemon juice. Using a whisk, blend the two together until they emulsify into a slightly thickened mixture.
Next, add the freshly minced garlic to your bowl. Incorporate the finely chopped dill, ensuring it's free from any stems. Sprinkle in the salt, freshly ground black pepper, and onion powder. Using a spoon or spatula, mix everything together ensuring that the herbs and spices are uniformly spread throughout the marinade.
Lay out your chicken pieces on a tray or plate. Then, transfer the chicken to a large, clean zip-top bag or a deep, shallow dish. Carefully pour your prepared marinade over the chicken. If using the bag, try to press out as much air as possible before sealing it.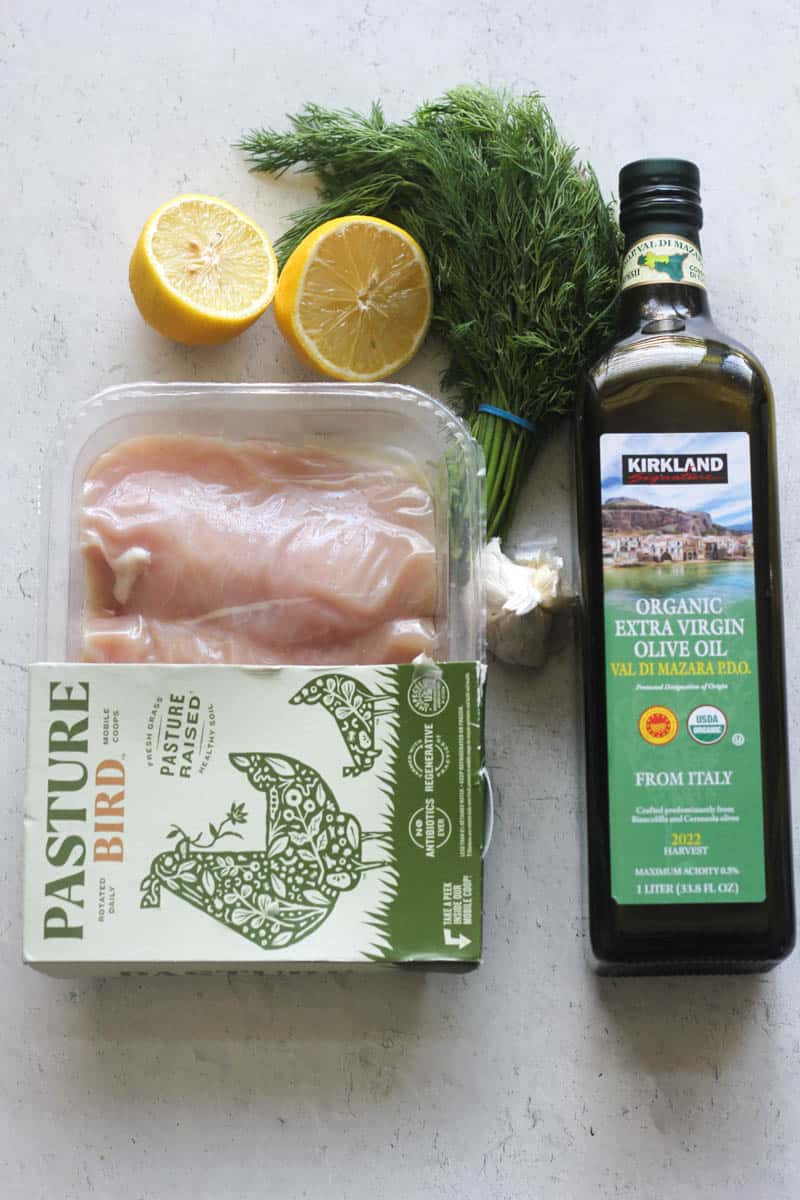 If you're using a dish, ensure every chicken piece is well-submerged in the marinade. Rotate or massage the chicken (if in the zip-top bag) to make sure each piece is fully covered in the marinade. Seal the bag securely, or if using a dish, cover it tightly with plastic wrap.
Now, place the marinating chicken in the refrigerator. It's essential to allow it to soak for a minimum of 2 hours. However, for a deeper flavor infusion, consider letting the chicken marinate overnight.
Once your chicken has sufficiently marinated and absorbed the flavors, take it out from the refrigerator. Let it sit for a while, allowing it to come close to room temperature for more even cooking.
Finally, decide on your preferred cooking method. Whether you're in the mood for grilling, which gives a smoky flavor, baking for a tender finish, or pan-frying for that irresistible crispy exterior, make sure the chicken is cooked until it reaches an internal temperature of 165°F or until its juices run clear.
Recipe ingredients
Olive oil. Used to keep the chicken moist and juicy while it cooks.
Lemon juice. Freshly squeezed lemon juice will be the most effective at breaking down the meat and will provide a fresher citrus flavor compared to bottled juice.
Fresh dill. Finely chopped dill is the star of this chicken marinade. It has a strong citrusy and grassy flavor that works well with the other ingredients.
Minced garlic. Garlic is a great aromatic to add to marinades because it gives a savory umami taste to the meat.
Seasonings. Salt, freshly ground black pepper, and onion powder. Important in enhancing the flavors of the chicken.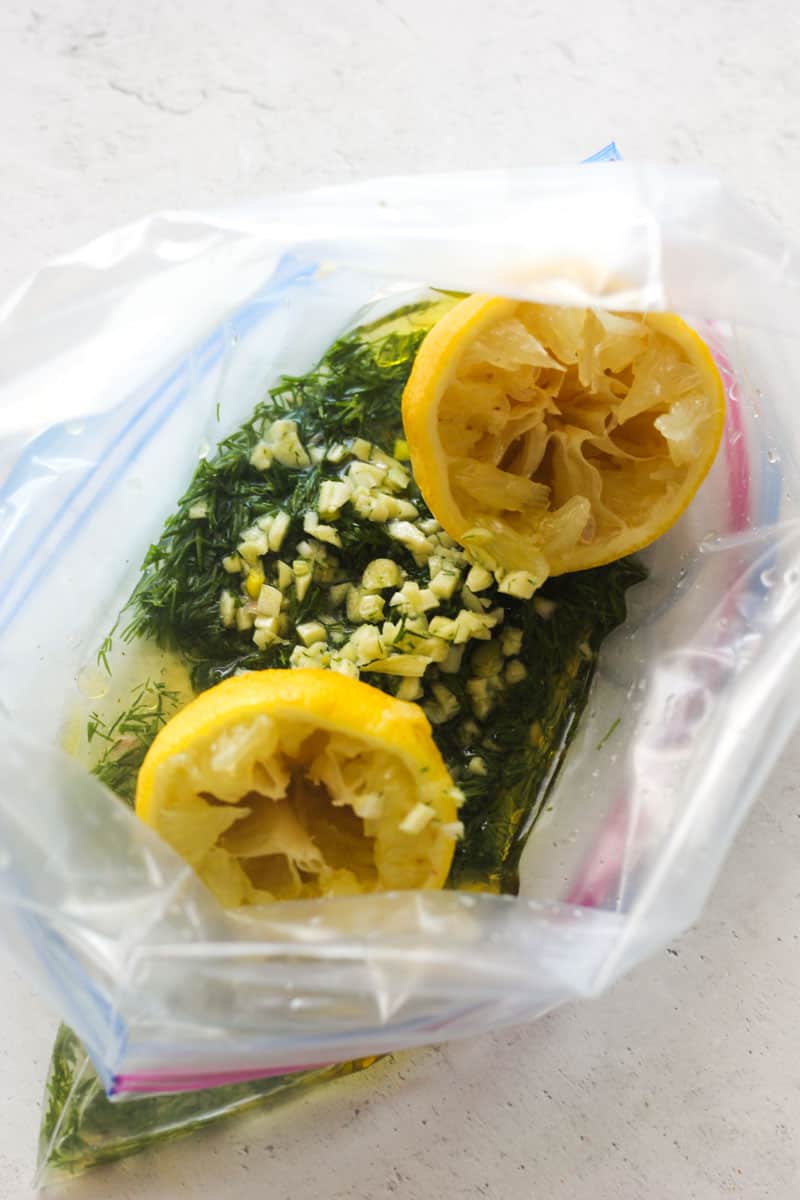 Ways to cook chicken
After marinating, chicken can be cooked in several delicious ways. Here are some methods to consider:
Grilling: This method offers a smoky flavor to your chicken. Preheat your grill, place the marinated chicken on it, and cook until it's charred on the outside and fully cooked on the inside.
Baking: Baking is a healthier option as it requires less added fat. Preheat your oven, place the chicken in a baking dish, and cook until it's golden brown and fully done.
Pan-Frying: This method gives the chicken a crispy exterior. Heat a bit of oil in a skillet or frying pan, add the chicken, and fry until it's golden and crispy.
Broiling: Broiling cooks the chicken with direct heat from the oven's broiler, giving it a charred finish. Place the chicken on a broiling pan and cook it a few inches from the heating element.
Slow Cooking: For a tender and juicy result, place the marinated chicken in a slow cooker and let it cook on low heat for several hours.
Sautéing: This is a quick method using high heat. Heat some oil in a pan, add the chicken, and cook it quickly, ensuring all sides are golden brown.
Roasting: Roasting chicken with some veggies can give a wholesome meal. Place the chicken on a roasting rack or tray, surround it with your favorite vegetables, and roast in the oven.
Pro tips
If you are using thicker chicken breasts, try cutting them horizontally into cutlets. This way they will soak up the marinade better and cook more evenly.
Use a glass or plastic bowl or ziplock bag when marinating the chicken. This is because this marinade contains lemon juice which could possibly react with a metal container and give your chicken an offputting metallic taste.
Substitutions
Lemon juice. Use lime juice or a combination of lemon and lime juice.
Fresh garlic. Substitute with ¾ teaspoon of garlic powder.
Onion powder. Grate fresh onions or shallots if you want a fresh onion flavor.
Oil. Instead of olive oil use your favorite vegetable oil like coconut oil or avocado oil.
Fresh dill. If you don't have any fresh dill on hand substitute with 1 teaspoon of dried dill weed instead.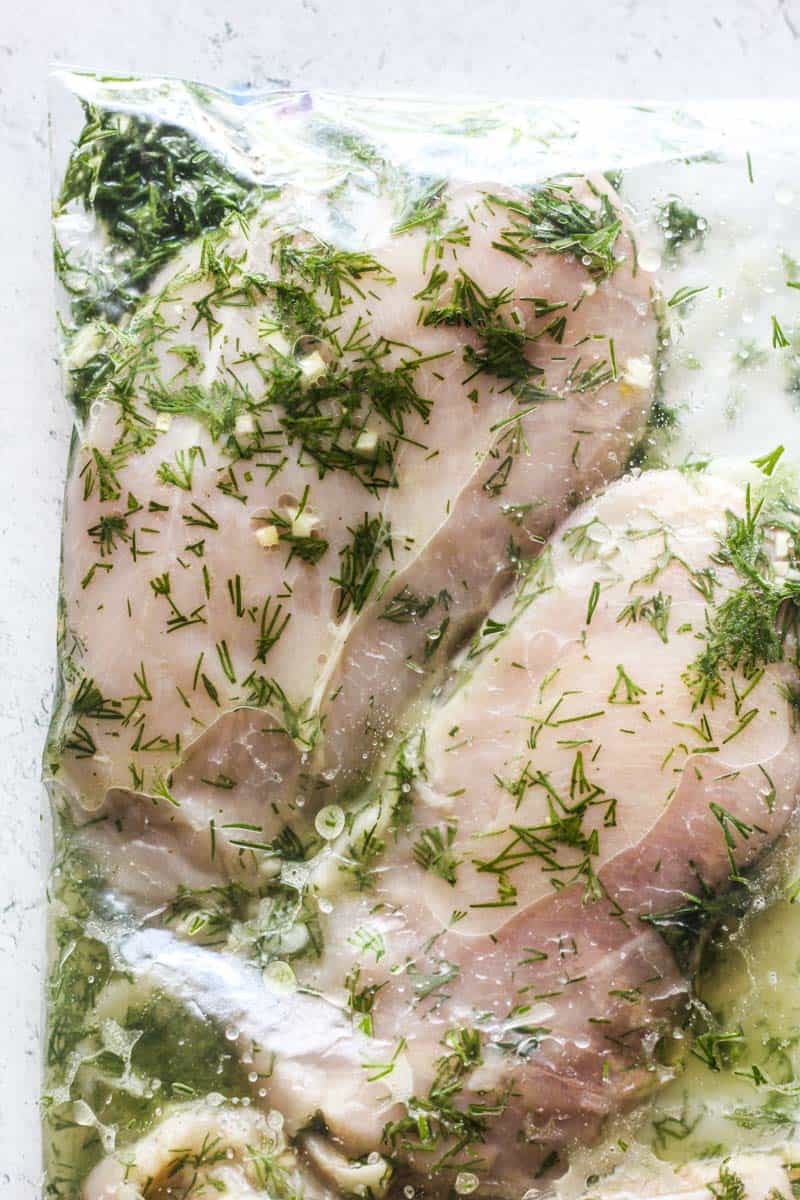 Variations
If you don't like fresh dill, replace it with freshly chopped fennel, tarragon, rosemary, or thyme.
In addition to the dill, add fresh chopped parsley or cilantro for a stronger herby flavor.
Use lemon zest in addition to the lemon juice to increase the citrus notes in this marinade.
Frequently asked questions
How long should chicken sit in marinade?
Chicken can stay in the marinade for anywhere from 2 hours to overnight. If your marinade contains a high amount of vinegar or citrus juice don't let your meat stay in it for too long because it can cause your meat to become tough and chewy.
What does vinegar do to chicken marinades?
Vinegar and the acids in citrus juices help to break down the meat. It is used to tenderize the meat while at the same time adding incredible flavor to it.
How to marinate chicken effectively?
Make sure you are using enough vinegar or citrus juice and oil to completely cover the meat you are marinating. That way every part is flavored. It's helpful to add all of your marinade ingredients and meat into a large ziplock bag or air-tight container that way you can shake it to make sure everything is evenly coated.
What is the secret to a good marinade?
You should have a good combination of seasonings, acids, fat, and salt. Use seasonings and ingredients that you like the flavor of because their flavors will be strong, especially if you allow your chicken to sit in the marinade for a long time.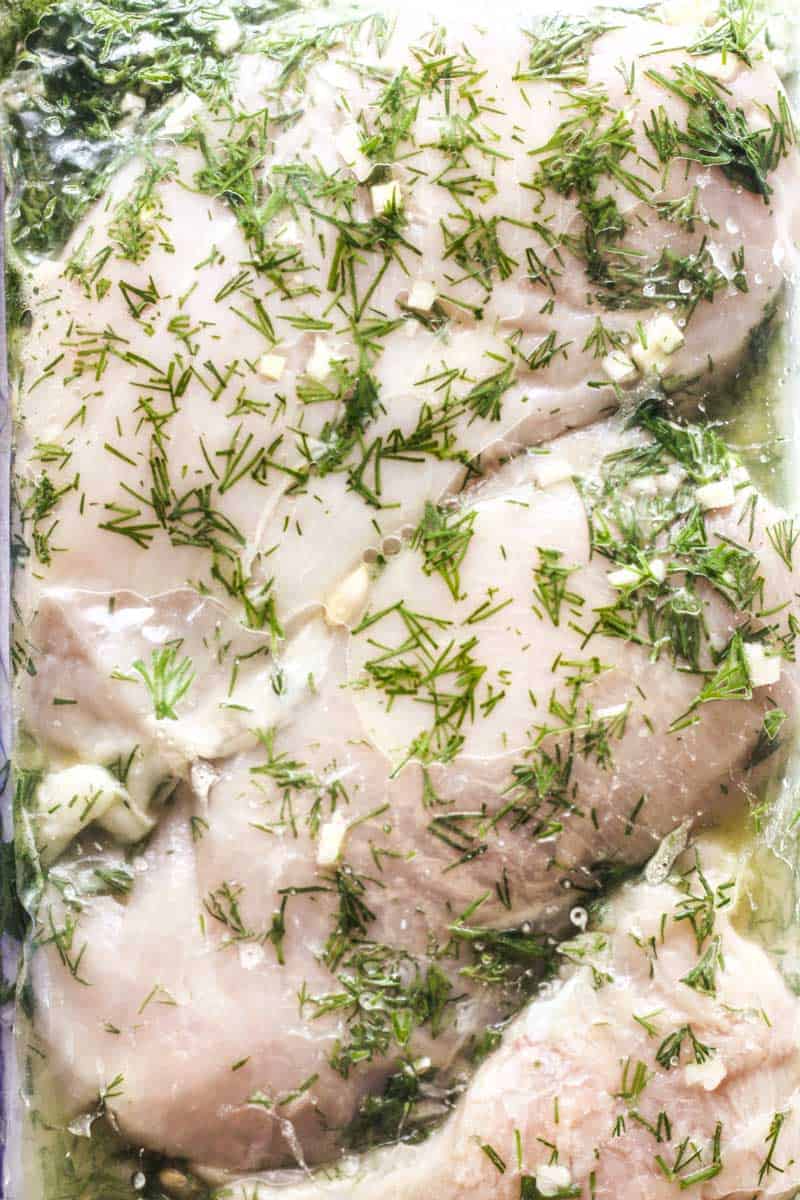 Why you will love this recipe
Dill brings a unique freshness and aroma to the marinade. Its distinct flavor complements chicken beautifully and elevates the overall taste.
The ingredients in this marinade not only enhance the flavor of the chicken but can also be used with other meats or even vegetables.
Ease of Preparation: Making this marinade is a breeze. It requires simple ingredients and a straightforward process, making it accessible even for kitchen novices.
Health Benefits: Dill has multiple health benefits, including aiding digestion and providing anti-inflammatory effects. Combined with olive oil, lemon, and garlic, this marinade is not only delicious but also packed with nutritional benefits.
Economical: You don't need expensive or rare ingredients. Everything in this marinade is commonly found in most kitchens, making it a cost-effective flavoring choice.
Flexibility with Cooking Methods: Once the chicken is marinated, it can be grilled, baked, fried, or even roasted. This allows for varied meal options with the same marinade base.
Tenderizes the Meat: The acidic component from lemon juice helps to tenderize the chicken, ensuring a juicy and soft outcome every time.
Meal Prep Friendly: If you're someone who likes to prepare meals in advance, marinating chicken with this recipe and storing it in the freezer is perfect. When you're ready to cook, you've got flavorful chicken on hand!
You may also like…
Hope you will like this chicken marinade with dill recipe as much as we do. Please rate the recipe if you made it and leave a comment below if you have any questions or suggestions.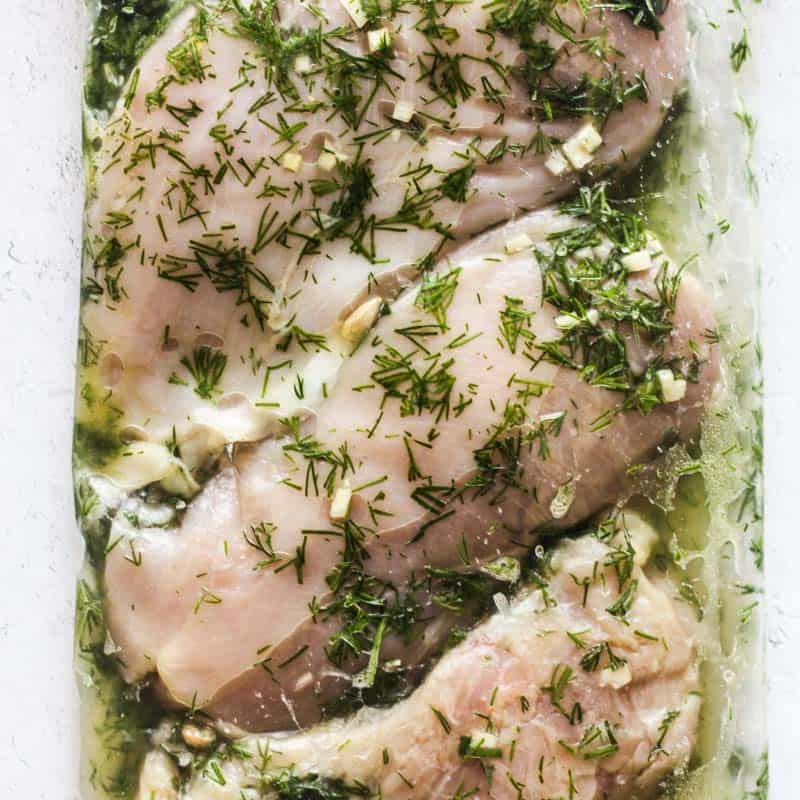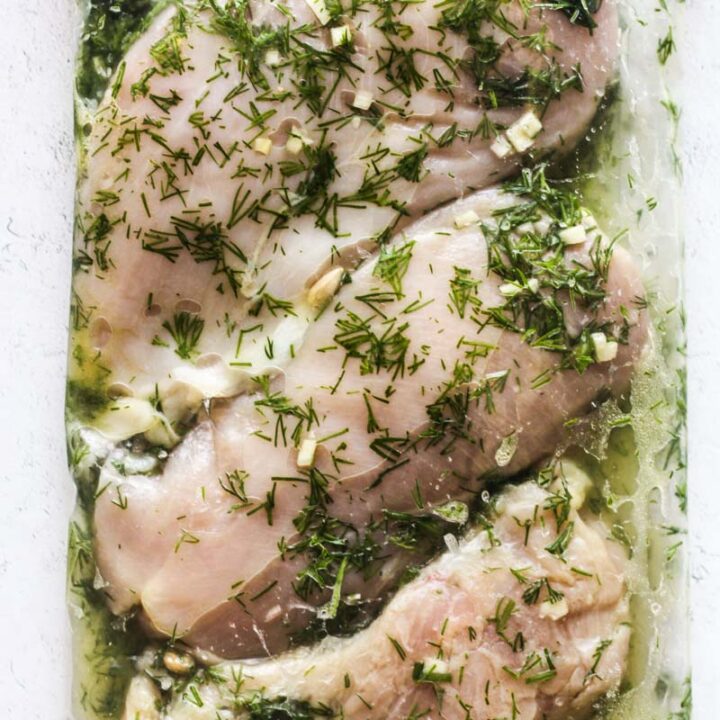 Chicken Marinade with Dill
Additional Time:
2 hours
40 minutes
Total Time:
2 hours
45 minutes
Chicken marinade with dill is simple and easy to make and will liven up any chicken dinner. This marinade is made with freshly chopped dill, olive oil, lemon juice, minced garlic, salt and black pepper.
Ingredients
¼ cup olive oil
⅓ cup fresh lemon juice
3 tablespoons fresh dill, finely chopped
3 cloves garlic, minced
1 teaspoon salt
½ teaspoon black pepper
½ teaspoon onion powder
3 chicken breasts
Instructions
In a bowl, whisk together olive oil and lemon juice until well combined. Add the minced garlic, chopped dill, salt, black pepper, and onion powder to the mixture. Stir everything together until all the ingredients are evenly distributed.
Place your chicken in a large zip-top bag or a shallow dish. Pour the marinade over the chicken, ensuring each piece is well-coated. Seal the bag or cover the dish with plastic wrap.
Refrigerate and let the chicken marinate for at least 2 hours. For best results, marinate overnight.
Once marinated, cook the chicken as desired – grilled, baked, or pan-fried.
Nutrition Information:
Yield:

3
Serving Size:

1
Amount Per Serving:
Calories:

370
Total Fat:

22g
Saturated Fat:

4g
Trans Fat:

0g
Unsaturated Fat:

17g
Cholesterol:

102mg
Sodium:

796mg
Carbohydrates:

3g
Fiber:

0g
Sugar:

1g
Protein:

38g