Crispy on the outside, juicy and tender on the inside, this Ninja Foodi bacon wrapped pork tenderloin will not disappoint. An easy air fryer recipe for any pork lover.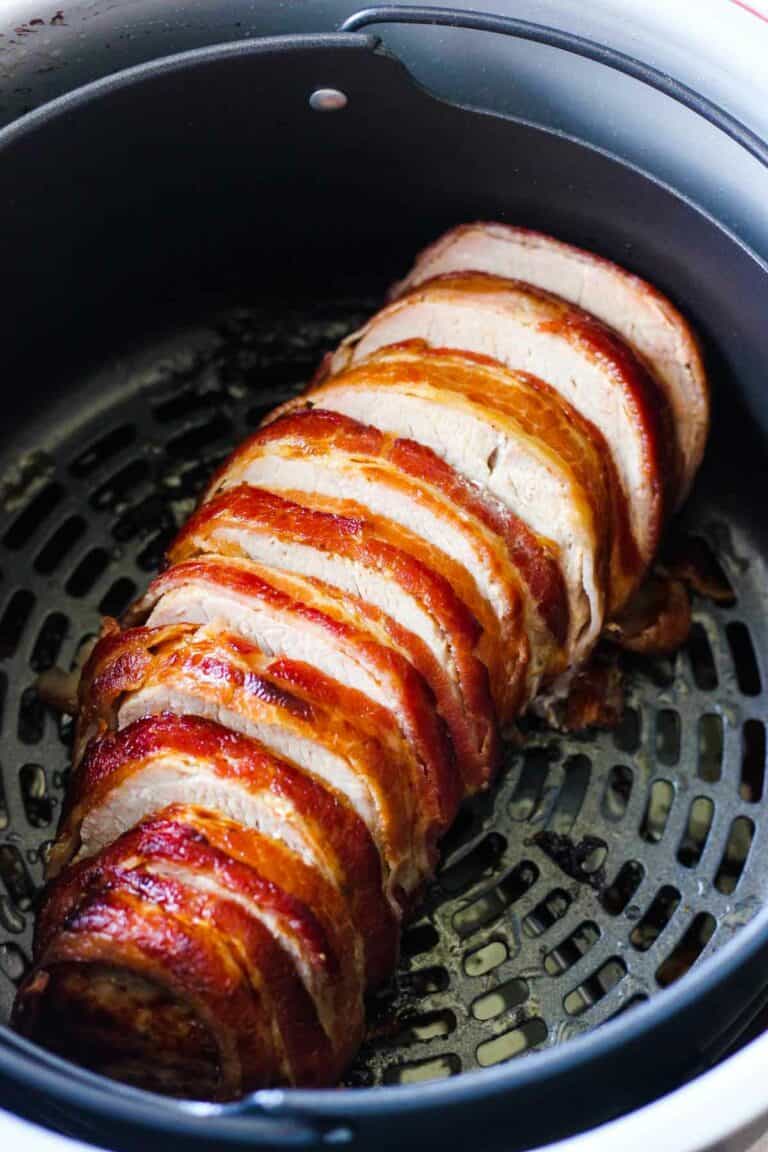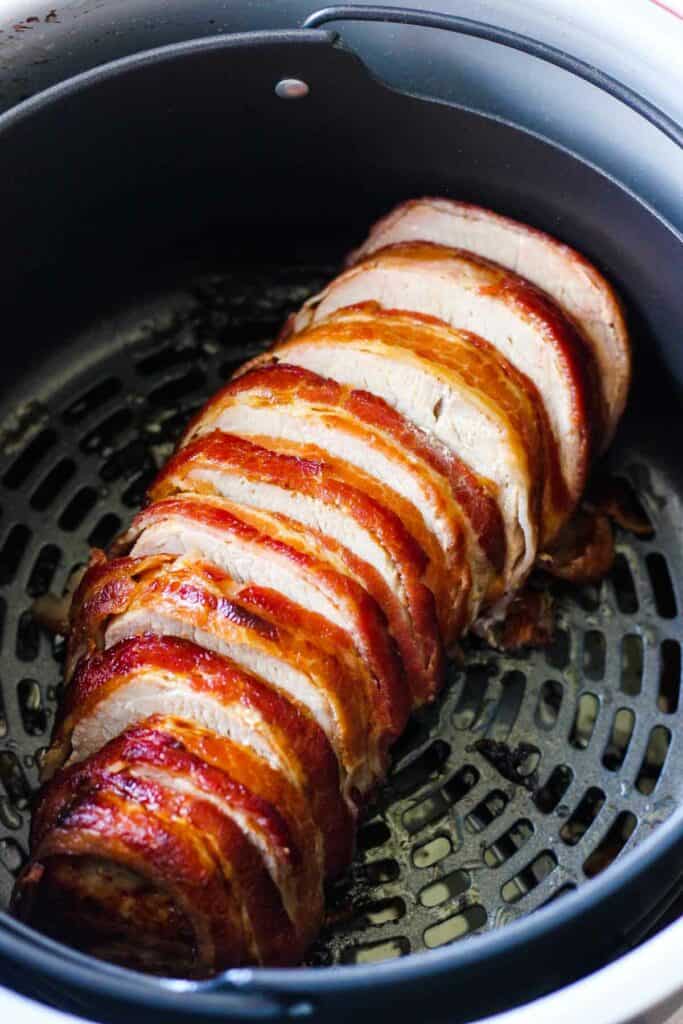 Bacon wrapped anything sound great but what if we wrap a whole pork tenderloin with it? Using an amazing air fryer Air Crisp function cooking is a breeze and it will take you only 40 minutes.
What is pork tenderloin
The pork tenderloin is a lean long cut of meat tat is also called a pork fillet. It is a boneless cut that runs along the backbone. You can easily find it in most grocery stores.
What temperature do you cook pork to
The pork should reach the internal temperature to at least 145 degrees Fahrenheit. I like to make sure my pork is fully cooked at 160 degrees. Keep in mind that during resting time pork continuing cooking inside too. Don't overcook or the meat will be dry and tough.
How to make bacon wrapped ninja foodi pork tenderloin
Since we are making a bacon wrapped pork tenderloin it might sound hard but in fact its very easy. Make sure the bacon is not a thick cut or it will be hard to wrap the pork with it.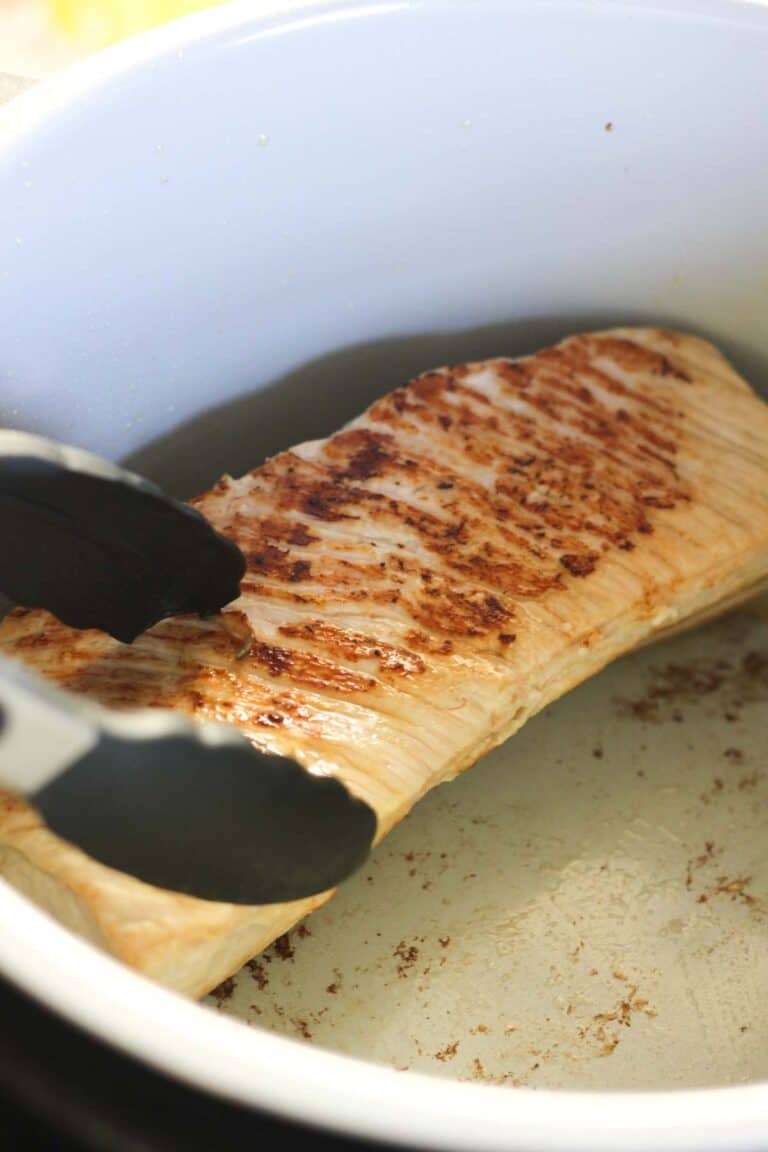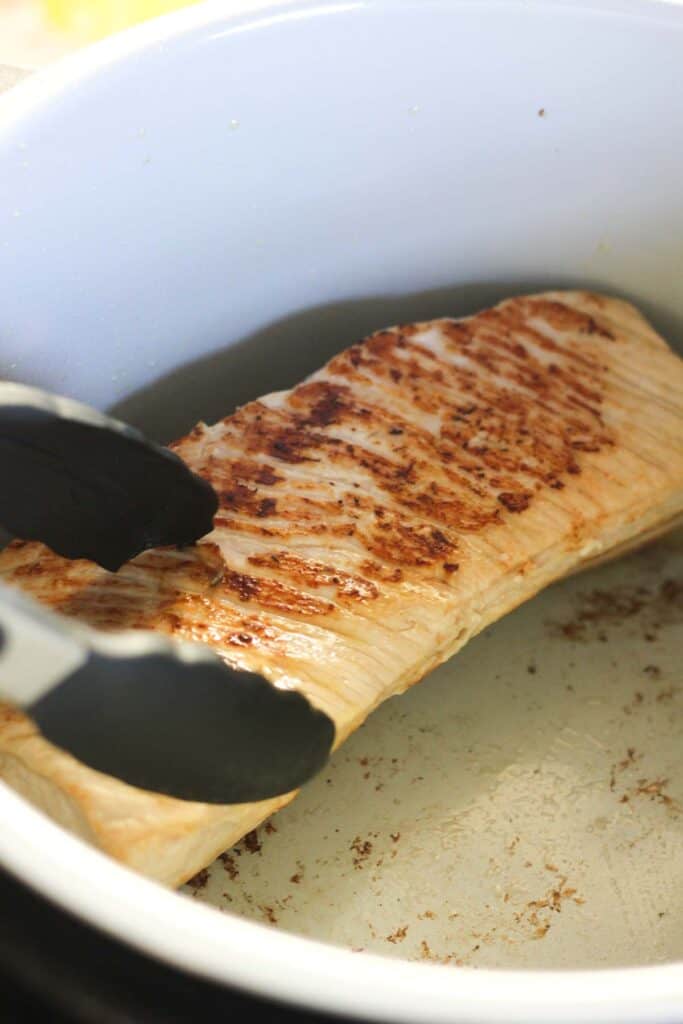 I like to brown meat before cooking. This step is not necessary if you are short in time its fine. But it helps sealing all the juices inside and make the final dish more juicy and tender.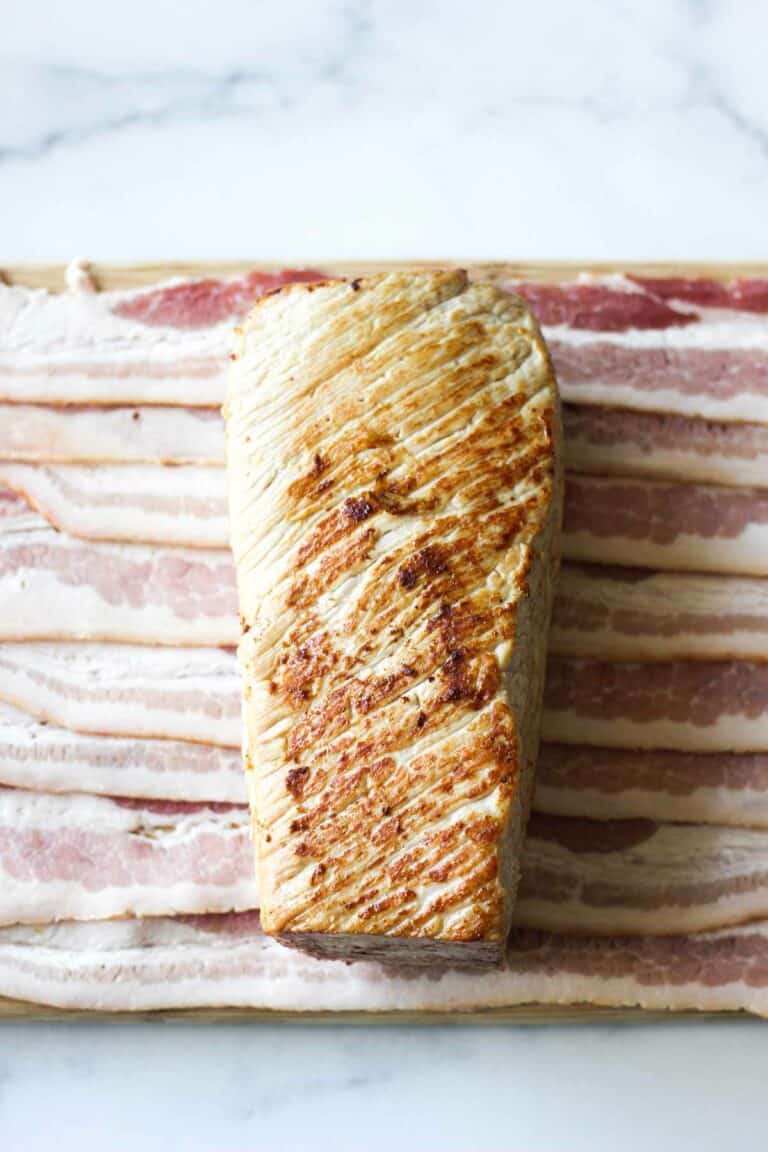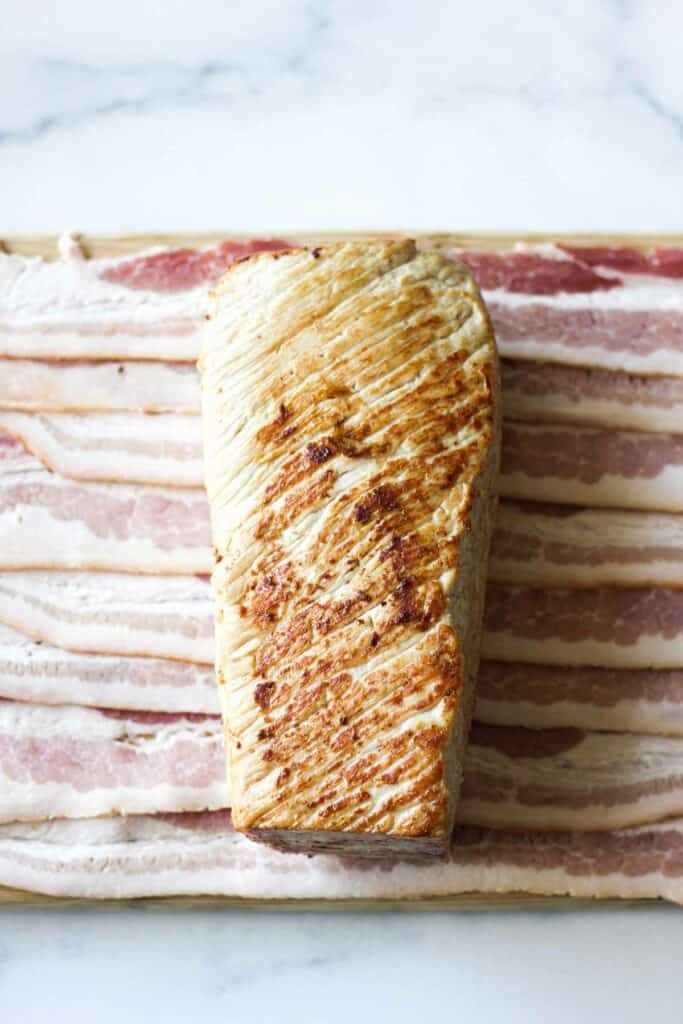 Next, lay flat about 8 pieces of bacon. I used a cutting board. Place pork in the middle. Flip left side bacon pieces over the pork and then wrap the right pieces on top of left pieces. See pictures for reference.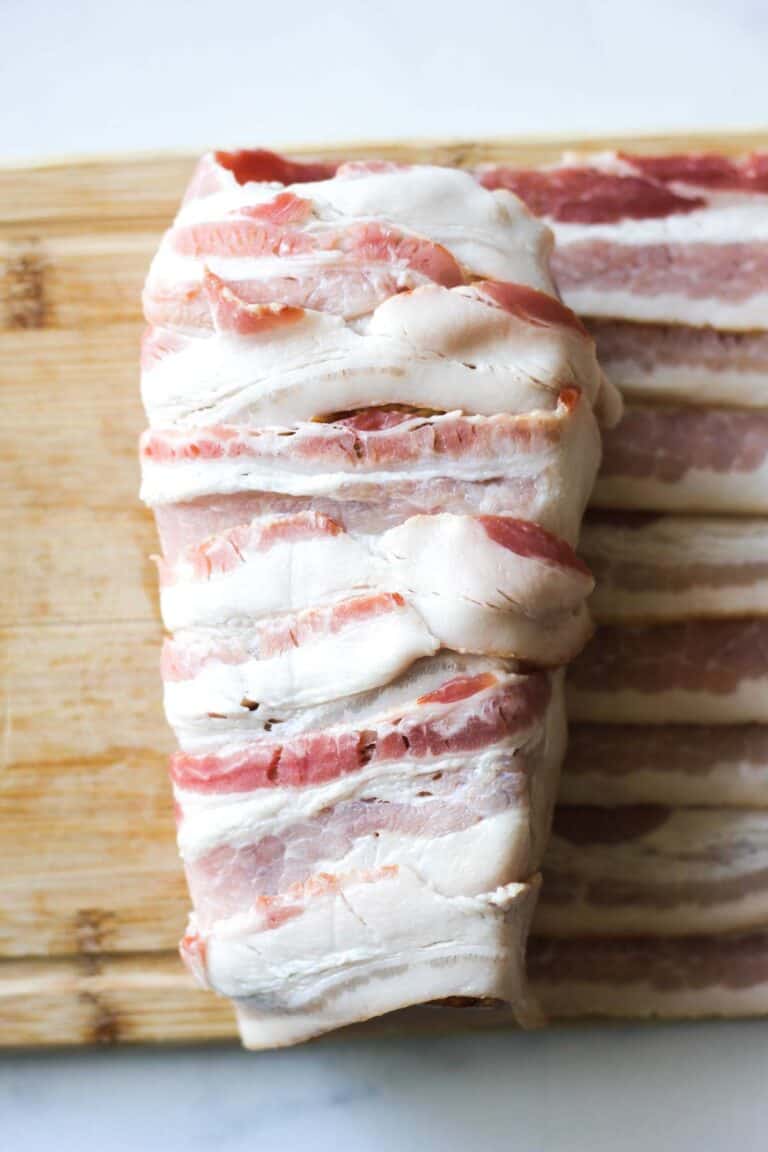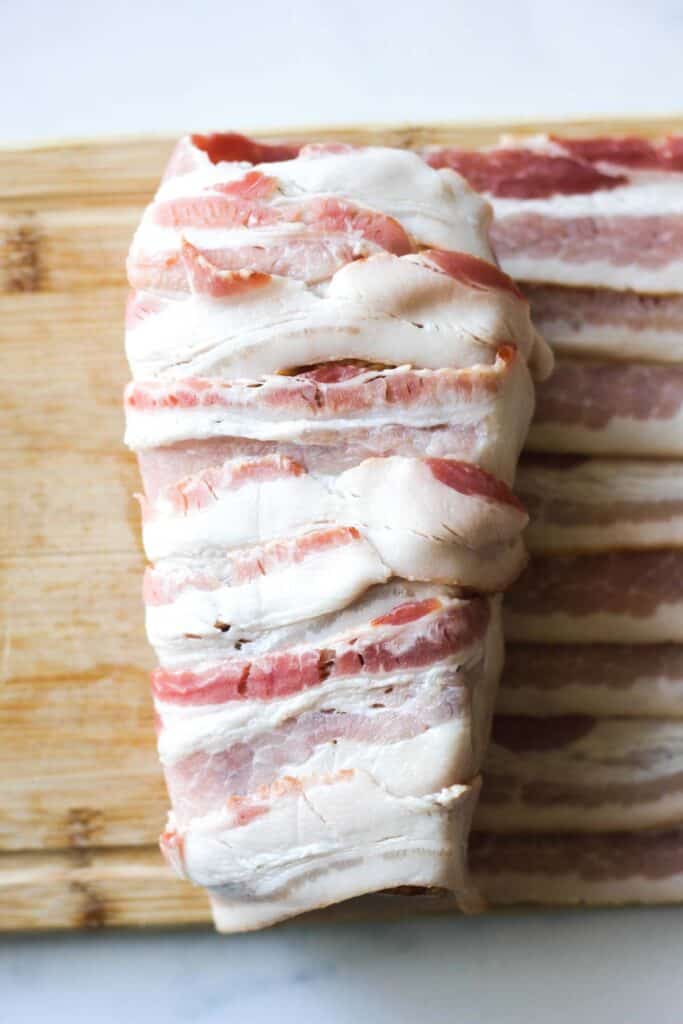 As you can see if i used chick cut bacon, it would be impossible to wrap bacon tightly around the meat. It would be all falling apart. If it still falling apart try to use toothpicks to hold it together. Its not the best technique because some pork juices will be escaping through the holes.
Try this, wrap pork in butcher twine. Not too much, just to hold bacon together. It will work better than toothpicks.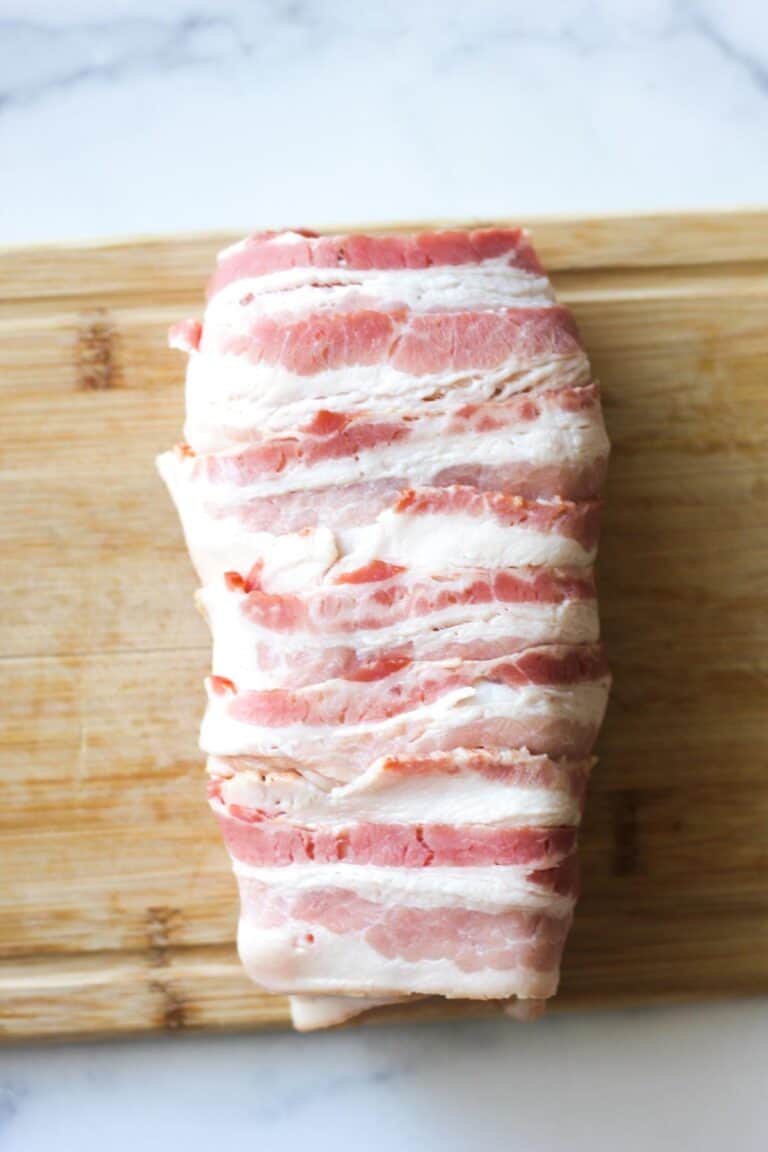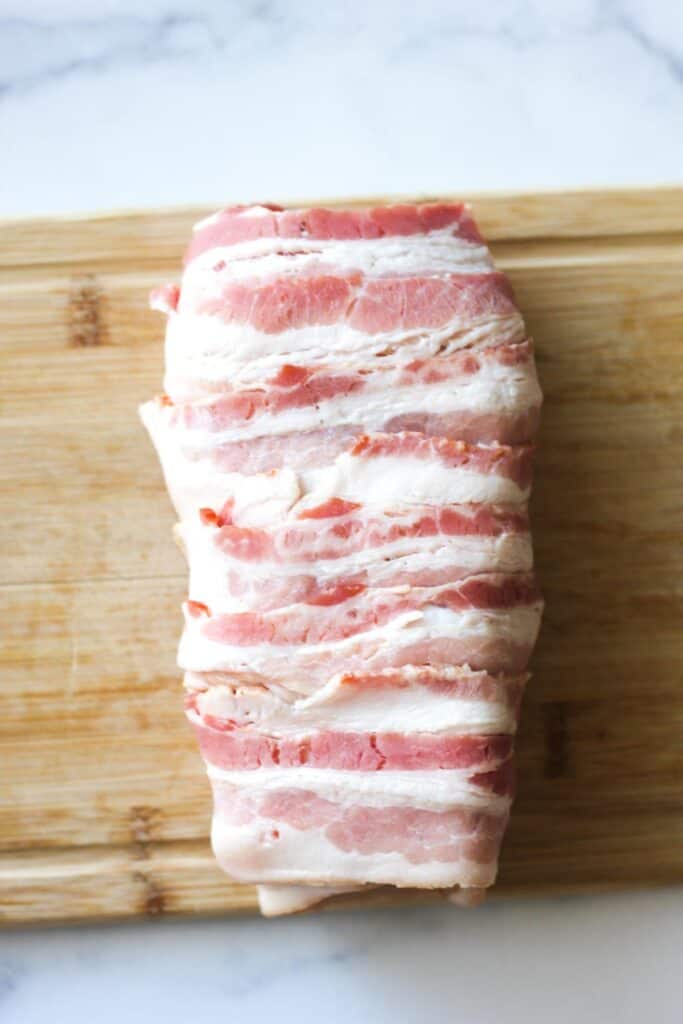 Place bacon wrapped pork in the ninja foodi air fryer basket. There is no need to spray it with oil. Take a brush and brush maple syrup or honey all over the bacon. Use as much as you want. i just poured maple syrup straight from a jar.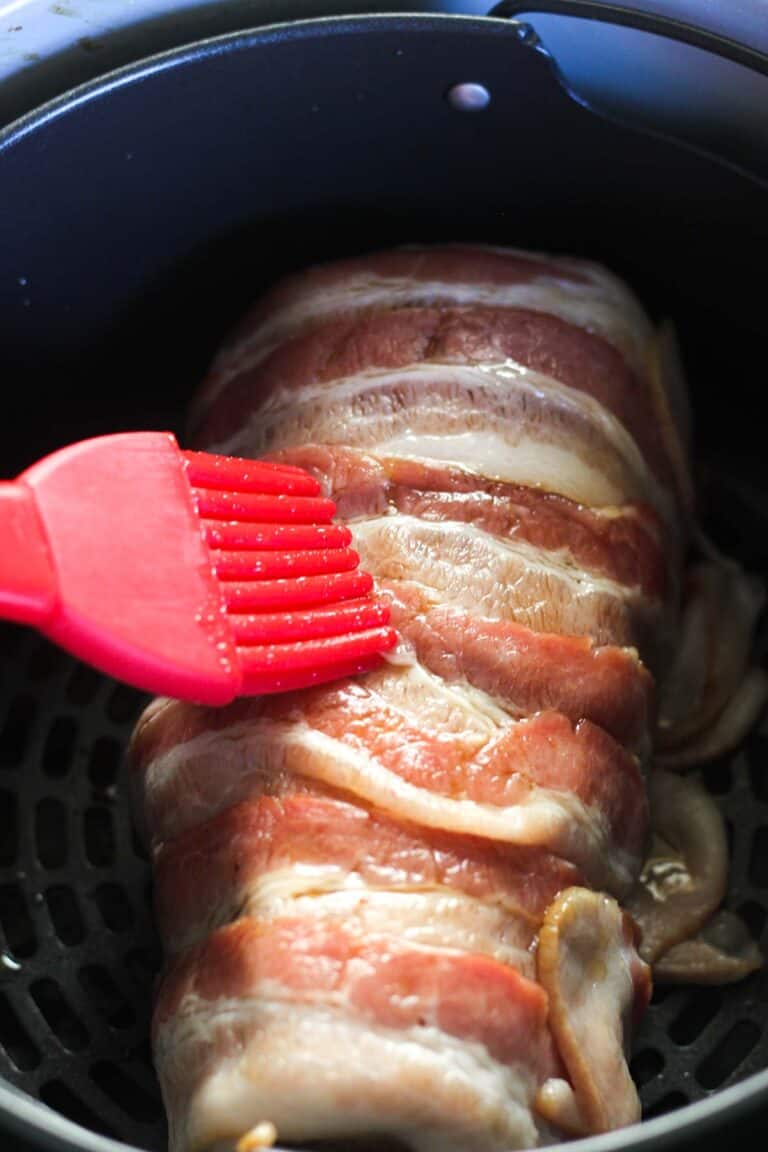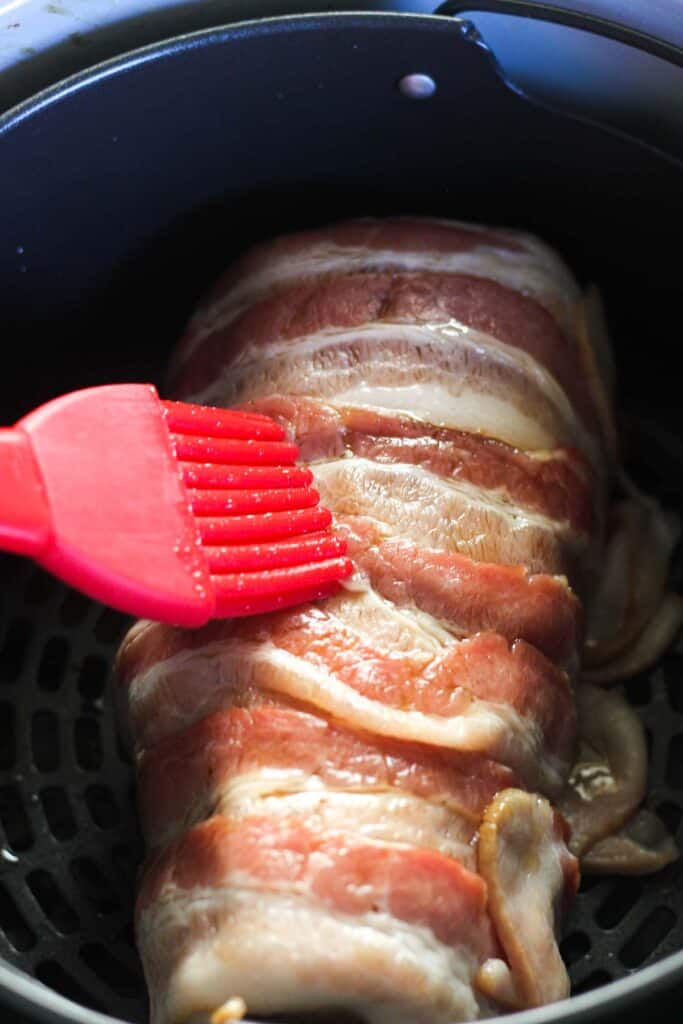 It is time to close the lid and air fry pork using Ninja Foodi air fryer function.
You can baste pork with more maple or honey during cooking. It will add more sweetness and will help caramelizing bacon.
Once completely cook, take it out and let rest for 3 minutes. Slice in 1 inch slices and serve immediately. Bacon will be very crispy at the beginning and and with be getting more soft overtime.
Serving suggestion
Serve bacon wrapped pork with fresh salad side dishes or appetizers. KFC coleslaw recipe will be delicious with pork, or any other fresh cabbage salad.
Another great idea is to have a side of crab ceviche. It can be an appetizer and a side dish at the same time. So good together!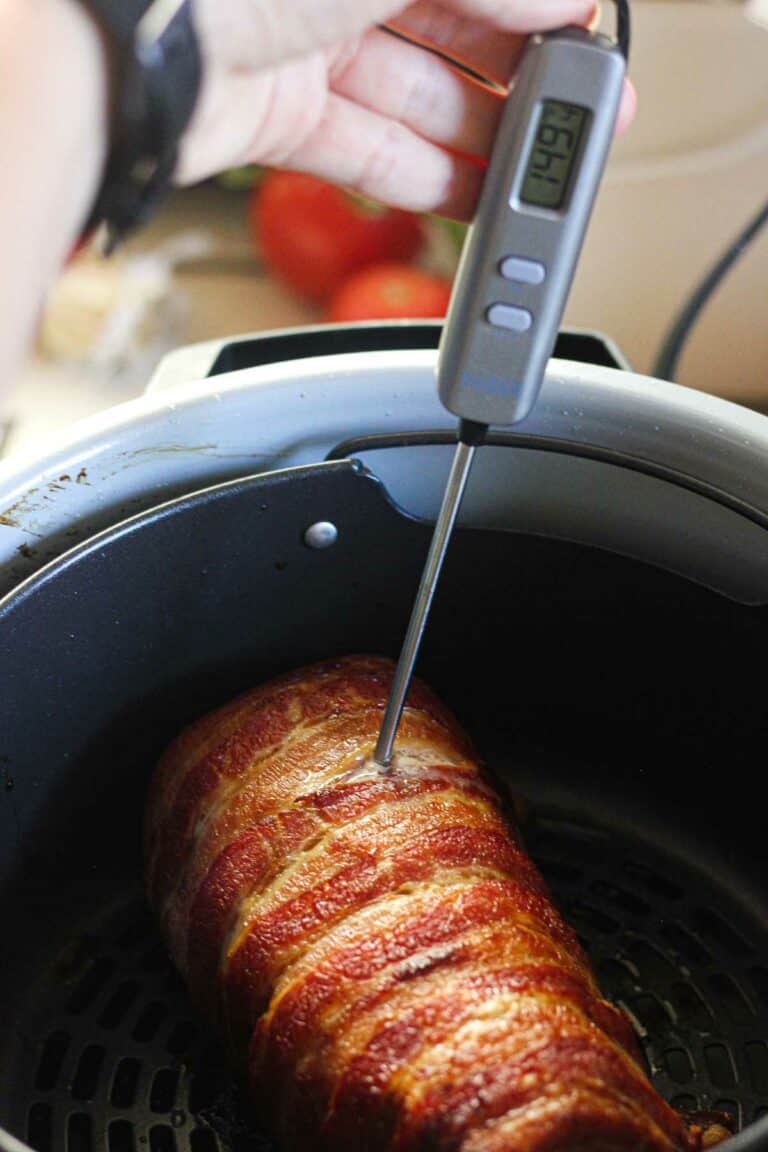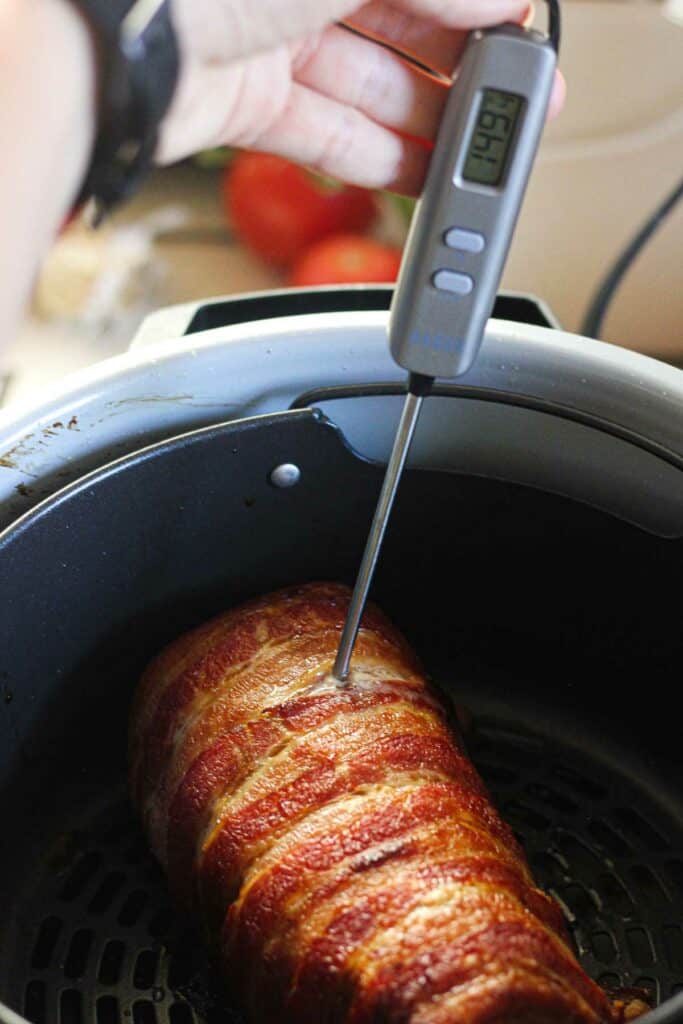 Recipe notes and tips
Always use meat thermometer when making pork. Make sure to stick it in to the thickest part. It should be at least 145 degrees Fahrenheit.
If you have a frozen pork tenderloin make sure to defrost it completely. Overnight in the fridge or few hours on the counter will work.
Season the pork before browning it. Add you favorite seasoning or just a mix of salt, pepper and garlic powder.
Like your pork really garlicky? Make slits with sharp knife in a raw pork and stick raw garlic pieces in it. It will infuse pork with garlic smell so much, you will love it. Plus i really like how soft cooked garlic tastes together with meat.
You may also like…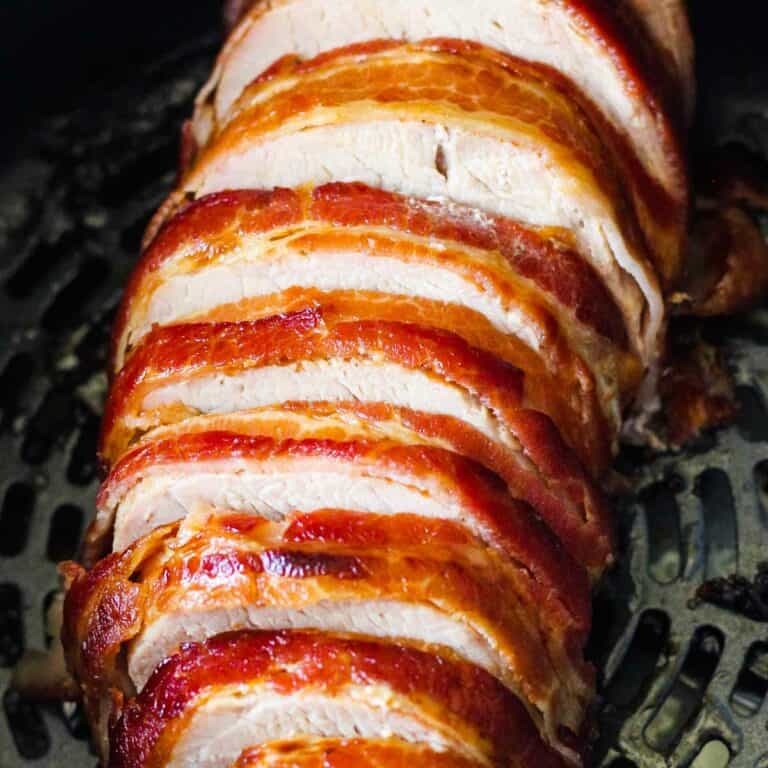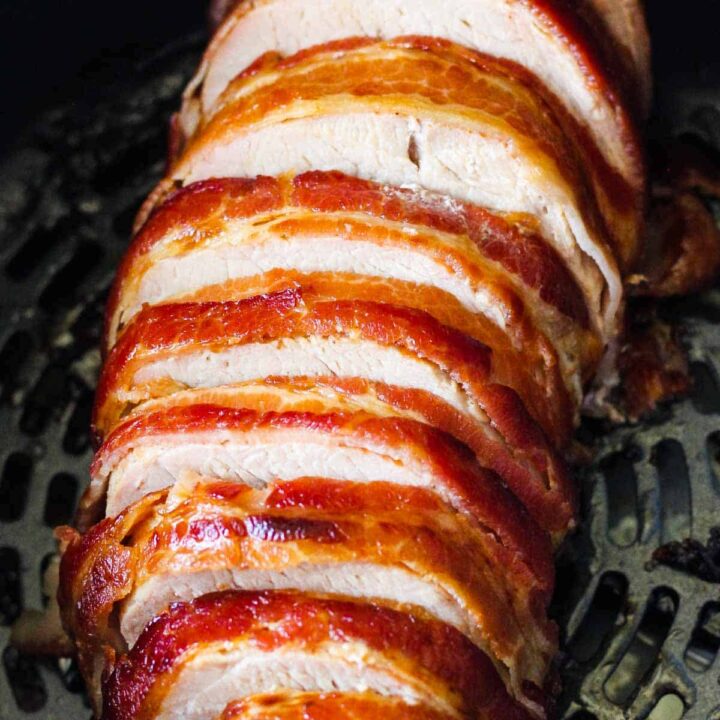 Ninja foodi bacon wrapped pork tenderloin
Crispy on the outside, juicy and tender on the inside, this Ninja Foodi bacon wrapped pork tenderloin will not disappoint. An easy air fryer recipe for any pork lover.
Ingredients
1 lb pork tenderloin
2 tablespoon honey or maple syrup
8 bacon slices
salt and pepper
1 teaspoon oil
Instructions
Rinse pork under the cold running water. Pat dry. Add oil to ninja foodi inner pot and turn on saute mode. Sear pork for about 3 minutes on each side until evenly browned.
Lay 8 stripes of bacon flat on the cutting board, slightly overlapping. Place pork in the middle and wrap it in bacon starting with one side and then wrapping with another (see pic in post).
Transfer bacon wrapped pork to the air fryer basket and brush with maple syrup or honey.
Close the lid and AIR CRISP for 25 minutes on 350 degrees Fahrenheit. Then raise the temperature to 400 and cook for another 5 minutes (check internal temperature, it should be 145-150 degrees when done). Don't overcook!
Take tenderloin out of the air fryer basket and let rest for 3 minutes on the cutting board. Slice in 1 inch pieces and enjoy!
Nutrition Information:
Yield:

4
Serving Size:

1
Amount Per Serving:
Calories:

330
Total Fat:

14g
Saturated Fat:

4g
Trans Fat:

0g
Unsaturated Fat:

8g
Cholesterol:

106mg
Sodium:

527mg
Carbohydrates:

12g
Fiber:

0g
Sugar:

12g
Protein:

37g