Learn how to cook crispy and ultra crunchy sweet potato fries in your air fryer. Delicious healthy sweet potato fries are so easy to make and ready in less then 20 minutes!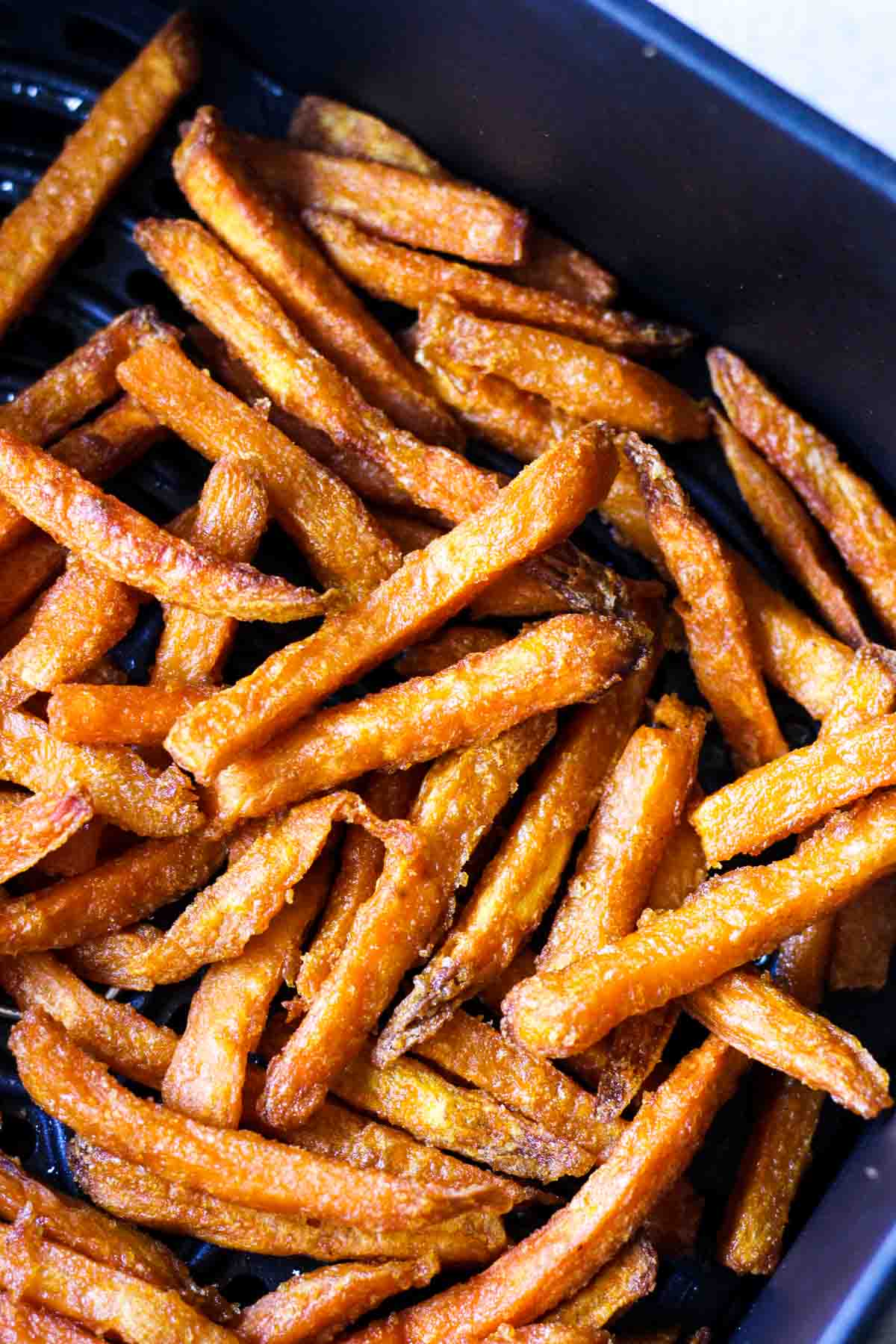 The easiest way to cook sweet potato fries is to cook them from frozen. Typically we just buy them in already prepacked and frozen bags in the Frozen food isle in the supermarket.You can find frozen fries in a large family size bag or smaller ones for just two people. I have a family of four and a 20 oz bag is good enough as a dinner side dish.
Cook it from frozen
As for me, this is the best and mess free way to cook sweet potato fries. Air fryer is just the best kitchen tool to cook anything from frozen!
Temperature and cooking time
After i cooked fries in my house for a few times, i developed a perfect temperature/time combo. Always cook frozen potato fries at 400 degrees Fahrenheit. There is no reason to cook them at lower temperature. First 15 minutes are essential and then you need to look if they need more time to crisp properly. It all depend on the brand of the air fryer you are using and the thickness of the fries.
If you are using a store bought bag of fries and they only have oven cooking instructions, reduce that time by time by half for air fryer and check your sweet fries sometimes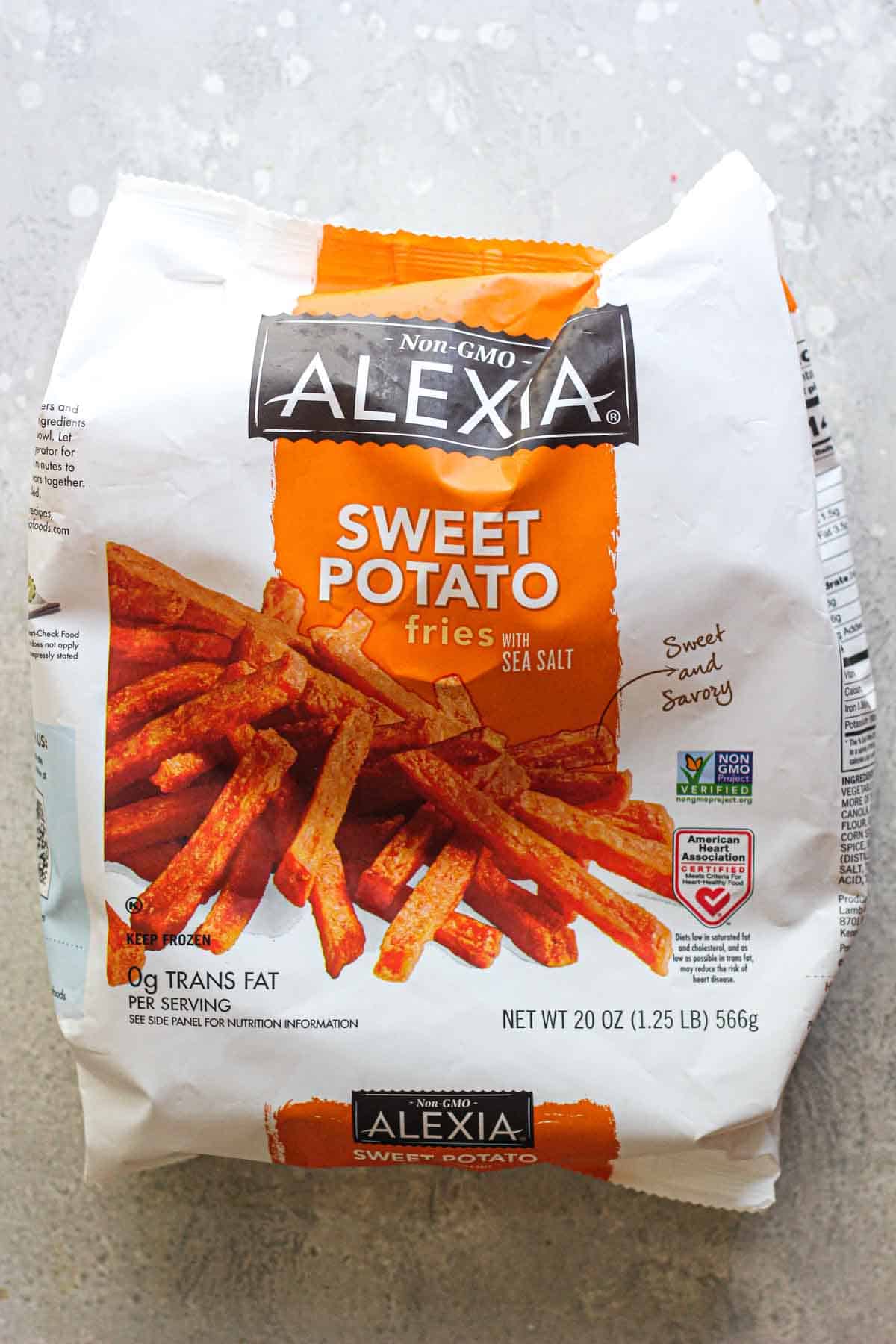 Freeze you own sweet potato fries
Making your very own frozen fries is easy. You will need to cut sweet potatoes with a special fries cutter or by hand. Line cookie sheet with parchment paper and lay fries on it in a single layer, not touching each other. Place in the freezer until hard, couple hours. After that you can throw them in the freezer zip lock bag and keep in the freezer for a few months.
This is a good way to safe sweet potatoes when you just have a lot of them. Or buy them in bulk when on sale.
Can you reheat sweet potatoes in air fryer
If you have leftovers the next day, its easy to reheat them right in the same air fryer basket. 400 degrees Fahrenheit for couple minutes should be fine. It will make them crisp and crunchy again.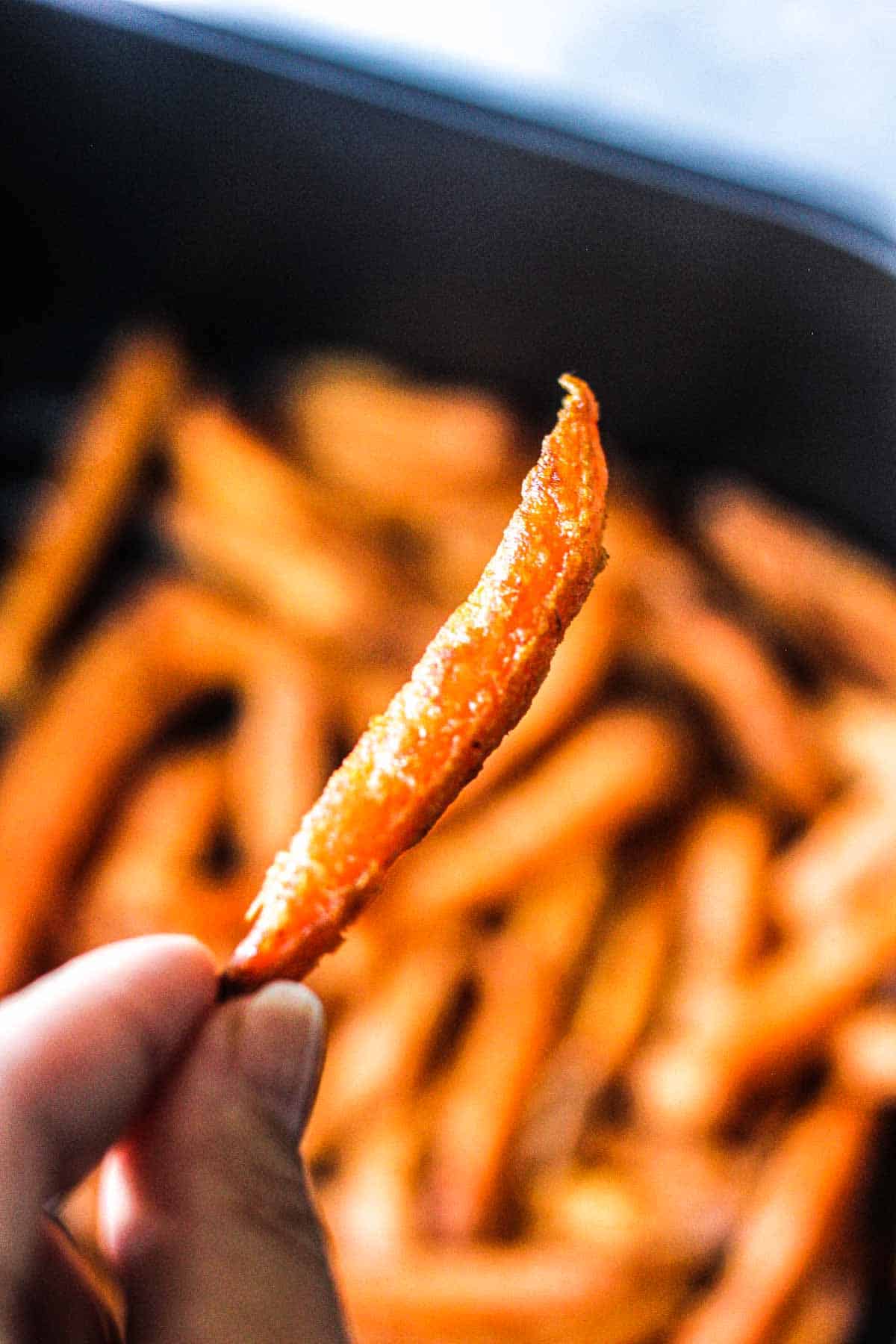 Recipe tips and tricks
Making sweet potato fries in the air fryer is much healthier than deep frying. They are healthy and nutritious. Here are some tips for the best fries:
It very important to not overcrowd the air fryer basket. Air needs to flow between chips to cook properly.
Spray some oil on the fries during cooking to help them get crispy faster
Store leftovers in air tight container. They will still be soggy when you will be ready to reheat them, but air fryer will make them crispy again.
Keep sweet potato fries frozen and don't defrost them.
Can i cook it in Ninja Foodi air fryer
Absolutely! This is an air fryer recipe and will work in absolutely any air fryer. All you need is to adjust the amount of fries you put in to the basket. You can not shake the basket in Foodi so you will need to turn sweet potato fries manually, not a big deal. More Ninja Foodi recipes to explore.
More delicious air fryer recipes from The Top Meal: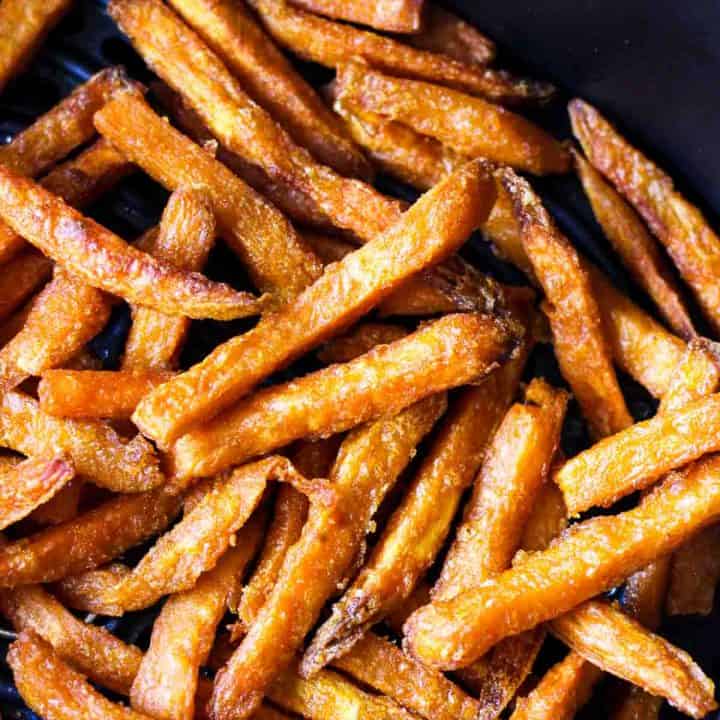 Air fryer frozen sweet potato fries
Learn how to cook crispy and ultra crunchy sweet potato fries in your air fryer. Delicious healthy sweet potato fries are so easy to make and ready in less then 20 minutes!
Ingredients
20 oz bag frozen sweet potato fries
Olive oil spray
Instructions
Add fries to the air fryer basket. Spread them into a single layer and lightly spray with oil spray.
Close the basket and cook fries for 15 minutes at 400 degrees Fahrenheit. Shake couple times during cooking.
If fries are not crisp, add another 5 minutes.
Serve right away.
Notes
If the fries are not getting crispy, spray them with more oil.
Do not overcrowd the basket. If you put too much fries it to the basket, it will take forever for them to get crispy. Don't do that.
In this recipe i used an olive oil spray, feel free to use coconut , avocado or any other favorite oil spray.
This 20oz bag i cooked in two batches.
Nutrition Information:
Yield:

4
Serving Size:

1
Amount Per Serving:
Calories:

422
Total Fat:

32g
Saturated Fat:

3g
Trans Fat:

1g
Unsaturated Fat:

15g
Cholesterol:

0mg
Sodium:

273mg
Carbohydrates:

33g
Fiber:

4g
Sugar:

8g
Protein:

2g