In this post you will learn how to cook the most delicious brats in your air fryer, original, beer or with cheddar. Make your bratwurst dinner in less then 15 minutes!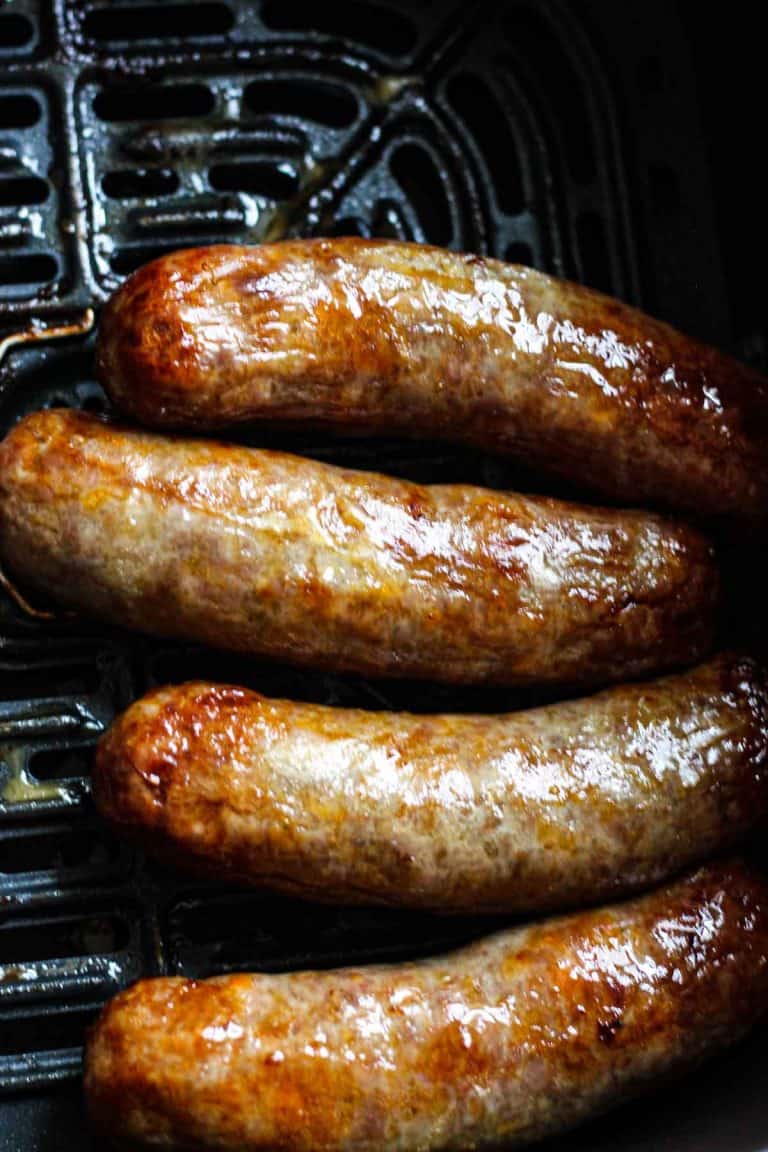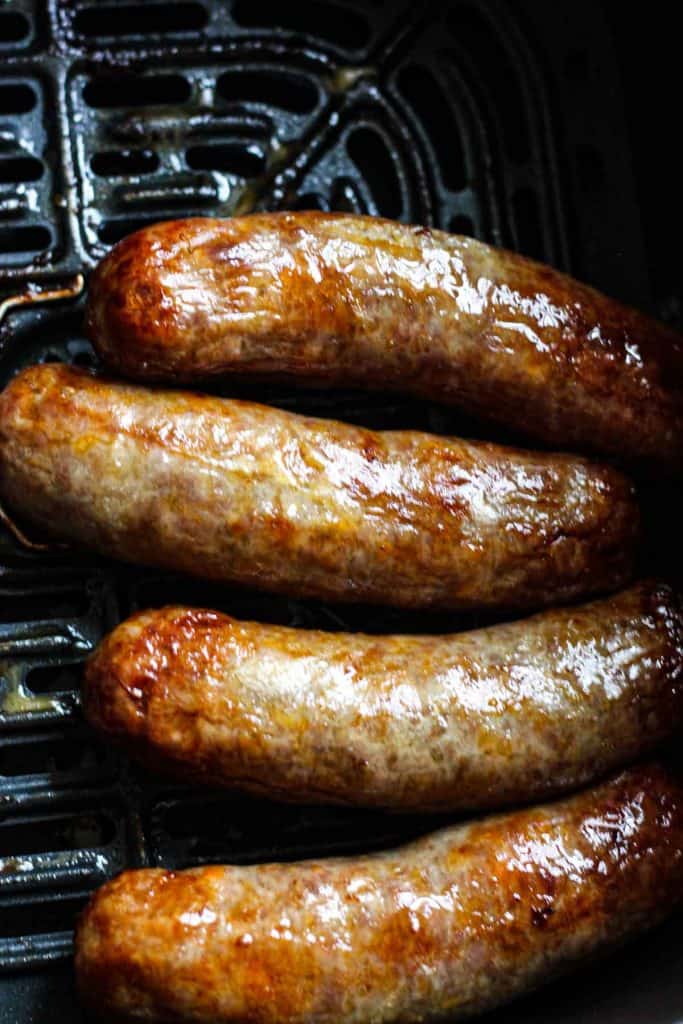 Air frying must be the best way to cook sausage. Brutwurst is my favorite! You are not going to see splashing oil or smoke. Just place brats in air fryer and wait a few minutes. Its cant get any easier.
So today i used my favorite Johnsonville Cheddar Brats (picture below). I just love those chunks of melted cheese that pair so well with the juicy sausage. It round the flavor and brings it to the next level. I like original or smoked brats too, with sauteed vegetables or in a hot dog bun.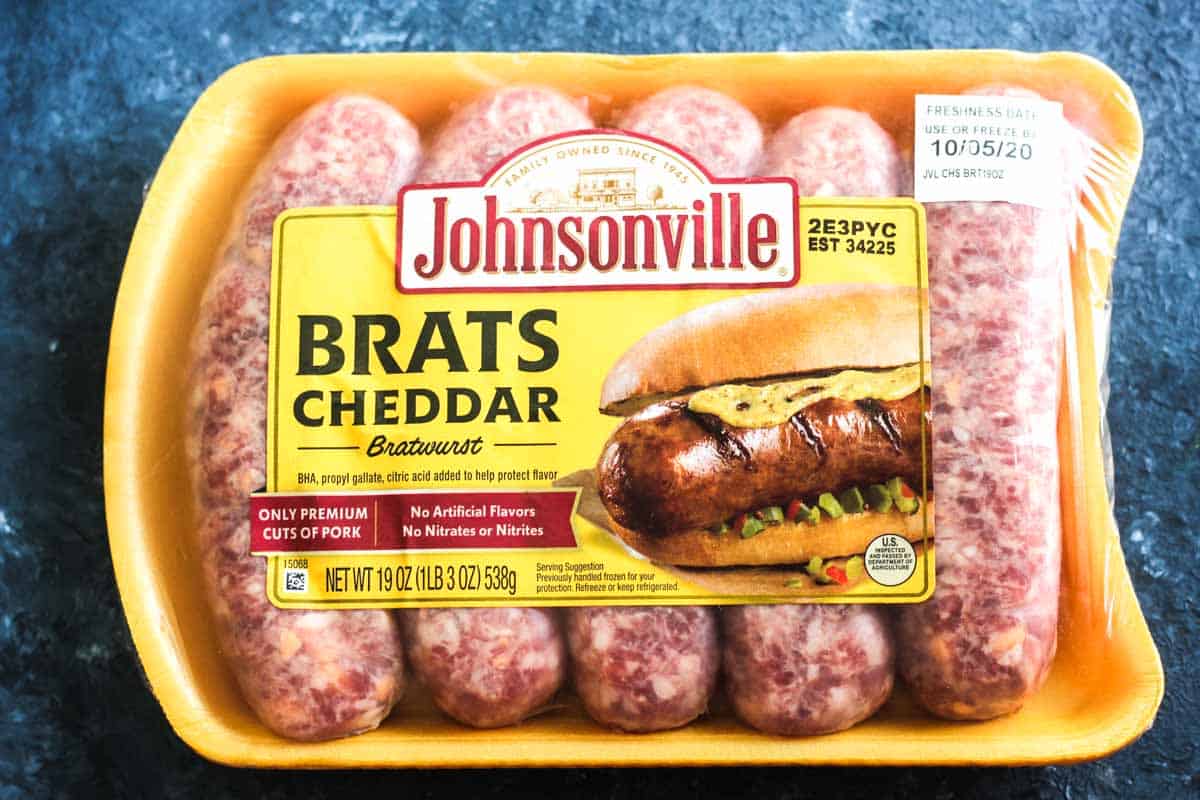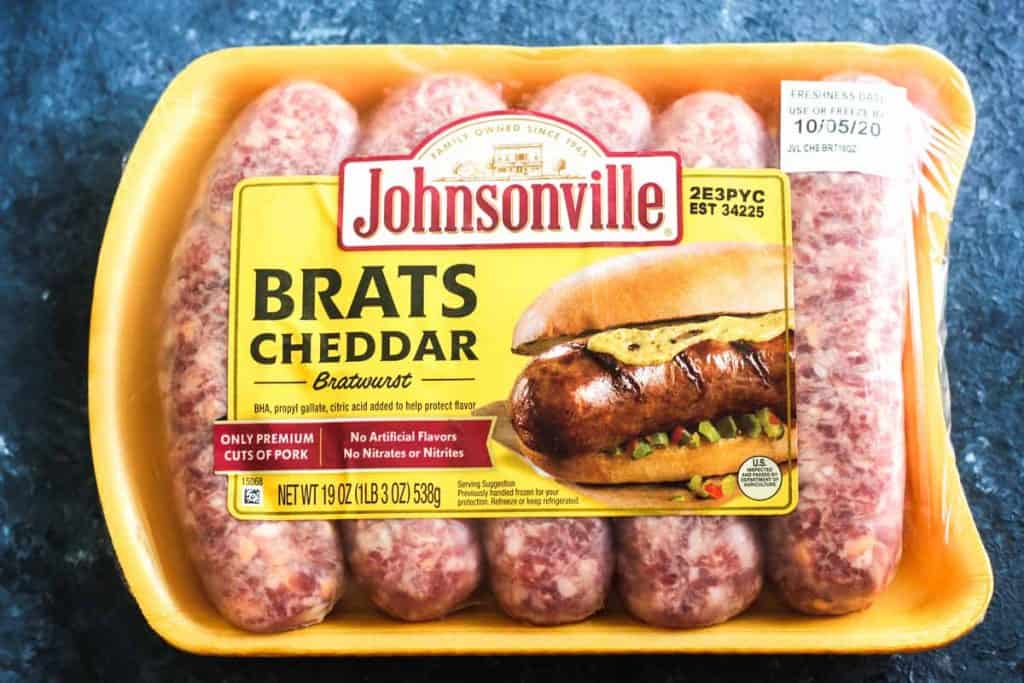 Brats are amazing for a quick lunch option. My kids could eat them everyday.
Raw brats in air fryer
All brats are sold raw, packed in plastic and ready to be cooked. If you will cook it on the pan it will take you about the same time as you will cook it in air fryer. One of the reasons i like air fryer cooking more is that there is no need in adding oil. It helps if you worry about calories.
If you were wondering too, this recipe is keto, low carb and paleo friendly. Not low in calories though and have a bunch of point on weight watchers. Still yummy!
Cooking from frozen
If all you have is a pack of frozen brats, you can absolutely cook it without thawing! Add 2-3 extra minutes to the cooking time and that should work.
Tip 1: separate bratwurst in the package before freezing. It will be handy if you will only decide to cook a few brats later, not the whole package.
Tip 2: when freezing use an extra zip lock back to prevent food from a freeze burn.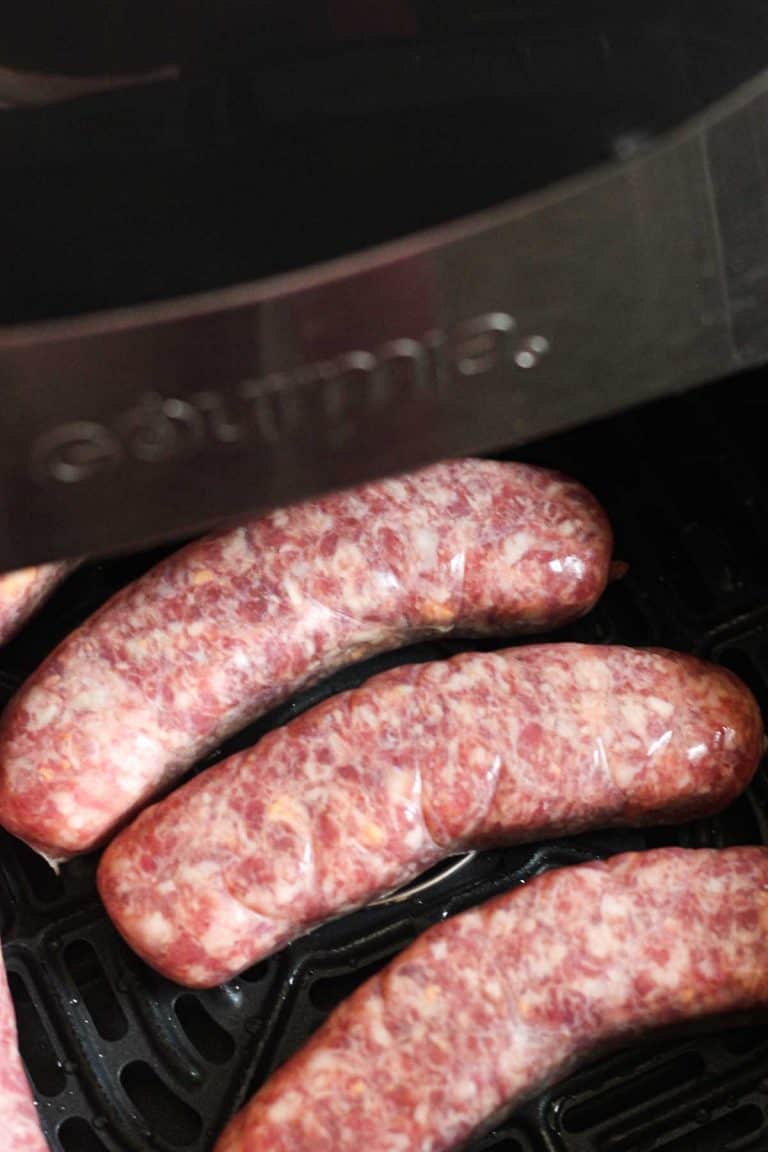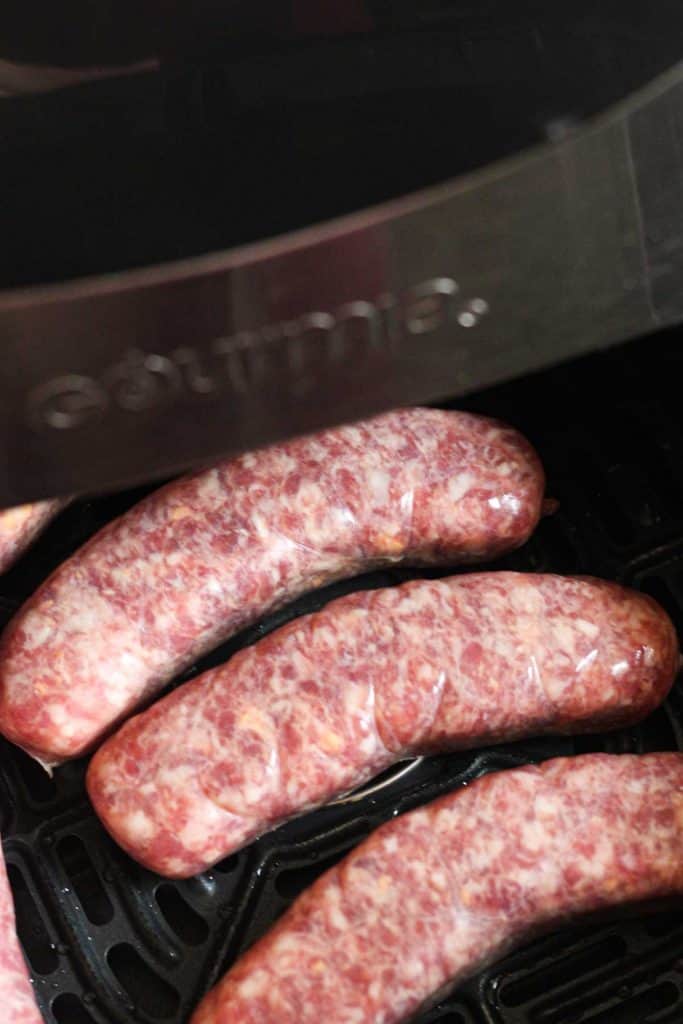 Why this recipe works
As i mentioned before, air fryer is the best method to cook brats. Its so easy to make, you little kids would love to help you making bratwurst dinner.
You will not need to set the timer to make sure you flip them after halftime. Just simply shake the air fryer basket couple time and that will help to cook brats evenly.
Another important moment is that you can cook it from frozen. Very handy!
Add thinly sliced veggies like onions and bell peppers at the same time and get a full meal!
Temperature and cooking time
Any kinds of brats are typically done in 13-15 minutes. Make sure that internal temperature is at least 165 degrees Fahrenheit .
The temperature i use in this recipe is 375 degrees. It allows sausage to be cooked properly, whole with all the juices inside. That will also help with clean up.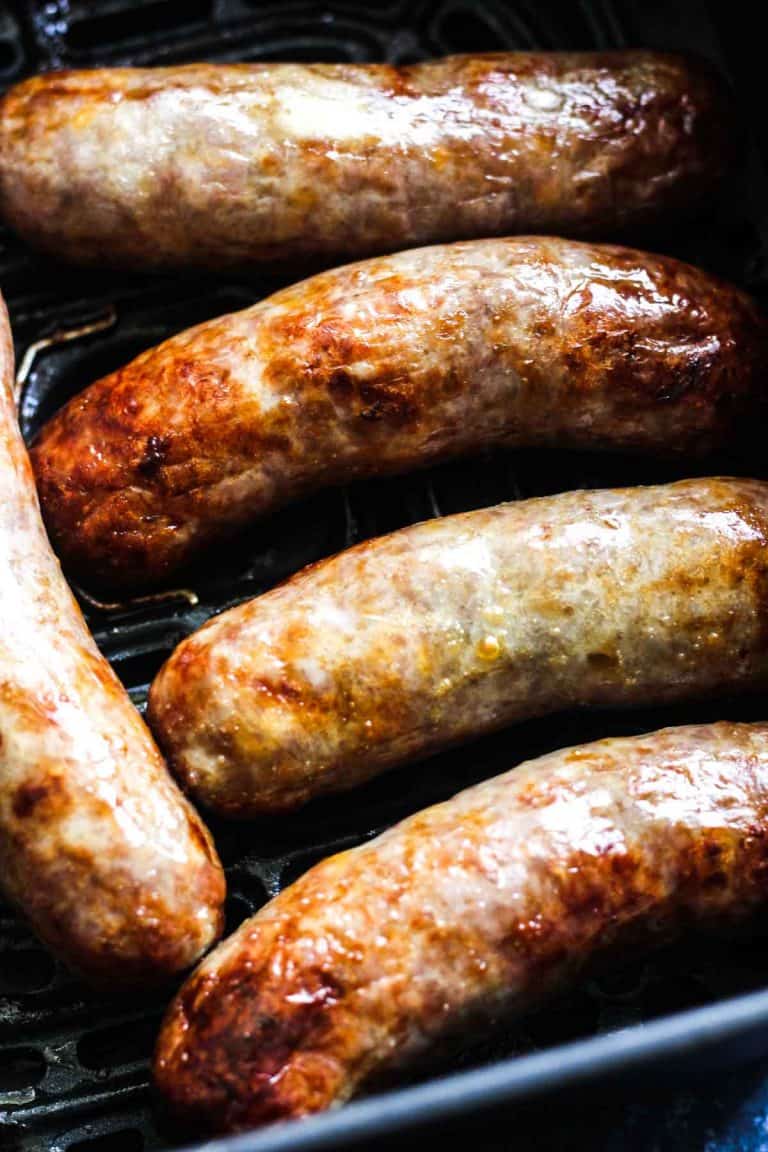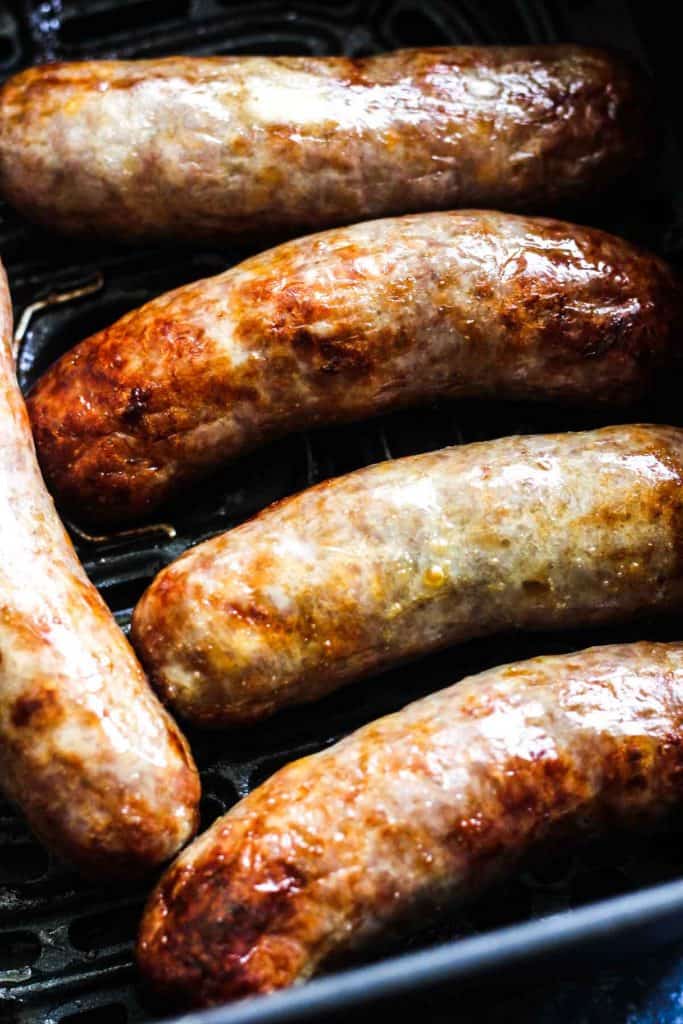 What i love about this recipe the most is that its so easy! If you want more easy air fryer recipes, i have a few delicious meals to try!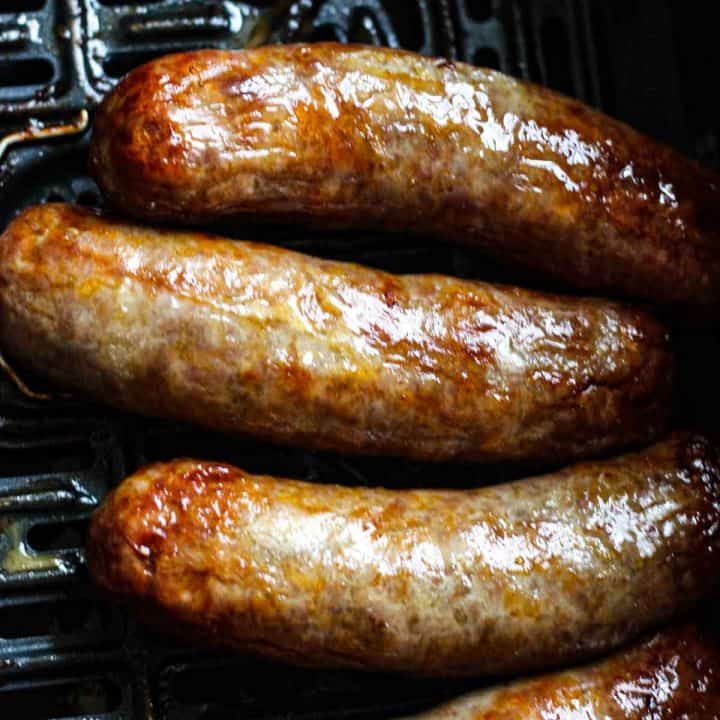 How to cook air fryer brats
Learn how to make the most delicious air fryer brats that are juicy, perfectly browned and cooked in less then 15 minutes! The best bratwurst recipe to try!
Ingredients
5 brats ( I use Johnsonville cheddar brutwurst)
ketchup or bbq sauce
Instructions
Place bratwurst in your air fryer. Make sure there is some space between them to allow the air to circulate.
Cook for 12-15 minutes at 375 degrees Fahrenheit. Shake the basket couple time during cooking.
Cool a bit and enjoy ketchup, bbq sauce or whatever you like!
Notes
You do not need to preheat the air fryer to cook brats.
No need to use oil or butter to grease the basket. Brats have enough fat in them and will not stick.
To make the clean up easier, use parchment paper air fryer liners. They have holes which allows the air to circulate.
Nutrition Information:
Yield:

5
Serving Size:

1
Amount Per Serving:
Calories:

283
Total Fat:

25g
Saturated Fat:

9g
Trans Fat:

0g
Unsaturated Fat:

15g
Cholesterol:

63mg
Sodium:

719mg
Carbohydrates:

2g
Fiber:

0g
Sugar:

0g
Protein:

12g