These air fryer fingerling potatoes with rosemary are easy and delicious. They make an amazingly simple potato side dish that is flavorful and perfectly crispy. Made in the air fryer in less than 20 minutes, they are a great addition to any lunch or dinner.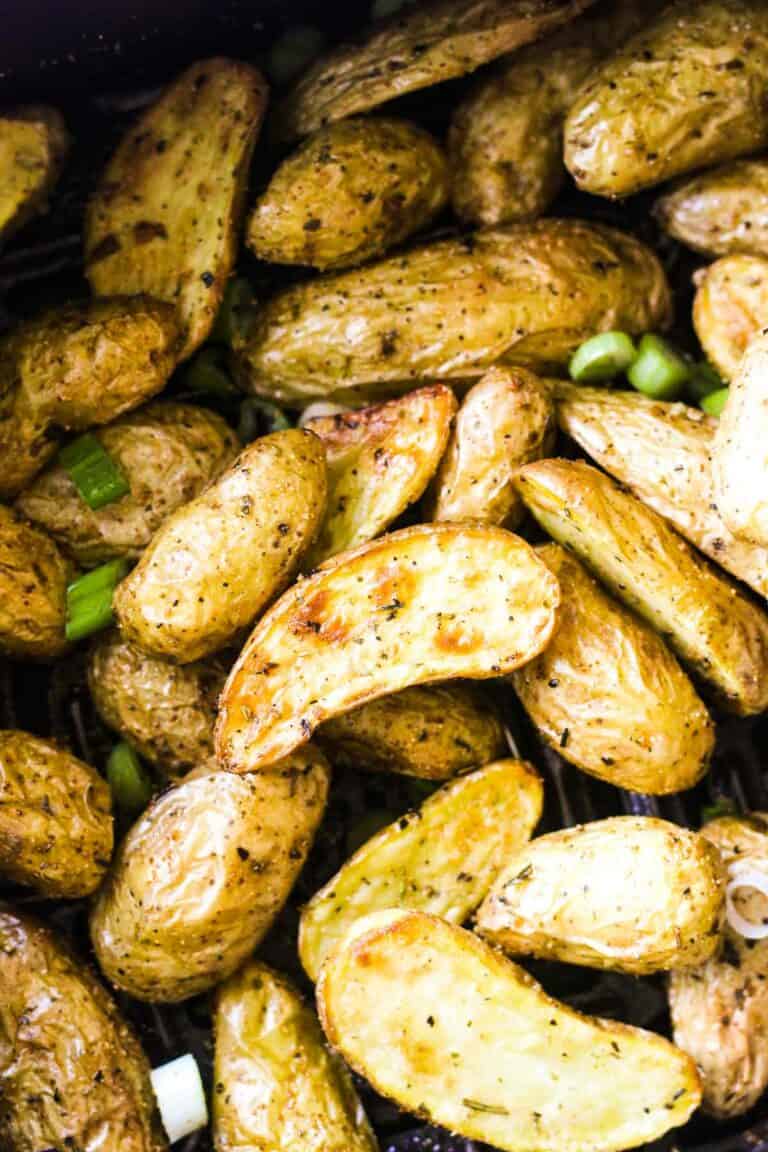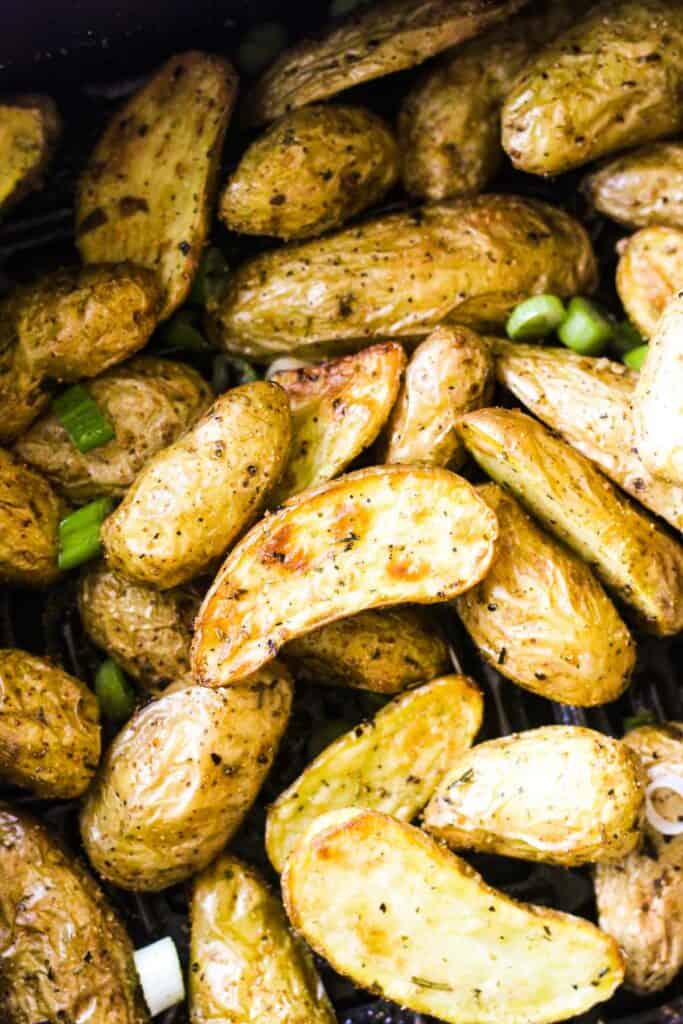 Rosemary fingerling potatoes are easy to prepare in the Ninja Foodi air fryer as well. This recipe uses only a few simple ingredients to make this easy side dish. These healthy and flavorful potatoes are great to pop into the air fryer for dinner if you are busy but want restaurant quality potatoes that everyone will love.
The air fryer is a great way to cook potatoes because of how perfect they come out. The hot circulating air gets the potatoes crispy without using too much extra oil. It provides the crispy crunchy fried outside of a deep fryer without the oily mess!
How to cook fingerling potatoes in air fryer
If potatoes are not washed, scrub them really well since we will be cooking them with the skin on. Slice lengthwise and add to the medium size bowl. For the seasoning i like to combine olive oil, salt, freshly ground pepper, garlic power, thyme and rosemary.
If you have fresh herbs use that, if not use dried herbs like i did. I used and garlic powder and fresh garlic for extra flavor.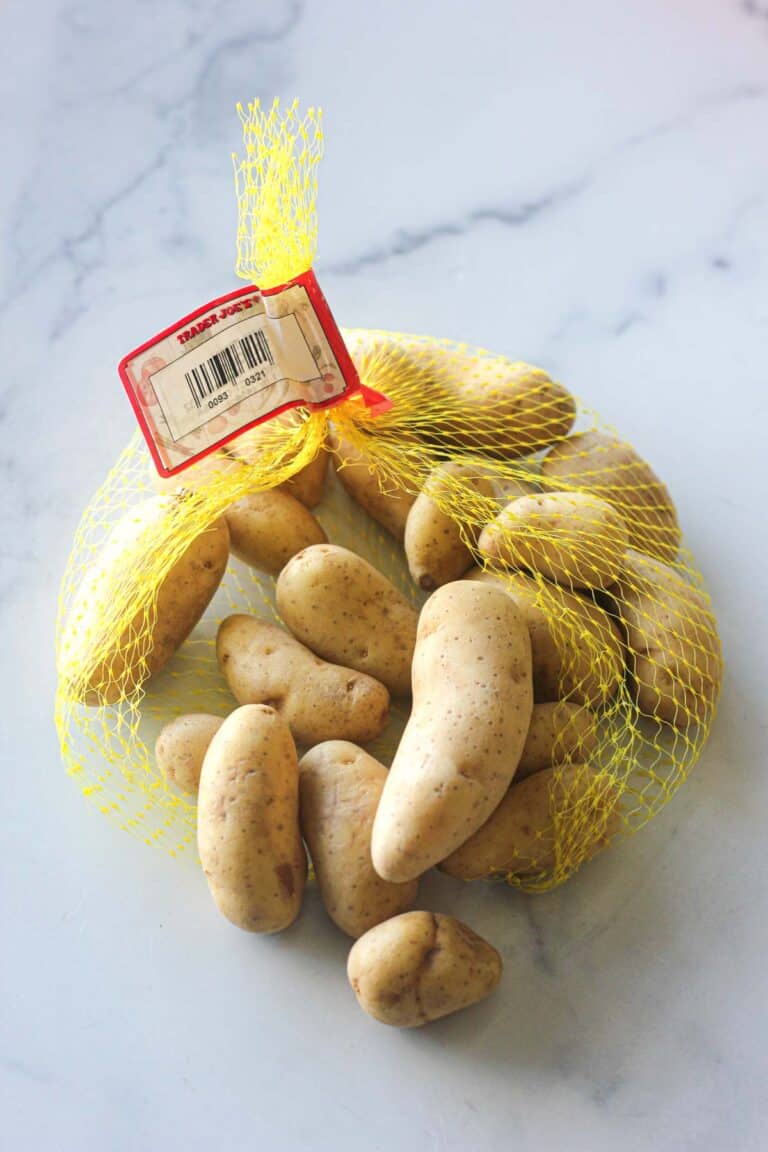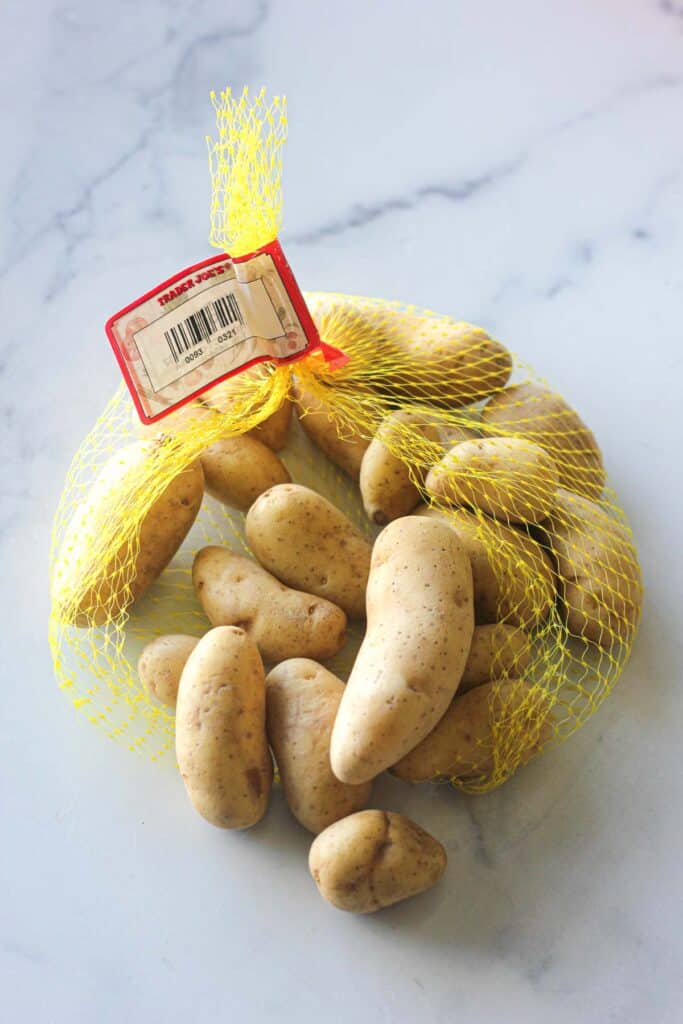 Mix potatoes with the seasoned oil well and transfer everything in to the air fryer basket. There is no need to add additional oil to the air fryer. Cook for 14 minutes, shaking once or twice during cooking. Once done top with chopped green onions for an extra crunch and with chopped cilantro for flavor.
What are fingerling potatoes
Fingerlings are also known as Ruby Crescent, Purple Peruvian, and Russian Banana are firm and stubby potatoes that have a 'finger-like' shape. When mature, this variety is small and narrow, and is usually cooked whole or halved lengthwise.
Although they are sometimes confused with new potatoes, baby potatoes, or creamers- which are harvested before they are fully mature, fingerlings are their own distinct variety that is fully mature when harvested. The colors can range from a creamy yellow to a rich purple/blue with waxy or starchy flesh.
Due to their small size, they can cook much quicker than other potatoes, making them ideal for a quick and easy side dish. Just like a traditional baked potato, fingerling potatoes can be seasoned and cooked in a variety of ways- roasted, boiled, fried, or air fried.
What do they taste like
Fingerlings have a mild and pleasant taste similar to Yukon Golds. Their flesh is rich, creamy, and buttery. The skin is thin and gets golden brown when roasted. These potatoes are firmer than other varieties, which allows them to hold up well during the cooking process.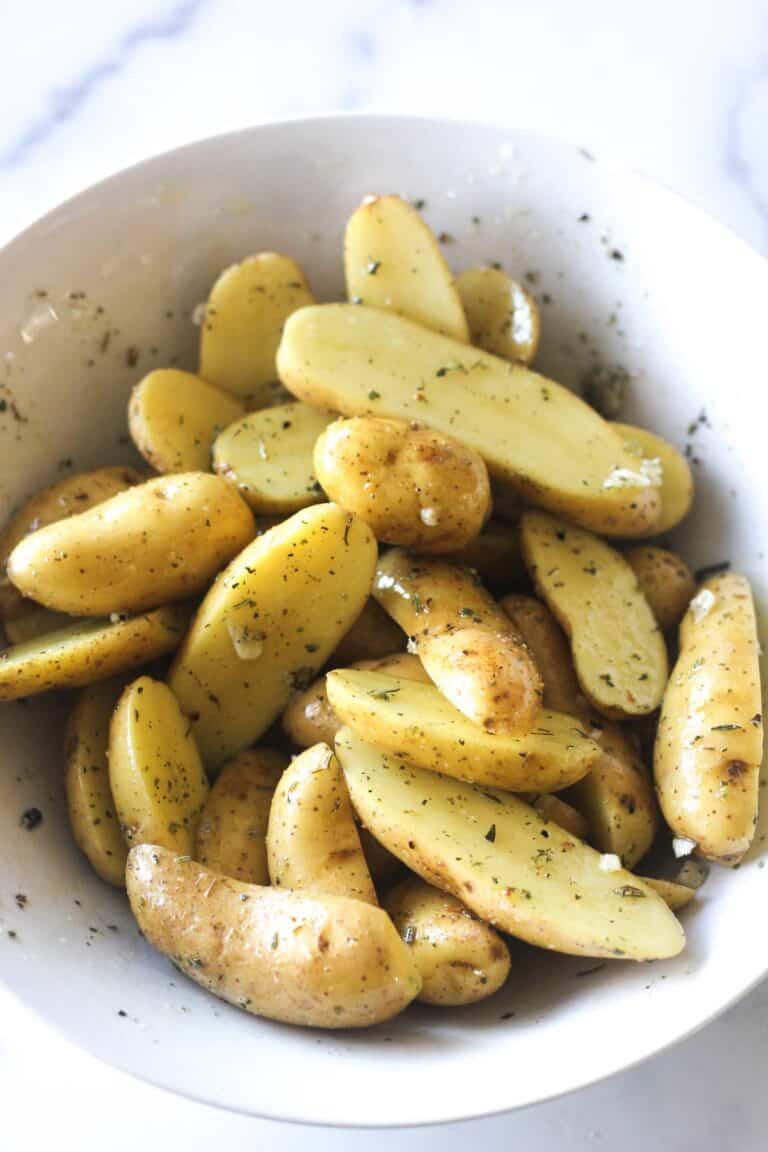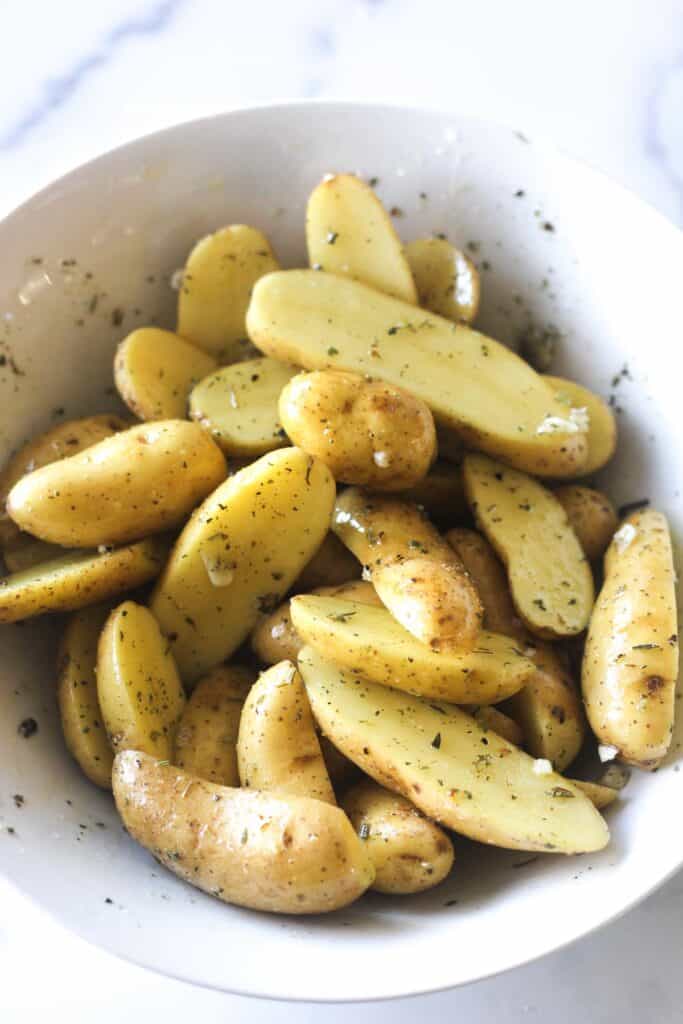 Can I eat the skin
Absolutely, there's no need to peel the potatoes before cooking. They have thin edible skin that's not too tough when cooked. The skin gets nice and crispy when roasted and is a great source of vitamins and minerals.
Do I have to wash fingerling potatoes
Even though you don't have to peel the potatoes, it's always a good idea to clean them before cooking. Potatoes can have dirt residue left on them from harvesting or from other people touching them in the store that you don't want to eat. Before seasoning the potatoes, give them a good scrub to make sure they are nice and clean.
Do I need to soak the potatoes before air frying
Often times soaking potatoes is recommended to remove excess starch before air frying to help them get crispy. Fingerlings do not need to be soaked before cooking because they are not very starchy and will get crispy on their own.
Can i make this recipe in Ninja Foodi
Yes. Use an Air Crisp function and follow the recipe exactly. Ninja Foodi fingerling potatoes will be extra delicious if you enjoy them fresh right after they are done! Sprinkle some chopped green onions or chopped cilantro on top and enjoy.
How to make fingerling potatoes in the oven
Its very easy to cook potatoes in the oven. Just follow the recipe and instead of using air fryer, place potatoes on the baking dish. Bake in the preheated to 400 degrees oven for 18 minutes, until crispy. Line the baking dish or sheet with parchment paper or foil for easy clean up.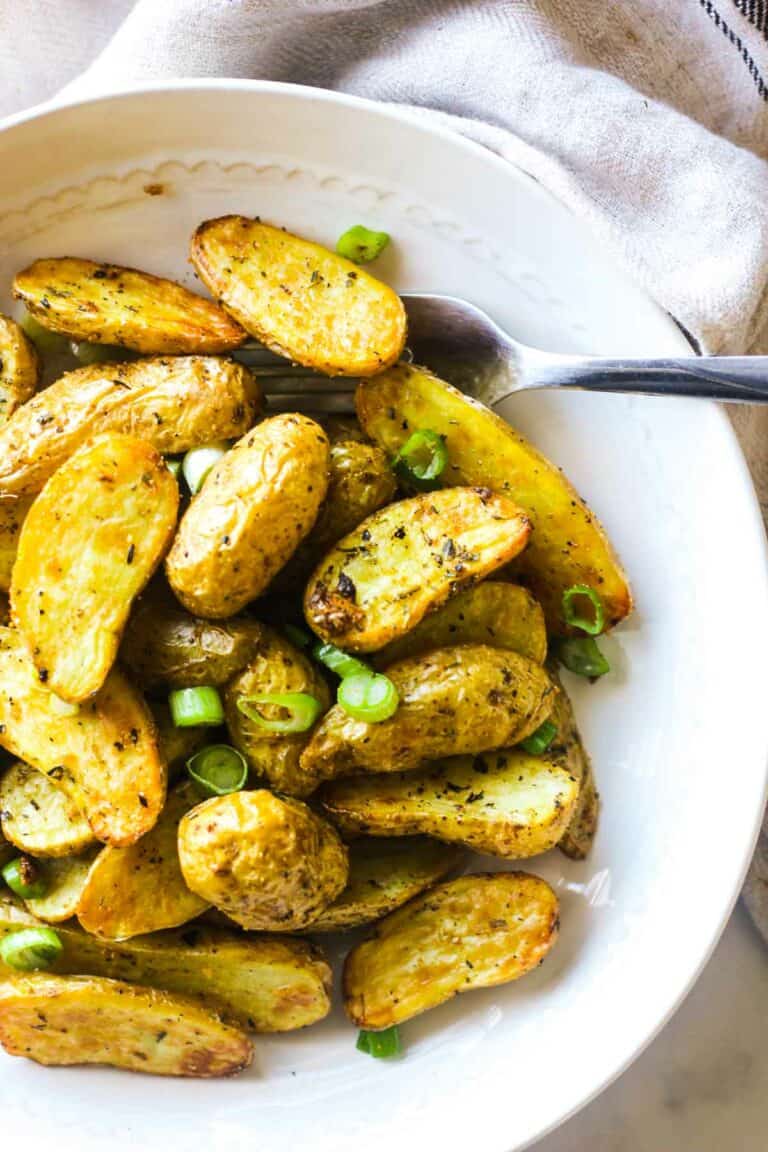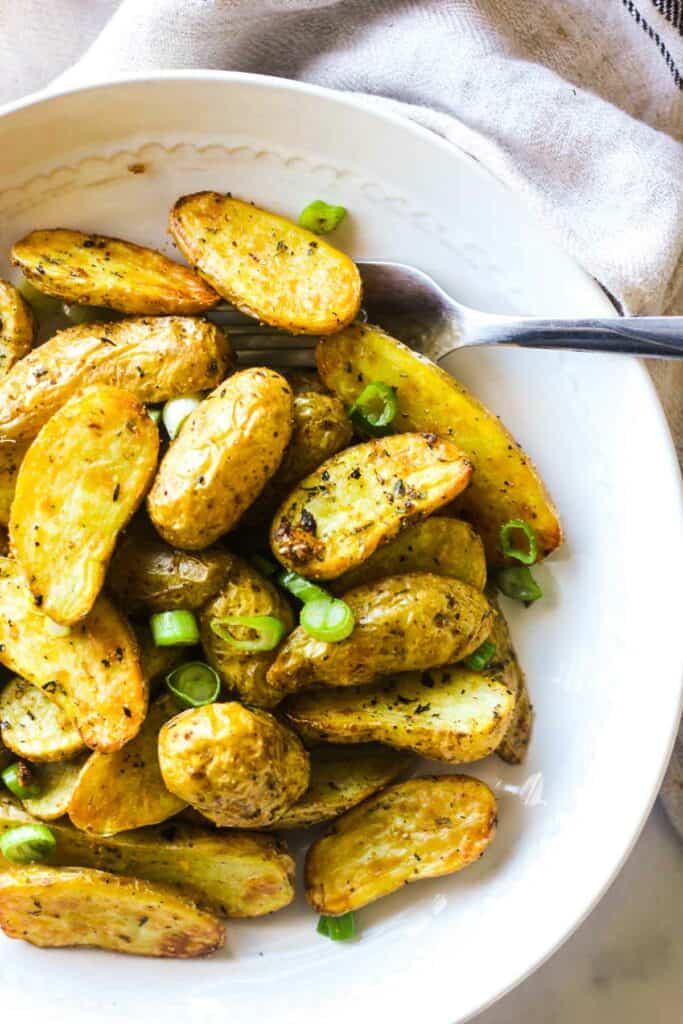 Why are my potatoes not crispy
There could be a few reasons why your fingerling potatoes are not getting as crispy as you like.
Make sure to add enough oil to help them get crispy in the air fryer. If you don't add enough oil they can dry out and burn, rather than crisp up.
Don't crowd the air fryer basket. You want to leave enough room so that everything can get crispy. You don't want the potatoes to overlap. If you are making a lot of potatoes, make them in batches.
Dry the potatoes before tossing with the olive oil and other seasonings. They shouldn't be wet, this will help the potatoes to get crispy.
How to avoid uneven cooking in the air fryer
A great thing to do to avoid uneven cooking is to check on the potatoes halfway through the cooking process. Give the air fryer basket a good shake to mix them. Also, don't overcrowd the basket – this can also lead to uneven cooking.
Recipe variations
Parmesan fingerling potatoes. For seasoning use ½ cup grated Parmesan cheese, 1 tablespoon olive oil, 1 tablespoon grated lemon peel, 1 teaspoon salt and freshly ground black pepper. Add potatoes to a bowl and mix with the seasoning. Air fry for 12 minutes.
Cajun potatoes. Use a store bought cajun seasoning or make your own! To do that mix paprika, cayenne, garlic powder, oregano and pepper in equal proportions.
Pesto. Use pesto sauce as a seasoning, no need to add any extra oil! Just coat potatoes with pesto and air fry. Add a pinch of salt and pepper before roasting.
Can i double the recipe
Yes you can! I don't recommend to add all the potatoes at once because they will be overlapping and it will take much longer to cook. If you double or triple the recipe, air fry in batches.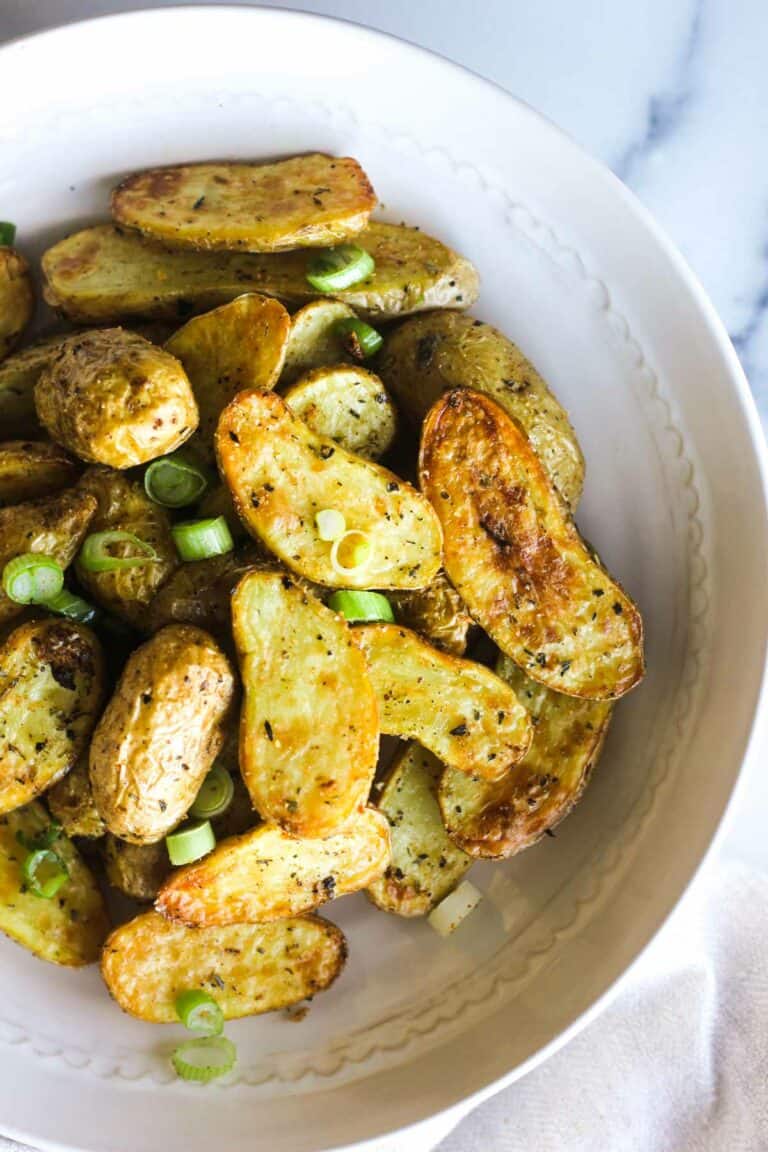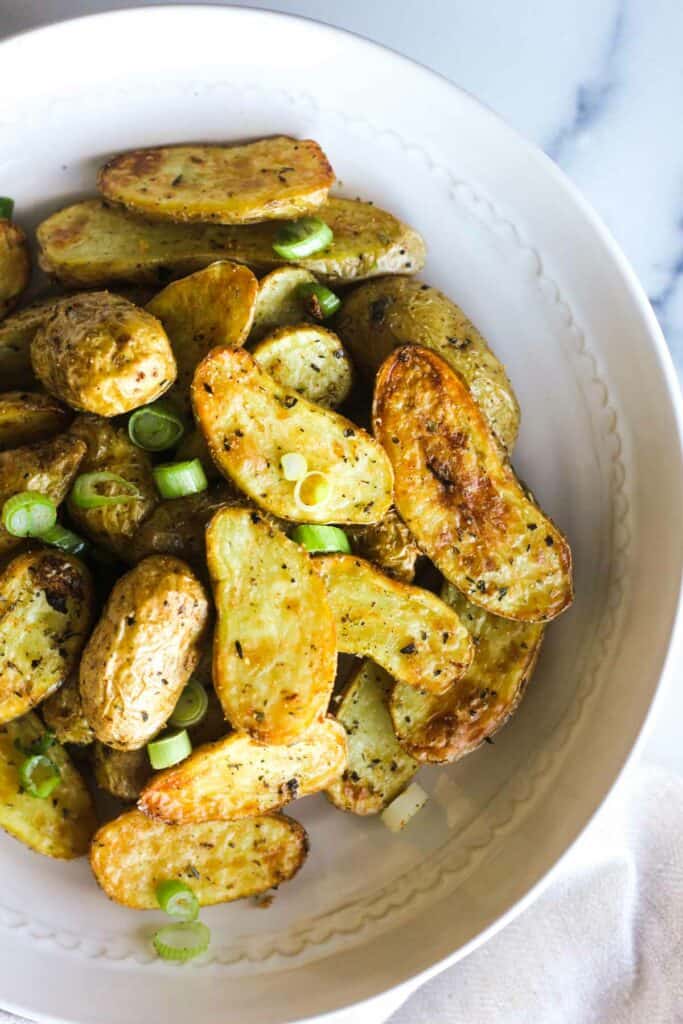 Serving suggestions
Our favorite way to enjoy this Ninja Foodi fingerling potatoes is with frozen beyond burger in air fryer. Potatoes and burgers are just great together! Roasted potatoes are also great with steak or salmon. Or pretty much anything!
We also like to enjoy this dish by itself as a snack. Turn the tv on, make some air fryer fingerling potatoes and enjoy with a movie!
What kind of dipping sauce can i use
You can use any of your favorite sauce, almost everything does well with roasted potatoes. I love to mix mayo with sriracha or any other hot sauce. You can also dip potatoes in ranch, ketchup or garlic or maple aioli.
If you will grate some Parmesan on top couple minutes before potatoes are done, that will create a nice cheesy crust! Parmesan pairs well with almost everything!
Leftovers
Store air fryer fingerling potatoes in the fridge for up to 1 week. Do not freeze. Reheat in the air fryer for couple minutes at the highest setting. Or microwave for 1 minute.
You may also like
Hope you will like this fingerling potatoes air fryer recipe. Please rate if you made it and leave a comment below if you have any questions.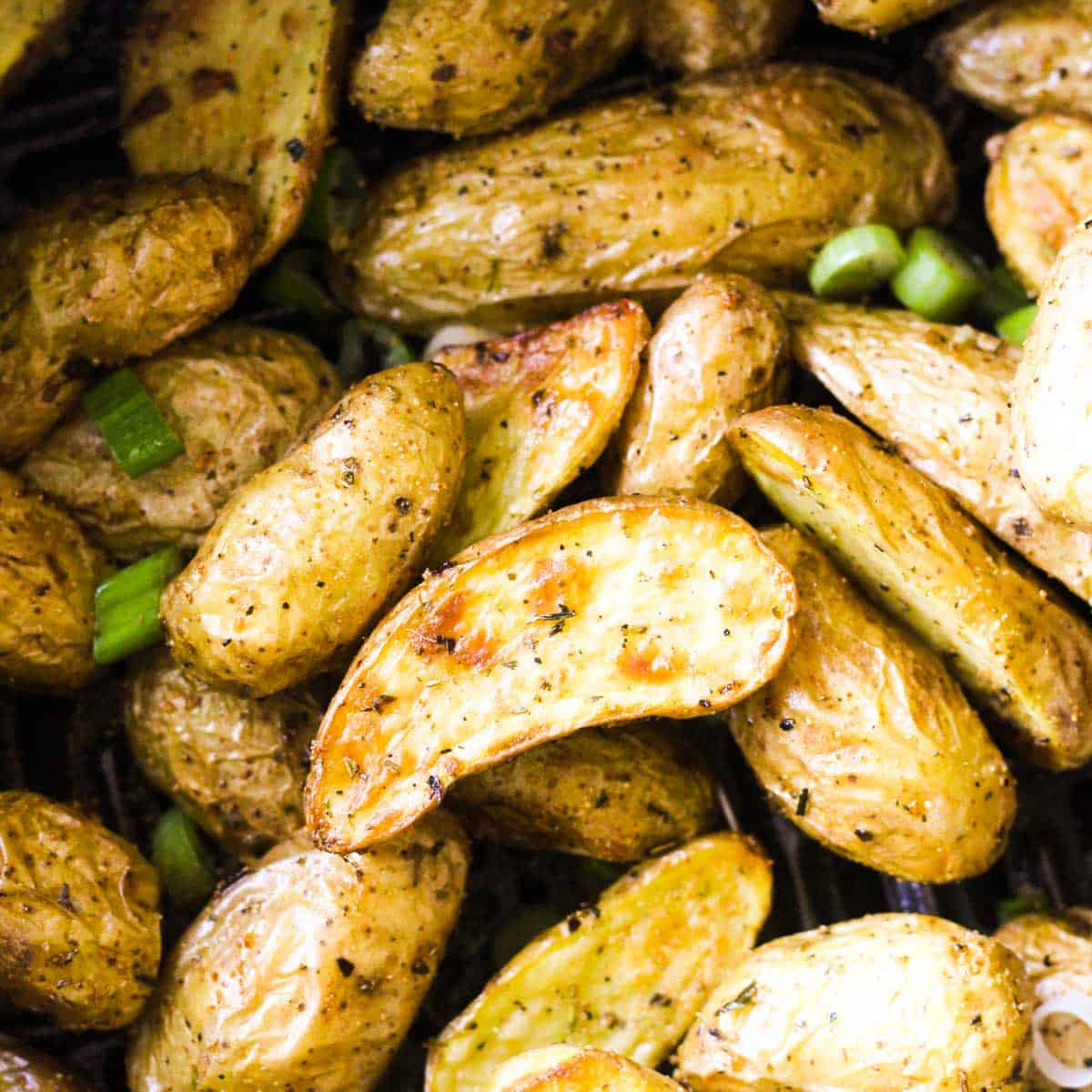 Air fryer fingerling potatoes
These air fryer fingerling potatoes with rosemary are easy and delicious. They make an amazingly simple potato side dish that is flavorful and perfectly crispy. Made in the air fryer in less than 20-minutes, they are a great addition to any lunch or dinner.
Ingredients
1 lb fingerling potatoes
1 teaspoon salt
½ teaspoon finely chopped rosemary
½ teaspoon garlic powder
½ teaspoon dried thyme
2 tablespoon olive oil, or more
4 garlic cloves, finely chopped
chopped green onions
Instructions
Wash and scrub potatoes. Cut them in half lengthwise.
Add potatoes to the bowl with spices and oil. Mix well.
Place fingerling potatoes in the air fryer basket and cook for 14 minutes at 4oo degrees, shaking once half way though.
Add chopped green onions and serve
Notes
Don't peel potatoes
Don't overcrowd the air fryer basket.
Store in the fridge for up to one week. Do not freeze. Reheat in the air fryer for couple minutes until hot and crispy.
Nutrition Information:
Yield:

3
Serving Size:

1
Amount Per Serving:
Calories:

174
Total Fat:

5g
Saturated Fat:

1g
Trans Fat:

0g
Unsaturated Fat:

4g
Cholesterol:

0mg
Sodium:

712mg
Carbohydrates:

31g
Fiber:

3g
Sugar:

1g
Protein:

3g