Delicious whole baked catfish that is cooked in the oven in less then 30 minutes. Tender flaky fish comes out so rich in flavor, lemony and juicy.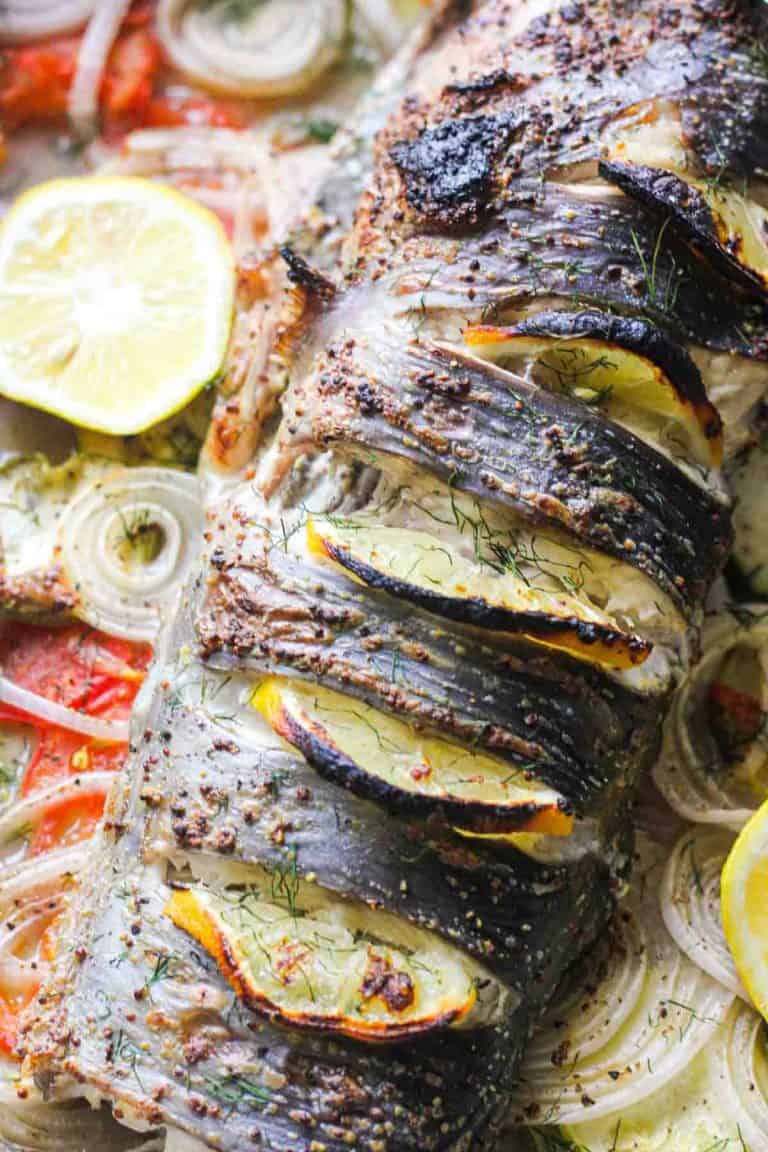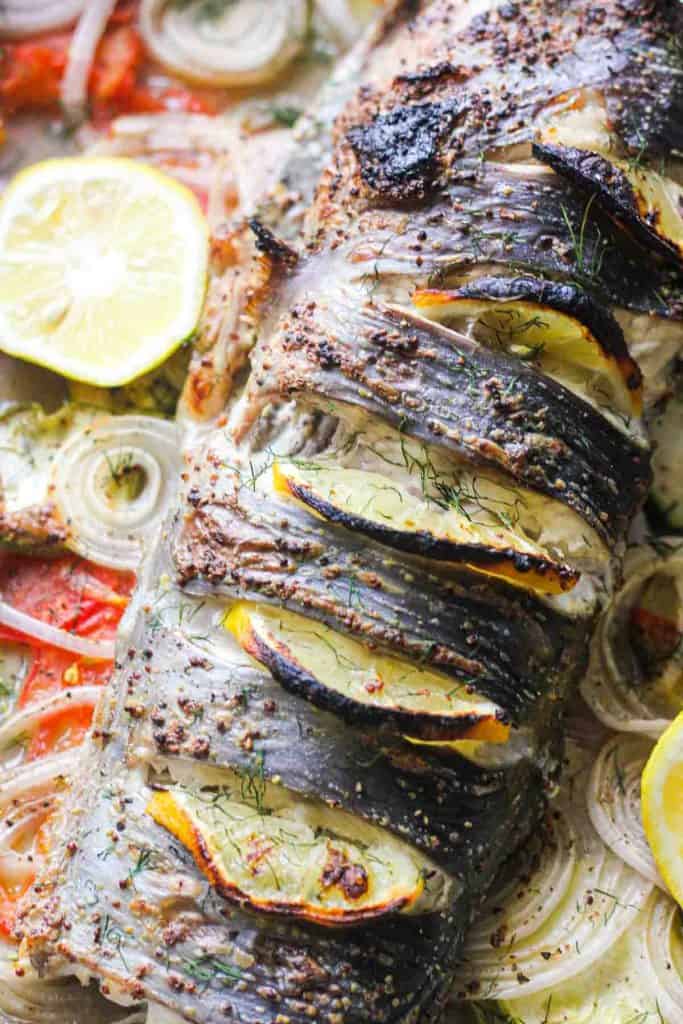 I am a big fan of cooking fresh fish at home and i like all the seafood in general. After we moved from San Francisco it became harder to get fresh (especially whole) fish from the store or any market.
Where to buy whole catfish (not fillets)
I found a way and started ordering it online straight from New York Fulton fish market. I am not affiliate with them, just sharing where i am getting my fish and seafood from for recipes.
A lot of Asian markets carry whole catfish, usually fresh and not frozen. I ordered mine online and had my delivery withing two days.
Frozen catfish fillets are also widely popular and they are delicious
How to cook whole catfish in the oven
So catfish its a very easy fish to prepare. It does not have scales and hardly have any bones. So the preparation before cooking is minimal.
The fish will have lots of slime though so make sure to clean it well. You can try to wash it with lemon juice too, it suppose to help.
The way i like to cook whole catfish is very simple. Wash and thinly slice the lemon. Make a few not deep slits in the fish. Do not cut through it!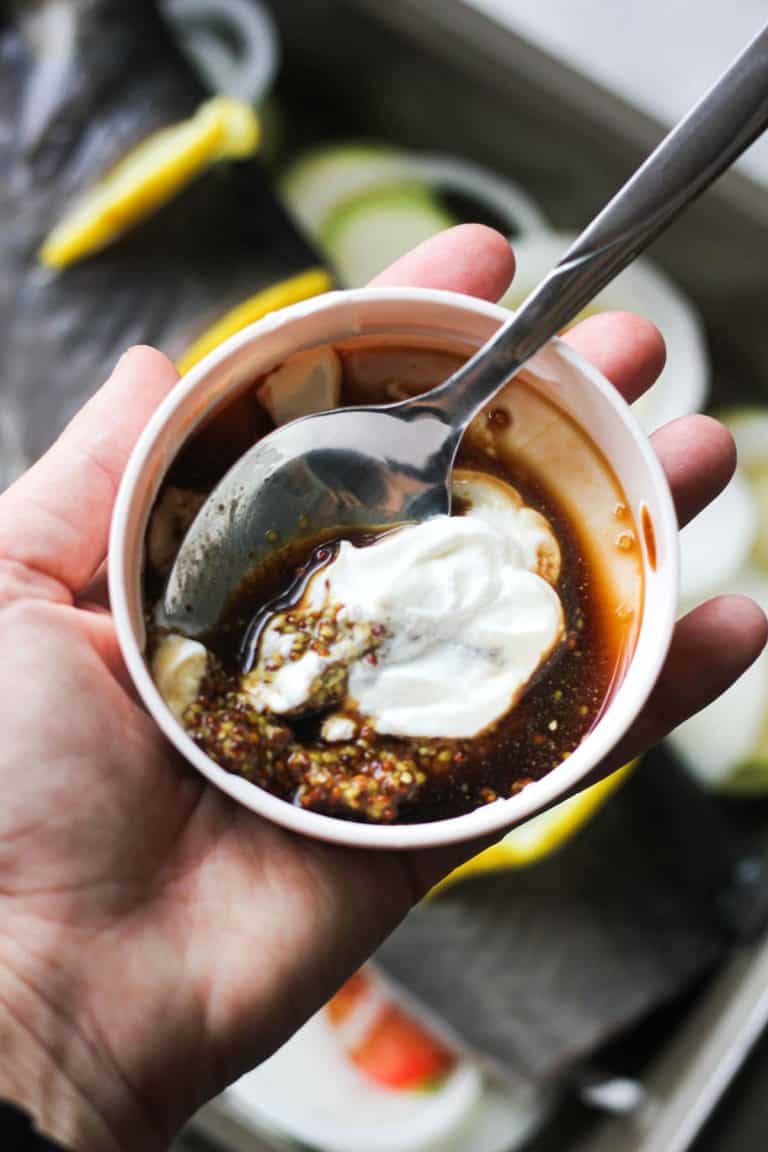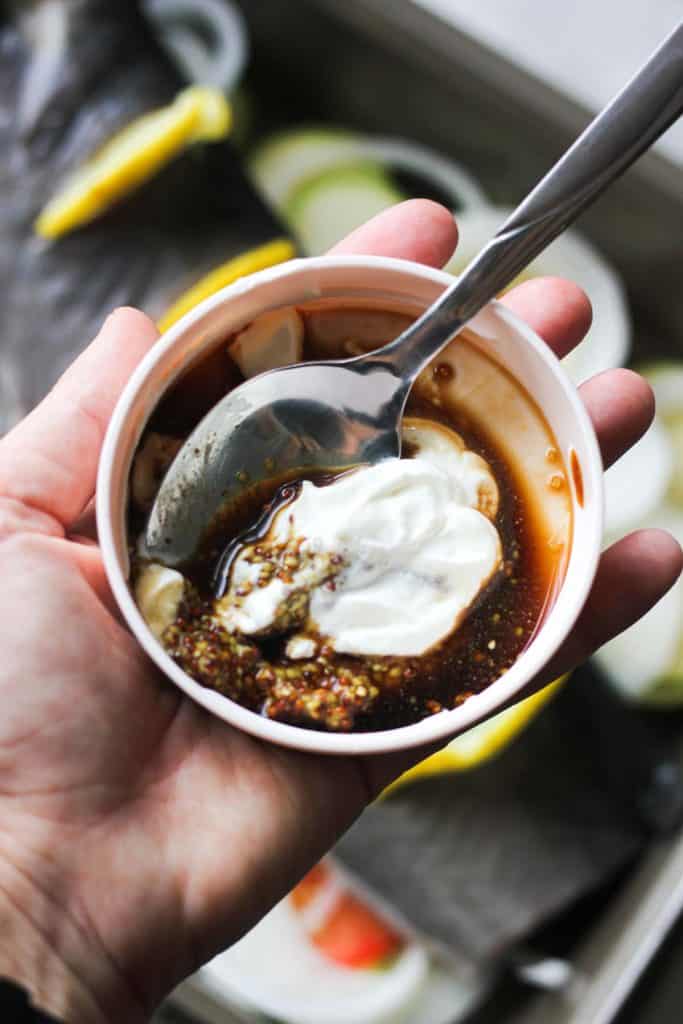 Now its time for the marinade or how i call it "wet rub". Ingredients are very easy and you probably already have them in your kitchen. Mix your favorite mustard, soy sauce and sour cream or mayo.
Rub the fish with the mixture, put rub into the slits and inside the fish. If you have time, place the catfish to the fridge to marinate. If not, just cook it right away, its going to be delicious either way.
Prepare the veggies you are using. I used onions, tomatoes and zucchini or Italian squash.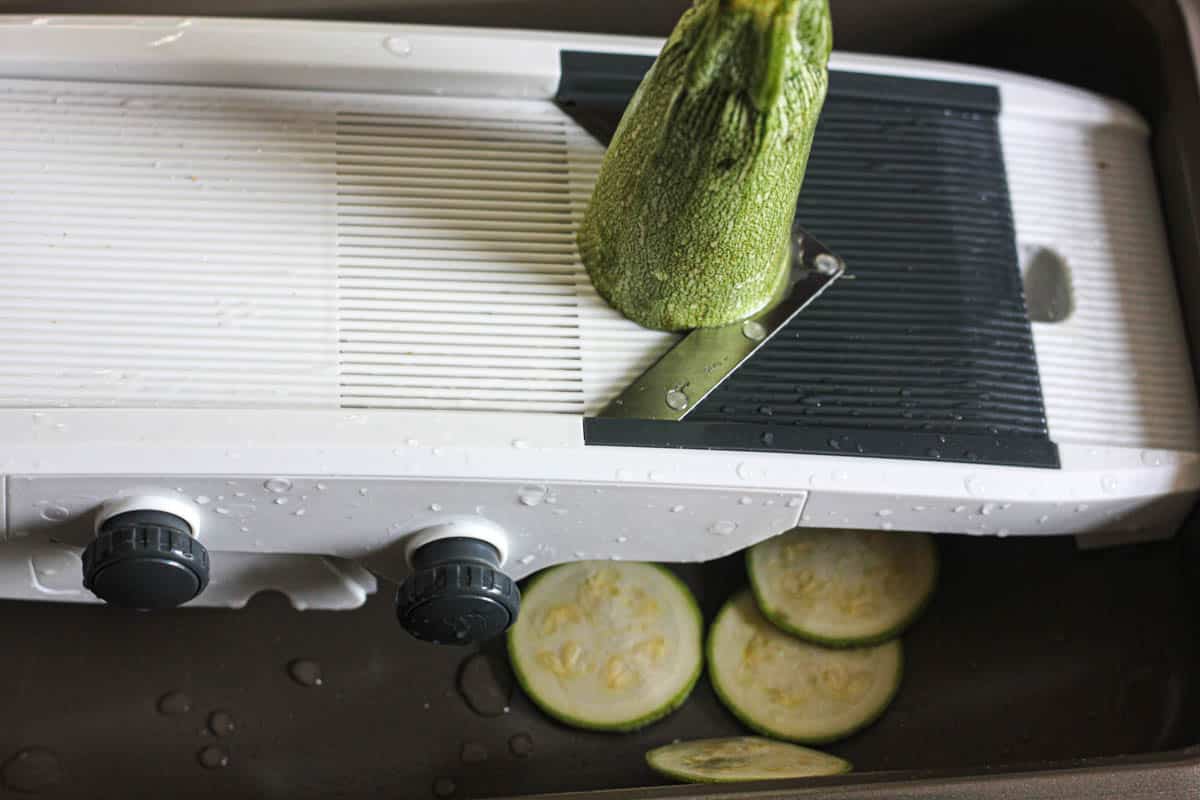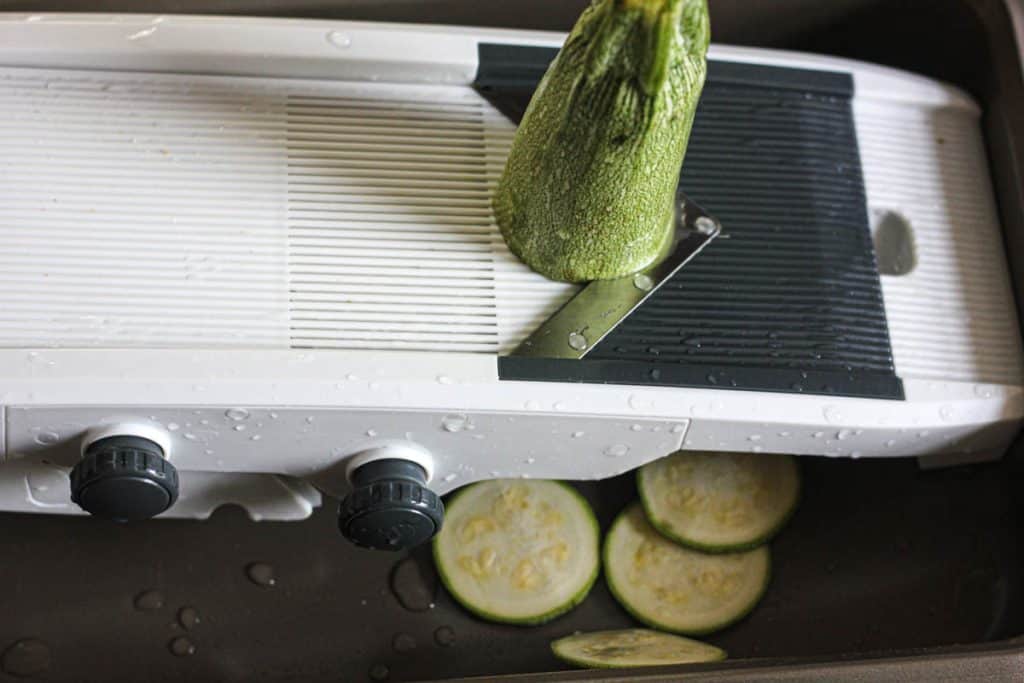 First thinly slice your zucchini right in to the baking dish you are using. I am using a mandolin for that. Just make sure to use a special protective glove or the holder.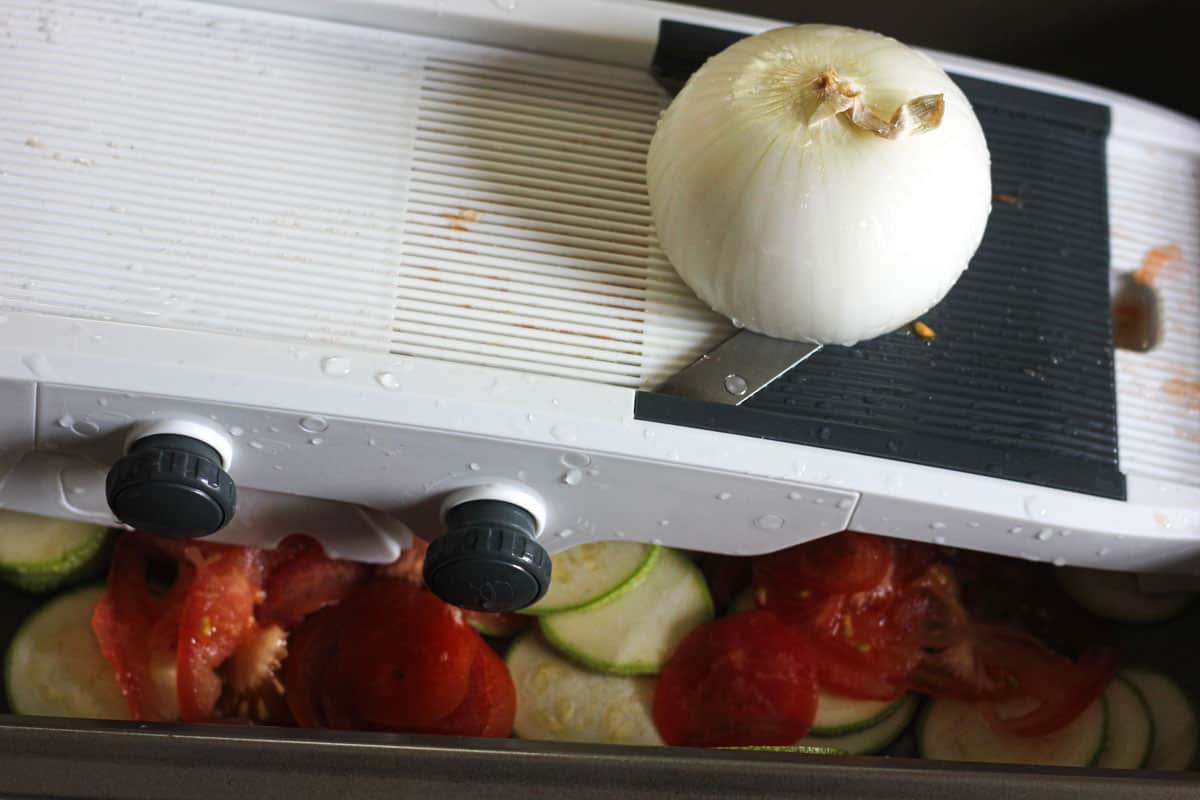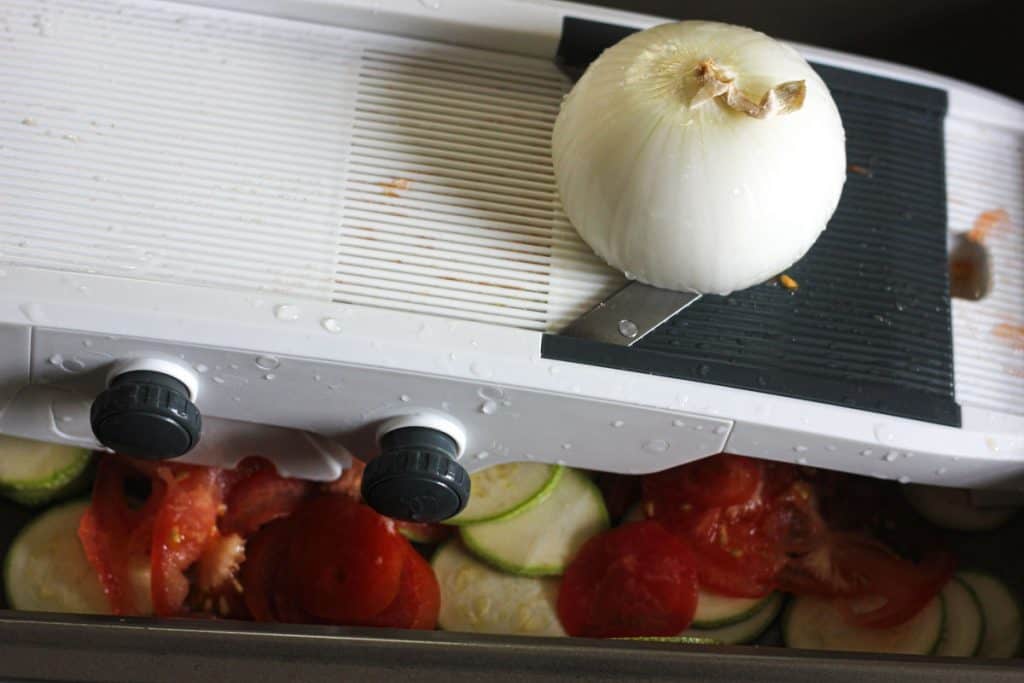 Then slice tomato and onion. Tomatoes are actually better when sliced by hand with the knife. Mandolin may just slice them to thin and turn to mash. Slice onions though as thin as you can.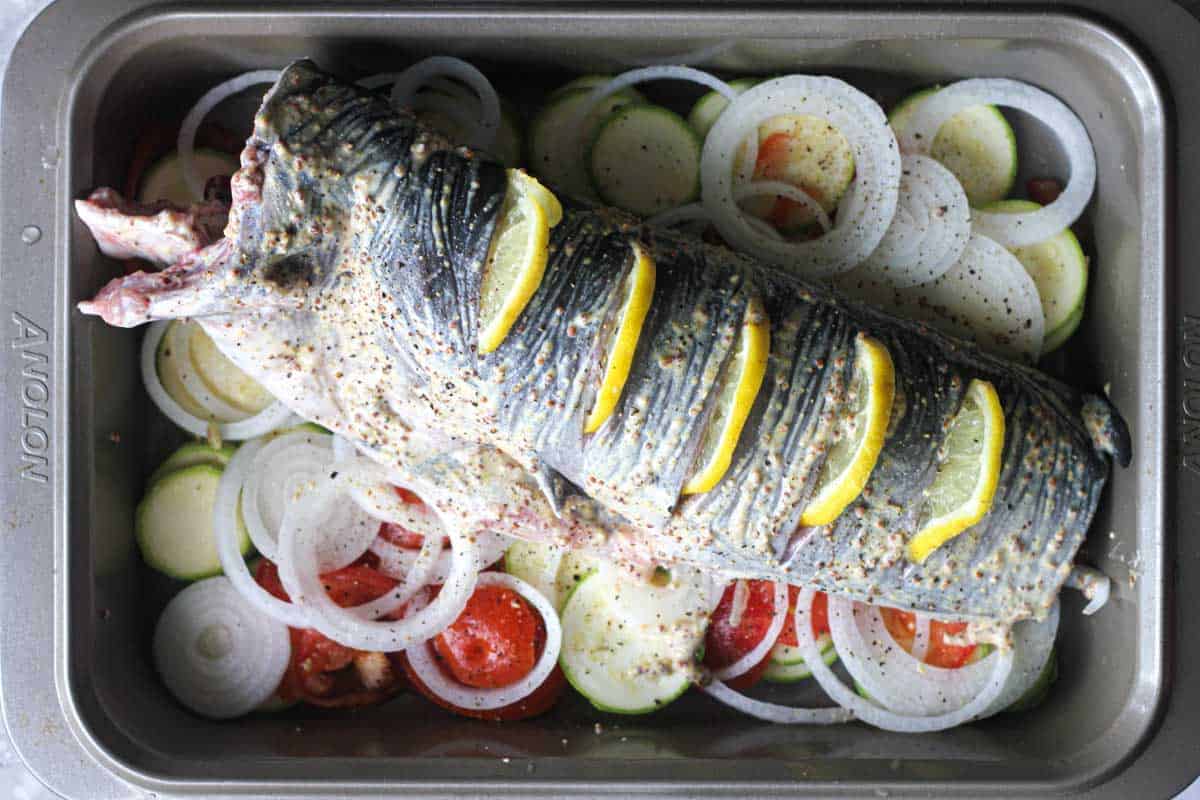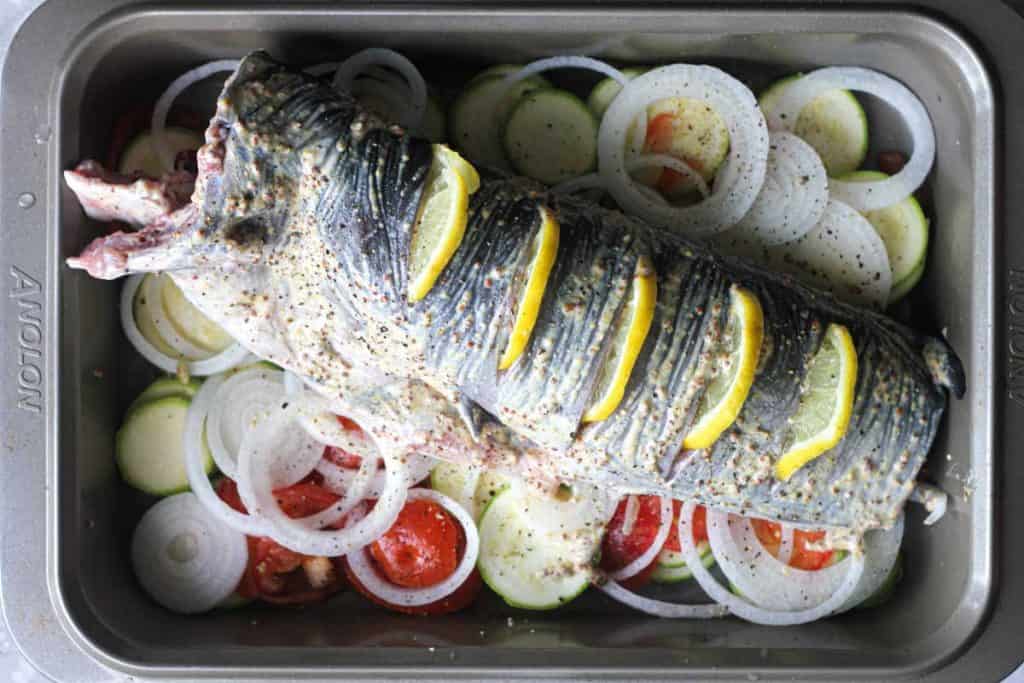 Arrange the baking dish. Place veggies on the bottom (they already should be there), drizzle them with olive oil and sprinkle with salt and pepper. Place whole catfish right on top. Cover with foil and bake. A few minutes before its done remove the foil. It will help with that beautiful color.
Is this recipe keto
Yes it is! Catfish is naturally keto, so as the veggies i am using in this recipe. Zucchini, tomato and onions are safe to eat on keto or low carb diet. The marinade is very low carb too so you can absolutely use every ingredient in this recipe.
More seafood dinner recipes: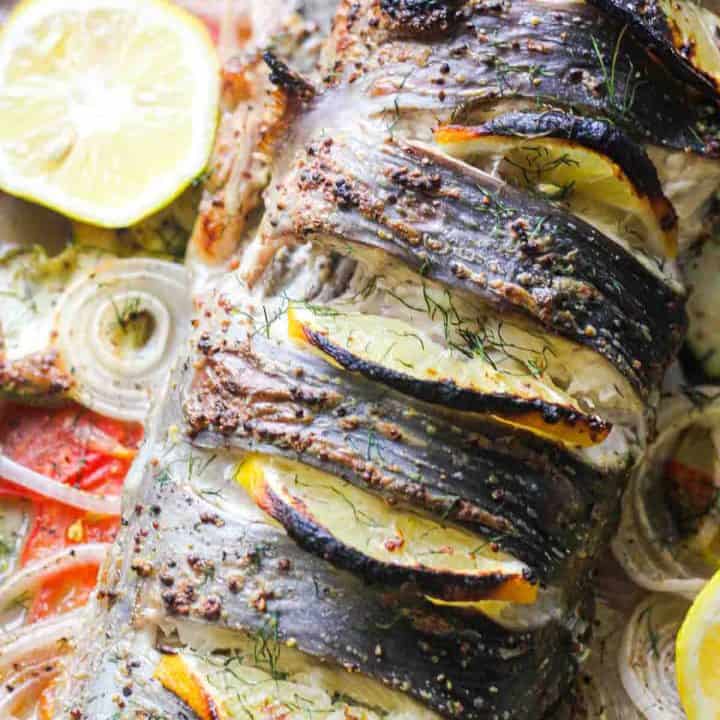 Whole catfish baked in foil in the oven
Delicious whole baked catfish that is cooked in the oven in less then 30 minutes. Tender flaky fish comes out so rich in flavor, lemony and
juicy.
Ingredients
1 whole catfish*
1 zucchini
2 tomatoes
1/2 onion
1 tablespoon soy sauce
1 tablespoon grainy mustard
2 tablespoon sour cream
1/2 lemon
Instructions
Preheat oven to 375 degrees Fahrenheit.
Wash all the veggies. Slice them with the knife or using the mandolin. Try to slice onions and zucchini very thin but tomatoes not so much. Place sliced vegetables on the deep baking tray. This is going tho be our veggie pillow.
Wash the catfish. Scrub it very well because catfish has lots of mucus and can be very slimy*. Make a few not dip slits in the catfish , almost cutting till the spine.
Make marinade. Mix soy sauce, mustard and sour cream and rub the catfish with it, try to get marinade into the slits and inside the cavity.
Slice lemon very thin and stick slices into the slits. Place fish on top of veggies. cover the baking dish with foil and put in the oven for about 20 minutes. Then remove the foil and let it cook for another 10 minutes.
Notes
The catfish i used was about 5 pounds.
*If the mucus is not coming off easily, try to rub the fish with lemon. It usually helps.
Nutrition Information:
Yield:

4
Serving Size:

1
Amount Per Serving:
Calories:

96
Total Fat:

4g
Saturated Fat:

1g
Trans Fat:

0g
Unsaturated Fat:

2g
Cholesterol:

27mg
Sodium:

311mg
Carbohydrates:

7g
Fiber:

2g
Sugar:

4g
Protein:

9g