Delicious beef liver stew is very easy to make and its full of flavor. Serve it over rice or mashed potatoes and enjoy a nutrition healthy meal any time of the day. Ready in less than 20 minutes and packed with protein.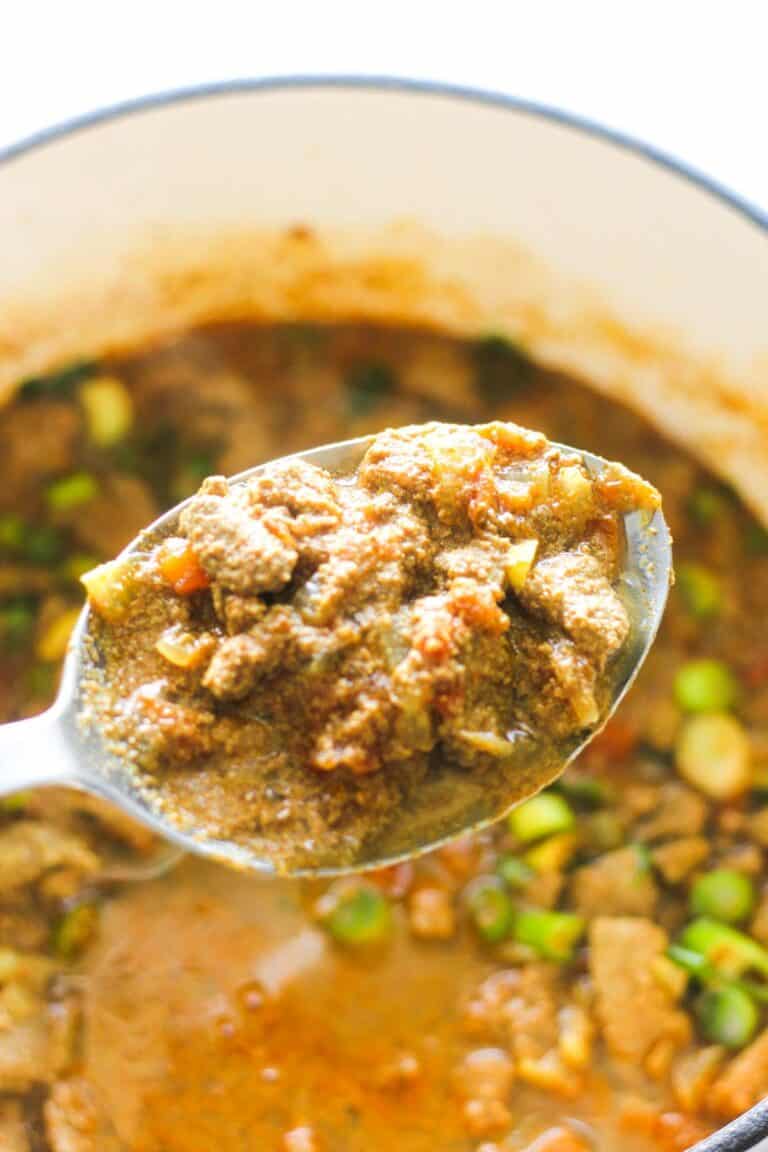 Step up you liver cooking game and make this delicious beef liver stew! I do love when liver is cooked with onions, sometimes with some sour cream and spices. Did you know you can cook liver in air fryer too? It comes out very good and juicy.
So as you can see there are many ways to prepare beef liver but today i will show you how i make beef liver stew.
How to cook beef liver stew
Start with chopping your vegetables in to tiny pieces. I used onion, tomatoes and garlic. Chopped celery would be a nice addition if you like it. Saute them with a tiny bit of oil until onions are soft and fragrant.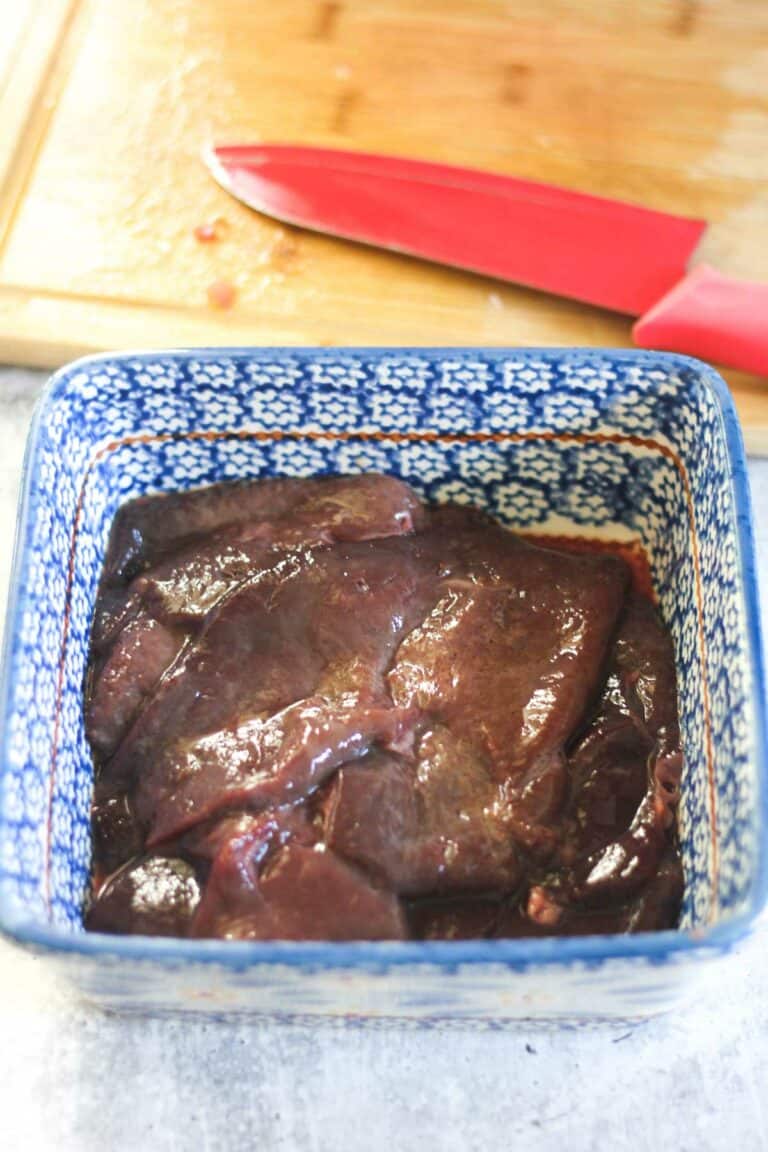 Add spices like turmeric and paprika, add soy sauce and tomato paste. Add beef bouillon. This will help open the flavor and also you will not need to add any additional salt. Give it a good stir and add chopped beef liver. I cut it in small pieces.
Tiny pieces of liver in stew are better than large chunks. Try to cut them evenly so they are cooked through all at the same time.
Cook over medium heat for 3 minutes, stirring. Add water and let it cook for another 5 minutes. Once done, chop some green onions and top the dish with it. Try a little piece, if you feel like its missing some seasoning add more bouillon or garlic powder.
Expert tips
Do not overcook liver. When it is cooked for too long it may become dry and chewy.
Soak liver in milk before cooking for 30 minutes if you want more tender liver. I skipped this step because i chopped liver in to very tiny pieces and it helped.
Remove all the membranes from the liver. They will be chewy when cooked.
Store leftovers in the air tight container for up to 5 days in the fridge.
Top cooked beef liver stew with your favorite greens like green onions, chopped cilantro or even chopped arugula will taste great here.
Try to get fresh never frozen beef liver. You can find it in stores in refrigerator isle or ask your local store butcher. Most liver sold in US is already frozen which is fine. Fresh liver just like fresh meat is always better and more juicy when cooked.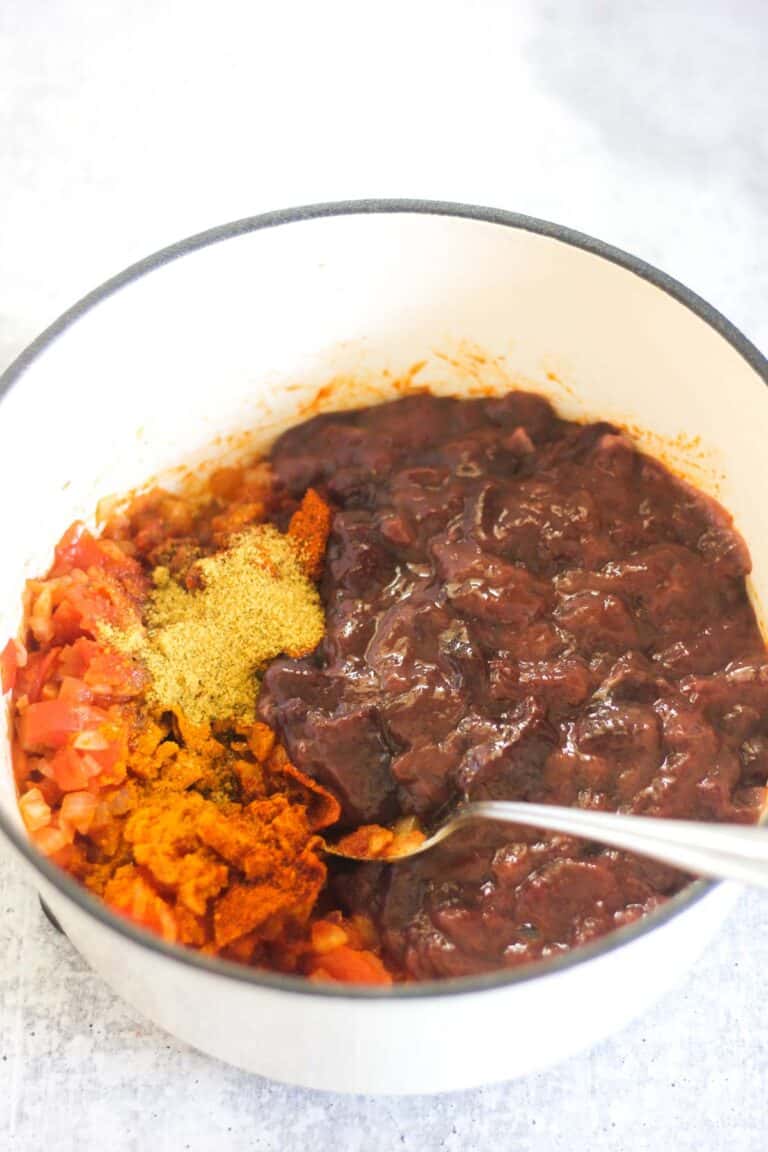 Frequently asked questions
Is eating beef liver good for you?
Beef liver has tons of health benefits! Its packed with protein, iron, zinc and Vitamin A. Zinc supports the immune system and you need to include products rich in it to your diet. Iron is needed for proper hemoglobin production. Protein is essential to our body and liver has most of it (compare to other offal meats).
Can i eat liver every day?
Even though beef liver is so healthy and nutritious, it should not be eaten more than once per week.
Do you soak liver in milk?
Soaking liver in milk suppose to help liver to be more tender and to remove any impurities. I usually soak it for different recipes, but for the beef liver stew i chopped liver very finely. It helped liver to stay juicy and tender without using the milk.
Can liver be pink in the middle?
When you make this recipe make sure that the liver is no longer red inside. It indicates that the dish is ready. It still can be a little pink even after reaching the safe internal temperature which is 160 degrees Fahrenheit. I use an instant meat thermometer.
Is beef liver delicious?
I absolutely love how liver tastes. Either it beef, lamb or chicken liver, i just love it and it remind me of childhood. Liver has a light earthy taste when overcooked. It also has a metallic taste due to its high mineral and especially iron amount. A lot of people done like how liver smells when cooked, it does have a strong smell.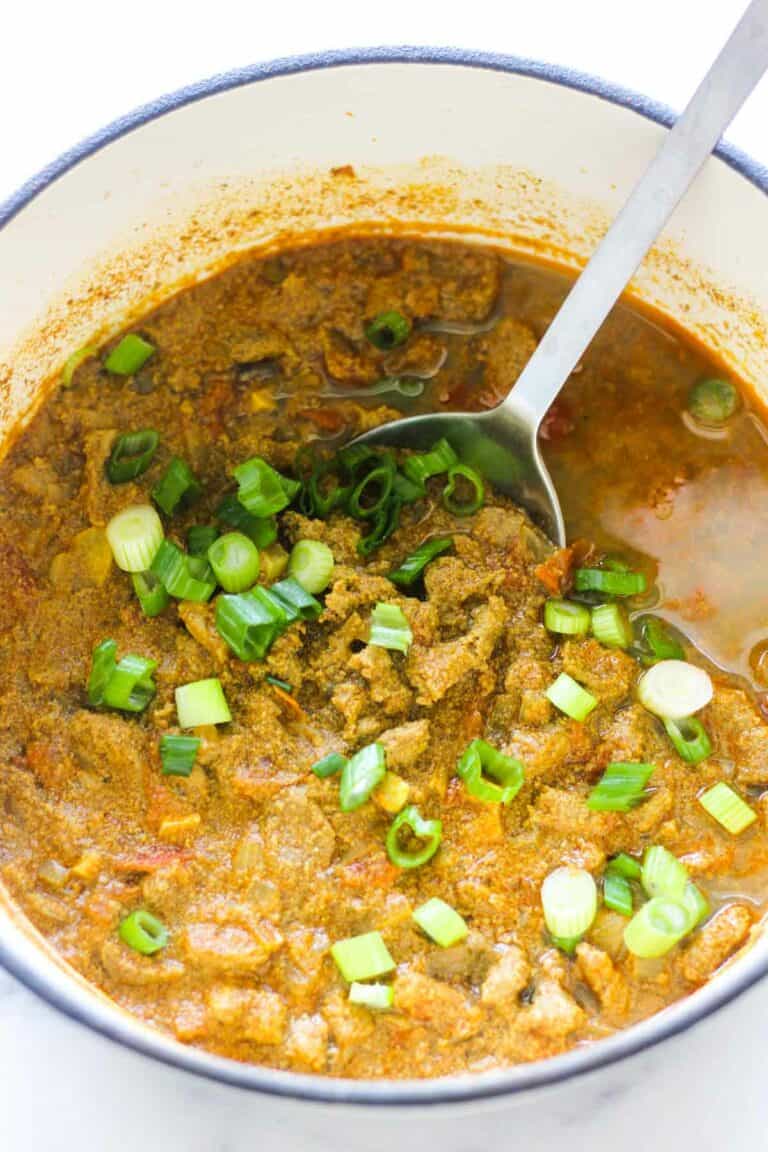 Side dish
I love to serve this beef liver stew over plain white rice! Thick gravy soaks into the rice and makes it extra delicious! Mashed potatoes will be nice and delicious too. Roasted vegetables or a salad could be a nice addition. If you like couscous, cook some and pour the stew over it.
Leftovers
I stored beef liver stew leftovers right in the same pot and just placed it in the fridge with the lid on. You can always just transfer stew to the air tight container and store in the fridge for up to 5 days. Reheat in the microwave or right in the pot. Do not freeze because cooked liver will get very dry when thawed.
You may also like…
More liver recipes
I am a huge fan of offal recipes of any kind and have a large collection on my site. Below you can find different recipes using liver.
Other offal recipes
Other offal meats like heart, tongue and gizzards are also delicious when cooked properly.
Hope you will like this beef liver stew recipe as much as we do. Please rate if you made it and leave a comment below if you have any questions!
Recipe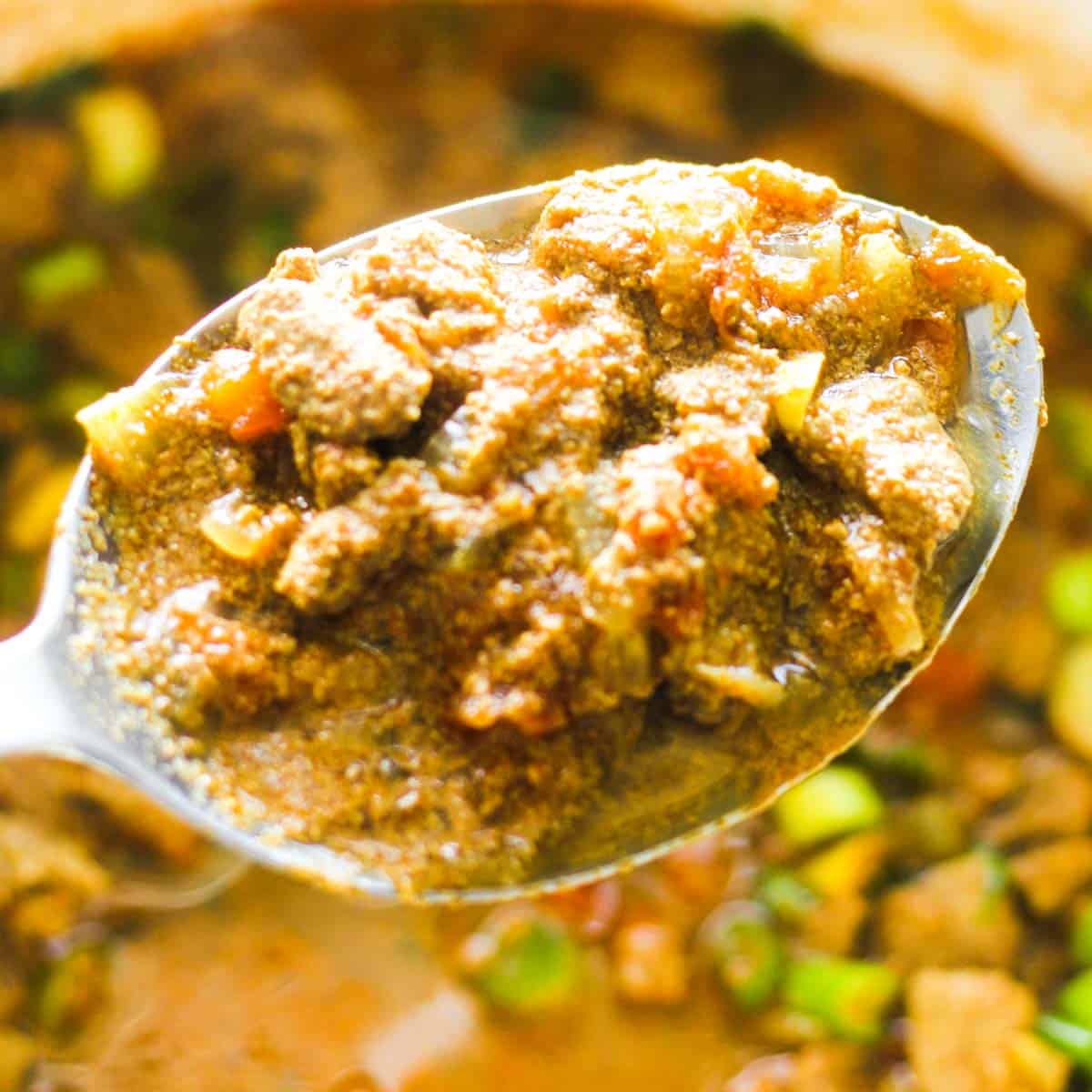 Beef Liver Stew
Delicious beef liver stew is very easy to make and its full of flavor. Serve it over rice or mashed potatoes and enjoy a nutrition healthy meal any time of the day. Ready in less than 20 minutes and packed with protein.
Ingredients
1 lb beef liver
1 tablespoon paprika
1 tablespoon turmeric
2 garlic cloves
1 tablespoon tomato paste
1 tablespoon soy sauce
1 onion
2 tomatoes
1 cup water
2 teaspoon beef bouillon
1 tablespoon oil
Instructions
Wash beef liver with cold running water. Chop into small equal pieces. Set aside.
Into a medium size heavy bottom pot add oil and heat it over medium heat. Add chopped onion, chopped garlic and chopped tomatoes. Cook until fragrant and soft, a few minutes.
Add spices, tomato paste, soy sauce and stir. Add liver and cook for 3 minutes, stirring.
Add water, stir and cook for 5 minutes.
Top with chopped green onions and serve.
Notes
Do not overcook liver
Soak liver in milk before cooking for 30 minutes if you want more tender liver.
Store leftovers in the air tight container for up to 5 days in the fridge.
Top cooked beef liver stew with your favorite greens like green onions, chopped cilantro or even chopped arugula will taste great here
Nutrition Information:
Yield:

3
Serving Size:

1
Amount Per Serving:
Calories:

388
Total Fat:

13g
Saturated Fat:

5g
Trans Fat:

1g
Unsaturated Fat:

8g
Cholesterol:

599mg
Sodium:

772mg
Carbohydrates:

20g
Fiber:

3g
Sugar:

5g
Protein:

47g