This delicious Turkish red cabbage salad can be served with kebabs, barbecues, roasted meat, or simple side salads. It's fresh, tasty, and super easy to make at home. Just like the ones you'll see at any takeaway kebab shop.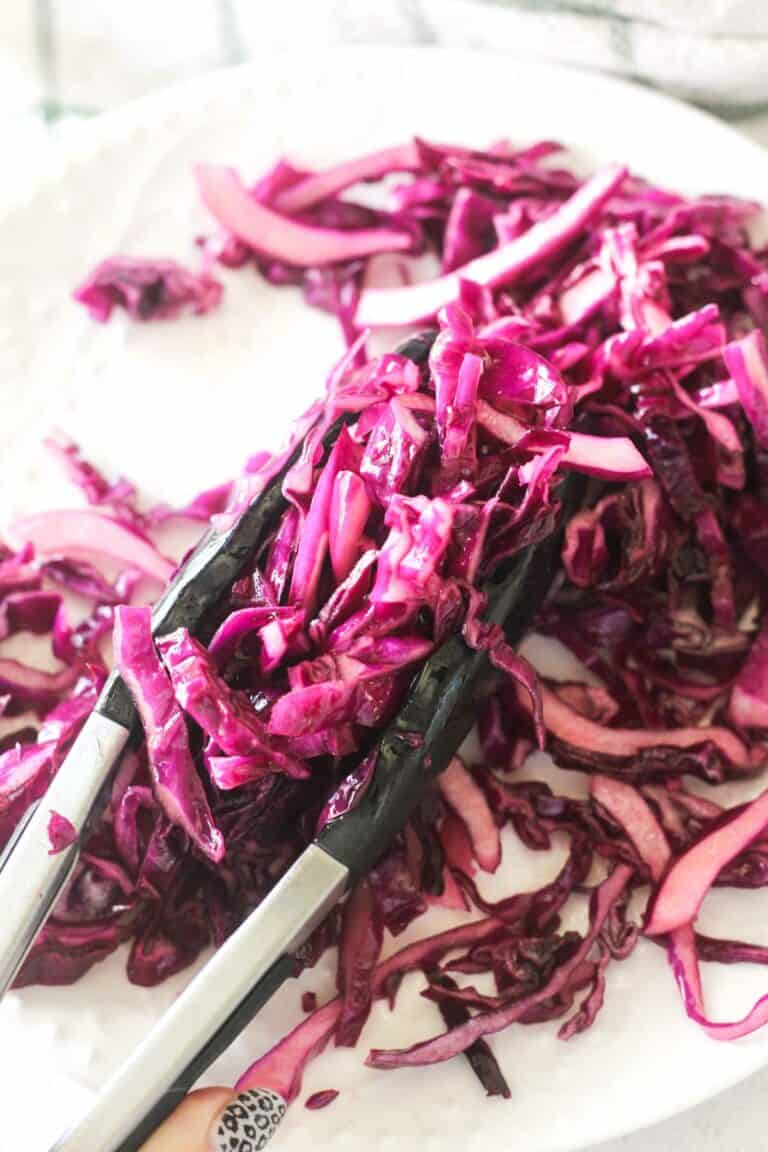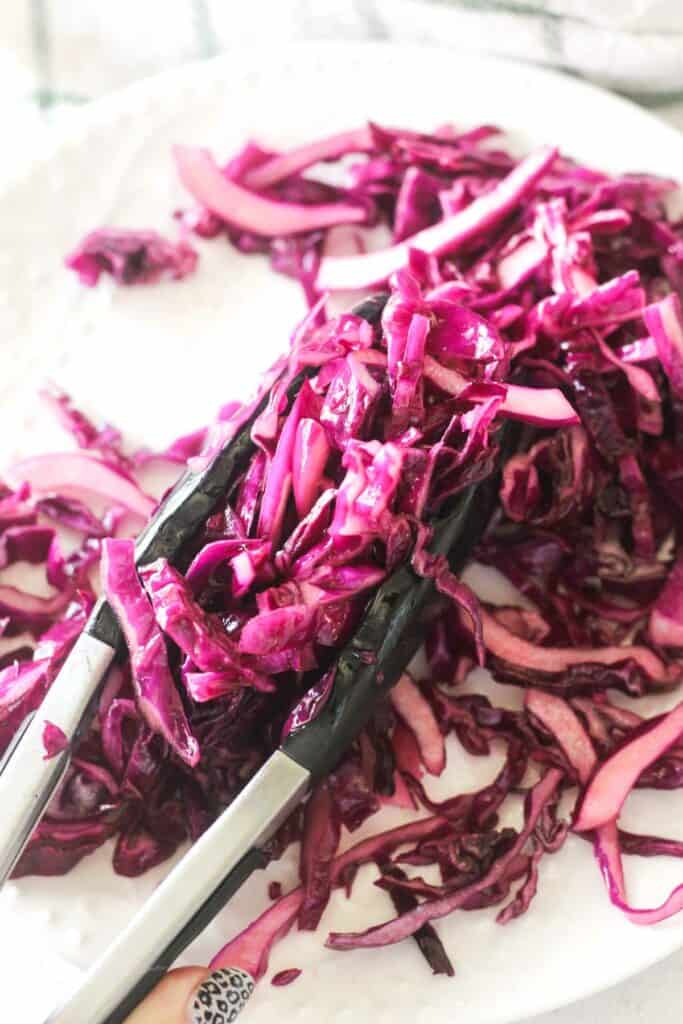 In Turkey red cabbage is very popular to use in salads instead of green cabbage. This beautiful vegetable is crunchy, and easy to prepare with a bright red/purple color.
The red cabbage is shredded then marinated in a very simple dressing of olive oil, lemon juice, and salt. The cabbage soaks up all the flavors of the salad dressing and the texture of the cabbage softens over time making it easier and more delicious to eat. Added to your favorite salads or as a side dish, this simple salad will bring a tasty crunch and pop of flavor.
How to make Turkish red cabbage salad
Get a nice fresh head of red cabbage. Remove all the outer leaves that are dry and non appetizing looking. Now you have a nice shiny firm red cabbage that will be the base of your salad.
Now its time to slice. chop it in to four pieces and thinly slice each of them. You may even want to hold the whole cabbage head and shred it this way but i find it more simple to cut in chunks first.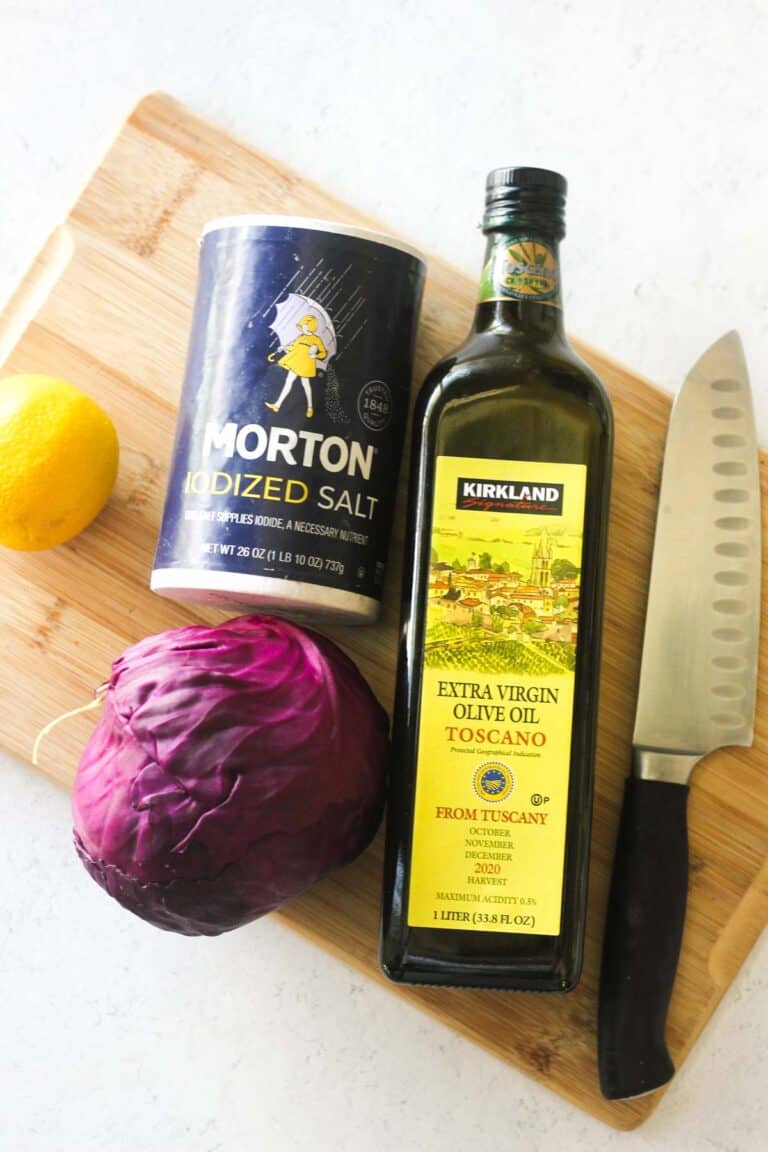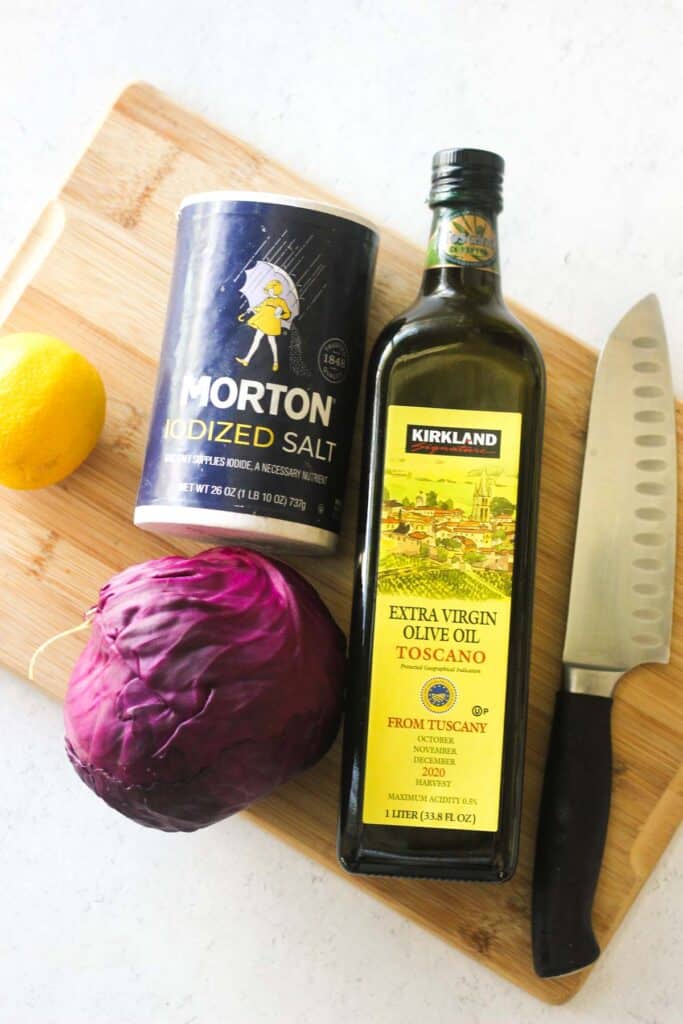 Cut it as thin as you can. You can use a food processor for that as well. Just remember you need to shred it thin, not chop it in tiny pieces. Place shredded red cabbage into the medium size bowl or a zip lock plastic bag.
Add lemon juice (freshly squeezed preferred) and olive oil. Make sure all the cabbage is covered with oil. Add salt, close the bag and give it a good shake. If using a bowl mix it very well and cover with plastic wrap.
Place salad in the fridge for at least 30 minutes, preferably 1 or 2 hours. Remove from the fridge and stir. Enjoy with your favorite meat or fish meal, kebabs and pita would be great!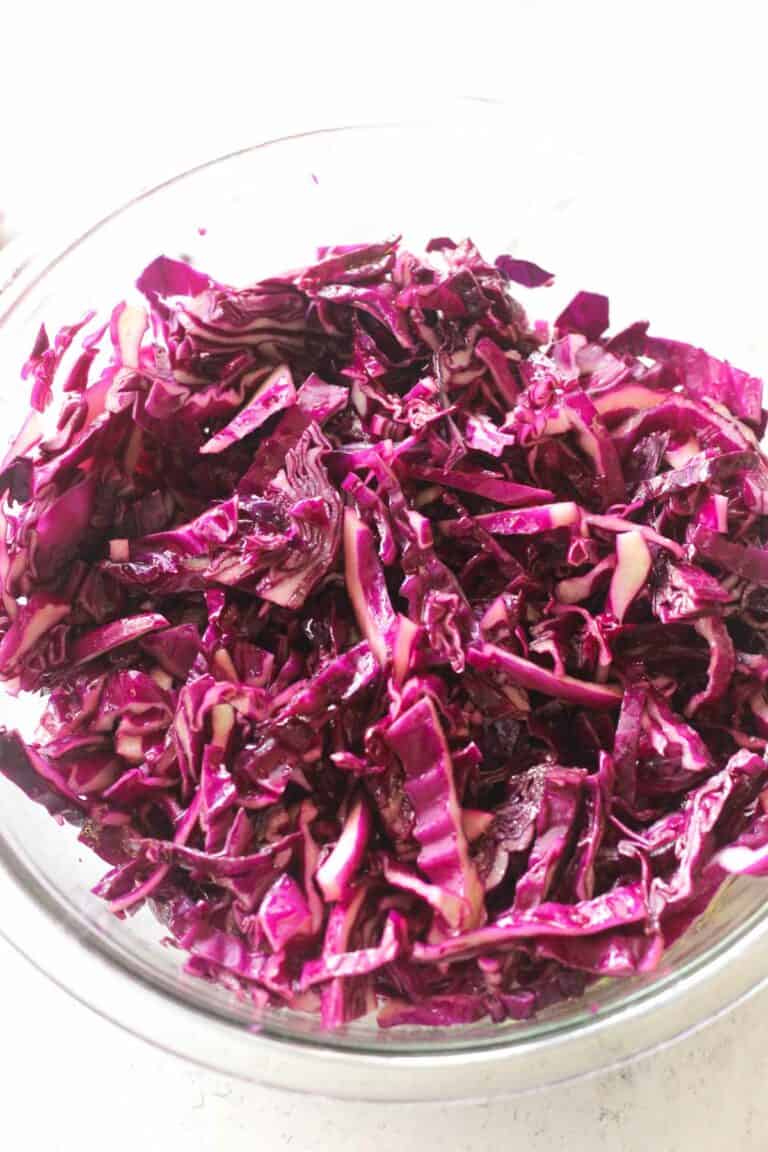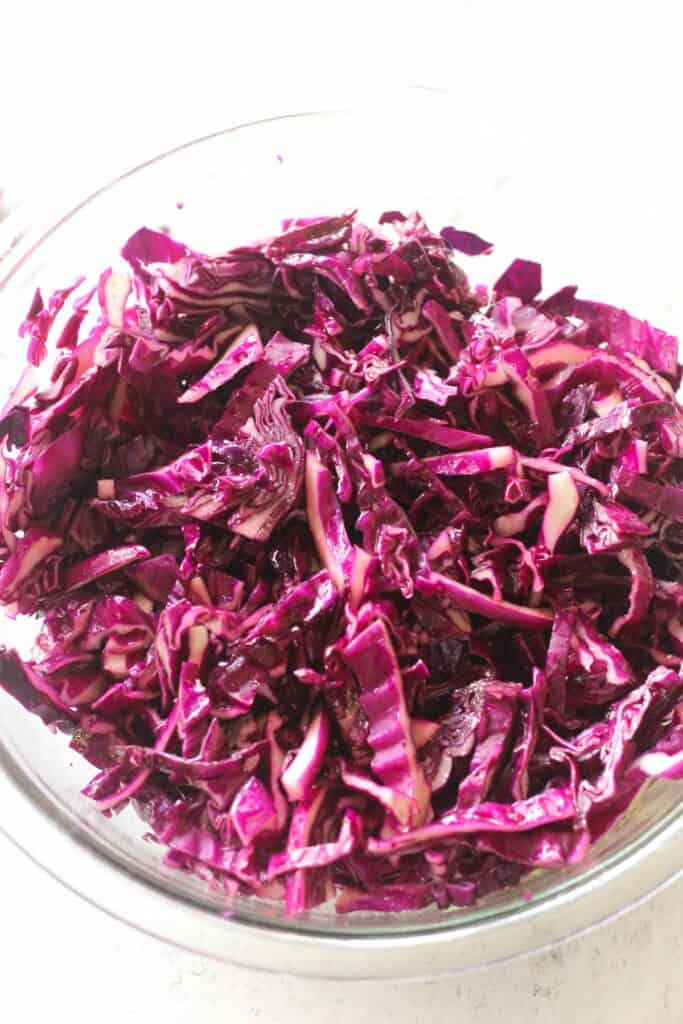 The key to the best cabbage salad
This recipe is simple, but there are a few things that help turn a head of cabbage into a delicious side dish.
First, make it ahead of time. This salad gets better the longer it sits in the dressing. Some recipes add the salt separately, then massage the cabbage until it softens. You don't have to do that because if you let the cabbage long enough it will soften on its own.
Next, shred the cabbage very thinly. The thinner you slice the cabbage the faster it softens and the easier it will be to eat.
Lastly, use good quality olive oil and freshly squeezed lemon juice. It will make all the difference!
How to shred cabbage
Shredding cabbage is easy to do, all you need is either a very sharp knife or a mandolin.
Start by removing any loose outer leaves from the cabbage. Then cut the head of cabbage in half all the way through the stem. Remove and throw away any thick parts of the stem. You don't need it and the stem can be hard to eat.
Place the cabbage cut side down on a cutting mat, then start thinly slicing the cabbage lengthwise to create long strips using a sharp knife.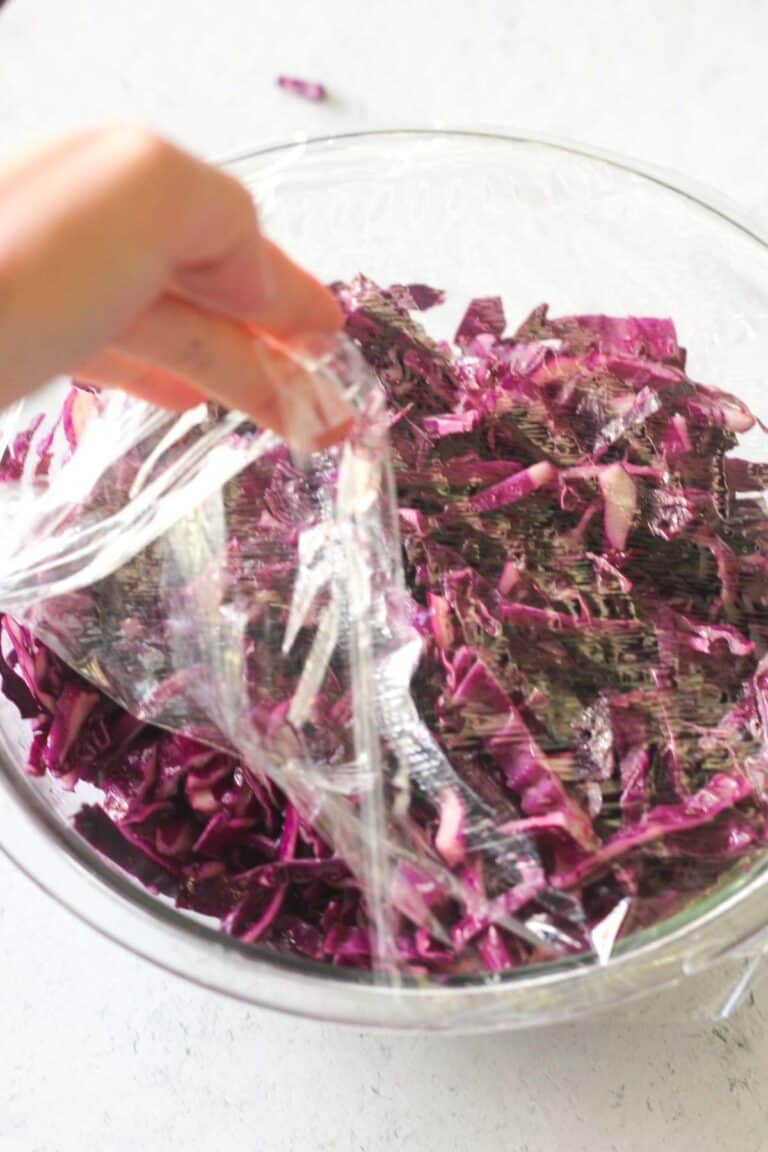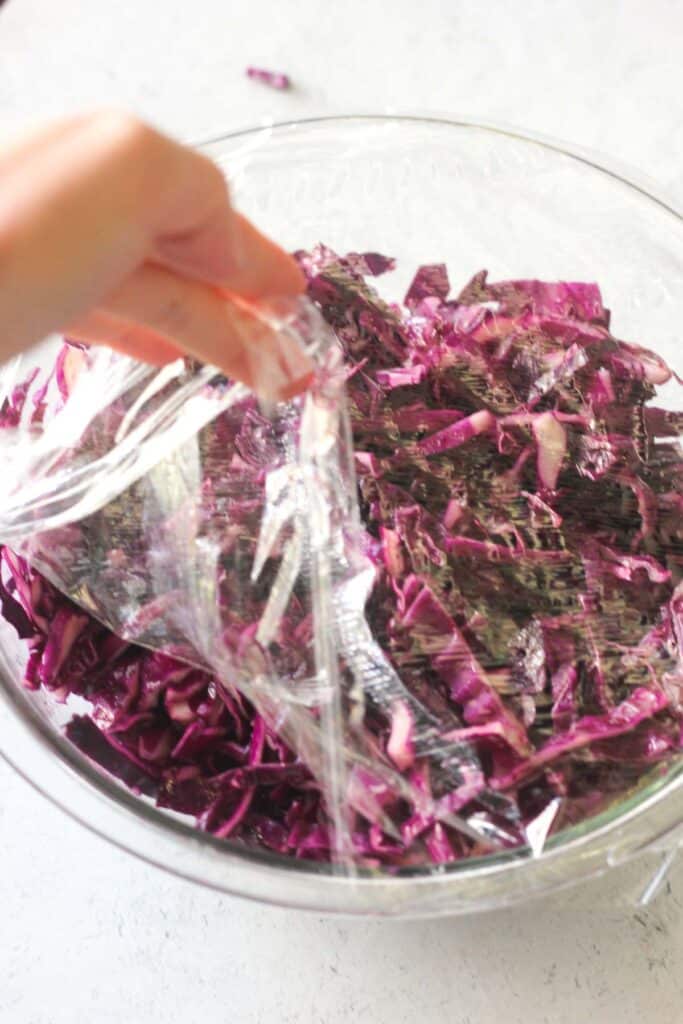 Or if you prefer, use a food processor or a mandolin to get even shredded cabbage. Place the cabbage on it and carefully start slicing.
How long should the cabbage marinade in the dressing
The cabbage should be marinaded in the salad dressing for at least 30 minutes. This will allow the cabbage to soak up all the delicious flavors and at the same time start to soften making it easier to eat.
If you have the time, allow the cabbage to marinate for an hour or more for the best taste and texture.
What does red cabbage taste like
Red cabbage can taste a bit more "earthy" than green cabbage. It has a strong and slightly bitter flavor when eaten raw but can taste sweet when cooked. It pairs well with sour flavors like lemon juice or vinegar. Red cabbage is also very crunchy, so it pairs well with meat or other crunchy vegetables.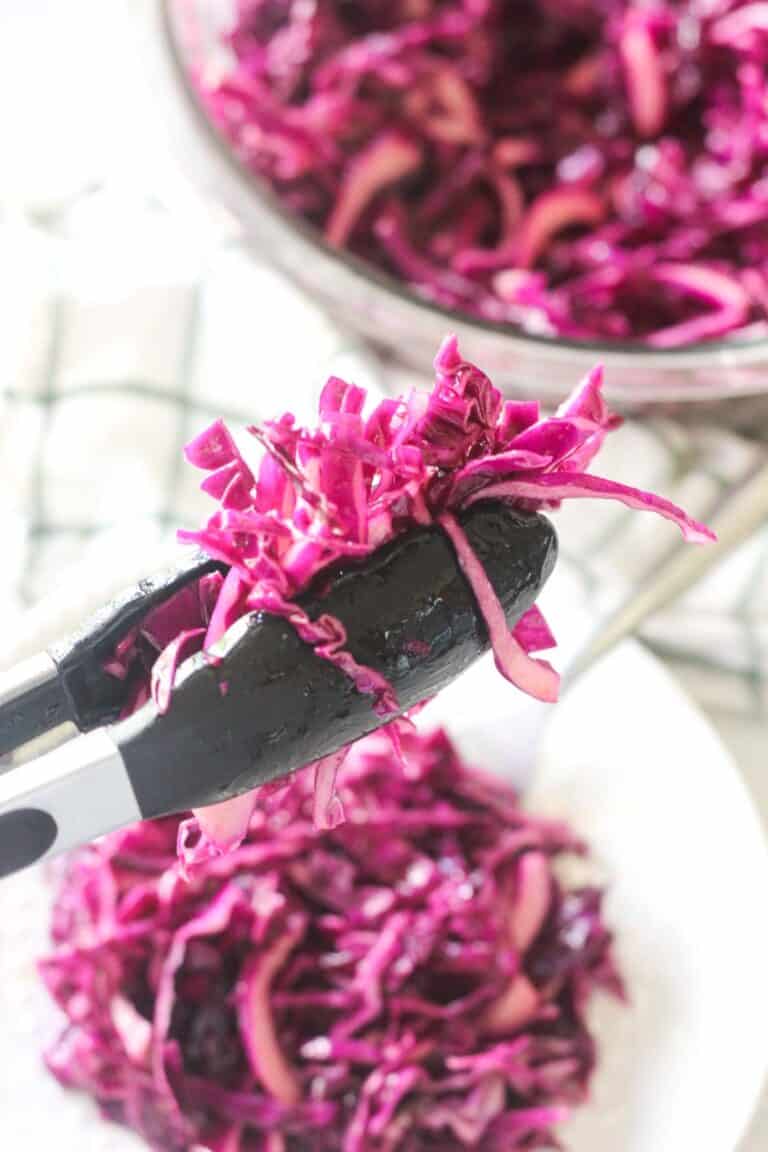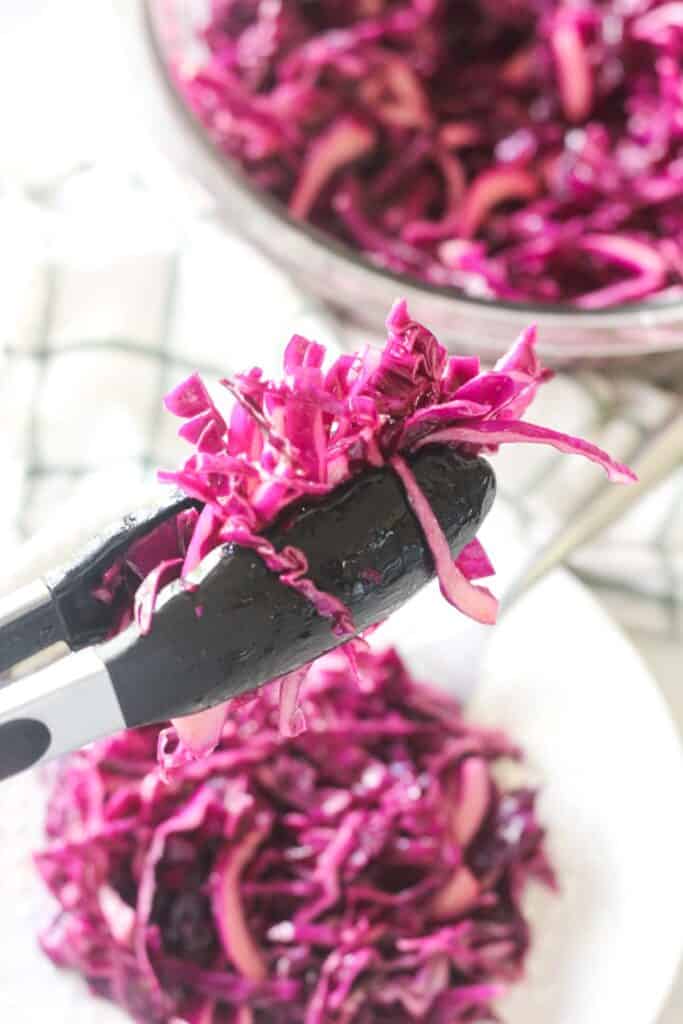 Frequently asked questions
Should I use red or green cabbage for a Turkish red cabbage kebab salad?
You can use whichever cabbage is available or the one you prefer better! The steps for this salad are the same for red cabbage or green cabbage.
Can I add sugar to the salad?
Sugar can be added to help balance out the olive oil and lemon juice flavors while adding a nice sweetness. You can add a little bit of sugar to the cabbage after 30 minutes of marinading. Add as much as you like.
Should I wash red cabbage?
Yes, it's always a good idea to wash your veggies before consuming them. Just give the head of cabbage a rinse before shredding it.
Which oil should I use in this cabbage salad?
Olive oil is used in this simple salad dressing, but you can use your favorite oil. If you don't love the taste of olive oil, use a cheaper kind because it won't be as strongly flavored as Extra Virgin olive oil.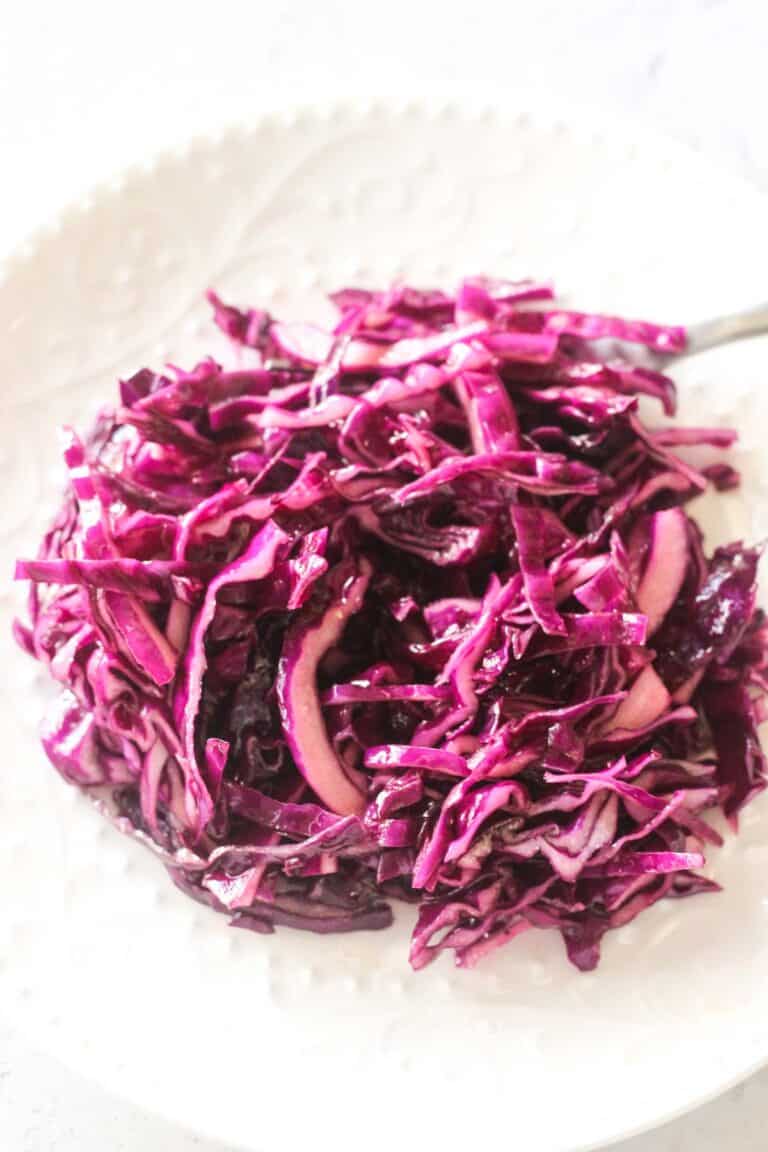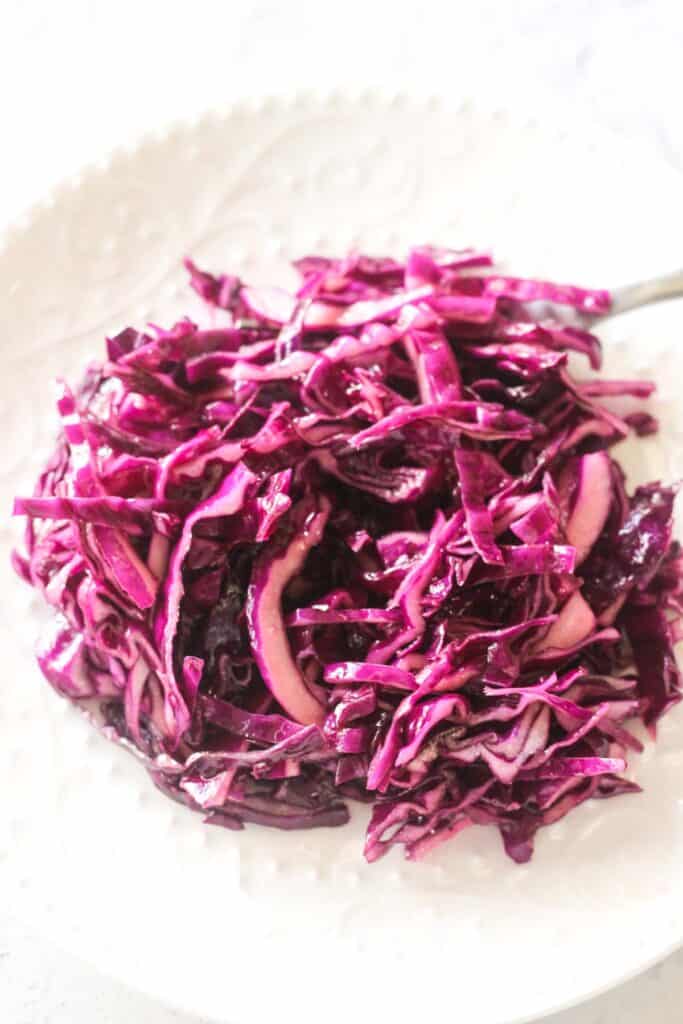 Serving suggestion
Serve it with your favorite meat meal. Chicken or lamb kebabs (my favorite) will be the best fit with some pita bread on the side. Love seafood? Make shrimp or salmon kebabs and enjoy your Mediterranean style dinner.
Leftovers
Turkish kebab salad can be stored in the fridge for up to 6 days. Cabbage will be getting softer and softer each day and will be great to use in wraps of any sort.
More appetizers and sides
Hope you will like this Turkish red cabbage salad recipe just like we do. Please rate the recipe if you made it and leave a comment below if you have any questions or have any suggestions.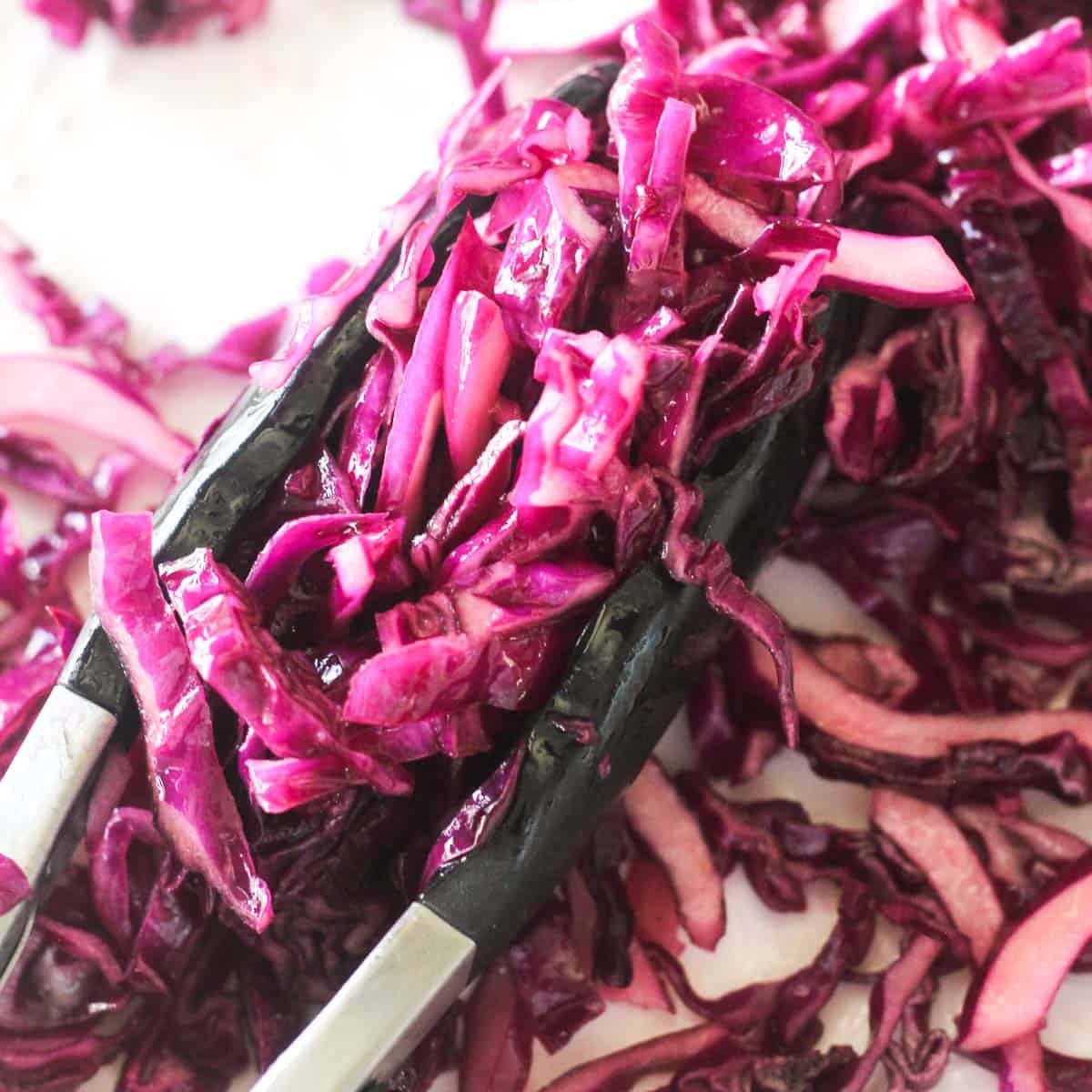 Turkish Red Cabbage Salad (Turkish Kebab Salad)
Total Time:
1 hour
10 minutes
This delicious Turkish red cabbage salad can be served with kebabs, barbecues, roasted meat, or simple side salads. It's fresh, tasty, and super easy to make at home. Just like the ones you'll see at any takeaway kebab shop.
Ingredients
1 small head red cabbage
5 tablespoon olive oil
juice from 2 lemons
2 teaspoon salt
Instructions
Thinly slice cabbage. Pour olive oil, salt and lemon juice.
Place cabbage in to the bowl and mix it very well. Make sure that cabbage is fully covered.
Cover the bowl with plastic and place in the fridge for at least 30 minutes or 1 hour.
Serve with simple garden salad and and meat dish.
Notes
Try to slice red cabbage as thin as you can. Mandolin or food processor may help with it.
Let salad sit in the fridge for at least 30 minutes, the longer the better.
Any vegetable oil will work for this recipe.
Store in the fridge, covered for up to 6 days.
Nutrition Information:
Yield:

6
Serving Size:

1
Amount Per Serving:
Calories:

155
Total Fat:

11g
Saturated Fat:

2g
Trans Fat:

0g
Unsaturated Fat:

9g
Cholesterol:

0mg
Sodium:

755mg
Carbohydrates:

14g
Fiber:

3g
Sugar:

9g
Protein:

2g