In this easy braised pork heart recipe we cook a pig heart low and slow on the stovetop with red wine, beef broth, and classic comfort food seasonings. The result is a robust dish with a sauce that's delicious to enjoy with your favorite starchy sides.
Braised pork heart with a red wine sauce is a comforting main dish that tastes fabulous and is deeply nourishing. You may also like these pork recipes: instant pot pork steaks, air fryer pork chop bites and pork liver recipe.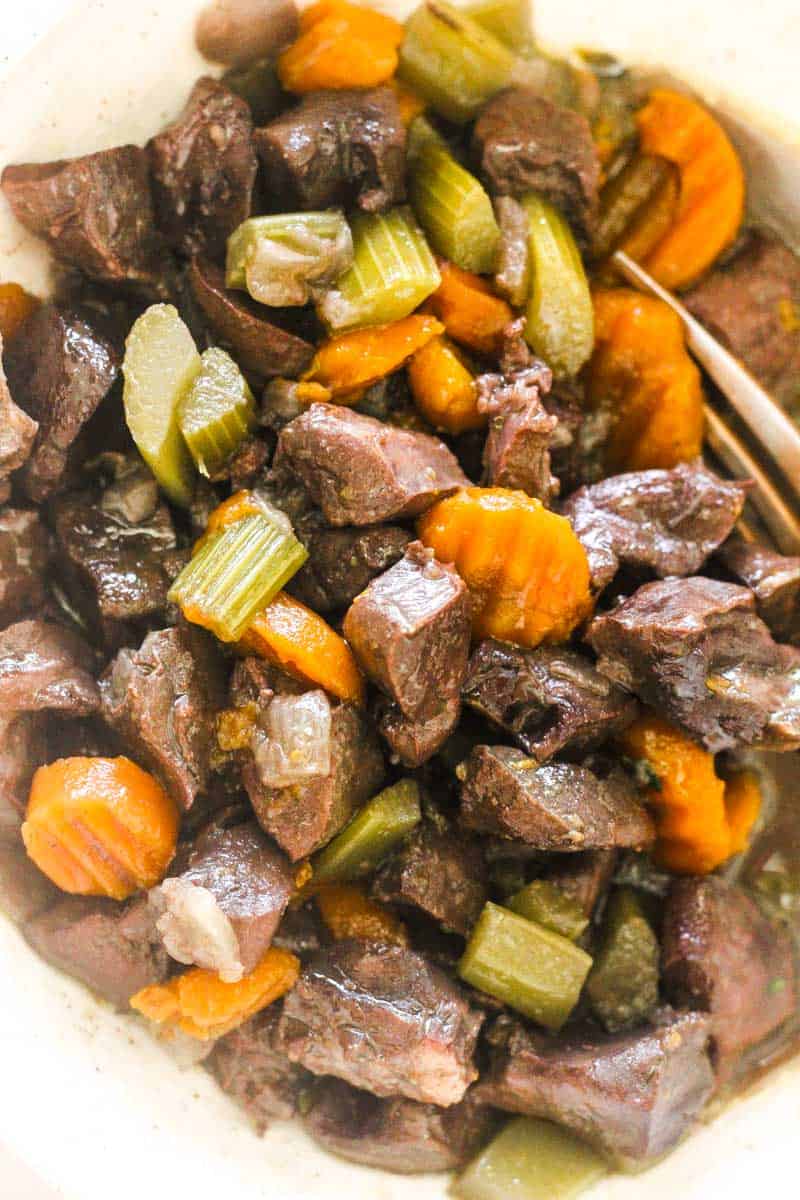 First, the fresh pig heart (or frozen and thawed) is quickly seared on the stovetop for a golden brown, lightly crisp outside. Then we simmer the heart to fork-tender perfection in a combination of red wine and beef broth, plus classic stew aromatics like onion, garlic, and bay leaves.
Together these simple ingredients make a deliciously rustic and saucy entree that's just right to pair with any number of light or starchy side dishes.
The key to all the warm and cozy goodness here is to cook the meat slowly over low heat – so this recipe is terrific for a relaxing weekend or special occasions!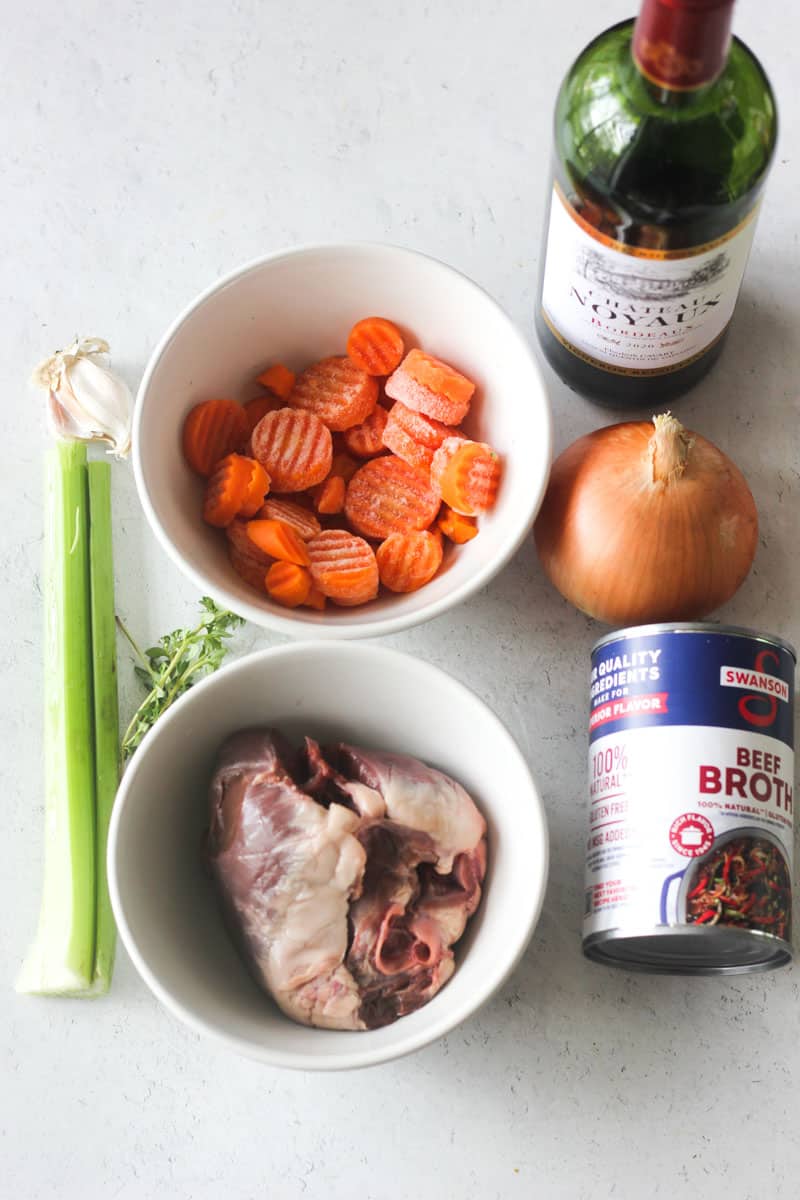 Recipe ingredients
Pork heart. Trimmed of fat and connective tissue, with top and bottom sections of the heart removed. If frozen, thaw the heart in the refrigerator overnight. Lightly rinse and pat dry before slicing and cooking.
Vegetable oil. A high-heat oil with neutral flavor, vegetable oil is great for searing meat.
Onion. White onion is nice for crisp flavor with a bit of bite.
Garlic. Earthy and fragrant, garlic is practically an essential savory ingredient.
Carrot. Lightly sweet with a hearty texture, even when slow cooked on the stovetop.
Celery. Fresh and light-tasting celery adds a mellow but noticeable layer of veggie flavor.
Red wine. Choose a full-bodied wine like cabernet sauvignon, merlot, or pinot noir. The acidity of the wine helps to tenderize and infuse the meat with deep flavor.
Beef broth. Gives the pork heart a delicious beefy umami taste.
Bay leaf. A favorite dried herb for slow cooked dishes. Discard after cooking: They add great flavor to the broth but dry bay leaves are not for actually eating.
Thyme. Earthy herb that adds that special touch of comfort food tastiness.
Salt and pepper. A bit of each enhances the bold flavors of all other ingredients.
How to make this pork heart recipe
Lay pork heart on a clean cutting board. You'll notice some fat and stringy bits, which are the connective tissues. With a sharp knife, trim off these parts. Also, slice off the top and bottom sections of the heart.
Once you've trimmed it, hold the heart under cold running water to rinse off any bits and blood. Pat it dry with paper towels. Now, slice the heart into smaller, bite-sized chunks. Season each piece by sprinkling a bit of salt and pepper over them. Toss them gently so the seasoning covers all sides.
Now, for the cooking part! Choose a Dutch oven or a sizable pot and place it on your stove. Turn the burner to medium-high heat. Pour the vegetable oil into the pot. Wait a moment, and when the oil seems hot and gives off a light shimmer, it's ready. Gently place the pork heart pieces into the hot oil.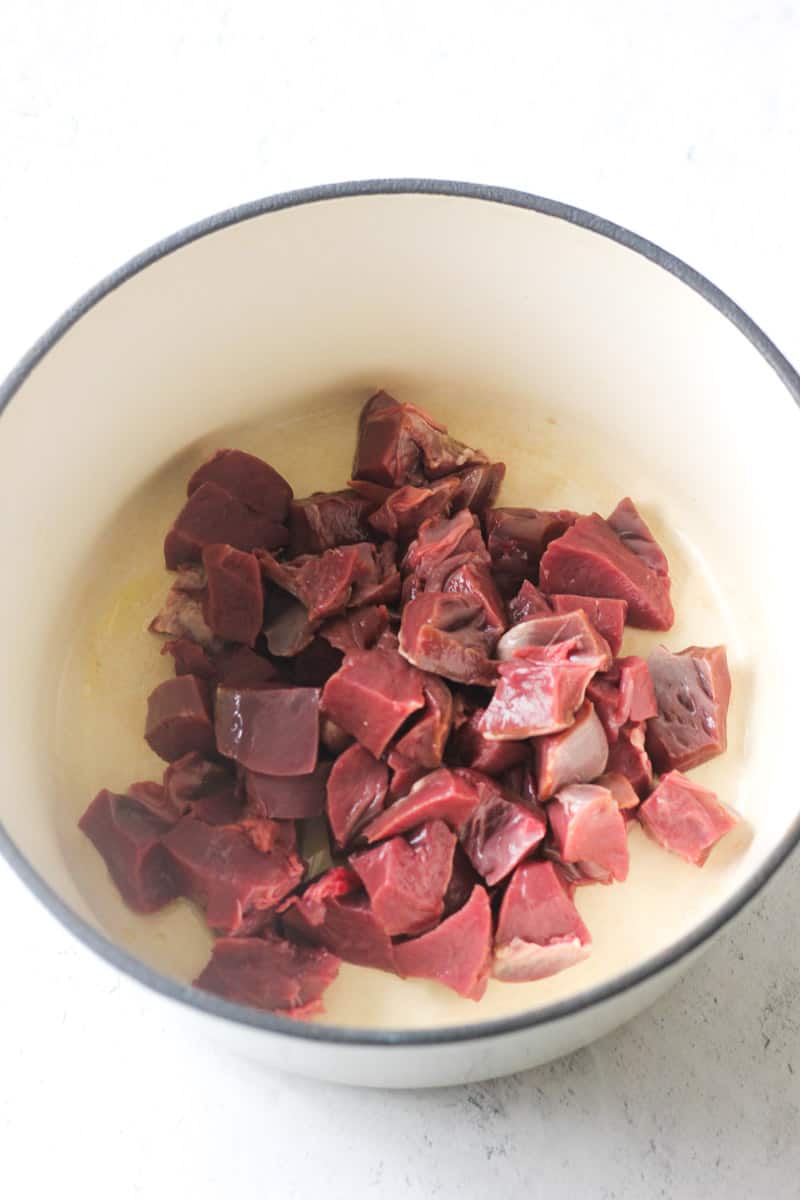 They should sizzle upon contact. Let the pieces cook without moving them for about 4-5 minutes, so they get a good sear. Then, using tongs, turn each piece to brown them evenly all around. After about 10 minutes, when they're beautifully browned, use the tongs to transfer them to a plate.
In the flavorful oil left in the pot, add your chopped onion, minced garlic, diced carrot, and chopped celery. Stir with a wooden spoon. As the veggies cook, they'll release a lovely aroma. After about 5 minutes, you'll notice the onion becomes soft and almost see-through, and the carrot and celery begin to soften around the edges.
Time for the wine! Slowly pour the red wine into the pot. It will steam and bubble. Using your wooden spoon, gently scrape the pot's bottom, lifting any delicious browned bits that stuck earlier.
Let the wine bubble away, and as it does, its strong alcohol smell will mellow out. In about 4-5 minutes, you should see the wine has reduced to about half its original amount.
Now, welcome back the browned pork heart pieces into the pot. Pour in the beef broth, which will add depth to your dish. For an aromatic touch, drop in the bay leaf and sprinkle in the thyme. Mix everything together gently with the spoon.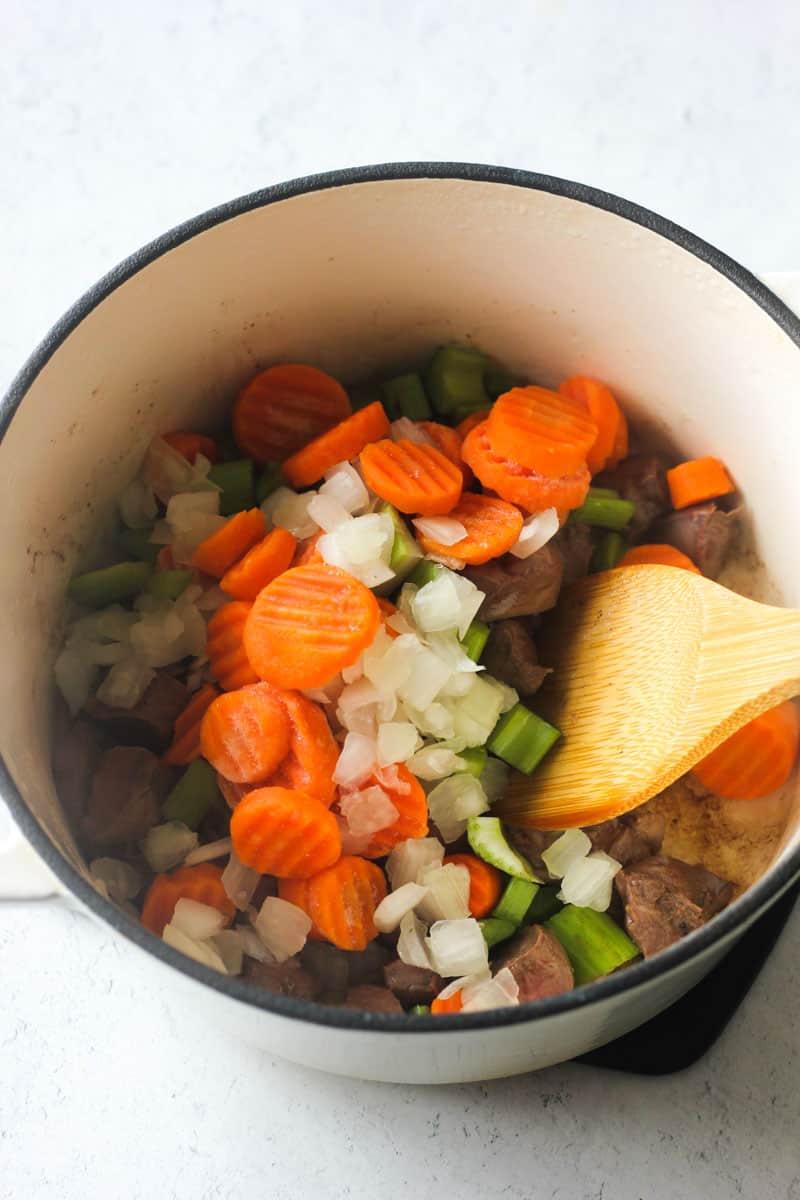 Finally, cover your pot with its lid, turn the stove down to a low setting, and let everything simmer together. The wait is worth it!
Over the next 2 to 3 hours, the pork heart will become incredibly tender, soaking up all the flavors in the pot. Peek occasionally to see if everything's okay. When the pork heart is soft and easy to break apart with a fork, your dish is ready to be served.
Frequently asked question
Is pork heart good to eat?
Yes, the heart is a great piece of meat to eat. When cooked properly in this pork heart recipe it's wonderfully tender and flavorful, and makes a great protein for large-batch meals like stews and soups.
How much is pork heart?
Depending on your location and the source of the pig, you can expect to pay anywhere from $3-6 per pound. The average weight of a heart is 1-2 lbs, which will serve approximately 2-3 people.
Where to buy pig heart?
Some major chain grocery stores carry pork heart in the meat section. You might consider calling ahead to see if it is available there, or inquire with a local butcher at a specialty store.

Pig hearts can also be purchased online and delivered frozen right to your door.
What is the taste of pork heart?
The flavor is more like beef than what you think of when you hear "pork" … It is not at all like pork chops, ham, or bacon. Instead the braised heart has a deep umami flavor similar to beef stew. Cooking the meat over low heat for several hours makes it melt-in-your-mouth tender!
Is pork heart good for you?
Pig hearts are quite nutritious and healthy. They are a low calorie and low fat food, but pack a whole lot of protein per serving. Pork heart is also an excellent source of vitamins and minerals like B vitamins, iron, and thiamin. Read more pork heart nutritional facts here.

To note, offal (organ) meat does typically container higher levels of cholesterol compared to other cuts.
Is pig heart tender?
Absolutely! We first sear the heart to lock in the juices, then simmer over low heat in an irresistible combination of beef broth and red wine. Braising pork hearts keeps the meat from drying out or becoming rubbery, so each bite is fork-tender and flavorful.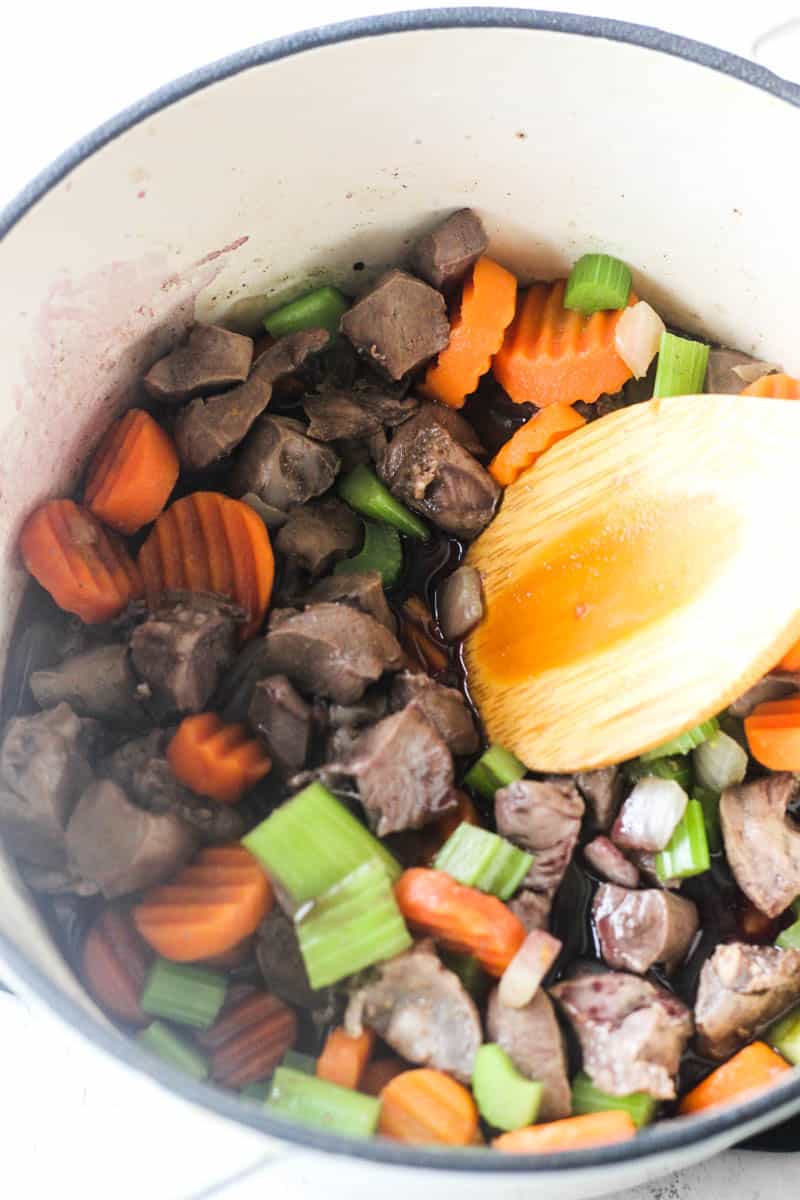 Serving suggestions
Mashed Potatoes: Creamy and rich, mashed potatoes will soak up the delicious sauce of the stew.
Polenta: Soft or grilled, polenta is a comforting addition that pairs well with hearty stews. Delicious with this pork heart recipe!
Rice: Whether it's plain steamed, brown, or a pilaf, rice can be a neutral base to balance the rich flavors.
Bread: A crusty loaf of bread, baguette, or even cornbread can be used to scoop up the sauce.
Expert tips
When adding the wine, make sure to thoroughly scrape the pot's bottom. Those browned bits are packed with flavor and will enrich the dish.
While beef broth is recommended, you can also consider using chicken or vegetable broth. Each brings a unique flavor to the dish.
The longer you let the pork heart simmer, the more tender it will become. However, keep an eye on the liquid level. If it reduces too much, you might need to add more broth or water to prevent it from drying out.
Choose a good quality red wine that you would enjoy drinking. The wine's flavor will concentrate as it cooks, so a good wine can make a difference in the end result.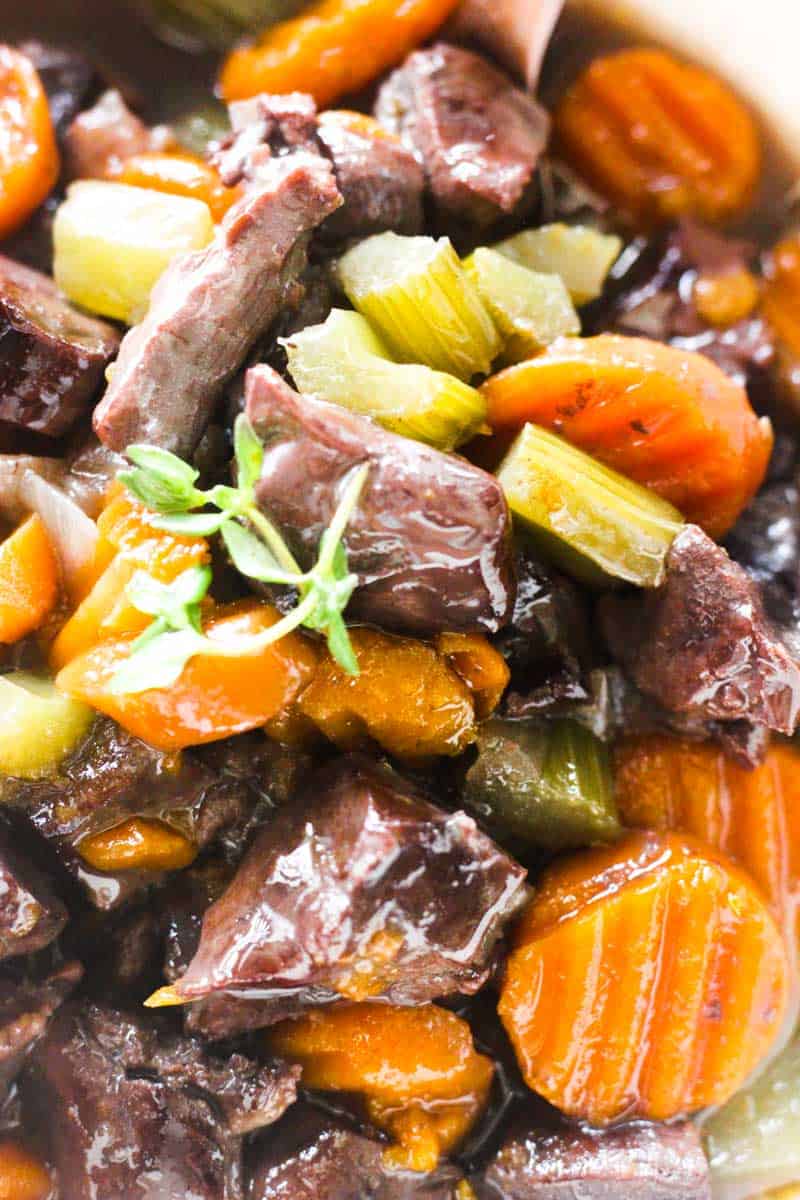 Leftovers
Store leftover pork heart stew in an airtight container in the refrigerator for 3-4 days or freeze for up to 3 months. To repurpose, consider using the stew as a pie filling, in tacos, with pasta, or in rice bowls.
When reheating, ensure it reaches 165°F and adjust seasoning if needed. Leftover stew often has richer flavors the next day.
More offal recipes
Hope you will like this braised pork heart recipe as much as we did. Rate the recipe if you made it and leave a comment below if you have any questions or suggestions.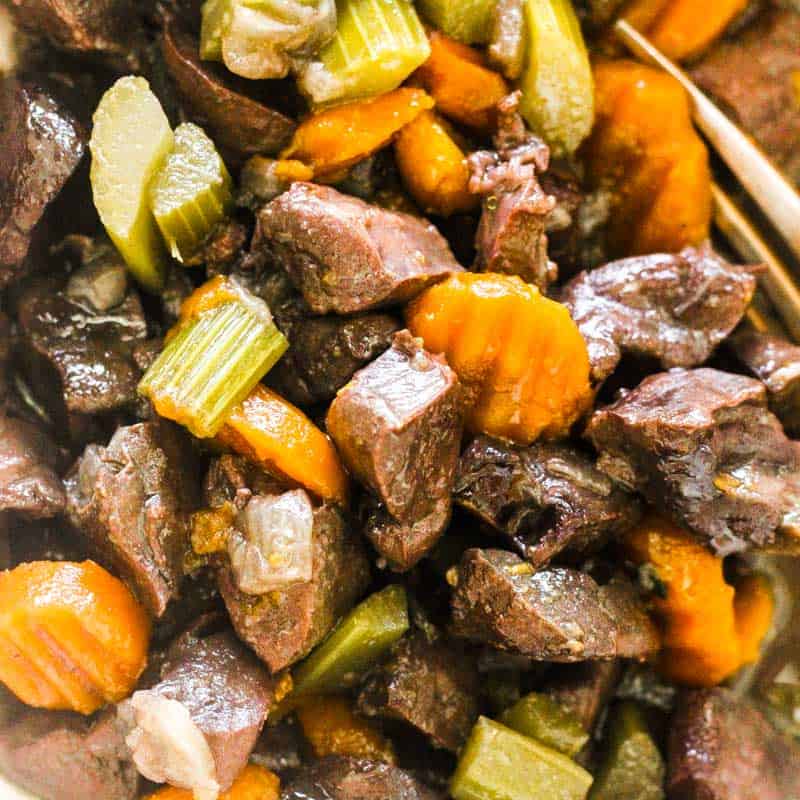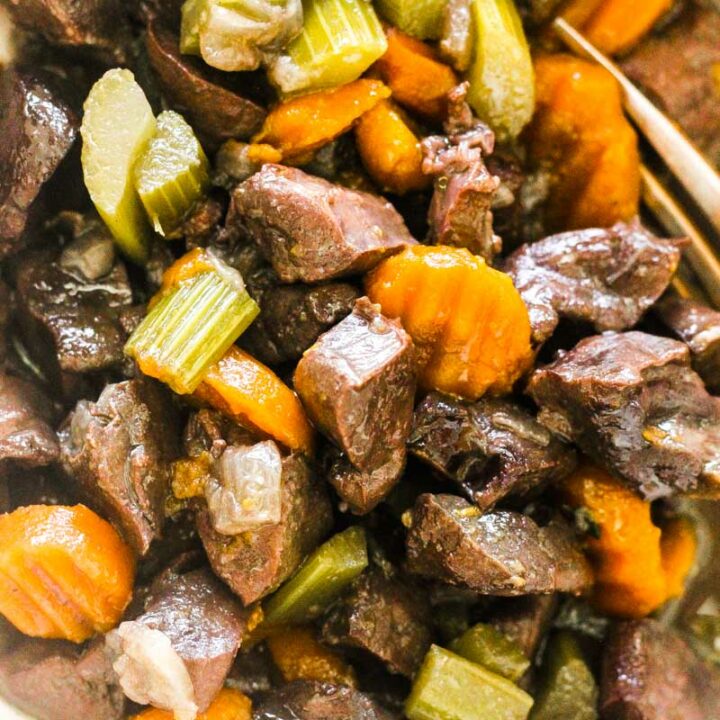 Braised Pork Heart Recipe
Total Time:
3 hours
5 minutes
In this easy braised pork heart recipe we cook a pig heart low and slow on the stovetop with red wine, beef broth, and classic comfort food seasonings. The result is a robust dish with a sauce that's delicious to enjoy with your favorite starchy sides.
Ingredients
1 pork heart
2 tablespoons vegetable oil
1 onion, chopped
2 cloves garlic, minced
1 carrot, chopped
2 celery stalks, chopped
½ cup red wine
2 cups beef broth
1 bay leaf
A few sprigs of thyme
Salt and pepper to taste
Instructions
Clean the pork heart by removing any fat and connective tissue, and cutting out the top and bottom areas of the heart. Rinse it well. Cut in smaller pieces. Season with salt and pepper.
Heat the vegetable oil in a Dutch oven or large pot over medium-high heat. Add the pork heart to the pot and brown on all sides. This should take about 10 minutes. Once browned, remove the pork heart and set aside.
In the same pot, add the chopped onion, garlic, carrot, and celery. Cook until the onion becomes translucent and the vegetables start to soften, about 5 minutes.
Add the red wine to the pot, scraping the bottom to loosen any browned bits. Allow the wine to simmer for a few minutes until it reduces by about half.
Return the pork heart to the pot. Add the beef broth, bay leaf, and thyme.
Cover the pot and reduce the heat to low. Let it simmer for about 2-3 hours, until the meat is tender.
Nutrition Information:
Yield:

3
Serving Size:

1
Amount Per Serving:
Calories:

223
Total Fat:

12g
Saturated Fat:

2g
Trans Fat:

0g
Unsaturated Fat:

9g
Cholesterol:

107mg
Sodium:

744mg
Carbohydrates:

7g
Fiber:

1g
Sugar:

3g
Protein:

14g