Pan fried barramundi with pesto is an amazing healthy dinner for every fish lover. Topped with seared cherry tomatoes and cilantro, this barramundi recipe will empress you with its full flavor.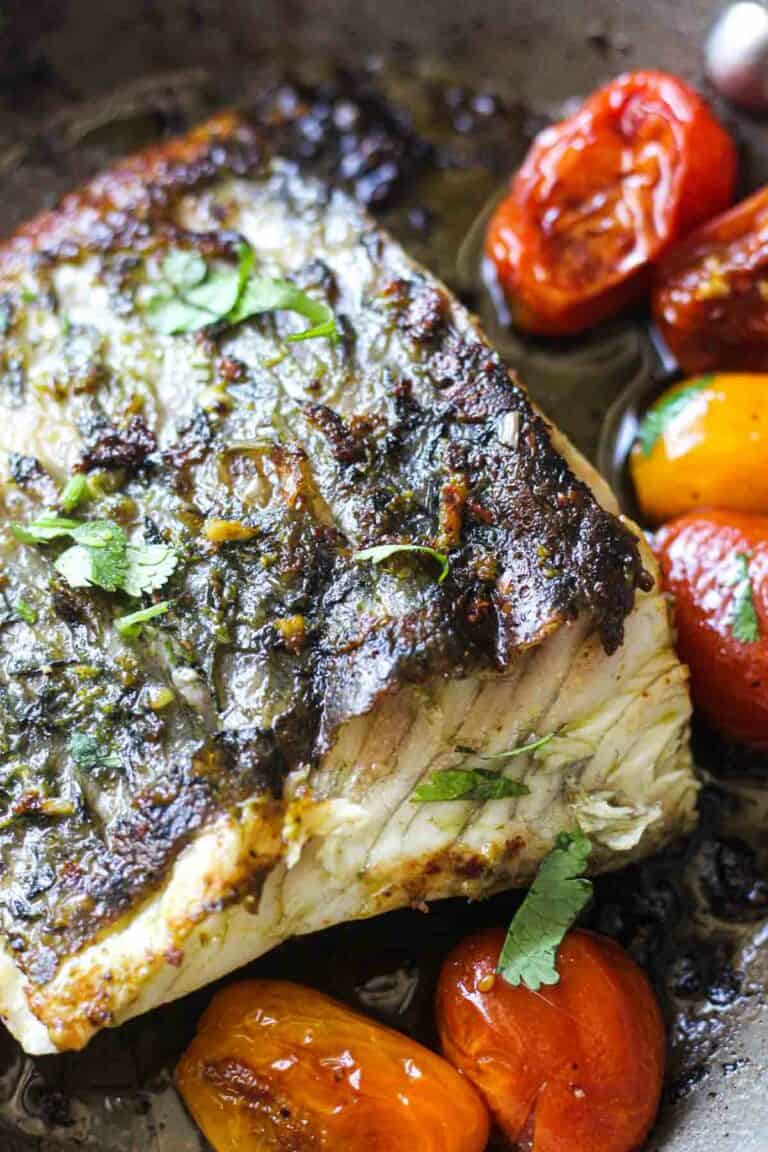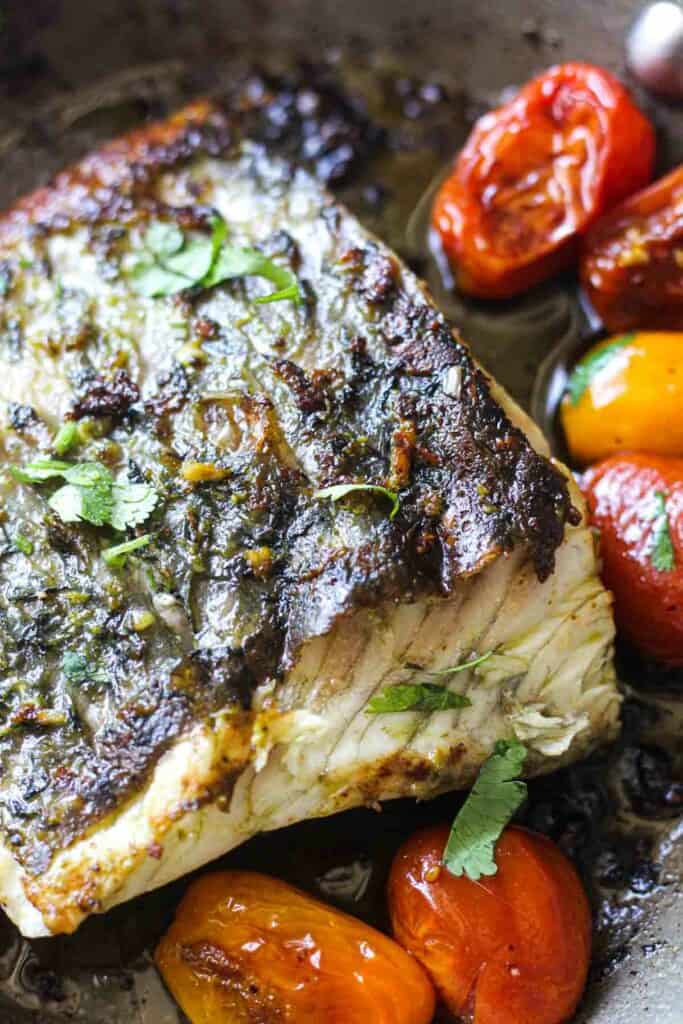 Barramundi has a mild flavor and can be used in many recipes. Pan frying or baking are my absolute favorites! Fish comes out so tender and the flavor is always amazing.
How to make pan fried barramundi recipe
You can use any skillet for this recipe. Cast iron if you have it or just about any other skillet will work.
Rinse fish under cold running water. I used fillets so i didn't need to descale or clean the fish inside. Portion is 4 oz and is more than enough for one person to eat at once.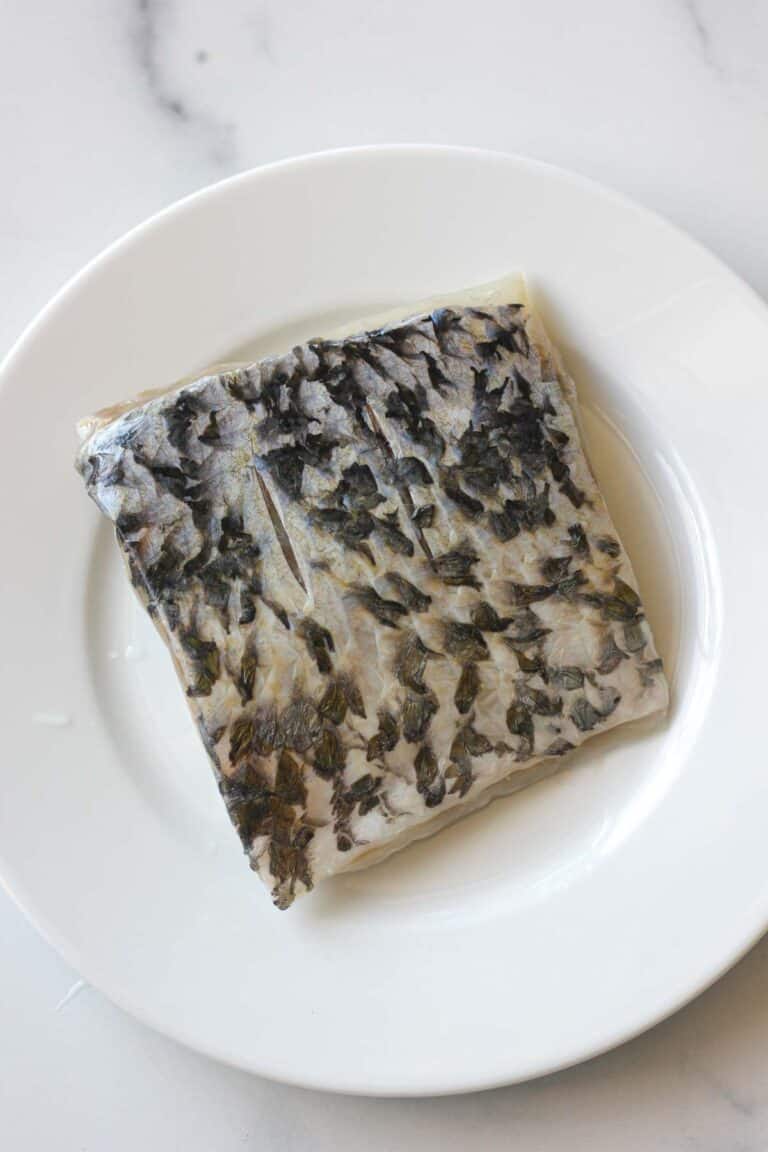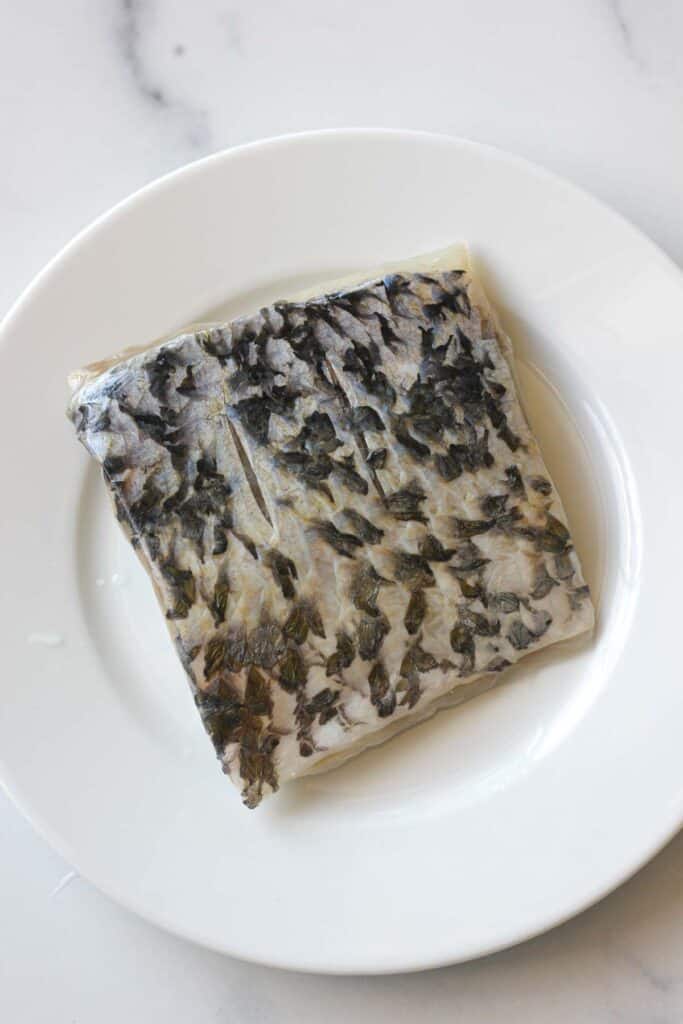 Barramundi skin is edible. Ii will become really crispy if you will dry it with paper towels very well before cooking. And don't move fillets around the pan during cooking.
Start with heating butter in the pan. Add pesto sauce and heat over medium heat for 1 minute, stirring. Now its time to add your fish. Make sure its clean and rinsed with cold water. Fillet also has to be dry so pat dry it with paper towels.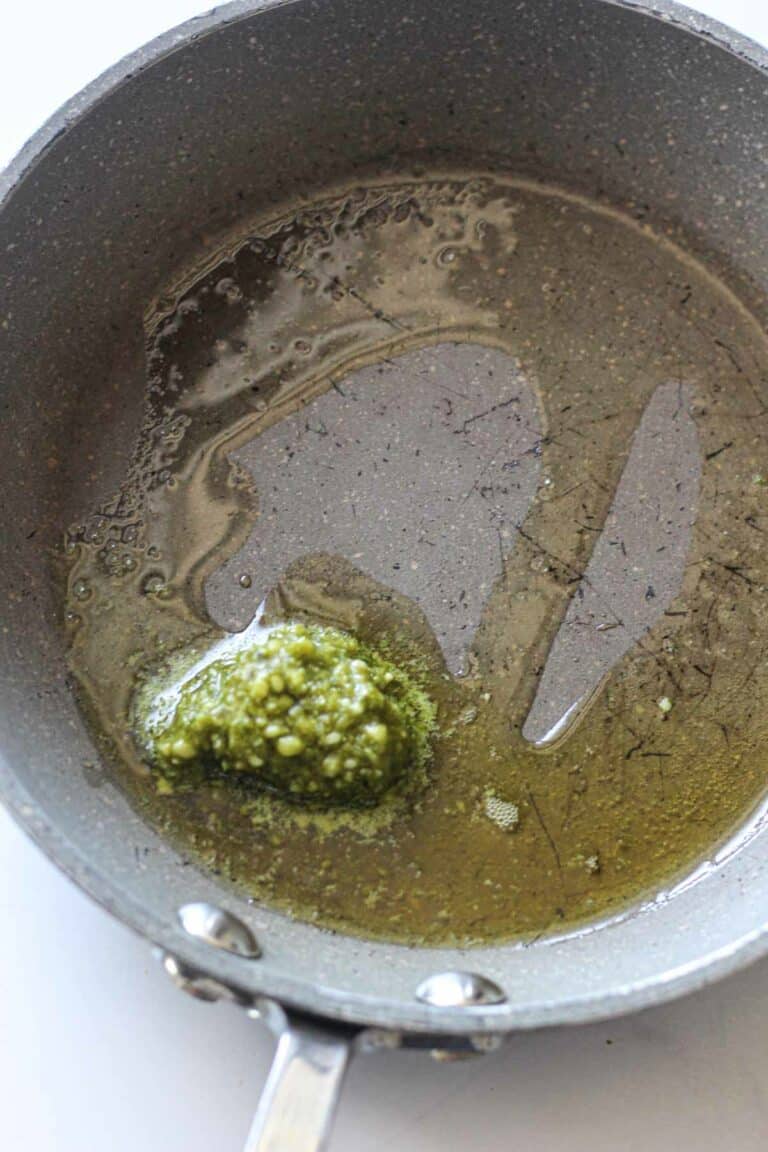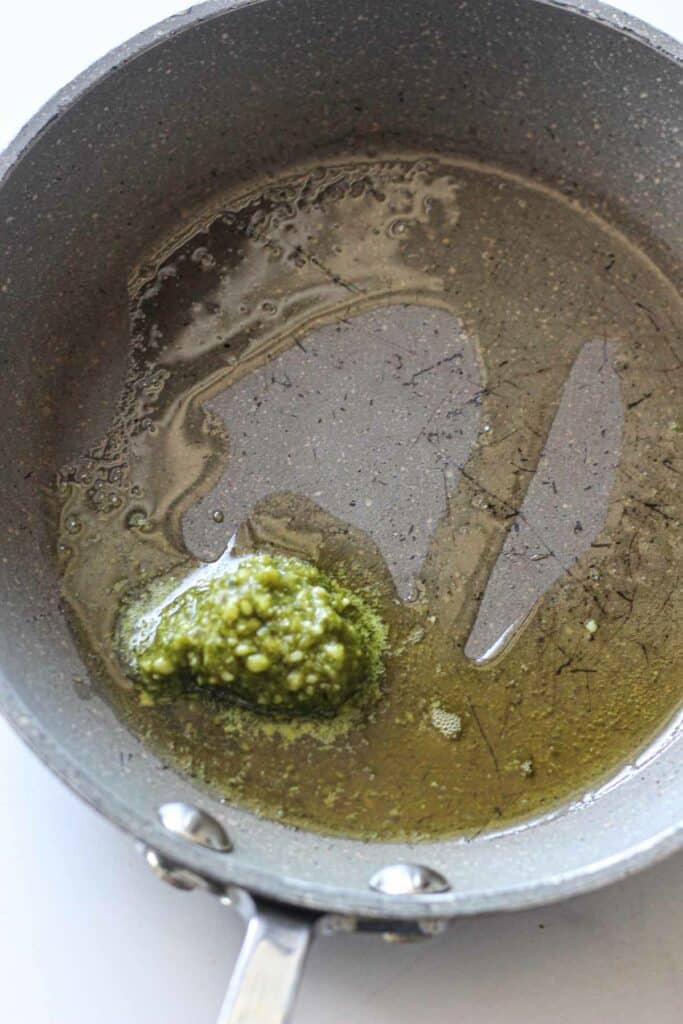 Add fish to the pan. Add cherry tomatoes at the same time. Cook fish for about 3 minutes on each side. Don't move it around while cooking. Baste fish with pesto butter sauce every other minute.
Cherry tomatoes will get soft and delicious too! Serve fish with pesto sauce in top and tomatoes on the side.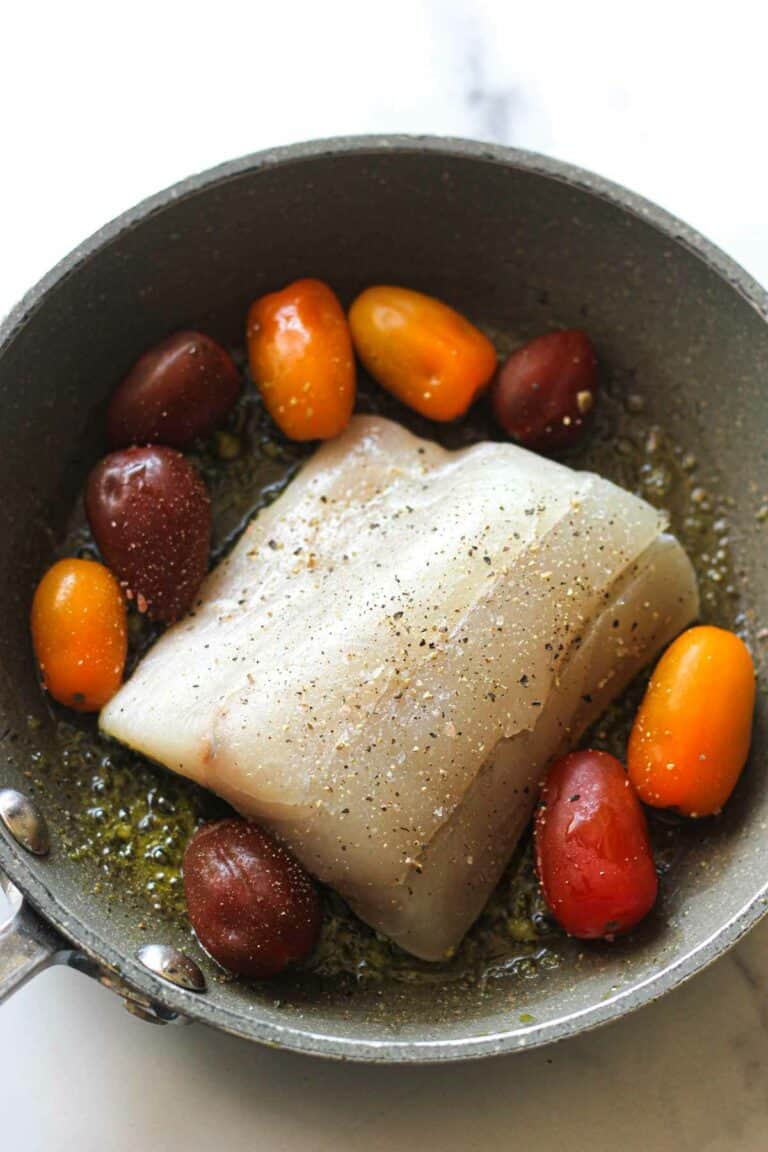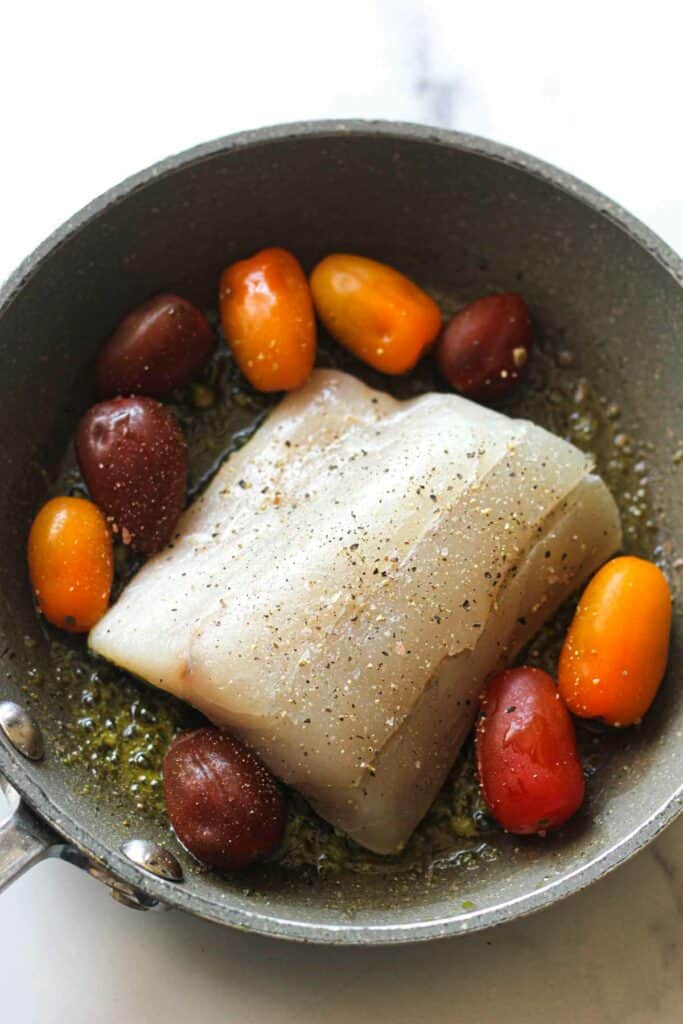 What does barramundi taste like
The fish has a very meaty texture and mild flavor. Its buttery and very clean at the same time. Fish should not have a fishy taste when fresh.
Is it a good fish to eat
Fish is full of Omega 3 fatty acids, selenium, potassium and vitamin A. Barramundi is full of protein too and a healthy fish to eat.
FAQ
Can i used another fish in the recipe? The answer is yes. Try to substitute barramundi to salmon, red snapper or mahi mahi. Halibut or grouper will work amazing with this recipe too.
Should barramundi be cooked through? Just like any other fish pan fried barramundi should be cooked all the way through to kill all the potential bacteria. Use instant thermometer to check the internal temperature in fillet. Poke the thickest part of the fish. The temperature should be at least 145 degrees Fahrenheit.
Is there any other cooking methods? Besides pan frying you can make a delicious baked barramundi. Steamed fish is also a great healthier option or you can grill it.
Is barramundi high in mercury? According to this source, barramundi mercury level varies. It depend on whee the fish was caught. Wild caught fish typically contain larger amounts of mercury due to its diet. Farm raised barramundi has very low level of mercury and is safe to eat.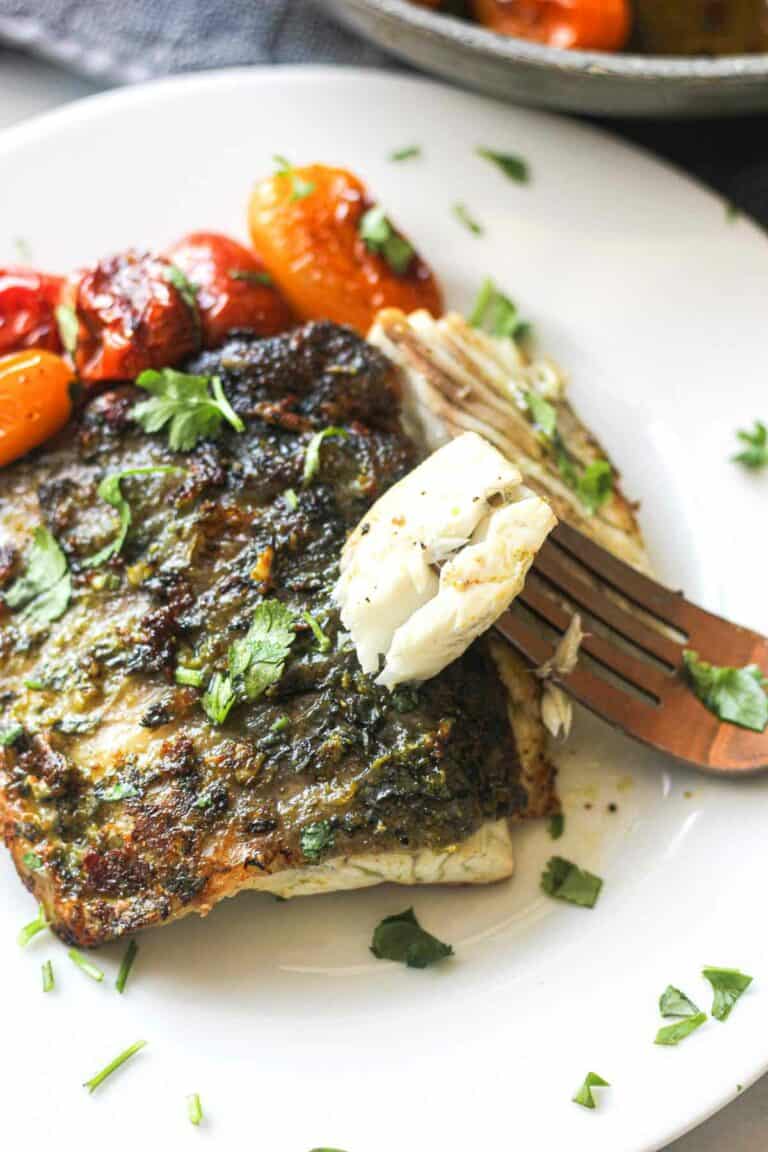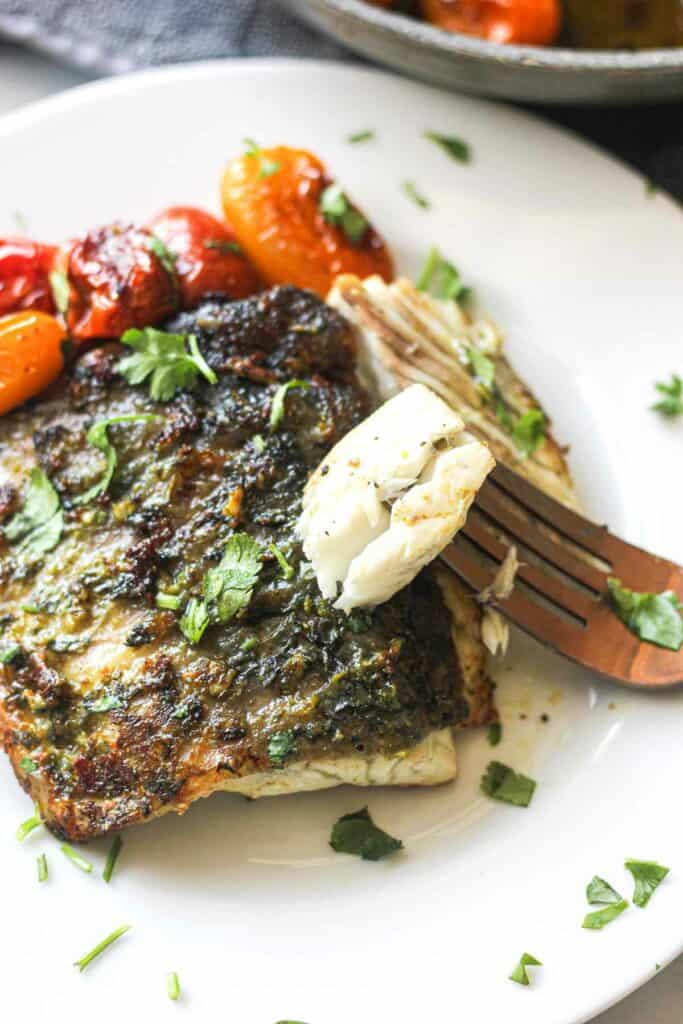 Leftovers
Store leftovers in an air tight container in fridge for up to 4 days. If you don't have containers just cover the plate with foil and place in the fridge. You can use a plastic wrap as well for this task.
I never froze pan seared barramundi so i don't have much advise on that. Usually cooked fish stays well in freezer in a freezer safe container or plastic bag for 4-5 months or longer.
Side dishes
If you will add more vegetables to the pan trust me, you will not need any other sides to complete you lunch or dinner. But if you are using just cherry tomatoes like me, then your pan fried barramundi with most likely need something extra.
A bowl of hot steamy rice is perfect with any kind of fish. Or make creamy mashed white or sweet potatoes. Classic garden salad will keep your dish low carb and low calorie. Chop tomatoes, onions, cucumbers, green onions and bell peppers and drizzle it with olive oil. Mix and serve.
Grilled asparagus or steamed broccoli will definitely taste great with barramundi fillets. Cover vegetables with leftover pesto sauce and enjoy delicious meal.
More seafood recipes
I have a lots of fish and seafood recipes on THETOPMEAL. Here are some of readers most favorite recipes: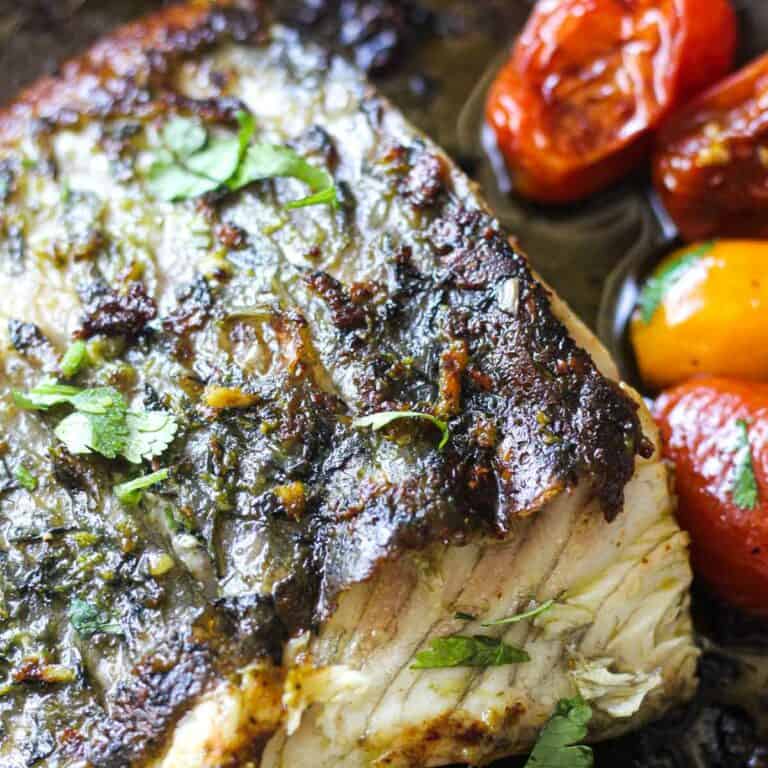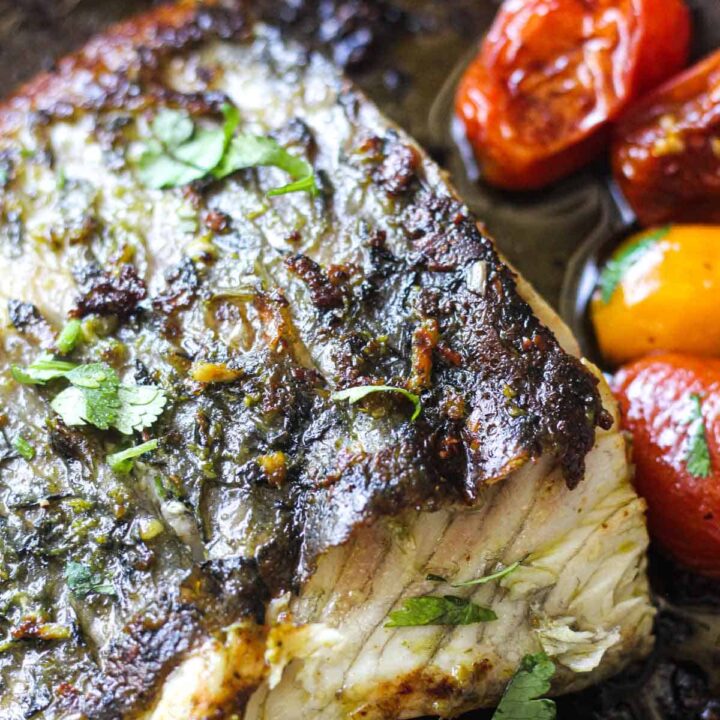 Pan fried barramundi with pesto
Pan fried barramundi with pesto is an amazing healthy dinner for every fish lover. Topped with seared cherry tomatoes and cilantro, this barramundi recipe will empress you with its full flavor.
Ingredients
1 barramundi fillet (4oz)
1 tablespoon pesto
1 teaspoon butter
1 cup cherry tomatoes
salt and pepper to taste
chopped cilantro for garnish
Instructions
Rinse fish and pat dry with paper towels. Season with salt and pepper and set aside.
Heat butter in the pan. Add pesto and stir to combine.
Add barramundi fillet and tomatoes to the mixture. Cook on medium high heat for 3 minutes on each side. Baste with sauce.
Top fillets with chopped cilantro and serve.
Notes
Make sure the skin is completely dry. It will help skin to get crispy.
Add any other vegetables of your choice. Zucchinis or bell peppers will be delicious with pesto sauce.
If you can use fresh barramundi thats the best. If you use frozen fish, defrost it overnight in fridge before cooking.
Use more pesto if you are big pesto lover. It will make dish more oily for sure but also will be more flavorful.
Nutrition Information:
Yield:

1
Serving Size:

1
Amount Per Serving:
Calories:

144
Total Fat:

12g
Saturated Fat:

4g
Trans Fat:

0g
Unsaturated Fat:

7g
Cholesterol:

14mg
Sodium:

415mg
Carbohydrates:

7g
Fiber:

2g
Sugar:

4g
Protein:

3g