Inexpensive Bologna stew is so delicious and very easy to make. You will be surprised how flavorful the stew will come out and how simple this recipe is. Grab your favorite vegetables and let's make a stew!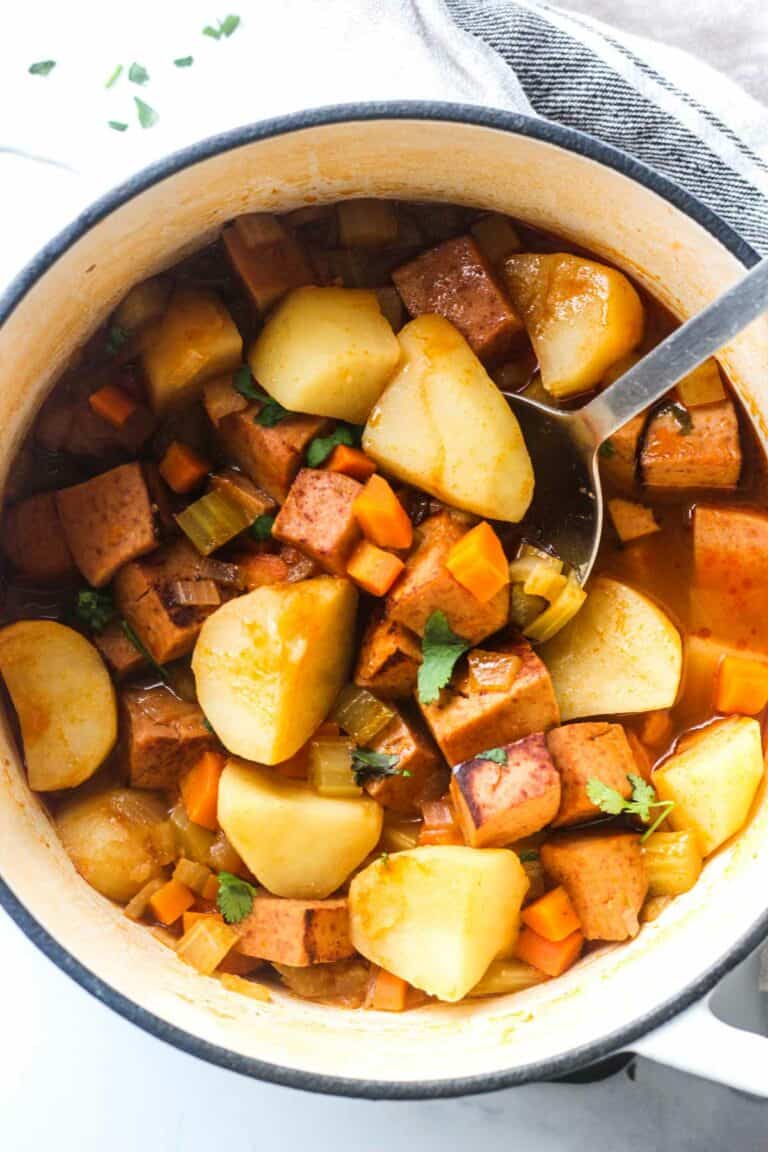 Bologna is that kind of meat that always makes you think about childhood and the old times. If you didn't try my bologna gravy, oh my, you should! Served over biscuits or mashed potatoes, it makes an absolutely amazing dinner.
But today we will be talking about something else, a delicious stew with bologna. It may sound weird for some people but they will change their minds as soon as they will have a chance to try it.
How to make bologna stew
Did you ever make a regular stew? Like beef stew for example? So, the cooking process of bologna stew is not that much different. Well, let's do it step by step.
It's recommended to use a nice big bologna piece from the deli section from your supermarket. That way you can chop it in pieces as thick as you like. I cut my bologna chunk in about 1 inch squares.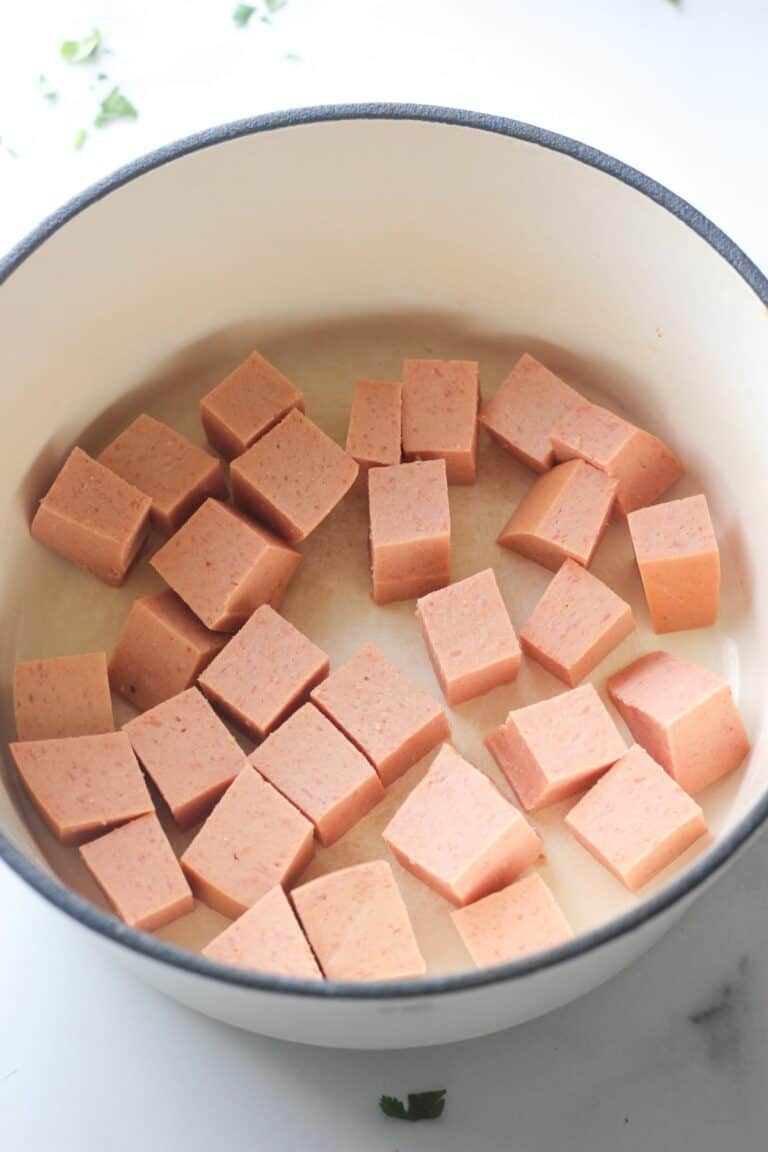 Place bologna in to the pot. Add some oil and brown meat with chopped onion( you can add onion later, that's fine too). Brown for a few minutes, until pieces are well browned and the onion is fragrant.
Peel carrots and potatoes. Cube and add to the pot. Cut potatoes in large pieces, this way they will not get overcooked and turn in to mash. You can use nice baby or fingerling potatoes too. There is no need to peel, just cook them whole. This way they will never get mushy, the peel will protect them from overcooking.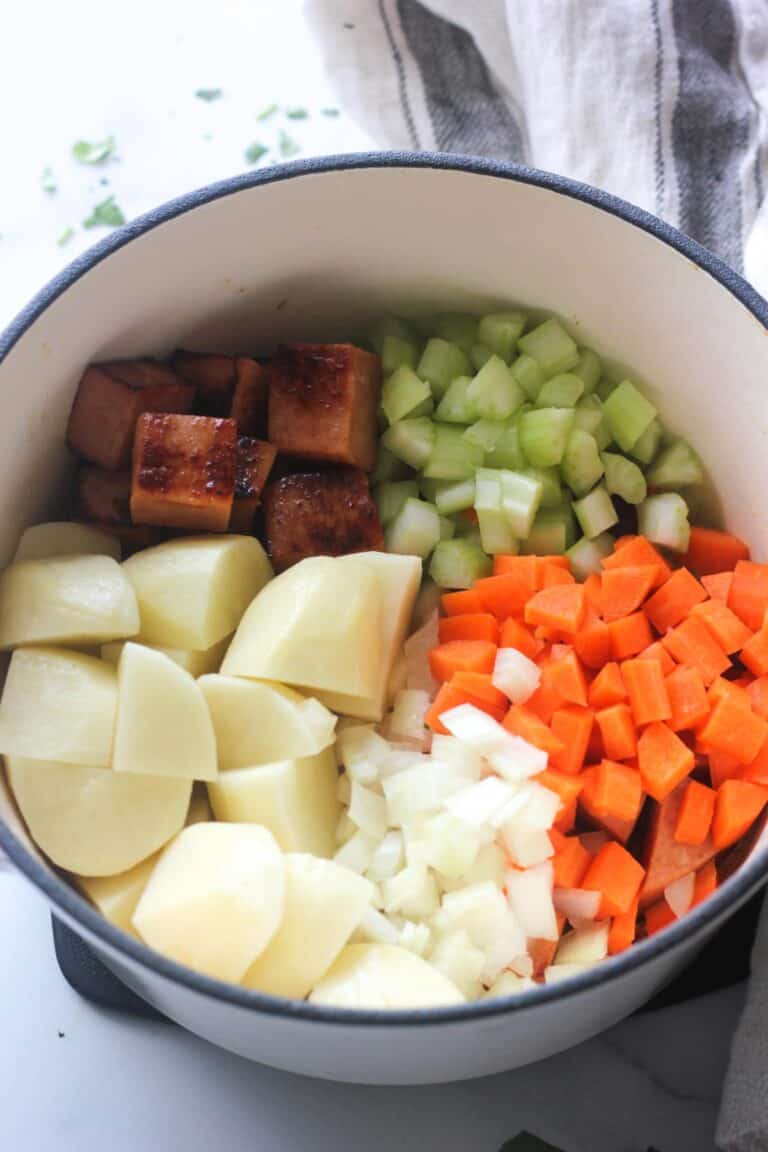 Add your seasoning, water and cook on medium-low for 30 minutes to 45 minutes. The smell that will fill your kitchen will be amazing! If you feel like you need to add more spices, do it. We all have different preferences and taste.
Chop some parsley, cilantro or green onions and add on top before serving. Enjoy in the deep bowl, I like to add hot sauce on top and mix as well.
What bologna to use
I like to use German pork/beef bologna, the one i would use on sandwiches at lunchtime. Its cheaper than beef only bologna and i like how it tastes more. In Russia we have our own bologna called "Doctorskaya kolbasa" which is something between German bologna or Mortadella and regular chicken bologna.
In United States i love to buy bologna from the Deli section of the supermarket or a presliced one from the fridge isle. "Oscar Mayer" is my go to brand for an already sliced bologna for sandwiches. And again, in this bologna stew recipe i used a German bologna from a deli section of my local supermarket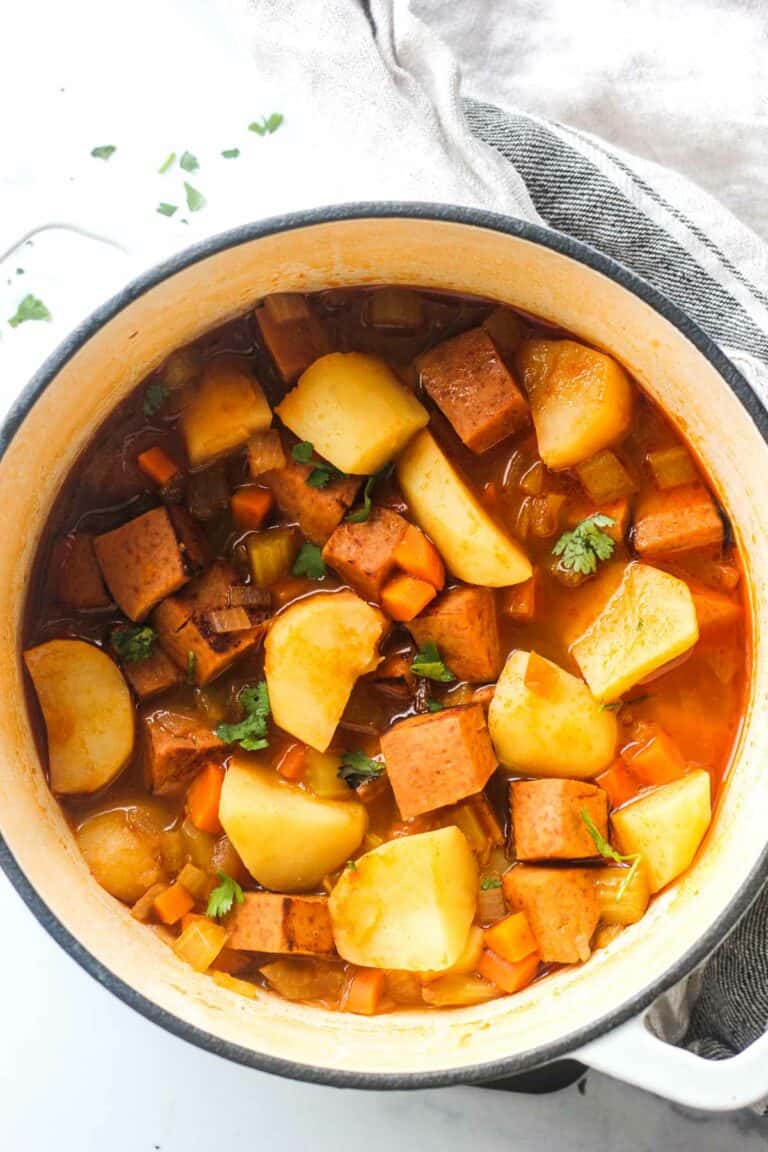 Recipe tips and tricks
Chop bologna in large chunks if you can. All the vegetables (at least potatoes) should be the same size as bologna.
Add chopped cilantro to the bologna stew for aroma and flavor. Sprinkle some in the end of cooking.
I didn't make the stew with sliced bologna but i don't recommend it. Pieces are just too small.
If you like fresh garlic, chop some and add to the pot with onions.
Use a heavy bottom pot if you have it.
Leftovers
You can store leftover bologna stew in the fridge right in the pot. Or transfer leftovers in to plastic or glass containers, store them with lid on in the fridge for up to 5 days. Reheat right in the pot or in the microwave.
Overall this is a very good recipe to use bologna in. The bologna stew is filling, delicious, inexpensive and very easy and quick to make! Ready in under one hour and i am sure your whole family will love it. My children enjoyed the dish and asked for more. They like bologna, no matter what way is it prepared.
You may also like
Hope you like this recipe. Please rate if you made it and leave a comment below if you have any questions.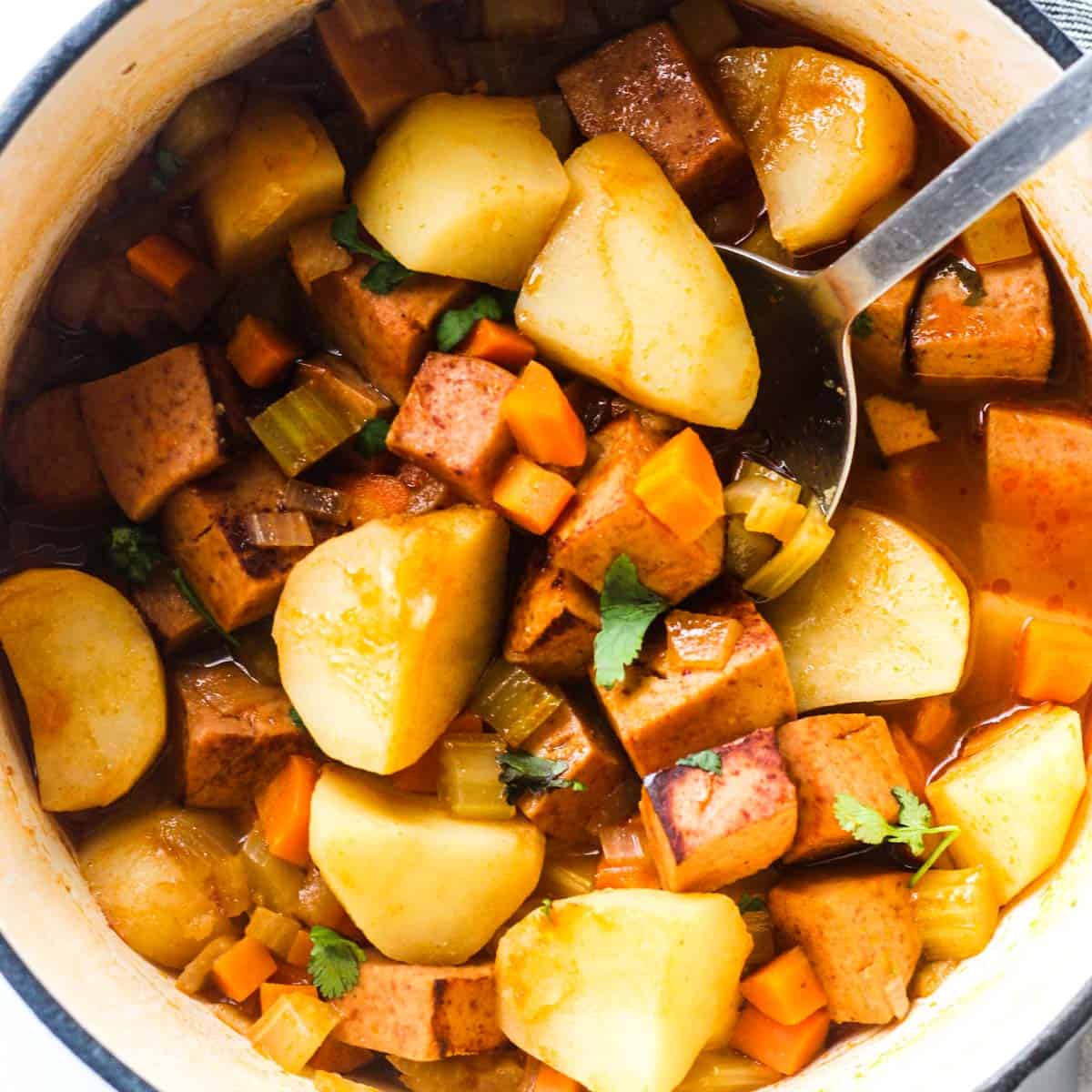 Traditional Bologna Stew
Inexpensive Bologna stew is so delicious and very easy to make. You will be surprised how flavorful the stew will come out and how simple this recipe is. Grab your favorite vegetables and let's make a stew!
Ingredients
1/2 lb bologna
1/2 onion
4 potatoes
2 carrots
3 celery ribs
2 tablespoon ketchup
1 tablespoon Worcestershire sauce
1 tablespoon olive oil
1 1/2 cup water
1 teaspoon salt
2 tablespoon garlic powder
1 teaspoon bouillon
ground black pepper to taste
chopped cilantro
Instructions
Cut bologna in cubes, Heat oil in a medium size pot and brown bologna on each side, about 3-5 minutes total. Add onion and cook until fragrant.
Peel and cut carrots in large pieces, chop celery and peel and cube potatoes, about same size as bologna.
Add water, seasonings and cook stew on medium heat, covered for 30 minutes to 45 minutes ( don't let your potatoes get mushy).
Stir, top with chopped cilantro and serve.
Notes
Chop bologna in large chunks if you can. All the vegetables (at least potatoes) should be the same size as bologna.
Add chopped cilantro to the bologna stew for aroma and flavor. Sprinkle some in the end of cooking.
I didn't try to make the stew with sliced bologna but i don't recommend it. Pieces are just too small.
If you like fresh garlic, chop some and add to the pot with onions.
Use a heavy bottom pan if you have it
Nutrition Information:
Yield:

4
Serving Size:

1
Amount Per Serving:
Calories:

414
Total Fat:

18g
Saturated Fat:

6g
Trans Fat:

0g
Unsaturated Fat:

10g
Cholesterol:

34mg
Sodium:

1370mg
Carbohydrates:

51g
Fiber:

6g
Sugar:

9g
Protein:

15g