Learn how to cook juicy air fryer duck breast in less then 20 minutes. Crispy skin and tender meat every single time!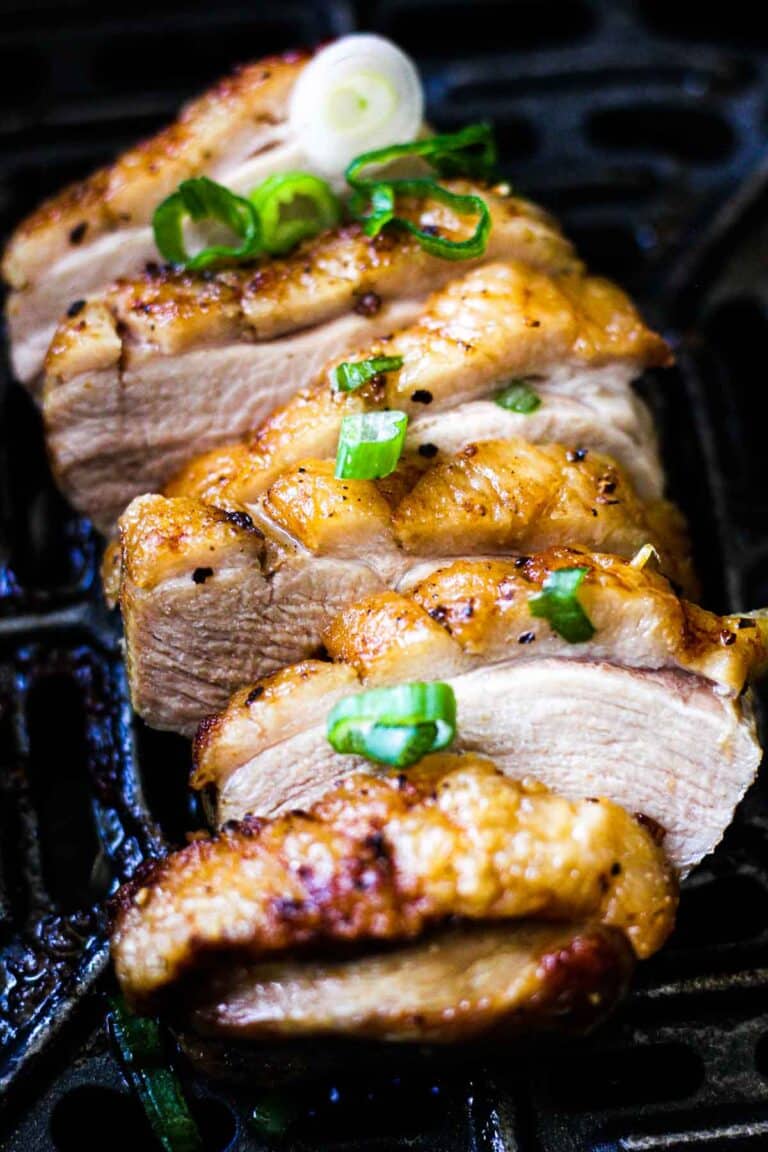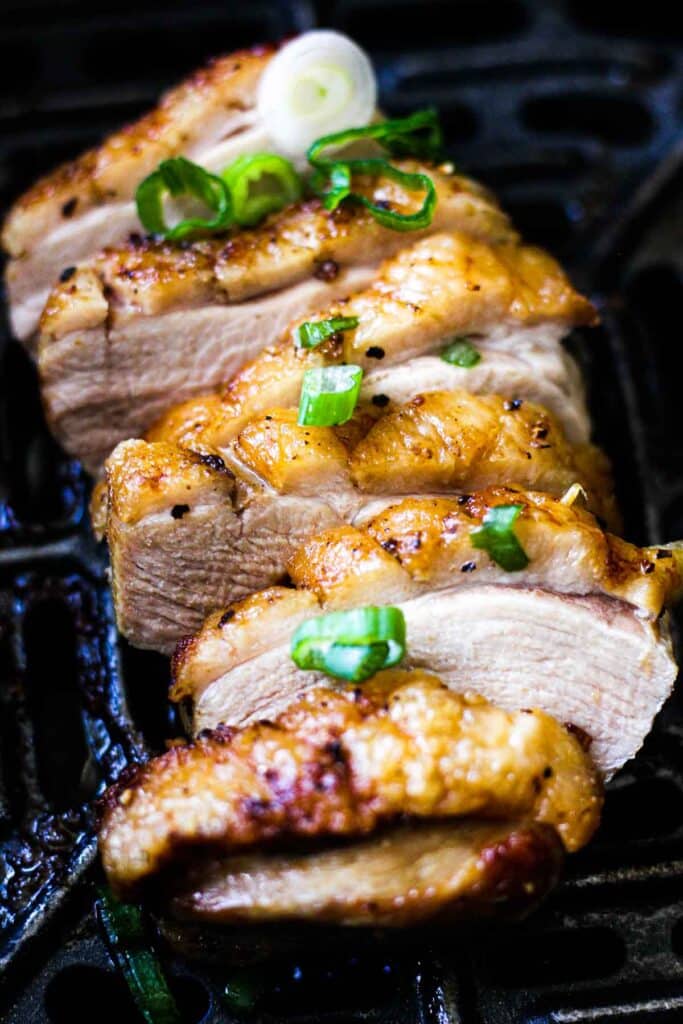 We don't eat duck very often but when where are getting tired of chicken breast, duck breast is getting out of the freezer!
I never tried to cook duck breast from frozen so my instructions are for the thawed meat. Let me know in the comments if you successfully cooked it from frozen!
Where to buy duck breast
I have a hard time finding fresh, never frozen duck breast in my town. Asian markets might have fresh meat in the fridge isle so you should try to to find it there.
I usually get frozen duck or duck breast from my local Raley's or Winco. Its vacuum sealed and ready to be thawed and cooked at any time. See the picture below.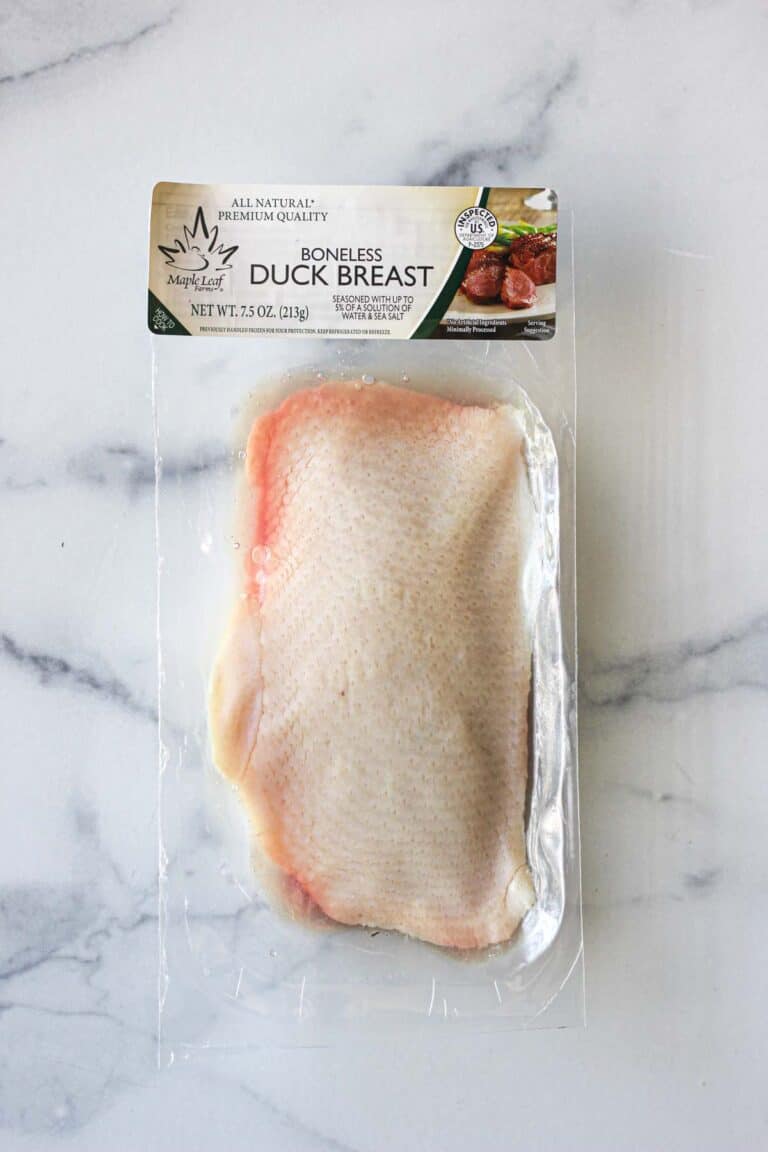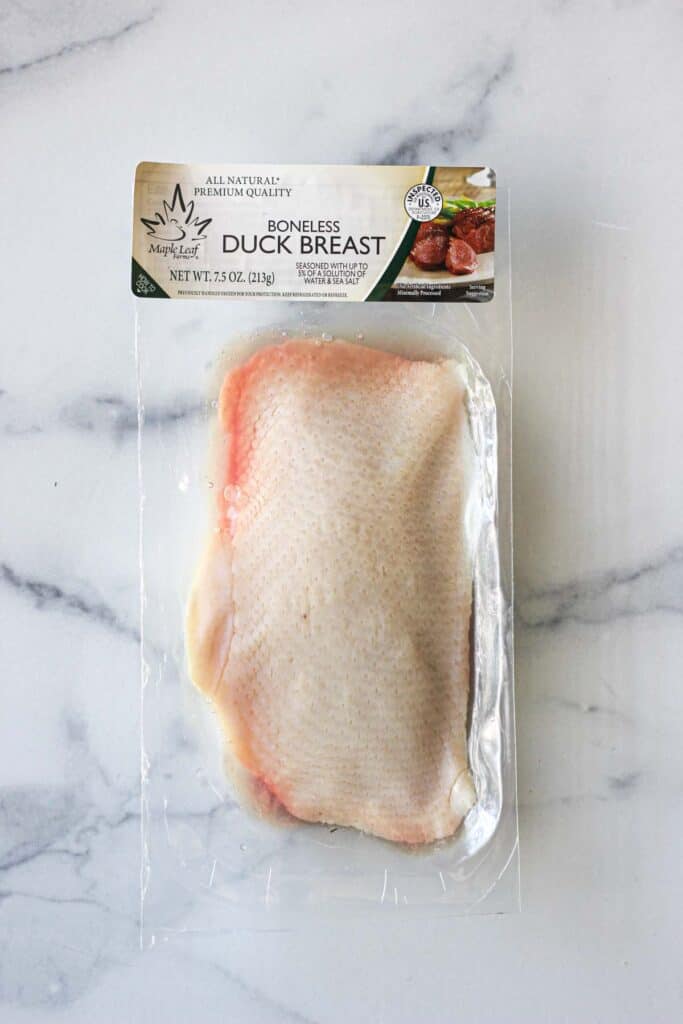 How to cook duck breast in air fryer
Its very easy and quick to make a perfect duck breast using your air fryer. Here are step you need to take:
First rinse meat under the running cold water. Pat dry it after with paper towels. Its important for the skin to be dry because it will help get it crispy. Moisture prevent skin from being crispy. Also with a very sharp knife slice the skin in a diamond pattern. Try not to cut the meat.
You can make a marinade and let the breast sit in it for 30 minutes. Some garlic will be nice along with olive oil, salt, pepper and Worcestershire sauce. I didn't use any marinade in this recipe simply because i don't like to overpower the flavor of the duck. My husband prefers it with marinade.
Place duck breast in the air fryer basket and cook on 400 degrees for about 15 minutes. It doesn't matter if you place the breast skin down or up, air fryer cooks it evenly on all sides. Don't overcrowd the basket, 2 breasts at a time maximum.
15 minutes after start checking the internal temperature. I like my duck to be well done so i cooked until it reaches 165 degrees. It was another 4-5 minutes. If you like it medium rare pull the breast out at 135 degrees.
Slice it and serve as is or with a drizzle of plum or hoisin sauce. Add some sliced scallions on top and enjoy!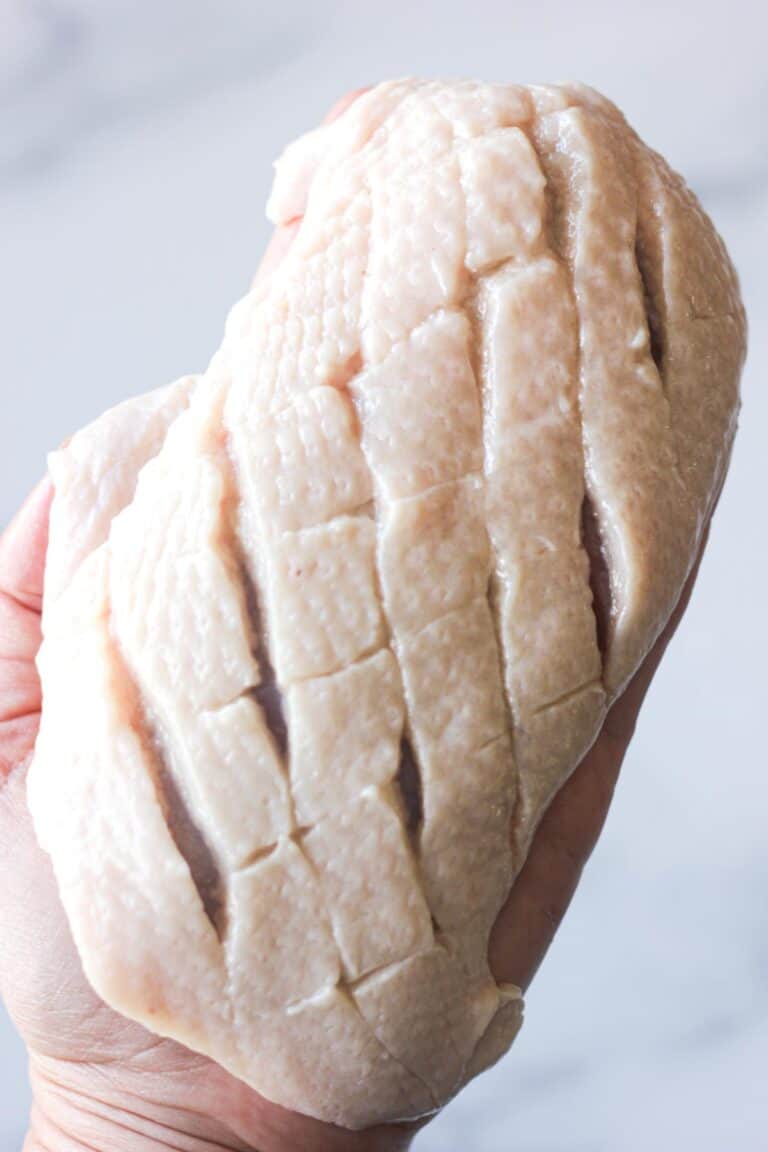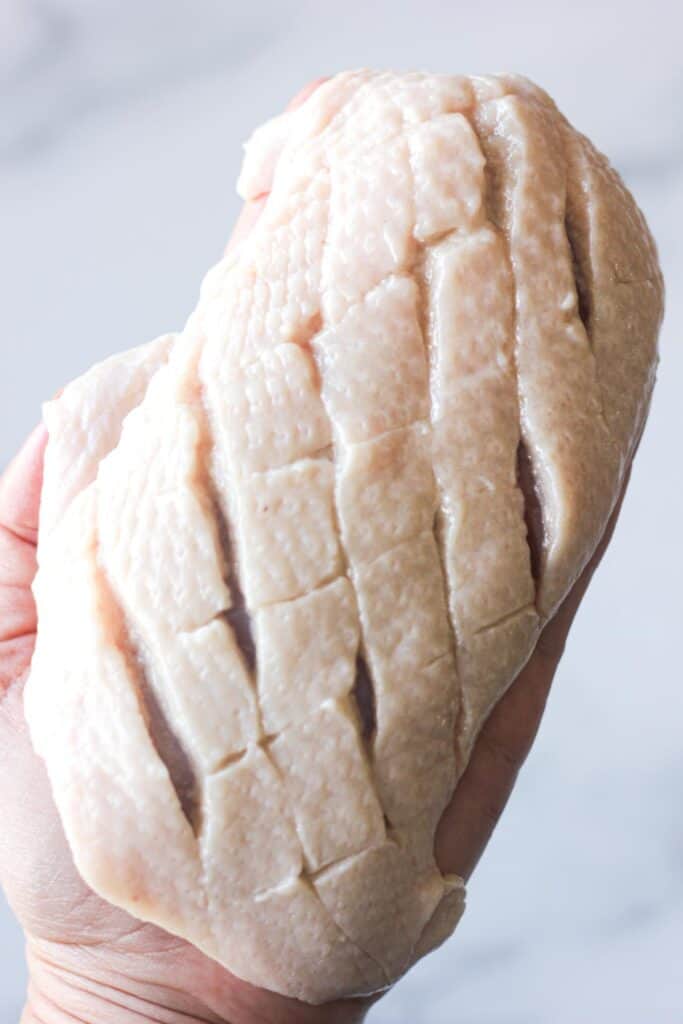 Show your knife skills when slicing the skin! Mine are not that great but i tried my best. Be careful with the sharp knife.
What goes well with duck breast
Duck goes really well with roasted vegetables and fresh salads. Try to top it with caramelized onions and serve it over rice. I tried roasted duck breast with sweet potato mash one time and fell in love! Generally duck goes well sweet or spicy sides.
Cabbage is delicious with the duck too. Potatoes prepared your favorite way will accompany juicy duck meat so well. So many choices!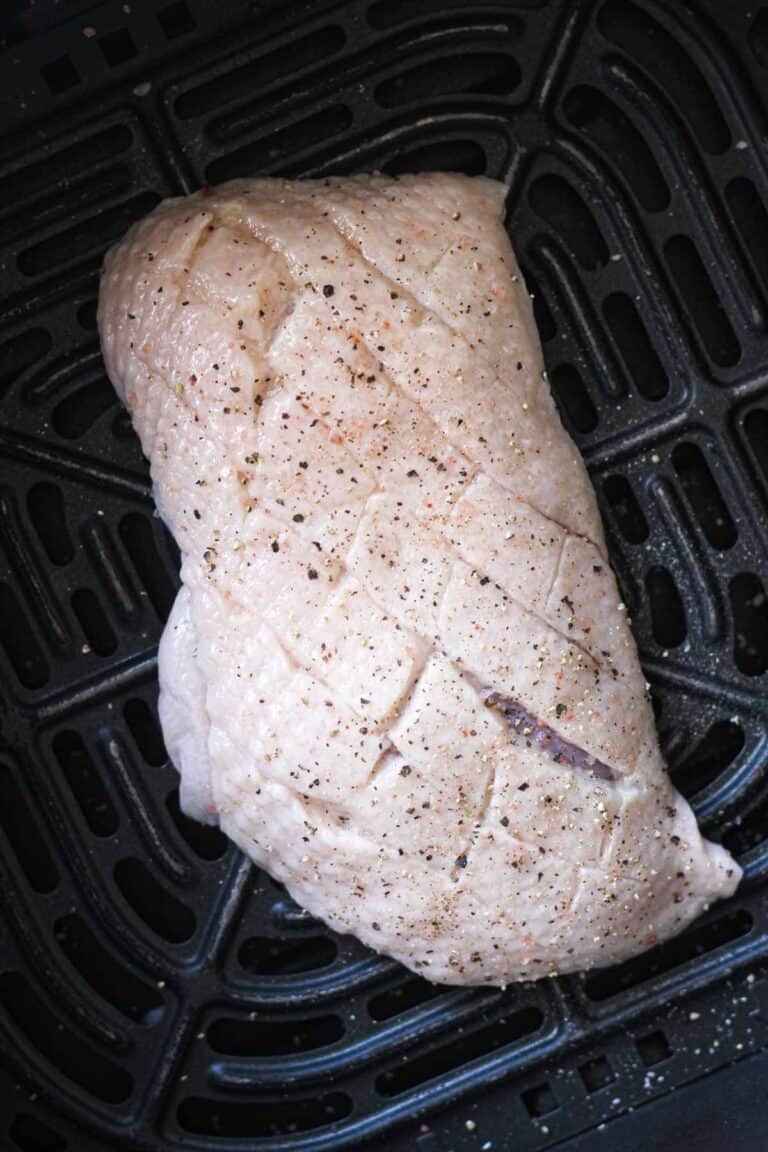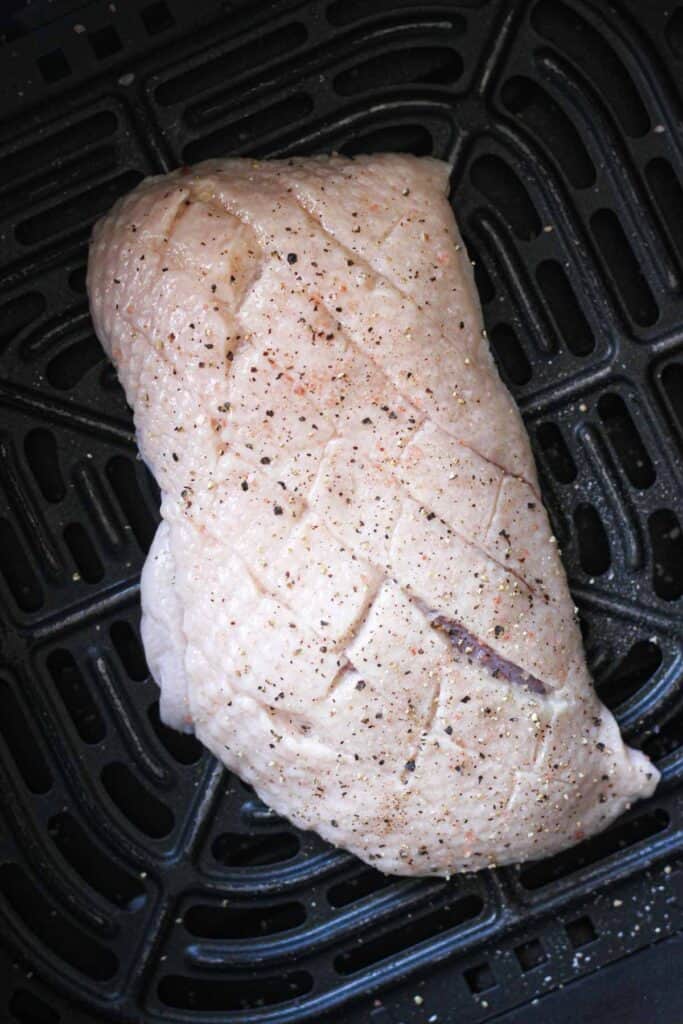 What does duck taste like
If you think that duck tastes like any other poultry you tried before, well, its not like that. I doesn't taste like chicken and turkey.
Duck has unique flavor, very juicy red meat like texture and strong full flavor. I don't like to overpower it with spices and seasoning that's why i only used salt and pepper in this recipe.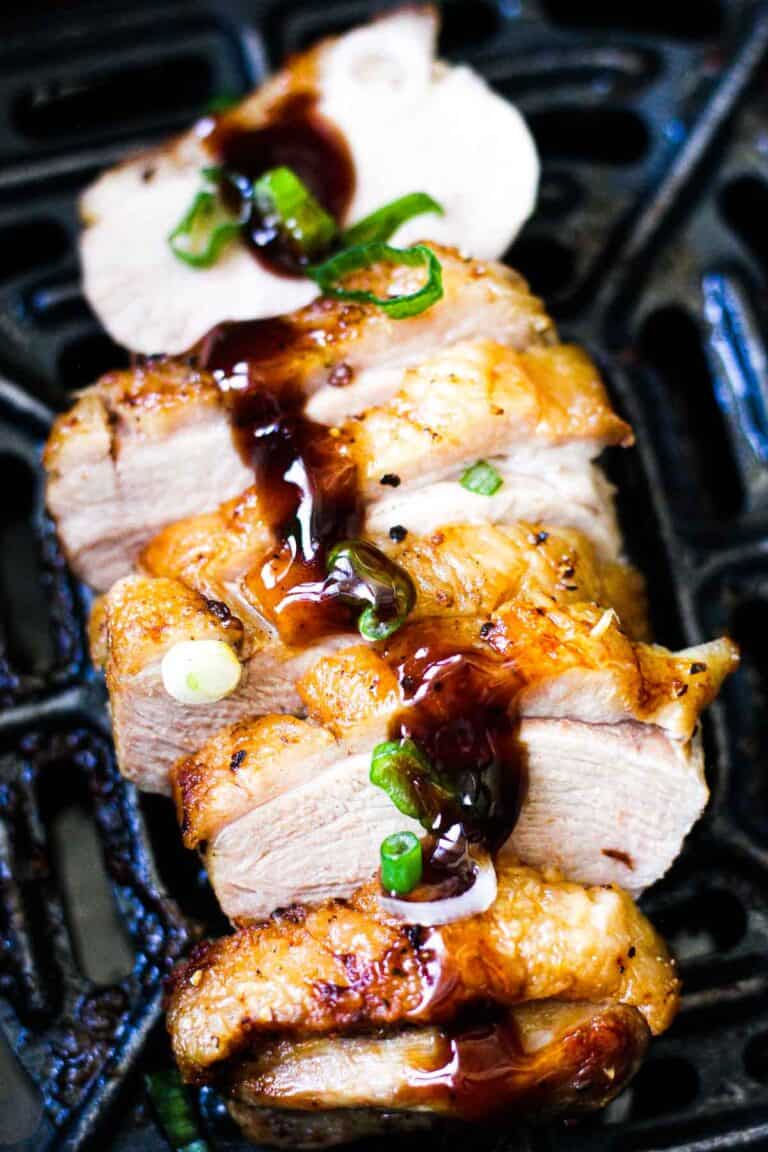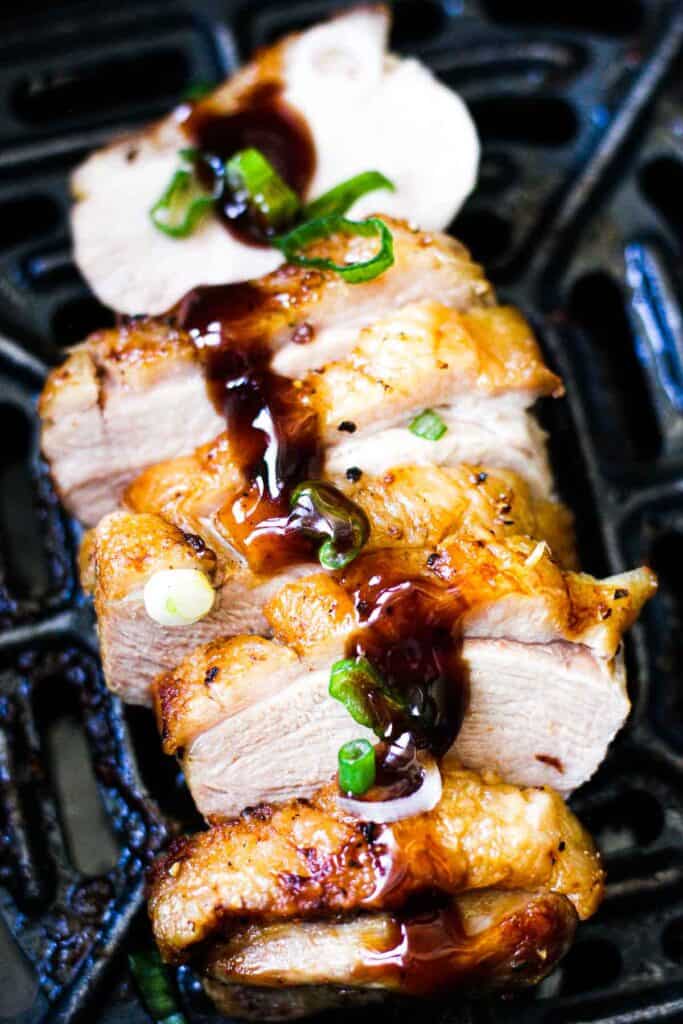 More air fryer recipes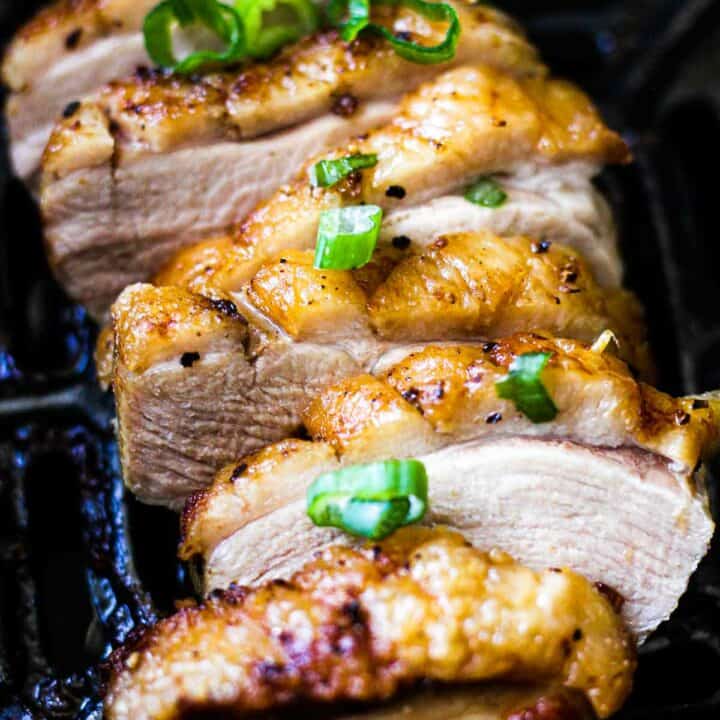 Juicy air fryer duck breast (crispy skin!)
Learn how to cook juicy air fryer duck breast in less then 20 minutes. Crispy skin every single time!
Ingredients
½ duck breast
salt and pepper
plum sauce
green onions
Instructions
Start with rinsing the duck and drying it with paper towels. Make sure the skin is dry.
Using a very sharp knife slice the skin in a diamond pattern. Try not to touch the meat, slice only the skin.
Sprinkle with salt and freshly ground pepper. Place the breast in the air fryer and cook at 400 degrees for 15-20 minutes. Start checking the inner temperature at around 15 minutes. The duck is done when th thermometer reads 165 degrees inside.
Once cooked, slice the breast and sprinkle with chopped green onions. If you like plum sauce, drizzle a bit on top or dip duck pieces in it. Enjoy!
Notes
Make sure the duck breast is completely dry before air frying it. Its very important if you want the duck skin to be crispy.
I tried to cook the breast at lower temperature but the skin was not getting crispy.
I prefer to eat a well don't duck breast so i wait until the inner temperature is at least 165 degrees.The meat is still super juicy and tender if you don't let it overcook.
No need to spray air fryer basket with oil. Duck breast has enough fat in it that will be released during cooking.
Nutrition Information:
Yield:

1
Serving Size:

1
Amount Per Serving:
Calories:

283
Total Fat:

13g
Saturated Fat:

4g
Trans Fat:

0g
Unsaturated Fat:

9g
Cholesterol:

163mg
Sodium:

501mg
Carbohydrates:

9g
Fiber:

1g
Sugar:

0g
Protein:

30g