Duck fajitas are delicious, flavorful and super easy duck breast recipe to make. Change your traditional fajita game and use juicy duck breast instead of chicken! Serve on a warm tortilla or right in the plate and enjoy with a squeeze of fresh lime and chopped cilantro.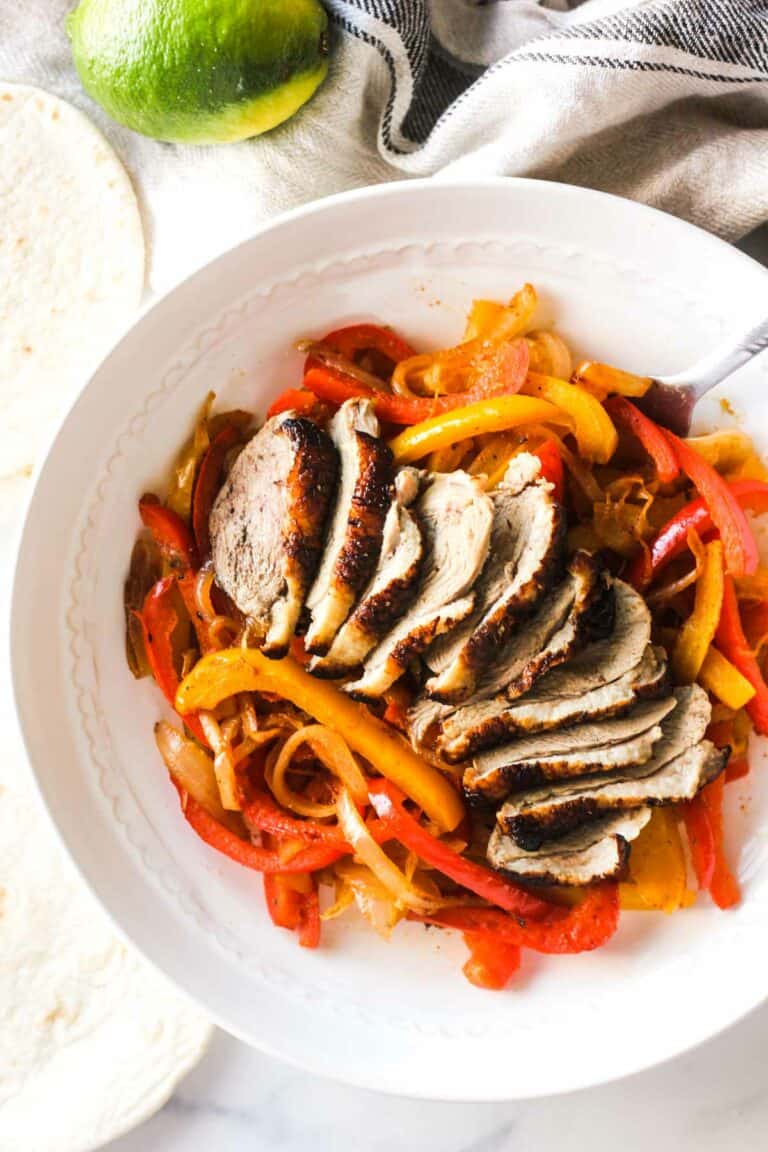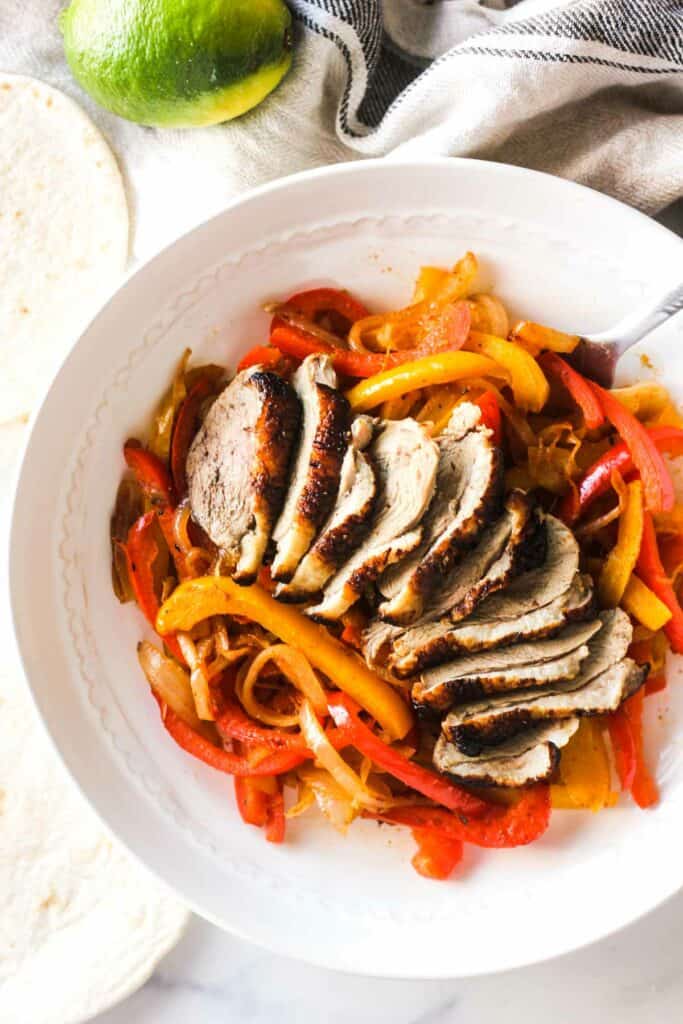 Make this recipe for lunch, dinner or you can serve it as an appetizer. Serve it on warm tortillas with lime and cilantro or just a la carte in the bowl as is. If you prefer to have your duck fajitas over white rice, do it! Add fresh salsa and enjoy.
How to make duck fajitas (overview)
If you have a frozen duck breast, thaw it in the fridge overnight. You can also do it quicker by leaving duck on the counter for a few hours. If you will submerge it in the bowl of water it will get defrosted in an hour.
Prepare marinade. Take a fresh orange, cut it in half and squeeze juice right in to the plastic bag or a bowl. Add salt and pepper and add duck breast. Make sure its covered completely. The best way to do it is to actually marinate it in the bag and remove all the air.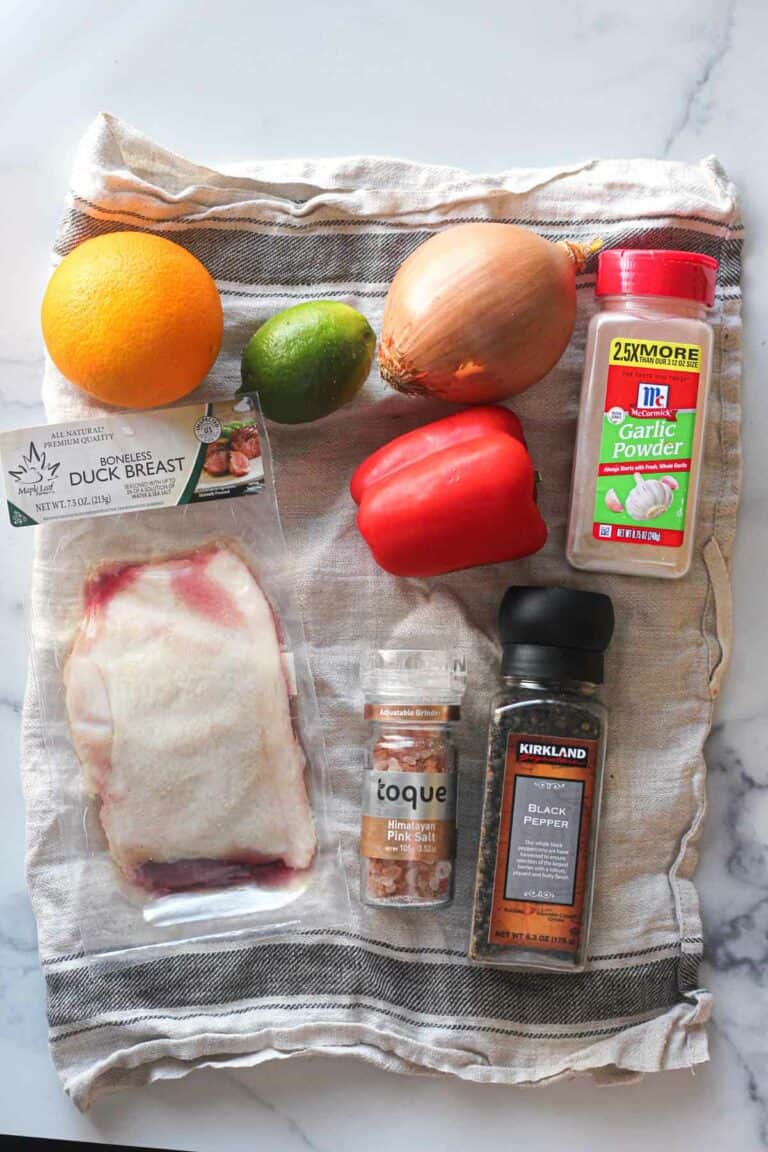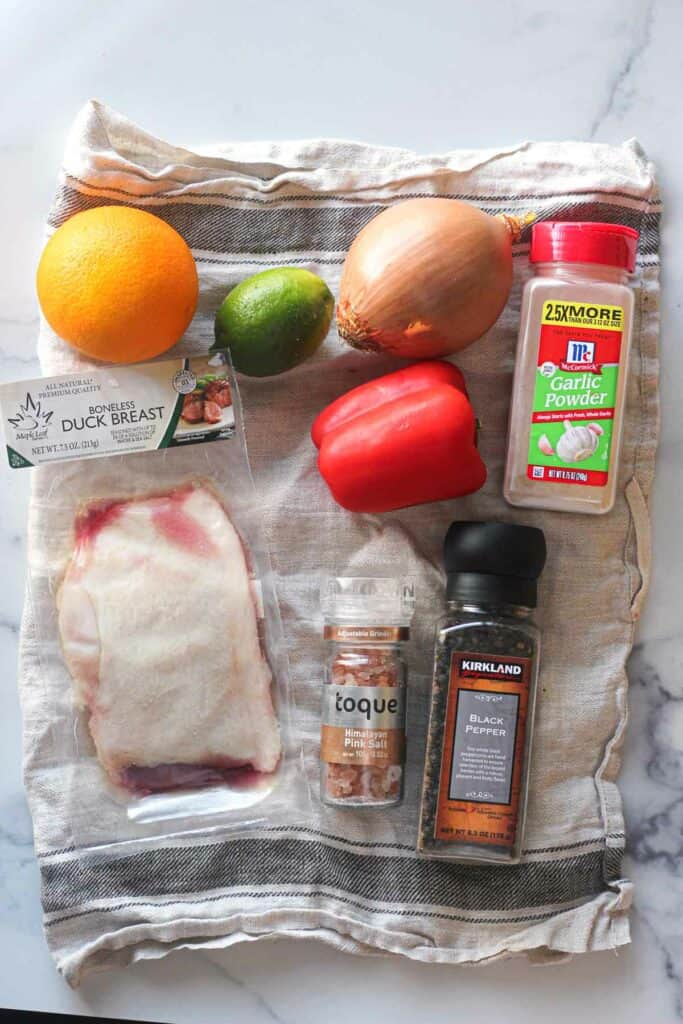 The bag will lay flat on the counter and you can put it in the fridge for at least 30 minutes, up to 3-4 hours. Don't leave it there for too long.
Take it out of the bag and pat dry with paper towels. Heat oil in the pan on low-medium heat and add duck skin side down. Cook for about 6 minutes and then turn and cook for another 5 minutes (you can read about internal temperature below). Sprinkle cooked skin with more salt, it will help the skin to stay crispy. Once done remove breast from the pan and set aside.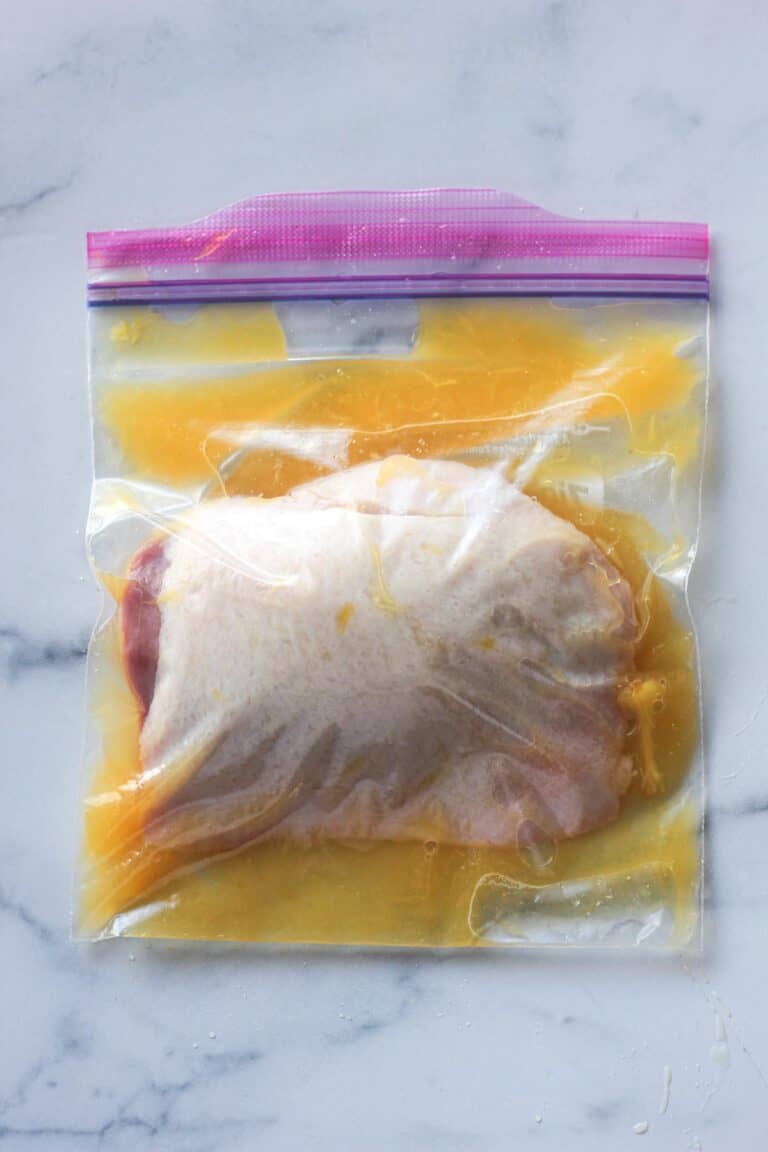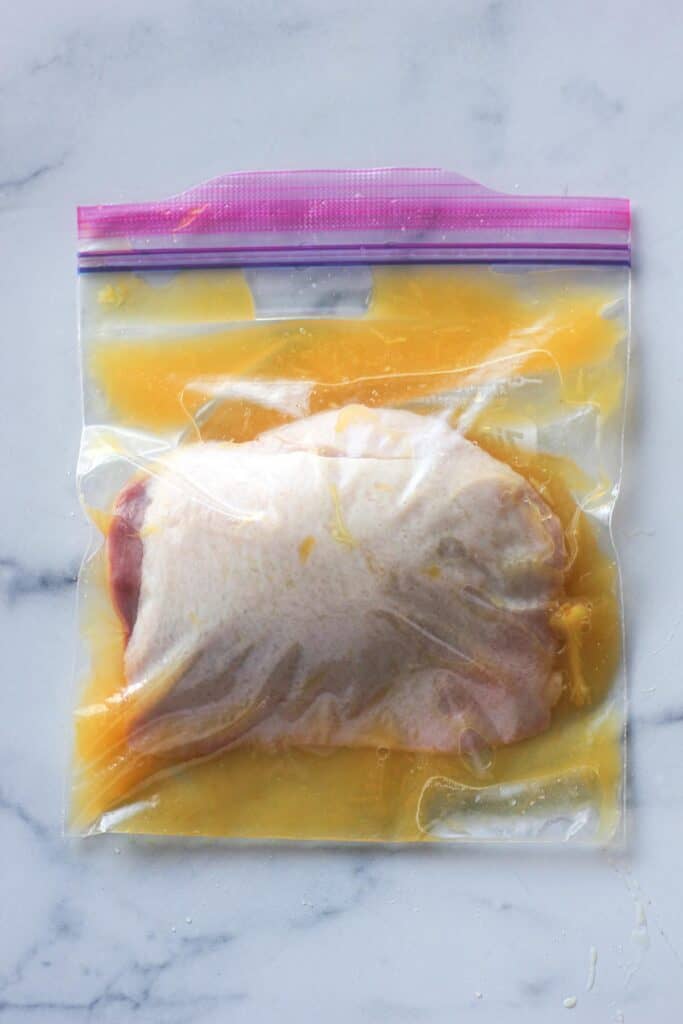 When duck is cooking, slice bell peppers and onions. Make sure that the pieces are not too thick or too thin. Add it to the same pan duck breast was cooking in, it should be leftover oil in it. Add spices and cook over medium heat for about 5-7 minutes, stirring.
Serve duck fajitas on the large plate, place bell peppers and onions on the bottom and top with sliced duck breast. Enjoy with warm corn or flour tortillas.
What temperature should duck breast be cooked to
I prefer to cook duck breast until its fully cooked and the internal temperature shows at least 165 degrees Fahrenheit. I know many prefer to enjoy it medium rare. In this case breast should be cooked until it reaches 135 degrees. I personally like when my poultry is cooked well done.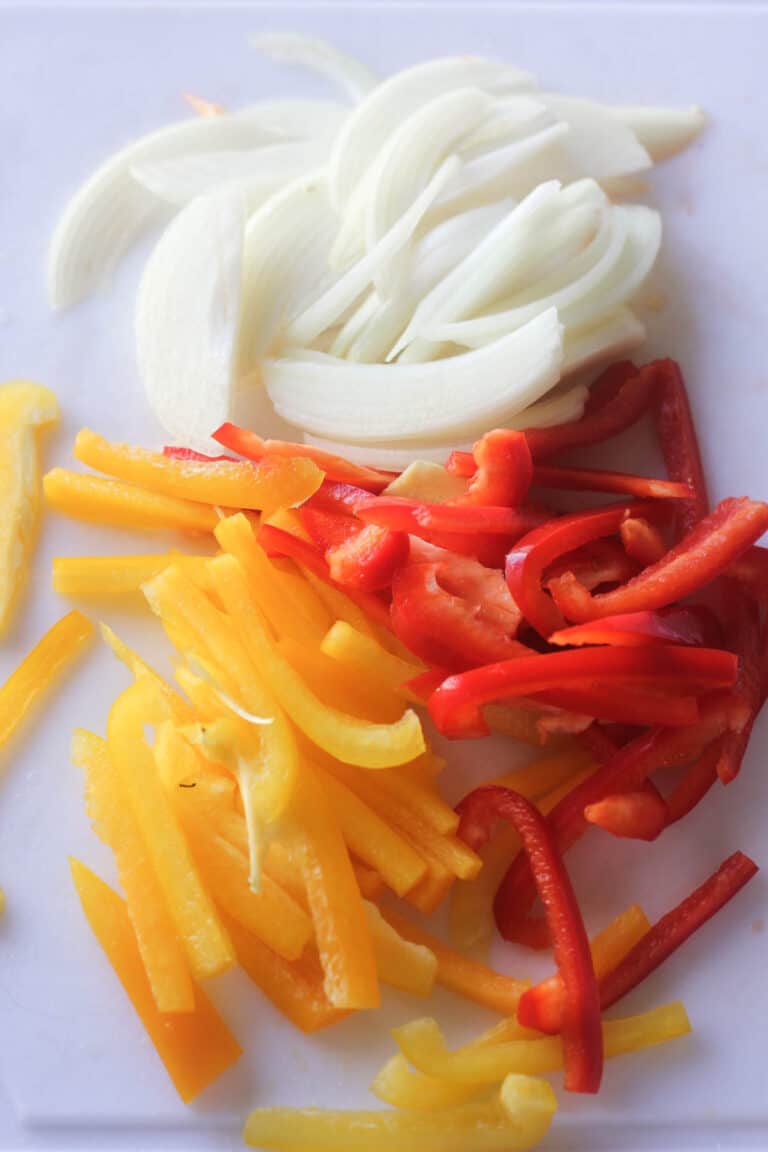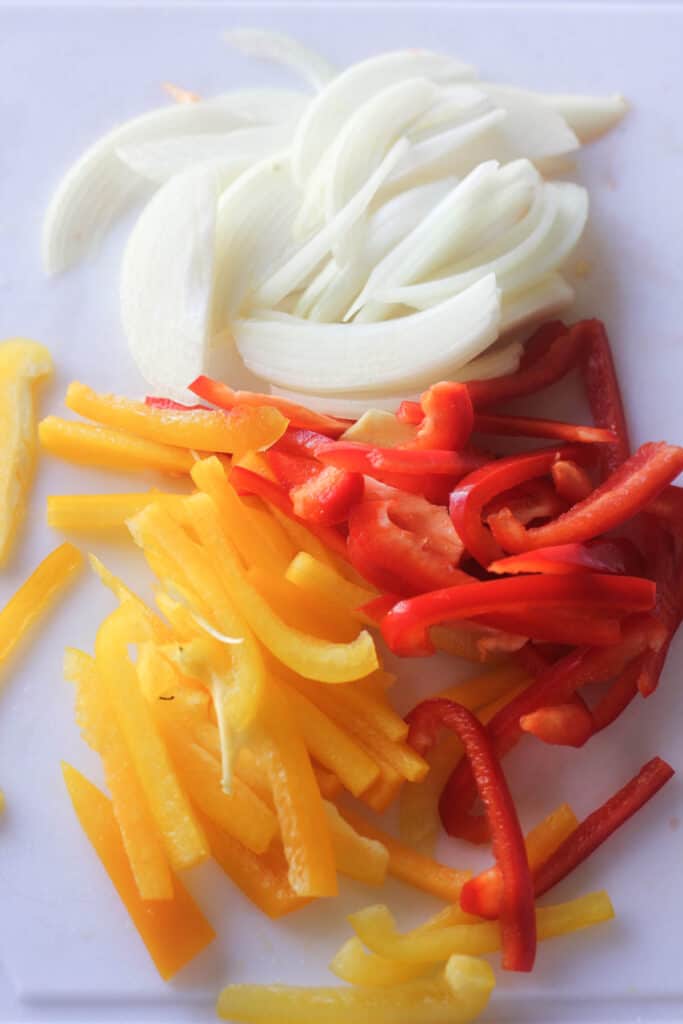 Is duck healthy to eat
Duck breast is an excellent source of protein. It also contains lots of zinc, about 50% of what we need in the day. Duck also contains lots of Magnesium and Omega-6 fats.
Expert tips
For best results use a heavy bottom skillet like a cast iron skillet. Of course you can use a regular non stick pan if that all you have. In restaurants they usually use a nice cart iron skillet and serve it sizzling right in the pan. Its very hot too!
Slice vegetables thin and as even as possible to ensure proper cooking.
Check internal temperature. 165 degrees Fahrenheit for well for and 135 degrees for medium rare.
Marinating duck breast is essential. Don't skip this step. Even 30 minutes makes a difference.
Top with chopped cilantro if you like it. I know lots of people prefer parsley over cilantro, use whatever herb you like. Cilantro is more traditional but hey, its duck fajitas so change things up the way you like.
Jalapenos. They add a nice crunch and a spice kick too. Use either fresh or pickled jalapenos, or other spicy peppers.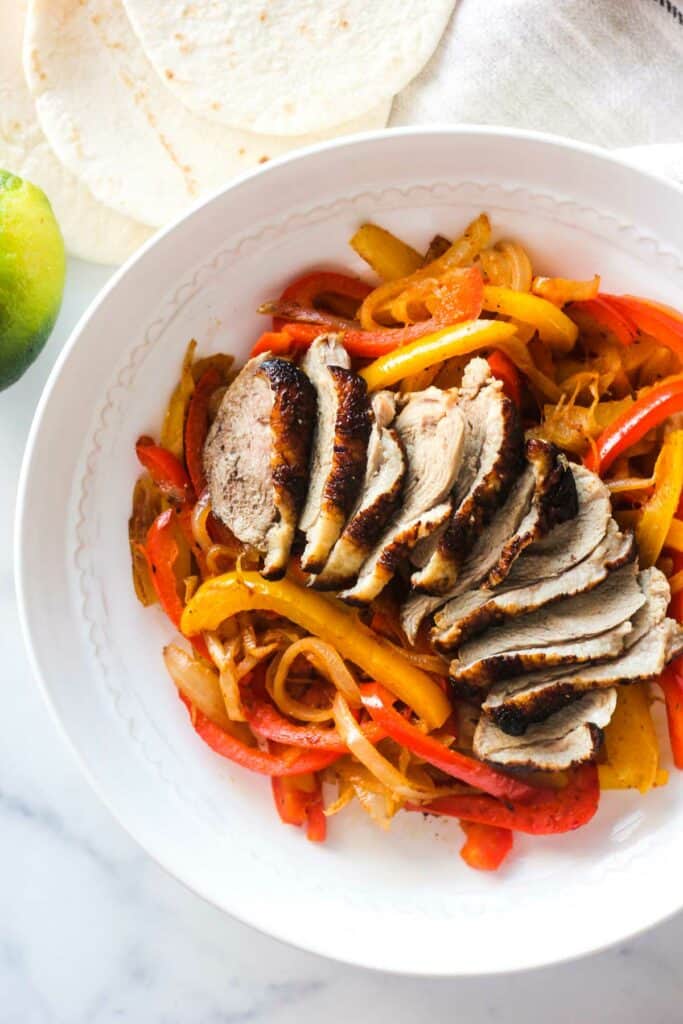 What toppings do you put on fajitas
Make your duck fajitas even better by adding toppings. Cheese and sour cream are my all time favorite. Freshly grated cheese makes fajitas more flavorful and when it melts it creates that creamy dreamy deliciousness. Cool sour cream evens out that spice kick, if you added jalapenos.
Guacamole or simply avocados. Guacamole is flavorful and delicious by itself, but when you pair it with protein like duck breast it creates an outstanding flavor.
Salsa. Can be homemade or store bought. Try green tomatillo salsa or classic fire roasted tomato salsa right on top of your duck breast fajitas
Complete the meal by adding this amazing shrimp and crab ceviche. So refreshing!
What to do with leftovers
Store leftovers in the air tight container or a zip lock bag. To reheat just microwave it for 1 minute. When reheating it will be hard to make the duck breast skin crispy again though, so keep that in mind. It still will be delicious.
You may also like…
Duck is very popular in Asian cooking. If you want to try something new, make this pork tongue recipe, Chinese style. So melt in your mouth tender. Definitely not for everyone but i encourage you to give it a try.
Please leave a comment below if you have any questions and rate the recipe if you made it!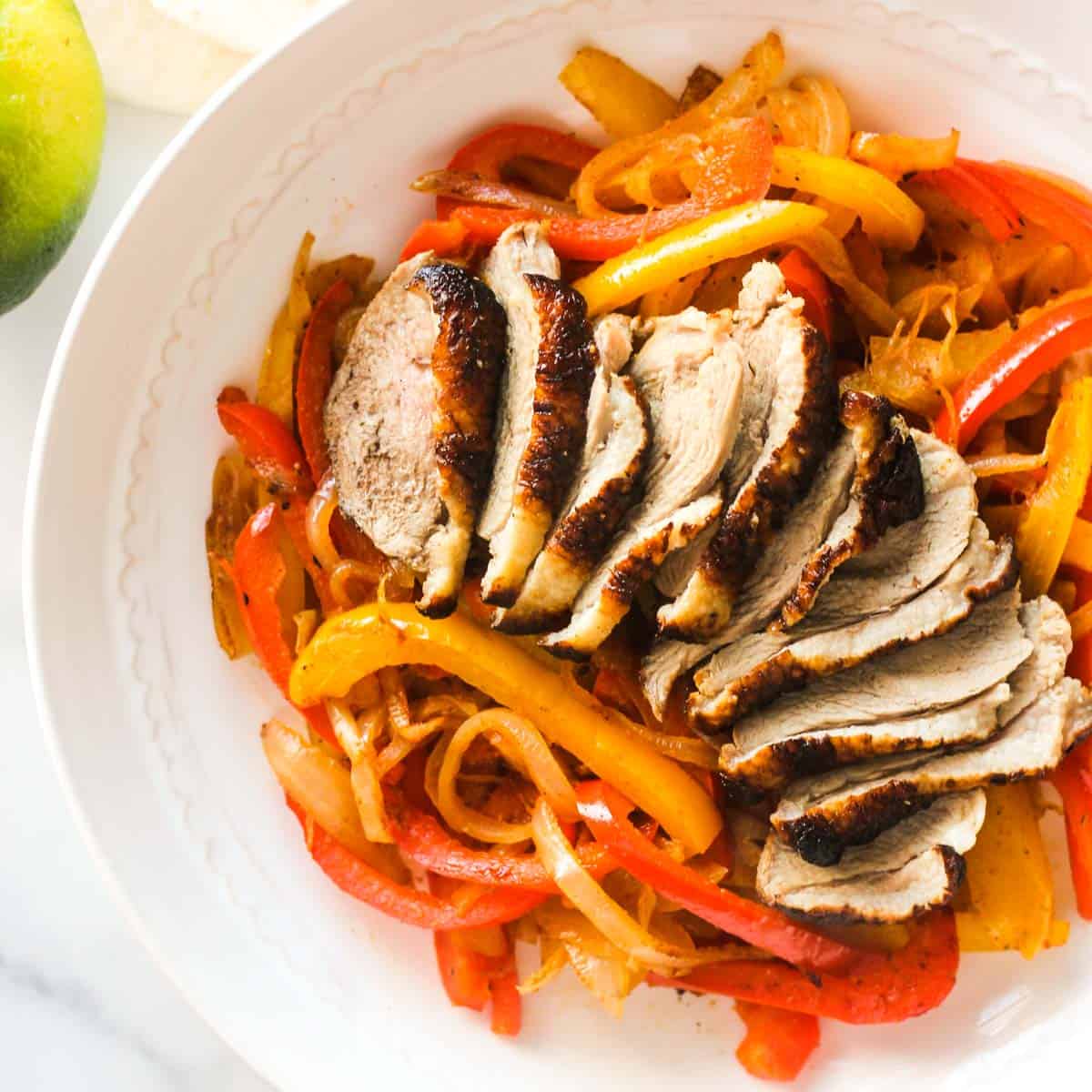 Crispy duck breast fajitas
Additional Time:
30 minutes
Duck fajitas are delicious, flavorful and super easy recipe to make. Change your traditional fajita game and use juicy duck breast instead of chicken! Serve on a warm tortilla or right in the plate and enjoy with a squeeze of fresh lime and chopped cilantro.
Ingredients
1 duck breast
1 orange
1 bell pepper (you can use half orange and half red)
1/2 onion
1 lime
1 tablespoon vegetable oil
1 teaspoon paprika
1 teaspoon black pepper (plus 1 teaspoon )
1 teaspoon salt (plus 1 teaspoon)
1/2 teaspoon cumin
2 garlic cloves
chopped cilantro (optional)
Instructions
Juice orange into the bowl or a plastic bag. Add 1 teaspoon salt and 1 teaspoon pepper. Add duck breast and marinate for at least 30 minutes.
Drain and pat dry duck breast with paper towels. Heat oil on the skillet and add breast skin side down. Cook on medium-low heat for 6 minutes. Flip and cook for 5 minutes more*
Set the duck aside and prepare vegetables. Into the same pan add thinly sliced onions and bell peppers. Add spices and cook stirring until just soft, about 7 minutes.
Thinly slice duck and serve on top of veggies or with tortillas
Notes
*Use internal meat thermometer. If cooking to medium rare, internal temperature should be at 135 degrees. For well done duck breast make sure that the temperature is 165 degrees.
Slice vegetables thinly.
Top duck fajitas with avocado, sour cream, grated cheese or salsa. Or add all of that together and enjoy.
Nutrition Information:
Yield:

2
Serving Size:

1
Amount Per Serving:
Calories:

386
Total Fat:

20g
Saturated Fat:

4g
Trans Fat:

0g
Unsaturated Fat:

15g
Cholesterol:

163mg
Sodium:

1165mg
Carbohydrates:

21g
Fiber:

4g
Sugar:

9g
Protein:

32g