Bright and refreshing Ninja Creami mango sorbet is easy to make with only 4 wholesome ingredients! This creamy, delicious, and dairy-free dessert is perfect to enjoy in the summer – or anytime you crave a cold and sweet treat.
Also try my other Ninja Creami favorite recipes like Ninja Creami vanilla ice cream, Ninja creami chocolate ice cream and Ninja Creami peanut butter ice cream.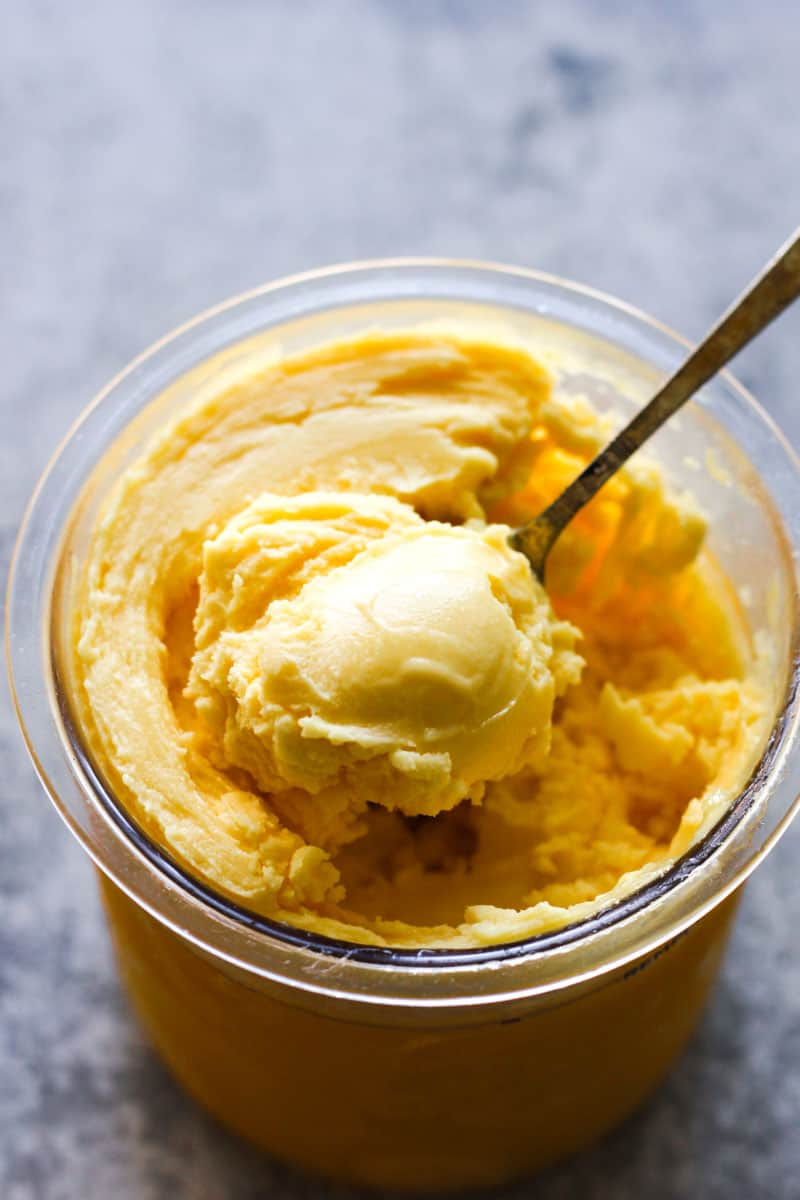 It is safe to say that I am absolutely in love with my Ninja Creami ice cream maker. From super decadent ice creams, to light and delicious sorbets, this wonderful machine makes your favorite high-quality frozen desserts right at home!
Not only is it easy to use, there is no limit to the different flavor variations you can make. Today I am sharing a simple recipe for one of my all-time favorite flavors – tropical Ninja Creami mango sorbet.
It requires only 4 ingredients but tastes so exciting and vibrant! And although the sorbet is vegan and dairy-free, it has a perfectly silky smooth texture that scoops beautifully… So every spoonful is sweet and creamy without being too rich or heavy. Kids and adults alike love everything about this frozen treat!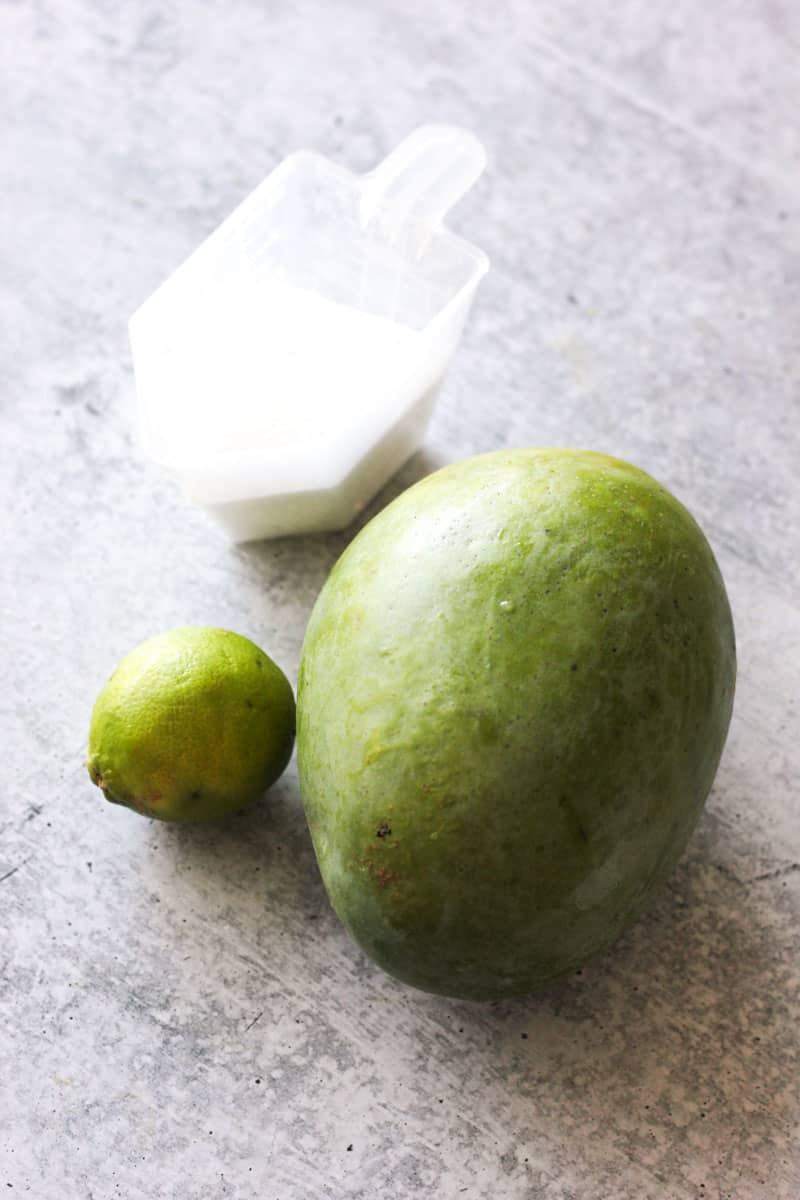 Before getting started, note that the mango puree needs to set in the freezer for a full 24 hours before processing in the Ninja Creami. So plan to begin making the sorbet at least one day plus a few hours before you want to blend and serve. If you are into everything mango you should also try this peach mango pie.
Recipe ingredients
Mango. Fresh mangoes are ideal for the sweetest flavor. Choose ones that are ripe; the skin should be blemish-free and give slightly when gently squeezed. The more ripe the fruit, the sweeter and juicier the flesh will be.
Granulated white sugar. You can adjust the amount depending on how sweet the mangoes are.
Lime. The tart, bright taste of lime helps to balance the sweetness of the mango and sugar.
Water. To blend with the fruit and sugar and form a puree.
How to make Ninja Creami mango sorbet
Start by selecting a ripe mango. It should have a sweet aroma at the stem end and give slightly when pressed gently. Peel the mango using a sharp knife and then chop the flesh, discarding the pit.
Make sure you have removed as much flesh from the pit as possible. Measure the sugar, lime juice, and water, setting each aside in separate containers.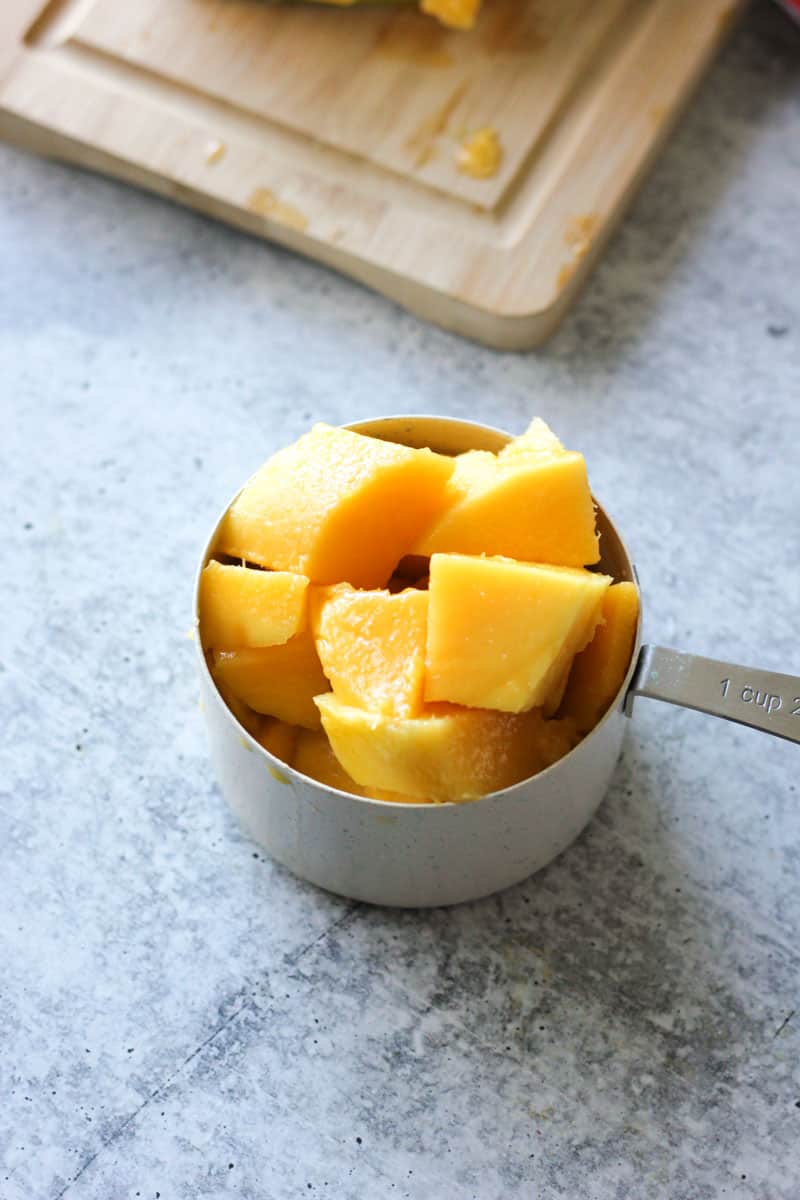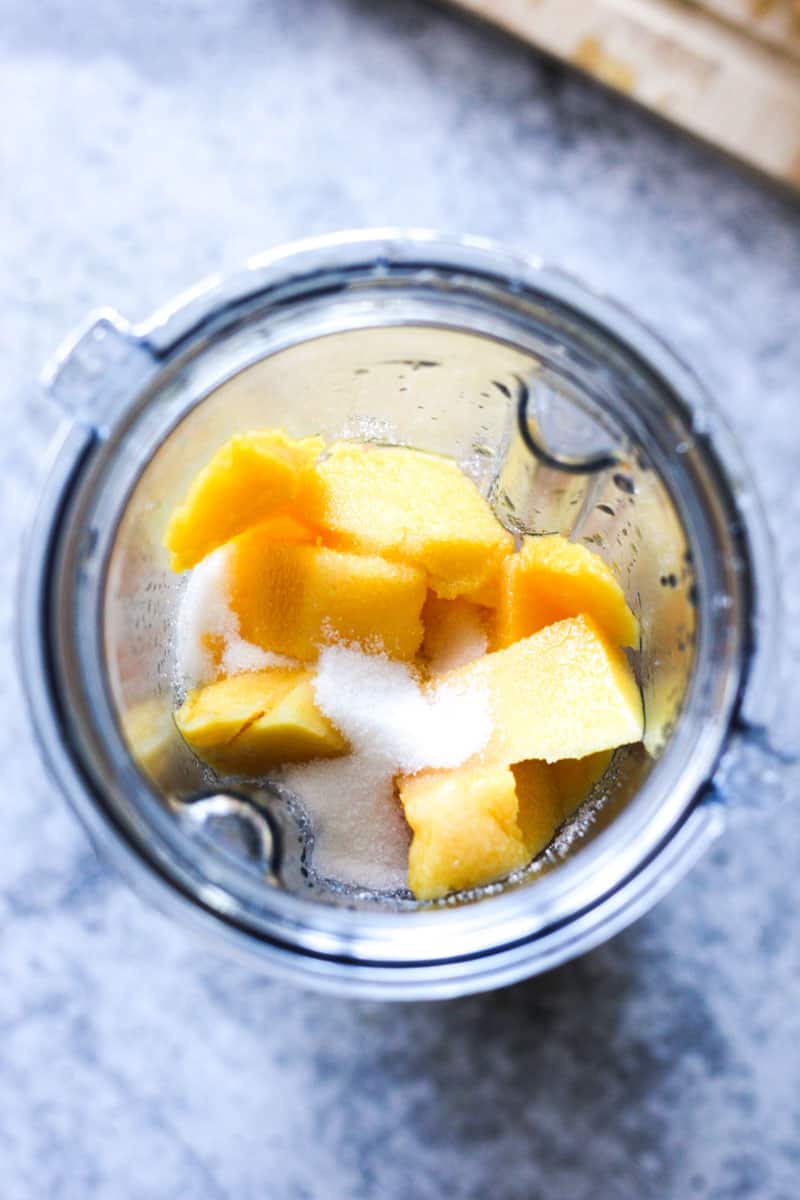 Place the chopped mango into the blender first. Gradually add the sugar, followed by the lime juice and then the water. Secure the blender's lid, select a high-speed setting, and process the ingredients until you achieve a silky-smooth consistency. Periodically stop the blender and use a spatula to scrape down any ingredients from the sides.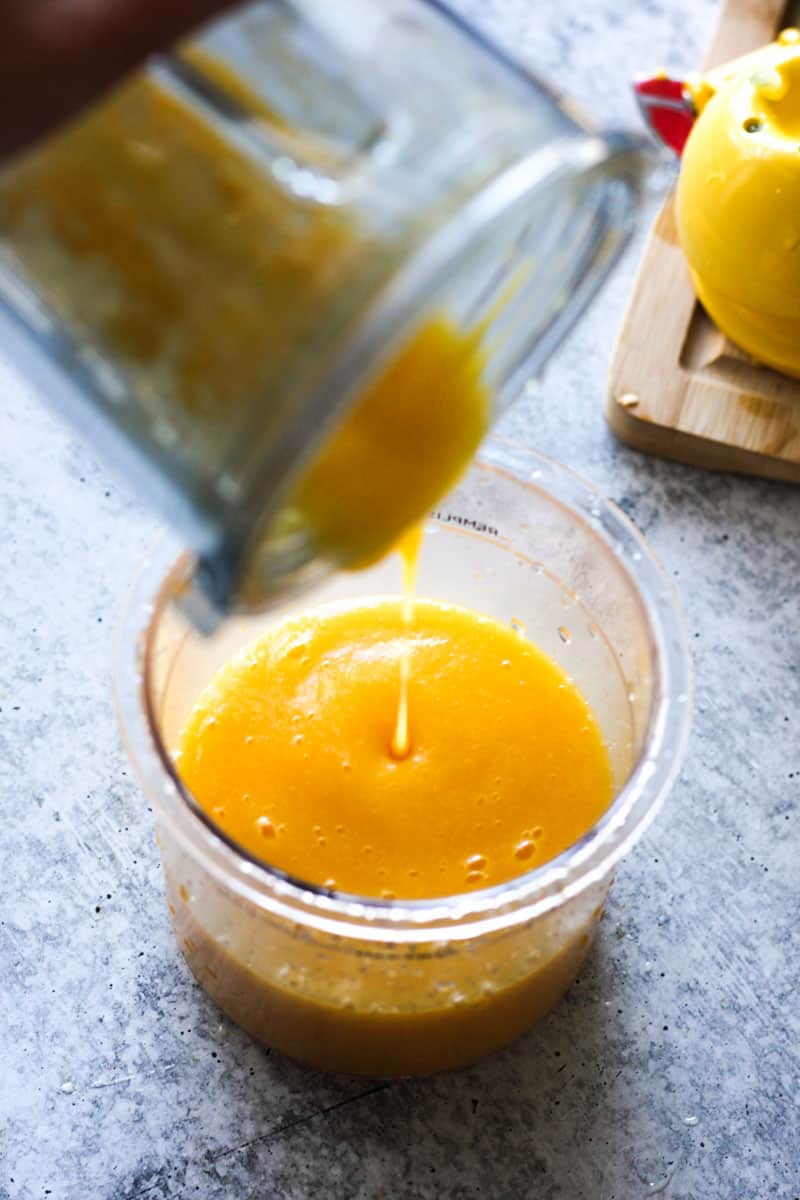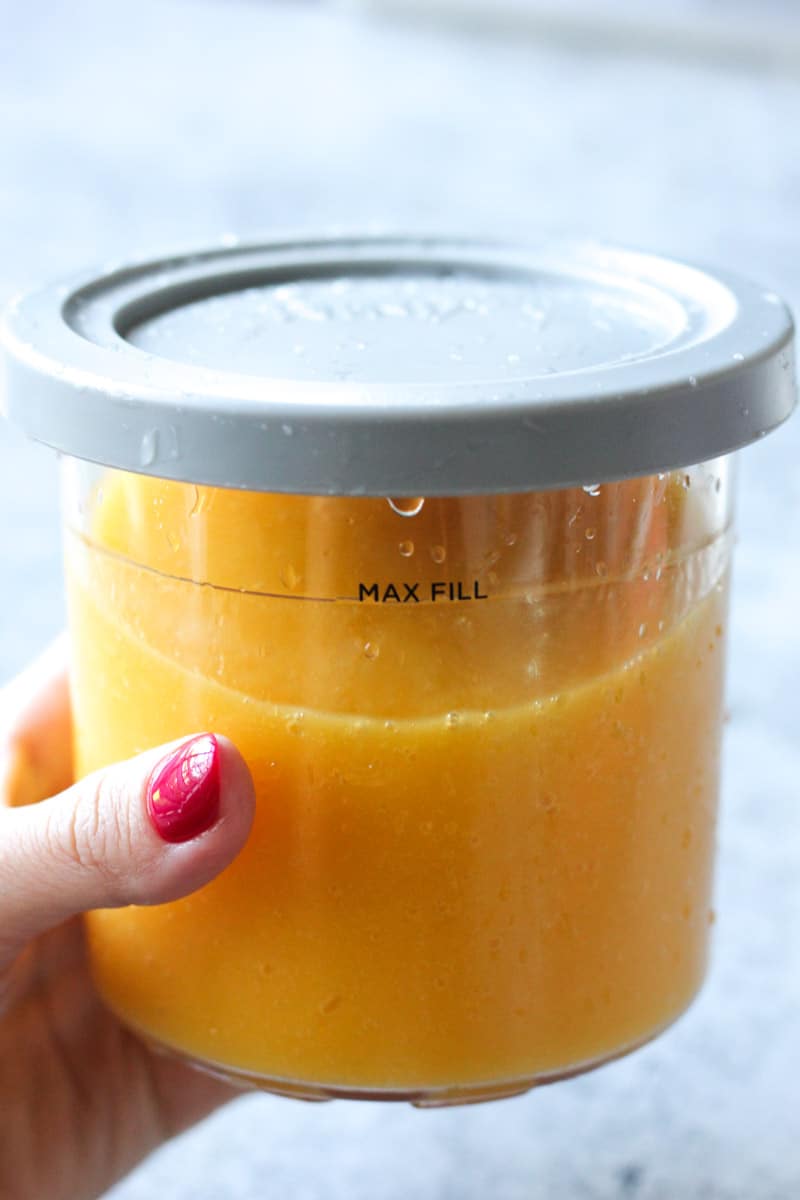 Carefully pour the smooth mango puree into the Ninja Creami pint container, filling it up to the recommended fill line. Seal the pint container with its lid and place it in the freezer. It's essential to position it upright to prevent spillage.
Allow the mixture to freeze for a minimum of 24 hours, checking after this period to confirm it has solidified completely. The consistency should be hard to the touch.
Once the mango mixture is completely frozen, take the pint container out of the freezer. Attach the frozen pint container to the Ninja Creami machine, following the step-by-step guidelines provided in the manufacturer's manual.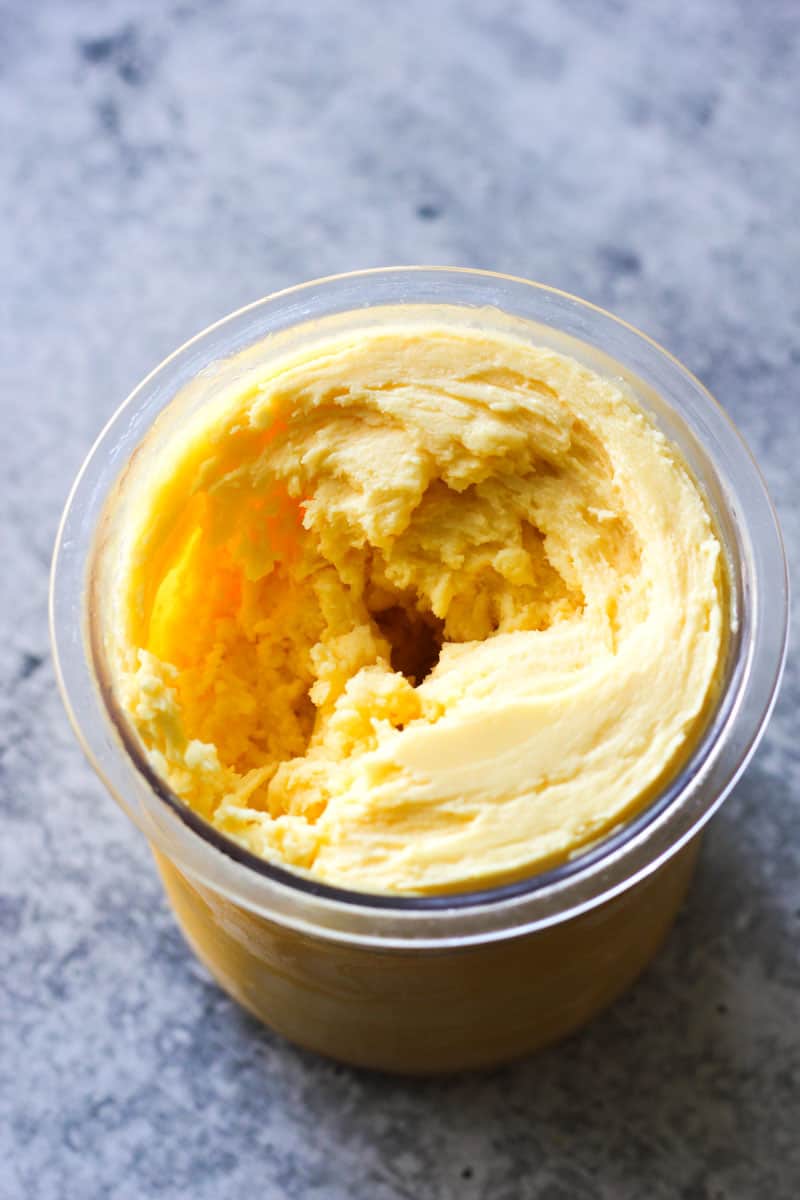 On the Ninja Creami interface, select the "sorbet" function. Let the machine work its magic, processing the frozen mango mixture until the texture transforms into a creamy, smooth sorbet.
Serving Suggestions
Dish out the mango sorbet into serving bowls or glasses immediately after processing. For added visual appeal and flavor, garnish with freshly chopped mango chunks. You can also add a sprig of mint for a refreshing contrast.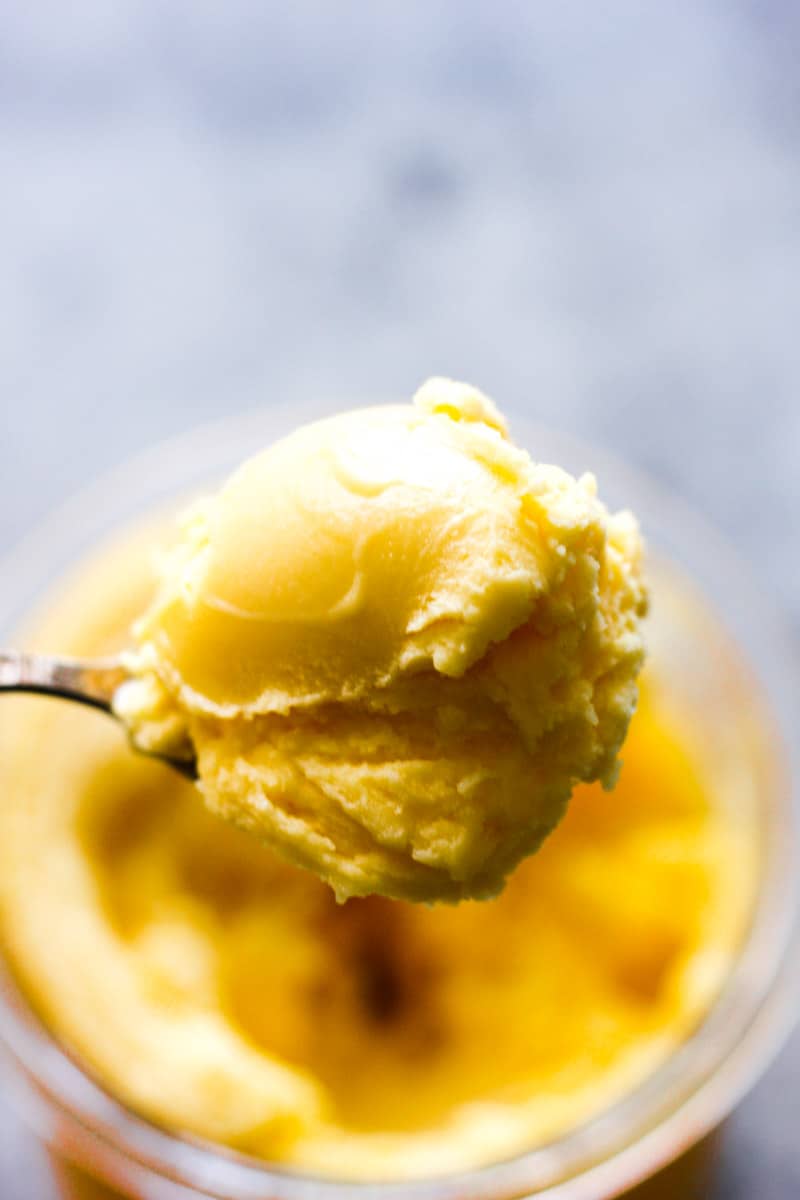 Frequently asked questions
Can I put frozen fruit in my Ninja Creami?
Yes you can, but it is necessary to blend the fruit into a puree first. You cannot process chunks of frozen fruit in the Ninja Creami.
Why is my Ninja Creami sorbet crumbly?
Often the culprit of crumbly sorbet is that the freezer is a bit too cold. If you notice ice crystals forming on your frozen foods, check the temperature settings in your freezer and adjust as necessary.

But do not fret if your sorbet does get crumbly! Leave the container on the counter to soften a bit, then give it a good stir before serving. Alternatively, you can run the mango sorbet through a RE-SPIN process in the Ninja Creami… This will help it become smooth and perfectly creamy again in a matter of minutes!
How does sorbet get creamy?
Similar to a fruit smoothie, the method to make sorbet includes blending frozen fruit until it turns rich and thick. Freezing a smooth puree before processing in the Ninja Creami yields a smooth sorbet!
Do you really have to freeze Ninja Creami for 24 hours?
Yes, for perfectly smooth and scoop-able sorbet the puree needs to freeze for a full 24 hours. Otherwise the mixture won't be frozen right when you attempt to blend into a sorbet using the Ninja Creami.
What is the difference between sorbet and sherbet?
Both are frozen fruit-based desserts. However, sorbet is a dairy-free and totally vegan recipe that only requires fruit, sugar, and water. Sherbet, on the other hand, is made with dairy – usually milk or heavy cream.
Is sorbet healthier than ice cream?
Yes, sorbet is a healthy treat! Traditional ice cream is made with heavy cream and lots of sugar… Delicious, yes, but not exactly low fat or low calorie. Although mango sorbet does still have a good bit of sugar, there is no dairy and therefore the recipe is low fat and has much fewer calories than ice cream.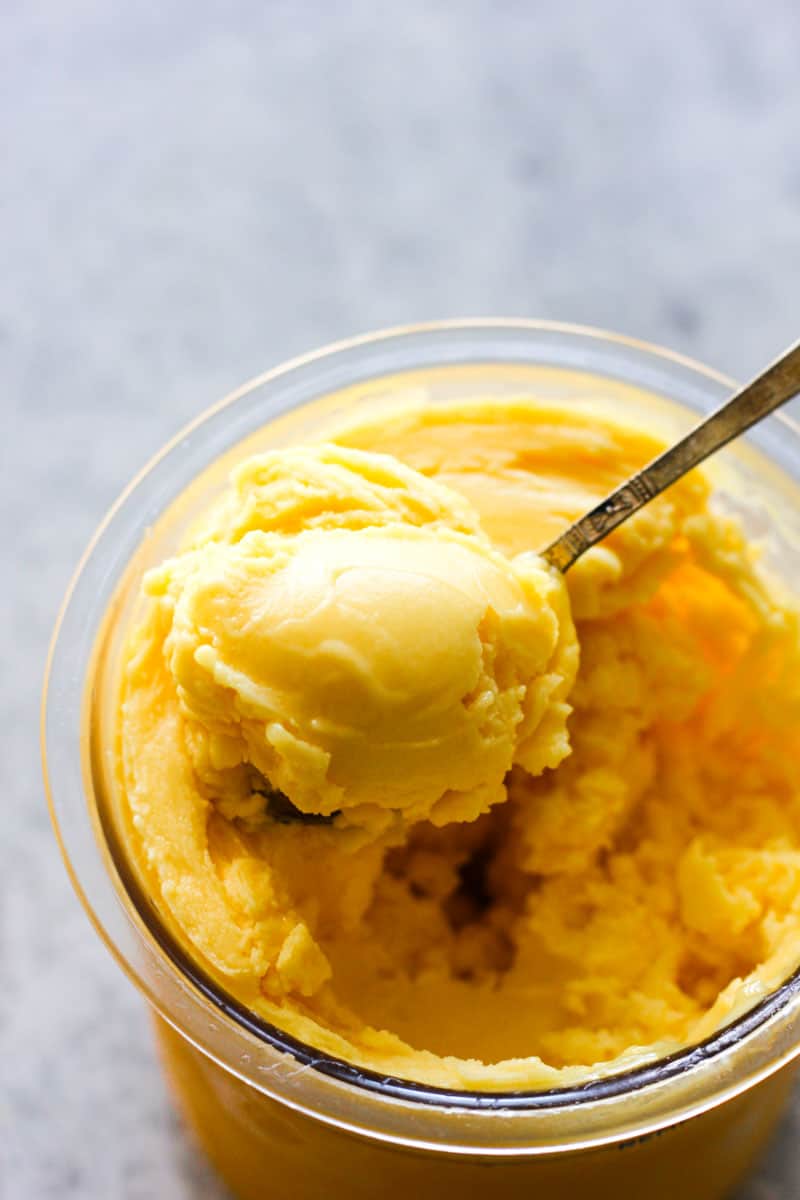 Storage instructions
You can double the recipe and pour the mixture in to two pint size containers. Use one in 24 hours and keep another one for later use. If you have any Ninja Creami mango sorbet leftovers, just smooth the ice cream on top as much as possible, place the lid on the jar and place it in the freezer.
Before enjoying it again, just let sit on the counter for 3-5 minutes to thaw for a bit. You can re-spin it if you feel like it needs it. I always re-spin for a better, creamier texture! This ice cream in general is not very creamy but after couple spins the texture is great!
More Ninja Creami recipes
Also you may like to try my papaya juice or pineapple mango lassi recipes!
Hope you will like this Ninja Creami mango sorbet recipe as much as we do. Please rate the recipe if you made it and leave a comment below if you have any questions or suggestions.
Recipe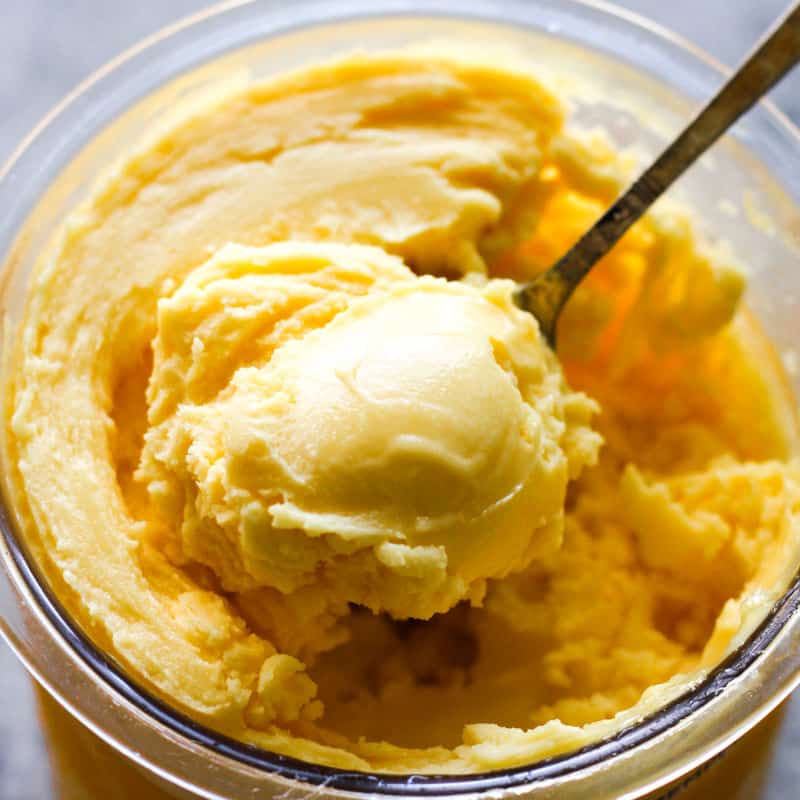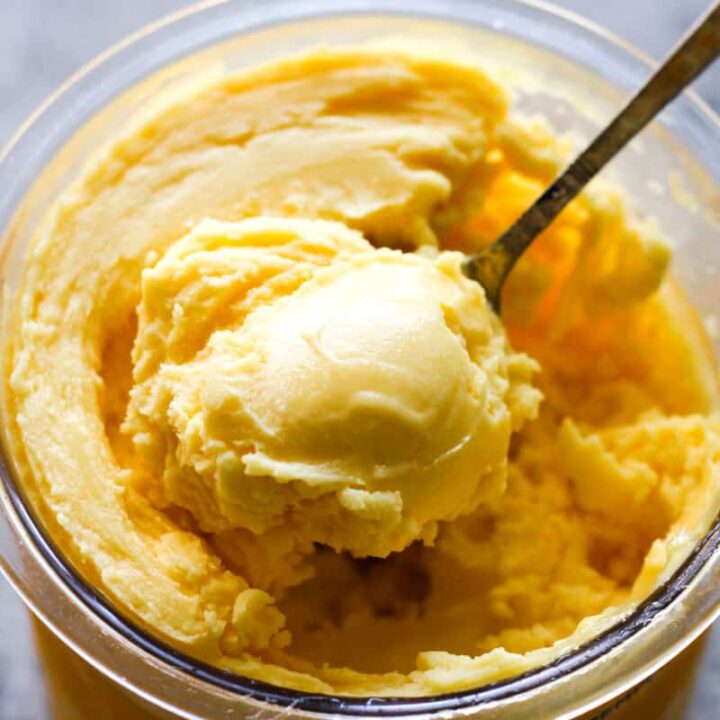 Ninja Creami Mango Sorbet
Total Time:
1 day
10 minutes
Bright and refreshing Ninja Creami mango sorbet is easy to make with only 4 wholesome ingredients! This creamy, delicious, and dairy-free dessert is perfect to enjoy in the summer - or anytime you crave a cold and sweet treat.
Ingredients
2 cups fresh mango, peeled and chopped
2 tablespoon granulated sugar (adjust to your liking based on the sweetness of the mangoes)
Juice of 1 lime
¼ cup water
Instructions
In a blender, combine the chopped mango, sugar, lime juice, and water. Blend until the mixture is completely smooth.
Pour the mango puree into the Ninja Creami pint container. Freeze for at least 24 hours or until the mixture is completely solid.
Once frozen, attach the pint container to the Ninja Creami according to the manufacturer's instructions. Select the "sorbet" function and let the machine run until the sorbet is creamy and smooth. Re-spin if needed, I re-spinned twice.
Serve the mango sorbet immediately, garnishing with fresh mango chunks or a sprig of mint, if desired.
Notes
For a more intense flavor, consider adding a pinch of chili powder or Tajín for a sweet, spicy, tangy twist.
If you prefer a less sweet sorbet, reduce the sugar or replace it with a natural sweetener like honey or agave nectar.
Always taste your mango puree before freezing to adjust the sweetness or acidity (lime juice) as needed.
If you have any leftovers, store them in an airtight container in the freezer. Before serving again, let it sit out for about 5-10 minutes to soften slightly.
Nutrition Information:
Yield:

2
Serving Size:

1
Amount Per Serving:
Calories:

151
Total Fat:

1g
Saturated Fat:

0g
Trans Fat:

0g
Unsaturated Fat:

0g
Cholesterol:

0mg
Sodium:

3mg
Carbohydrates:

39g
Fiber:

3g
Sugar:

35g
Protein:

1g