Turkey bacon-wrapped asparagus is an impressive and delicious side dish or snack. The asparagus spears are perfectly tender and juicy and the crispy turkey bacon adds so much flavor. Make this delicious side dish in 30 minutes using 6 simple ingredients.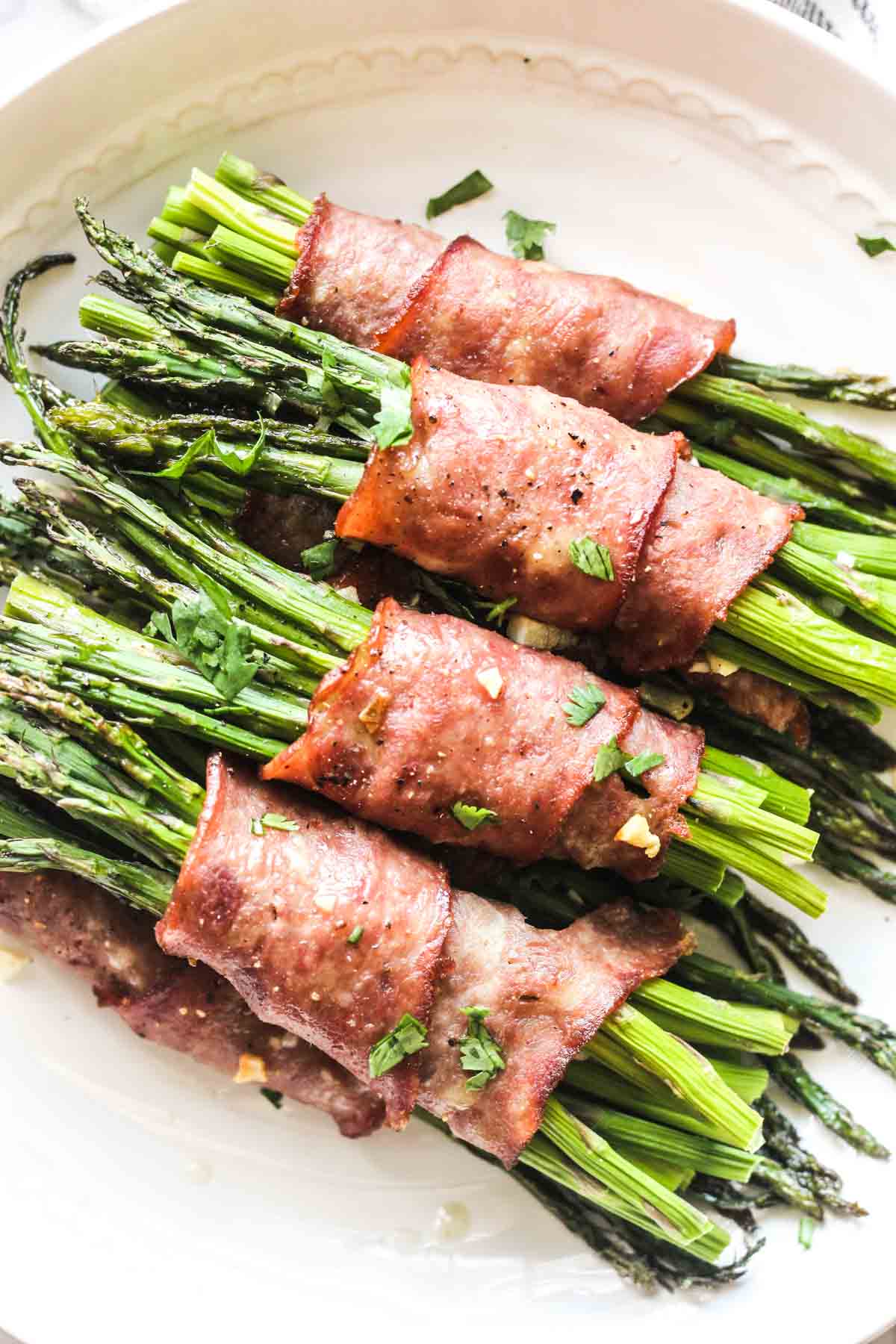 Turkey-wrapped asparagus spears are a delicious afterschool snack for the kids, a fun healthy side dish, or a crowd-pleasing party appetizer. It's easy to prepare with a few ingredients and it's a flavorful snack perfect for bacon lovers.
Turkey bacon is a healthier alternative to pork bacon, but it still adds so much flavor to this dish. It's just as rich and savory with the best smoky flavor.
Wrapping turkey bacon around fresh asparagus is a fun way to get more veggies into your kids' diets. It's also a satisfying and low-carb recipe that is perfect to bring to summer cookouts, barbecues, or whenever you are craving bacon!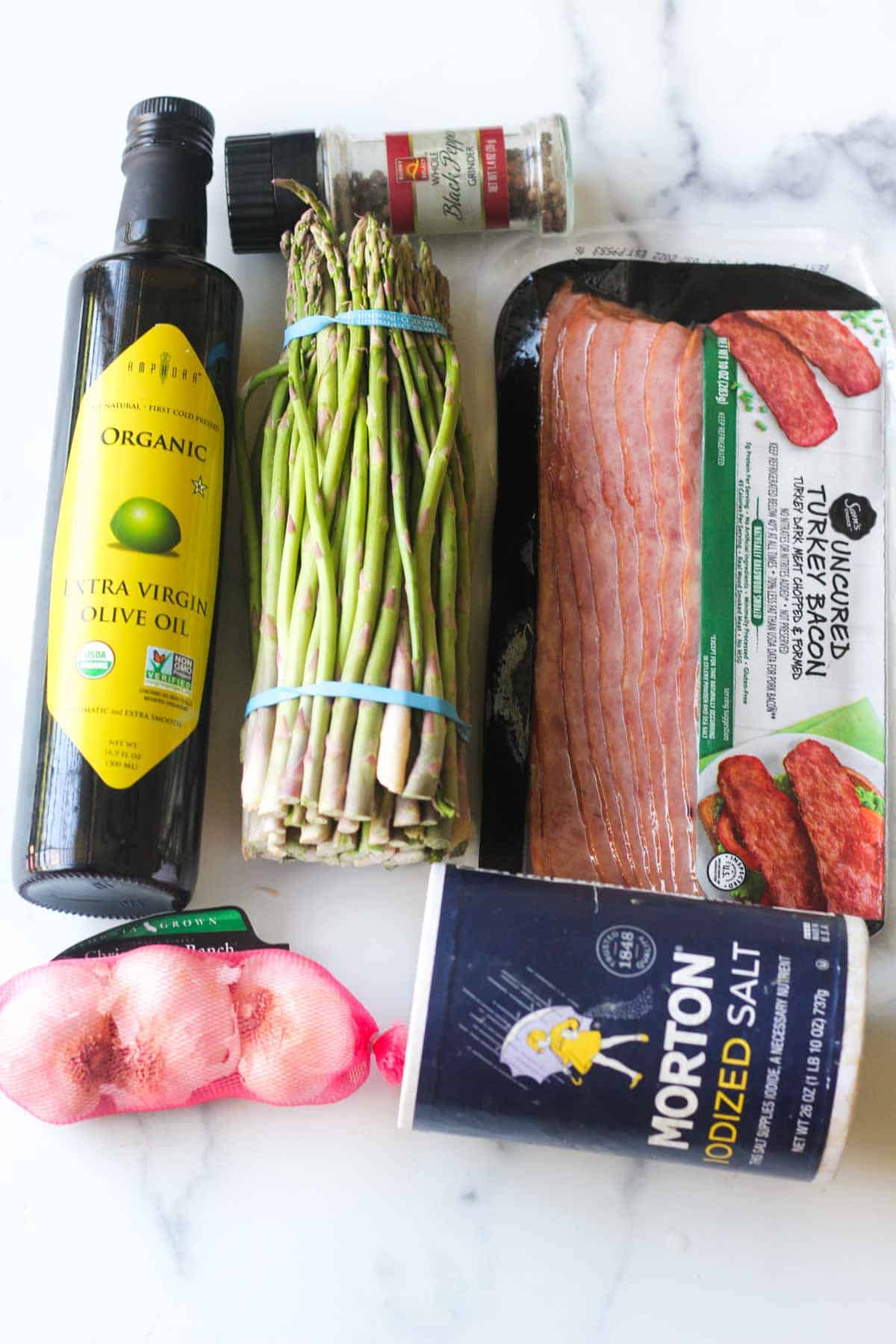 Recipe ingredients
Fresh asparagus. You'll need 1lb of asparagus spears. Look for ones that are crisp with a deep green color.
Turkey bacon. Use your favorite brand. It is a nice smoky complement to the fresh asparagus.
Garlic powder. Adds a savory garlic flavor to the asparagus spears and complements the smokiness of the bacon.
Salt and black pepper. Season to taste.
Oil. Used for cooking and to help the bacon get extra crispy in the oven.
Bacon wrapped asparagus recipe instructions
Start with preparing asparagus. The batch i bought was a very young thin asparagus which is great for wrapping in bacon! If you have thick asparagus, just make sure to cut ends because they are tough and woody. You do need to trim even small thin asparagus for the best flavor.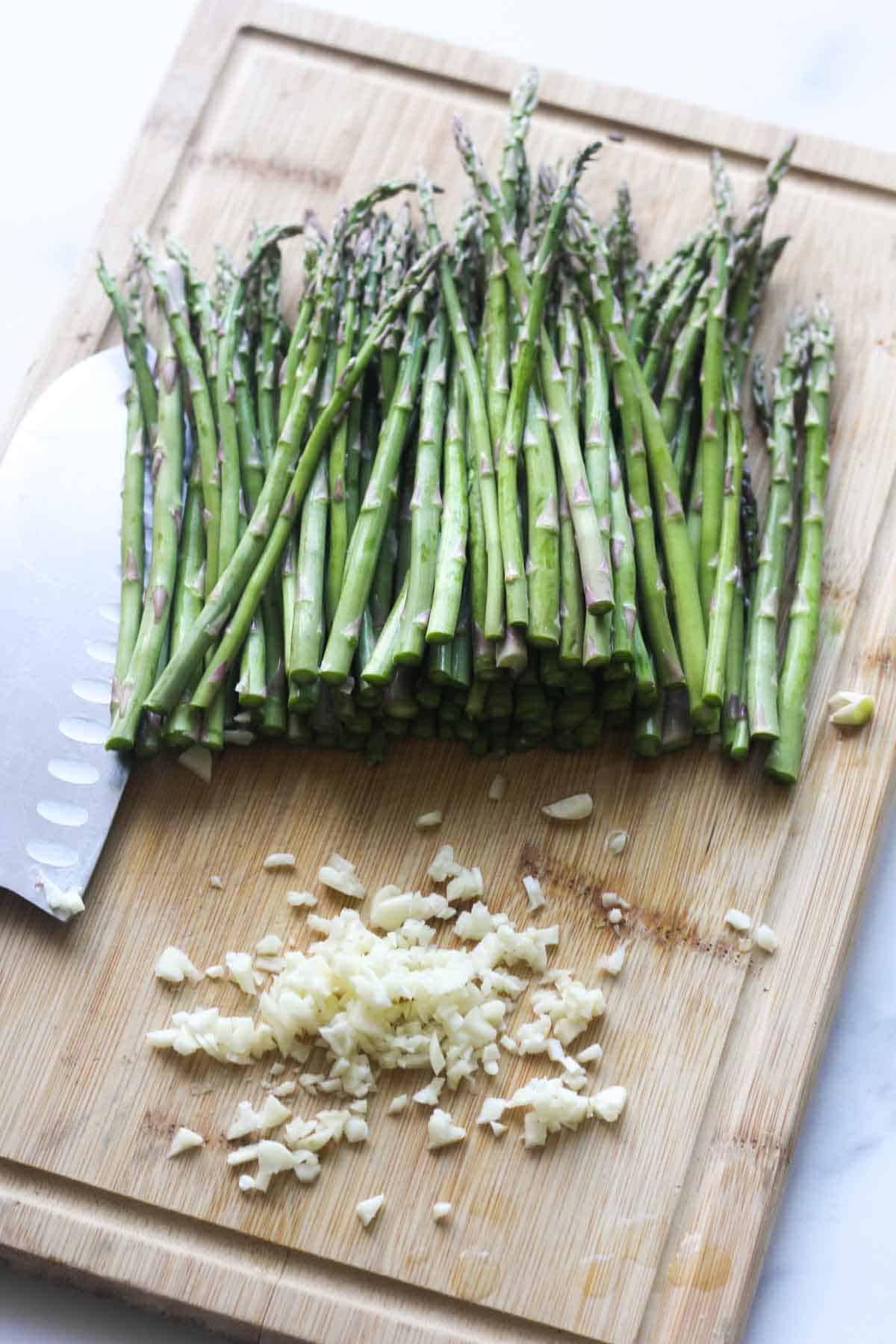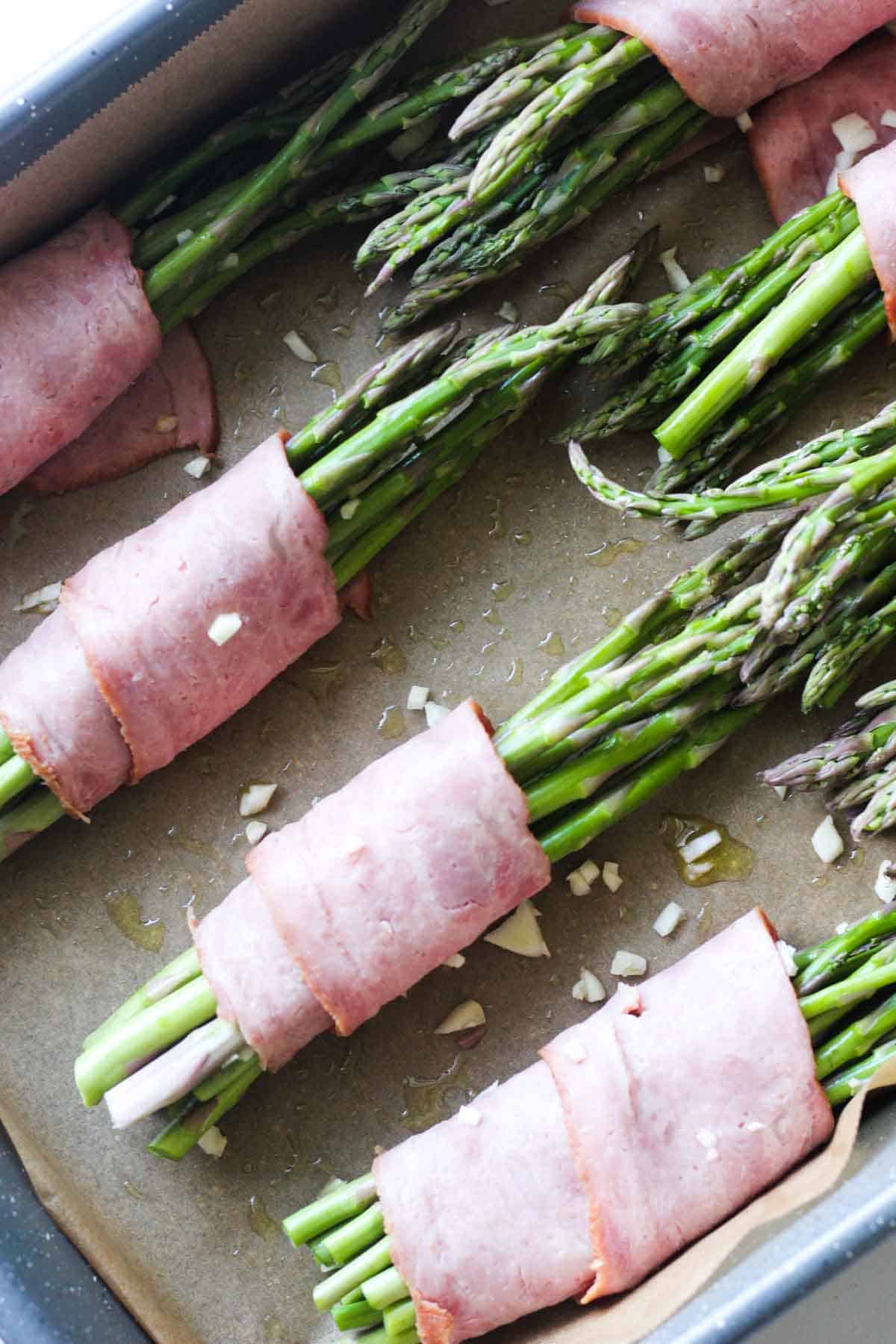 Sprinkle with salt, pepper and some garlic powder. I used real garlic instead and it added an amazing flavor. Stir to incorporate spices all over the vegetables.
Open the turkey bacon package. Use uncured or smoked bacon, they are equally delicious. Take open piece out and lay it on the cutting board. Grab a few asparagus spears (use only one or two for thick asparagus) and start wrapping in bacon.
It should be easy, just make sure that the bacon end is always under the vegetable and don't stick out. Its ok either way, just more pretty. Now lightly drizzle with olive oil and its ready to go to the oven!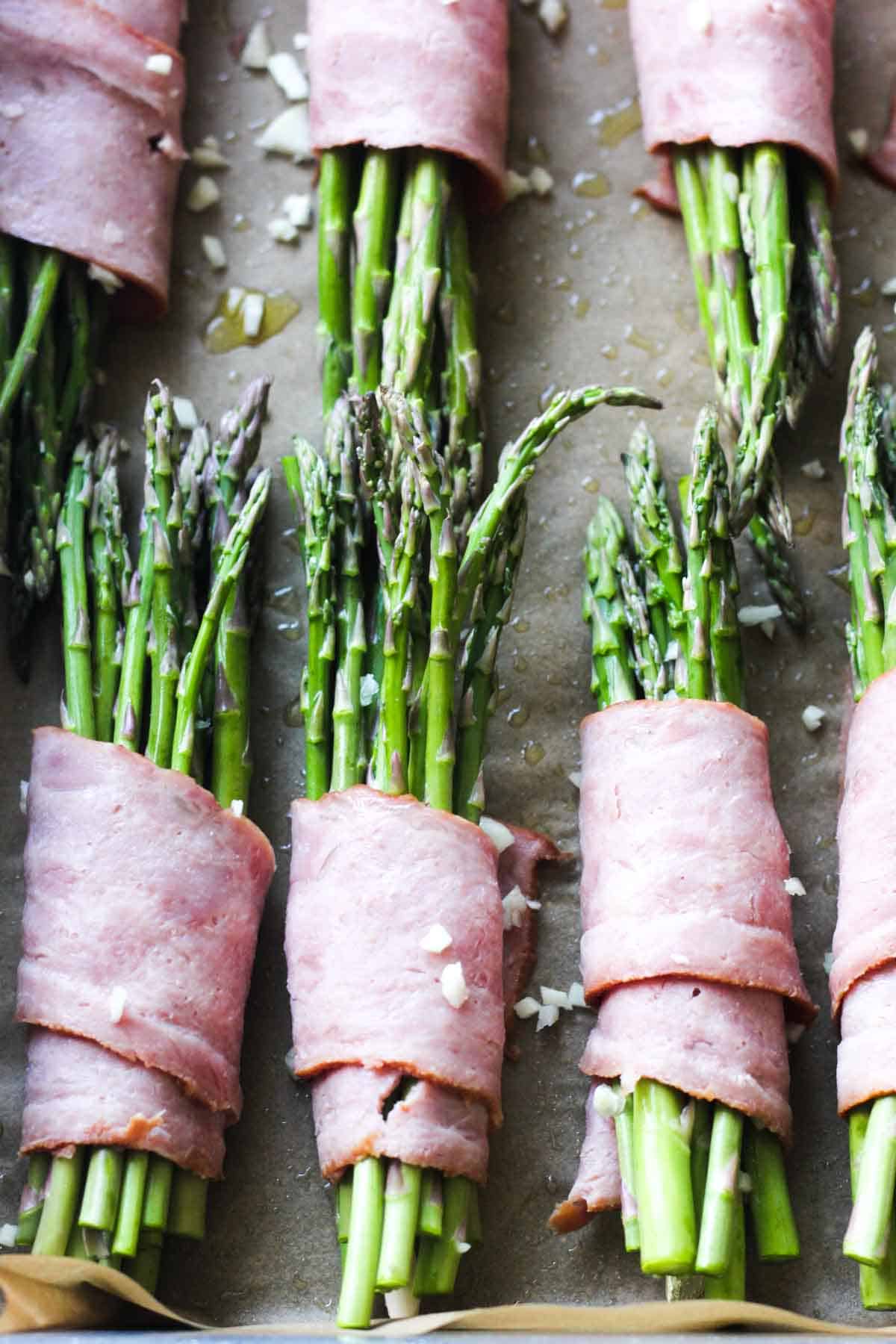 How to pick and prepare fresh asparagus
Here are a few tips to keep in mind when picking out fresh asparagus at the grocery store and when preparing them for cooking.
Look for the right size spears. Small to medium-sized spears will have the best flavor and texture. Larger spears tend to be stringy and fibrous, making them unpleasant to eat when cooked.
Avoid mushy tops. The tops of the asparagus spears are very flavorful, so make sure to avoid any bunches that look mushy or soft. They should be firm.
Look for vibrant colors. They should have a vibrant green color because these spears are the freshest.
Clean them very well to remove any grit. Then dry with a paper towel or kitchen towel.
Trim the ends of the asparagus. The ends of asparagus tend to be woody and tougher than the tops, so it's a good idea to trim the ends before cooking. Cutting ½ – 1 inch off the bottom is all you need to do. Another way to avoid tough spears is to hold both ends of the asparagus in your hands and then gently bend it. Wherever it naturally breaks is where the tougher end and the tender end meet.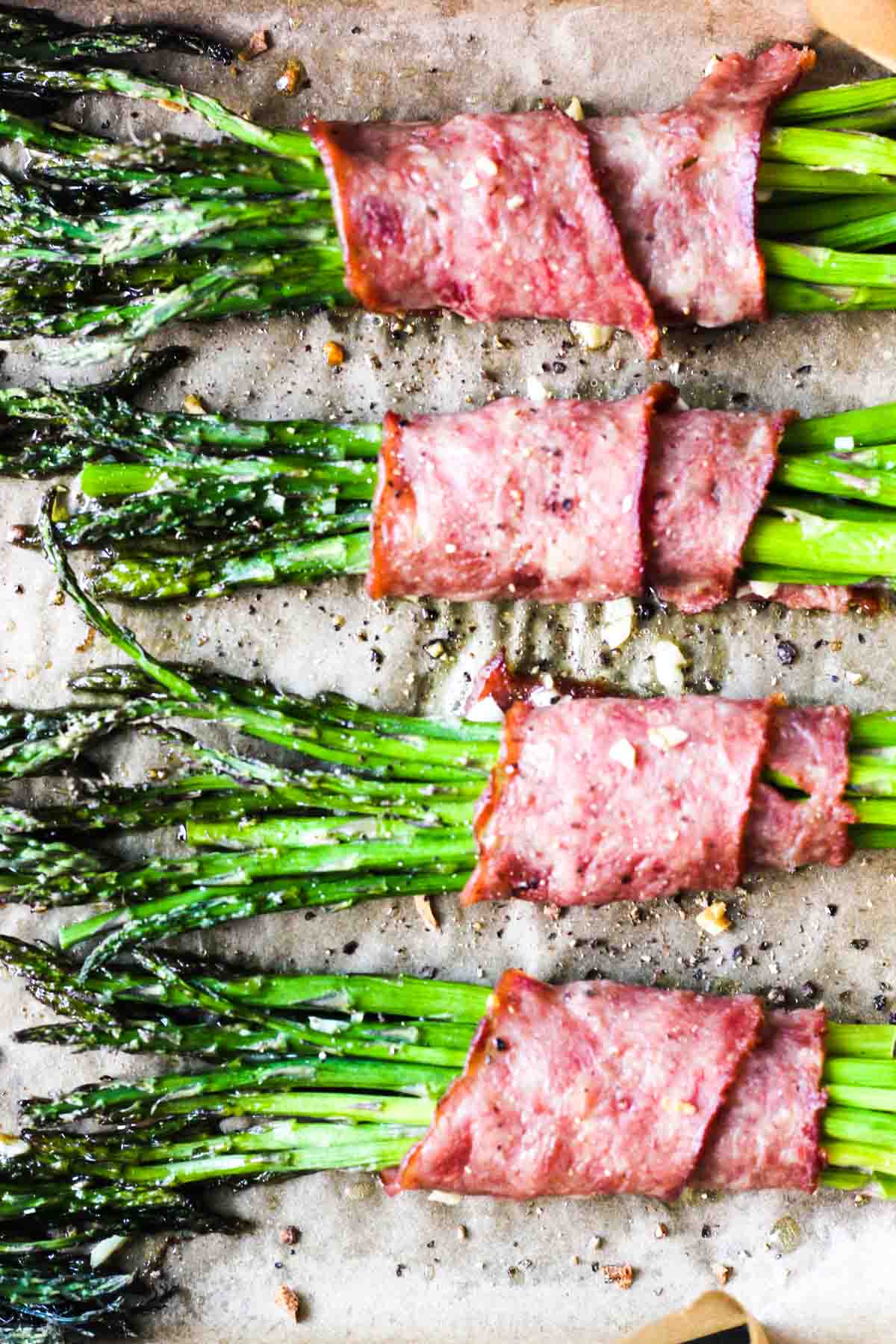 Frequently asked questions
Do you boil asparagus before baking?
You don't need to. Boiling asparagus before cooking it in the oven will cause it to lose flavor inside the water, resulting in bland-tasting asparagus. It also won't have the best texture when baked.
How do you know when asparagus is done cooking?
Asparagus is done cooking when it is fork tender. It should be soft with a little bit of crunch to it. If you are using thicker asparagus spears it will take a little bit longer to cook. It's important not to overcook asparagus because it will lack flavor and have a mushy texture. Ideally it should be crisp but tender.
Can you prepare this recipe in advance?
Yes. You can prepare turkey bacon-wrapped asparagus spears up to one day in advance. Just before putting them into the oven, cover the baking dish with plastic wrap then store in the fridge until you are ready to bake. Then follow the recipe instructions as usual!
Do you have to wash asparagus before cooking?
Yes, just like any vegetable it can have some dirt or debris on it that we don't want to eat. All you need to do is rinse it under cold running water. Just make sure you only wash your asparagus spears just before you are ready to use them. Asparagus can easily go bad when left in a moist environment for too long.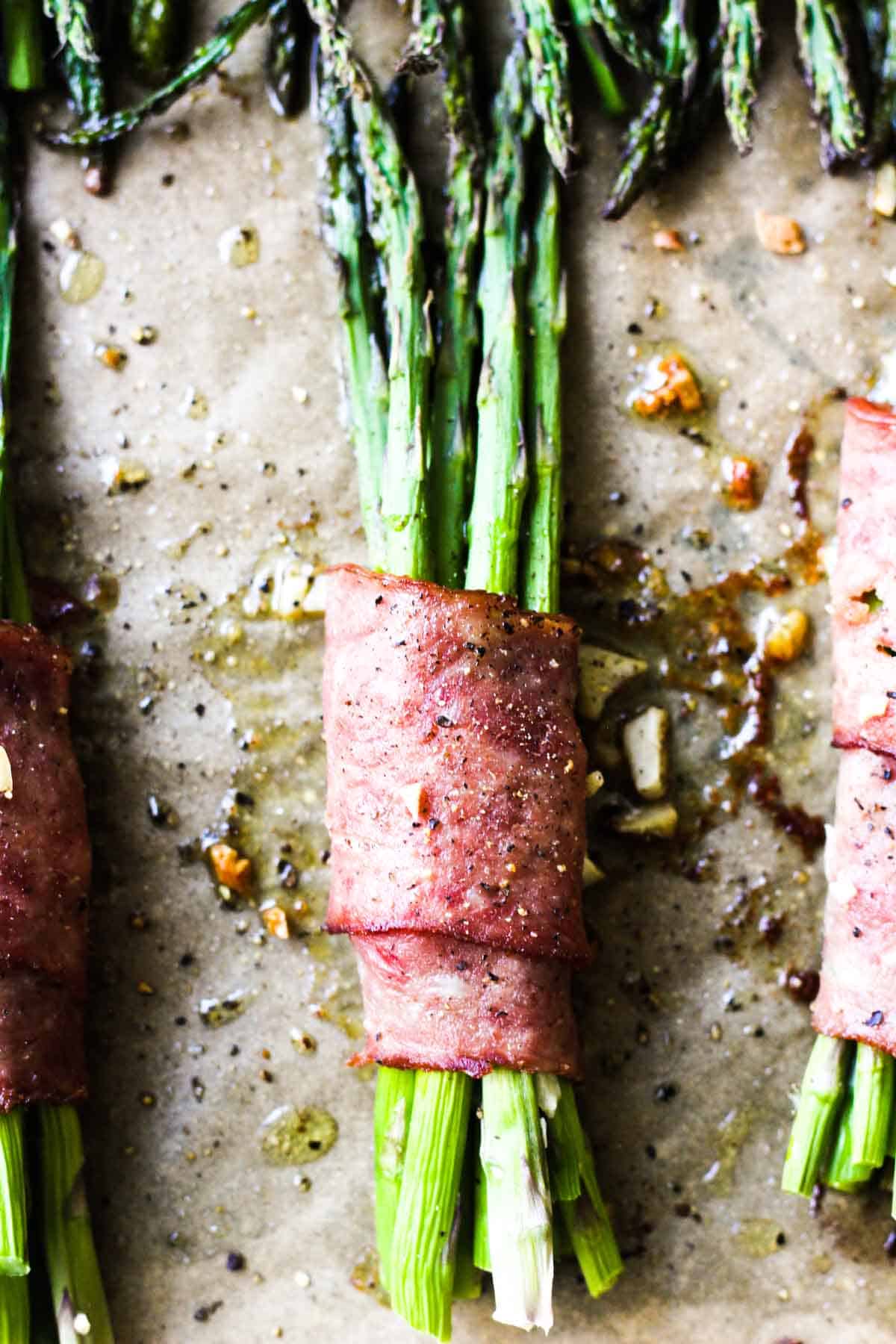 Variations
You can easily substitute turkey bacon to regular bacon. Its a classic combination and very delicious too!
Garlic is completely optional if you don't like it but preferable. It adds a nice flavor and the roasted garlic smell will fill up your kitchen while cooking in the oven.
Substitute asparagus to Brussels sprouts or even zucchini spears. I will post more turkey wrapped recipes soon on this site so stay tuned!
Leftovers
Store turkey bacon wrapped asparagus leftovers in the air tight container in the fridge for up to 5 days. Reheat in the microwave or air fryer. You can freeze asparagus as well. Tightly wrap in foil or place in the freezer safe plastic container.
You may also like…
Recipe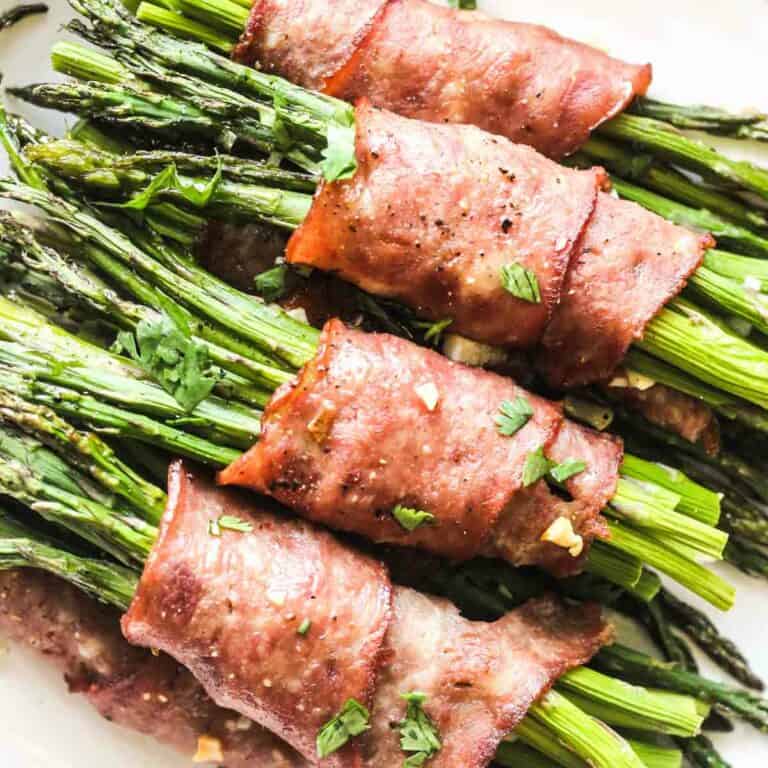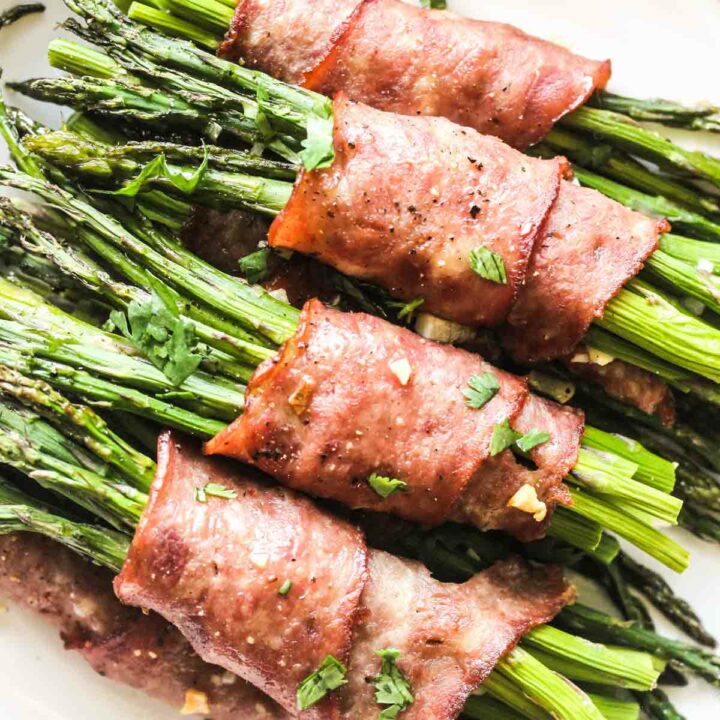 Turkey Bacon Wrapped Asparagus
Turkey bacon-wrapped asparagus is an impressive and delicious side dish or snack. The asparagus spears are perfectly tender and juicy and the crispy turkey bacon adds so much flavor. Make this delicious side dish in 30 minutes using 6 simple ingredients.
Ingredients
1 lb asparagus
12 oz turkey bacon
1 teaspoon garlic powder (or 2 cloves garlic, chopped)
salt and pepper to taste
1 teaspoon oil
Instructions
Preheat oven to 375 degrees.
Rinse asparagus and pat dry. Season with garlic powder (or garlic if using), some salt and pepper. Wrap turkey bacon around each asparagus stalk (or a batch). Secure bacon with toothpicks if needed. Drizzle some oil on top.
Place asparagus in the greased baking dish and cook for 25 minutes.
Notes
Store leftovers in the fridge in air tight container for up to 5 days. Reheat in the microwave.
Freeze for up to 4 months. Use a freezer safe container or a zip lock bag. You can also tightly wrap asparagus in foil for freezing.
Serve as an appetizer or main dish.
Substitute turkey bacon to regular bacon if desired.
Nutrition Information:
Yield:

4
Serving Size:

1
Amount Per Serving:
Calories:

349
Total Fat:

23g
Saturated Fat:

6g
Trans Fat:

0g
Unsaturated Fat:

15g
Cholesterol:

130mg
Sodium:

1809mg
Carbohydrates:

9g
Fiber:

2g
Sugar:

5g
Protein:

28g