This steamed rainbow trout recipe is a quick and easy healthy main dish. Steamed whole with soy sauce, garlic, and lemon juice, it is an incredibly delicious seafood recipe filled with amazing flavor. It is tender and juicy, and from start, to finish this dish is ready in under 30 minutes.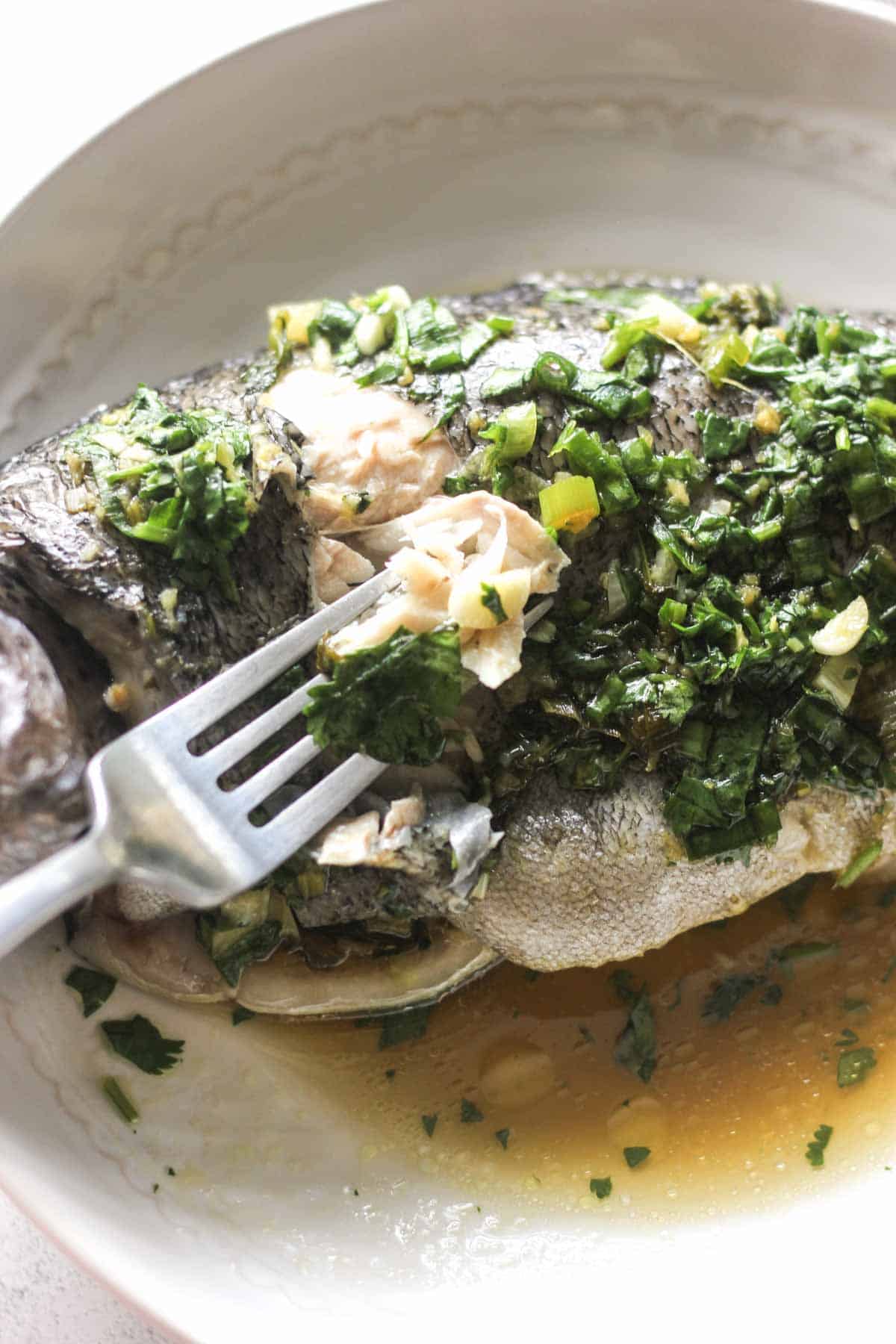 Steaming is an easy and delicious way to cook fish. It is a very quick process requiring little prep work and minimal clean-up. Steamed fish is also a healthier alternative to fried fish because little to no oil is used and you still achieve a wonderful meal.
This steamed rainbow trout is cooked in a delicious and fragrant sauce that enhances the sweet and delicate flavor of this tasty fish. Using fridge and pantry staples, dinner is on the table in just a few minutes! If you love trout just like we do, try my air fryer rainbow trout recipe.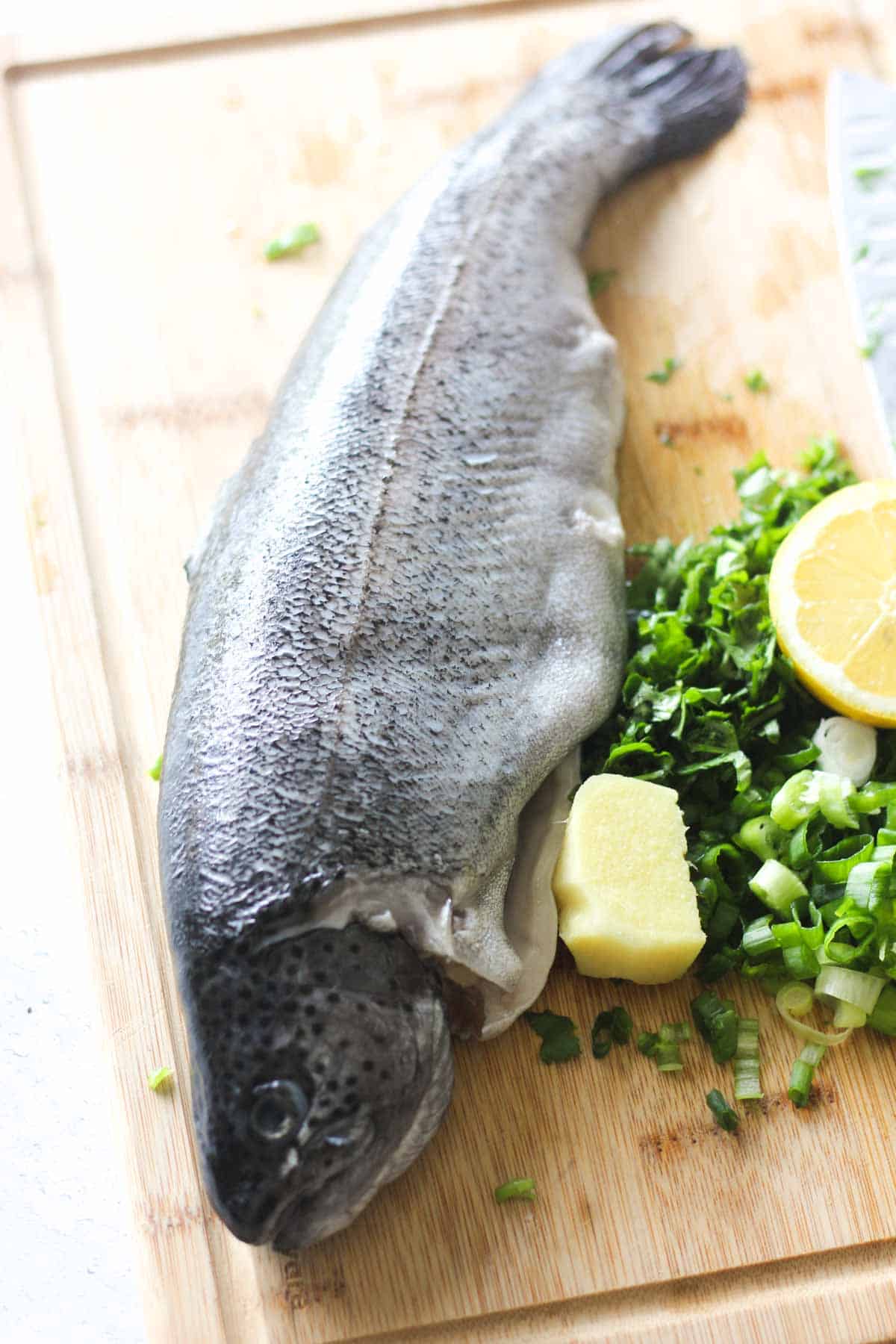 Recipe ingredients
Whole rainbow trout. Cleaned with the scales removed. You will need 1lb for this recipe. You can use fresh or frozen fish. If frozen, thaw overnight in the fridge or in a bowl of cold water.
Soy sauce. Used to add a rich savory flavor to the fish.
Green onions. Chopped and gives a fresh mild onion flavor to this dish.
Garlic cloves. Freshly minced and added to the sauce. It pairs well with fish and adds a fresh garlic aroma.
Cilantro. A nice fresh herb to add an earthy flavor to the fish.
Olive oil. Used in the sauce. Adds nice flavor and helps to keep the fish moist.
Lemon juice. Keeps the fish juicy and flavorful, while adding a citrusy and zesty flavor.
Ginger. Use freshly grated ginger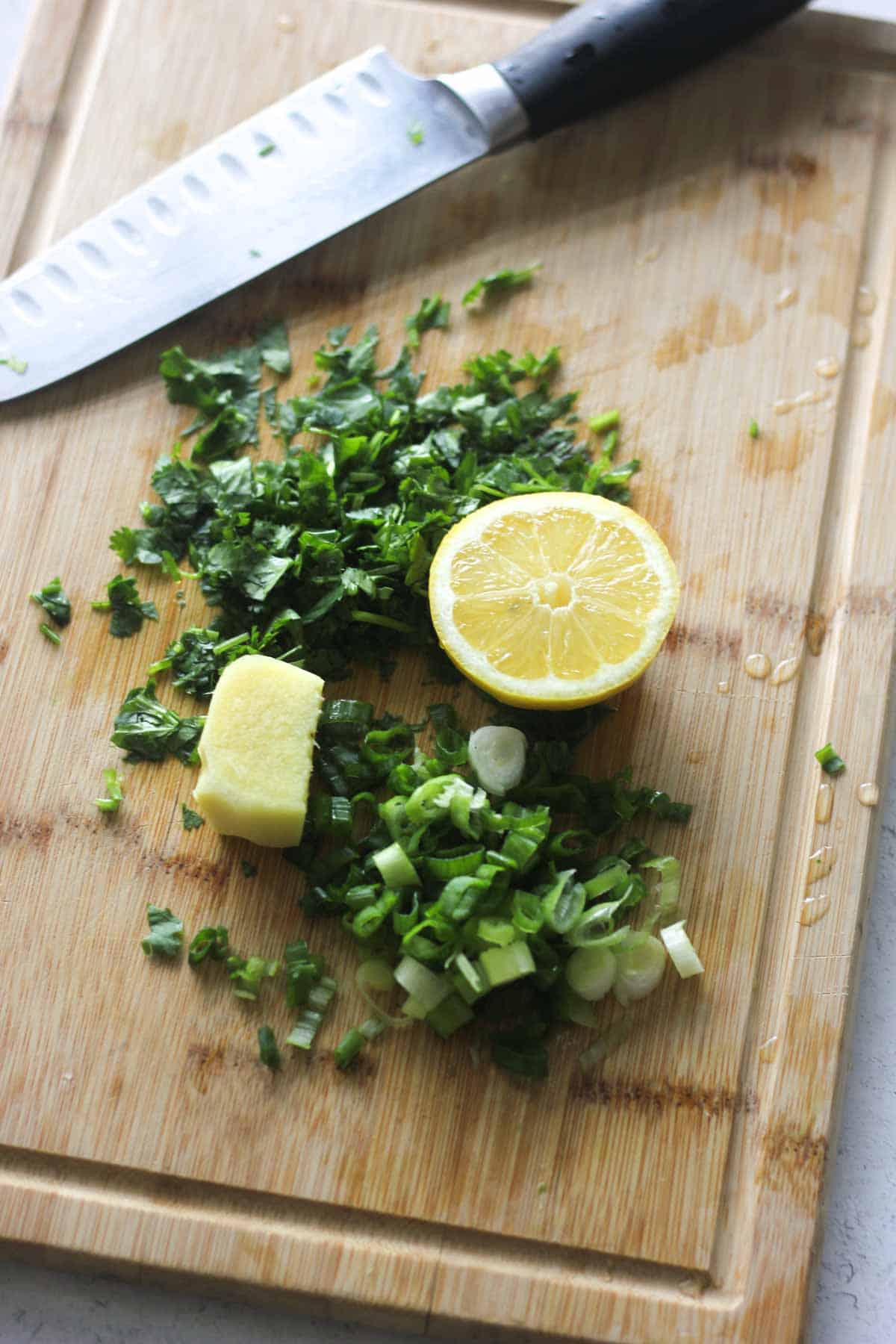 How to make steamed rainbow trout
Prepare the fish. Thaw it if needed and clean. Remove all the scales and guts. Rinse inside with running cold water. It should be good to go!
Prepare the sauce. Mix soy sauce, olive oil and lemon juice in a small bowl. I used the juice of ½ lemon. Add chopped green onions, minced garlic and chopped cilantro. Mix well.
Place rainbow trout in the steamer. Cover it with the mixture, including the cavity. Preserve some sauce for later.
Steam fish for about 20 minutes, more or less depending on the size of the fish. Serve on the plate with more fresh sauce on top. Enjoy!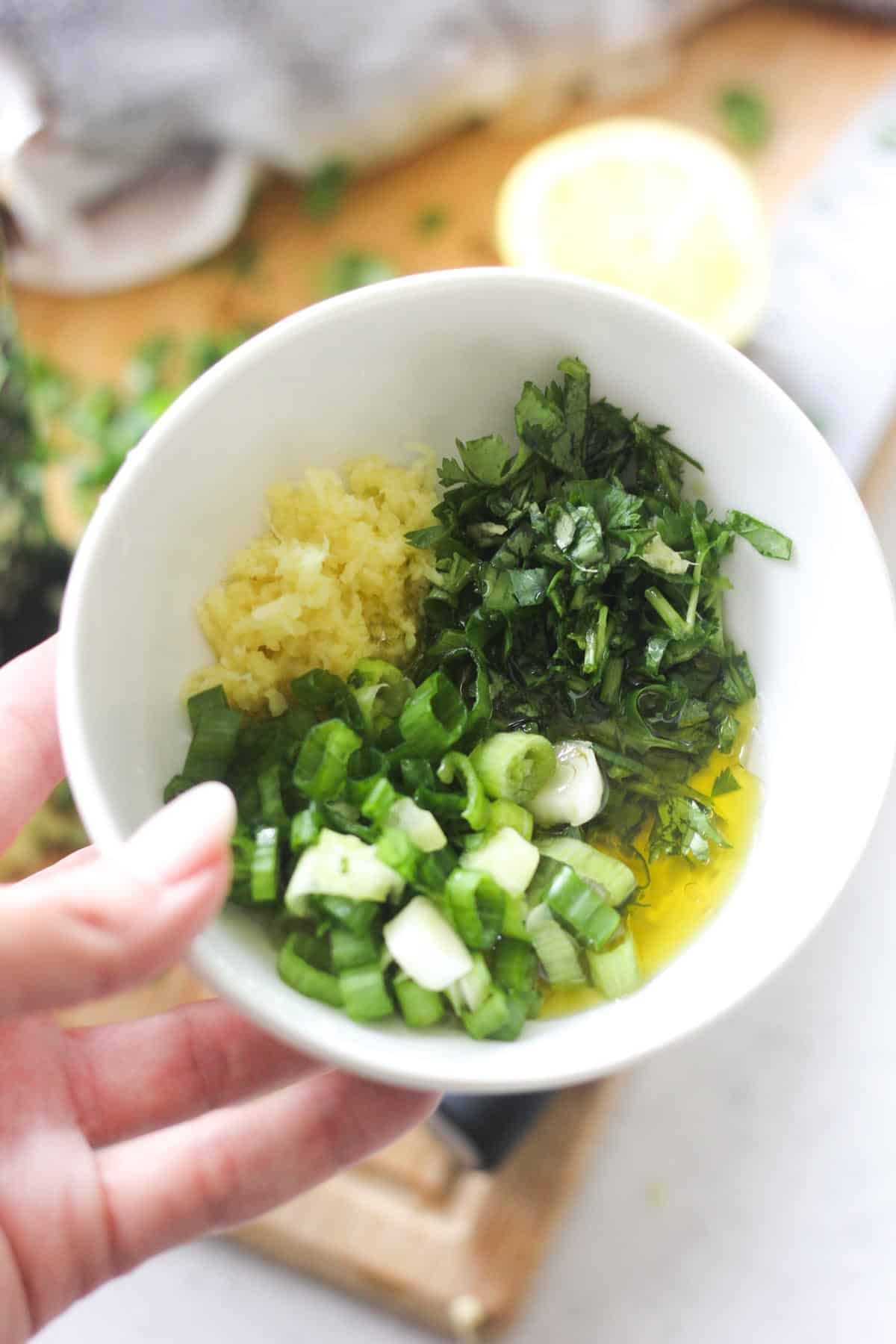 What kind of fish is it
Rainbow trout is a cold water fish from the same family as salmon. Although it is very similar to salmon, rainbow trout is smaller and has a lighter taste and texture. Its flavor is mildly sweet and slightly nutty.
The flesh has a delicate and flaky texture with a slightly pinkish color. Rainbow trout is not very fishy tasting, so if you enjoy milder tasting fish, rainbow trout would be fun to try!
Rainbow trout healthy or not
Yes! Rainbow trout is a very healthy fish filled with vitamins, minerals, and healthy fats. It is packed with protein, rich in omega-3 fatty acids, and vitamins B6 and B12. It is also very low in mercury, so it's perfectly safe to keep in your regular weeknight dinner rotation.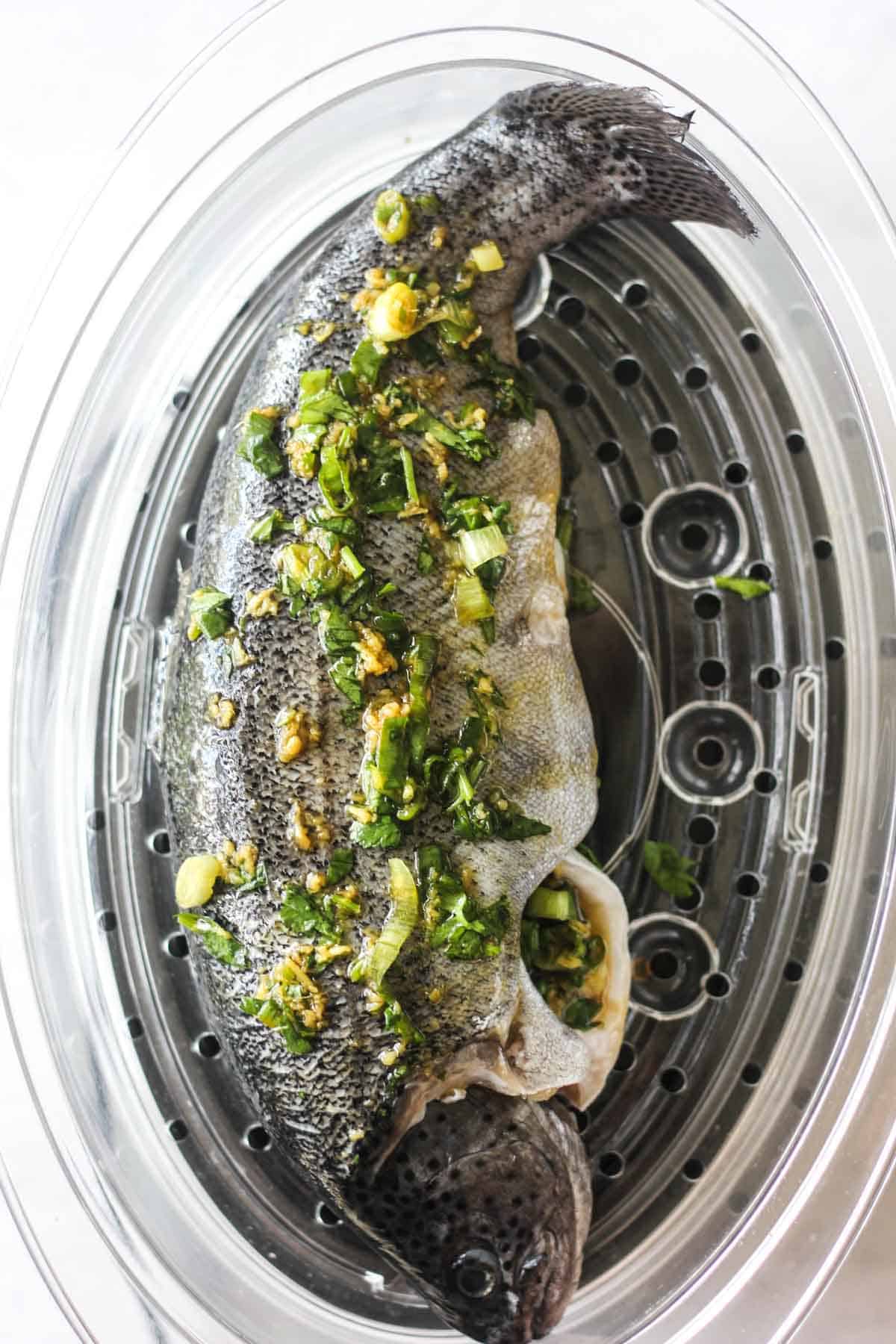 Where to buy
Rainbow trout is available across the United States, especially during the summer months. Look for it at your local grocery stores, Asian markets, or online fish markets.
Fresh fish will have the best taste and flavor, but frozen is perfectly fine to use as well! Thaw it first on the counter for couple hours.
When selecting fresh fish, always look for fish that have bright, clear eyes with a firm texture. It shouldn't be mushy or have a strong fishy smell. Fish that isn't fresh will have a strong fishy smell and taste when steamed.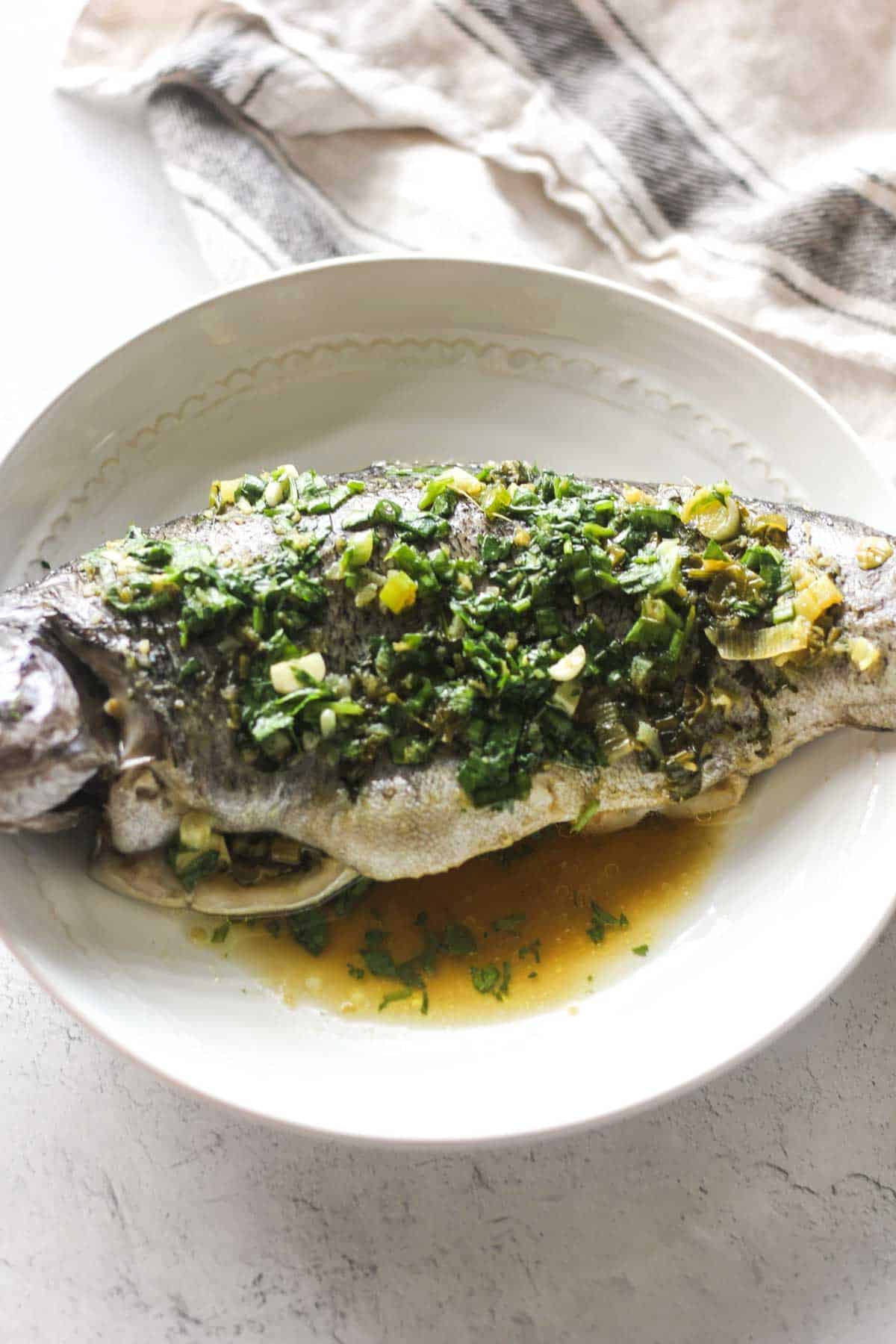 Frequently asked questions
How long do I steam fish?
Steaming fish is a very quick process, but the cooking time will depend on the thickness and size of the fish you are using. For this recipe, I am using a whole rainbow trout that weighs 1lb and it takes roughly 20 minutes to cook. If you are using trout fillets, the cooking time will be a few minutes less.
How do I know when my fish is fully cooked?
Rainbow trout is fully cooked when it has reached an internal temperature of at least 145 degrees Fahrenheit. You can check by sticking a meat thermometer into the thickest part of the fish.

If you don't have a meat thermometer, the flesh should look opaque and it should flake easily with a fork.
What kinds of fish are good for steaming?
In addition to rainbow trout, there are many other amazing varieties of fish that are excellent when steamed. Fish such as Bass, Cod, and Halibut, are all delicious options. Lean white fish with a mild and sweet flavor are ideal choices, but Salmon is also a nice option!
Variations and substitutions
Feel free to use any any other whole white fish kin this recipe. Branzino, dorade or rockfish would be a great substitute for rainbow trout.
If the sauce feels too heavy on spices for you, eliminate ginger and garlic. Just mix soy sauce with lemon juice and oil and add green onions and cilantro.
If you like spicy instead, keep ginger and garlic and add hot chili sauce to the sauce. Like sriracha or Huy Fong.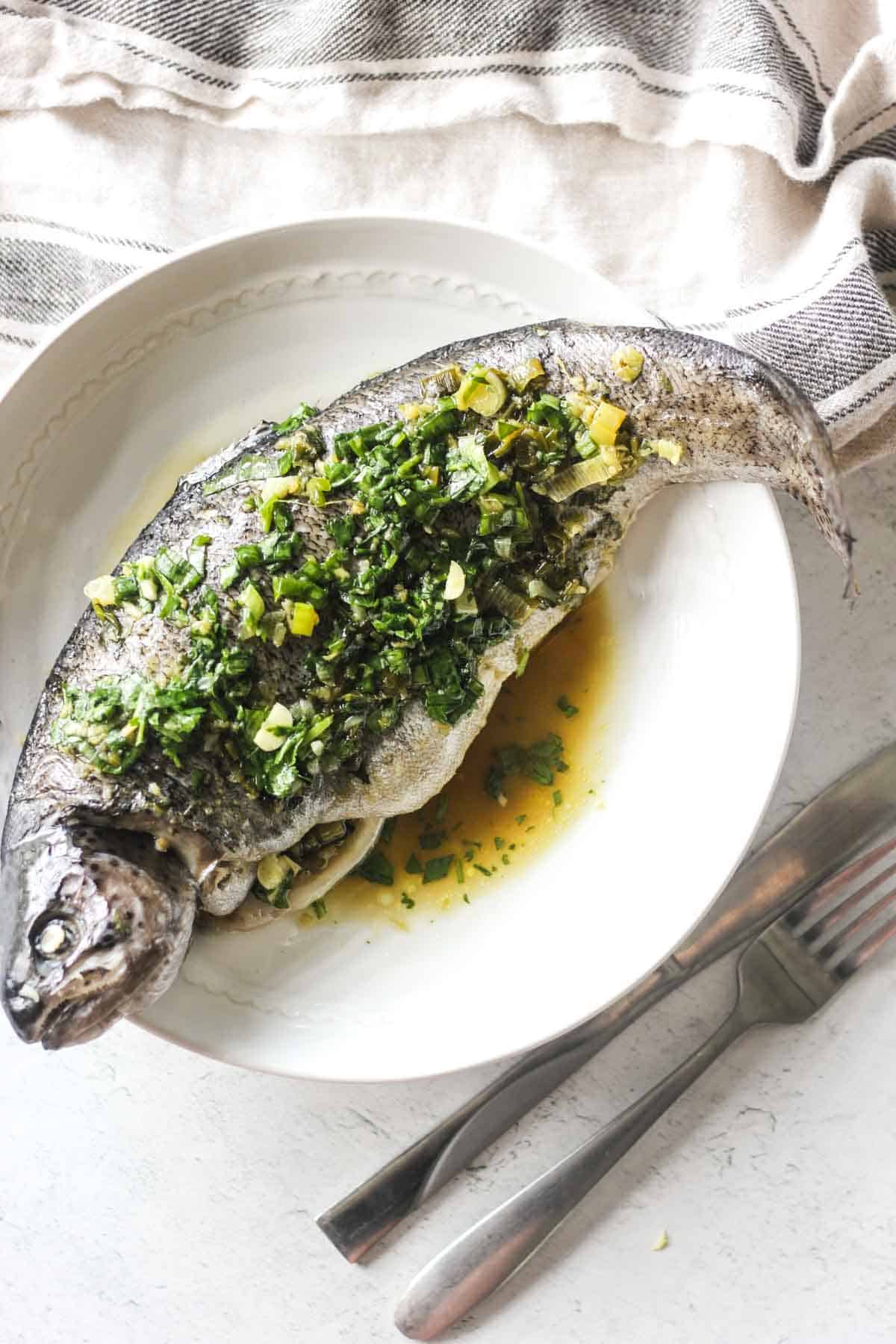 What to serve it with
A nice green salad is a great idea. Mix arugula or spinach or romaine lettuce with tomatoes, bell peppers, onions and cucumbers. Drizzle olive oil mixed with balsamic and mix.
A bowl of steamy hot white rice never disappoints when served with any kind of fish. Grilled, roasted or steamed vegetables like zucchinis, mushrooms, eggplant, cauliflower, broccoli… you name it.
My all time favorite is Brussels sprouts or steamed asparagus cooked with just a pinch of salt and black pepper. Healthy and easy to make.
Leftovers and storage
Leftovers will keep in the fridge in the air tight container for up to 3 days. Fish is not getting any better when stored for longer time.
Reheat in the microwave on low heat until warm, about 1 minute.
Freeze in the freezer friendly container for 2-3 months.
More seafood recipes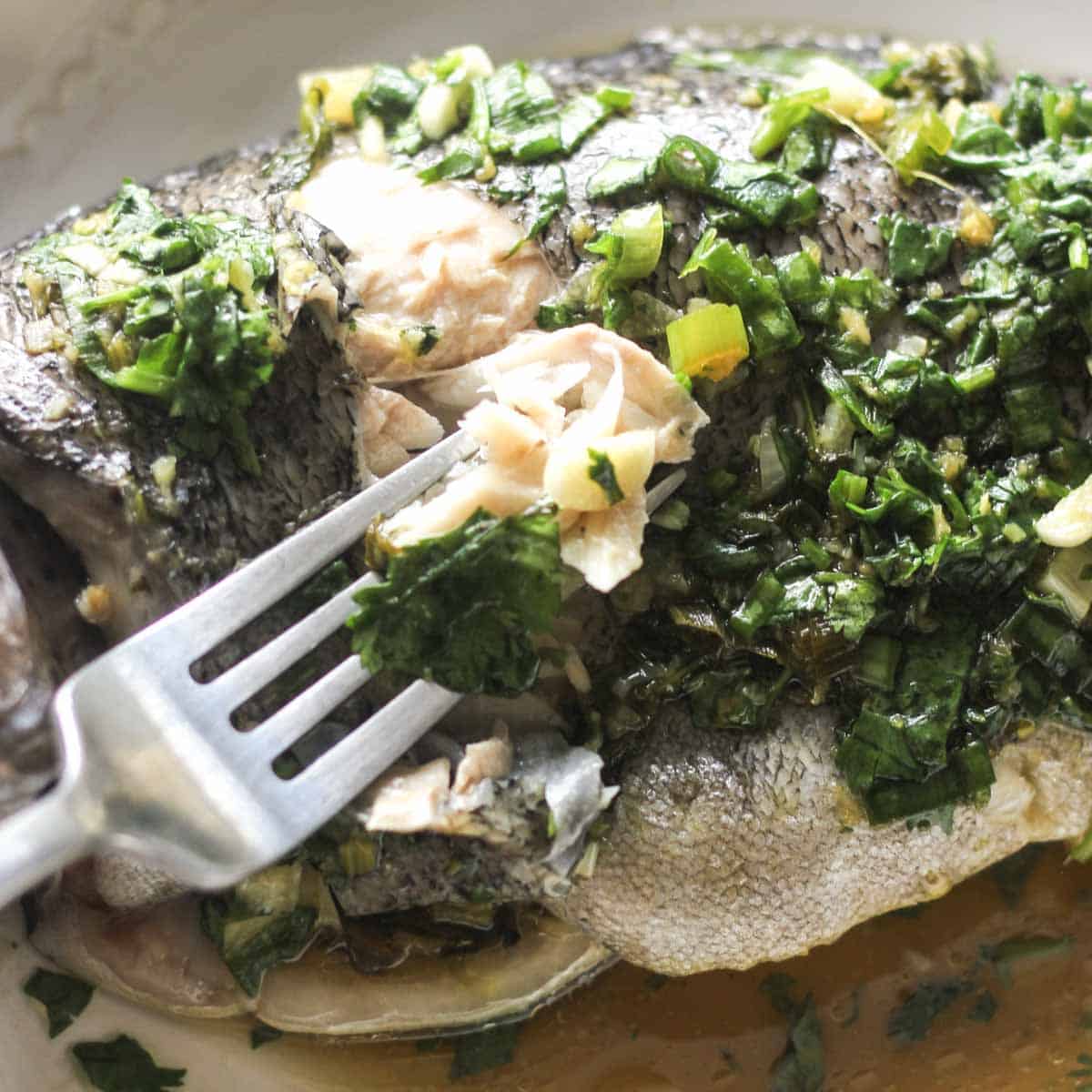 Steamed Rainbow Trout
This steamed rainbow trout recipe is a quick and easy healthy main dish. Steamed whole with soy sauce, garlic, and lemon juice, it is an incredibly delicious seafood recipe filled with amazing flavor. It is tender and juicy, and from start, to finish this dish is ready in under 30 minutes.
Ingredients
1 tablespoon soy sauce
⅓ cup green onions (chopped)
2 garlic cloves (minced)
¼ cup chopped cilantro
2 tablespoon olive oil
juice of ½ lemon
1 tablespoon grated ginger
Instructions
Clean the fish and place in the steamer.
Mix all other ingredients for the sauce. Cover fish completely, in the cavity also. Preserve some sauce for later.
Steam for 17-20 minutes. Serve rainbow trout with more fresh sauce on top.
Notes
Store leftovers in the fridge for up to 3 days
Nutritional information is provided as a courtesy only and should be construed as an estimate rather than a guarantee.
Nutrition Information:
Yield:

2
Serving Size:

1
Amount Per Serving:
Calories:

263
Total Fat:

16g
Saturated Fat:

2g
Trans Fat:

0g
Unsaturated Fat:

13g
Cholesterol:

23mg
Sodium:

536mg
Carbohydrates:

20g
Fiber:

1g
Sugar:

15g
Protein:

10g