Eggplant pancakes is a delicious easy breakfast that is healthy too and can be used as a snack as well. Ready in less than 20 minutes, these pancakes are so much fun to make with kids or by yourself. Serve with sour cream, ketchup, mustard or your favorite dipping non sweet sauce.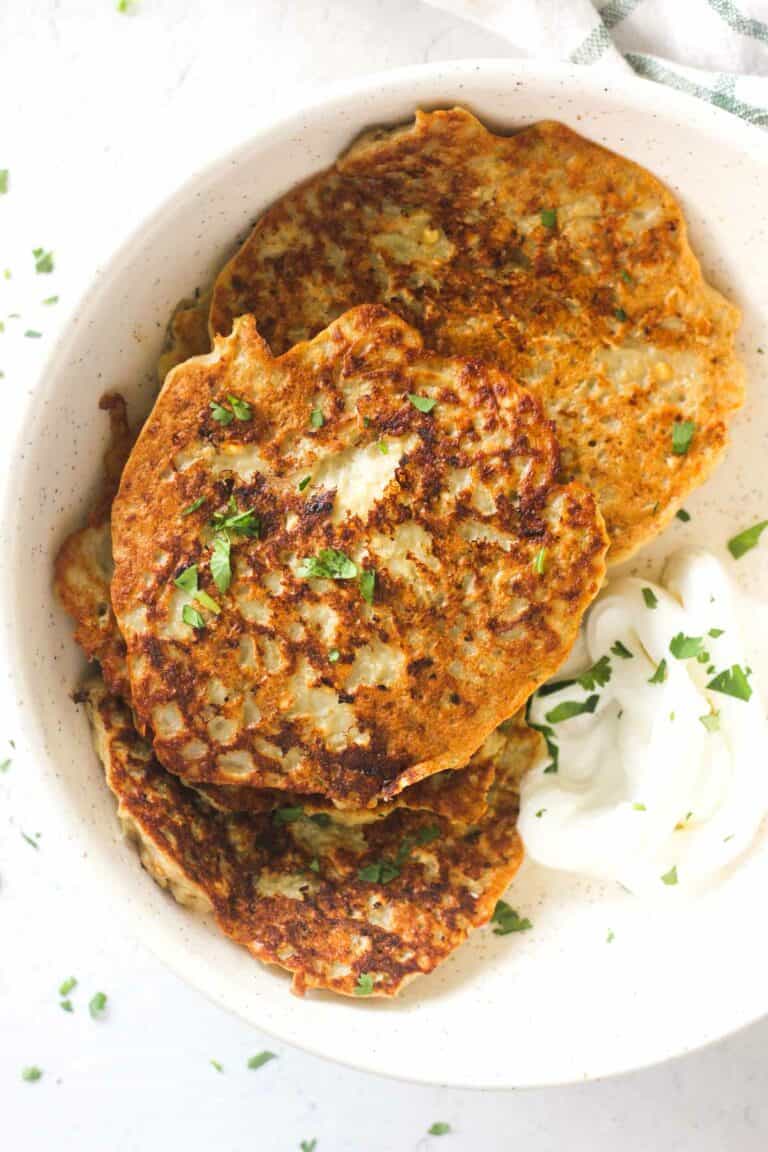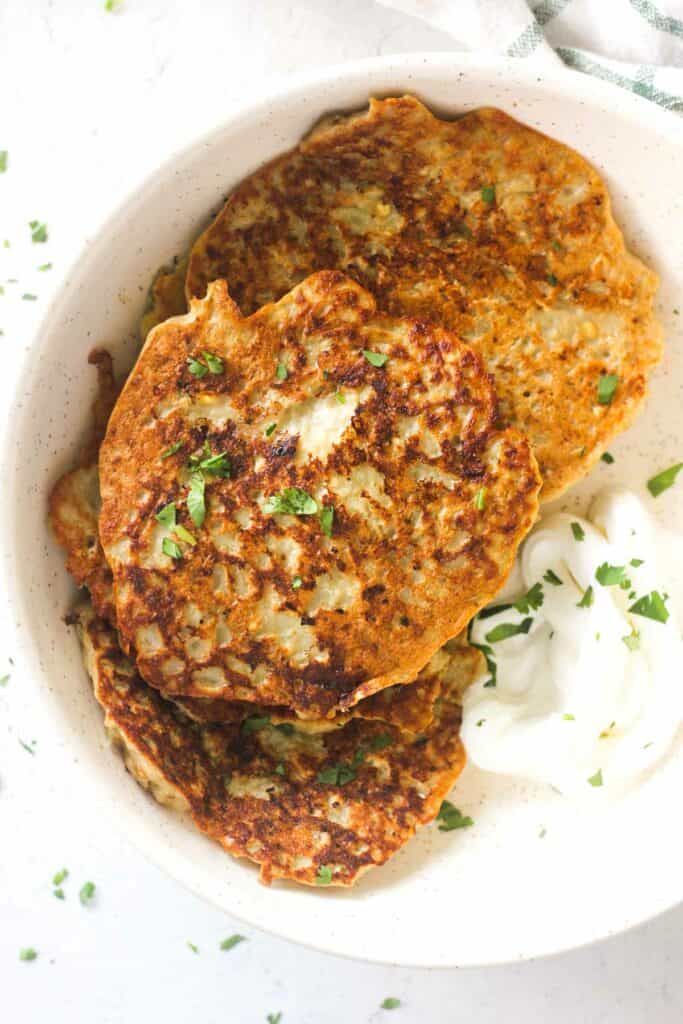 In this post i will show you how to cook eggplant pancakes. It's easy but needs a little bit of preparation. Since we are making quick pancakes i recommend peeling the eggplant. Skin is edible but takes longer time to cook. That's the reason we are not using it in this recipe.
You can use the skin in this Bison ragu, or any other ragu recipe and add it to the vegetables. Saute for an hour and it will get very tender and yummy. This way you will not waste anything when preparing this eggplant.
This pancakes are ok to freeze. They would be great to pack in the kids lunchboxes for school or simply eat for breakfast. Microwave them from frozen or if you have an air fryer just air fry for a few minutes. They will get nice and crispy!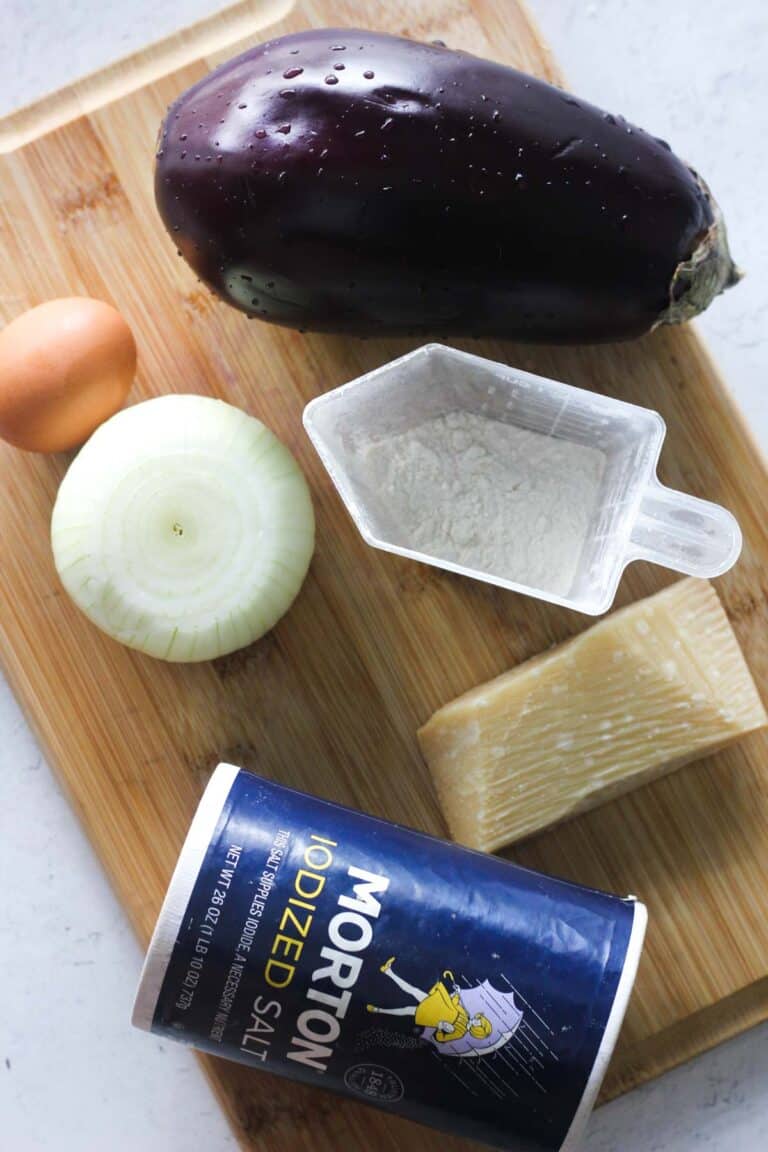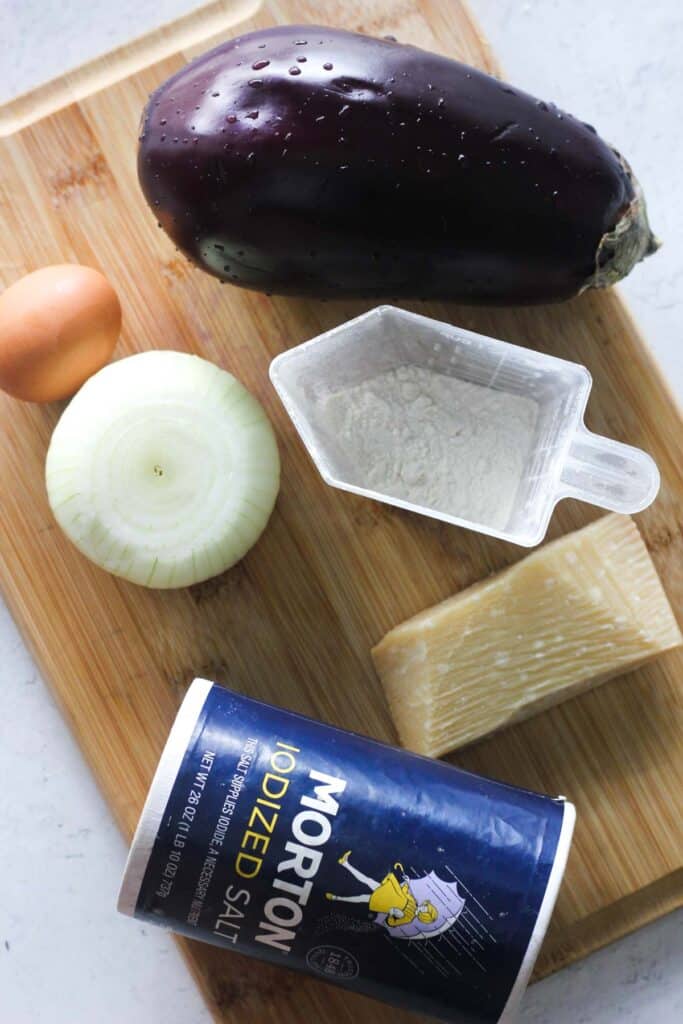 Recipe ingredients
Eggplant is a main ingredient in this pancakes recipe. Use 1 large eggplant or two small.
Onion. Shred is to an almost a paste and add to the eggplant.
Flour is used to thicken the batter. Otherwise it will be to runny. All purpose flour is fine.
Hard cheese. Any hard cheese will work, i used Parmesan.
Egg. Eggs helps combine all the ingredients together. Also acts as glue so pancakes stay in place when on griddle.
Oil. Any vegetable oil will work. Use for frying eggplant pancakes.
Garlic. Grate or mince for the recipe.
Spices. Besides salt and black pepper you can add you most favorite spices or chopped herbs.
How to make eggplant pancakes
Get a nice big eggplant and wash it. Using a knife or a potato peeler peel all the purple skin of the vegetable. Using a grater grate eggplant. It doesn't need to be a complete mush, use a medium grater.
Well, for onion please choose the smallest grater. Or if you have a small food processor you can definitely use it. Add an egg to grated vegetables, grated cheese, garlic and all purpose flour. Add spices.
The batter suppose to be not too runny not too thick. Check the photo below for the reference. If it feels like pancakes will not hold their shape in a pan, add more flour to the batter.
Now scoop about 2 tablespoon of batter on the heated oiled pan. Even it out and cook eggplant pancakes over low-medium heat for about 3 minutes on each side. You want to make sure that the eggplant is cooked all the way through. Cover with the lid after you flip them.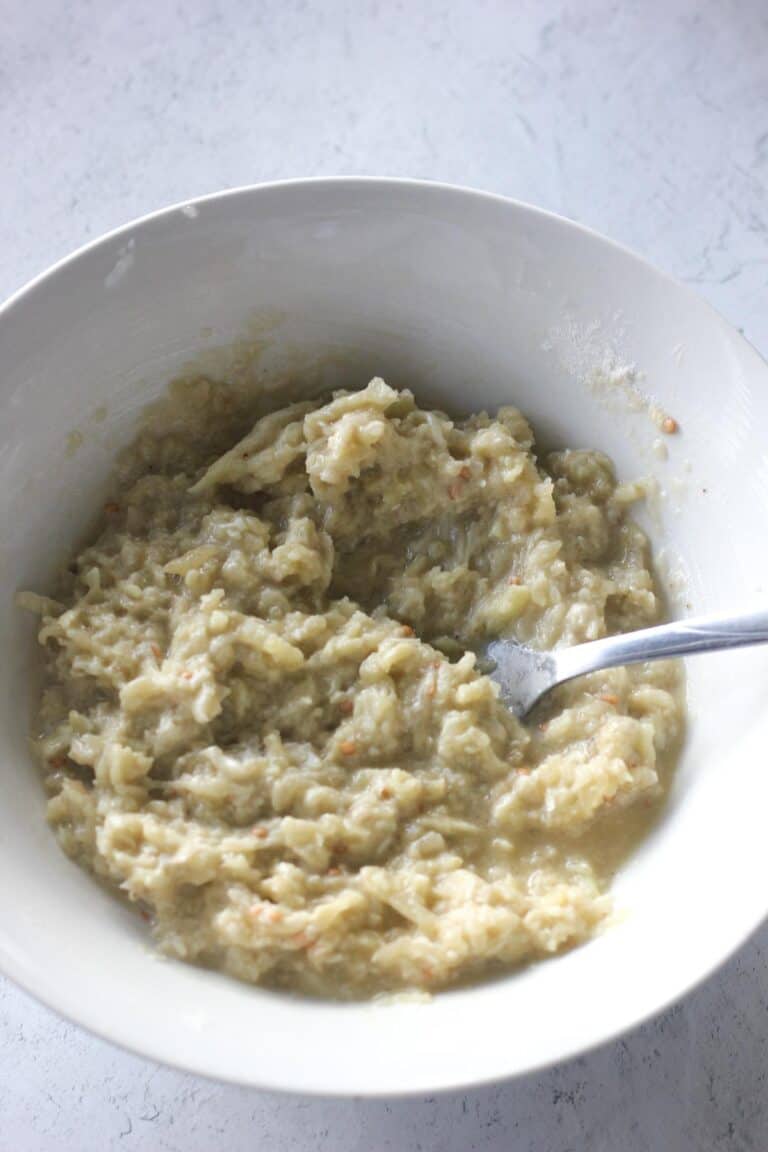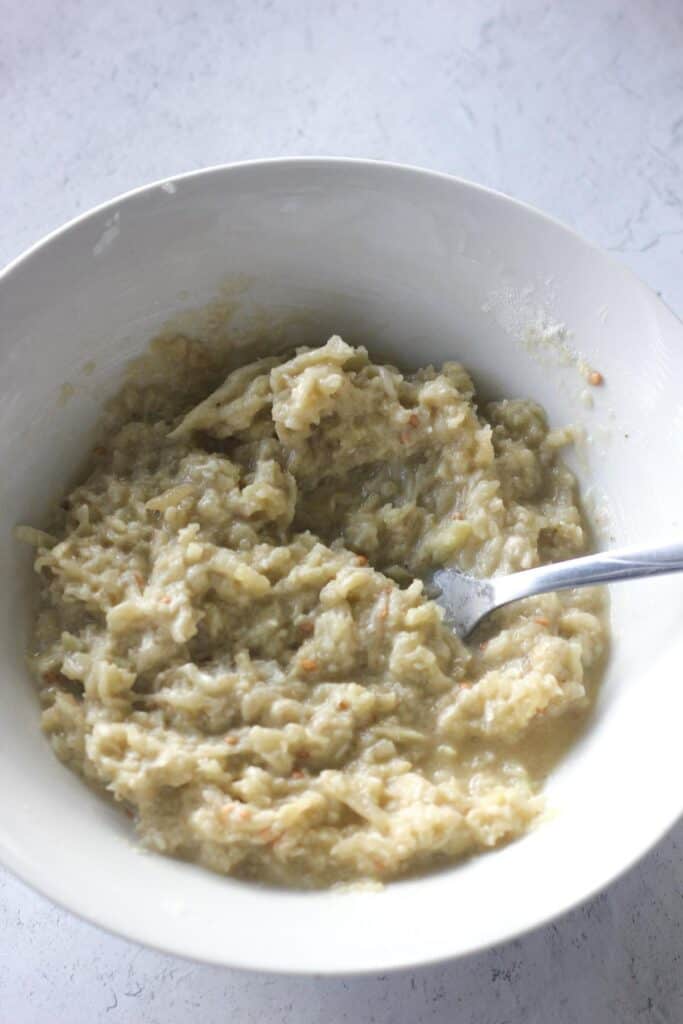 Variations
Using the same exact eggplant pancakes recipe you can try to make zucchini pancakes. The only difference will be that you don't need to peel the zucchini. Also zucchini is much more watery.
You will need to squeeze grated zucchini so all the extra moisture stays out. This will prevent pancakes from spreading out all over the pan.
Cauliflower pancakes are also very yummy and easy to make. Grate cauliflower (its called cauliflower rice) and add the rest of ingredients.
Cook on medium heat for 3 minutes on each side. Serve with sour cream or tzatziki sauce.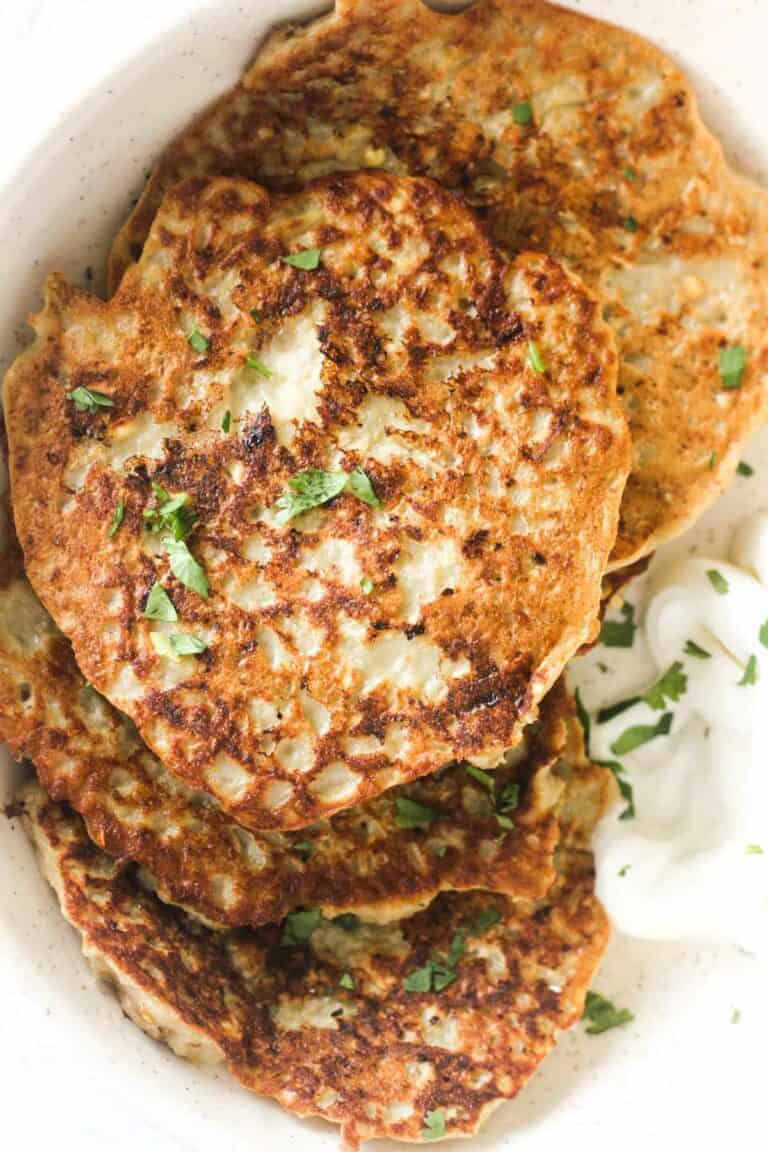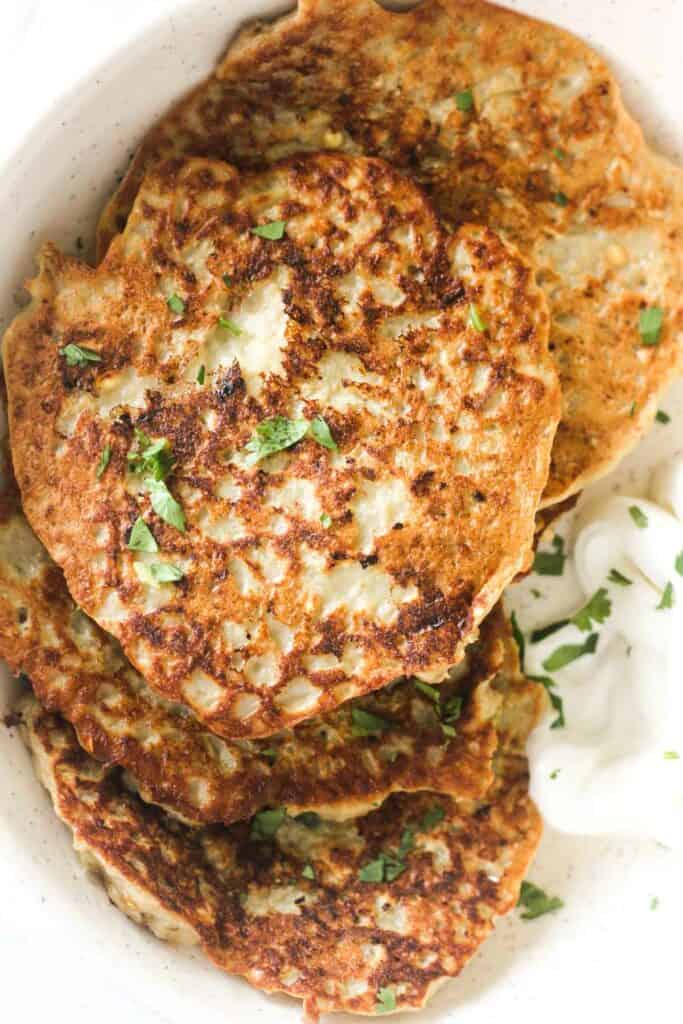 Frequently asked questions
Do i need to soak eggplant in milk?

For some recipes its required for eggplant to be soaked in milk or water. Eggplant is like a sponge and soaks all the liquid around it. It creates creamy texture. For this recipe we don't need extra moisture or pancakes will fall apart when cooking.
Can eggplant be eaten uncooked?
The short answer is yes. It ok to consume eggplant raw. The other question is does it taste better when cooked? Definitely no.
Can you overcook eggplant?
The longer you will cook it the softer it will get. Undercooked eggplant is chewy while overcooked is just simply very soft.
How do you make eggplant pancakes fluffier
You will need to separate the egg you are using. Beat egg white with the mixer and gently fold in the batter right before cooking. Egg yolk can go with all other ingredients and mixed into the batter.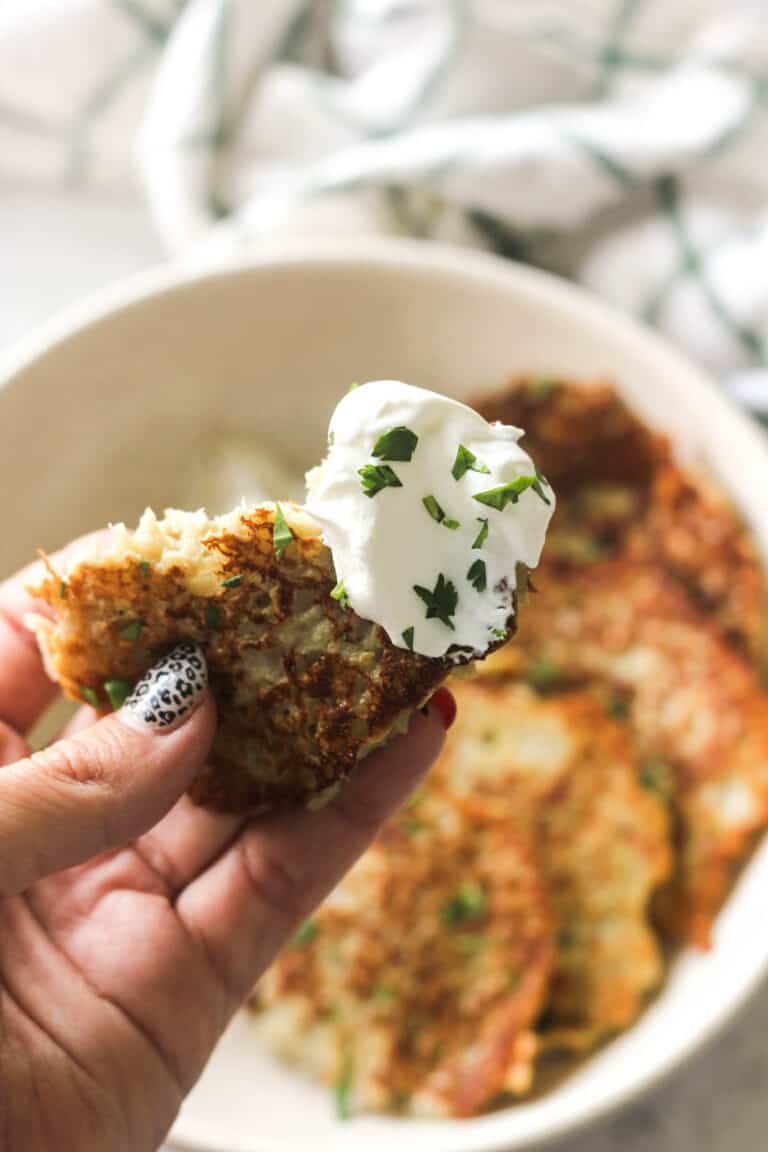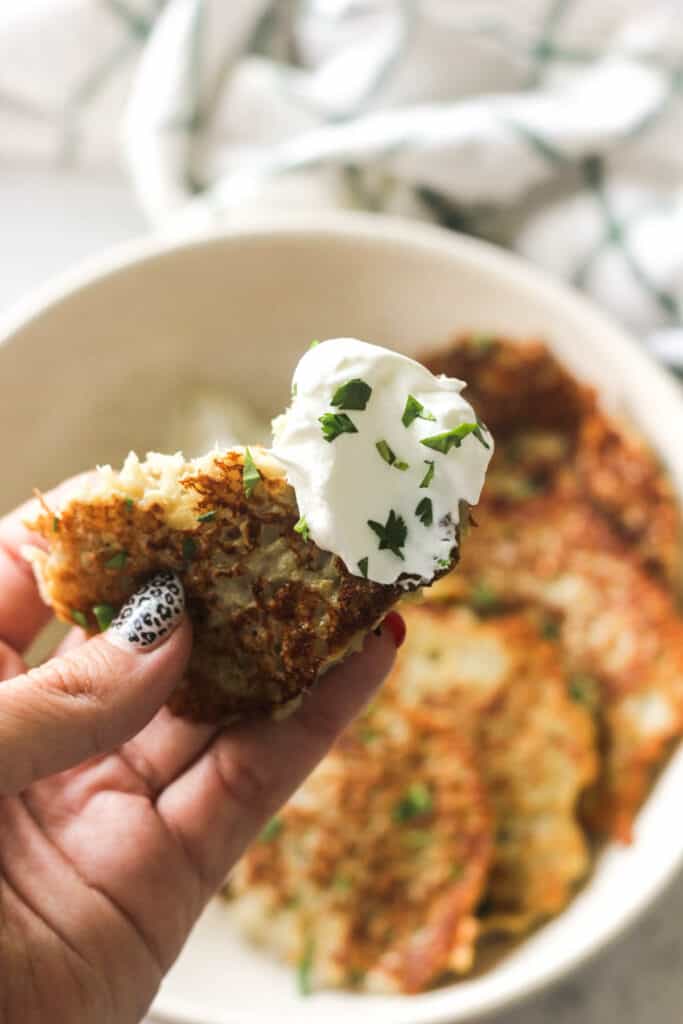 Serving suggestion
Serve eggplant pancakes with chopped cilantro, parsley or green onions. Dip in the sour cream (mixed with minced garlic and chopped dill if you like), ketchup or mustard. Optionally grate more Parmesan cheese and sprinkle on top of cooked hot pancakes. Cheese will melt and be extra delicious!
Leftovers
Store leftovers in the air tight container in the fridge for up to 5 days. Reheat in the microwave or air fryer. You can also freeze eggplant pancakes. They will be a great quick healthy breakfast option on the go. or a great addition to the kids lunch box at school.
More breakfast recipes
You may also like my latest recipes on The Top Meal: Turkish red cabbage salad, Air fryer frozen coconut shrimp and Air fryer branzino
Hope you will like this eggplant pancakes recipe as much as we do. Please rate the recipe if you made it and leave a comment below if you have any questions or suggestions.
Recipe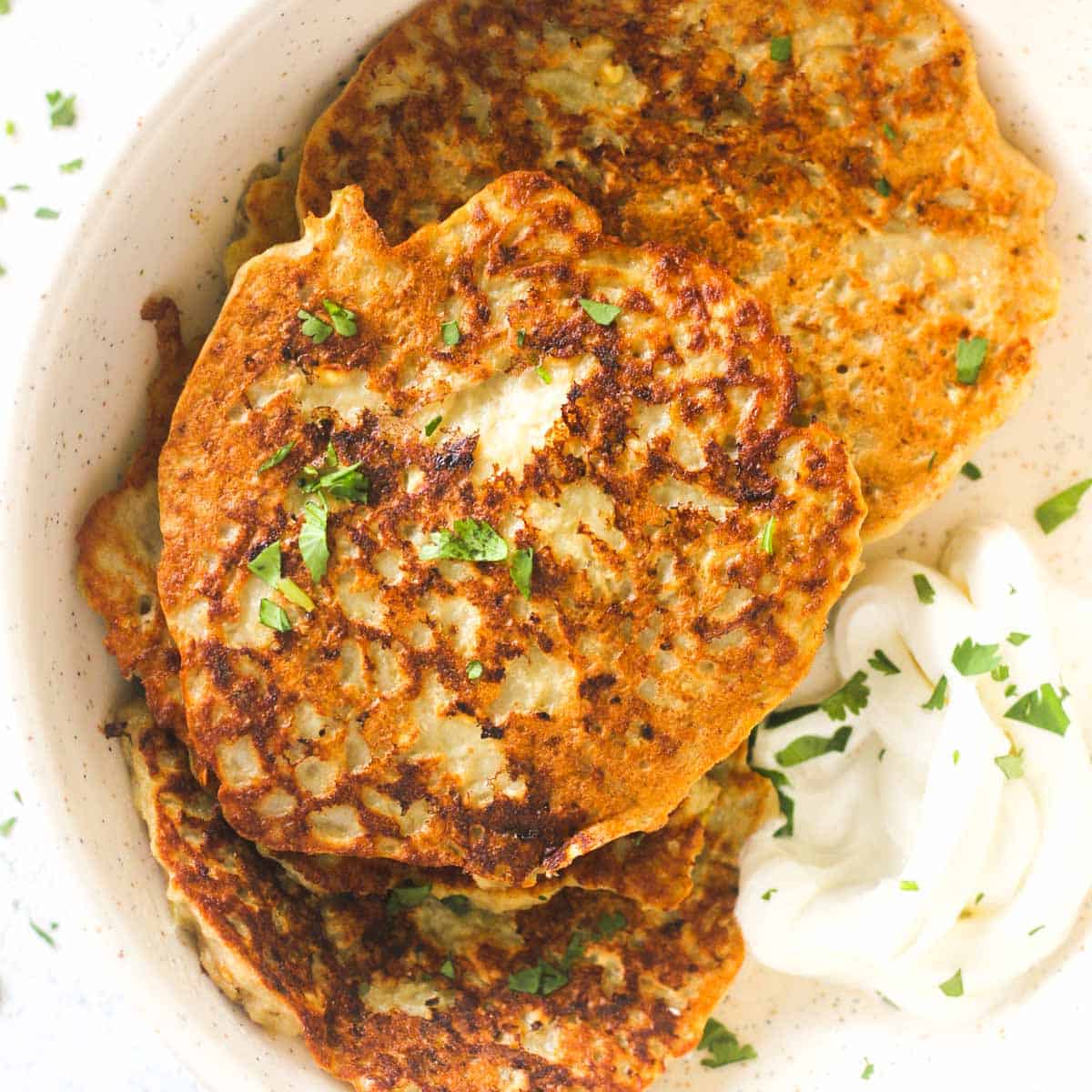 Eggplant pancakes (Easy and Quick!)
Eggplant pancakes is a delicious easy breakfast that is healthy too and can be used as a snack as well. Ready in less than 20 minutes, these pancakes are so much fun to make with kids or by yourself. Serve with sour cream, ketchup, mustard or your favorite dipping non sweet sauce.
Ingredients
1 eggplant
½ onion
2 tablespoon flour
2 tablespoon grated Parmesan or any hard cheese
1 egg
1 tablespoon oil
½ teaspoon salt
freshly ground pepper
1 garlic clove, minced
Instructions
Peel eggplant and grate in to the bowl. Grate onion and cheese and add to the bowl as well.
Add egg, flour, garlic and spices and mix well.
Heat oil in the large skillet. Scoop about 2 tablespoon for each pancake and cook on medium low for about 3 minutes on each side.
Serve hot with chopped cilantro, sour cream and chopped green onions.
Notes
Add more spices to the batter if you prefer. Chopped fresh cilantro or parsley will be a great addition to the recipe.
1 serving is 2 pancakes
Store leftovers inthe frideg for up to 5 days. you can freeze pancakes too. Reheat in the air fryer or microwave.
Nutrition Information:
Yield:

4
Serving Size:

1
Amount Per Serving:
Calories:

160
Total Fat:

8g
Saturated Fat:

2g
Trans Fat:

0g
Unsaturated Fat:

5g
Cholesterol:

56mg
Sodium:

381mg
Carbohydrates:

18g
Fiber:

4g
Sugar:

5g
Protein:

6g