Easy and quick recipe for plantain waffles made with just 3 ingredients! This waffles are no sugar no flour added healthy and delicious. Also gluten free.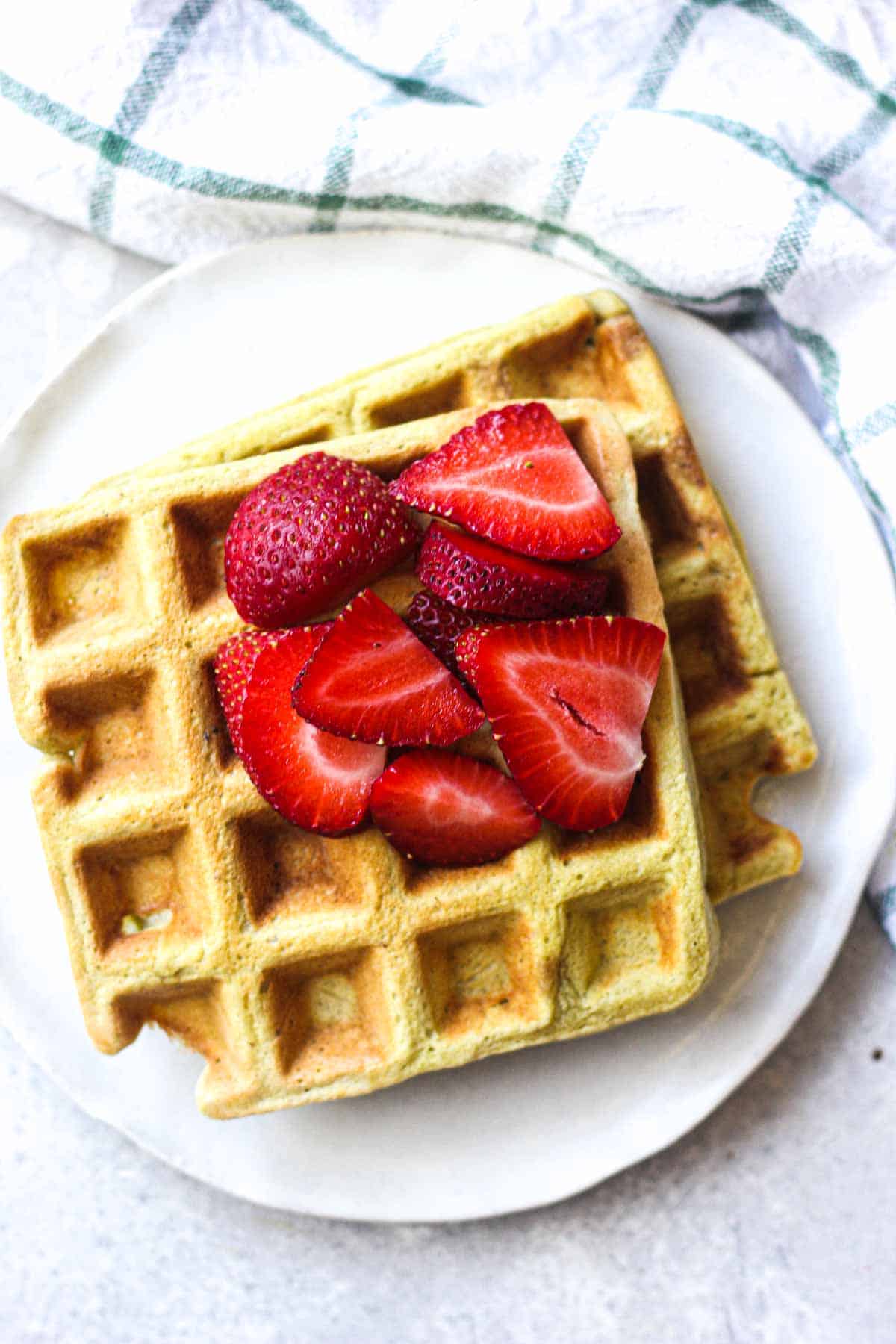 We like to start our day with waffles. We tried banana waffles, peanut butter waffles, protein powder waffles and more but never with plantains.
I had 2 plantains sitting on my counter since last week and i didn't really know what to do with them. I figured if i will just blend them with eggs in my Vitamix and then pour in my waffle maker it will make a delicious healthy breakfast.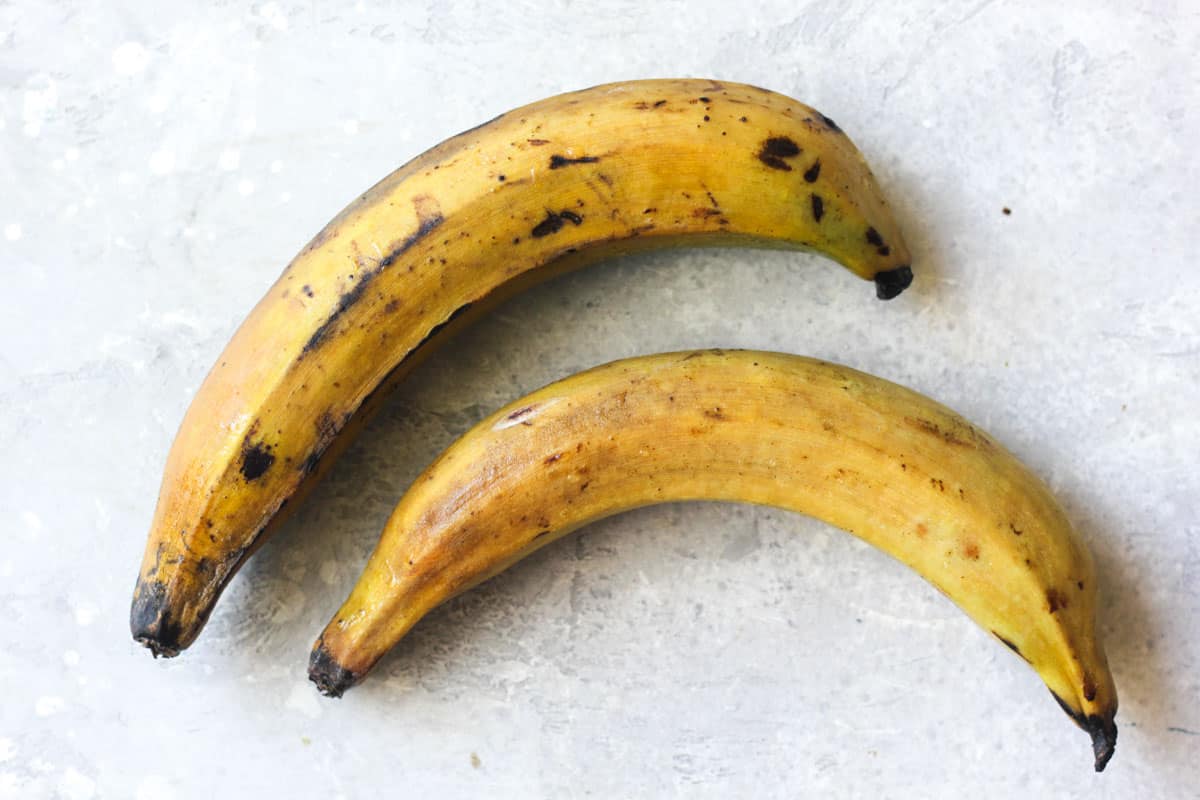 Expert tips for perfect waffles
To thicken the dough you need to use some kind of flour. I used an almond flour, not too much, just 1 tablespoon. If you have a coconut flour, you can use that in equal amount. Regular white all purpose flour will work great too, but we just to make it a bit healthier.
Oil spray will probably be a 4th ingredient in this recipe but i didn't count it. I used a regular no fancy olive oil spray from a major supermarket. Coconut or avocado oil spray will be wonderful too! Use it only to spray a waffle maker.
If you can get plantains with different ripeness level that would be great! One green and one with brown spots. This is done to get the most sweetness from the brown plantain and to get starch from the green one. This is would be perfect but if you cant get it this way that's ok too.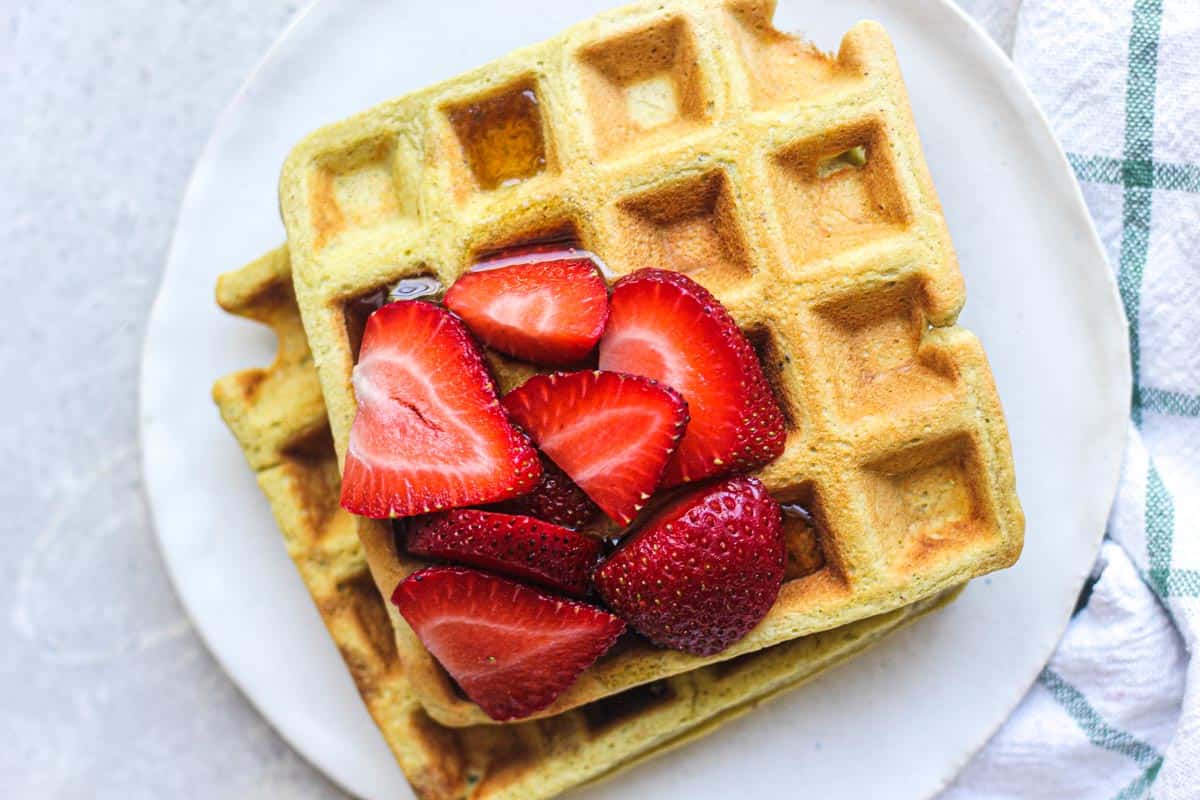 This breakfast only takes about 10-15 minutes to prepare. You can make it while the coffee is brewing in the coffee maker or the tea is steeping in the tea pot.
My favorite waffle toppings
Waffles and pancakes just can not go without delicious sweet and crunchy toppings. Try some of my favorites or add whatever you like!
Strawberries of course. They are not too sweet but so juicy and balance the meal very well.
Blueberries. If in season and ripe they will shine your breakfast with color and sweetness.
Maple syrup. A perfect simple topping for any breakfast baking.
Whipped cream. I little extra for a special occasion.
Chopped nuts. Crunchy topping is always good. And nutritious!
More yummy breakfast recipes: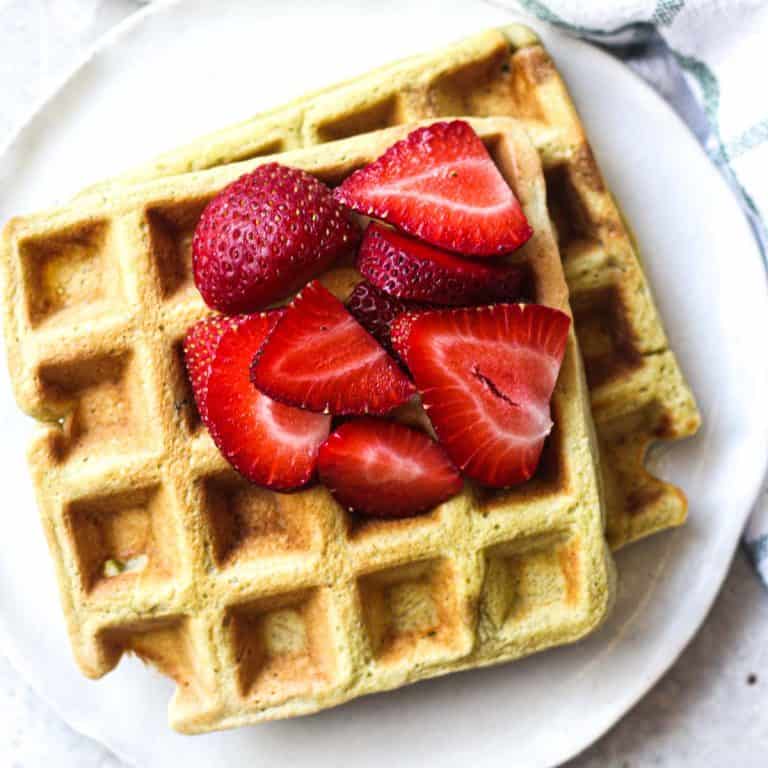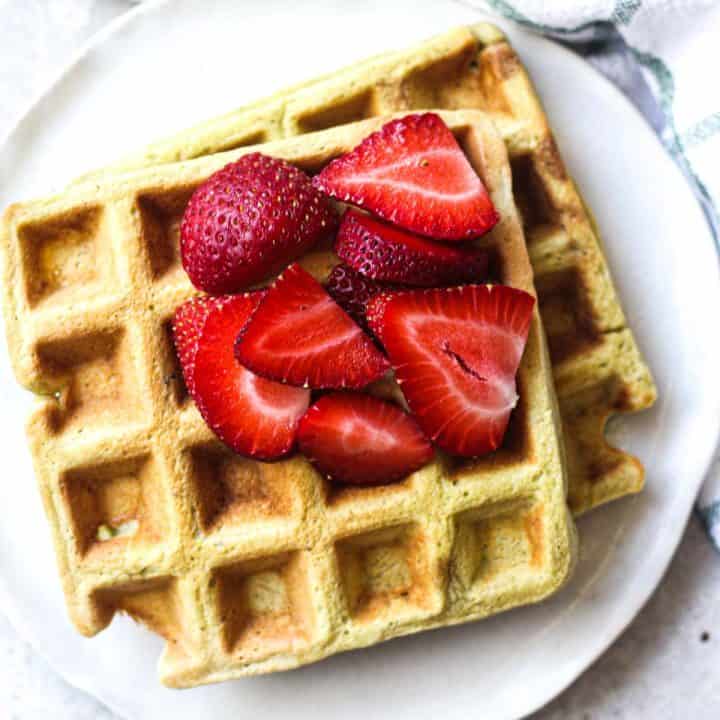 3 ingredient plantain waffles
Easy and quick recipe for plantain waffles made with just 3 ingredients! This waffles are no sugar no flour added healthy and delicious.
Ingredients
2 plantains
2 eggs
1 tablespoon almond flour
Instructions
Peel the skin of plantains and chop them. Add to the blender.
Crack two eggs wight on top of plantains and blend until smooth.
Add almond flour and blend again.
Prepare your waffle maker. Heat it and pour waffle dough over. It made 3 waffles for me. Cook until done according to your waffle maker directions.
Serve with your favorite toppings.
Notes
I added sliced strawberries and maple syrup on top.
My waffles were cooked on a highest waffle maker setting.
You can easely double or triple the recipe for a bigger crowd. This recipe makes 3 square waffles.
Nutrition is calculated without any toppings.
Nutrition Information:
Yield:

3
Serving Size:

1
Amount Per Serving:
Calories:

250
Total Fat:

5g
Saturated Fat:

1g
Trans Fat:

0g
Unsaturated Fat:

3g
Cholesterol:

124mg
Sodium:

70mg
Carbohydrates:

51g
Fiber:

4g
Sugar:

23g
Protein:

6g