This Golden Corral pot roast copycat recipe is the ultimate comforting dish! Incredibly delicious this slow-cooked beef pot roast dinner is filled with juicy beef and tender vegetables cooked with a rich and savory beef broth. It's an easy and wonderful family-friendly meal!
I have few more similar interesting and delicious recipes here like Instant pot turkey stew, Ninja Foodi pot roast or flat iron steak crock pot recipe.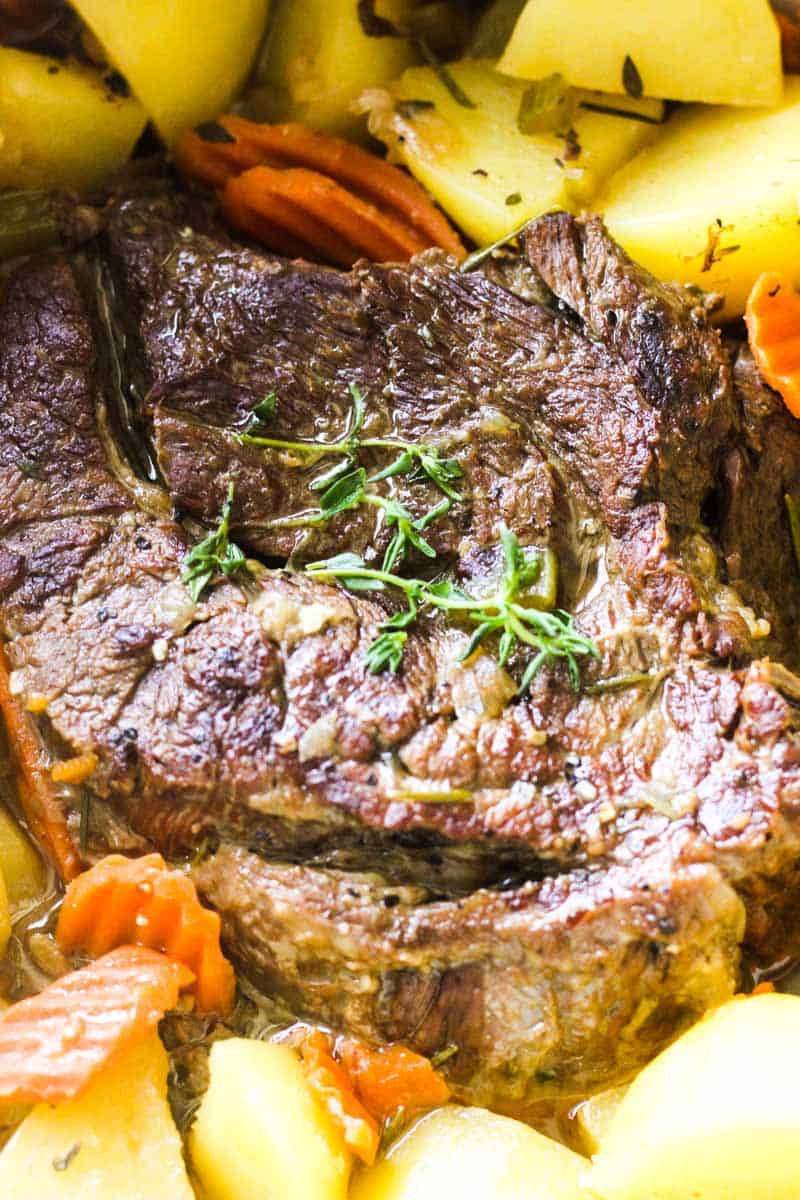 Nothing says comfort food like a hearty and filling pot roast. This copycat Golden Corral pot roast recipe is just what you need after a long day of work or during the colder months. Even though it takes a while to cook, there's very little prep work required and it always turns out incredible!
After searing the meat and gently cooking the veggies, everything is added to a large pot and slow-cooked until the chuck roast is melt-in-your-mouth delicious and the vegetables are perfectly tender and flavorful.
Served by itself or with warm dinner rolls this all-in-one meal is a classic family dinner that will make everyone happy!
Golden corral pot roast recipe
Start by gathering all your ingredients, ensuring the chuck roast is at room temperature for even cooking. Opt for a large Dutch oven or a pot with a thick base to retain and distribute heat evenly.
Position it over a medium-high flame. Pour the olive oil into the pot, and let it heat up until it shimmers, indicating it's ready for searing.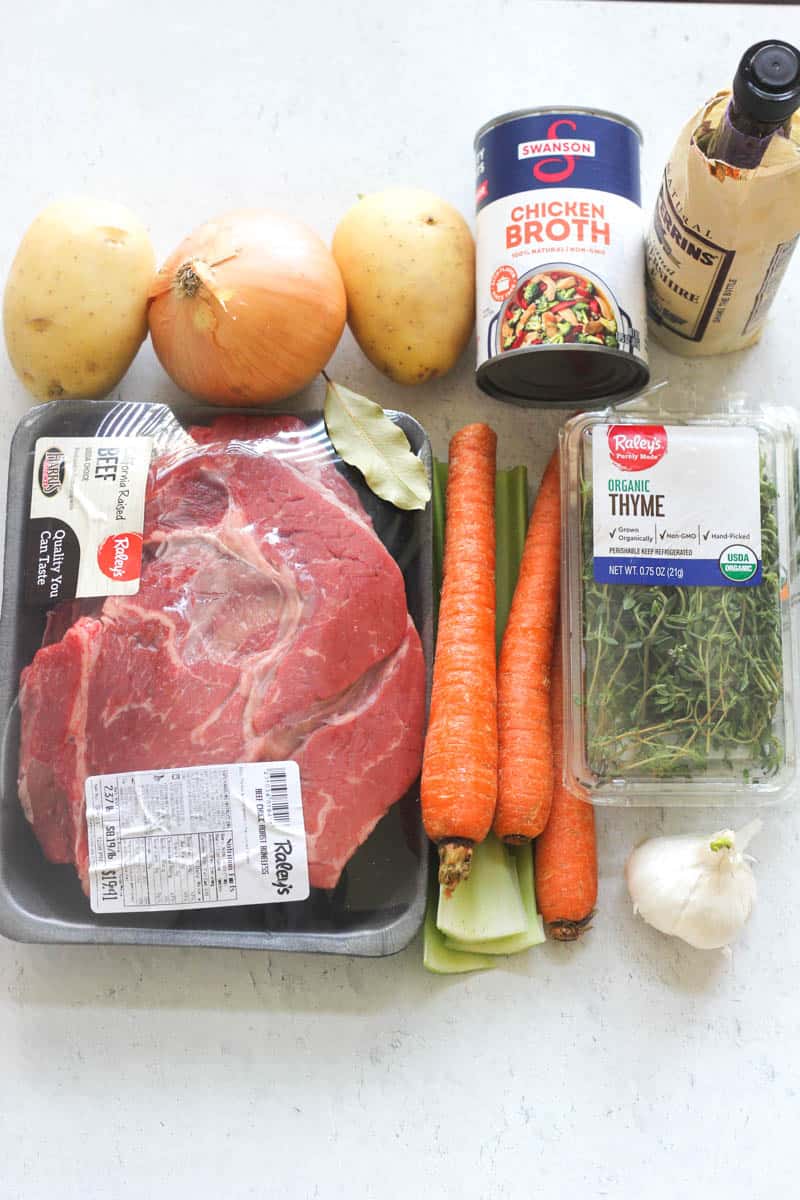 While the oil is warming, pat the chuck roast dry using paper towels. This will help in achieving a better sear. Evenly sprinkle salt and pepper over all surfaces of the roast. Once the oil is hot, carefully place the roast into the pot. Allow each side to sear uninterrupted for about 4-5 minutes. This searing process helps develop a flavorful brown crust on the meat.
Using tongs, lift the roast out of the pot and transfer it to a plate or tray. Reduce the flame to medium. Into the same pot with those flavorful residues, toss in the finely chopped onion, sliced celery, and minced garlic. Sauté this mixture, occasionally stirring, until the onions appear translucent, the celery softens, and the garlic emits its characteristic aroma.
Gradually pour in the beef broth, followed by dashes of Worcestershire sauce. Toss in the bay leaves, fresh sprigs of rosemary, and thyme. With a wooden spoon, stir the mixture gently, taking care to lift any flavorful bits stuck to the pot's base, which will add depth to the sauce.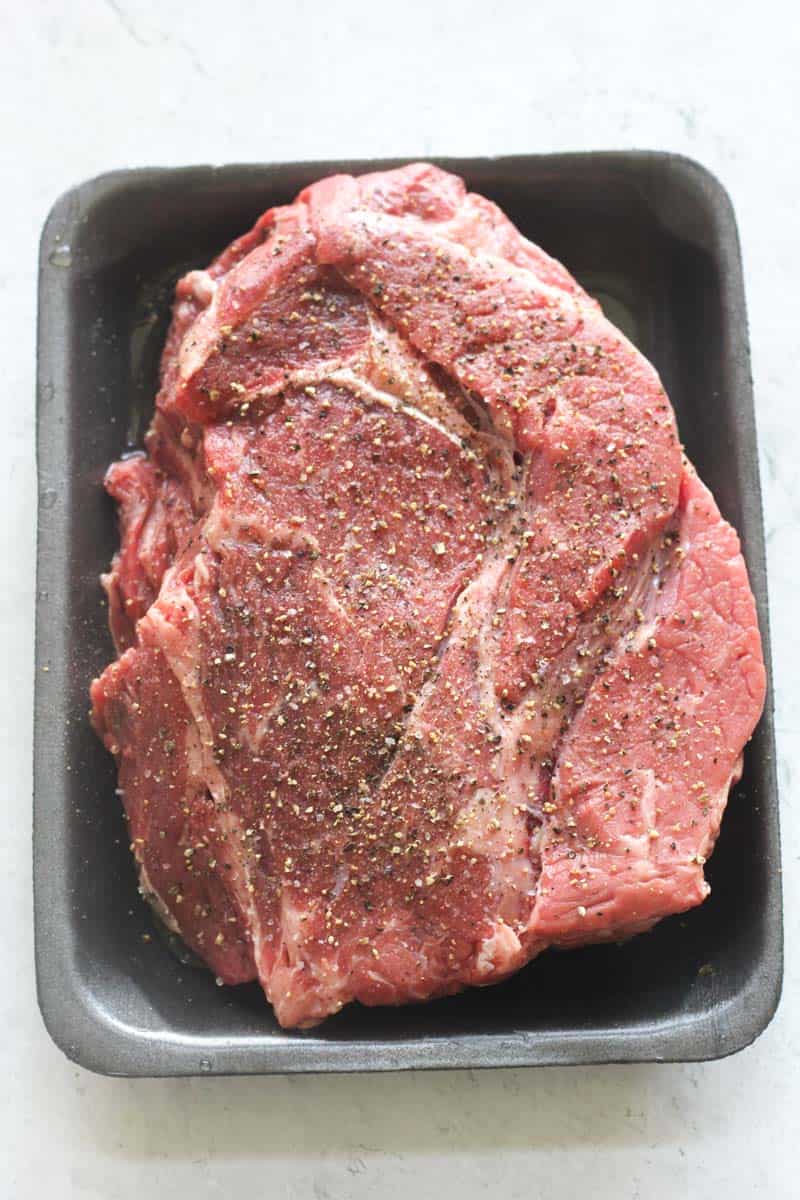 Gently nestle the seasoned roast back into the pot. Check the level of the broth—it should rise to about the midpoint of the meat. If not, consider adding a touch more broth or water. Raise the heat briefly to bring the broth mixture to a gentle simmer. Once simmering, dial down the heat to a low setting, and snugly fit the lid atop the Dutch oven.
Allow the roast to cook gently in this flavorful bath for roughly 2 hours. This slow process will break down the meat fibers, rendering it tender. After those 2 hours, incorporate chunks of carrots and quartered potatoes into the pot, surrounding the roast.
Replace the lid and let everything simmer together for another hour. By this point, the vegetables should be perfectly tender, and the roast should yield effortlessly to the gentle pressure of a fork.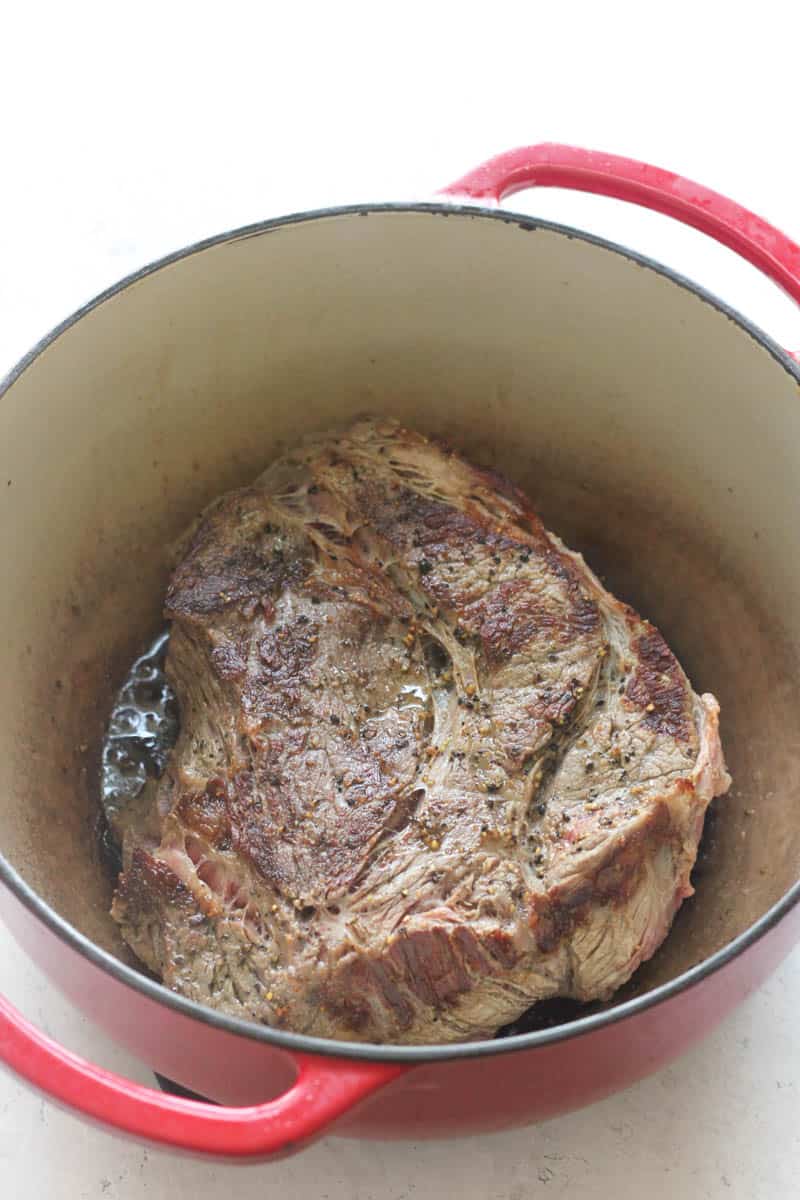 With this Golden Corral pot roast recipe is almost ready, fish out the bay leaves and any large herb sprigs. These have done their flavoring job and are no longer needed. Dish out generous portions of the succulent roast, ensuring everyone gets a mix of the meat and vegetables. Spoon over some of the rich cooking liquid for added flavor, and perhaps garnish with some freshly chopped parsley or a sprig of thyme for a touch of color.
Recipe ingredients
Chuck roast. You'll need a 3lb boneless roast. Try to find one that has a lot of fat marbling in it because it will be more tender and juicy over a leaner cut.
Salt and ground black pepper. Used to season the roast.
Olive oil. Used to sear the chuck roast and gently cook the vegetables.
Vegetables. Onions, garlic, carrots, and celery. Don't cut the veggies too small otherwise, they can become too soft.
Potatoes. Waxier potatoes like Yukon yum Gold and red potatoes will hold up the best when cooked for long periods of time.
Herbs. Dried rosemary, dried thyme, and bay leaves.
Worcestershire sauce. Used to give a richer depth of flavor to this pot roast recipe.
Beef broth. To give a richer beefy flavor to this soup.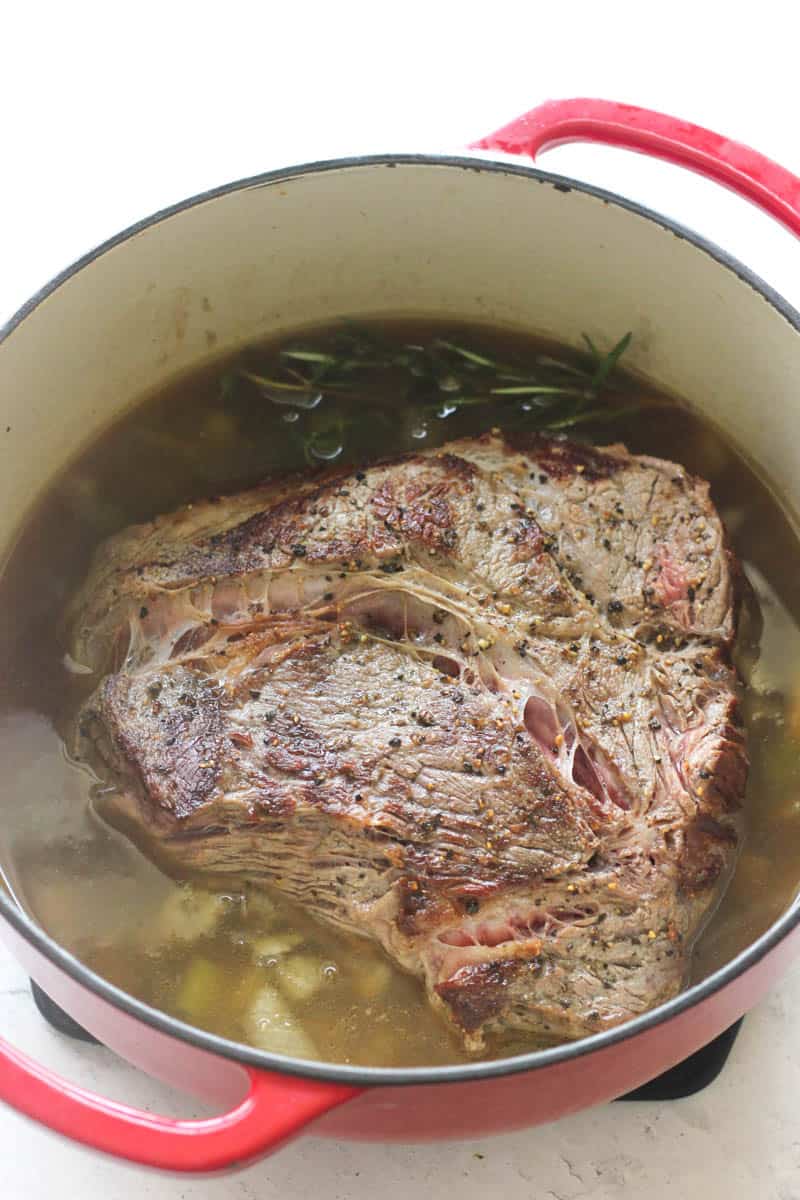 Substitutions
Chuck roast. Other alternatives would be brisket, round-top roast, or beef stew meat.
Potatoes. Use whichever potato variety you like best, but try to avoid russets because they tend to fall apart when boiled for too long. For this recipe, I used large potatoes cut into 2-inch cubes. You can instead use whole baby potatoes or fingerling potatoes.
Herbs. You can use sprigs of fresh herbs for a stronger flavor.
Beef broth. Use chicken broth or a beef boullion cube with 2 cups of water.
Worcestershire sauce. Substitute with a splash of balsamic vinegar or a bit of soy sauce and ketchup to achieve that same sweet and savory flavor.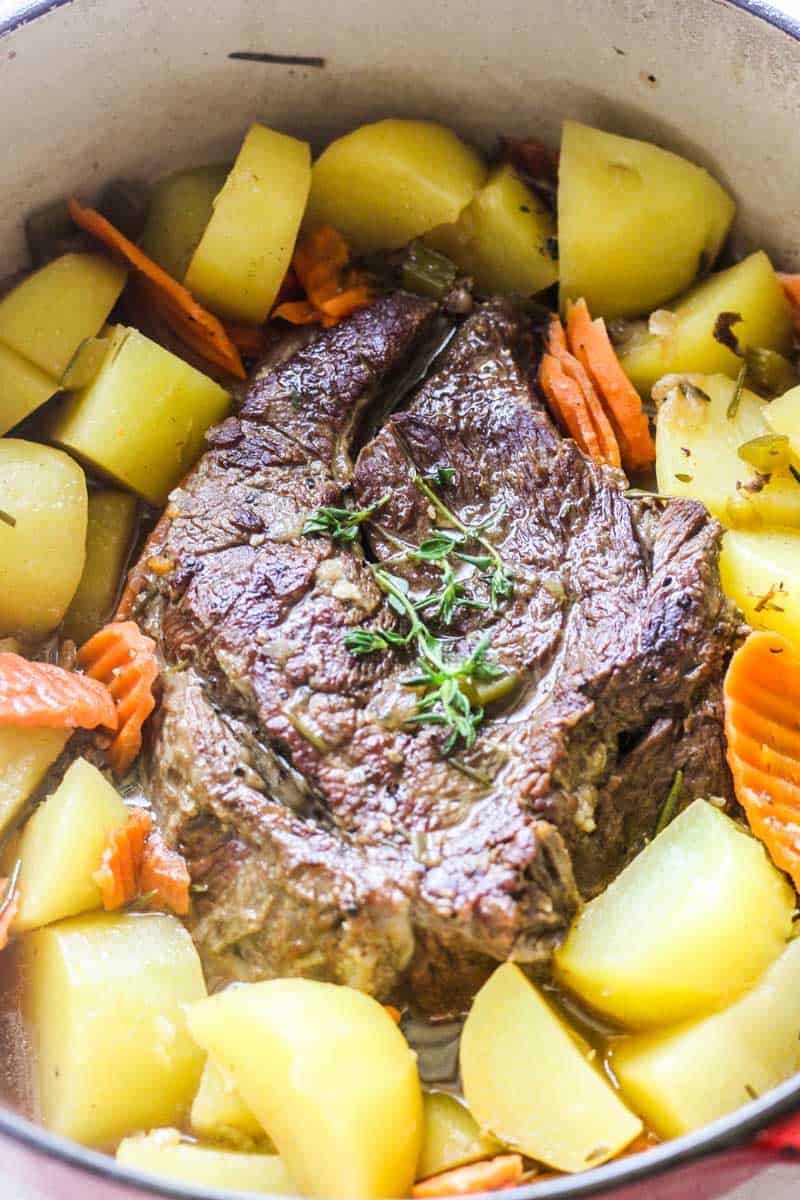 Variations
For serving you can decide to shred the meat, cut it into bite-sized chunks, or slice it like Golden Corral does!
1 tablespoon of tomato paste is often added to pot roasts and stews to add a deeper and richer flavor.
More vegetable options. If you want to include more vegetables in your Golden Corral pot roast try adding pearl onions, green beans, chopped tomatoes, or baby carrots as well!
Brown gravy. If you would like a thicker pot roast sauce you can thicken it with 1 – 2 teaspoons of cornstarch or 1 – 2 tablespoons of flour. Alternatively, you could add a packet of brown gravy mix. Simply choose a low-sodium beef broth or use water instead so your gravy doesn't become too salty!
Frequently asked questions
Will pot roast get more tender the longer it cooks?
Yes! Pot roasts usually take at least 2 – 3 hours to cook. However, if you find that your chuck roast isn't soft enough continue to cook it until it's fall-apart tender because that's when it's the most delicious!
What beef makes the most tender pot roast?
Chuck roast is my favorite cut of meat to use for pot roasts. It contains a lot of marbling and flavor and when slow-cooked it becomes incredibly tender and juicy!
What kind of meat makes the best pot roast?
Generally tougher cuts of meat like chuck roast, brisket, and round-top roast are the best for pot roasts because they are made up of the overworked muscles of the animal. The long cooking time gives these tougher cuts of meat enough time to break down until they are melt-in-your-mouth delicious!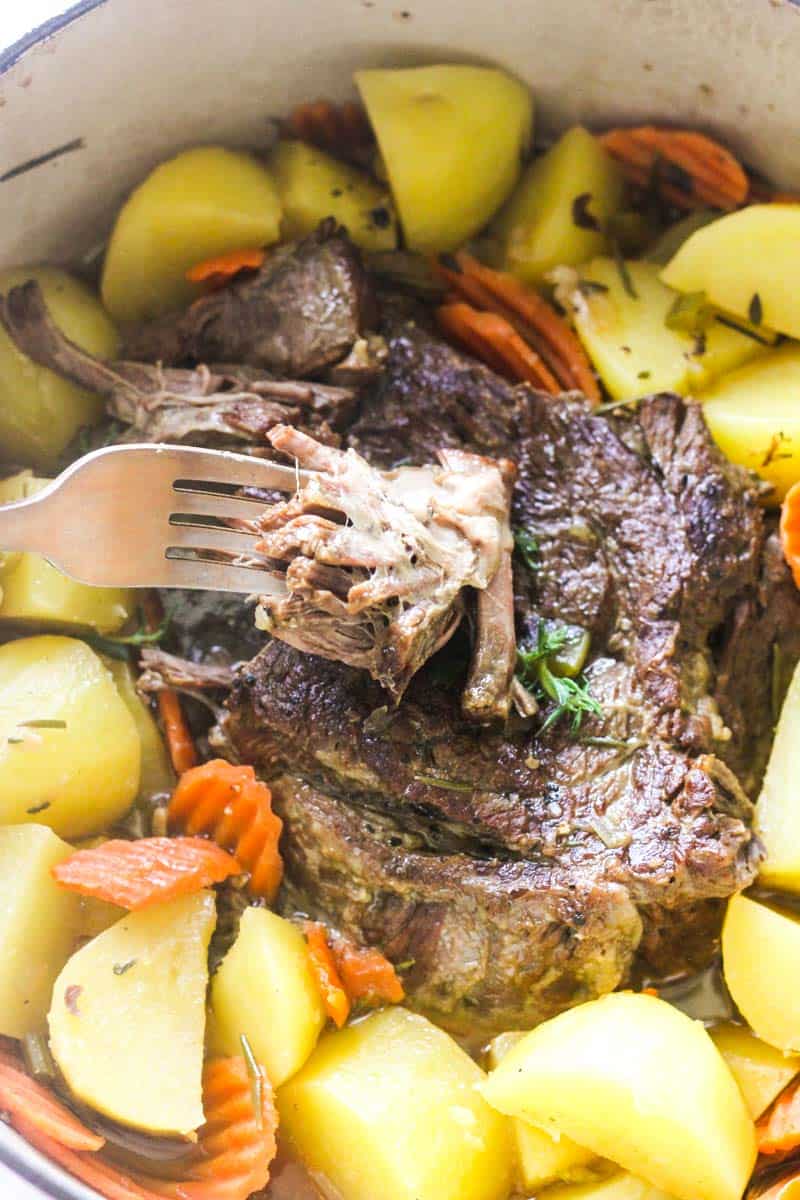 Serving suggestions
Store pot roast leftovers in an airtight container in the refrigerator for up to 4 days. When ready to reheat, place the roast in a suitable pot or microwave-safe dish, warming it over low heat on the stove or using the microwave until heated through. If reheating on the stove, occasionally stir to ensure even heating.
You may also like
Hope you will like this golden corral pot roast recipe as much as we do. Please rate the recipe if you made it and leave a comment below if you have any questions or suggestions.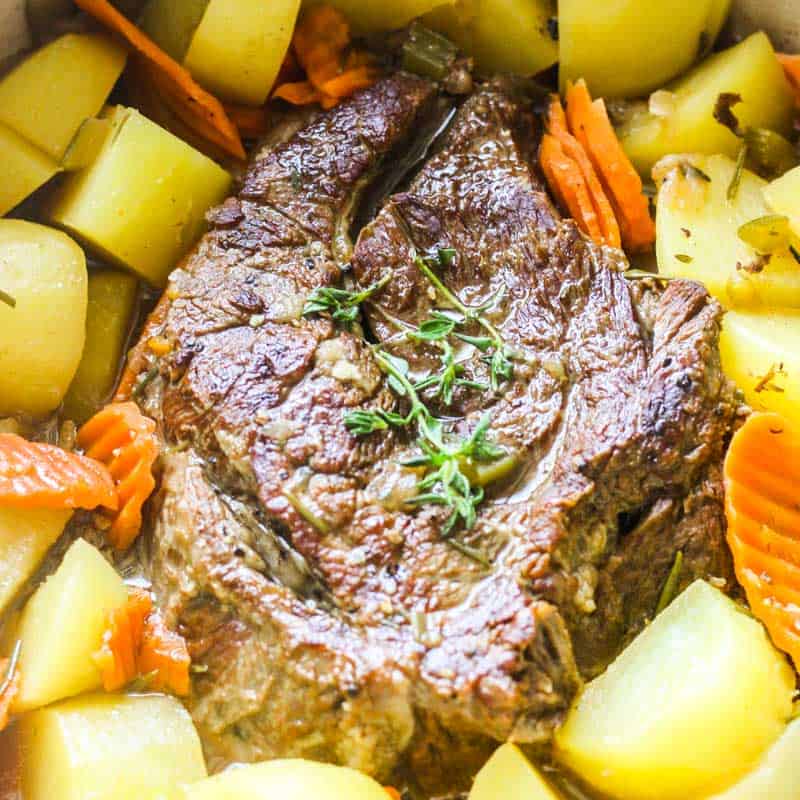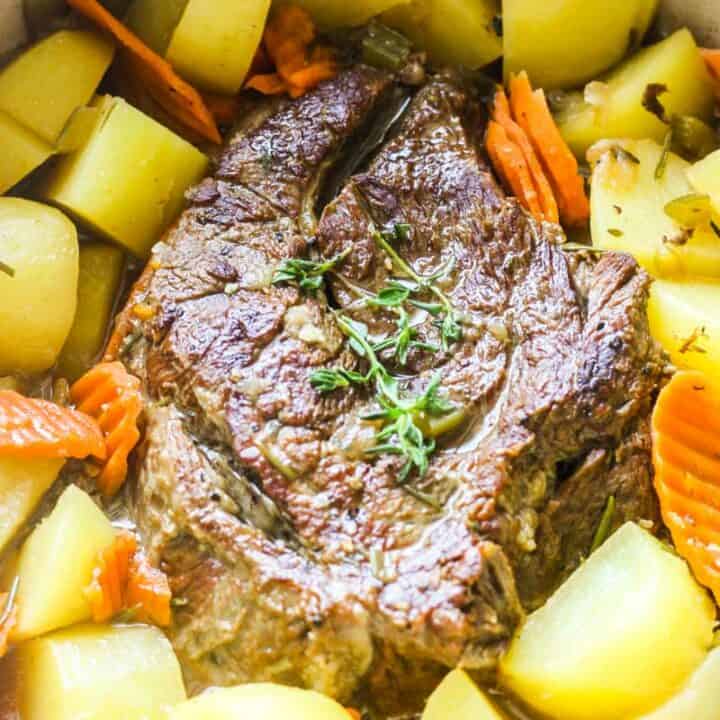 Golden Corral Pot Roast Recipe
Cook Time:
2 hours
20 minutes
Total Time:
2 hours
30 minutes
This Golden Corral pot roast recipe is the ultimate comforting dish! Incredibly delicious this slow-cooked beef pot roast dinner is filled with juicy beef and tender vegetables cooked with a rich and savory beef broth. It's an easy and wonderful family-friendly meal!
Ingredients
3 lbs boneless chuck roast
1 tablespoon olive oil
1 teaspoon salt
½ teaspoon black pepper
1 onion, chopped
3 cloves garlic, minced
2 cups beef broth
1 teaspoon Worcestershire sauce
2 bay leaves
1 teaspoon dried rosemary
½ teaspoon dried thyme
4 large carrots, cut into 2-inch pieces
3 large potatoes, cut into 2-inch pieces
3 stalks celery, cut into 2-inch pieces
Instructions
Heat the olive oil in a large Dutch oven or heavy pot over medium-high heat.
Season the chuck roast with salt and pepper, then add to the pot. Sear each side for about 4-5 minutes until a brown crust forms. Remove the roast from the pot and set aside.
Lower the heat to medium, then add the chopped onion, celery, and minced garlic to the pot. Cook until the onions and celery are soft and the garlic is fragrant.
Add the beef broth, Worcestershire sauce, bay leaves, rosemary, and thyme to the pot. Stir to combine, making sure to scrape up any browned bits from the bottom of the pot.
Return the roast to the pot. The broth should come about halfway up the sides of the meat; add more if necessary. Bring the liquid to a simmer, then reduce the heat to low and cover the pot.
Cook for about 2 hours, then add the carrots and potatoes to the pot. Cover and cook for another hour, or until the vegetables are tender and the meat easily falls apart with a fork.
Remove the bay leaves, then serve the pot roast with the vegetables and a bit of the cooking liquid.
Nutrition Information:
Yield:

6
Serving Size:

1
Amount Per Serving:
Calories:

725
Total Fat:

37g
Saturated Fat:

15g
Trans Fat:

2g
Unsaturated Fat:

20g
Cholesterol:

188mg
Sodium:

882mg
Carbohydrates:

37g
Fiber:

5g
Sugar:

4g
Protein:

61g