Craving cookies for a snack or dessert? Satisfy your sweet tooth in under 10 minutes with this quick and easy guide for how to bake frozen cookie dough in the air fryer! It's a convenient way to make a small batch of your favorite chewy, lightly crisp, and perfectly delicious cookies without oven baking.
Also try air fryer pancake bites and cookie butter milkshake from my site. Quick and delicious!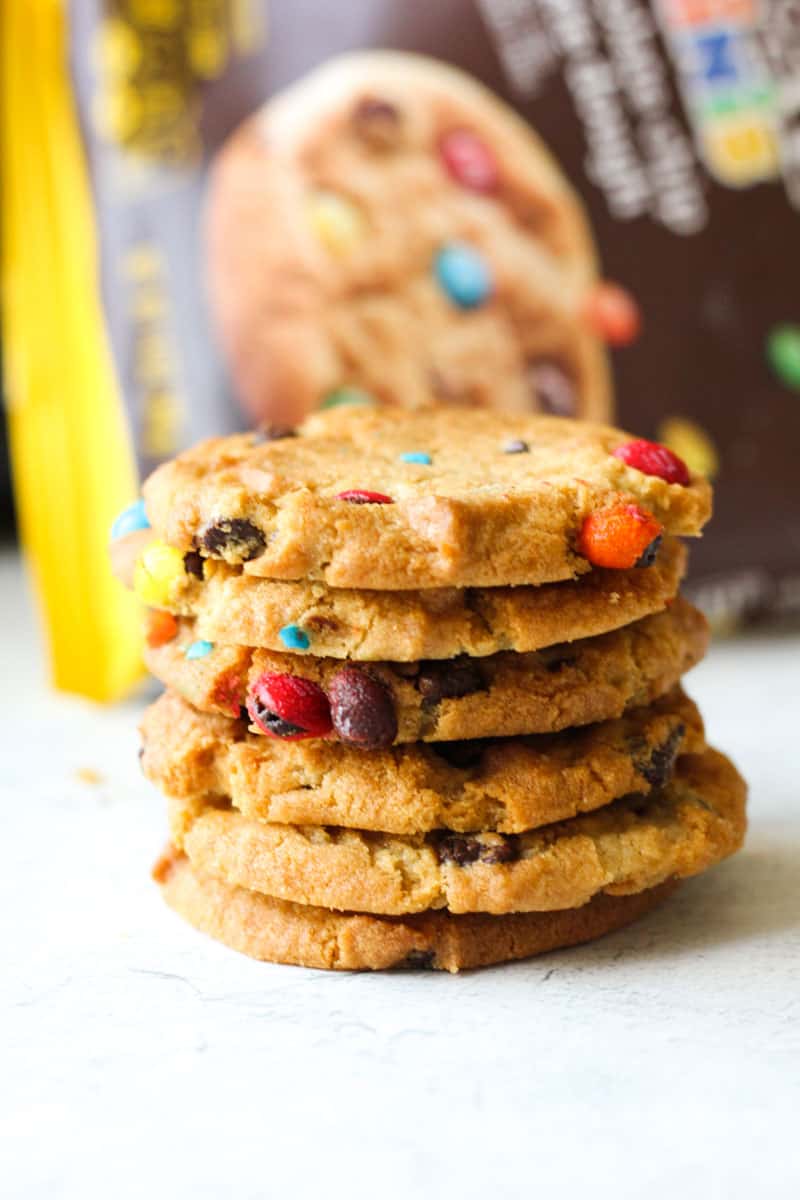 Quick navigation
There are times when you want a cookie… And then, there are times when you simply have to have a warm, buttery crisp, slightly chewy and soft cookie. With this handy guide for how bake frozen cookie dough in an air fryer you'll have no problem satisfying that craving in a snap!
Why "bake" in an air fryer? The air fryer is a great countertop appliance that's convenient and relatively compact. It's small size is just right for baking without heating up an entire oven and kitchen. Plus, using the AF to make cookies keeps the oven open for cooking other dishes.
Another benefit? Air fryers require 3 minutes or so to preheat. A full-size oven, however, can take up to 15 minutes to fully preheat. Baking cookie dough from frozen in the air fryer also takes approximately 5 minutes less than traditional oven baking. From start to finish the cookies are ready to enjoy warm from the basket in only about 10 minutes… That's less time than a typical oven takes to preheat!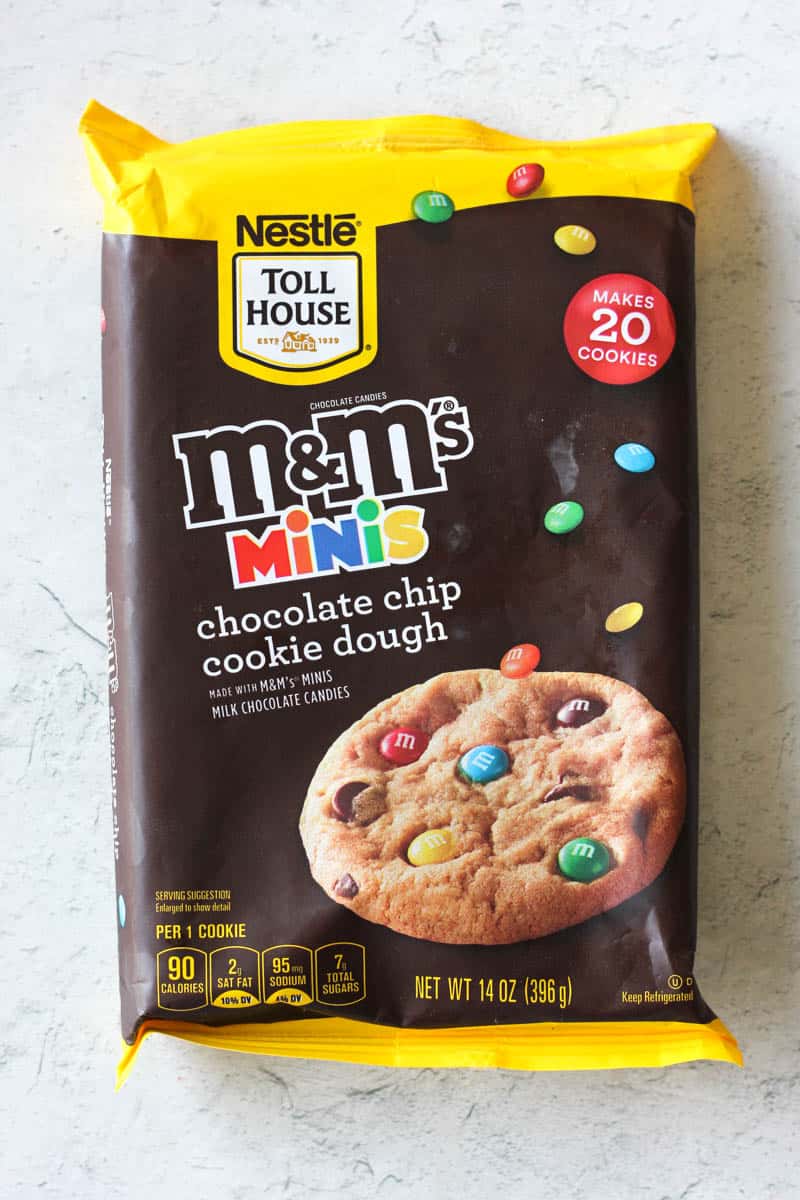 Keep reading for the quick and easy steps to air fry up on-demand small batches of your favorite cookies. From chocolate chip to oatmeal raisin and everything in between, you're sure to agree this is the best way to bake nearly any variety of frozen cookie dough – no oven needed! Another great dessert that you can make with your kids is cheesecake pudding pie, no baking required!
How to cook frozen cookie dough in air fryer
Preparing the Air Fryer: Begin by inserting an air fryer liner into your air fryer basket. This step helps in easy cleanup and prevents the cookies from sticking to the bottom.
Arranging the Cookie Dough: Take your frozen cookie dough squares and place them in the air fryer basket. Depending on the size of your air fryer, you may be able to fit about 6 cookies at a time. Make sure to leave adequate space between each cookie dough square. This allows for proper air circulation and even cooking, ensuring each cookie bakes evenly.
Baking the Cookies: Set your air fryer to cook at 350°F (about 177°C). Let the cookies bake for 9 minutes. It's important to note that the cookies will still be quite soft to the touch when they are hot. This is normal and they will firm up as they cool.
Post-Baking: Once the cooking time is complete, carefully open the air fryer basket and allow the cookies to cool for a few minutes. This cooling period not only makes them easier to handle but also allows the cookies to set to the right texture. Use a spatula to gently remove the cookies from the air fryer and transfer them to a cooling rack or plate.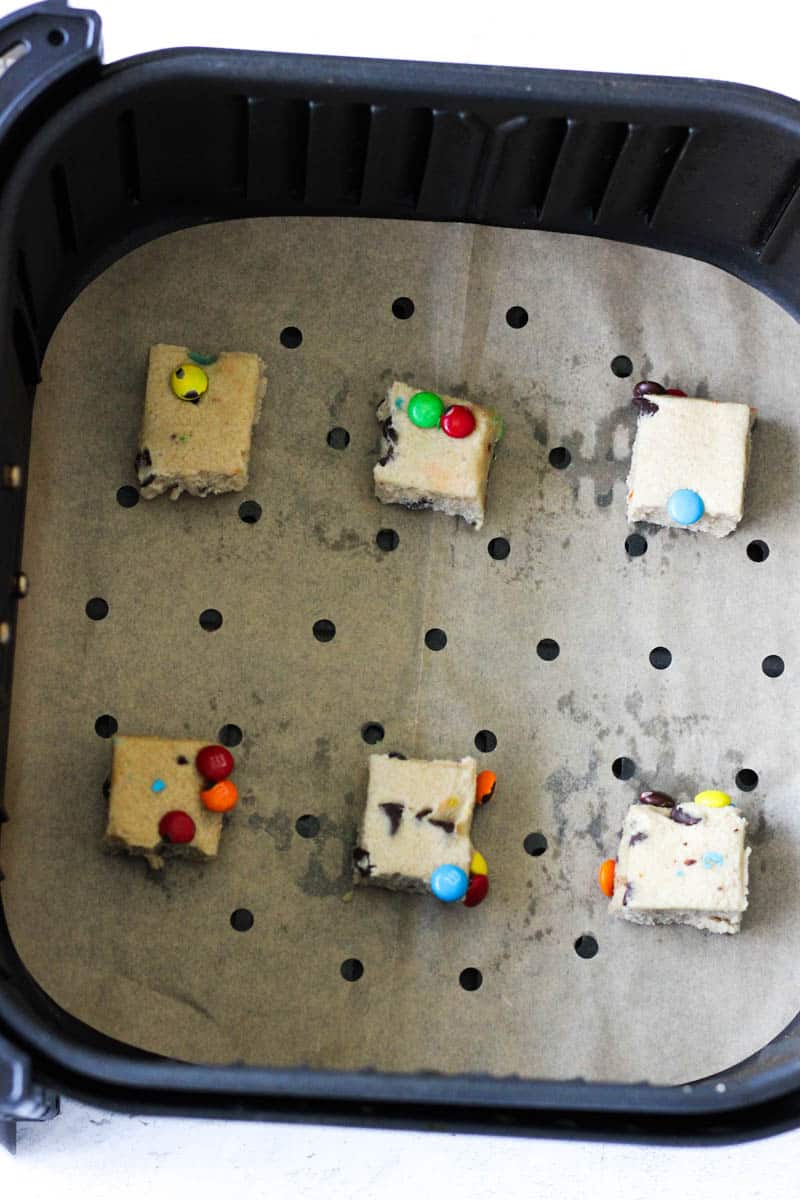 Best types of cookies to air fry
Chocolate chip cookies. Or any candy chips! Soft cookies loaded with dark or milk chocolate, white chocolate, peanut butter chips, etc are classic feel-good treats.
Peanut butter cookies. Deliciously dense and rich.
Sugar cookies. These pillowy soft cookies are especially great to air fry and decorate in small batches for holidays.
Snickerdoodles. One of my favorites! The combination of cinnamon and sugar is pure happiness.
Oatmeal raisin cookies. A classic old-fashioned cookie with just the right bit of sweetness. Perfect for an afternoon snack!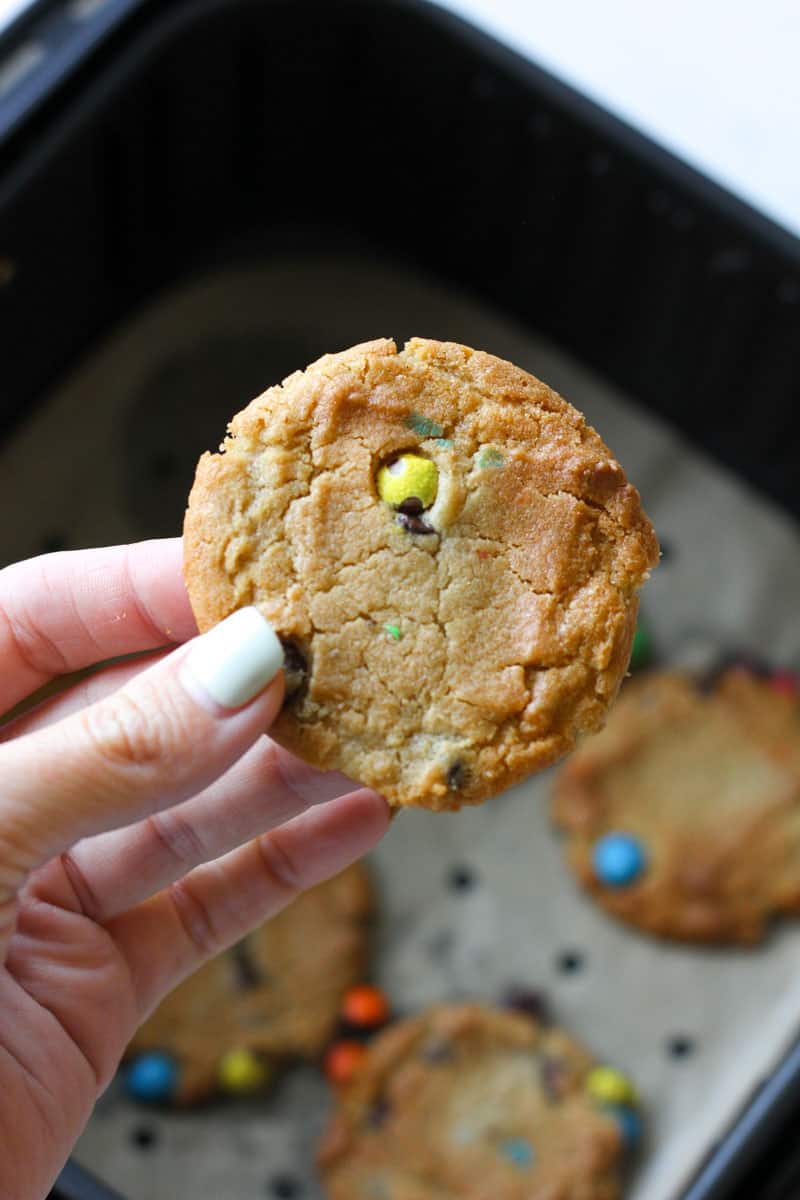 Storage instructions
Let cookies cool completely after baking.
Place them in an airtight container, separating layers with parchment paper to prevent sticking.
Store at room temperature for up to a week for most cookies.
For longer storage, consider freezing them in a sealed container for up to 3 months.
Avoid mixing soft and crispy cookies in the same container, as the moisture from the soft cookies can soften the crispy ones.
Frequently asked questions
Is air fryer good for baking cookies?
Yes, the air fryer is great for "baking." The appliance is essentially a countertop convection oven. Therefore the results of air frying and oven baking are the same: Delightfully warm, crisp on the outside, and soft on the inside cookies from frozen dough.
Can you put raw cookie dough in the air fryer?
Absolutely! Just like baking in the oven, raw cookie dough goes right into the air fryer basket with no pre-cooking necessary.
Is it better to use parchment paper or foil in an air fryer?
While both can be used in the air fryer, I recommend parchment paper for baking frozen cookie dough… The paper won't effect the taste of the cookies, and they are less likely to stick on parchment versus aluminum foil.

But keep in mind to not place a square of parchment into the basket until after the air fryer has preheated. There is a fan in the appliance that blows hot air around the fryer. With nothing to weigh it down, the parchment will blow up and possibly catch fire on the heating element.
Should I preheat my air fryer?
I do recommend preheating the air fryer before cooking. The temperature of the air fryer changes drastically while heating up to the final temp. So placing the frozen dough in the fryer before it fully reaches 350 degrees will totally throw off the cook time. Instead, let the device preheat for at least 3-4 minutes before placing cookie dough pieces in the basket.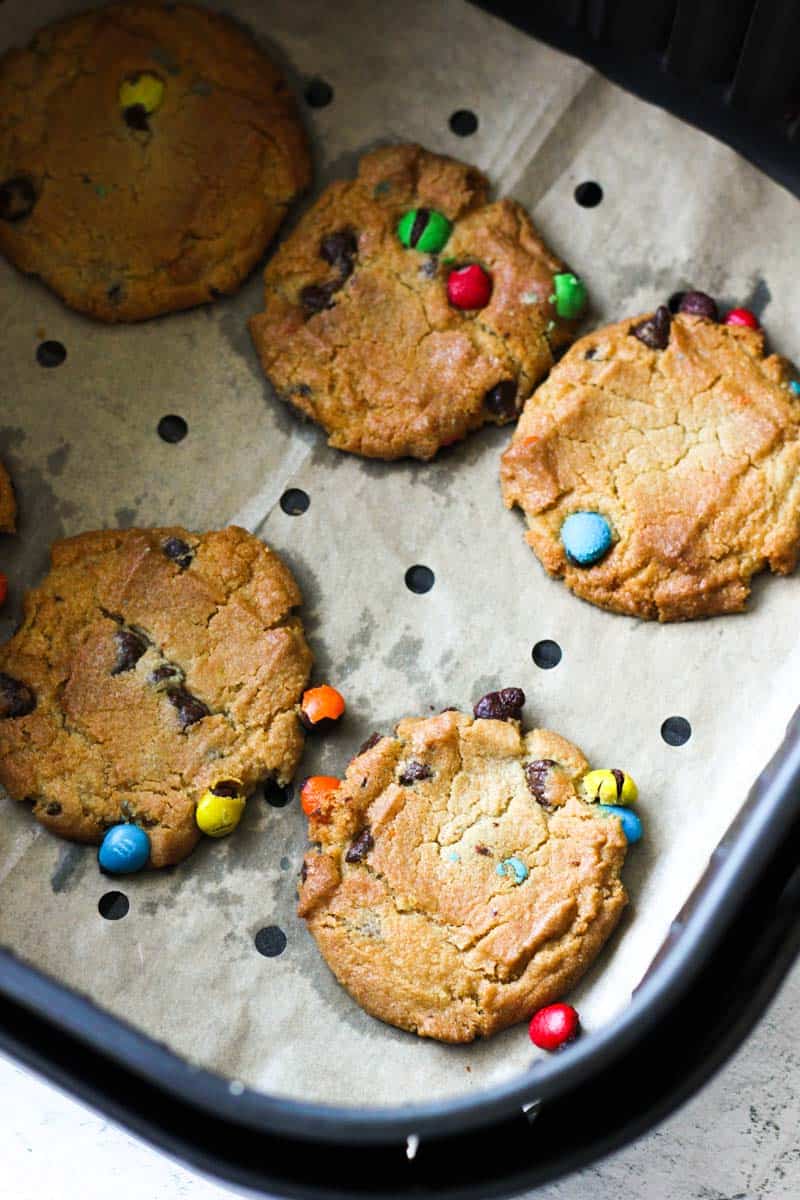 Other recipes you may like
Hope you will like this frozen cookie dough in air fryer recipe as much as we do. Rate the recipe if you made it and leave a comment below if you have any questions or suggestions.
Recipe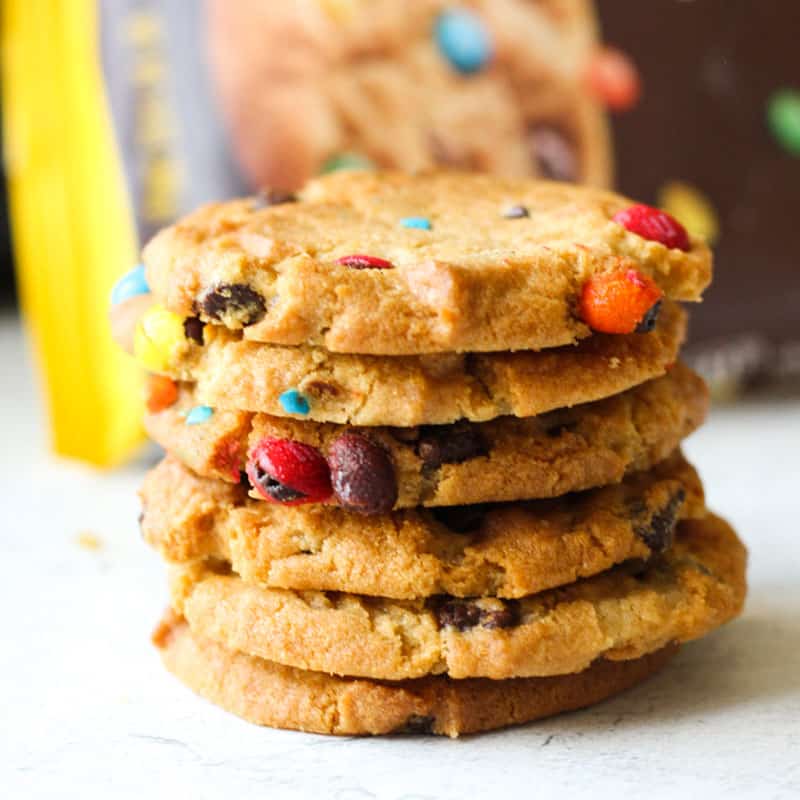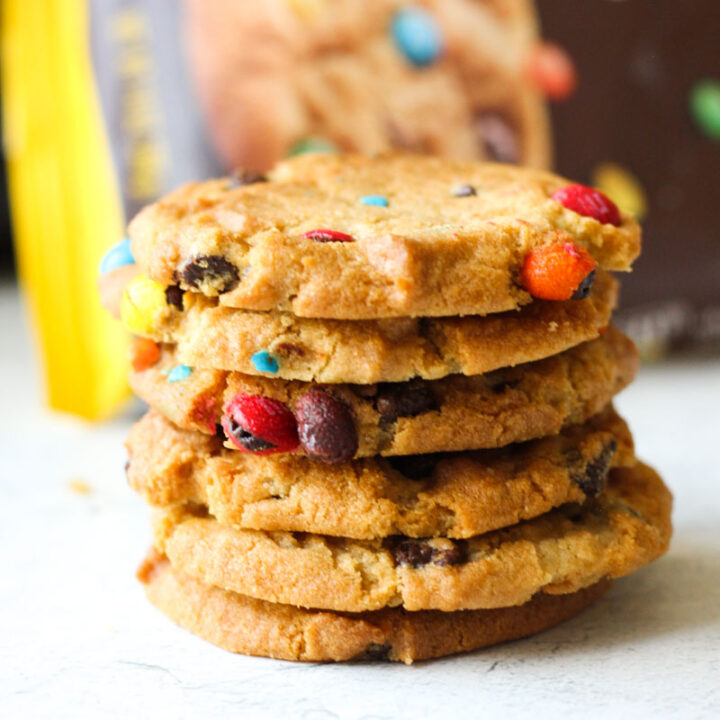 Frozen Cookie Dough in Air Fryer
Craving cookies for a snack or dessert? Satisfy your sweet tooth in under 10 minutes with this quick and easy guide for how to bake frozen cookie dough in the air fryer! It's a convenient way to make a small batch of your favorite chewy, lightly crisp, and perfectly delicious cookies without oven baking.
Ingredients
1 package frozen cookie dough
Instructions
Place air fryer liner in to the air fryer.
Add frozen cookie dough squares in the air fryer. I was able to fit 6 at a time. Leave some space between cookies.
Cook at 350 for 9 minutes. Cookies will be soft to touch while hot.